This 5 minute dairy free ice cream is probably the easiest and quickest ice cream you'll ever make. It's perfect for any vegan, dairy free and egg free diets.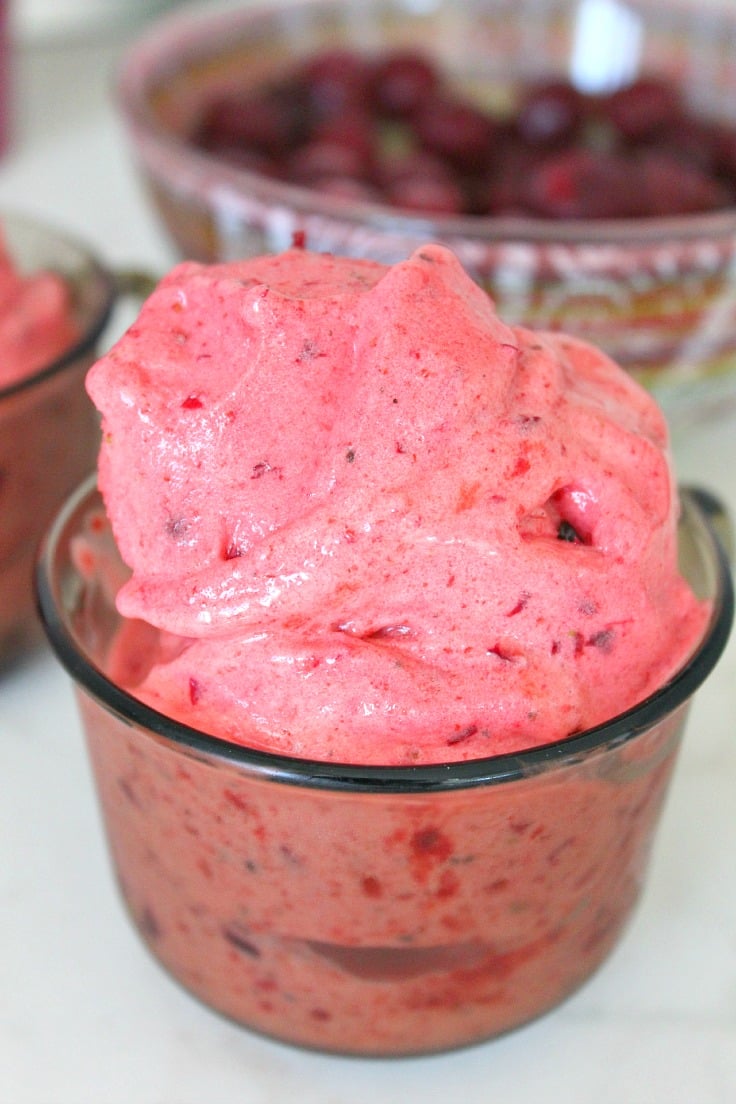 We all love ice cream in the summer. And if you can enjoy a regular ice cream, that's great. But if you are a dairy free fan try this alternative, a healthy and super quick 5 minute dairy free ice cream made with frozen fruit.
Whether you're allergic to dairy or eggs, lactose intolerant, or you've taken up a vegan diet, opting out of dairy and egg products doesn't have to mean you can never experience the joys of ice cream again. Ice cream is the perfect sweet treat to cool down in the summer heat, and this luxury isn't only for those who eat dairy.
This is a very versatile recipe as you can add any fruit you like and if you like dairy, you can even add some, like Greek yogurt. But for this time I chose not to add any, I wanted to see how good the recipe is and it turned out pretty fantastic! Even creamier than the regular ice cream, this 5 minute dairy free ice cream also has a wonderful texture and it's a healthier alternative to store bought ice cream.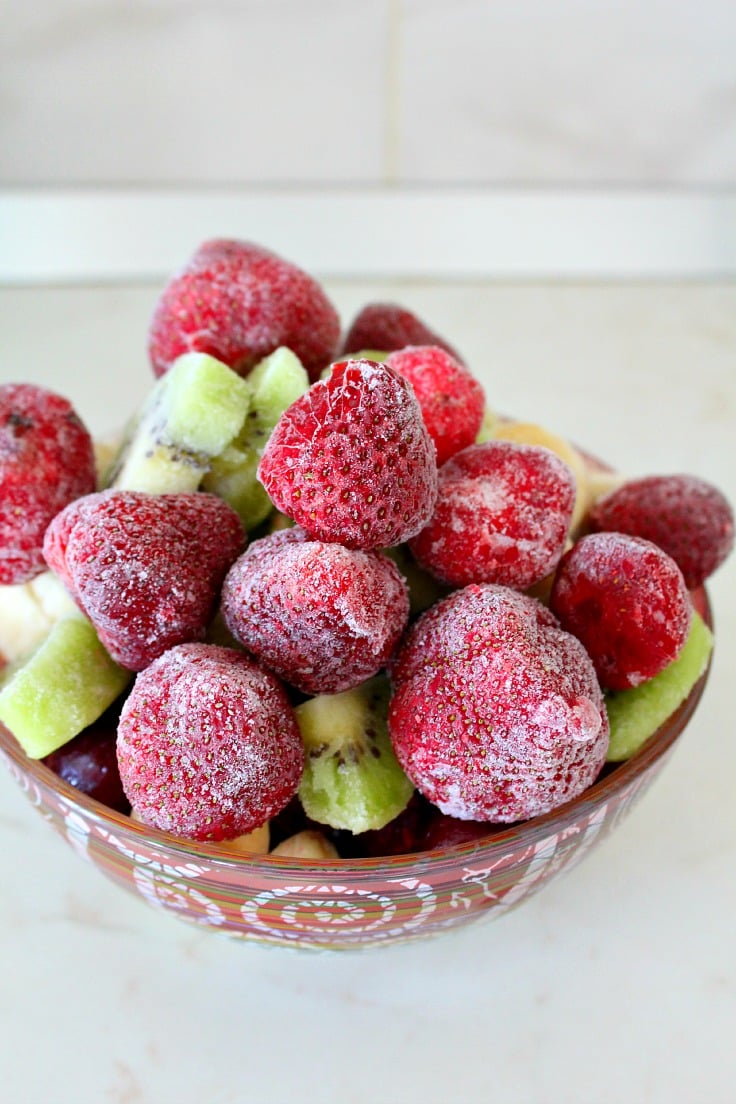 For this recipe I opted for a pretty ripe banana, kiwi, sour cherries, strawberries, pineapple and pear but as I mentioned, any fruit can be chosen as long as they're not too watery. Too much water in the fruit will cause the ice cream's texture to be slightly different and it will probably be a lot more softer than my version.
I added honey as I wasn't sure how much sourness the sour cherries will add but after testing the recipe I think it's safe to skip the honey and maybe replace with some more strawberries, kiwi and pear as they're sweet enough.
You may find that this ice cream looks a lot like soft serve but in my opinion, it tastes totally different, in fact much better. And it's got the healthy bonus as it has no dairy, no sugar, no eggs.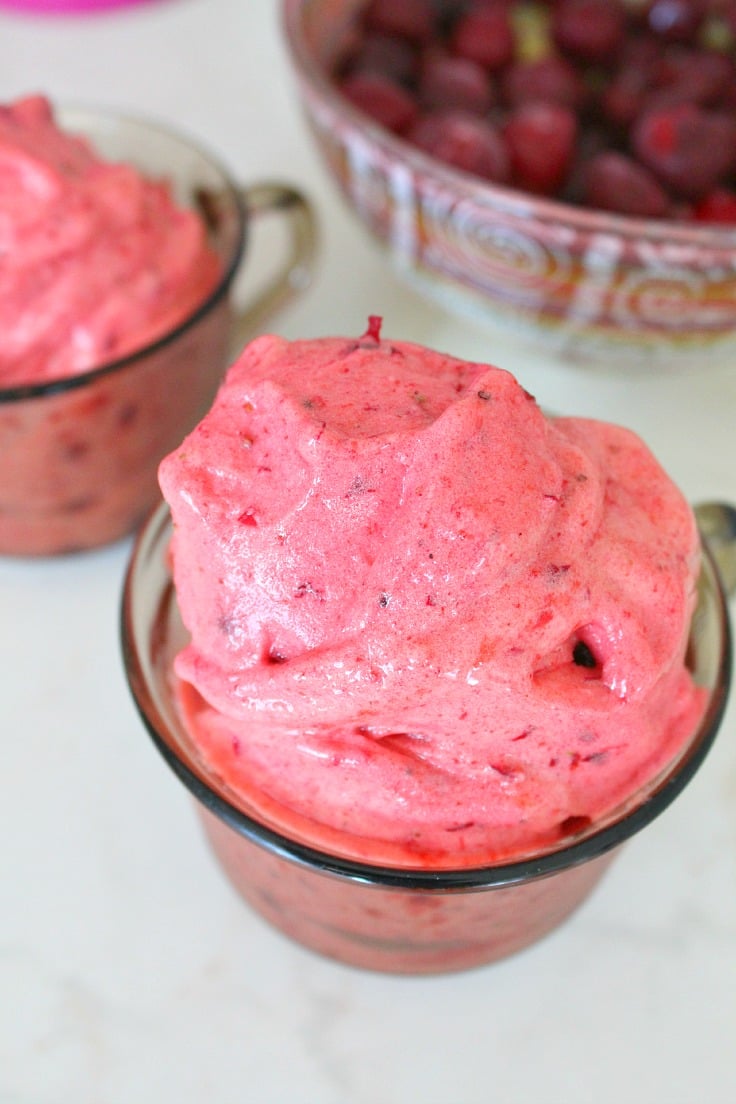 Before preparing the ice cream, I chopped the fruit into small cubes and kept them in the deep freezer until slightly frozen. Then I've mixed them into a puree with my food processor, adding just bit by bit from each at a time. If you drop them all in, you might find the food processor gets stuck or worse, break.
I actually like feeling some fruit in my ice cream so I've left a few chunks but if you don't, make sure you mix everything very well until you get a very smooth texture. And if you like it even creamier, replace some of the sour cherries and strawberries with an additional banana.
5 minute dairy free ice cream recipe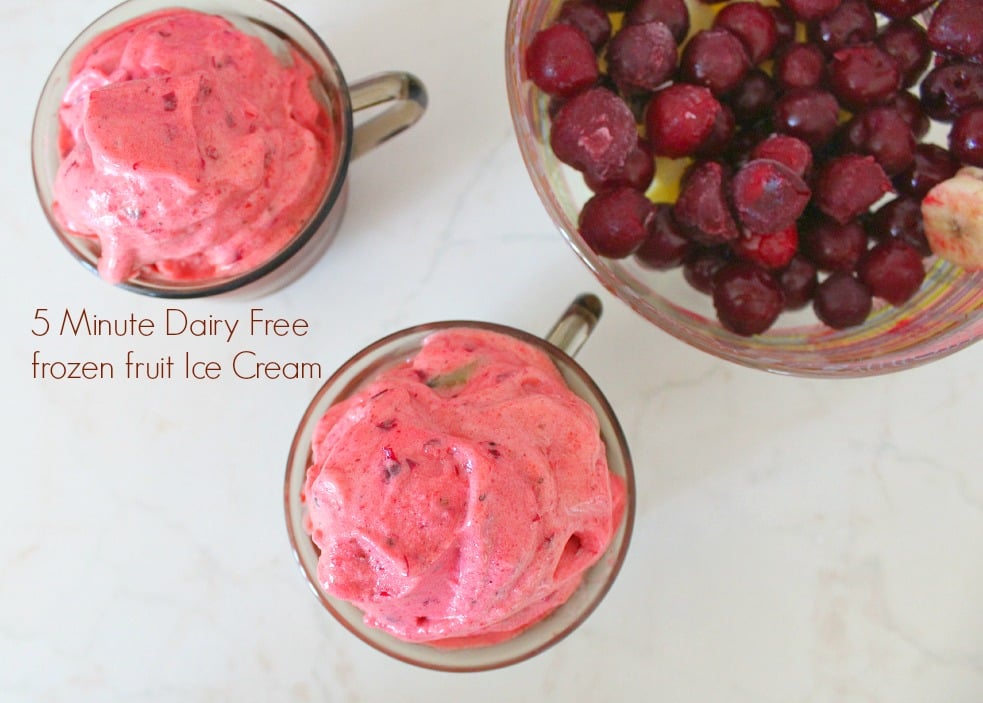 5 Minute Dairy Free Ice Cream
2015-07-01 01:38:11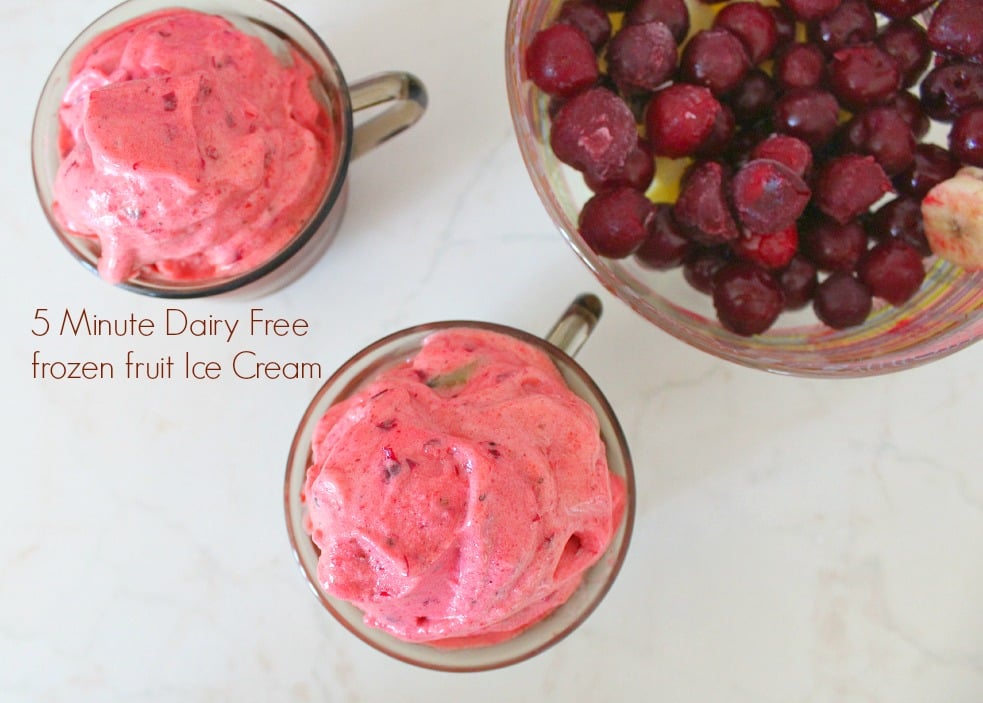 Serves 4
Ingredients
1 banana
1 kiwi
200 g sour cherries
200 strawberries
2 slices pineapple
1 medium pear
2 tsp vanilla sugar
3 tbsp honey
Instructions
Peel bananas, clean all fruit, dice them all and place in freezer bag (if strawberries are small, freeze them like that; no need to dice sour cherries)
When almost frozen, add everything to a food processor, adding just a few fruits at a time Gradually add the rest of the frozen fruit, waiting to completely incorporate into the mixture.
Add honey and vanilla sugar (or 1 tsp vanilla extract)
Notes
Serve immediately or pour into cups and store in the freezer (you will need to thaw those for a few minutes)
Creative Homemaking by The Seaman Mom https://theseamanmom.com/