Article may contain Amazon & affiliate links. As an Amazon Associate I earn from qualifying purchases at no additional cost to you.
Looking for something cold, sweet, healthy and quick to make? Look no further! This fresh watermelon ice cream recipe is easy, delicious, light and fluffy and super refreshing!
Watermelon Ice Cream Recipe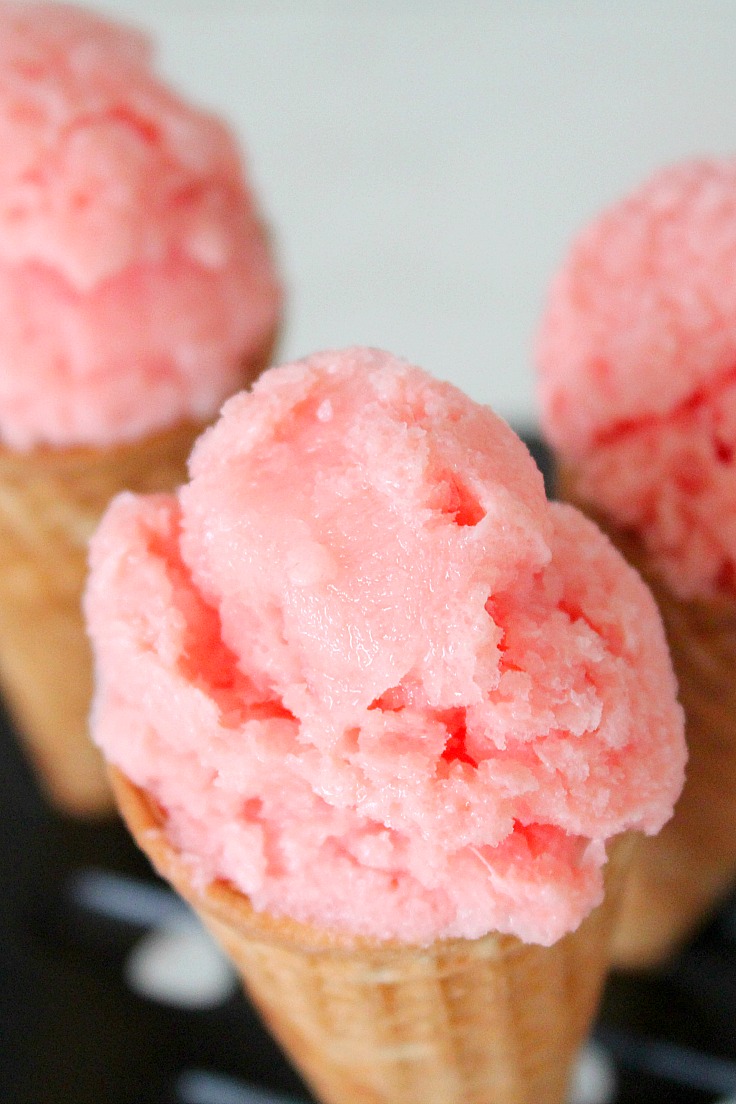 I gotta admit! This watermelon ice cream was just pure accident! Again! I know, I'm such a klutz in the kitchen but lucky for me, things turn out even more delicious than planned once I stop freaking out lol. And I do freak out a lot because I make lots of mistakes! (that doesn't sound too good, doesn't it? lol) But then my ever so savvy brain gives its best to come up with an idea to save those yummy ingredients instead of throwing everything away. And this is how this yummy watermelon gelato never got to meet the trash bin!
Want more ice cream ideas?
Ever wondered how to make watermelon ice cream at home? Sounds super easy, right? When I started to work on this fresh homemade watermelon ice cream I thought I'd just use watermelon puree and honey and expected this delicious concoction to just turn into a creamy, fresh snack in a matter of seconds (because, you know, I have a magic wand that turns everything into gold! ha!). Well, turns out you can't make watery stuff taste and look creamy! What a shock! At least not as easy and quick as one might think! To make creamy ice cream with watermelon you need to use a little secret ingredient: Greek yogurt!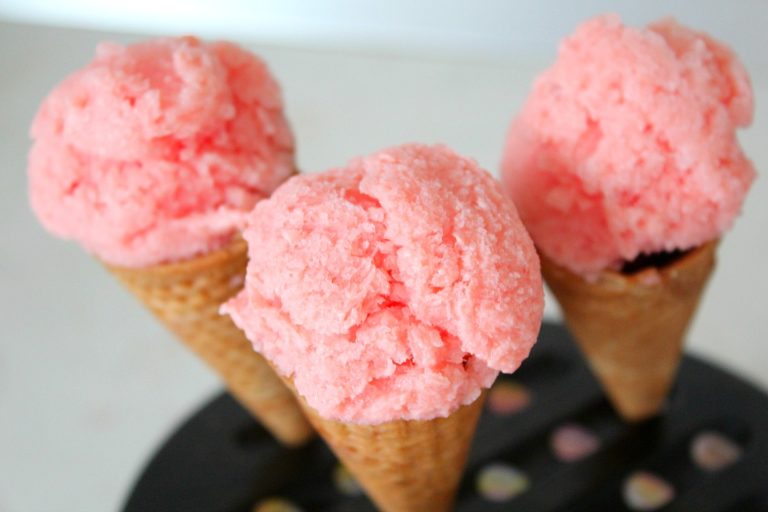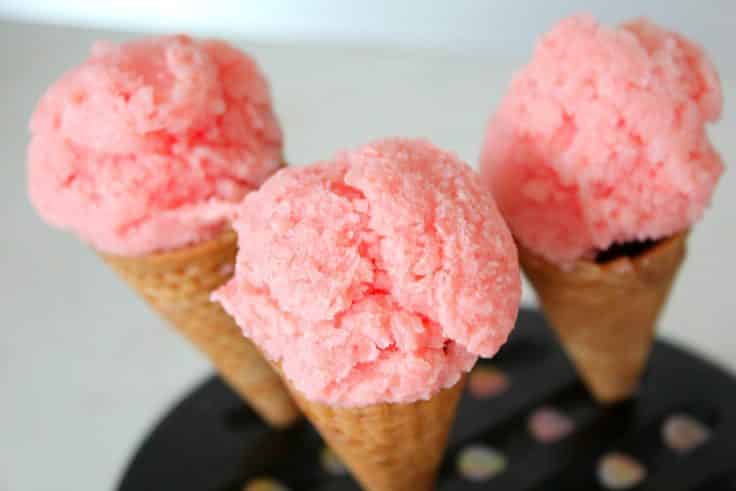 After blending and blending and more blending, I decided it's time to give up and bring in the big guns, aka the mentioned almighty Greek Yogurt, in an attempt to save my precious watermelon ice cream. I love Greek yogurt and I know fruit and yogurt make an awesome team so I thought I'd give it a try. I was kind of desperate so anything would do at this point!
And it worked! It turned my watery watermelon puree into a creamy, sweet, refreshing dessert/snack, perfect for hot summer days (and not only). After eating all of this yum ice cream I realized adding a banana or two would've made it even creamier but what's done is done!
This lovely dessert is light and fluffy and not overly sweet, simply delicious with no fancy ingredients! And the best part is, you can make it in your blender, no ice cream maker needed. Great tasting, easy to make snack!
How to make watermelon ice cream creamier
If using Greek yogurt doesn't make the watermelon ice cream as creamy as you like, try adding a ripe banana or two. Use fresh bananas instead of frozen ones which add more water to the mix. Adding a banana would also help with making the recipe a little sweeter i case your watermelon is not sweet enough. Another option would be to use condensed milk.
How to process the ice cream chunks
You can either blend the frozen ice cream chunks in a food processor or a blender. In any case, add just a few chunks at a time as it's difficult to blend it all at once. Unless you have a very high power food processor or blender. A little tip would be to pour the ice cream blend into ice cube trays before freezing. When processing the frozen ice cream you won't waste any time or energy cutting into cubes.
How to serve watermelon ice cream
This kind of recipe is best served in a cup but if you're serving it immediately after preparing, cones would work too.
How to store watermelon ice cream
If you make a lot of this ice cream, cut it into chunks after preparing and freezing the ice cream. Process a few in a food processor and serve immediately. Divide the rest into portions and store the chunks into zip bags. When planning to serve these, take the bags out of the freezer 5 minutes before serving. The process in a food processor and serve immediately.
A serving tip: to make things more fun add chocolate chips to your ice cream to make "watermelon seeds". Add the chips after you've processed the frozen chunks.
Watermelon Ice Cream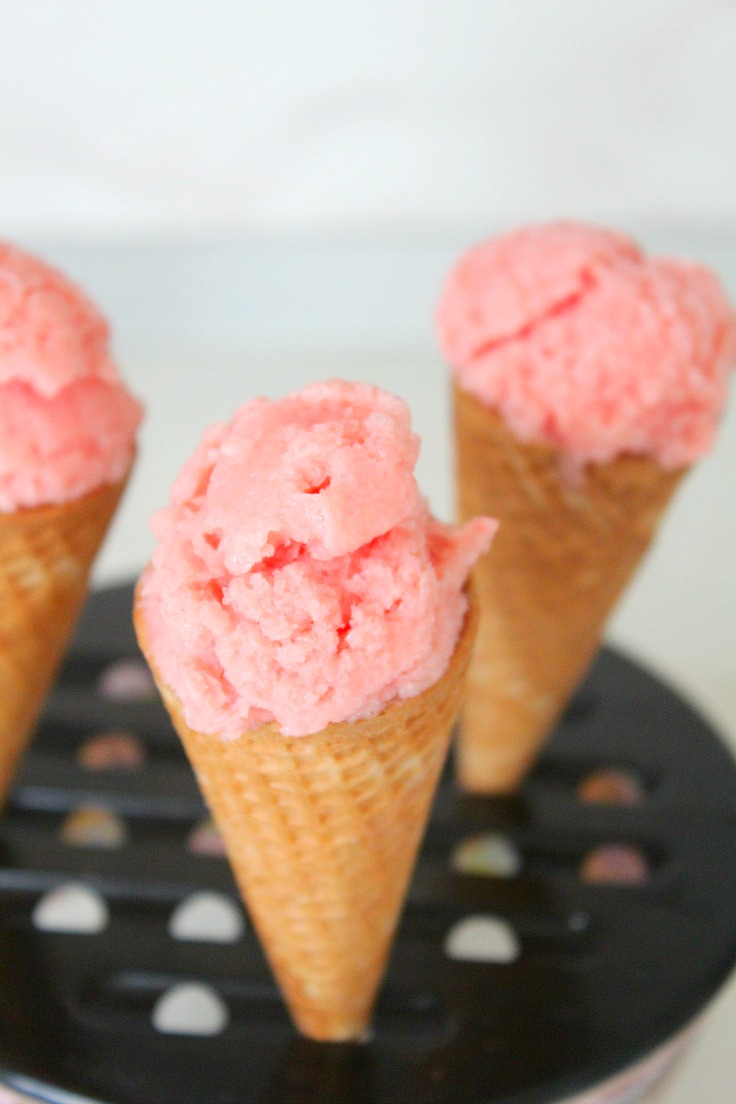 For this particular watermelon ice cream recipe I used seedless fruit, diced, raw honey, 20% Greek Yogurt, a bit of lemon juice and 1/8 cup water as my watermelon was a bit dry. Optional you can add 1 banana to give your ice cream an extra creamy texture.
Watermelon Greek yogurt ice cream recipe
Looking for something cold, sweet, healthy and quick to make? Look no further! This fresh watermelon ice cream recipe is easy, delicious, light and fluffy and super refreshing!
Ingredients
4

cups

seedless watermelon

diced

4

tablespoons

honey

1

cup

Greek Yogurt

1

tablespoon

lemon juice

1/8 to 1/4

cup

water if your watermelon is not watery enough

1

banana

optional - for extra creamy texture
Instructions
Puree watermelon in a blender, in batches, pulsing until smooth.

Pour into a large bowl.

Whisk in honey, yogurt and lemon juice until completely smooth.

Pour the mixture through a fine sieve into a large freezable recipient, whisking to release all juice. Discard pulp.

Freeze for 1 hour then remove from recipient into a blender and pulse until smooth.

Repeat every half hour for the next couple of hours, freeze for 1 extra hour, then serve.

If freezing for more than 2 hours, remove from freezer and defrost slightly for 5 minutes. Break into chunks and process into a blender, in batches, just before serving.
Nutrition
Serving:
1
cup
|
Calories:
103
kcal
|
Carbohydrates:
11.2
g
|
Protein:
10.32
g
|
Fat:
2.07
g
|
Saturated Fat:
1.55
g
|
Cholesterol:
5
mg
|
Sodium:
33.75
mg
|
Potassium:
187.25
mg
|
Sugar:
10.7
g
|
Calcium:
80
mg
|
Iron:
0.1
mg
Pin to save for later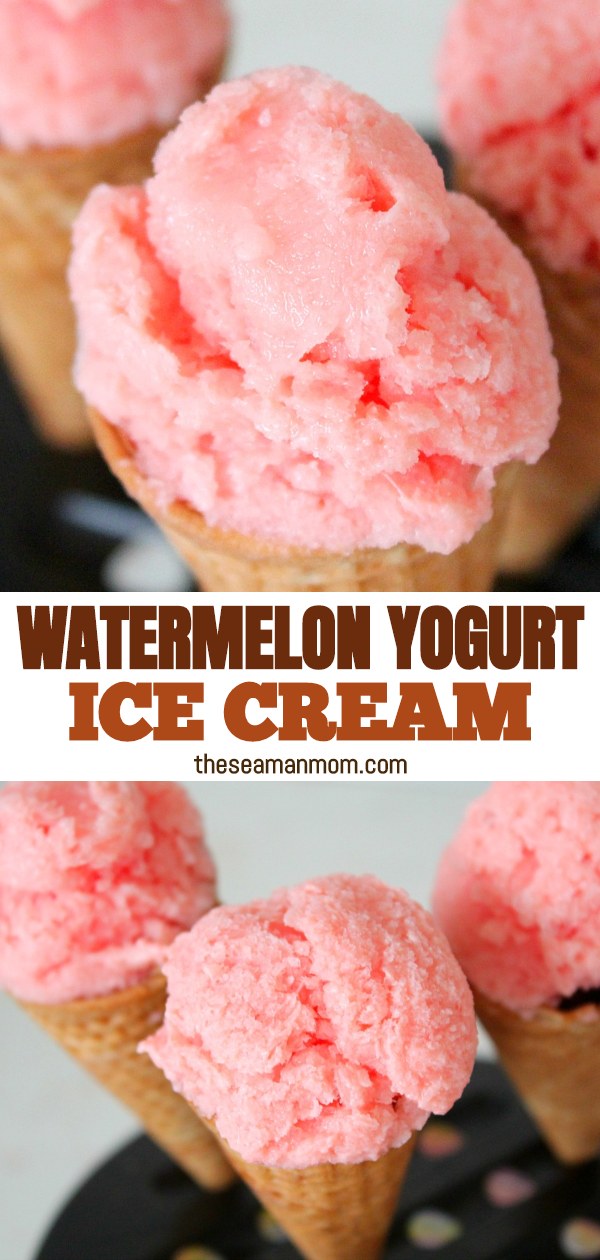 Most popular recipes
Other watermelon recipes you might like: