Article may contain Amazon & affiliate links. As an Amazon Associate I earn from qualifying purchases at no additional cost to you.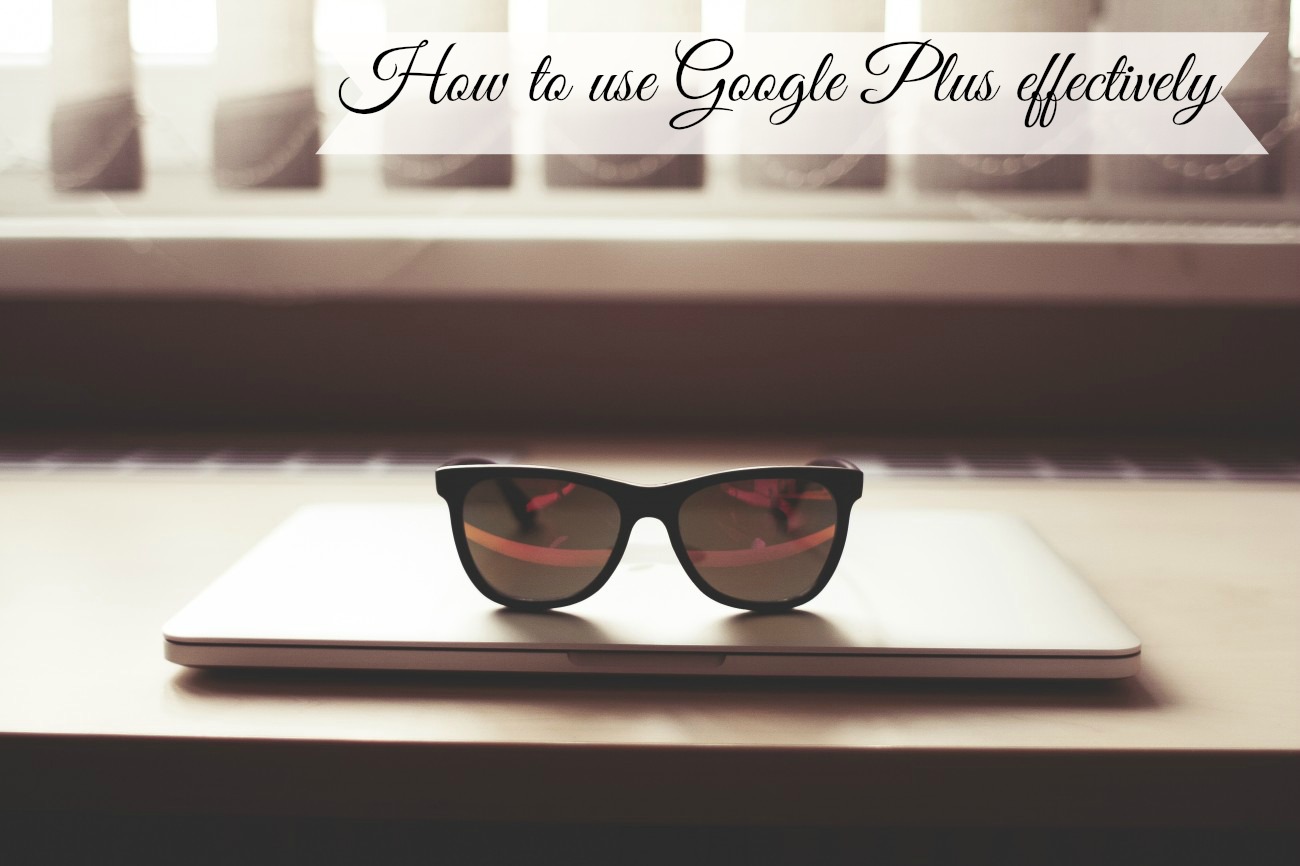 Learning how to use Google plus (also known as G+) effectively is a must these days, not only for bloggers but for business owners too. This is the platform of the future, G+ is Google's little baby so with Google being insanely huge one would only assume Google's baby will follow into its parent' steps.
So you've started a blog (or two, or three), you've opened a bunch of accounts with all reputable social media platforms such as Facebook, Twitter, Pinterest and G+ and now you're wondering what's next? You've seen pretty decent results with Twitter, Pinterest has been really kind to you while Facebook and G+ failed to provide any satisfaction.
While in regards to Facebook there isn't much you could do to improve not only your following but maintain it and have it engaged (unless you foolishly take some serious money out of your pocket and donate it to Facebook as the results will only be artificial, no real engagement comes from that), things are quite on the opposite side when it comes to Google+.
If you learn how to properly nurture and use Google plus effectively you will definitely see some results as in a larger engagement on your Google+ page, a considerable followers base, a better chance of appearing on Google search and eventually more traffic to your blog, site or business. Yes, it takes time and patience but you won't have to pay a dime out of your pocket. It's all free and Google will thank you for playing nicely with their baby. Trust me, I know! I'm a mother too.
Here are a few tips to help you use Google plus effectively, based on my personal experience with my 2 years old Google+ account:
Give your profile a nice look by choosing a great photo ( a smile goes a long way) and a cover that reflects you or/and your blog perfectly. Also make sure your profile is completely filled up (unless you'd prefer to keep some areas of your personal life secret). Don't ever use a creepy, weird looking photo or worse, no photo at all. That looks spammy!
Add all your social media and blog/blogs links to your profile for ease of access to your profile's visitors.
Manually publish your Google+ posts or use an efficient service such as Do Share where you can nicely set up a post as if you're publishing it manually.
Make up a striking headline or use the title of your blog post (pending that title reflects what your posts is all about in just a few striking words).
Striking or not, your headline/title should always be typed in bold characters. With Google+, you can't make the letters appear as bold unless you use special characters. Place asterisks in front and right after each word you'd like to be highlighted in bold.
I.e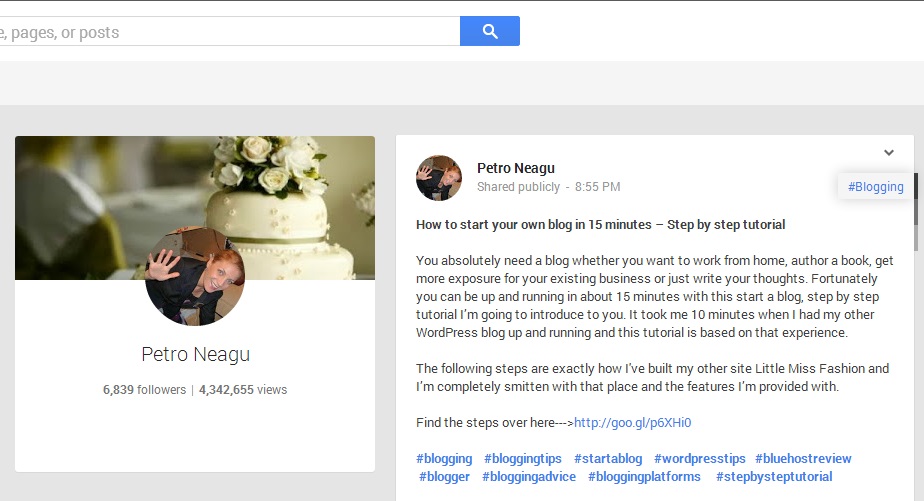 The beauty of Google+ (among many others) is that you can type as many words and lines as you'd like. In fact you can easily fit a whole blog post into a Google+ post. But that's not your point, right? You want to drive people to your site. So give them a few good lines of what to expect if they visit your site, followed by a link to your original blog post.
Make your link look pretty and use a link shortener, such as Goo.gl.
Use a high impact photo which means your pic has to be large, high pixel and to reflect exactly what's in your blog post. So when promoting my post "How to start a blog – Step by step tutorial" I used an image of a Mac laptop with a short but clear text on, "How to start a blog in 15 minutes". Don't ever use a small or no picture at all, it not only looks lame and unprofessional but at least to me it's quite annoying and shows me you don't care much about your post and blog so why would I?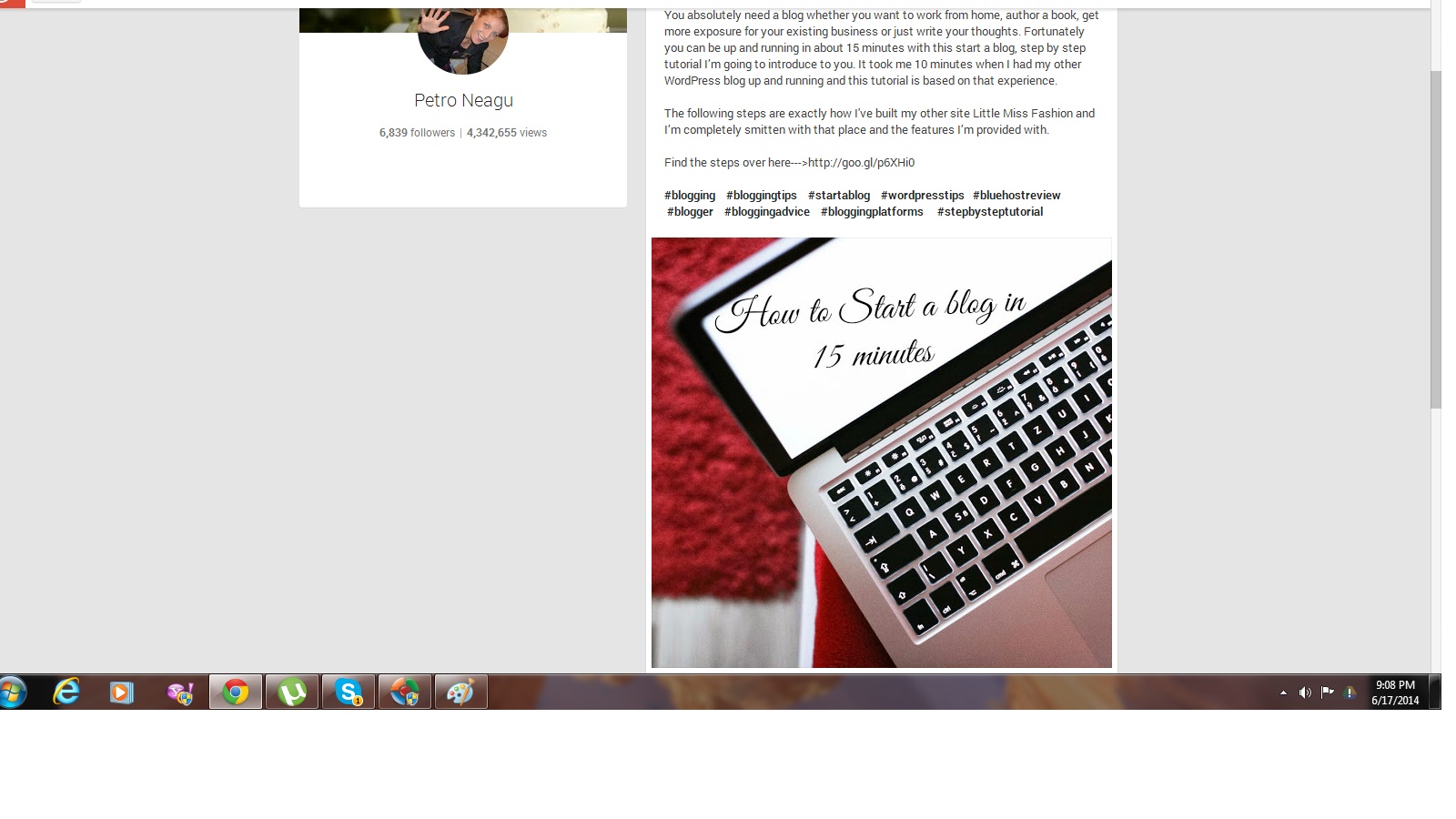 Use hash tags but only at the bottom of your post. If you make it your goal to use Google plus effectively this step is a must. This place is not Twitter or Facebook, Google + is expected to be and look stylish and professional and hash tags mid post don't quite look professional, don't they?
Set your post to Public if you want others to see it, comment, plus or share it. Most of your posts should be set to Public and only occasionally set to Circles, Friends, Family etc. If you bother your followers with too many posts they might end up unfollowing you or even worse, report you as spam. Public is safe, everyone is set to Public.
Publish multiple posts a day (I normally do 3-4 of mine) and share a few others from the blogs/sites you like best and follow on a regular basis. It shows your followers you are active and also not an egocentric, you mean business when it comes to socializing and you're not just fishing for traffic. Sharing useful content from other blogs makes your followers happy, particularly on a day when your content hasn't manage to suit their interests (it happens, it's normal, we're all different people with different taste).
If your followers send you links to review don't be shy, show them you liked their posts by plussing the link, commenting or sharing. They'll soon return the favor.
Thank everyone that comments, plusses, shares your posts via a comment on the respective post.
Join groups in your niche and interest and be active within those groups too by sharing, plussing, commenting on various posts at least a couple of times a day.
Don't just focus on followers but on views on your profile and clicks to your blog. Who cares how many people follow you? You're in for the traffic and engagement not just empty numbers.
Most importantly, don't give up on Google+ after just a couple of months. It takes time and a bit of work but it's worth the effort and once you get into the right habits you'll use Google plus effectively without even noticing, naturally, same as with any other major social media platform.