Make an easy and simple but yummylicious treat that both kids and adults will love with this foolproof jam filled donuts recipe! Nothing beats a classic dessert!
Jam Donuts Recipe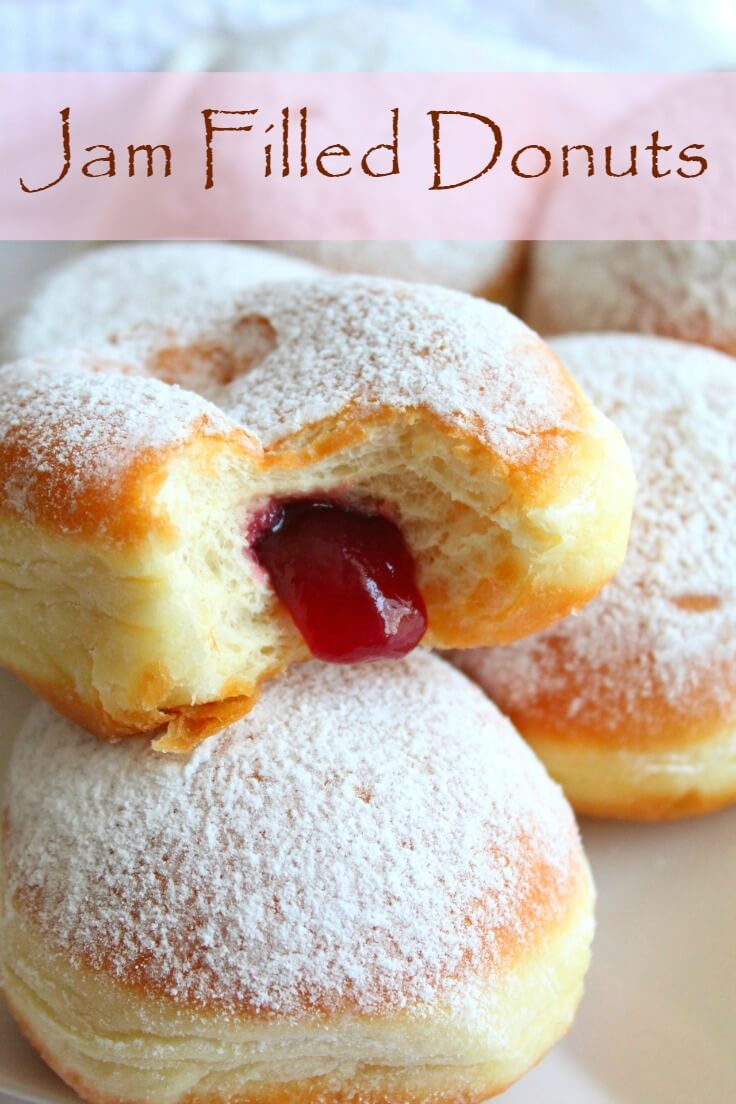 I'm a sucker for classic desserts just like these jam filled donuts! Making these delicious jam doughnuts takes little to no effort and they turn out super yum! I've yet to meet anyone who doesn't love donuts, of any kind!
My recipe for jam donuts makes light, fluffy donuts, filled with just the right amount of strawberry jam for the perfect tea time treat. The ultra traditional donut recipe could be played up all kinds of different ways but I personally prefer this simple version of strawberry jam donuts which I believe is a great dessert in any season.
Similar posts you might like
These jam filled donuts taste even better with homemade strawberry jam and I personally like them cold from the fridge but room temperature works just as great too. Some people even like to serve these hot.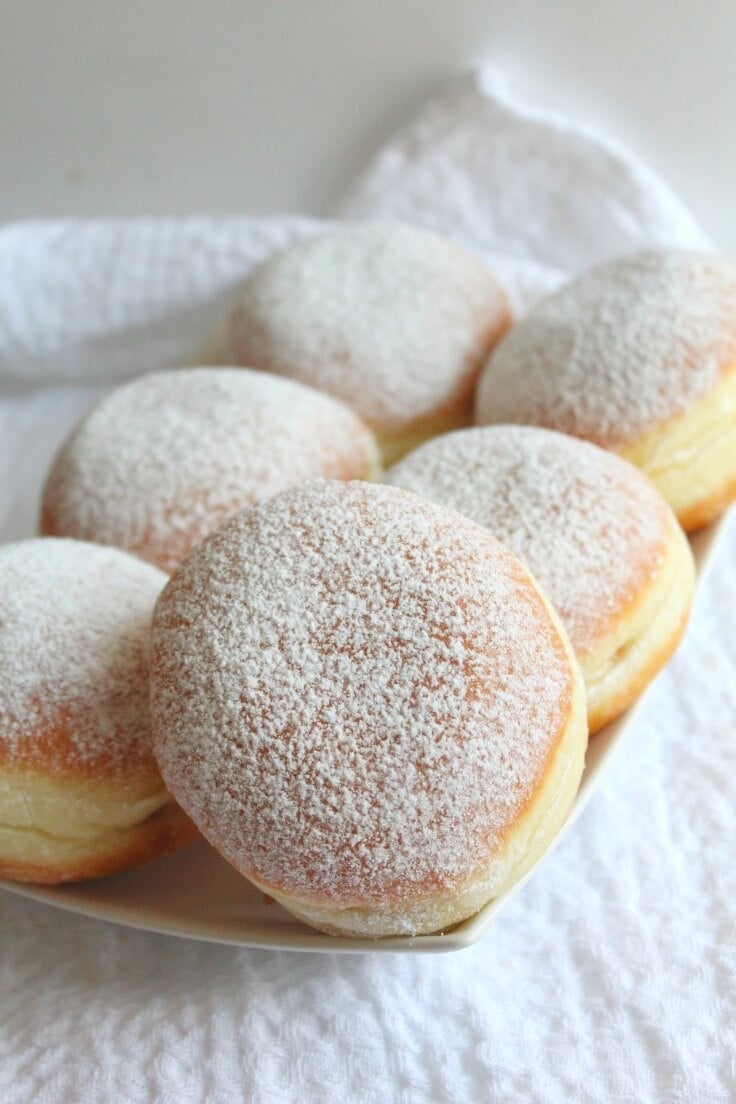 There's nothing quite like freshly cooked donuts! All it takes is just a few simple ingredients to make wonderfully moist, puffy and difficult to resist jam filled donuts! An easy to follow recipe that produces an unbeatable treat, especially when served fresh and dusted with sugar!
Jam Filled Donuts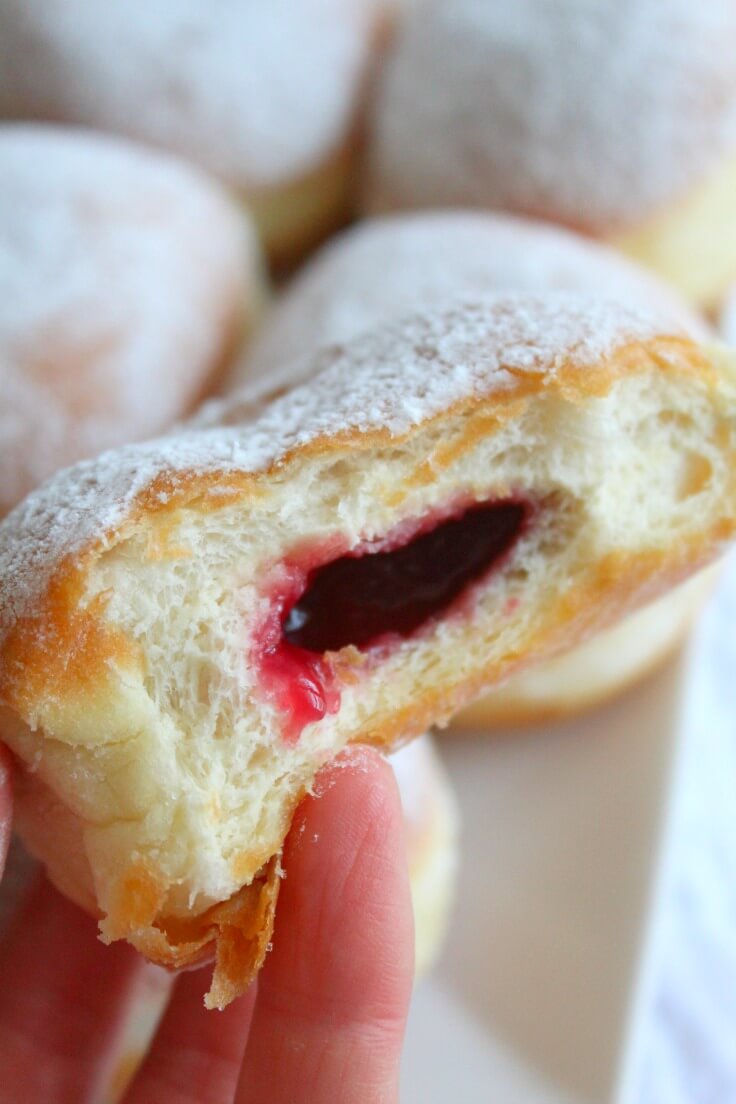 To make this amazing dessert you won't need a lot of ingredients and chances are you already have them or most of them in your pantry. You'll need flour, salt, dry yeast, milk, sugar, eggs and butter. You'll also need oil to fry the donuts and confectioners' sugar to dust the donuts (optional)
And of course you'll need jam. I used strawberry jam but feel free to use your favorite jam. I like to make my own strawberry jam and use it fresh, right after making it but store bought strawberry jam would do the trick too. Just make sure it's not too solid, you need it smooth and soft so you can pipe it easily into the donuts.
To get fluffy donuts, mix the yeast with some milk and sugar and let the mixture sit in a warm place until foamy, 5 to 10 minutes. Once the dough is prepared don't rush making these jam filled donuts. Instead, let the dough rise for a couple of hours. Allow the donuts to rise some more after cutting into rounds and laying them on a flat surface, covered with a warm but dry towel. This will help the donuts become fluffy and airy which is not only good for your taste buds but it will make some room for the jam when you fill the donuts.
To make these strawberry jam donuts you will also need these kitchen tools:
small bowl
baking sheet
1/2″ round tip
Simple Jam Filled Donuts Recipe

Ingredients

4 to 4 1/2

cup

flour

plus more for dusting

1/2

tsp

salt

2 1/2

teaspoons

dry active yeast

1

cup

lukewarm milk

2

tbsp

sugar

2

large eggs

beaten

2

tbsp

unsalted butter

melted and cooled

strawberry jam

or jam of choice

vegetable oil

for frying

icing sugar

for dusting

You will also need:

mixing bowl

small bowl

rolling pin

round cookie cutter

baking sheet

fryer

pastry bag

1/2

" round tip

Instructions

In a mixing bowl combine 4 cups flour and salt then add the yeast.

Mix the yeast with 2 tablespoons of the milk and 2 tablespoons sugar and let sit until foamy, about 5 to 10 minutes then add to the flour with the remaining milk.

Add the eggs and butter to the flour mixture.

Begin to mix the ingredients into a soft, but not sticky, dough. Add a little extra milk if needed, 1 tablespoon at a time or work in extra flour if needed, 1 tablespoon at a time.

Turn the dough out onto a lightly floured surface and knead until smooth and elastic.

Transfer the dough to a lightly oiled bowl, cover, and let rise until doubled in size, about 2 hours.

Punch down the risen dough then turn out onto a lightly floured surface and knead for a few seconds.

Lightly flour a rolling pin then gradually roll out the dough to about 1/2" thick. Cut out into 3 to 4-inch rounds with a lightly floured cookie cutter. Re-roll the scraps to make more rounds.

Place the doughnuts on lightly floured baking sheets, spacing them apart so they don't touch when rising, and cover lightly with a dry towel. Let rise in a warm spot until doubled in size, about 20 minutes.

Fill a fryer 3-inches high with vegetable oil and heat at about 350 F. Fry the doughnuts, a few at a time, until golden and puffed, turning frequently, about 5 minutes.

Lift the doughnuts from the oil and place on a plate lined with a paper towel.

Let cool slightly and fill a pastry bag, fitted with a 1/2" round tip, with jam.

Dust with icing sugar and serve.
Pin to save for later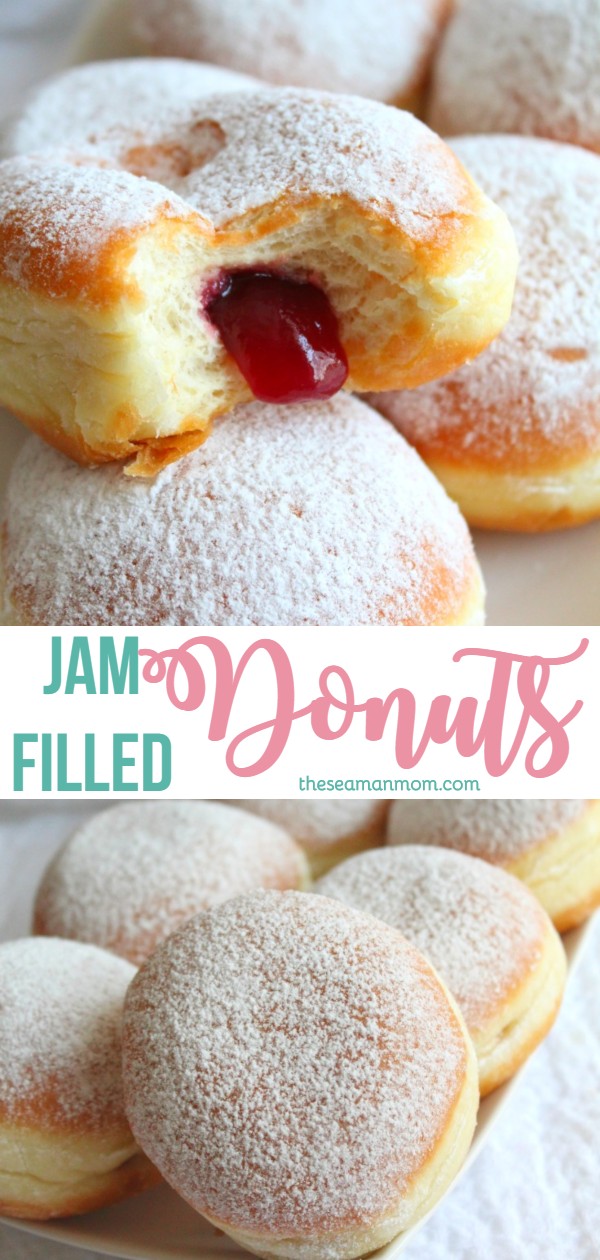 Most popular recipes: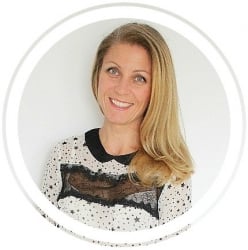 Hi, I'm Petro, author and founder of Easy Peasy Creative Ideas. Sewist, crafter, avid DIY-er, foodie, photographer, homemaker and mommy to one. I'm an expert at coming up with quick, clever sewing tips, recycling crafts and simple, easy recipes! You can find my ideas featured in reputable publications such as Country Living, Good House Keeping, Yahoo News, WikiHow, Shutterfly, Parade, Brit & Co and more. Thanks for stopping by and hope you'll stay for a while, get to know me better and come back another time. Stick around for real fun projects!