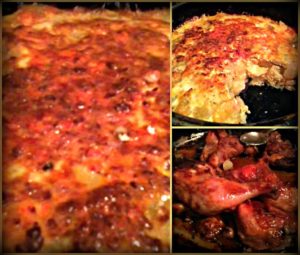 Oven Baked Chicken and French style Potatoes is a course I used to cook regularly before my seaman days and used to be a real maestro.
I am a seaman, we all know that, even my blog knows that. And we do not cook!! No sir! All we do is work our bottoms off laboring or entertaining our guests (like I do), spend countless hours practicing safety measures and fight 24/7 with motion sickness, for about 10-11 months a year. I believe we've got enough on our plates, cooking is the last thing on our mind (that is unless we actually work as cooks, duh).

Don't get us wrong, though! We'd love to cook, we just don't get the opportunity to prove our impressive skills. That is until we go home and our dear relatives risk it all and put their lives (or at least their stomachs) into our hands, by trusting us with cooking their meals.
And after a few, lets say…uncomfortable situations where a certain seaman mom, well…blew it, things got back on track. It's official now: I can cook! People in my family eat the food, they like it and they stay alive. What more could one ask for?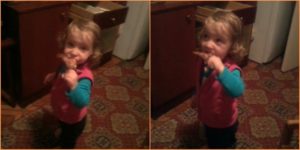 The best testimony? My daughter Ellie.

SEE MY MOST RECENT VIDEOS HERE
She hates meat with all her tiny guts, but she did eat her mommy's chicken and she seemed she was actually enjoying it. Or maybe it was just the pleasure of getting her sweet face and little hands oh, so dirty, all to her mommy's despair.
Fair enough, I didn't cook any fancy food, nothing special, even a kid can cook Oven Baked Chicken and French Style Potatoes. Although is a simple recipe, it turned out very yummy.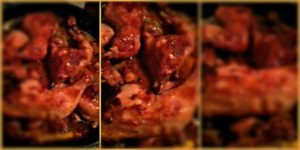 Here are the recipes:
French potatoes recipe:
1 kg potatoes
500g feta cheese
7 boiled eggs
400g yellow cheese
For the sauce:
2 raw eggs
100g flour
150ml milk
350g sour cream
Salt to taste
2 tablespoons of margarine or butter
Boil potatoes 25-30 minutes, until soft. Drain and cool, peel and cut into rings.
Boil eggs for 8-10 minutes. Peel and slice into rings when cool.
Grate both types of cheese.
In a saucepan melt 2 tablespoons margarine/butter. Add flour and mix until slightly brown. Then add milk and mix vigorously. To get a smooth, lump-free sauce, blend with a mixing device.
Add sour cream and season with salt to taste.
Add 2 eggs and mix until smooth.
Put a layer of sliced ​​potatoes, next a layer of sliced eggs, sprinkle some grated cheese of both types. Pour the above sauce , to cover the entire surface – carefully divide the sauce for 3 layers.
Do the same on second and third layer.
Place the potatoes in the oven for 25-30 minutes, until a golden crust forms.
Oven baked chicken recipe:
8 chicken legs
3-4 tablespoons olive oil
1 teaspoon paprika
1 teaspoon salt
1/4 teaspoon pepper
1/2 teaspoon finely chopped garlic
1 cup small water
few tomatoes chopped/mashed very finely
In a bowl mix olive oil with all the spices. Wash and clean chicken and place in a cooking tray. Pour the sauce on top. Add the tomatoes and the water.
Preheated oven at 190 degrees. Every 15 minutes turn over the chicken from side to side. Spread some of the formed sauce on the chicken when doing that.
Cook for about 45 minutes on medium flame.