Article may contain Amazon & affiliate links. As an Amazon Associate I earn from qualifying purchases at no additional cost to you.
Looking for an unusual cookie for your holidays? These Poppy seeds pinwheels are moist and delicious and in spite of the fancy, sophisticated look, they are very easy to make.
Poppy seeds pinwheels recipe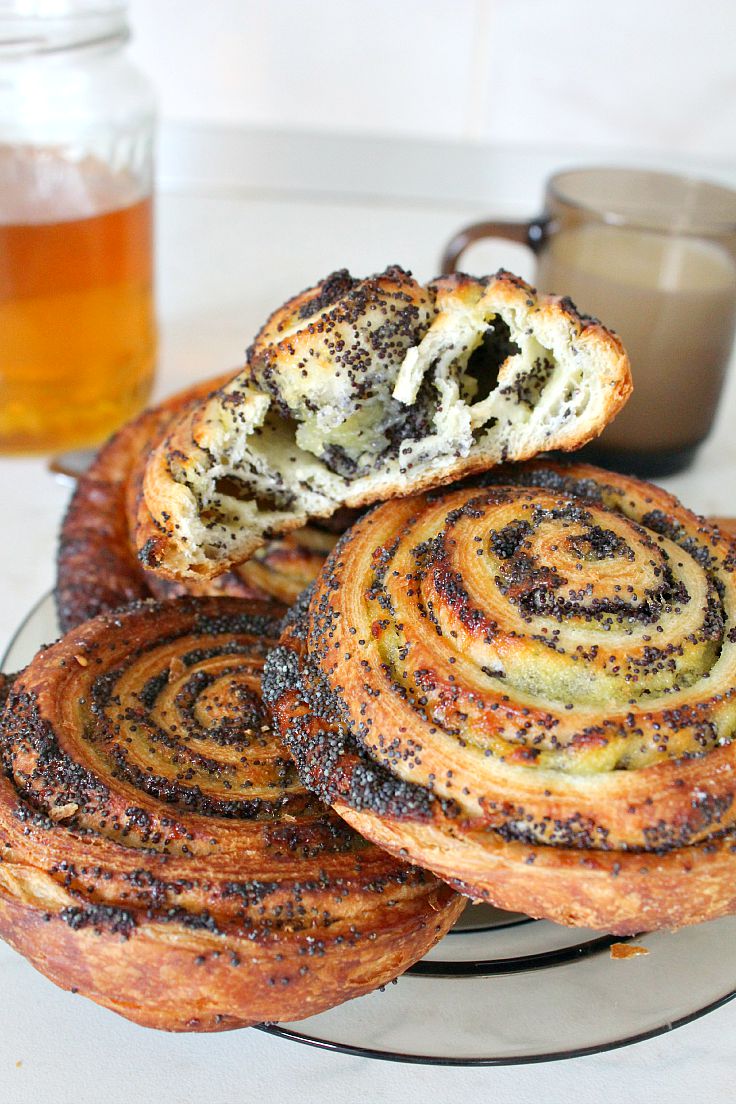 I've always loved pinwheels, no matter the filling. And I always admired people who are able to bake these cookies. To me it seemed like this deliciousness would require some complex baking skills, lots of patience and great gifting. These pinwheels look so fancy and sophisticated, one must be a super baker to make them, right?
Well, turns out I was wrong. These poppy seeds pinwheels might look difficult to make but the truth is, they're pretty easy peasy. And boy, they are so delicious! I love how moist these turned out (in spite the fact that I slightly over cooked them; oops!) and not too sweet, my daughter was simply in love with them. And she's not a pastry fan.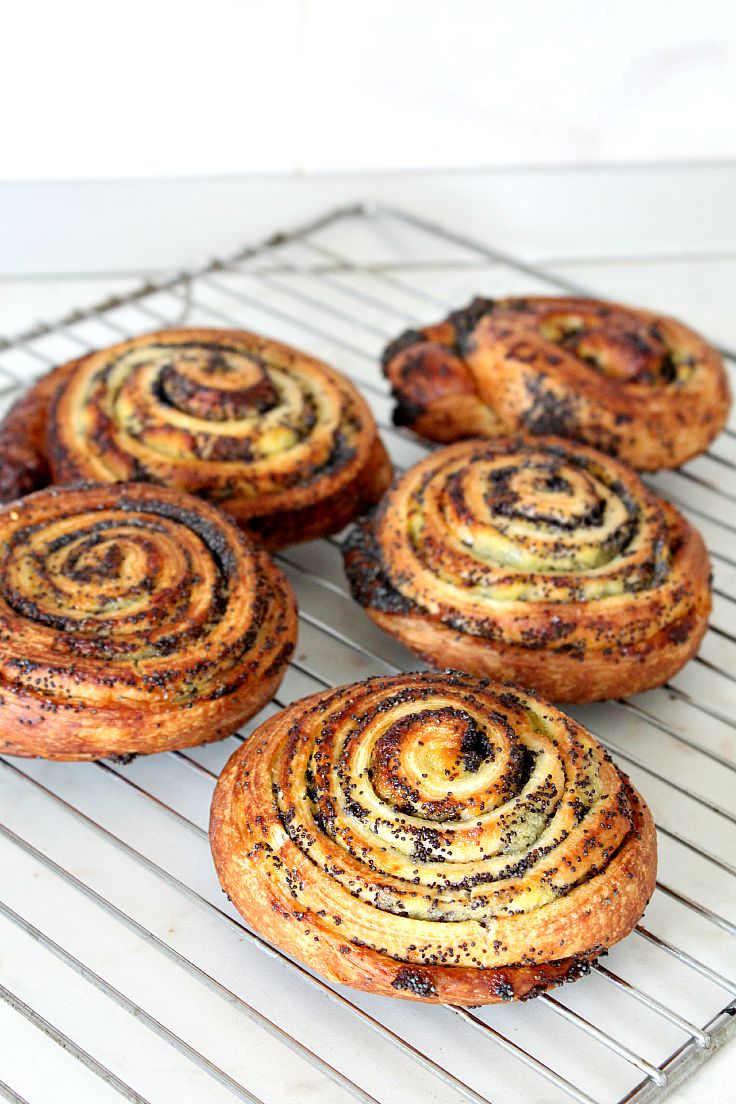 The lemon zest, the sugar syrup and the poppy seeds make such a nice pair. I'm thinking peanuts or cottage cheese would also work wonderfully so I'm planning to give those a try too. I can see a slight addiction forming in the near future (hope not though with all those carbs and stuff).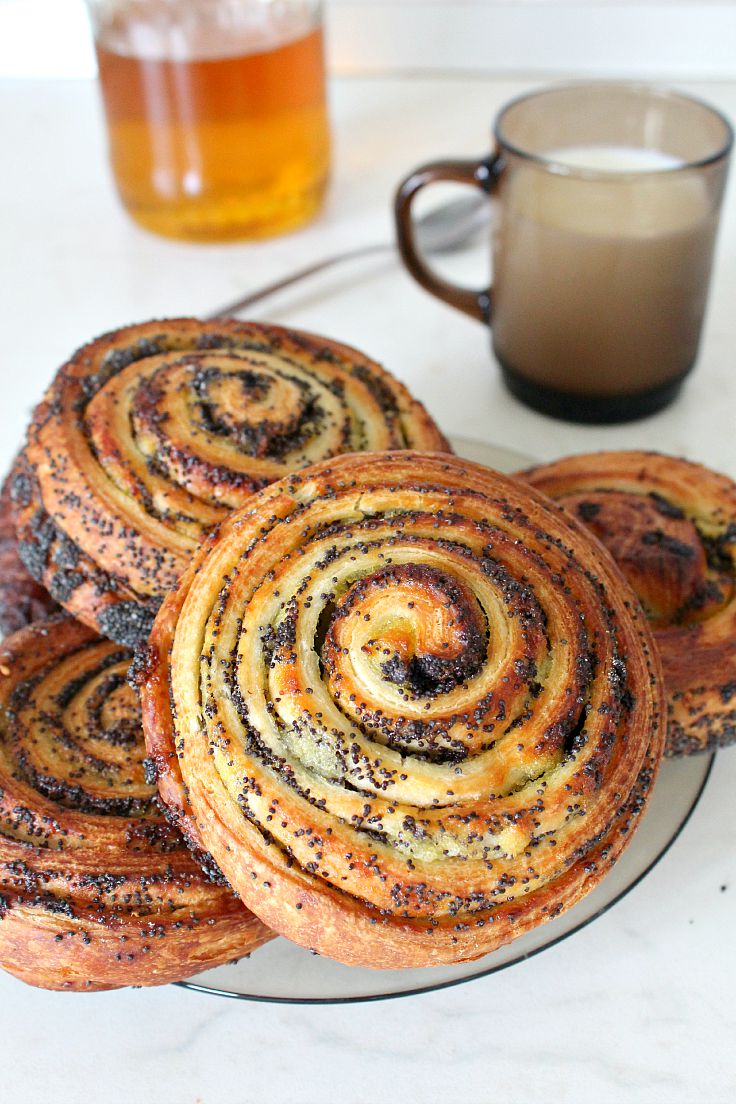 These would make a great cookie at family gatherings and special holidays like Christmas. So if you're working on your Christmas menu, give this poppy seeds pinwheels a try too. You'll want to make this recipe over and over again.
Poppy seeds pinwheels
Ingredients
For the dough
500

g

= 1 lbs flour

25

g

= 1 oz yeast

3

tablespoons

vanilla sugar

1

tablespoon

sugar

50

g

= 2 oz butter

50

g

= 2 oz warm oil

3

egg yolks

200

ml

= 7 oz warm milk

1

tablespoon

lemon zest
For the cream
200

g

= 1/2 lbs butter

100

g

= 1/4 lbs sugar

2

tablespoons

vanilla sugar

poppy seeds as preferred

For the syrup

250

ml

= 7 oz milk

200

g

= 1/4 lbs sugar

1

tablespoon

vanilla sugar
Instructions
Mix half the milk recommended for the dough, yeast, sugar and a tablespoon flour.

Allow 15 minutes to rise.

When ready add yolks, vanilla sugar, lemon zest, flour, remaining milk and knead well

Add melted butter and oil and knead for 5 more minutes.

Allow to rise about 30 minutes.

Divide into 5 parts.

Roll a rolling pin over each to make 5 rectangle sheets (thickness is up to you)

Take ingredients for Filling except for poppy seeds, mix them and spread on each sheet.

Sprinkle poppy seeds as desired.

Roll each sheet.

Slice each roll cross-wise into 1/4 inch (or less ) thick slices.

Preheat oven to 190 degrees C = 375 degrees F

Line a baking sheet with baking paper and sit the pinwheels

Allow to rise for another 20 minutes.

Spread the syrup with a kitchen brush

Bake for 10 minutes, remove from oven, spread more syrup and sprinkle some more poppy seeds.

Bake for additional 5 minutes or until the pinwheels look golden or light brown.
Notes
Serve with a cup of tea or coffee.
Makes a good breakfast with honey spread and a cup of buttermilk
Most popular dessert