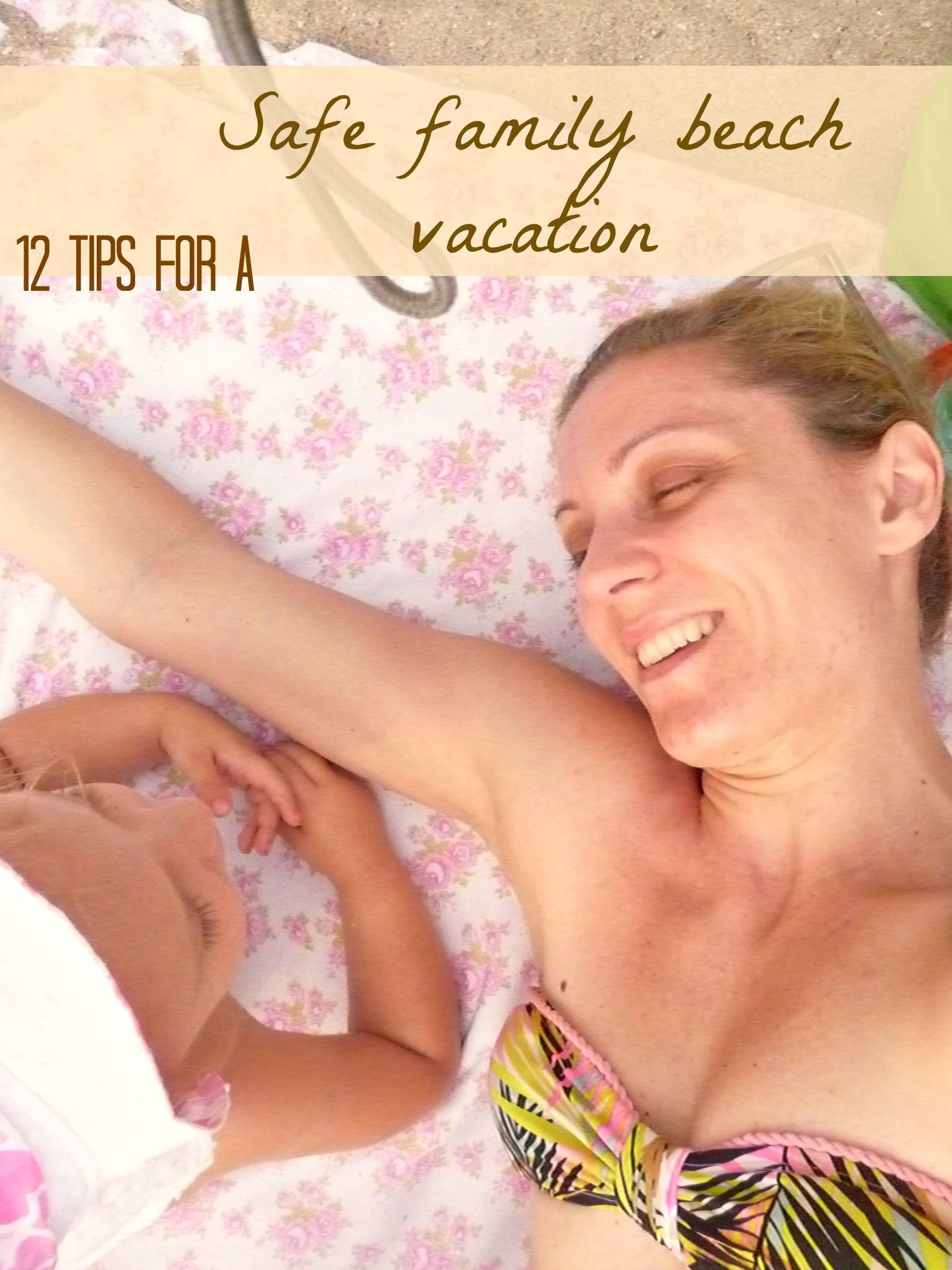 Want more parenting tips? Sign up for my weekly newsletter!
Tips for a safe family beach vacation
This week I am all about parenting and family time. This safe family beach vacation post is part of a mini series I've been inspired to put together following my 1 week vacation with my little daughter Ellie that just ended this past Sunday.
The mentioned getaway was totally called for after I felt Ellie and I are growing apart, mainly because of yours truly dedicating too much time to working instead of my precious, little angel. I eventually came to the point of realizing nothing is more important than my daughter's happiness, no money will ever buy that. Duh, I know!
So we (more like I) decided to take a little vacation at the beach where we could have lots of fun and relax, completely dedicating our time to one another and no one else. Easier said then done! I should've planned that trip way more thoroughly than I did as I missed an essential part: the safe family beach vacation!
I forgot I have a kid in tow now and need to adjust to this reality. I forgot kids are way more sensitive and vulnerable than adults. I forgot kids have a zillion more needs than adults. I also forgot I am a single parent for a while now and need to cover 2 spots instead of just 1. And the list goes on.
Based on our experience (which was truly amazing in spite of all the oops) I made up a list of stuff any parent should consider before going on a beach vacation with their kids.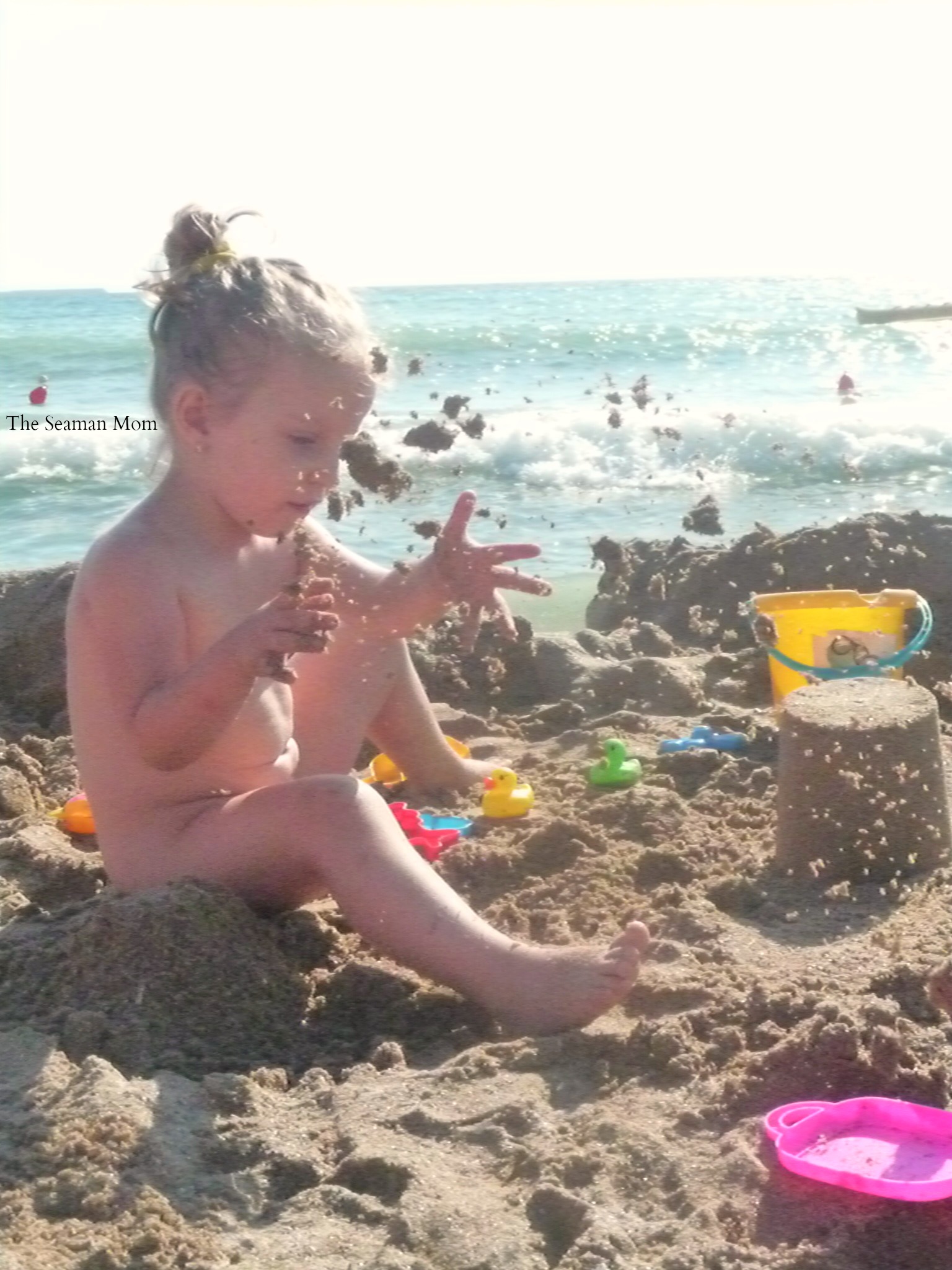 Here are 12 tips for a safe family beach vacation:
Get a super high factor sunscreen for your kids and that means an 80+ or even better, 100+. If you ever thought a kids high factor sunscreen of 50+ would be a safe choice, you'd better think twice, I know I did. I could not find a higher protection for my kid though and she's got a sunburn on her tiny bum, even though our sunbathing time was religiously following this pattern: 8am-10am and 5pm-6pm.
Make sure you've got a huge beach bag, equipped with lots of pockets and easy to use zippers. You'll need lots of water for both yourself and your kid/kids, a couple of snacks, a couple of beach towels, a couple of bathing suits to regularly change your kids when they get out of the water (see below why), your wallet, cell phone, keys, hats and plenty of toys (you're so lucky if you manage to skip this part). So obviously you need all of these to stay organized and in just one place, easy to grab when needed (which is about 90% of the time)
Since you're the one carrying all that heavy stuff you might as well make good use of it. Remind your kids to constantly drink water and offer a small snack every hour or so. They need to keep their energy levels up so you can all enjoy a lovely day at the beach instead of having to deal with tired kids, temper tantrums or worse. Get 1 bottle at room temperature and 1 with ice cold water that will have just the right temperature once the first one is done. As for snacks, get a small bag of nuts, a small apple/pear/banana, a handful of dried fruit, a mini muffin or cupcake with fruit.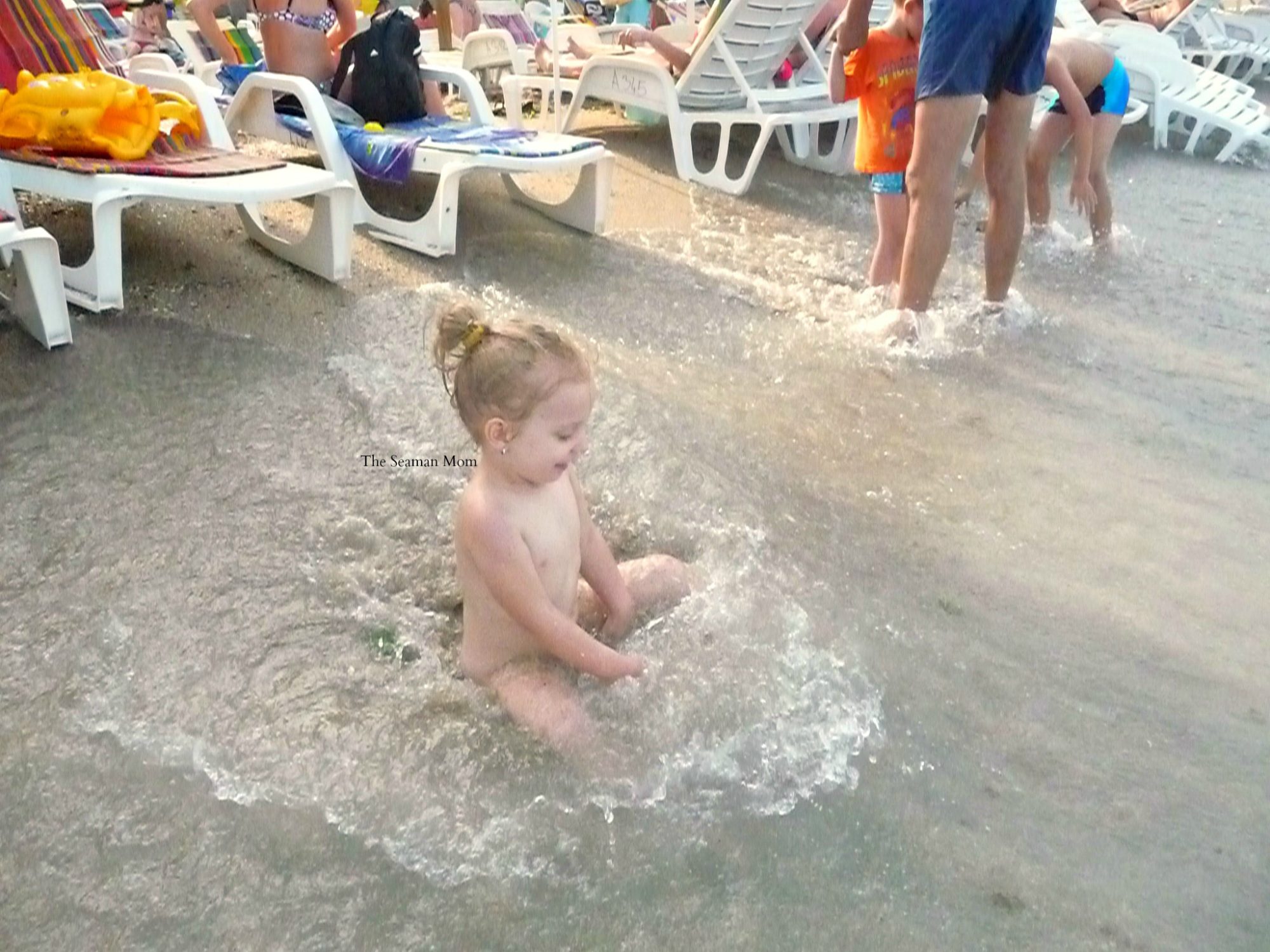 Change your kids into a dry bathing suit when they're out of the water. That's to prevent candida formation which is favored by humidity. It mainly forms around the genital area but I'm pretty sure no parent would want any candida around their kids, no matter the area. I am guilty as charged as I forgot about this part so Ellie ended up spending a great deal of time walking around naked gun. Well, she's a kiddo, she can afford it. Not so sure about adults though. Yes, the dry bathing suit applies to you as well.
When booking a hotel/inn, make sure it's very close to the beach. Bare in mind 10 minutes walk it actually means 20 minutes when walking with kids. Or you could just carry your kids together with the mentioned huge beach bag (and yourself), it really is your choice. Do yourself a favor, spend a few extra dollars and book a hotel that's about 2-3 minutes away from the beach.
Always keep an eye on your kid and by that I mean ALWAYS. Take your eyes off your kid for a couple of seconds and they're gone. There are so many temptations on the beach from other playful kids, to pretty shells, colorful kites or inviting waves.
In close relationship, regularly check on your kids for overheating or sunburn signs. Don't make the mistake of thinking a cloudy day will not cause them harm, the sun is trickier those days. That's how Ellie got the little sunburn on her bum. Luckily I've spotted it on time and had the right tool in had (next paragraph).
Have a cooling lotion/spray on hand and use it constantly, not only in case of emergency. It will help kids' skin cool down and feel refreshed while preventing sunburns if paired with a high protection sunscreen.
Make kids wear a sun hat most of the time. The hat should have a brim, large enough to keep their forehead, neck and shoulders protected from sun. Make sure the fabric is very thin and soak the hat in water once in a while to help kids stay cool and also prevent overheating. You can take their hat off if you're sunbathing very early in the morning or late evening (8am or 7pm).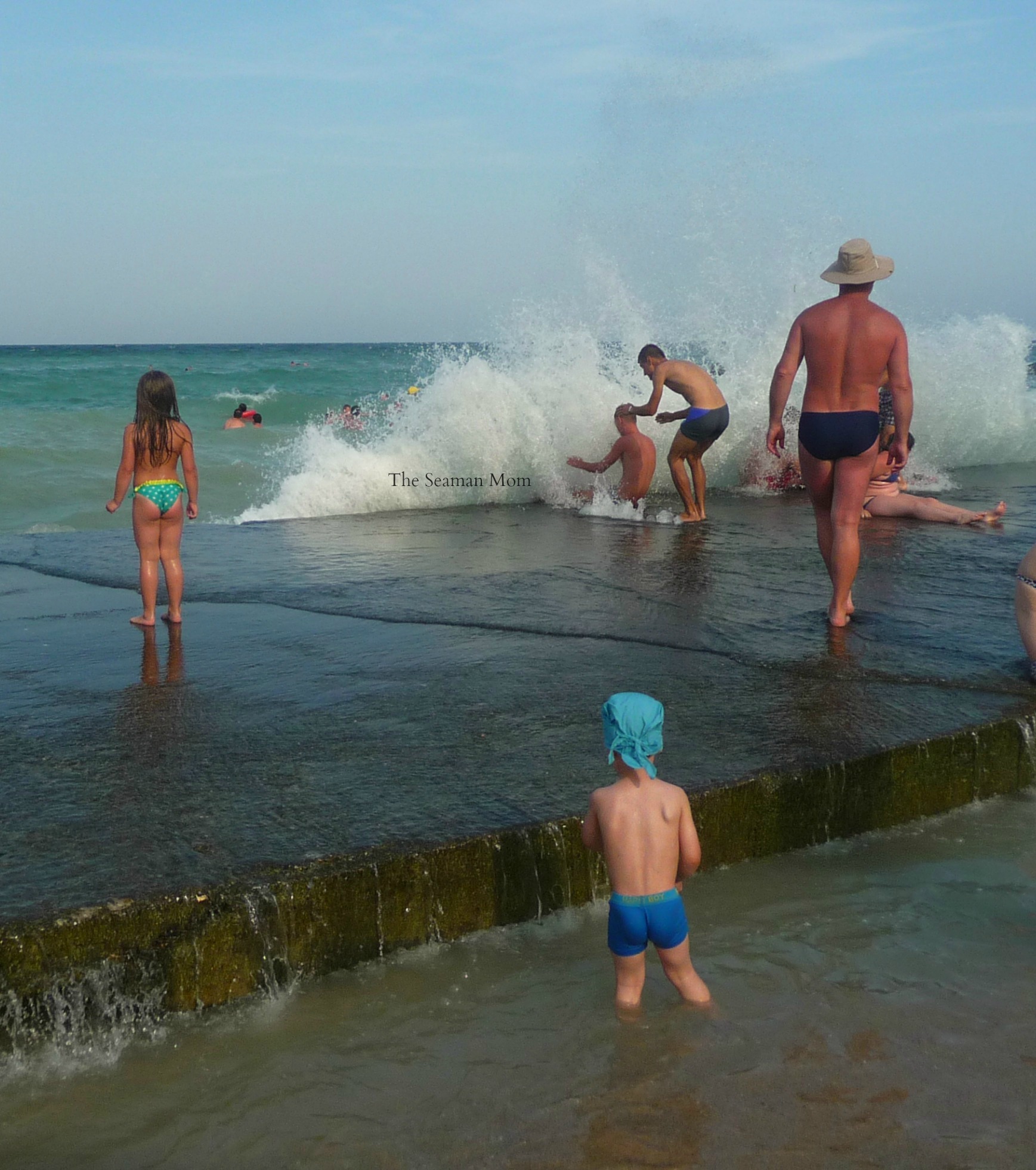 Don't ever leave your kids unsupervised around the water. Even the smallest wave can make them stumble and fall with their face into the water, inhaling/swallowing sand and salty water. From here to drowning is just a tiny step and it all takes a few seconds.
Make sure you feed your kids (and yourself) only from trusted sources. You can't afford to have a kid sick with stomach flu or food poisoning. It will not only ruin your vacation but will drain your kids' resources as they're little bodies are already weakened from the sun exposure, the salty water, from playing with the waves and sand etc. It will be harder to get them back on track.
Ice cream is not your kids' enemy. All you need to do is give them ice cream with balance in mind. That means no ice cream when they're too hot and also no ice cream in excess. But eating a small ice cream once a day will help them stay cool and happy. Pair it with the above mentioned snacks and you double score.
Thinking about starting your own blog? Learn how to create a blog in less than 15 minutes. I'll hold your hand and teach you how to easily set up and launch a blog with WordPress and my affiliate, BlueHost, in a super easy step by step tutorial.