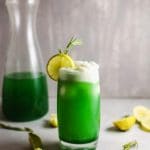 Print Recipe
St Patrick lime sherbet punch
This St. Patrick's lime sherbet punch is a super refreshing and festive treat! Made with a simple lime syrup and paired with a zesty sherbet this, is the perfect drink to make when you want to cool down!
In a saucepan over medium heat mix sugar, water and lime zest and juice and food coloring.

Cook, stirring constantly until the sugar has melted and the syrup has thickened (around 6 minutes).

Remove from heat and let it cool completely.

Add 2 sherbet scoops to a glass, pour around ¼ cumple simple syrup over.

Finish with soda.

Serve immediately.