Printable "Give Thanks" banner
Article may contain Amazon & affiliate links. As an Amazon Associate I earn from qualifying purchases at no additional cost to you.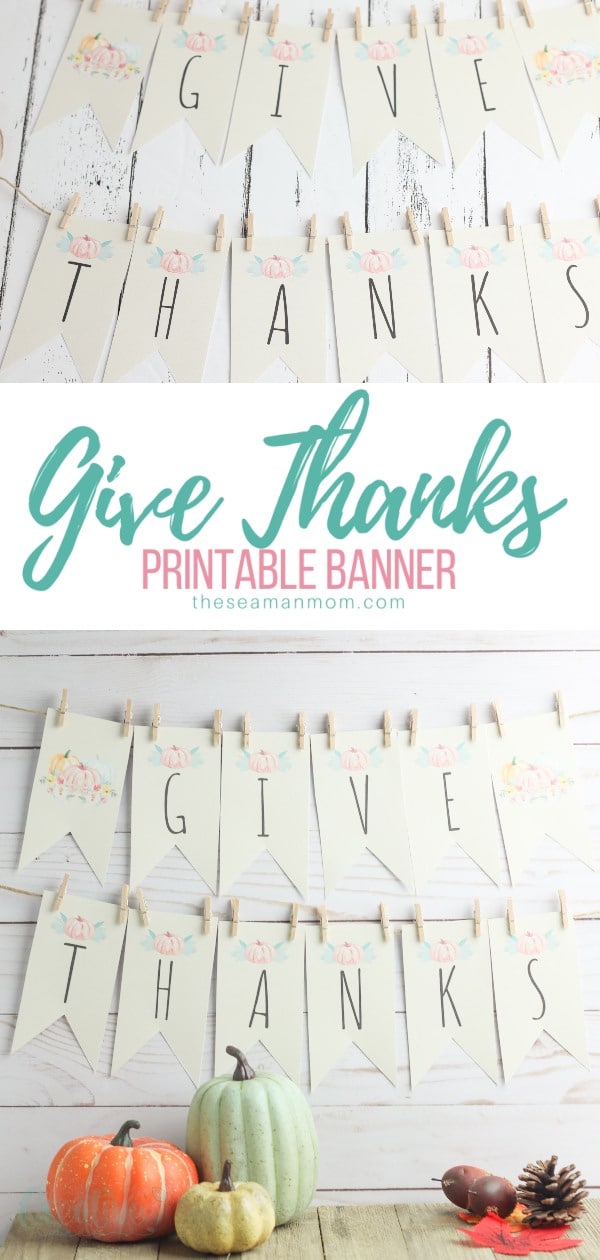 Make decorating for Thanksgiving a breeze with a beautiful Thanksgiving banner! This rustic Give Thanks banner is the perfect way to add a little bit of Thanksgiving charm to your fall decor!
Thanksgiving printables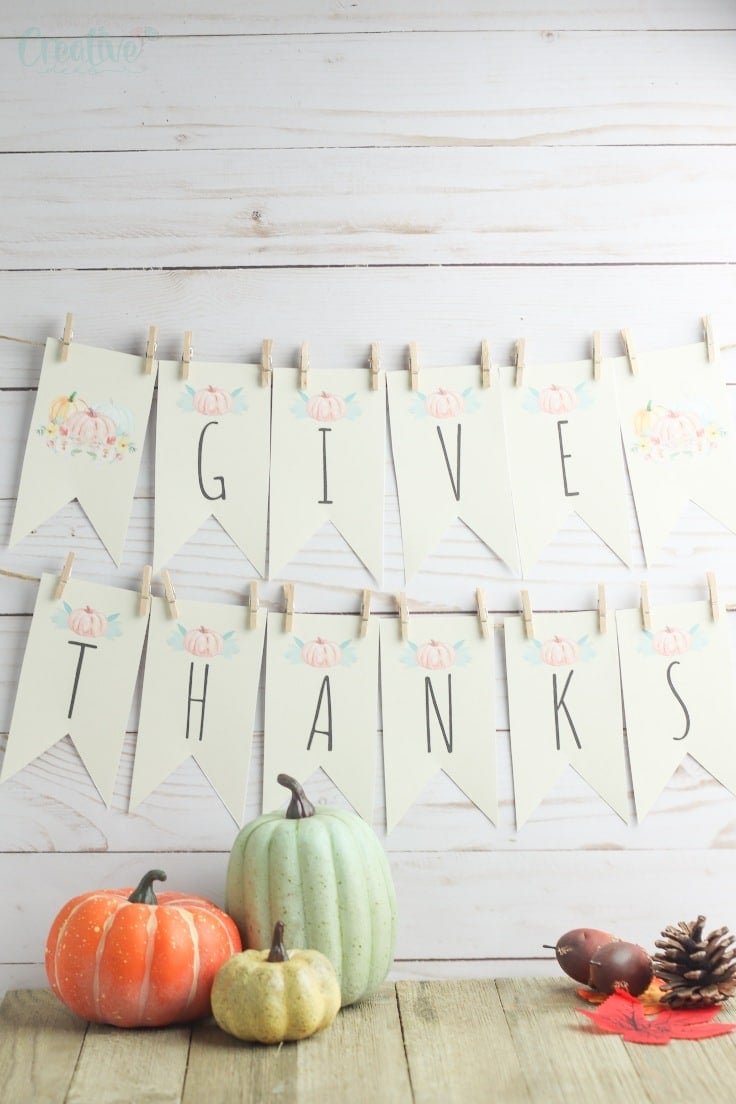 Christmas gets all the decorating glory, but Thanksgiving deserves a little bit of recognition around your house, too! Decorating for the Thanksgiving holiday is actually pretty easy! Simply spruce up your regular fall decorations with a few words of thanks! And this beautiful rustic Give Thanks banner is the perfect way to add a little bit of Thanksgiving charm to your fall decor.
I just love the rustic look of this thanks banner! The beautiful watercolor pumpkins and the Rae Dunn-inspired print make it perfect for anyone with a farmhouse style home. It would look great with all your existing fall farmhouse decorations.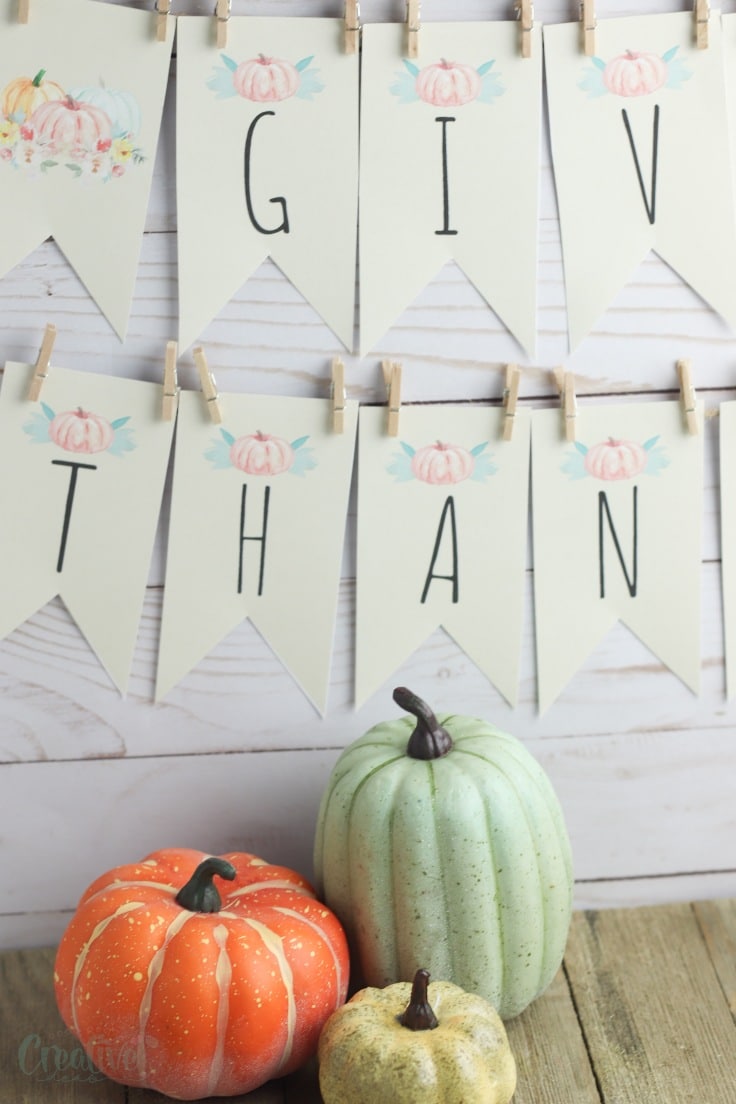 Purchasing ready-made Thanksgiving decor can get expensive. Which is why I love making my own fall decorations! On top of saving a little money, I also get to customize the decorations to my own style and colors. This cute printable Thanksgiving banner is a simple DIY project that you can make in a few minutes. And you can style it however you choose! Or get this Thanksgiving banner instead, they're both great options!
Other fall ideas you will love:
To hang my give thanks banner, I used jute twine and mini clothespins. But there are a variety of ways to customize the project to your own decorating style. Swap out the jute twine for ribbon, plain string, or baker's twine for a less rustic look for your holiday banner. And instead of hanging the banner using mini clothes pins, consider gluing the string or twine to the back of the banner for a cleaner look. You could also punch holes in each corner of the banner flags and thread the twine through the holes to string up the banner.
Banners are such a simple way to decorate for the holidays. Whether you're using this give thanks banner as part of your dinner party decor or just want to remind your family to be thankful during the fall season, it will serve as a beautiful accent to your existing decor.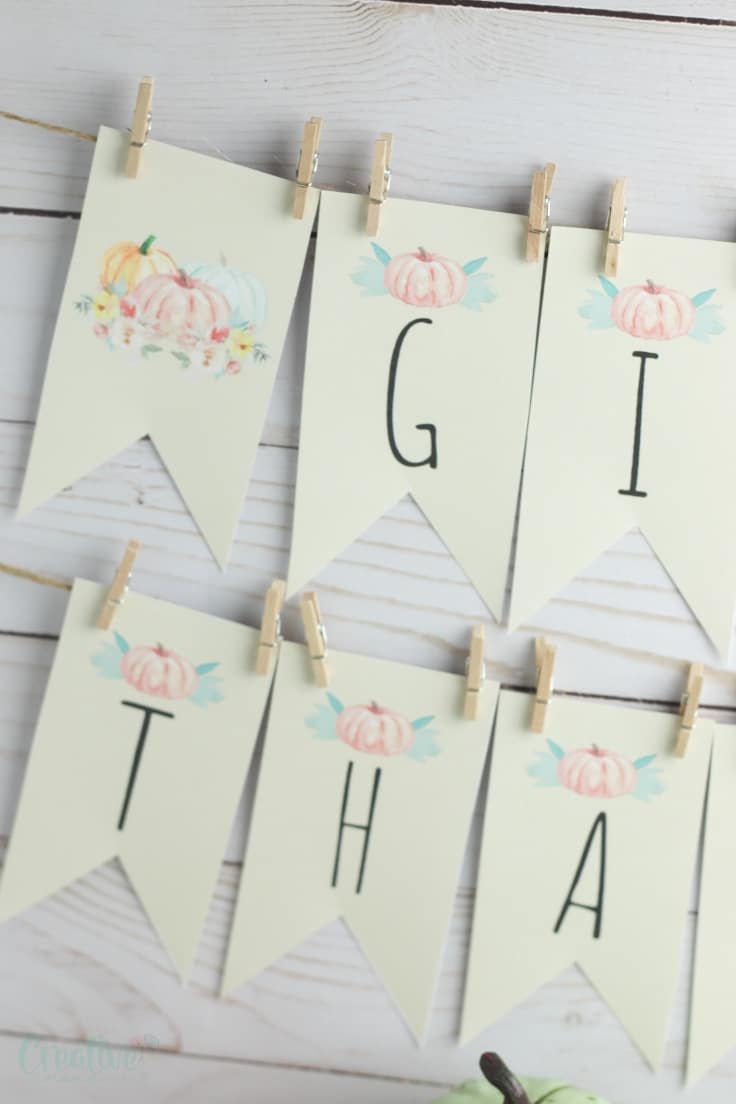 And there are so many ways you can use this printable banner in your home! Here are some places you can hang this Thanksgiving banner:
On your mantel
On the wall
Above the food display at Thanksgiving dinner
Above your bed
On your front door
On your dining room hutch
In your kitchen
Where ever you choose to hang this beautiful Thanksgiving banner, it's sure to inspire your family to think about the things they're grateful for this holiday season.
Want to make your own Give Thanks banner? Start by downloading my printable banner, then keep reading to get the full tutorial. The banner is free for my craft newsletter subscribers and is available for purchase here, if you'd rather not join the newsletter!
Give Thanks Banner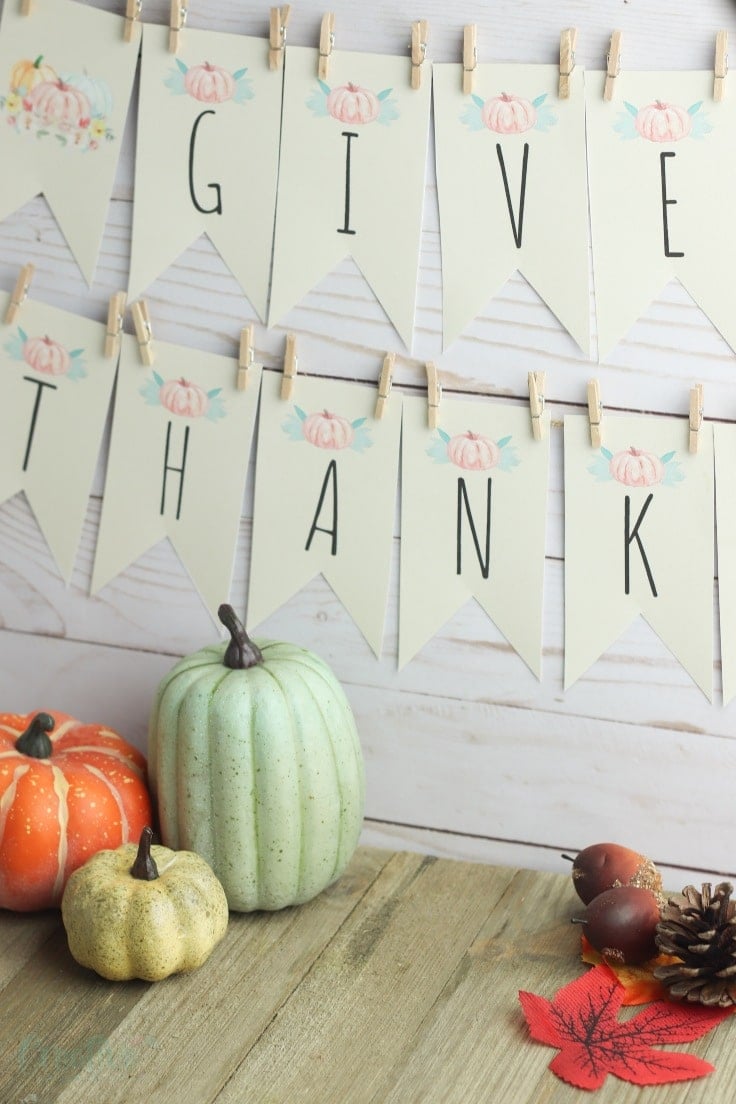 Supplies:
Instructions:
Print the printable banner on card stock and cut out around the outer edge.
Cut two pieces of twine to the length you'll need to hang the banner.
Clip the banner to the center of the twine using mini clothespins. The word "give" goes on the top with the pumpkin flags on each side of the word. The word "thanks" goes on the bottom.
Hang the banner anywhere in the house.
Pin to save for later