Not skilled enough to sew your own pants? With this wide leg pants pattern you don't need a lot of experience! These DIY wide leg trousers are so simple to draft, cut and sew, perfect project for beginners!
Wide leg pants sewing pattern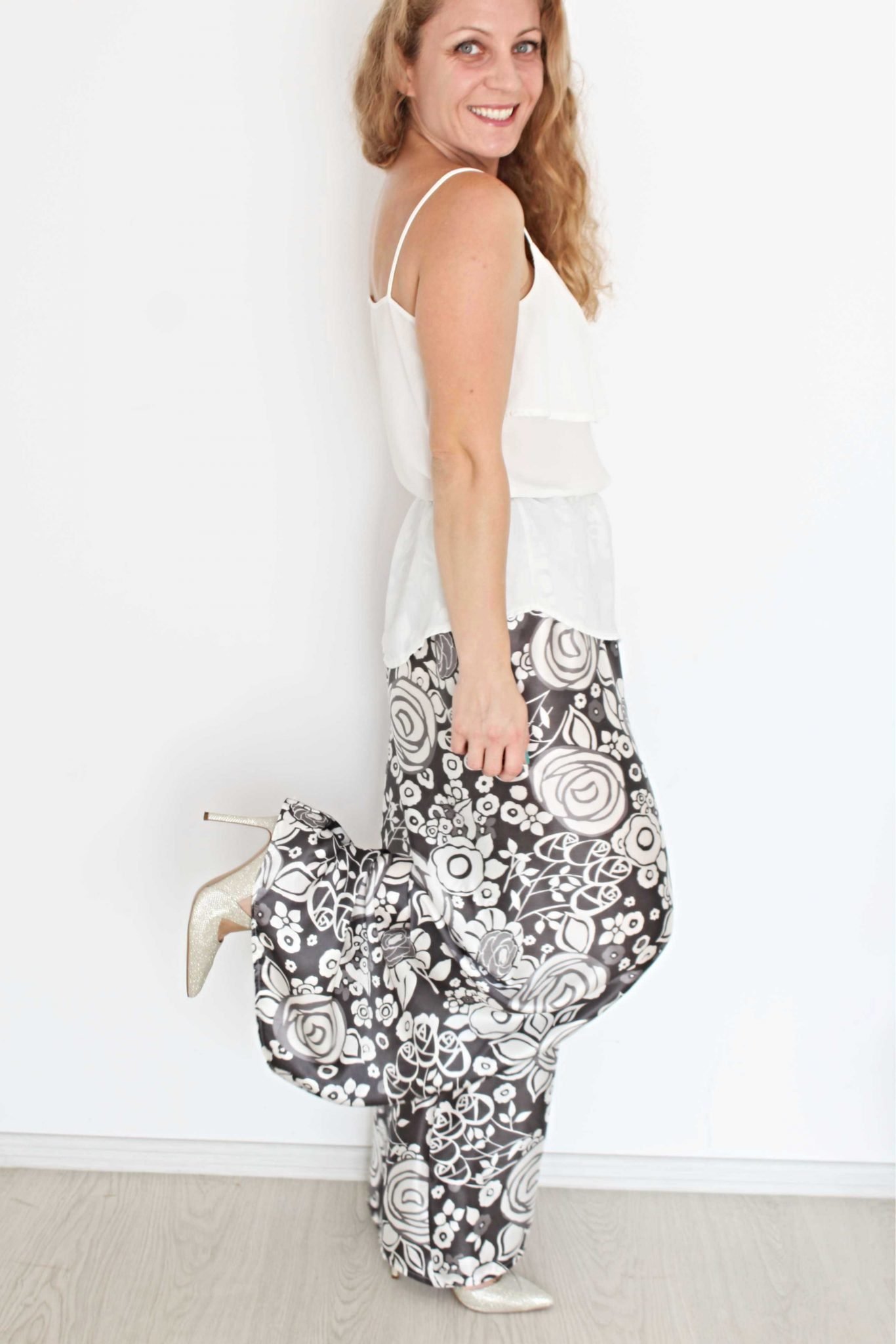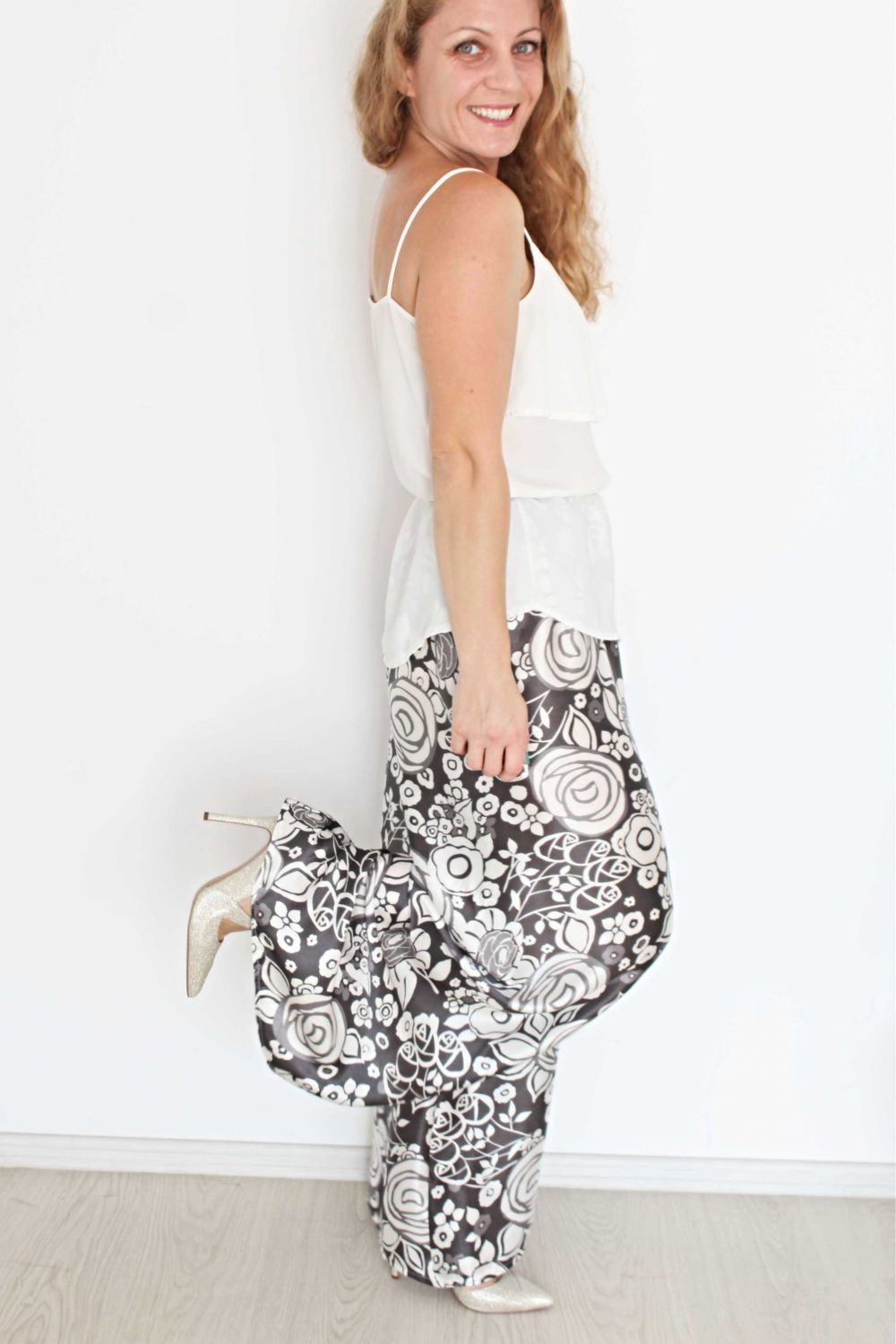 Ok, let me get this straight! I'm an absolute beginner when it comes to making trousers! I started working on this wide leg pants pattern having absolutely no idea how to make pants! Seriously! I never even had or tried to decipher a pattern for trousers and to be honest I'm not sure what got me to work on these DIY pants.
Need more sewing for women ideas?
I just know I'm in front of my big pile of fabric wondering when am I ever going to go through all this when this lovely fabric (that I cannot swear it's satin but totally looks like it) in gray with floral pattern caught my attention. And I thought a pair of ladies wide leg pants would look so good in this light as a feather, flowy fabric!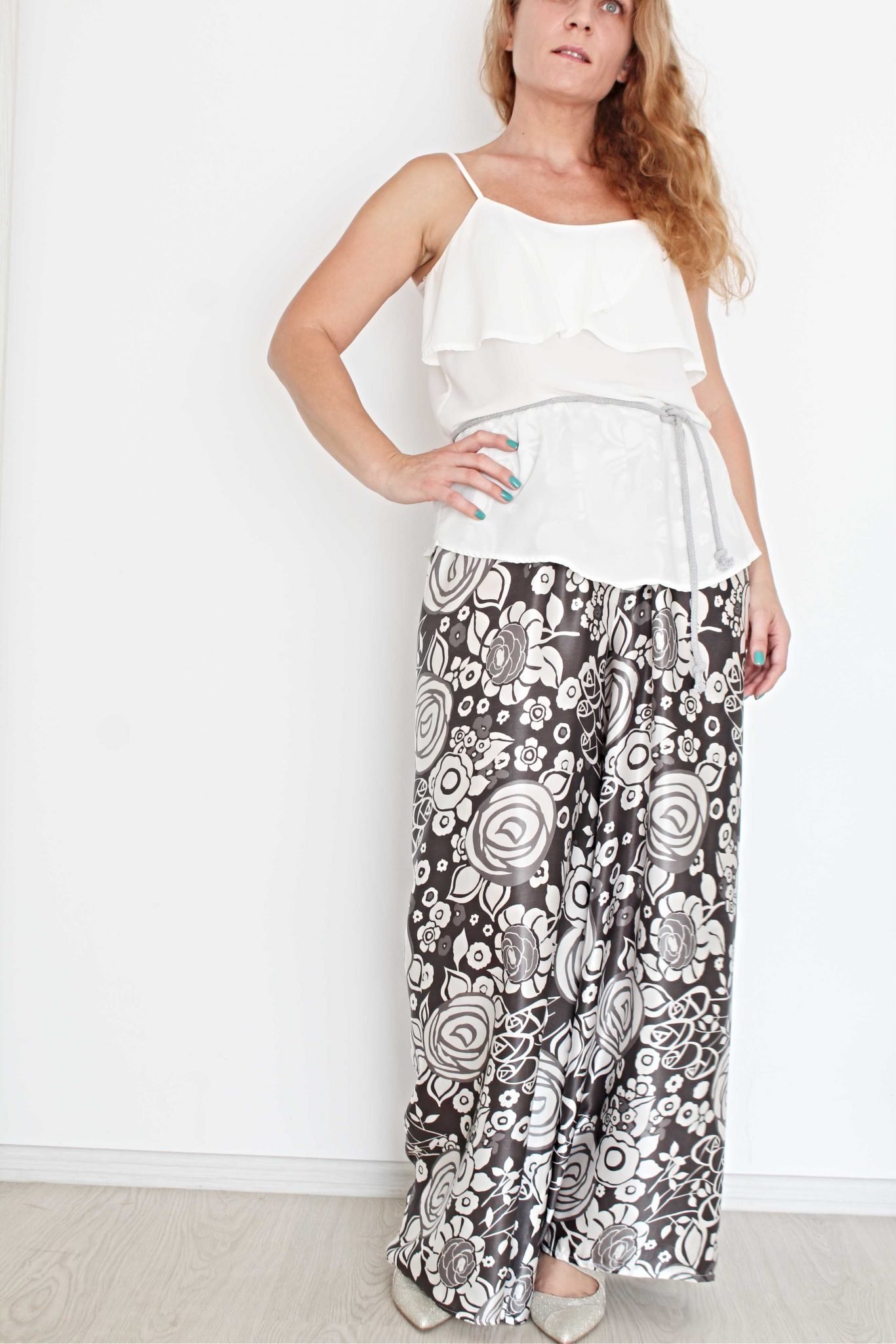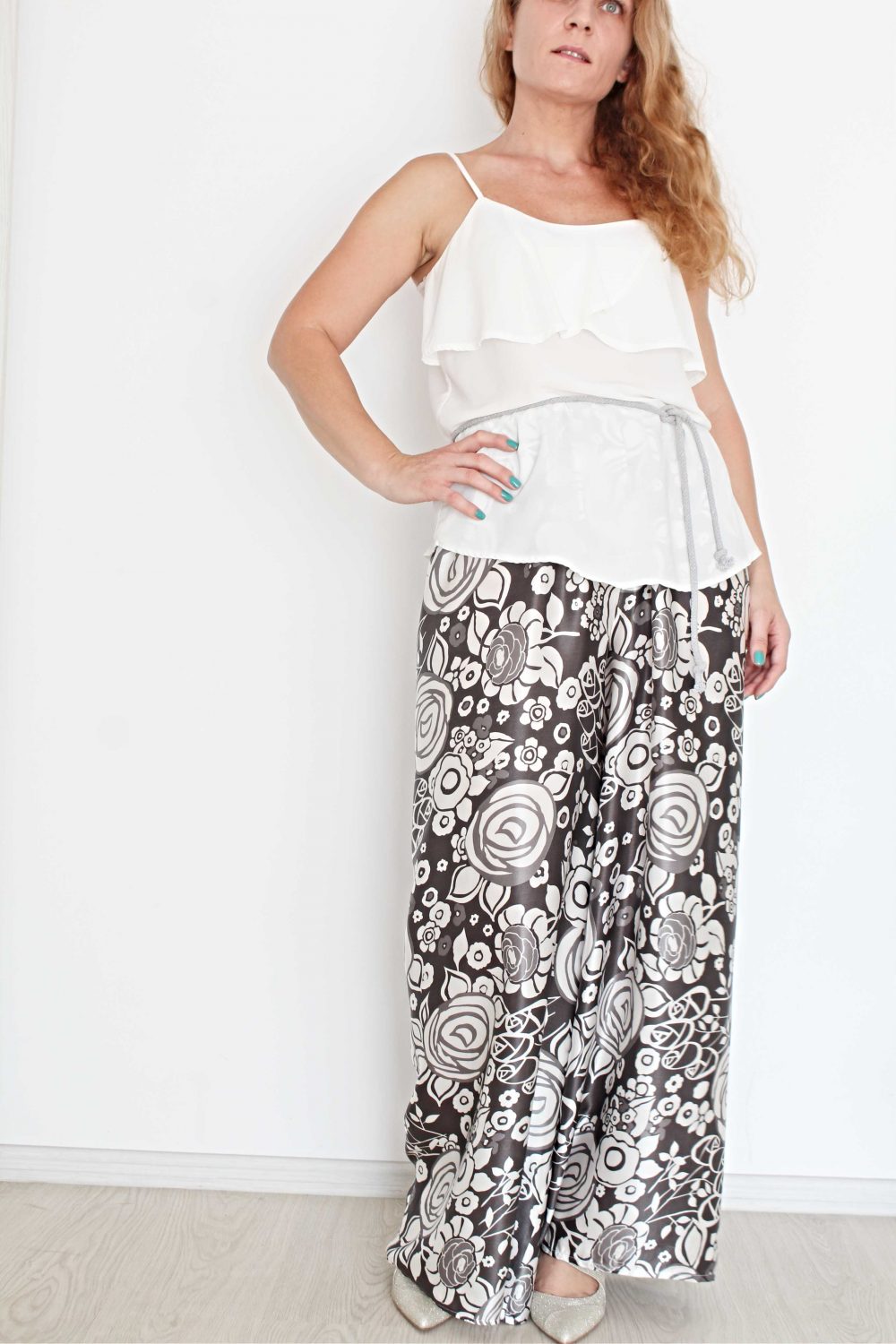 Most popular sewing projects:
The only problem was that I didn't have a wide leg pants pattern and I basically had no clue of how to make one! But after squeezing my brain for a couple of minutes I realized these are actually super easy pants! This project doesn't require much sewing skills and it doesn't have to be super precise because the pants are so big and drape so nicely that a little mistake won't even get noticed.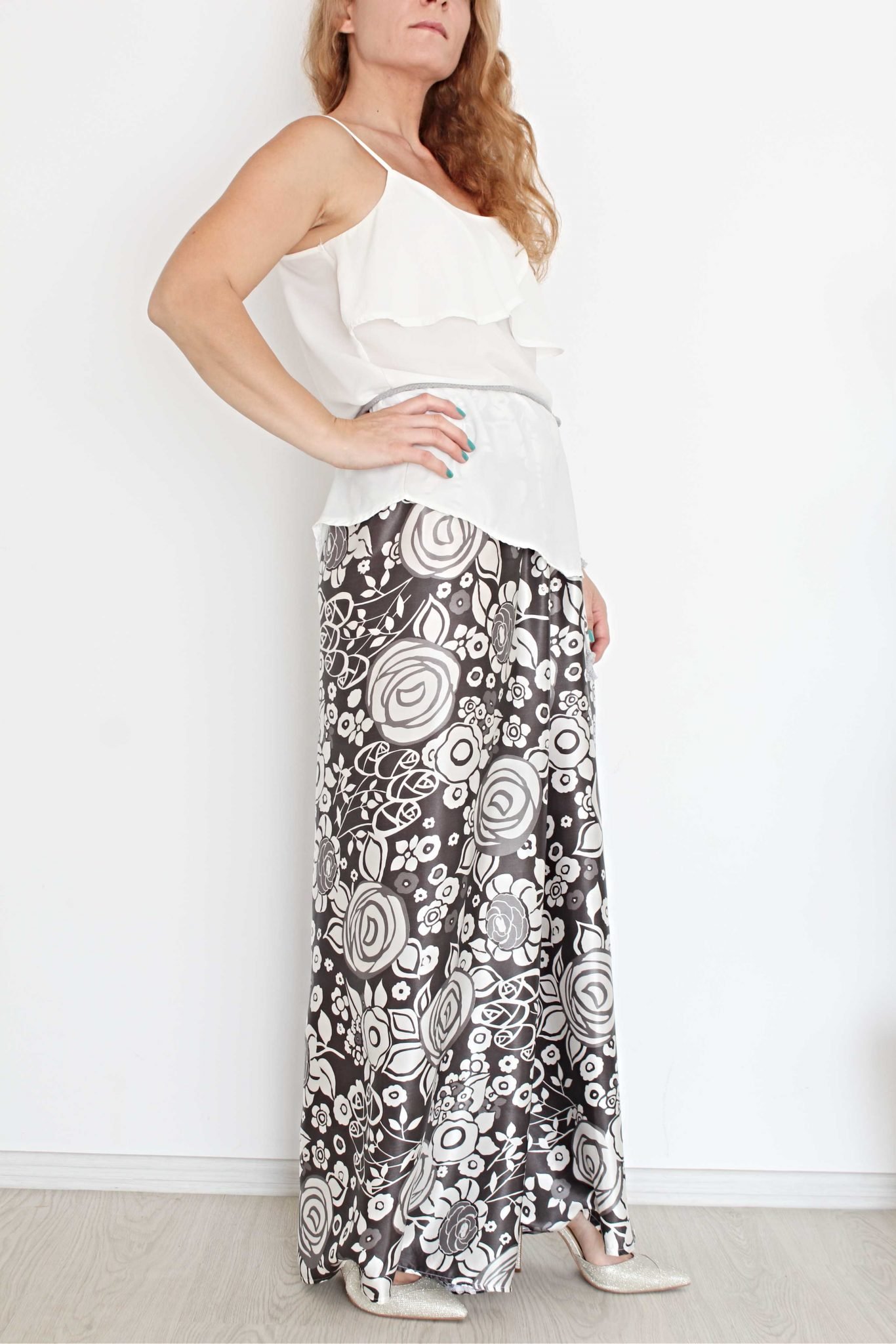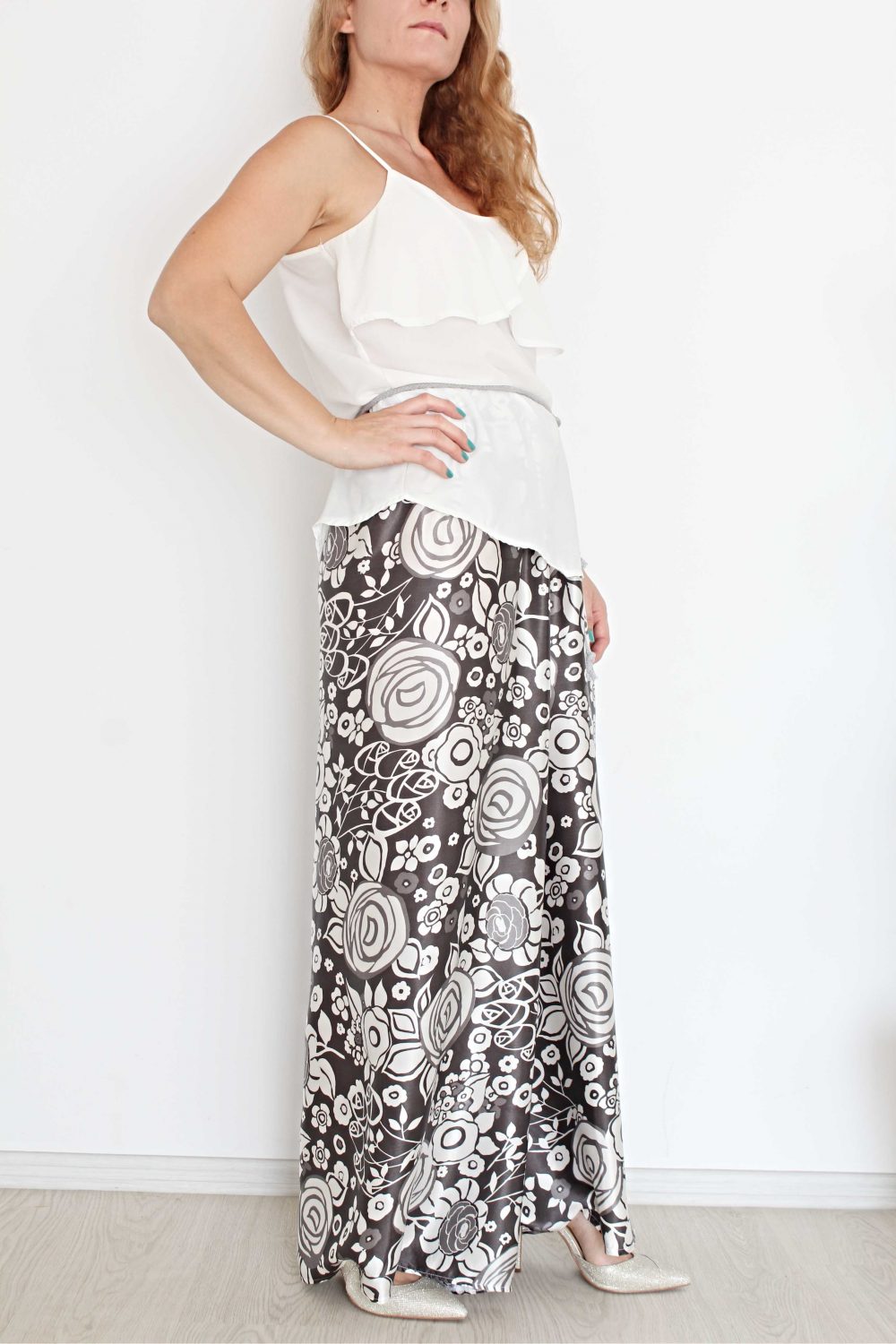 I decided to use a pair of wide leg pants I already had but I wanted my new pants a lot larger so I made a super big pattern that is a wider and longer than my original pants. So this easy peasy wide leg pants tutorial doesn't offer a pattern but teaches you how to make one yourself which I think it's best because your pattern will fit YOU perfectly!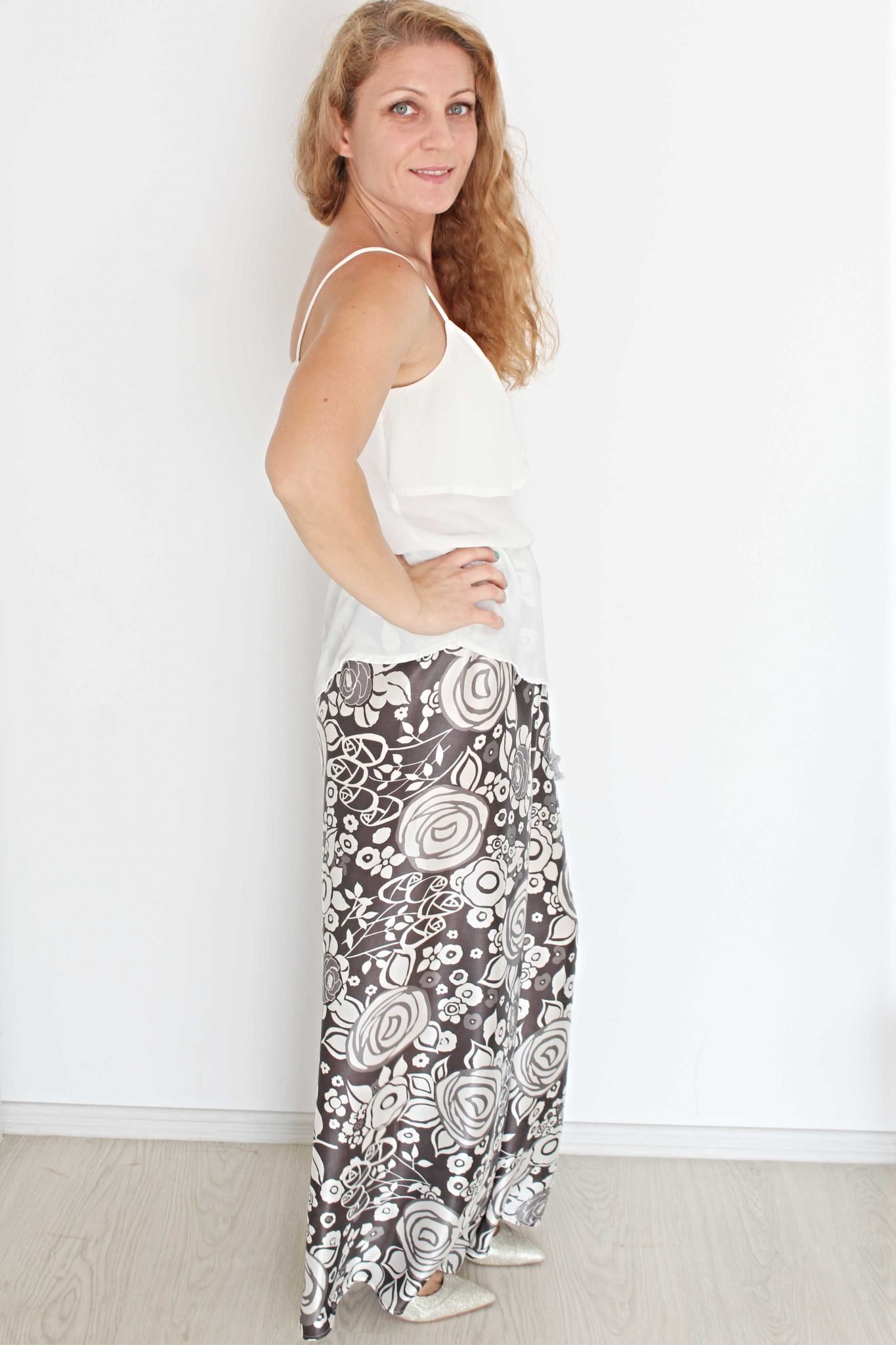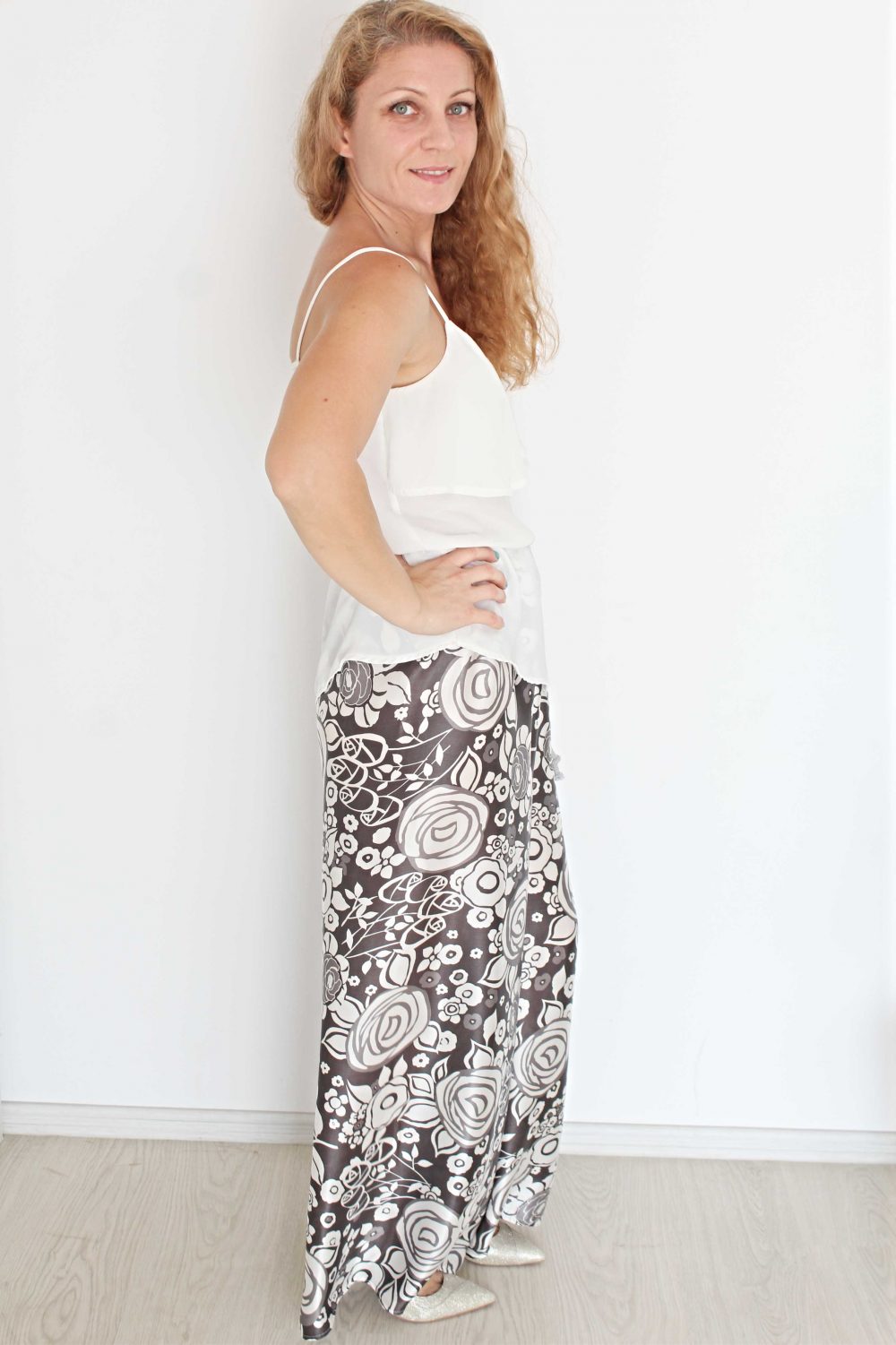 The reason I made this wide leg pants pattern so big is because I plan to wear these beauties at special events, holidays or/and New Year. So I wanted something with a dramatic look that will be a great pair to my high heels and my camisoles. These pants are so comfortable to wear and so light and look great on many body shapes, hiding some of those mid area flaws and making your legs look a mile long!
Wide Leg Pants Pattern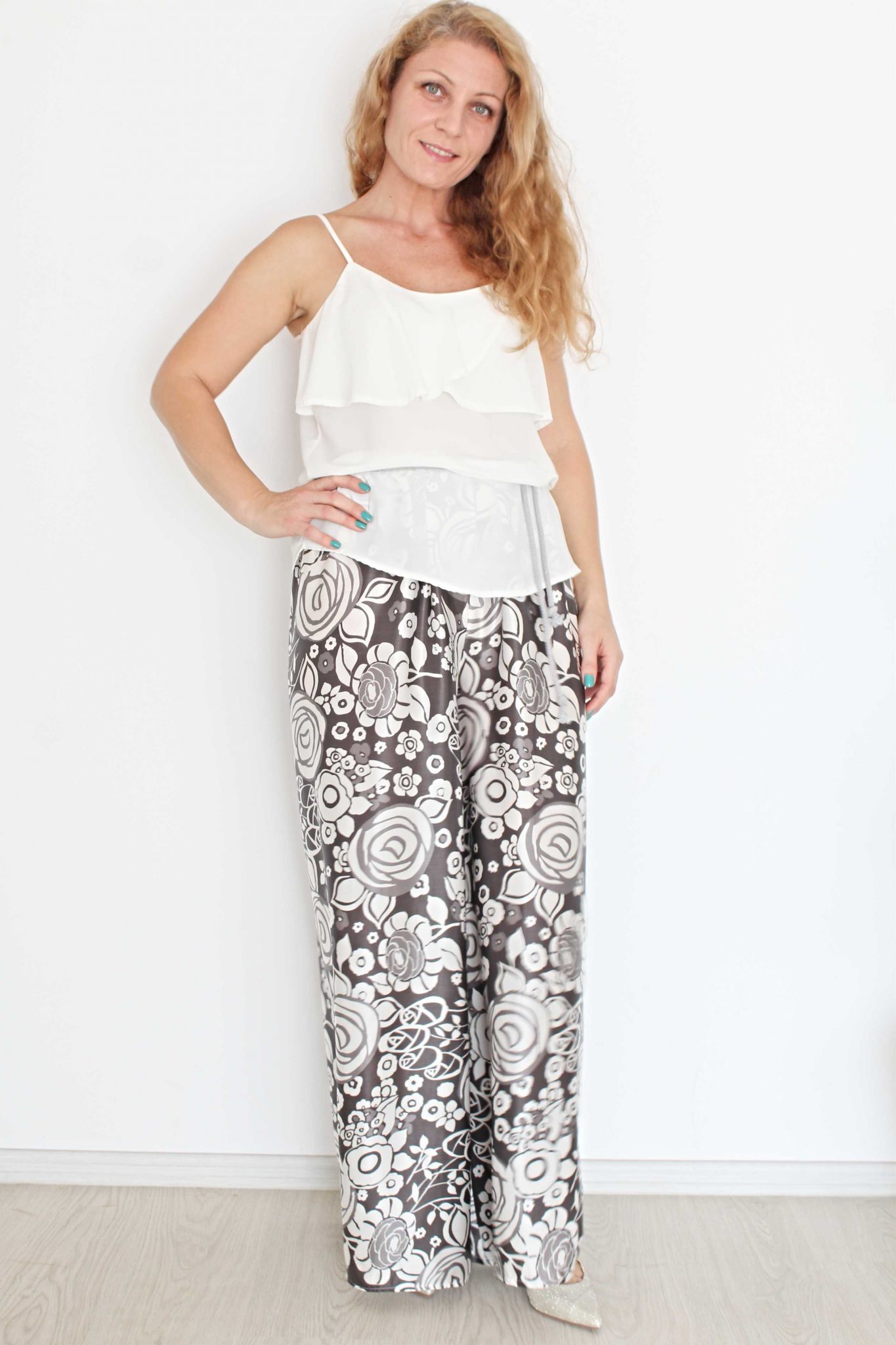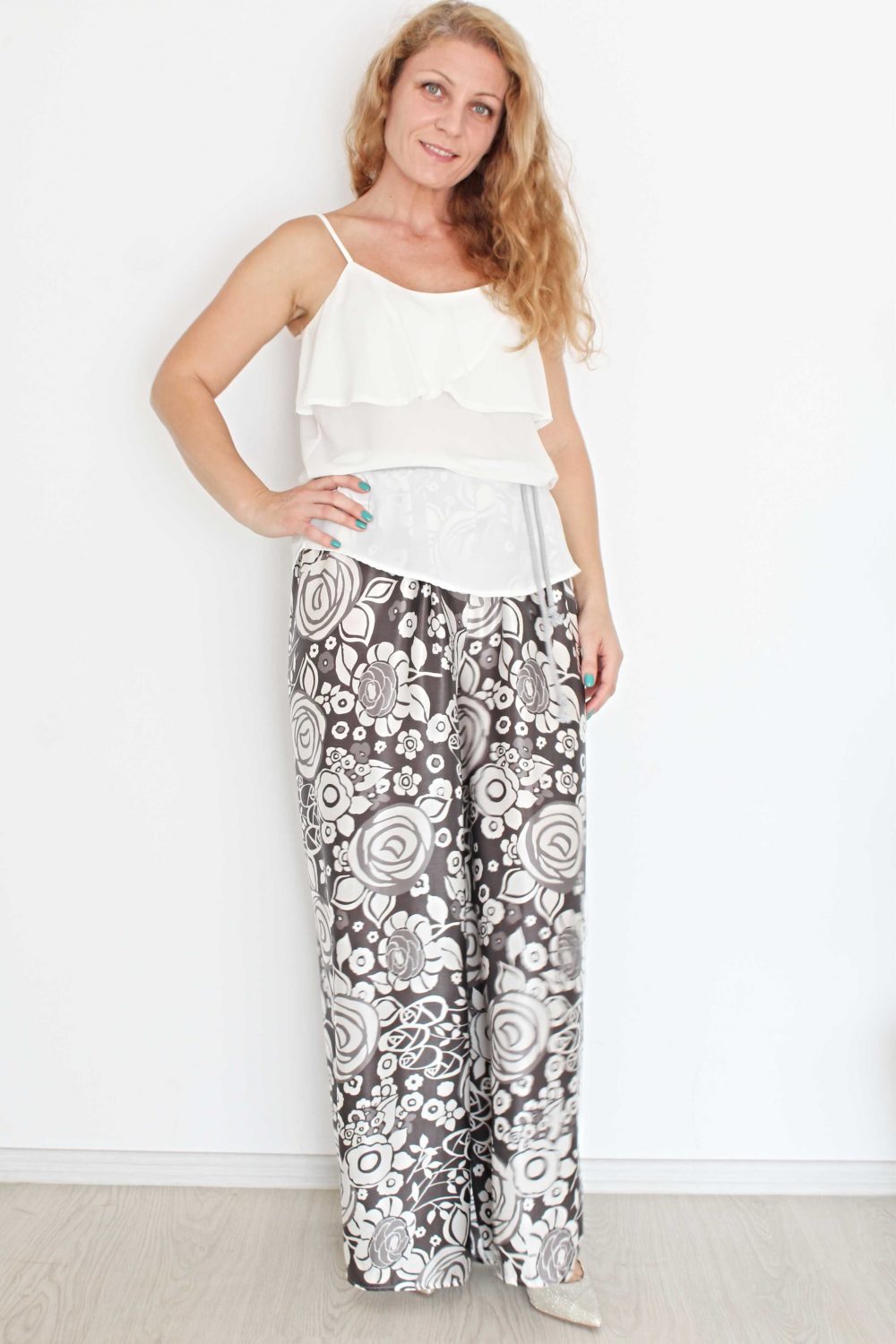 Materials:
about 2 yards of fabric that is flowy and has a nice drape
pair of old wide leg pants
scissors
fabric marker
pins
elastic that fits your waist
matching thread
sewing machine
serger – optional
pressing iron
Directions:
Making the pattern
Cut your fabric into two pieces lengthwise and place right sides together. Place a few pins to keep them in place if the fabric is very slippery.
Fold both pieces in half.
Place the old pants on the fabric, the long side of the pants aligned with the fold in fabric (in my case, the fold is on the right hand side; because I wanted to make the new pair a lot larger than the old ones, I placed my pants away from the fold)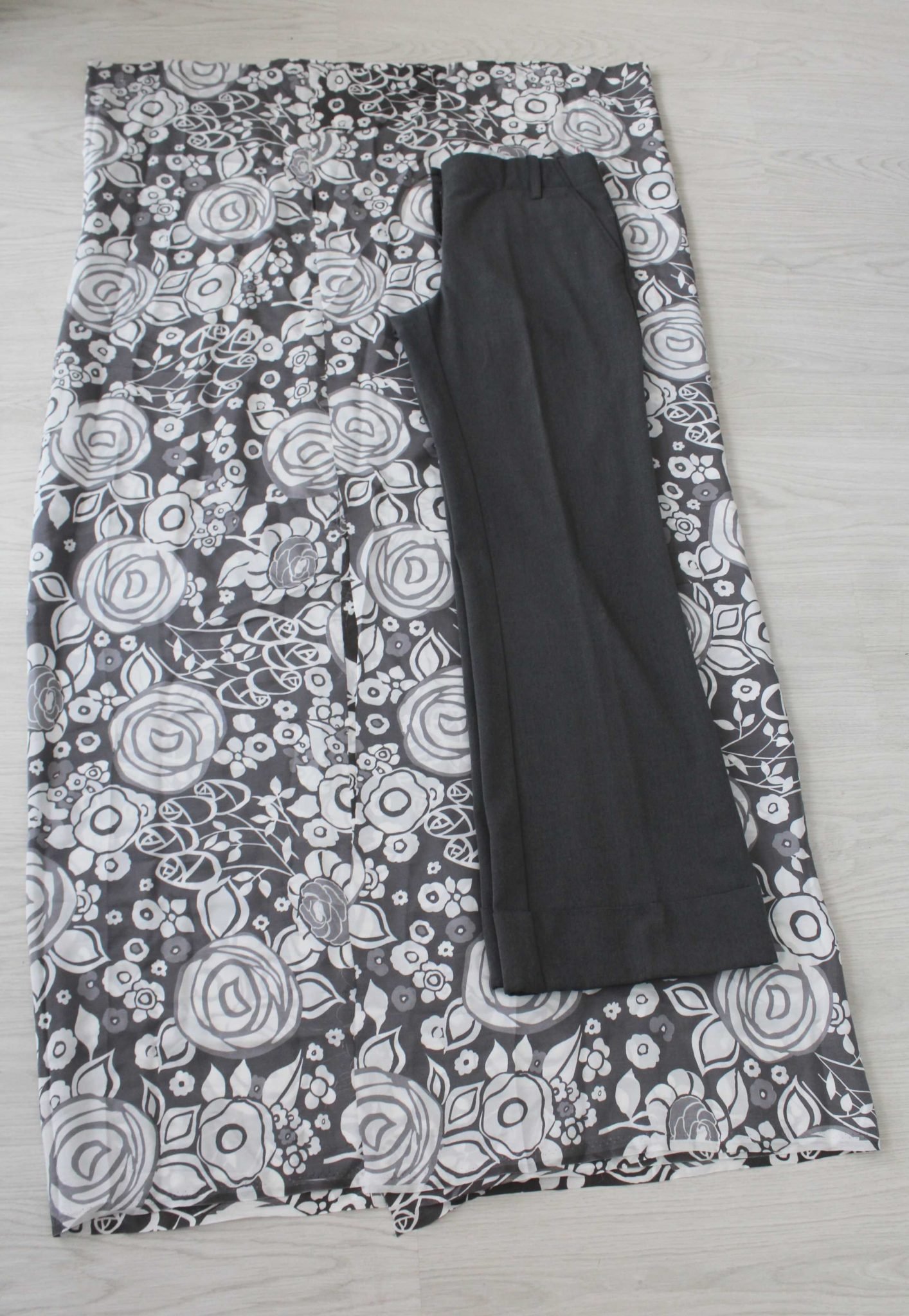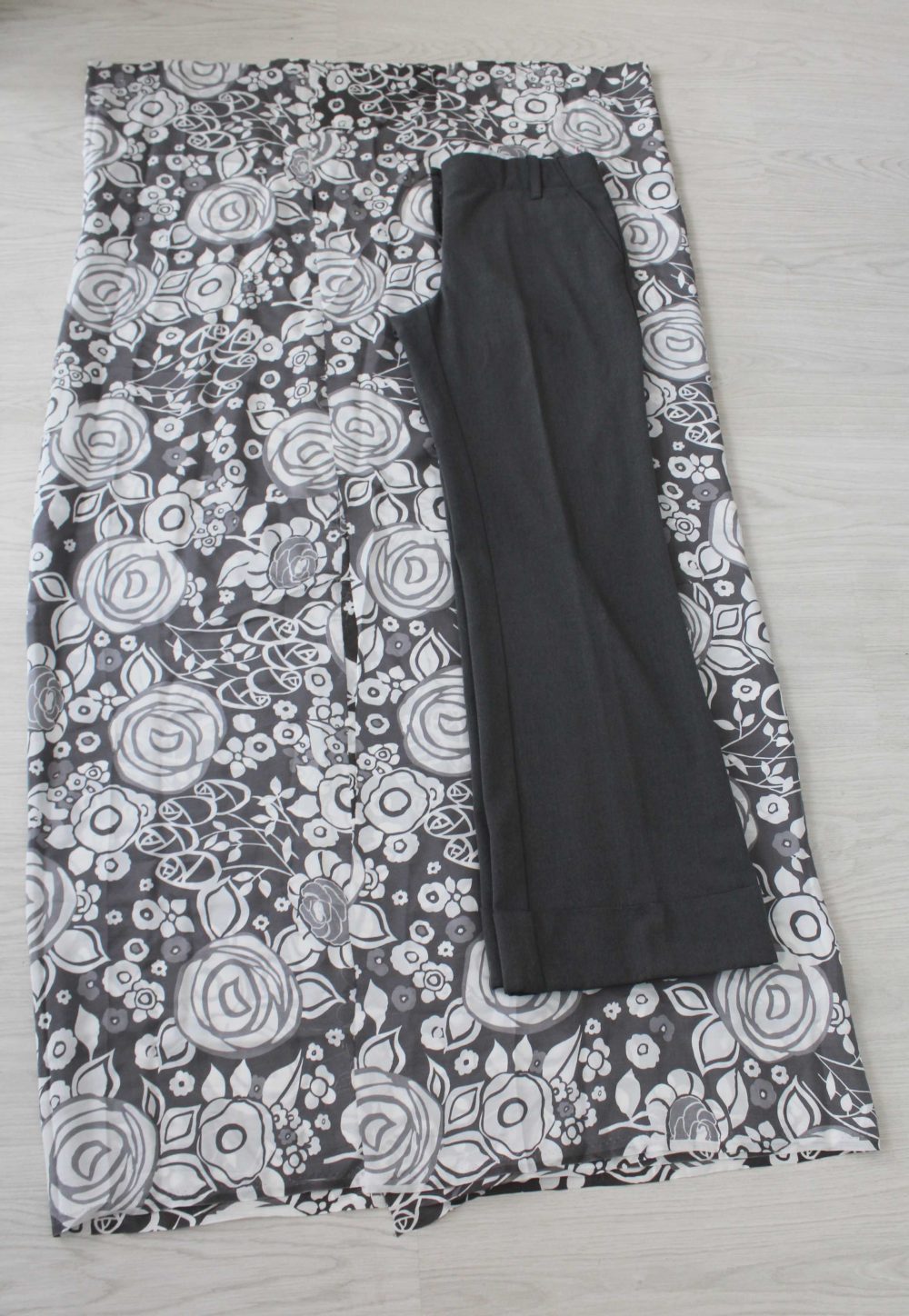 Mark around the bottom and sides using a fabric marker. Remove the pants, place a few pins inside the marked pattern if the fabric is slippery and cut the pattern out.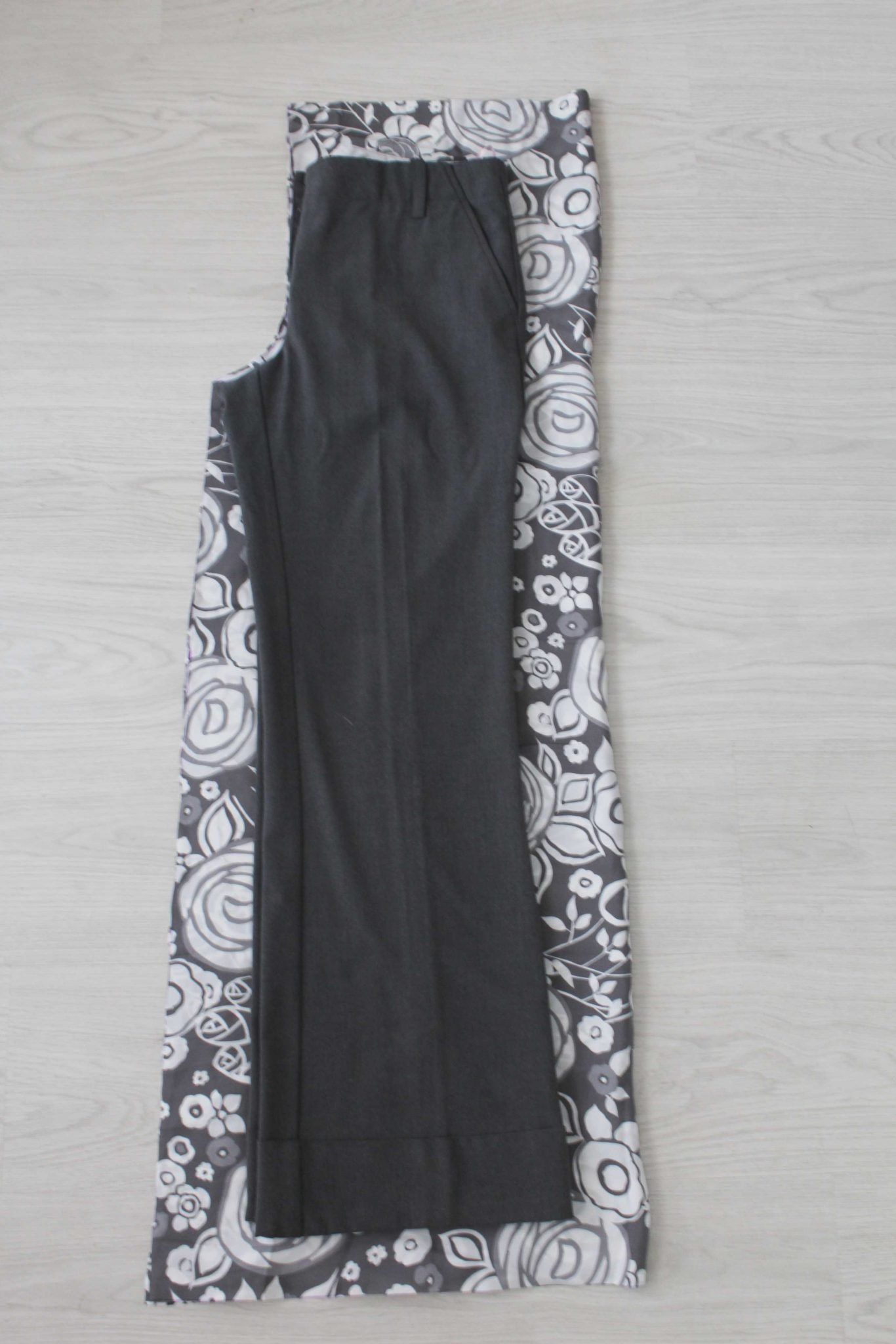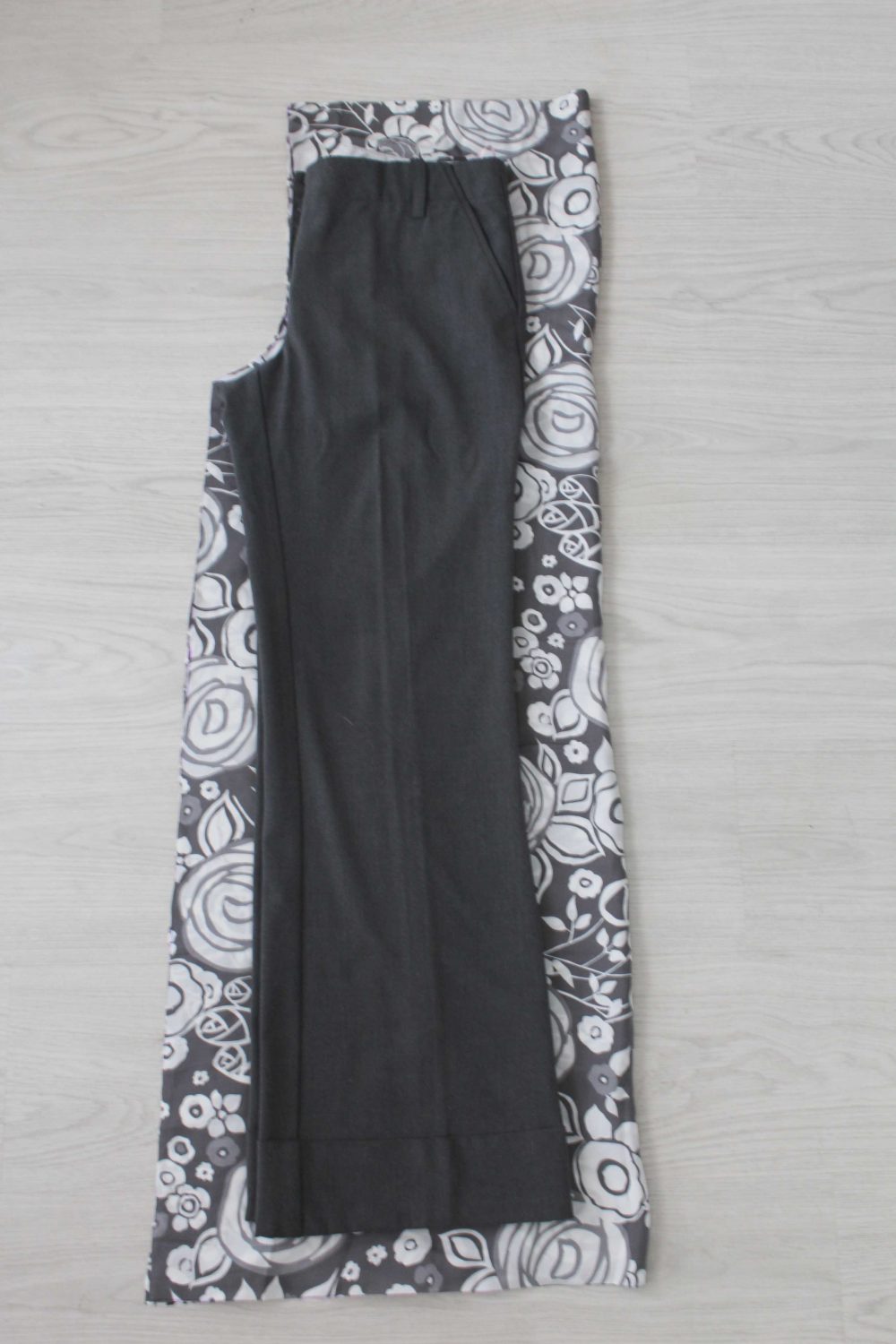 Sewing pieces together
Open the fabric at the fold (in my case to the right side) and your trousers now look like this. The crotches are to the right and left (the curved edges)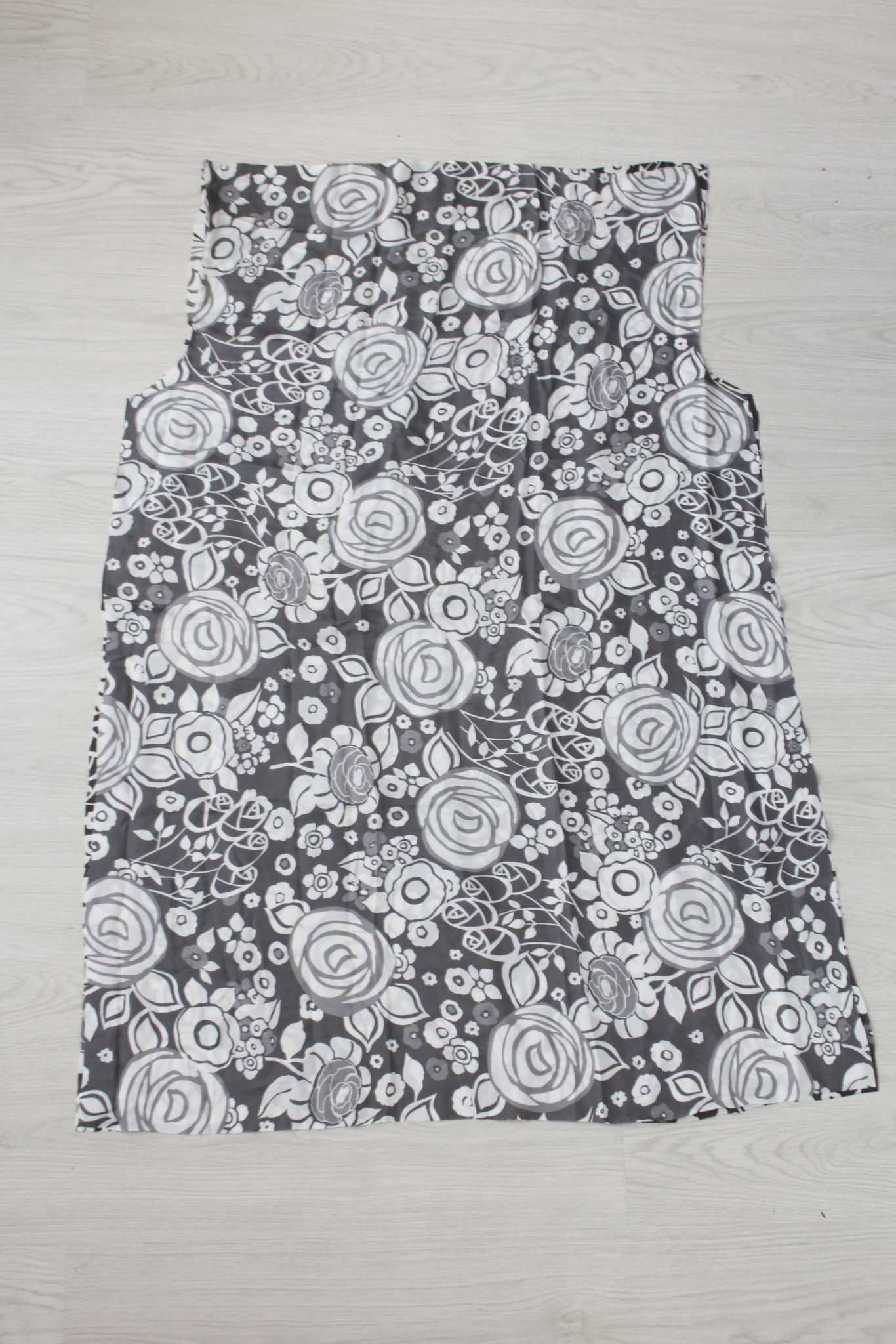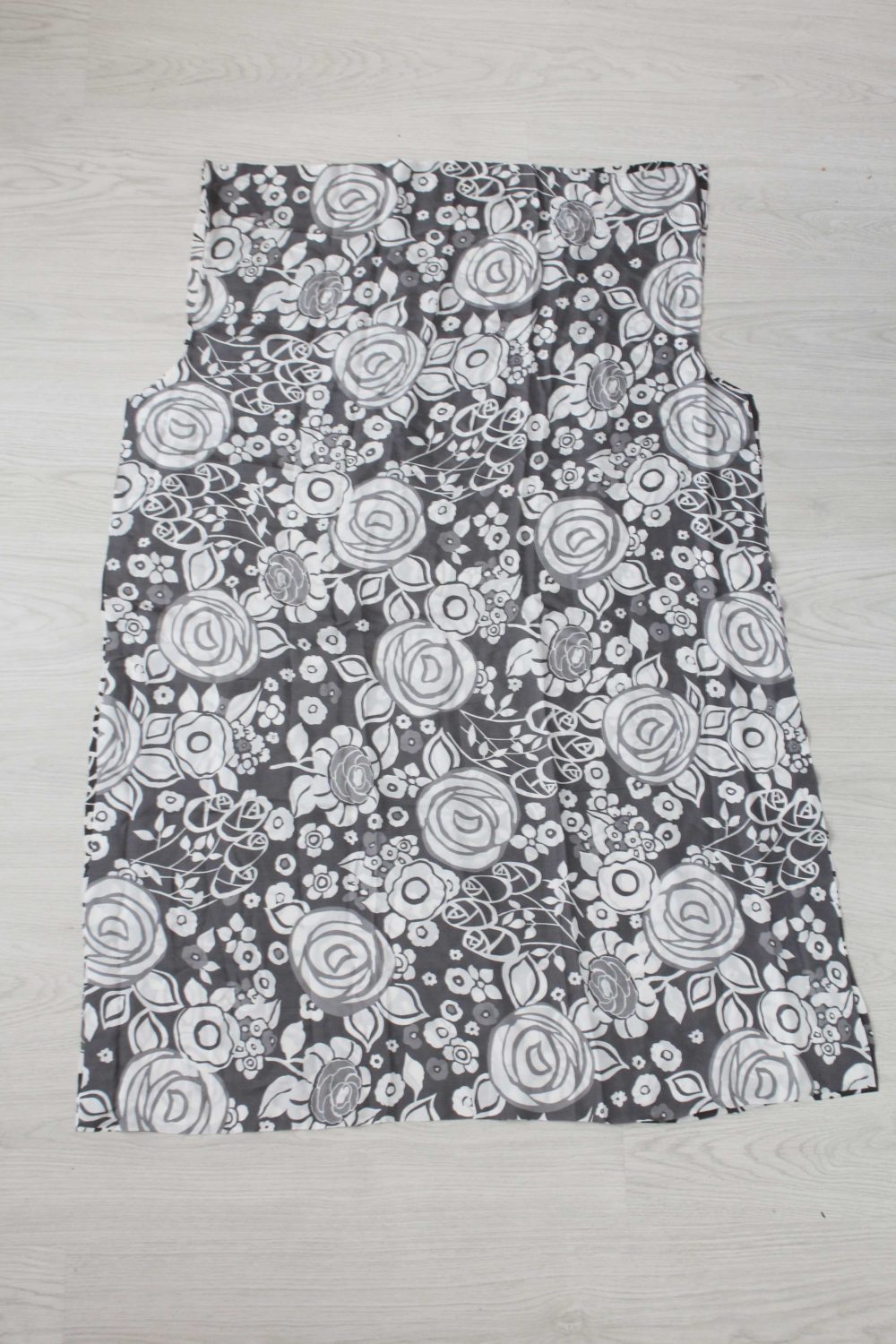 Match the crotches. Pin together and sew down. I used my serger so I won't have to finish the seams later but if you don't own one, sew a normal stitch then finish the seams with a zig zag stitch.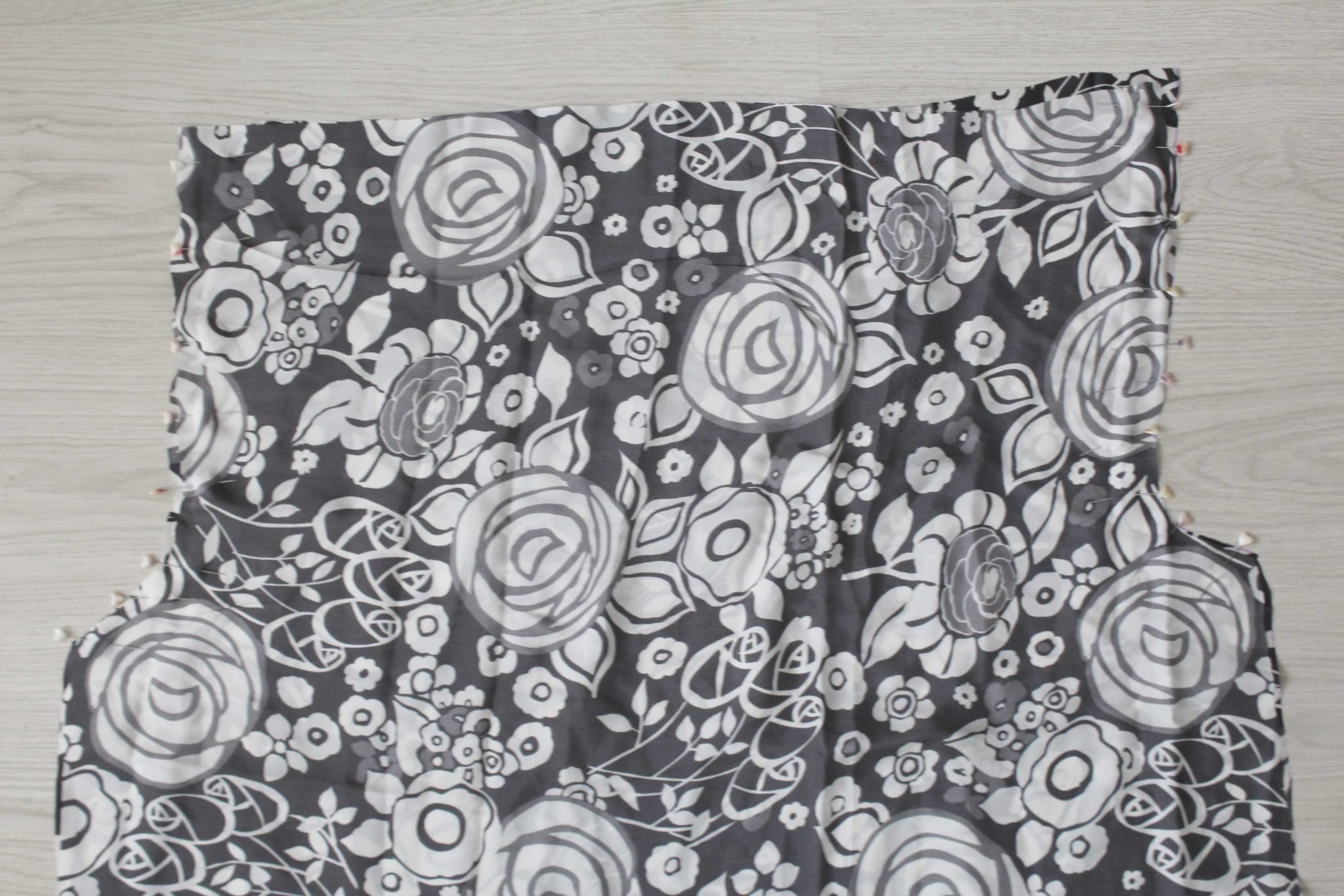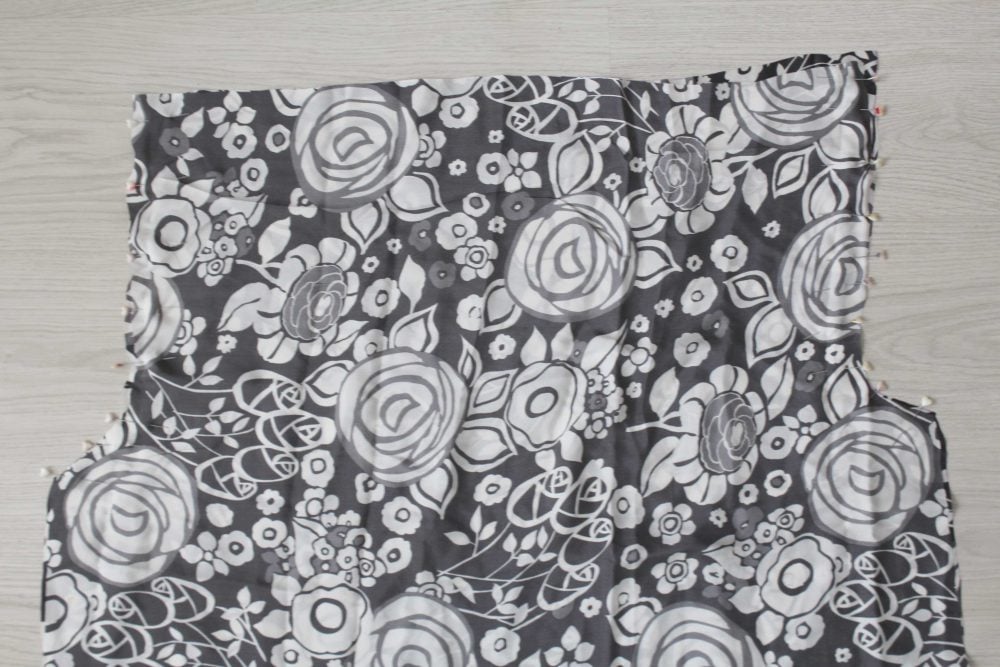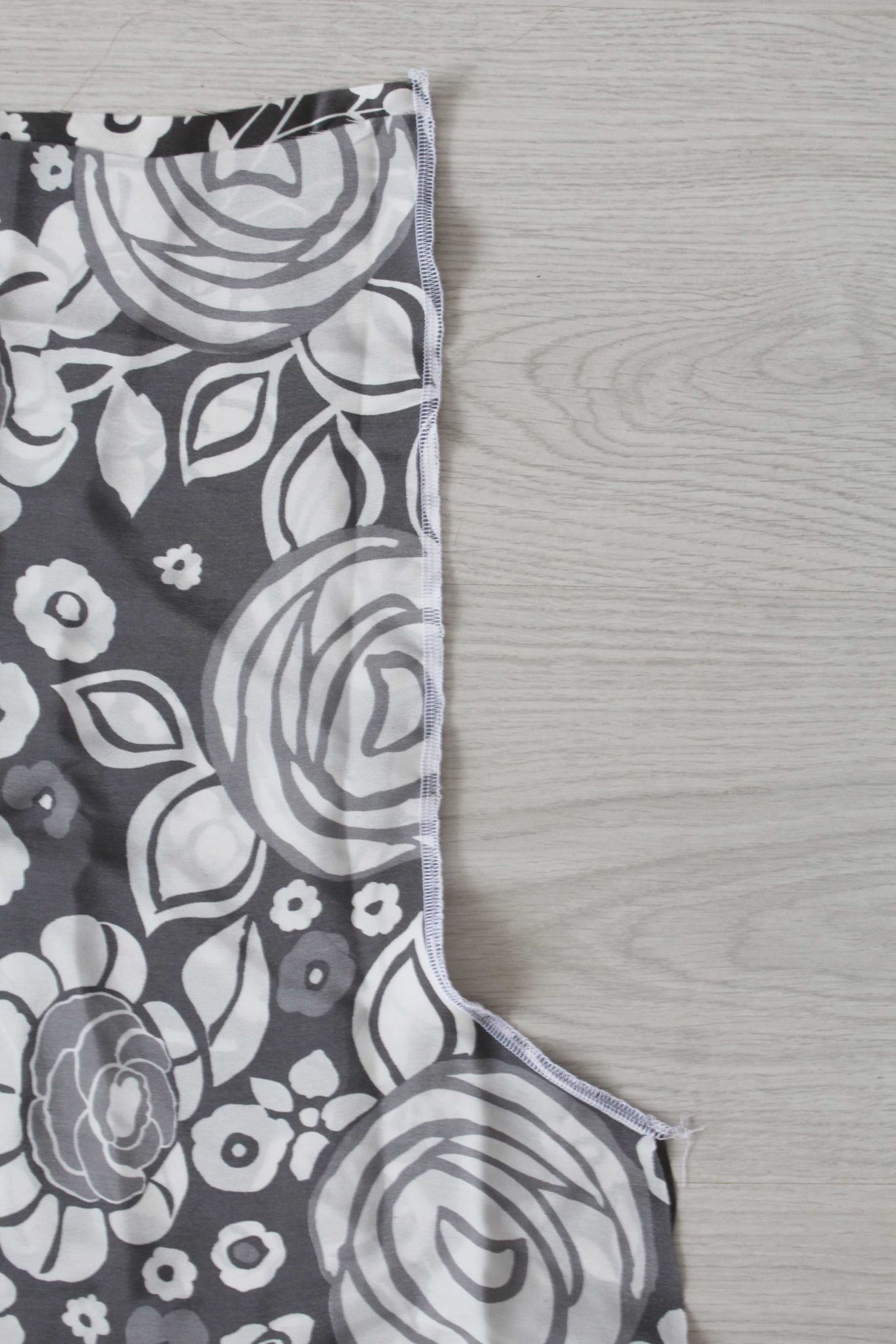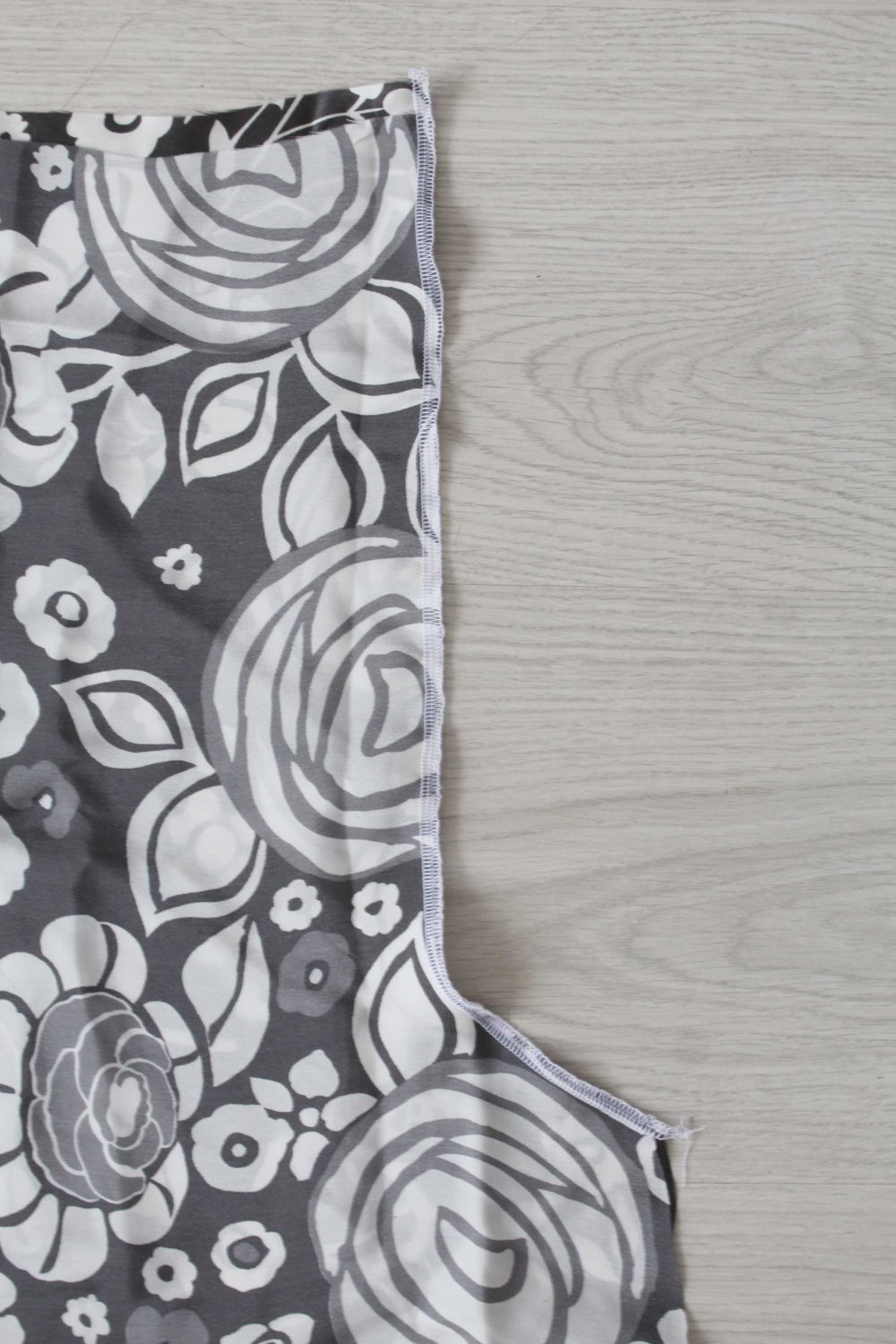 Pinch the fabric in the middle at the top and bring the crotches to the middle so your pants will take the normal shape as illustrated below.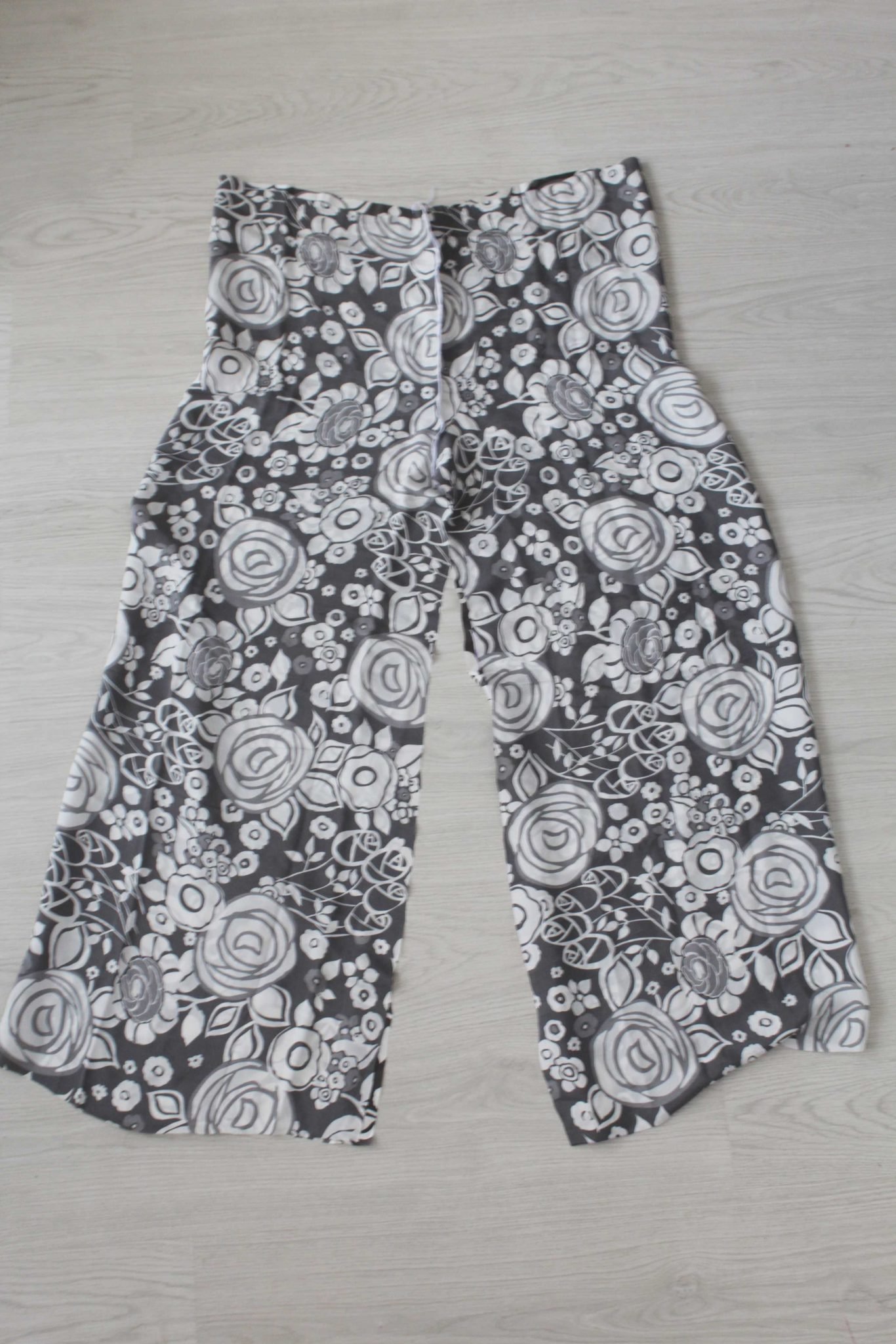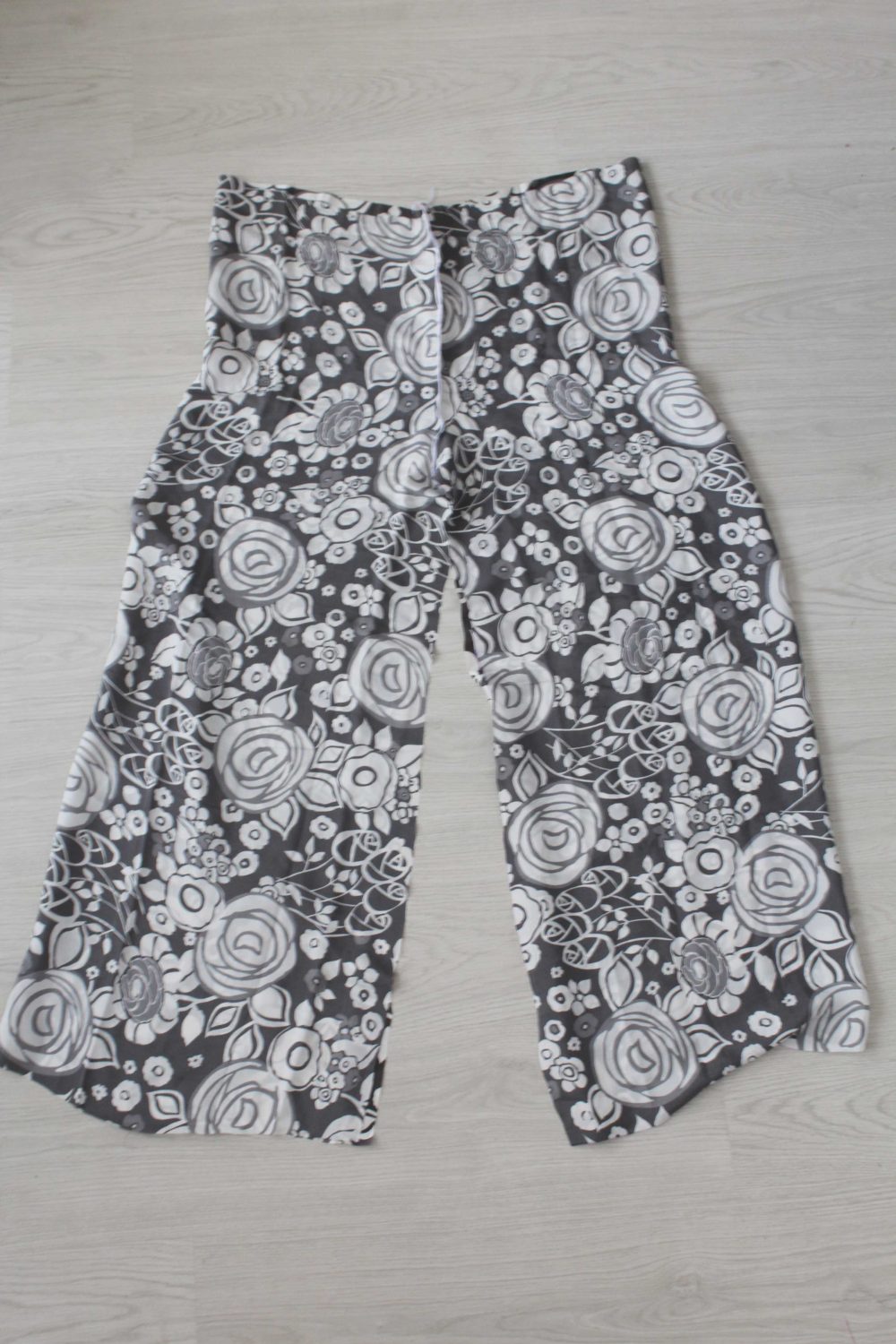 Match the front and back crotch and pin.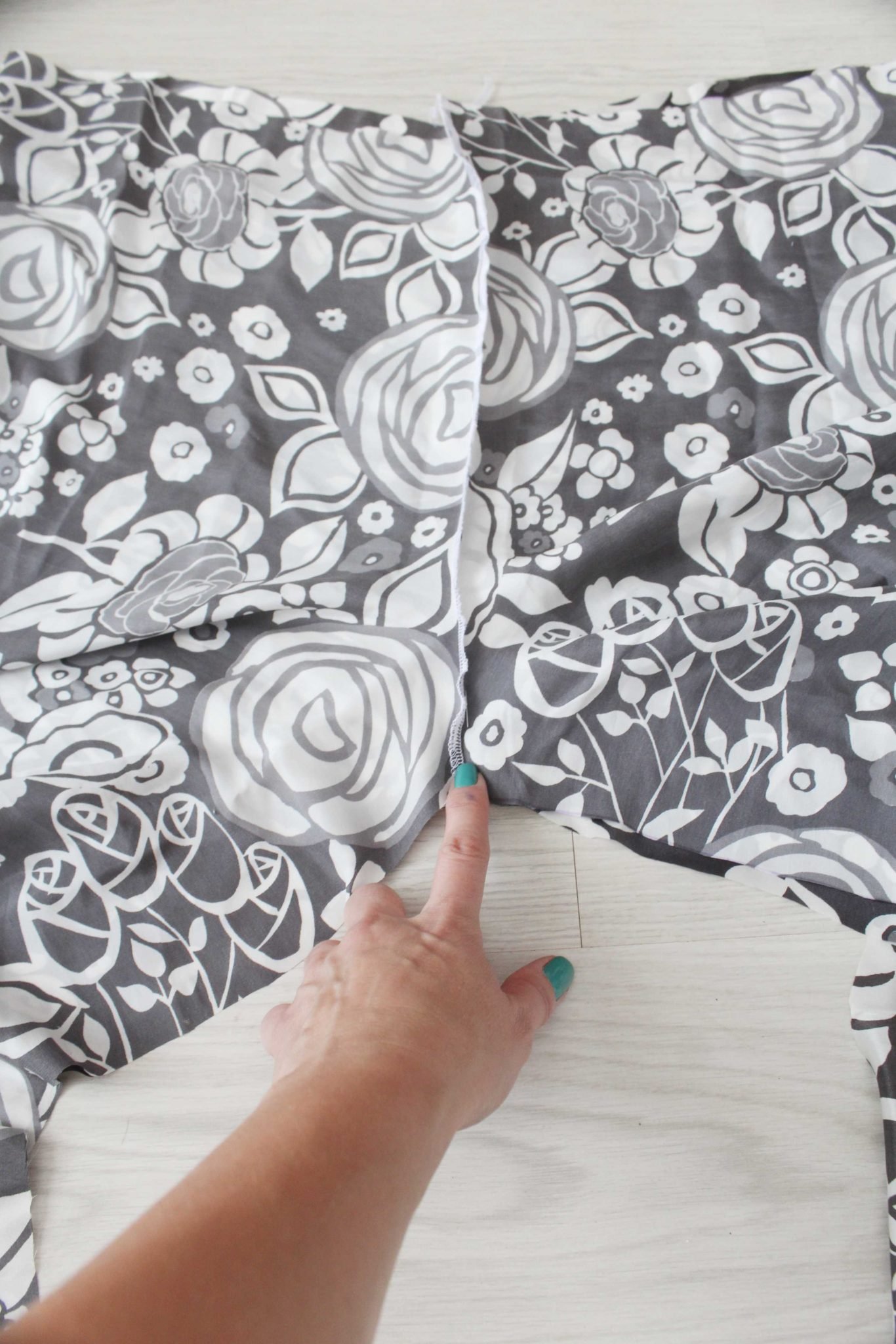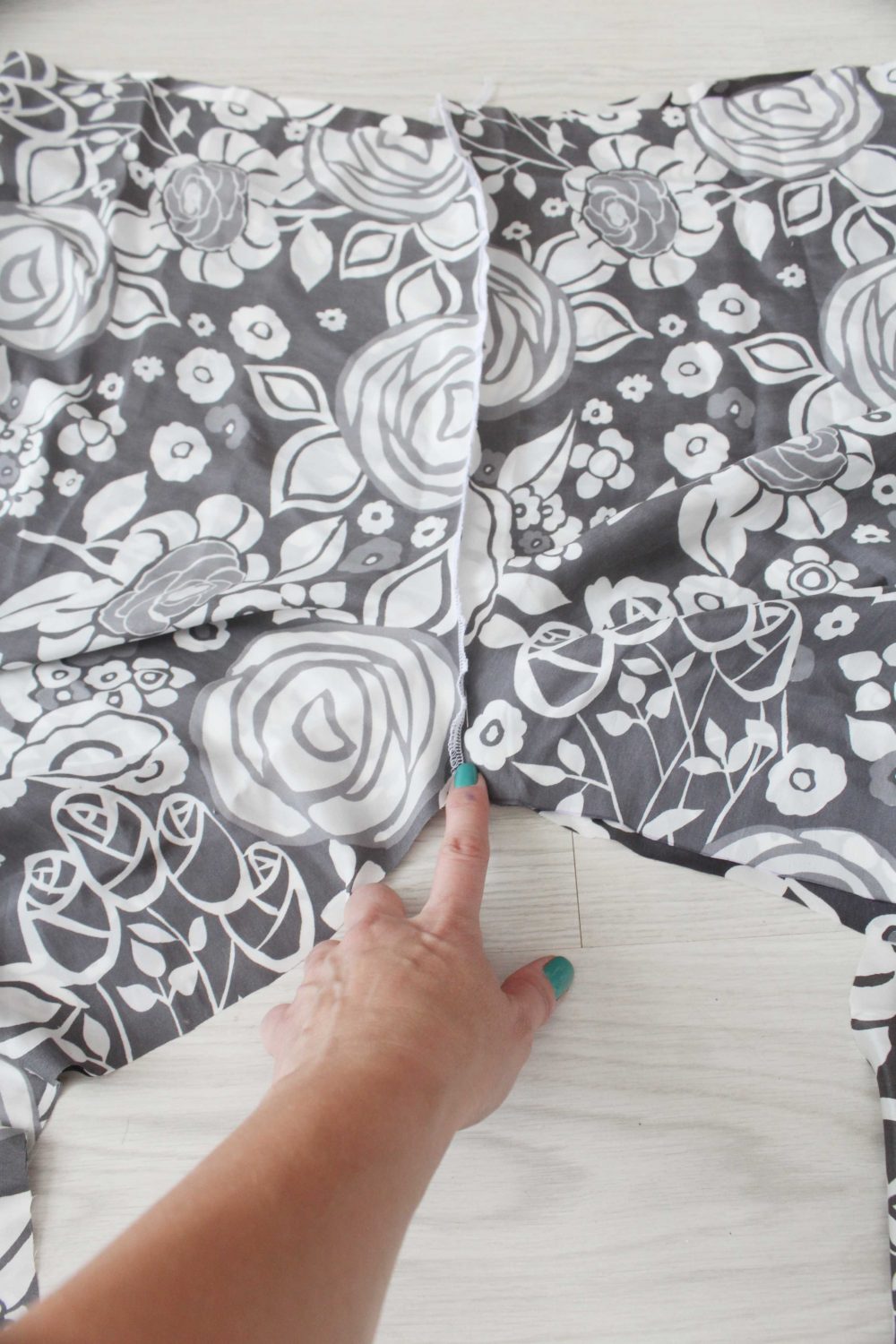 Pin the legs at the inside seams and sew down. I used my serger.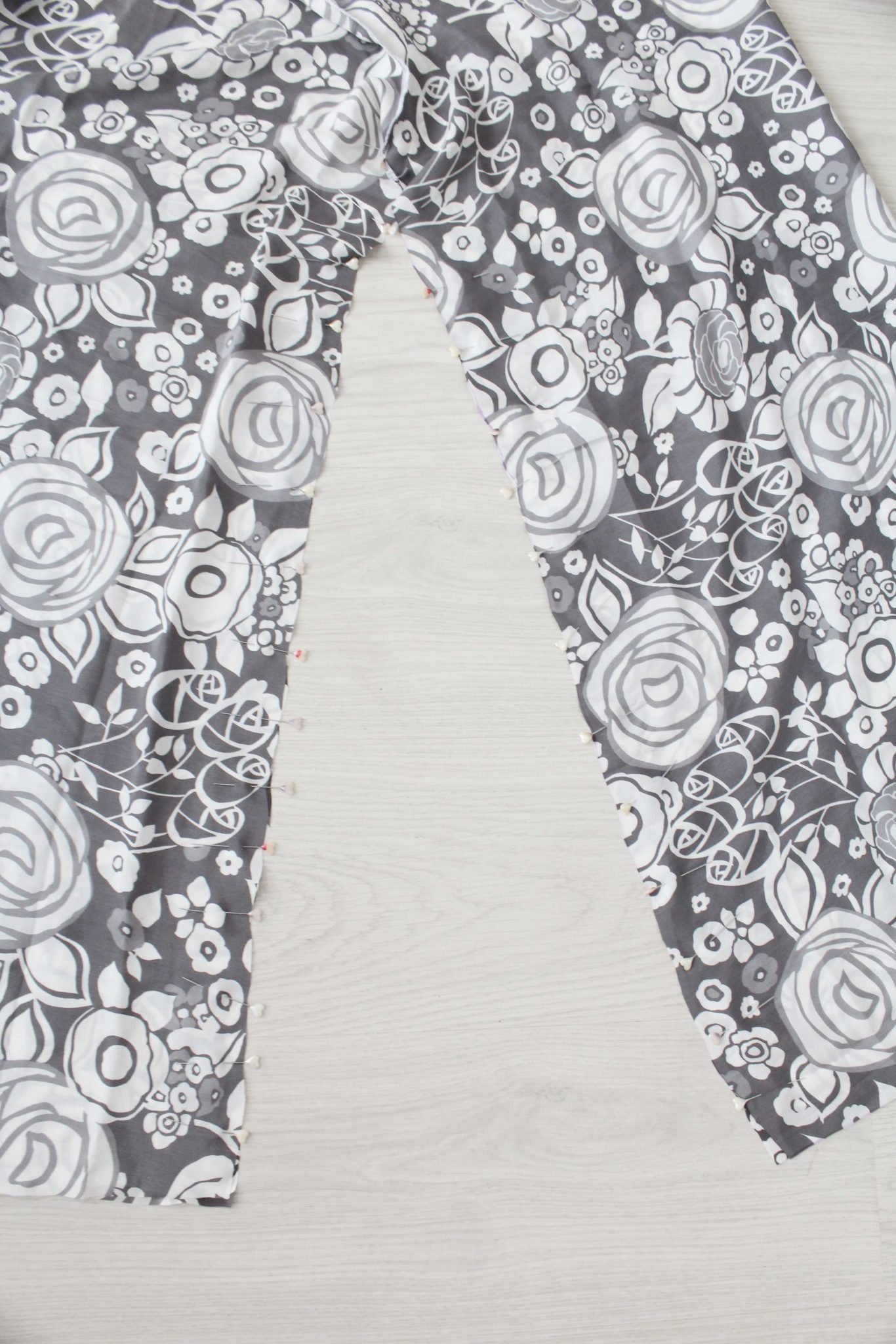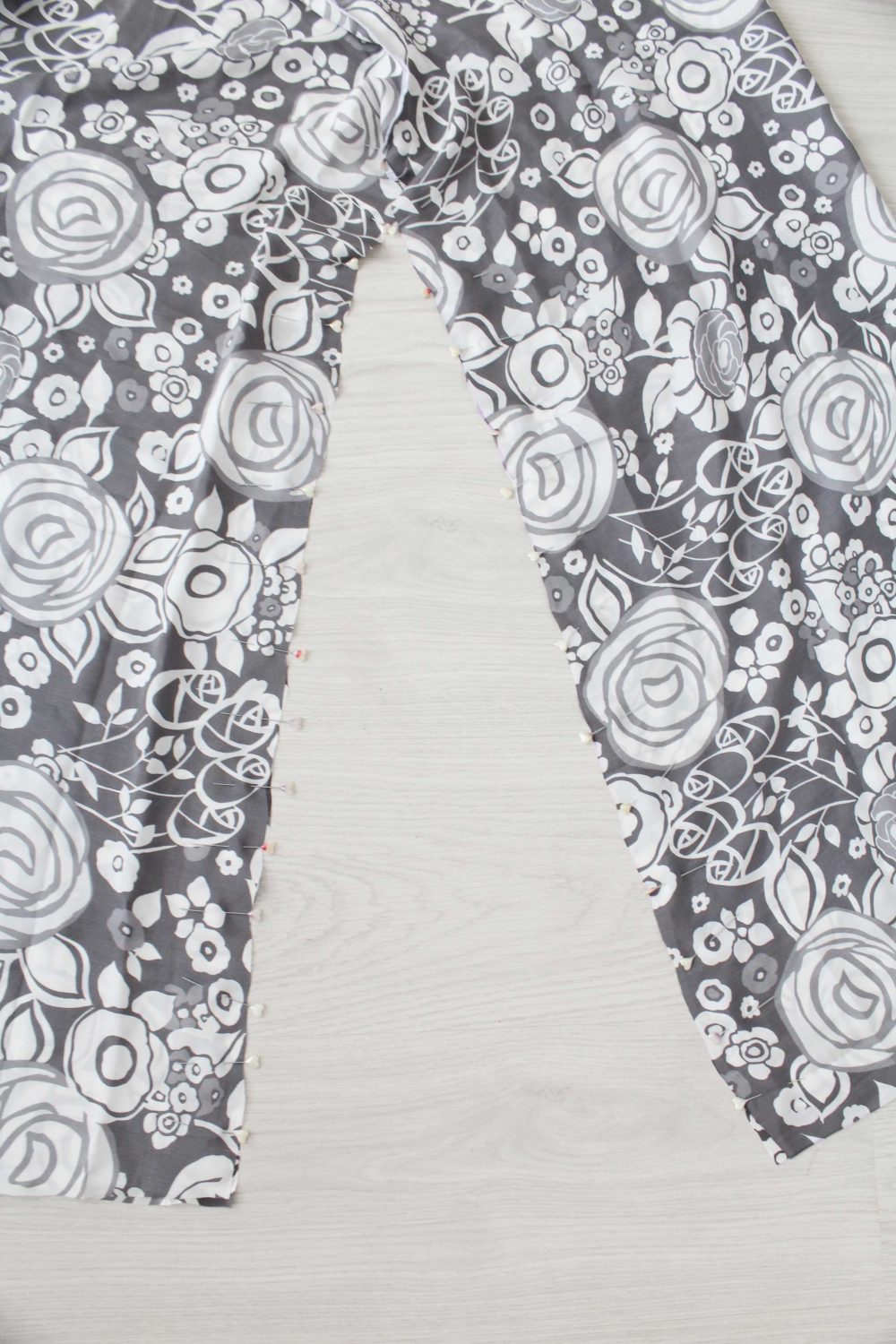 Finishing the pants
Serge the top of the pants and the hems on legs. If you don't have a serger fold the fabric inside twice.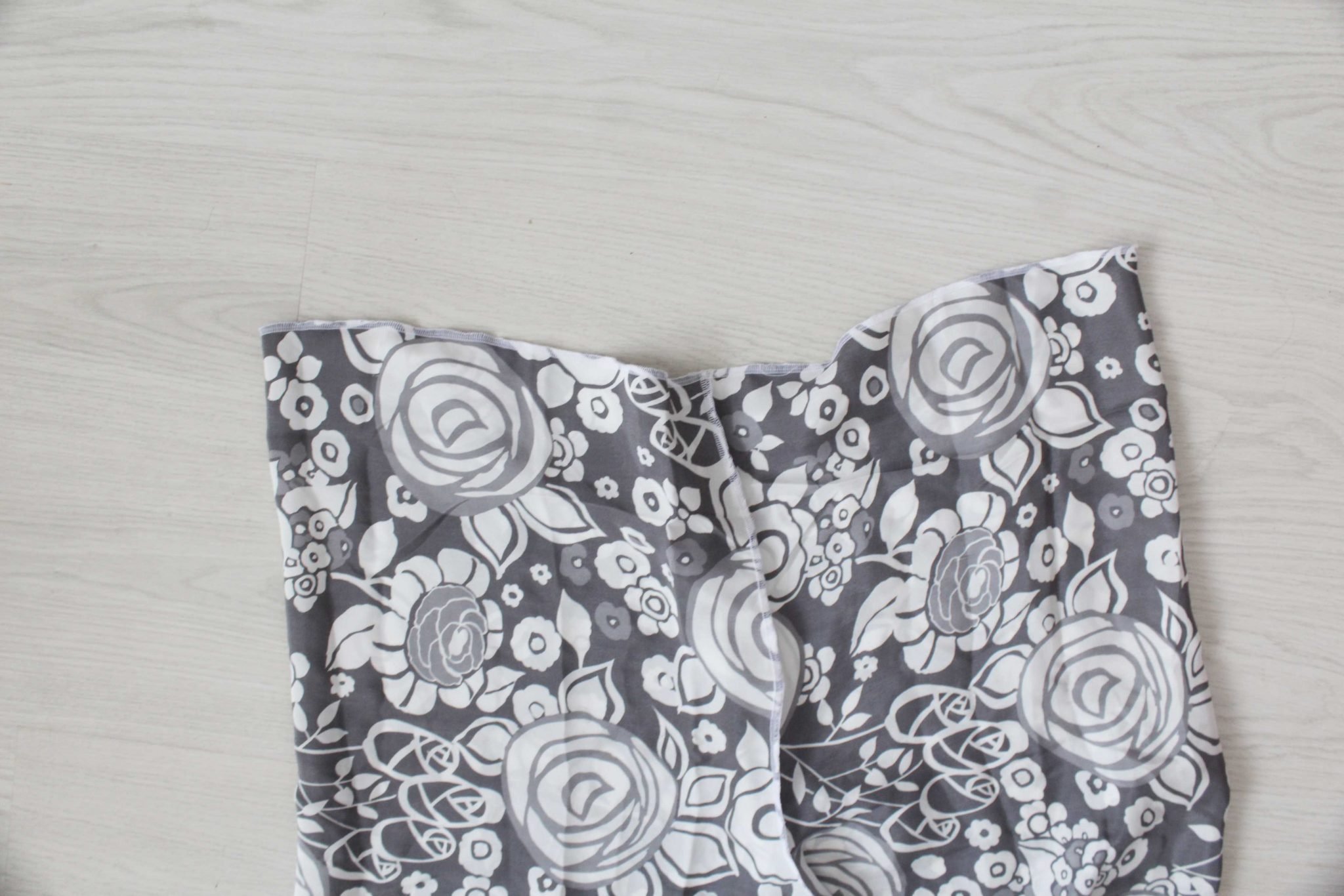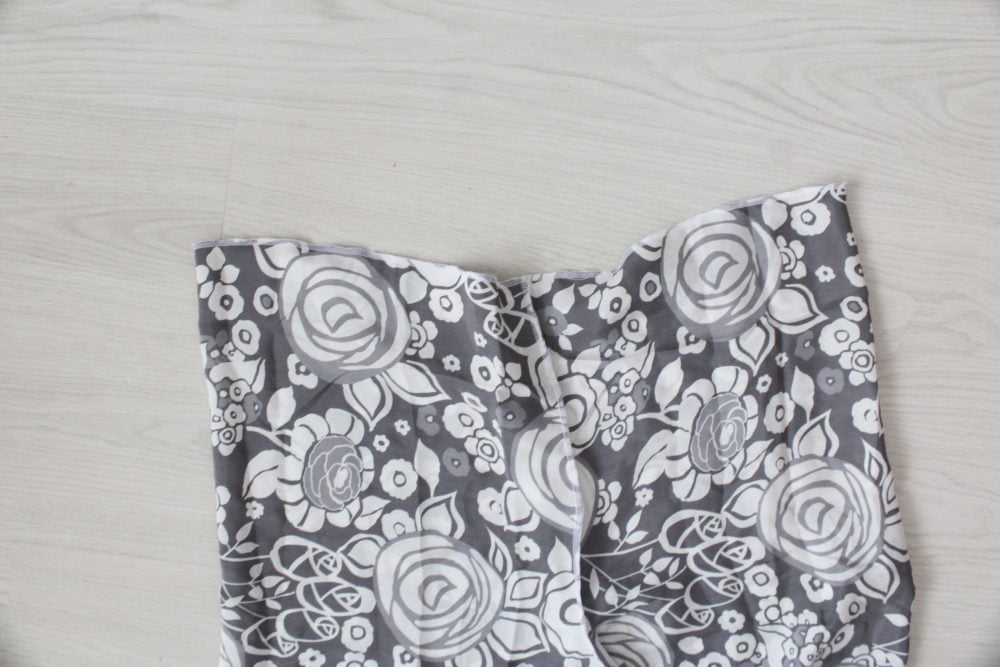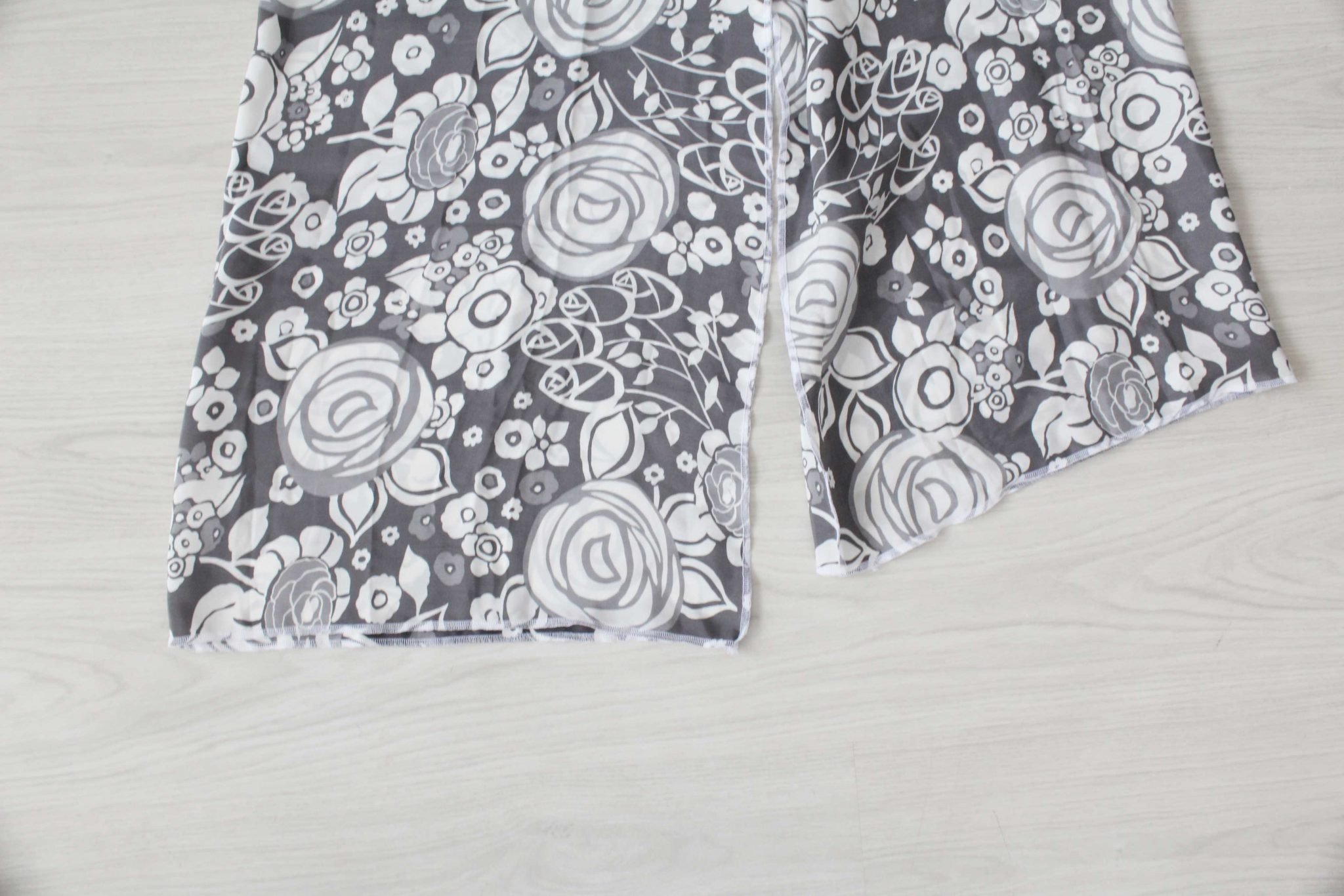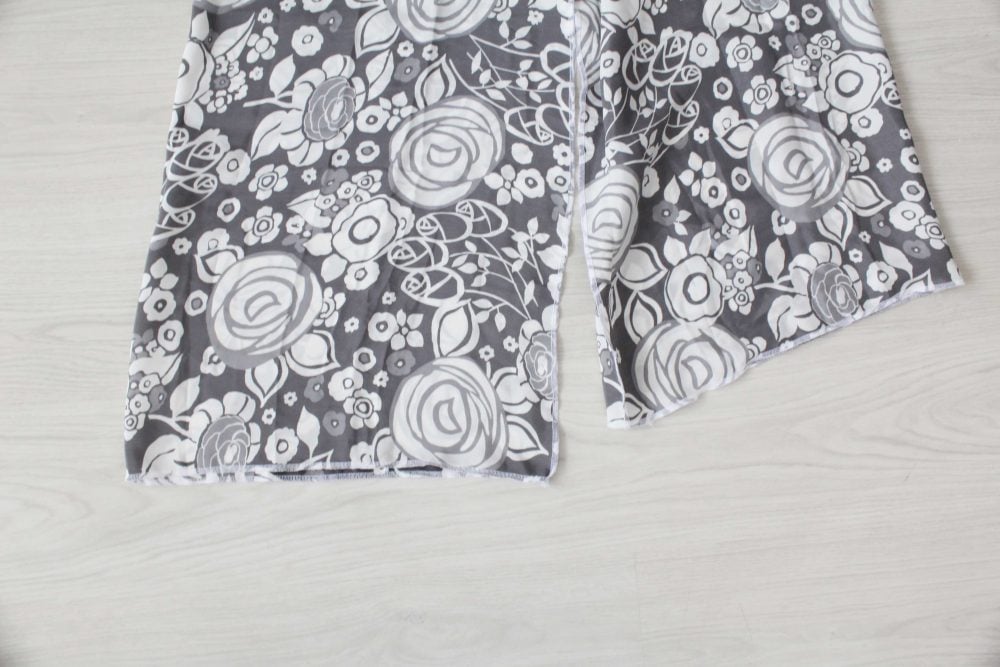 To finish the waist, make a casing for the elastic by simply folding the serged top towards the inside of the pants and sew with a regular stitch, leaving a small opening to thread the elastic through.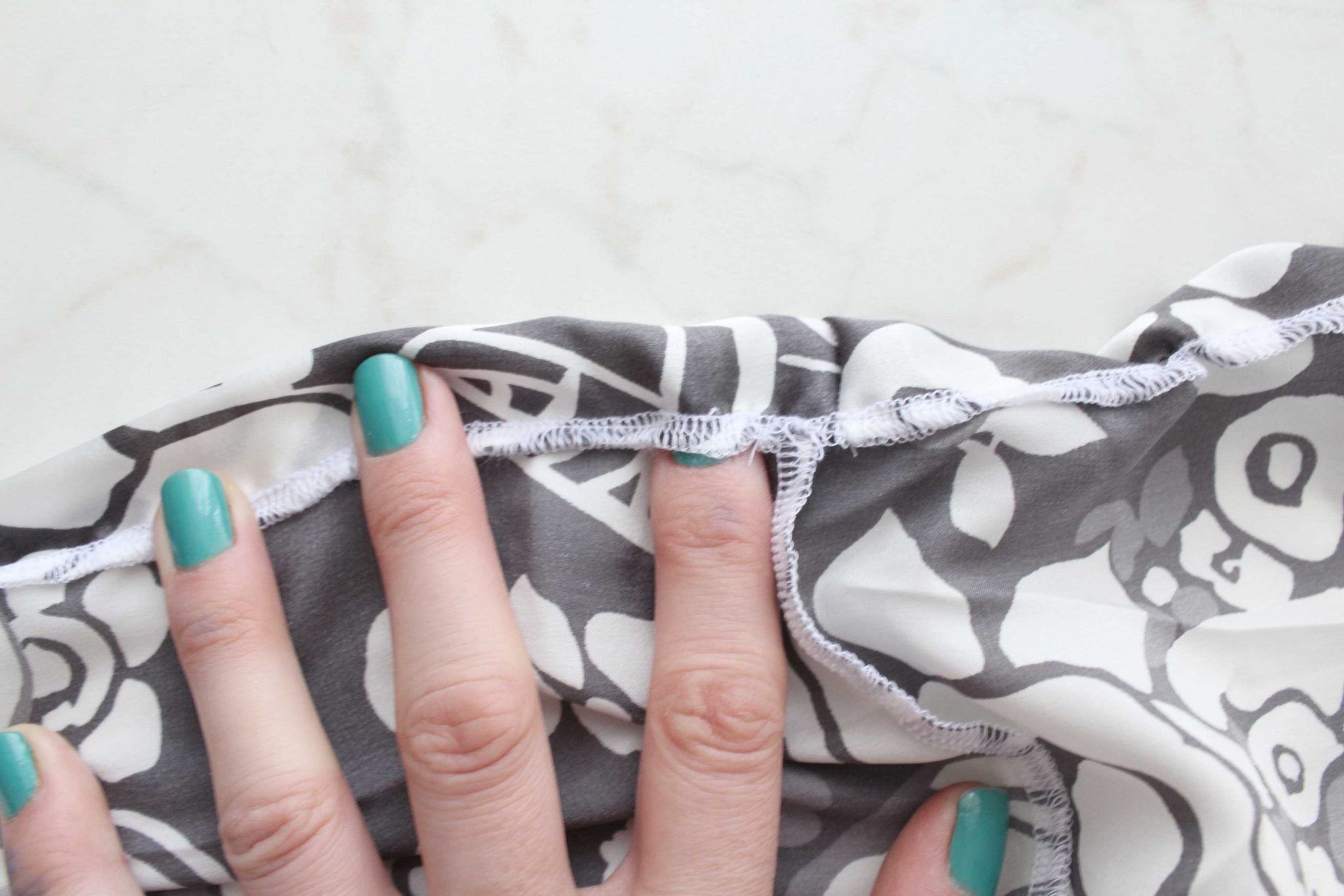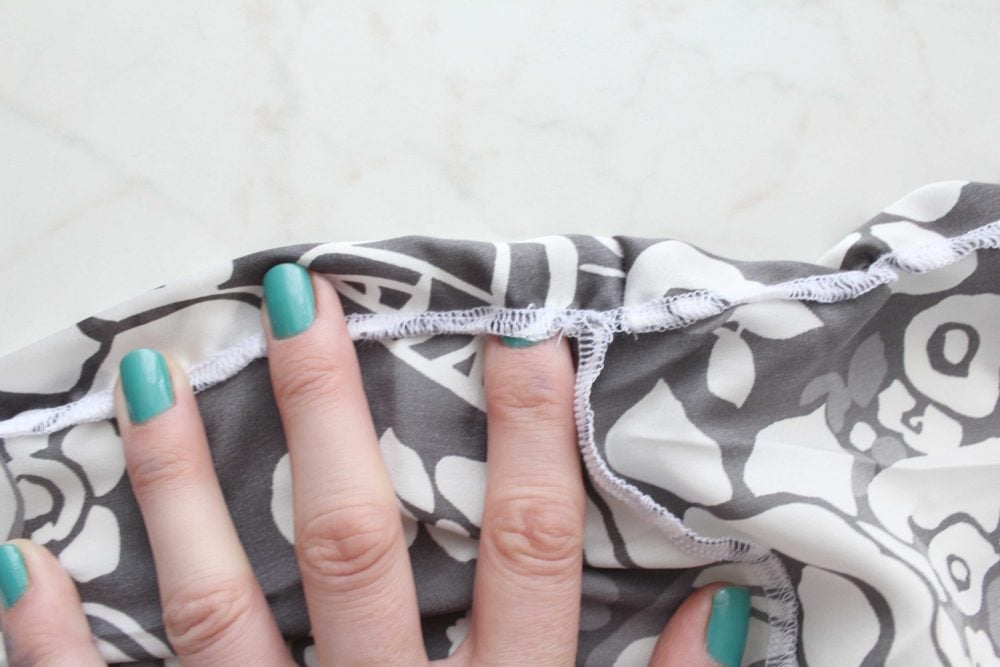 After inserting the elastic, sew the ends of the elastic together and close the opening in your casing with a regular stitch.
To finish the hems, fold the hems inside and sew with a regular stitch.
Give your pants a nice press and you're ready to wear them! Enjoy!
If you liked this tutorial I'd love to know your thoughts in the comments below. And don't forget to rate it!
Pin to save for later