Printable THANKSGIVING BANNER
Article may contain Amazon & affiliate links. As an Amazon Associate I earn from qualifying purchases at no additional cost to you.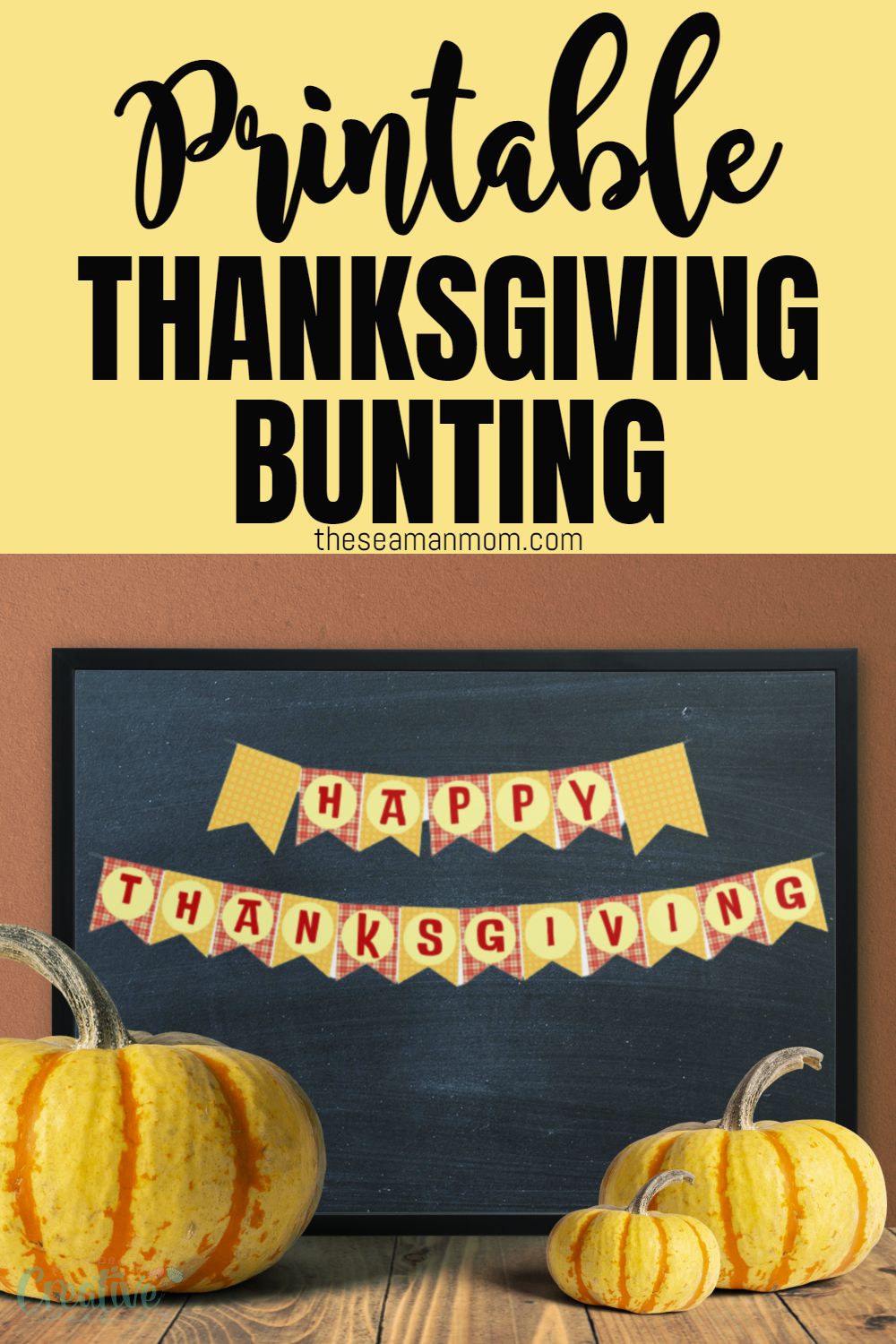 Whether you're hosting friends and family for Thanksgiving dinner or just want to add some fall décor to your home, a Thanksgiving banner is a great option.
Thanksgiving Banner to print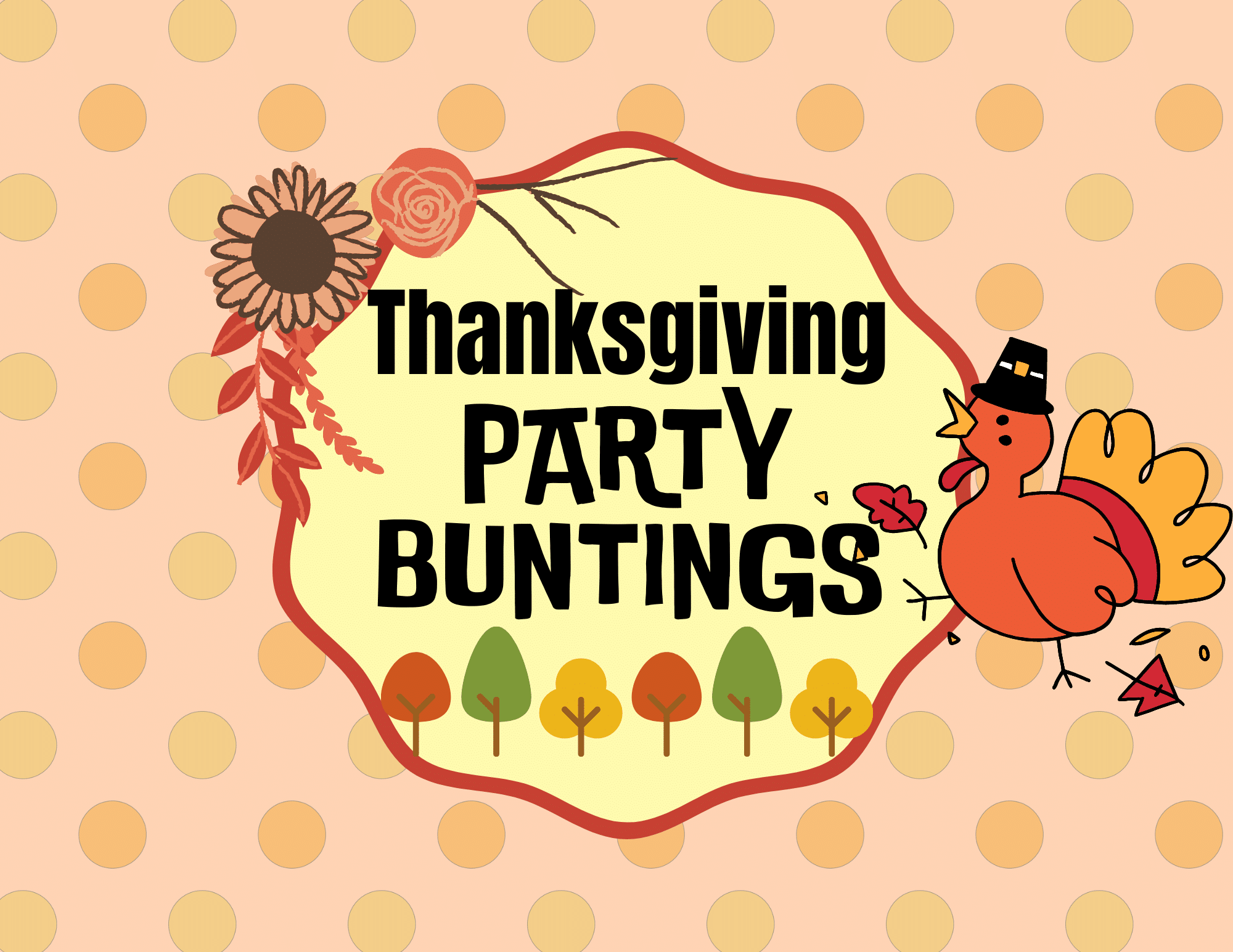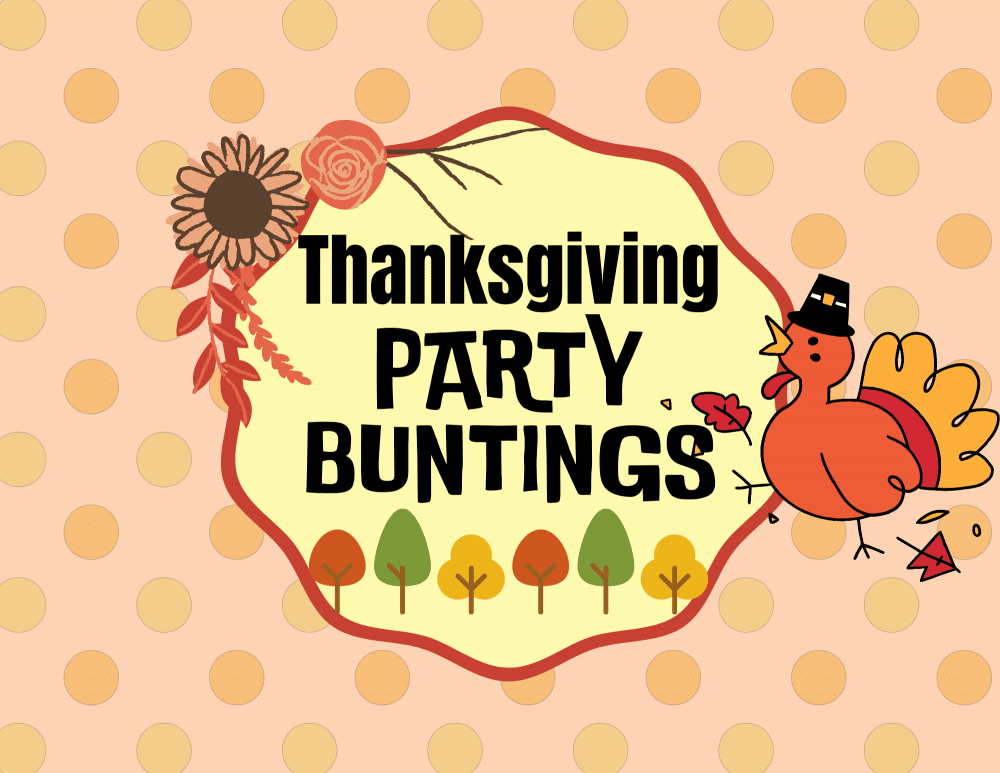 With this lovely printable Thanksgiving banner, you can give any room in your house a fall look with minimal effort. This happy Thanksgiving banner will make the perfect addition to your holiday home décor. Since it's quick and easy to put up and take down, this seasonal banner is the perfect way to dress up your home for the fall holiday in a matter of minutes (or choose this Give Thanks banner instead, they're both so lovely).
With the help of this Thanksgiving banner printable, you can create a beautiful decoration for your home without much time or effort. Make things even easier with this Thanksgiving dinner planner or these thankful cards
To put this Thanksgiving craft together, you'll need a few supplies, including:
Printable bunting. The first step to creating this Happy Thanksgiving banner printable is to get the PDF. The printable includes pages to create a beautiful decorative banner featuring the phrase "Happy Thanksgiving."
Cardstock. After you get the printable PDF, it's a good idea to print the flags for your banner on cardstock. White cardstock will provide you with the best print, allowing the fall colors of the bunting to shine through.
Scissors. When you're finished printing your bunting, each of the flags needs to be cut out before you can hang your banner. A pair of sharp scissors is a must when creating this quick fall craft.
Ribbon or string. To hang your banner, you'll need a piece of ribbon or string. Any type of string will work for this project, as long as it's long enough to hold all the flags on the banner.
How to Hang this Thanksgiving Bunting
Now that you have all your supplies gathered and ready to go, you may be wondering how to hang a bunting. You actually have a few different options to choose from when it comes to hanging the flags for your banner. Try these different methods for putting your fall bunting together.
Attach the ribbon to the bunting. One popular method for hanging a printable bunting is to attach each of the flags of the banner to the string. You can use hot glue or tape to attach the ribbon directly to the back of each flag. Then, use the ends of your string to hang the finished banner in place.
Thread the string through the banner. Another great way to hang your banner is to thread the string through the bunting. To do this, you'll first need to punch holes in each flag. To ensure the flags stay put and don't move once the banner is hung, punch one hole in each of the top two corners, making sure not to punch the holes too close to the edge. Thread your string down through one hole and up through the second hole. Continue this process until all the flags are added to the string.
Hang the banner with clothespins. Mini clothespins are a quick and easy option for hanging your printable bunting – especially if you don't want to damage the pieces of the banner with glue or holes. To use this method, just lay the string on a flat surface and line up each flag on top of the string. Attach a mini clothespin to each corner of the flags. After all the pieces of the bunting have been added, you can hang your banner using the ends of the string.
Thanksgiving Decorating Ideas
Once you have your Thanksgiving banner finished and ready to hang, you're going to want to add some more seasonal decorations to your home! Try these simple Thanksgiving decorating ideas to create a beautiful fall display in any room of your house.
Elements of nature. The fall season is such a beautiful time in nature. That makes natural elements a perfect addition to your fall décor. To quickly and easy add some fall color to your home, sprinkle some pieces of nature into your fall decorating, including leaves, branches, acorns, pumpkins, pinecones, and gourds.
Soft linens. To balance out the harshness of your natural elements, try bringing some soft textiles in your fall décor. Mixing in some plaid flannel, neutral burlap, or soft wool are simple ways to add some softness to your Thanksgiving decorating.
Fall foods. Thanksgiving is all about the food, so using fall foods as decorations makes perfect sense! Use fall favorites, like apples, cranberries, walnuts, cinnamon sticks, corn, and pumpkins to dress up your holiday dinner table.
Autumn florals. Just because the weather is starting to cool doesn't mean you have to give up on fresh flowers in the fall. Using fall florals in your Thanksgiving centerpiece is another easy way to add some autumn color to your display. You can fill your vase with mums, berries, fall leaves, wheat grass, sunflowers, and dahlias.
Candles. No matter the season, candles are a great choice for easy decorating. Give your candles a fall touch by decorating the space around them with autumn elements, like leaves and pumpkins.
---
My Thanksgiving banner is available for grabs HERE!
---
Pin to save for later