The best boozy HOT CARAMEL APPLE CIDER
Article may contain Amazon & affiliate links. As an Amazon Associate I earn from qualifying purchases at no additional cost to you.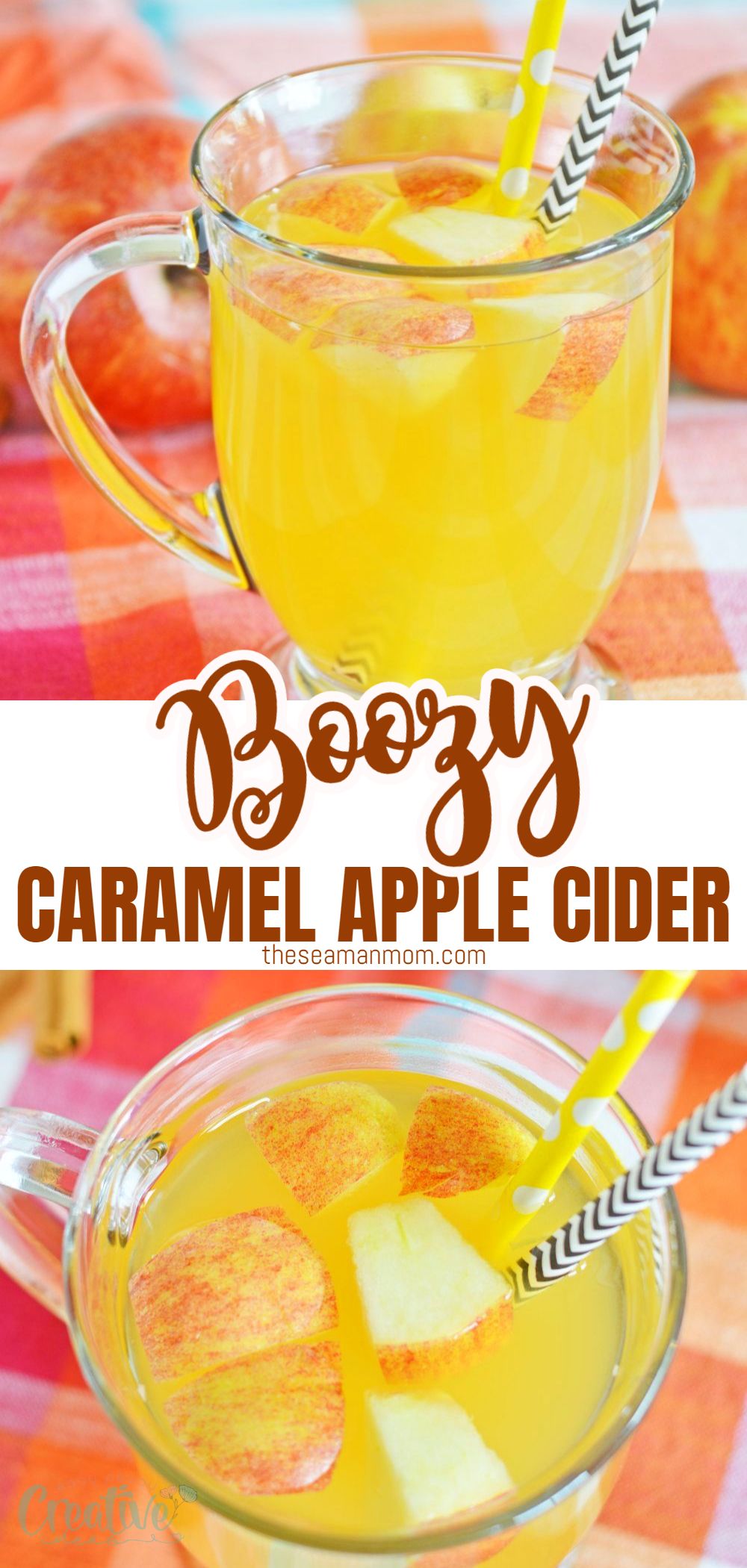 This hot spiked apple cider is a really simple recipe that will help you create the perfect warming drink for cold weather! Whether you want to enjoy this spiked apple cider after a long day, or fancy making it your signature drink the next time you host a party, get-together or dinner party this recipe is so easy to recreate at home time and time again!
Hot spiked apple cider with caramel flavor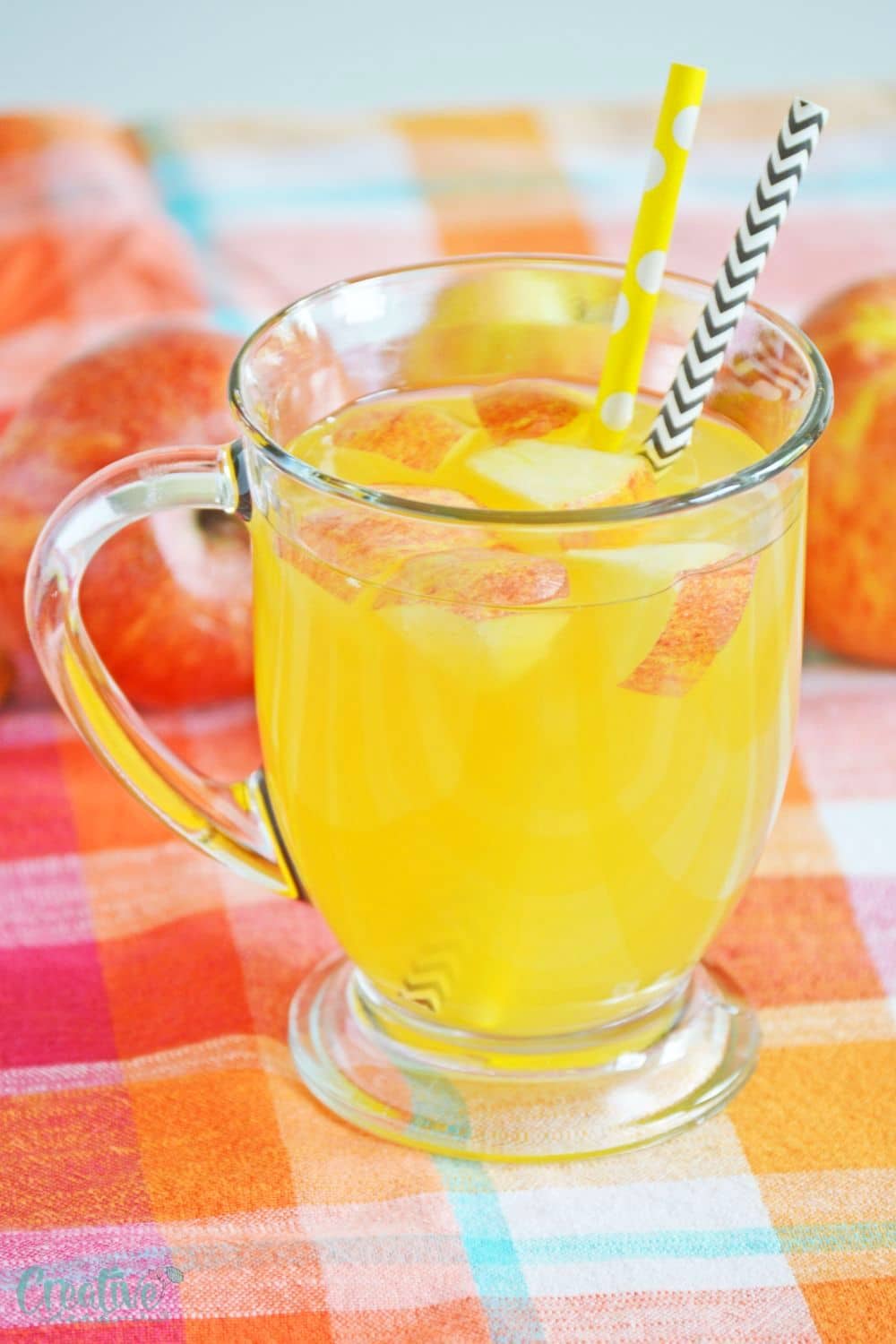 The fall and winter are such lovely times of the year. There is a certain magic to it. The leaves fall off the trees, it is time to wear the cozy jumpers and jeans again, and let's not start with the countdown to events such as Halloween, Thanksgiving, and Christmas, to name a few. It has you reaching for all of the comfort food. However, we also tend to make different choices when it comes to our drinks as well, choosing something warm that really hits the spot, like a super delicious hot spiked apple cider!
Sure a coffee might be your preferred choice during the day, but at night, you might favor something that is soothing. This is where my alcoholic apple cider could be the ideal drink of choice for you. Fruity, sensual, with that extra kick that hits the back of your throat, this caramel flavored drink certainly packs a punch. Not only that, but it is a drink that you can easily create one of, but you could batch cook it for parties and get-togethers when you are feeling all festive. So if you are interested in creating the boozy caramel apple cider then here is the recipe and general tips and variations you could try.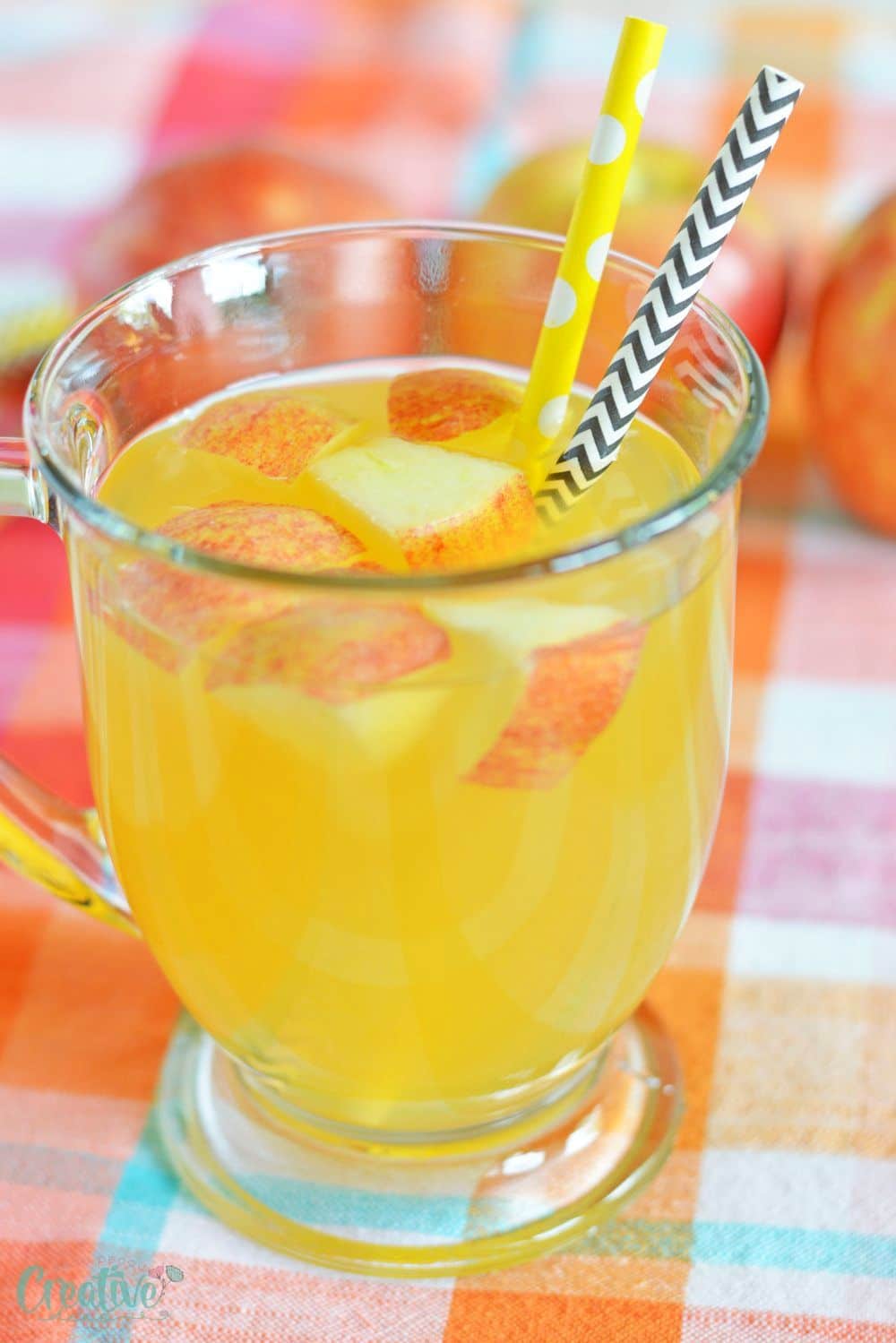 Ingredients to help create the boozy apple cider
Apple cider – you can choose whichever cider you prefer but we use Musselman's.
Smirnoff Kissed Caramel vodka – this really is something special and combines well with the cider.
Optional extras for serving – whipped cream, a sprinkle of cinnamon, fresh apples, etc.
How to make a hot spiked apple cider at home
Grab yourself a small saucepan and then heat up the apple cider until it is steamy.
Once the apple cider is warmed through, pour it into your favorite mug.
At this point, you will want to then add the Smirnoff kissed caramel vodka directly into the mug.
Now the fun part. Garnish the drink with whatever you have to hand. My suggestions include things like whipped cream, fresh apple segments, or even a sprinkle of cinnamon. We share more options on what you can do later on in the recipe.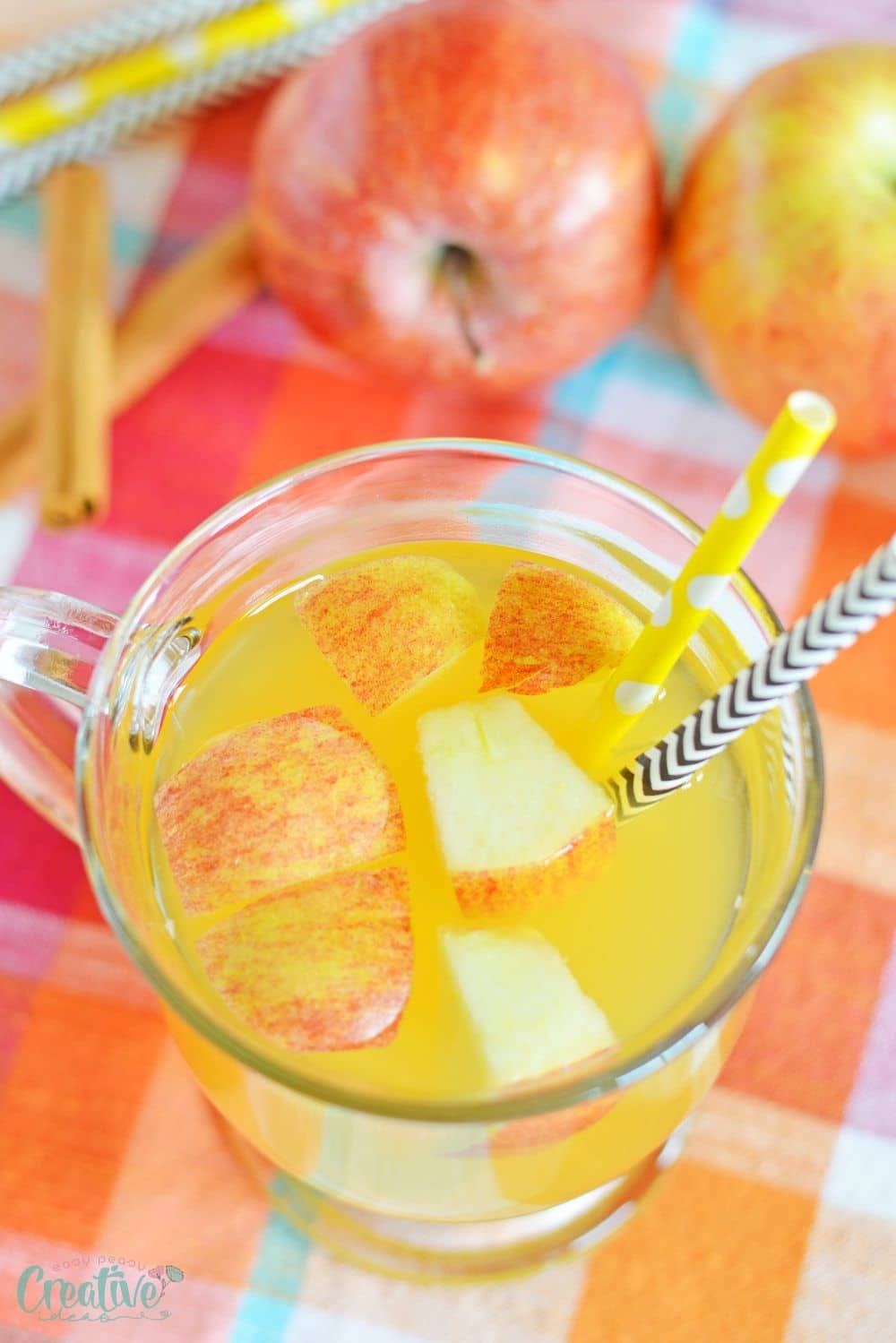 Recipe Notes and tips
I wanted to share with you some recipe notes and tips that could help you to easily recreate the boozy caramel apple cider at home. Here are some of the things to remember:
This recipe has been catered to create one drink. But you could easily double up or make more just by increasing the quantities. Follow the same recipe and process just be mindful that it may take longer for the apple cider to warm up.
Try using a slow cooker. This can be the ideal way to keep the cider warm. You can then ladle out the amount you need for each cup as and when you are serving it.
Don't let the cider boil. Keep an eye on the pan to ensure that you don't let the cider boil away. This will turn the drink bitter. You want it to be steamy and warmed up.
Variations you could try
If you were looking to really go crazy with this caramel apple cider or are interested to know how you could vary this recipe, I have some ideas that you might want to try.
Go crazy with your garnishes. This is one of those drinks that you could make your own. One suggestion would be to add whipped cream to the drink, sprinkle some cinnamon and garnish with a fresh apple slice for effect. But you could also decorate the cream with some melted chocolate, a cinnamon stick, or even a sprinkle of cocoa powder.
Try different flavored vodka. While this is made with caramel flavored vodka, you may find that the caramel isn't a flavor you like. Smirnoff does some incredible flavored vodkas that could work well for you. Or you could keep to the traditional.
Try different apple ciders. It may be that you enjoy our preference for this drink which is Musselman's, but you don't need to stick to it if you want to try another apple cider. Some brands offer different flavors with some having a dryer taste whereas others might be sweeter. Try a few different ones and see which one you prefer.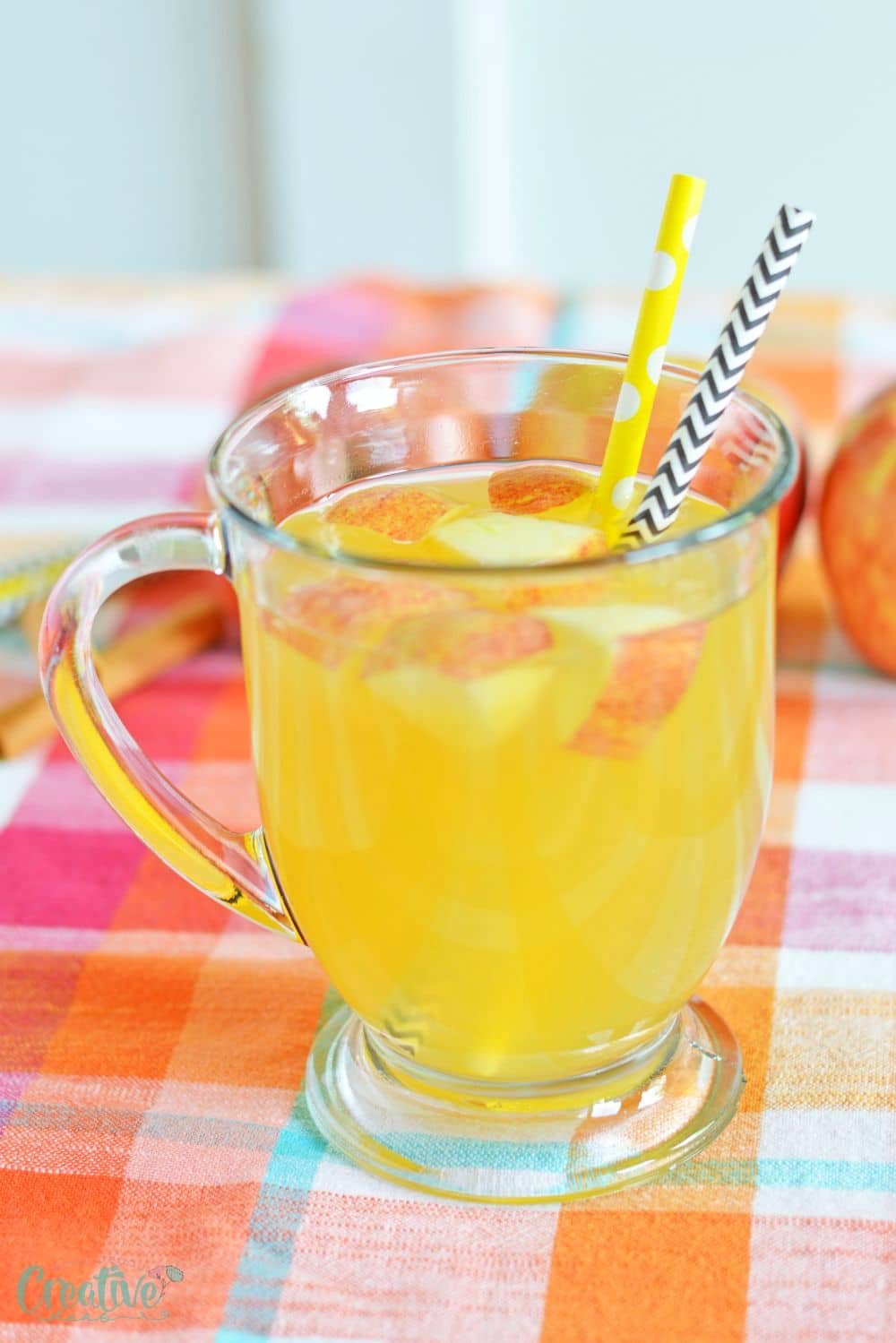 FAQs
You may have some questions, so hopefully, I have covered them below but please feel free to leave me a comment or get in touch via social media if you want to ask me anything.
Can this be prepared in advance?
The idea is that this is a warm comforting drink, so it isn't easy to create ahead of a time that you might want to drink it. What you could consider is keeping the cider warm in a slow cooker and then use a ladle to put the apple cider into a mug as and when you need it. This is a great way to create more than one drink and will help you serve this up to guests if you were hosting a party.
When could I enjoy this drink?
You could enjoy this drink whenever it takes your fancy. It is a lovely warming drink so a cold evening would definitely welcome it. But you could serve this drink at a party, when you are hosting guests for dinner, or just as a treat on a Friday night.
Let's hope this has inspired you to create this amazing hot spiked apple cider at home. I hope you have enjoyed this recipe and check out more amazing drink recipes on my blog!
Pin to save for later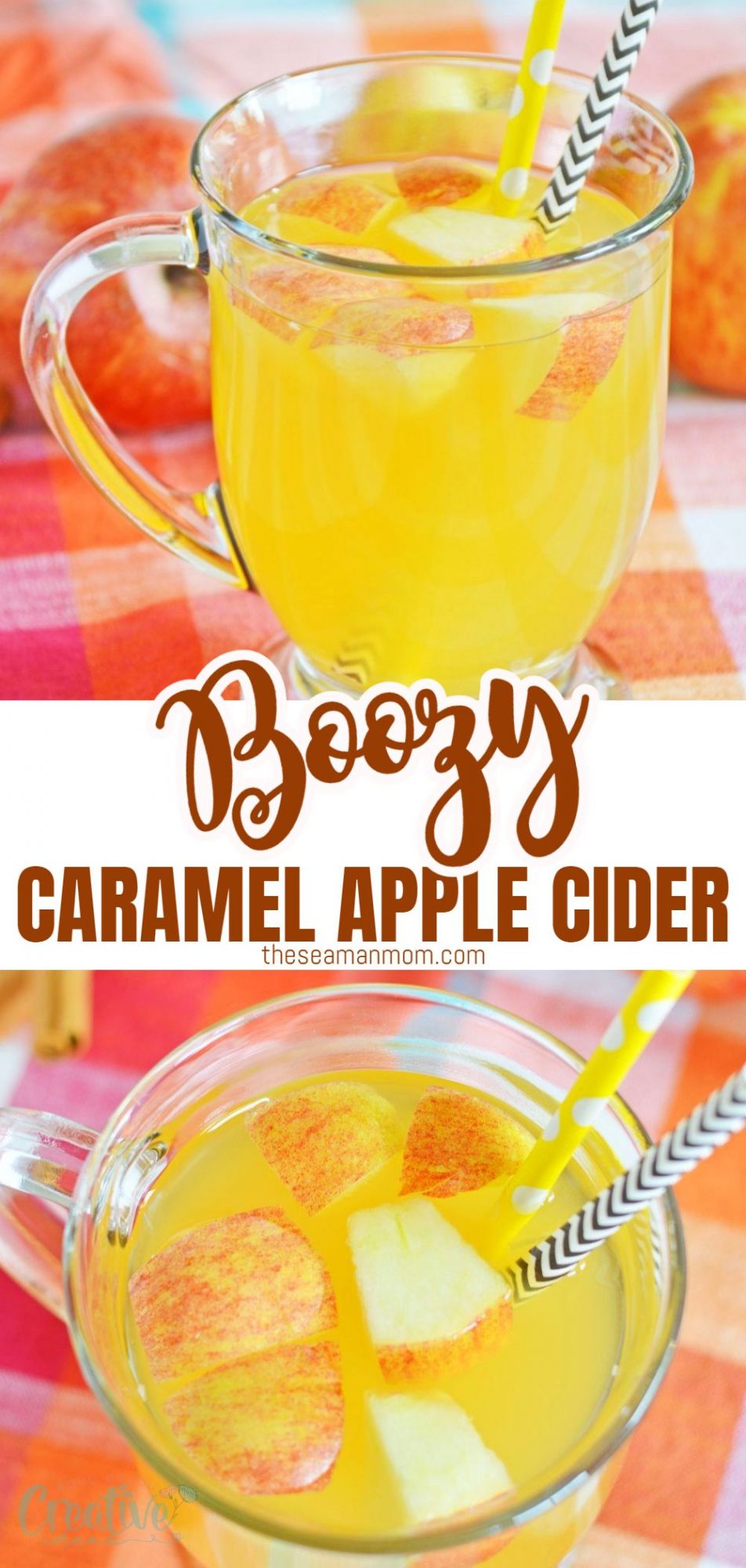 Print the recipe card
Hot spiked apple cider
This hot spiked apple cider is a really simple recipe that will help you create the perfect warming drink for cold weather!
Ingredients
1.5

cups

apple cider

we prefer Musselman's

Whipped cream, caramel sauce, cinnamon, cinnamon sticks, and fresh apples for garnish.

optional
Instructions
In a small sauce pan, warm the apple cider until steamy. Pour into your favorite mug.

Add caramel vodka. Garnish with whipped cream, a sprinkle of cinnamon, fresh apples, or whatever you prefer.