DIY laundry bag for the medical staff
Article may contain Amazon & affiliate links. As an Amazon Associate I earn from qualifying purchases at no additional cost to you.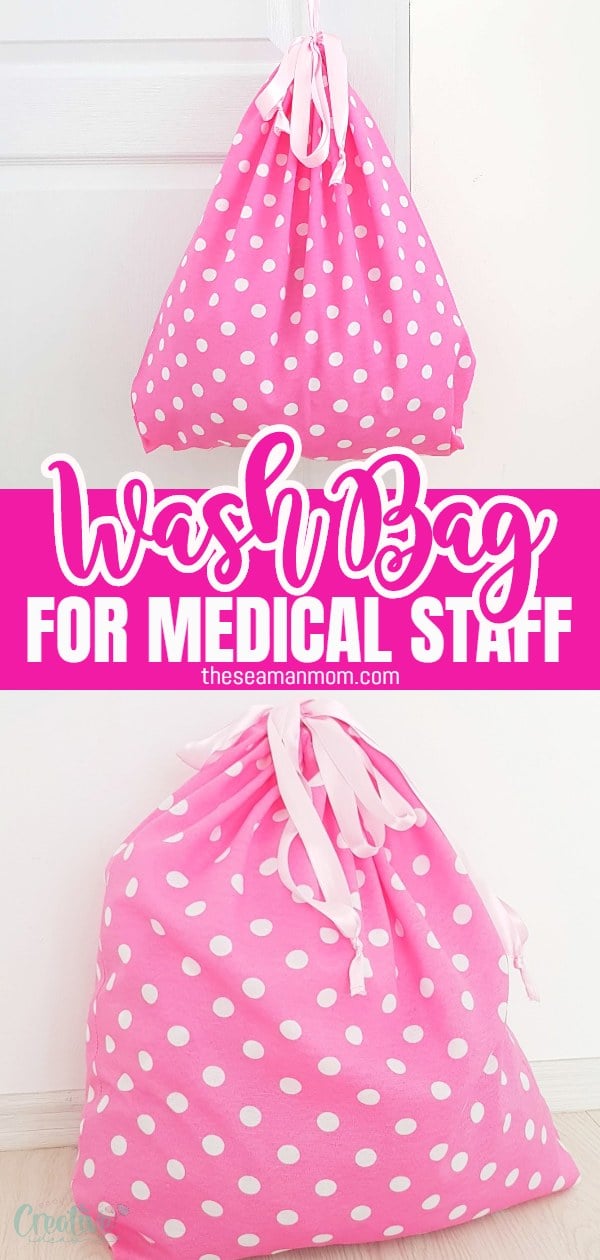 Working in a hospital and don't have a safe place to put your contaminated equipment to take it home and wash it? Here is a super easy tutorial for making a fast DIY laundry bag out of a pillowcase. It's large enough to fit your uniform, mask and cap so that you can transport them safely.
DIY laundry bag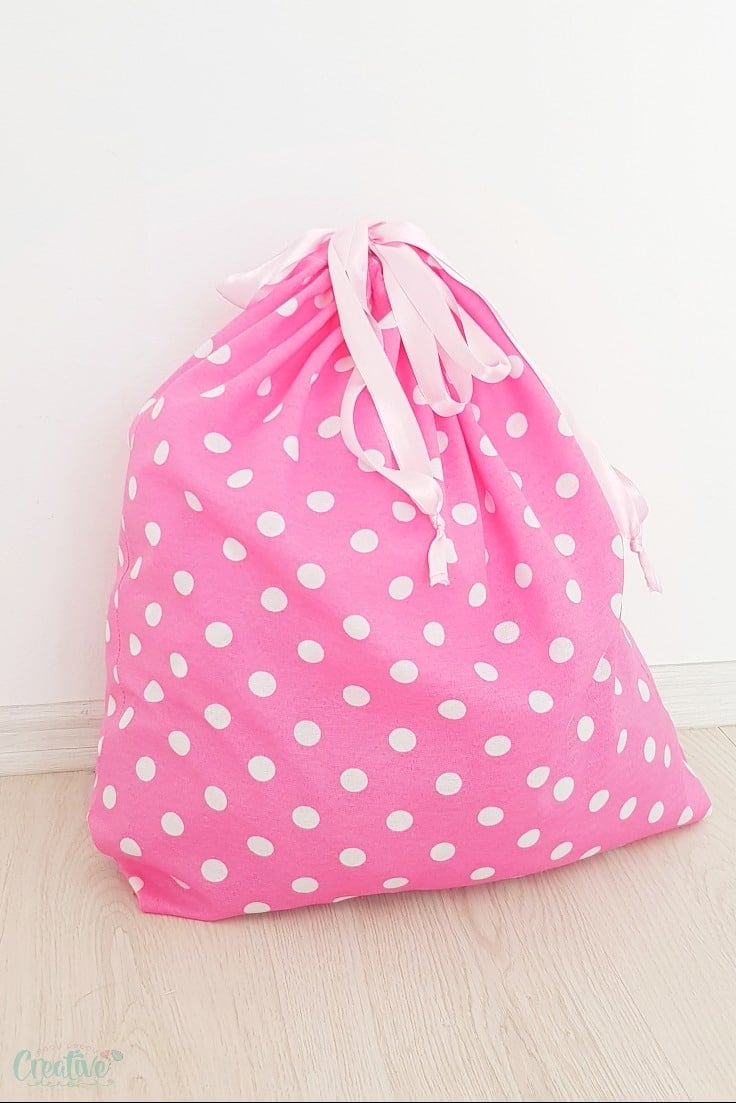 Because it uses a pillowcase as a base, this simple DIY laundry bag only takes up about 20 minutes, even less if you're an experienced sewist, as the bag is already sewn, so you only need to add a casing for the string to close it. You can use any old or mismatched pillowcase you've been keeping away because it doesn't match your sheets anymore. Just add a cute ribbon and you're done.
Similar posts you will love:
For those of you that have a lot of unused pillowcases and want to help, consider making some drawstring bags out of them and donating them to your local hospital for their workers to use. They will be forever grateful for such a simple gift. It would be your way of being involved in the coronavirus fight.
When choosing your pillowcases, make sure you pick medium or large pillowcases, because the laundry bag needs to be large enough to fit a entire scrub uniform, the mask and/or headband/scrunchie.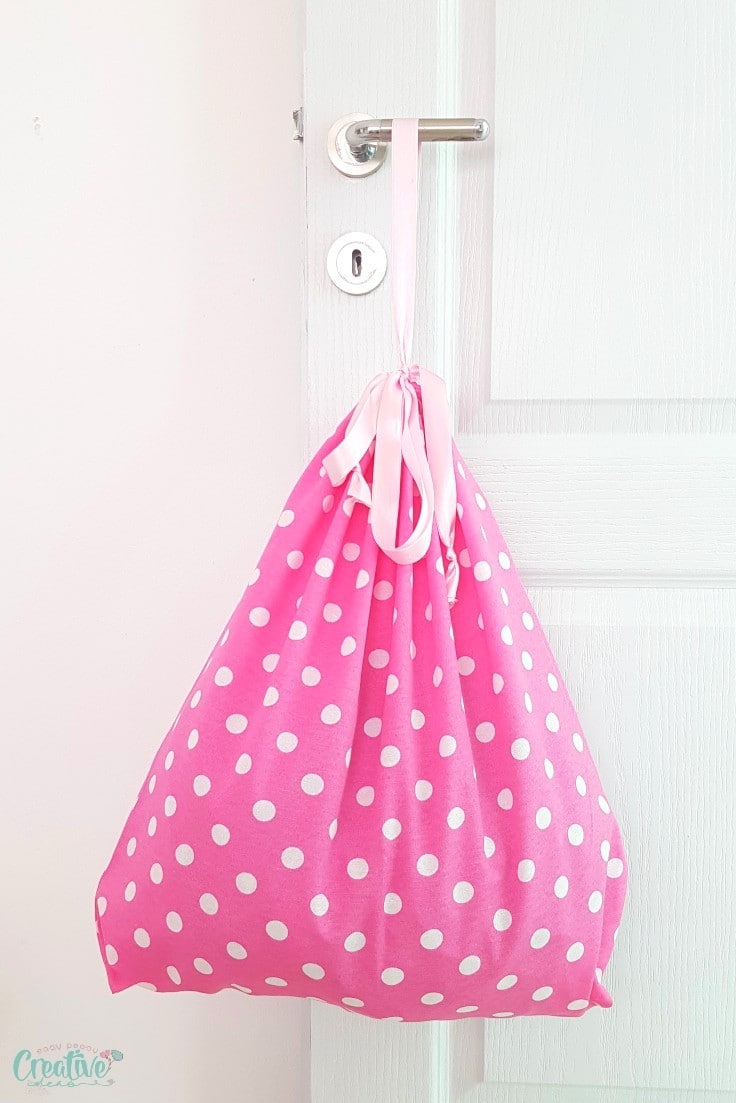 Are there other options to make this pillowcase laundry bag?
You can also make a bag from scratch if you have some extra fabric at hand. The process is also very easy and you can also make smaller grocery bags with the same technique. It only takes a couple of extra steps (measuring and cutting the fabric then sewing the pieces on the sides and bottom) and it only adds about 10 more minutes. So if you don't have a spare pillowcase, you can simply make this DIY laundry bag from scratch. The pillowcase is very handy, though, and you only need to add the string.
How do you use the wash bag correctly?
First, it is very important to undress correctly to avoid contamination, especially during the dangerous crisis. The correct instructions of dressing and undressing should be available to any worker in all hospitals so that they won't catch the virus or other bacteria.
After undressing, the scrubs must be thoroughly washed at high temperature to kill the virus, together with the bag, so make sure to make more than one bag. You may need at least two or three. Iron them to sanitize even better.
Having a ribbon or string, this bag can be hung on a hook in the changing room or your closet at the hospital so that you have it on hand when undressing, to quickly put everything away so that nobody touches it. This is great, as your loved ones at home won't risk getting the infection if they don't have direct contact with your scrubs. The drawstring makes opening and closing the bag a super easy and quick task!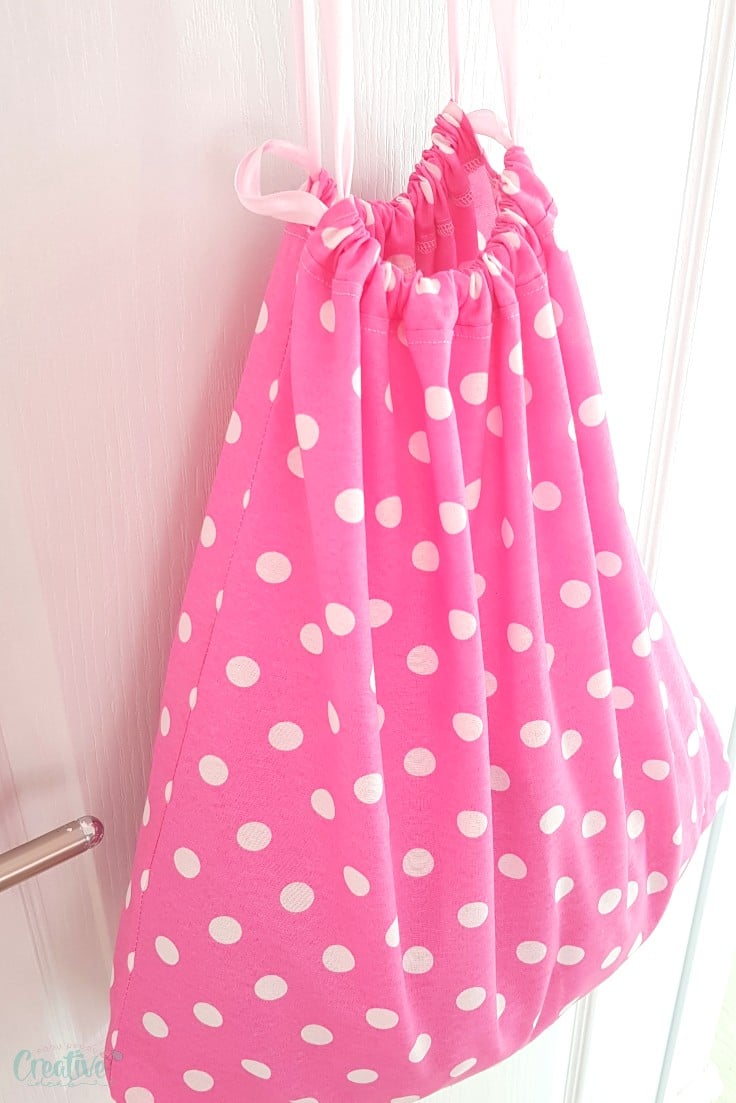 How do you personalize this DIY laundry bag?
There are a few ways you can add a personal touch to the wash bags you sew, if you know the medical staff you're offering them to.
You can embroider their names.
You can embroider or iron-on some funny or "Thank you" kind of messages to make the medical staff feel better and happier. They sure need this right now!
You can make the bags in the colors they like.
Swap the ribbon for fun cording or handmade strings from fabric scraps
Every beginner can make this drawstring laundry bag very easily, and it doesn't cost a thing as you most probably already have everything you need. This project is so insanely easy you'll want to have a wash bag for everything: delicate laundry like lingerie, every kid's room, kitchen towels, whatever you may think about. It's even great as a travel laundry bag, as it doesn't take up a lot of space in your luggage.
In addition to this handy and useful drawstring bag, you can sew more items for the medical staff, from masks to headbands with buttons or scrub caps. What is your way of helping during these difficult times?
DIY drawstring bag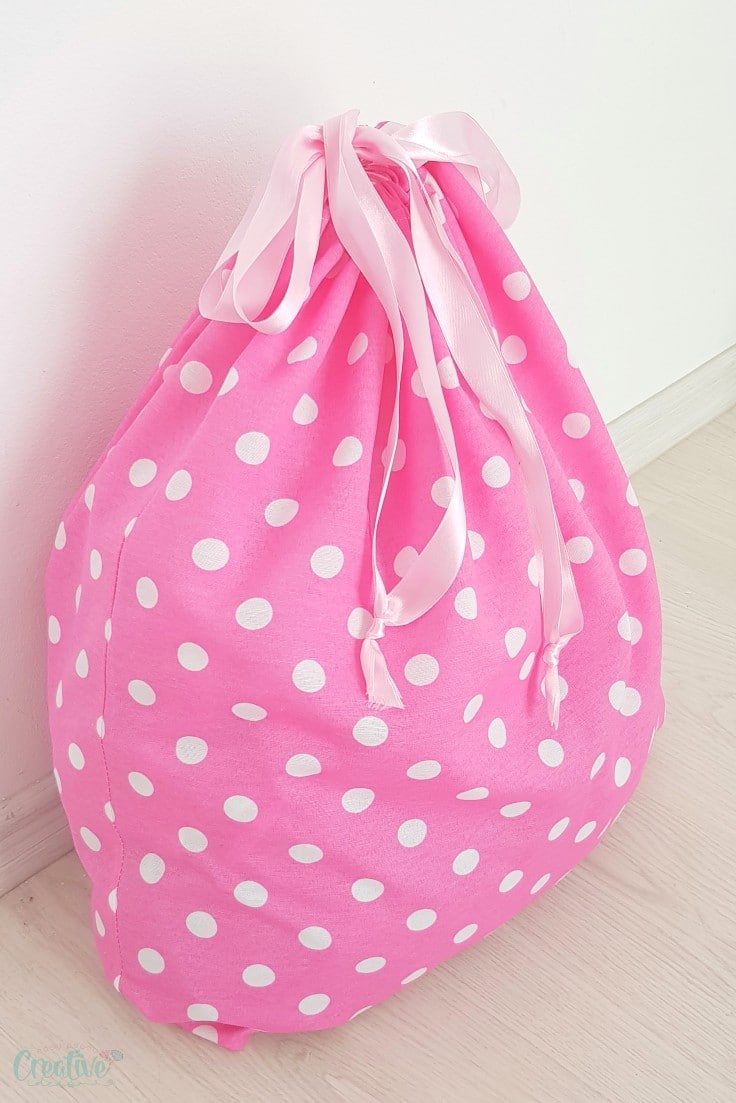 Materials:
Directions:
Start by cutting the top of your pillowcase (where the envelope forms) so that you're left with a simple bag with an open top.
Cut out the front panel of this trimmed top.
Cut two strips of 3″ wide from this panel.
Fold the ends of the strips inside, about 1/4″. Press and sew.
Fold the strips in half, wrong sides together.
Pin one strip to one side of the pillowcase, right sides together and the other strip to the other side of the pillowcase, also right sides together.
Sew with 1/2″ allowance then serge the raw edges or use a zig zag stitch.
Press the casing up so the seam is now pressed down inside the bag.
Press the seam and top stitch.
Using a safety pin, thread some ribbon through the casing, starting on one end and going around the entire casing until you are back where you started.
Grab another piece of ribbon and start threading it through the casing, starting on the opposite end and thread again through the entire casing until you're back where you started.
Tie the ribbons together into a knot, at each end of the casing.
Use these knots to pull the ribbon to close the bag in one go.
To open the bag, simply grab the opening with both hands and pull.
And that's it! Easy peasy 20 minutes (or less) project! You can have a ton of these done in no time! If you liked this idea please let me know in the comments below. Thanks!
Pin to save for later