Holiday napkin cutlery holders
Article may contain Amazon & affiliate links. As an Amazon Associate I earn from qualifying purchases at no additional cost to you.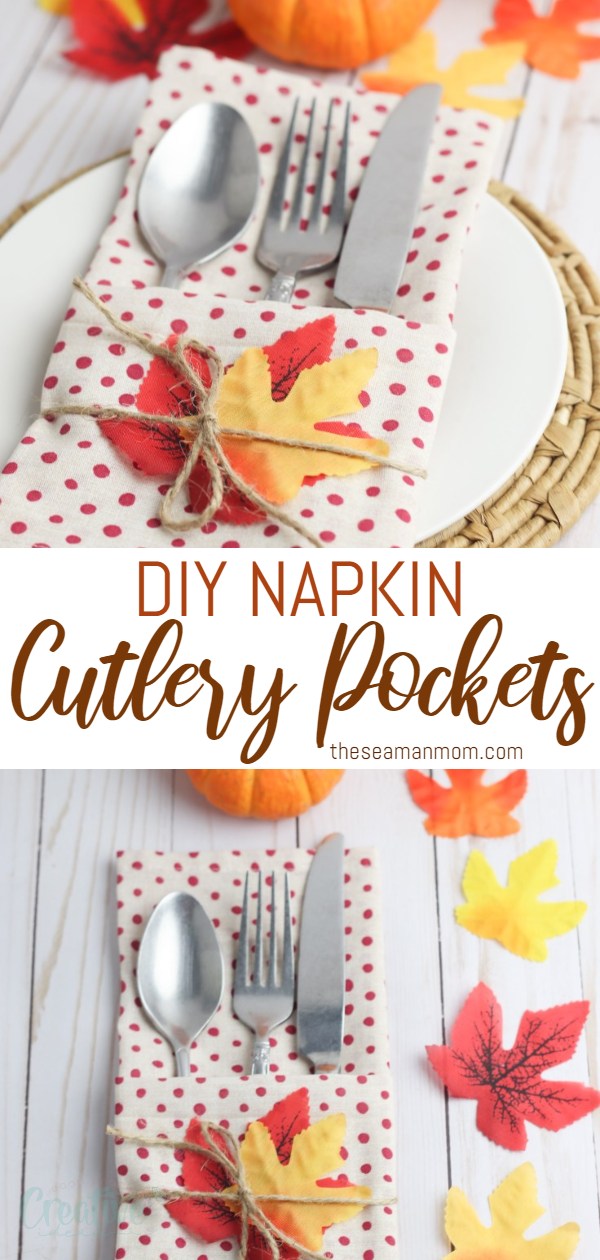 Hosting a party this holiday season? Make Thanksgiving table setting a breeze with these napkin cutlery holders! Easy to make and ready in a snap, these DIY cutlery holder ideas are super affordable and a great addition to a formal dinner setting!
Thanksgiving cutlery holder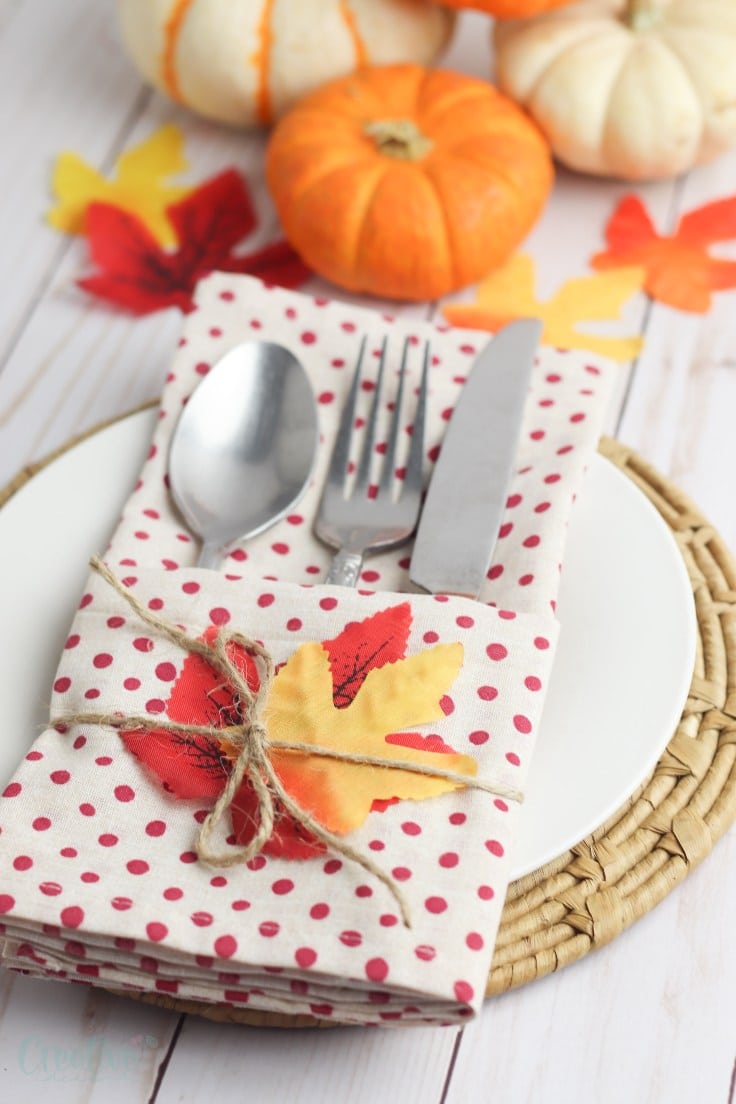 The holidays are on their way! And if you love hosting get-togethers during the holiday season, you're going to need some fresh party hosting ideas. Setting a great place setting is essential for a nice dinner party. And one of the best ways to decorate a place setting is with fun folded napkin cutlery holders.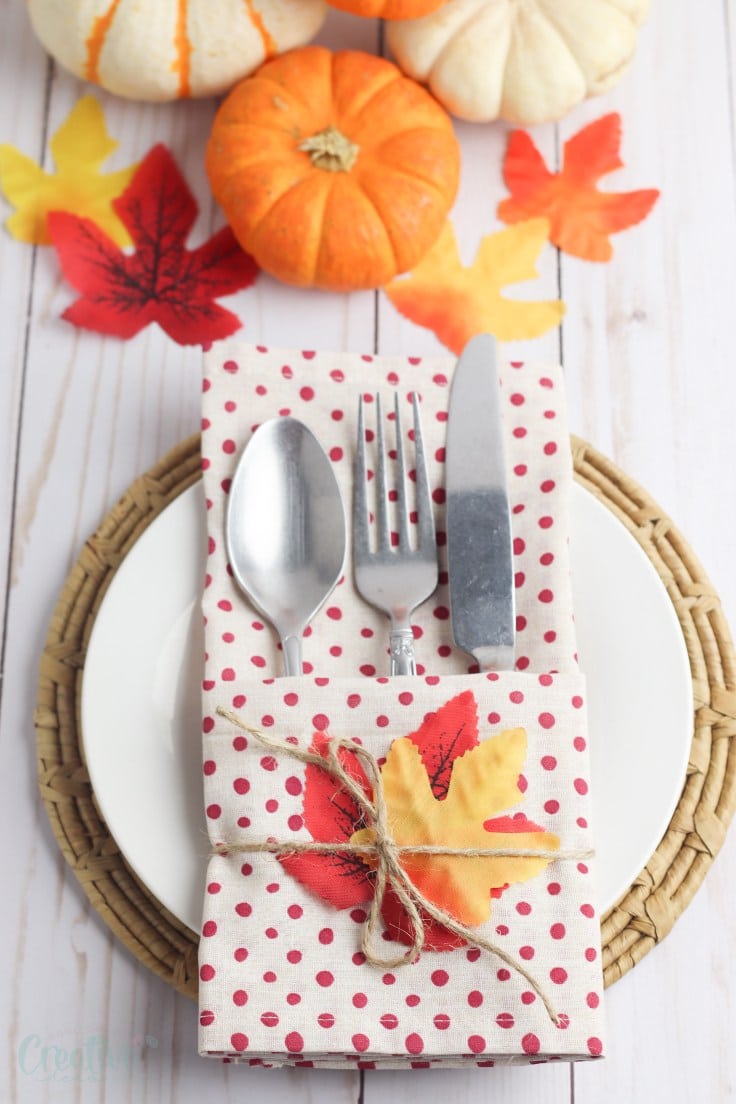 More fall decorating ideas you'll love:
This Thanksgiving, let your napkin do the double duty by serving as a cutlery pocket for your guest's silverware! A nicely folded cloth napkin is one of the most popular ways to dress up a dinner table. And for good reason! Napkins are an essential element of a formal dinner place setting, so why not make the most of their addition to the table? This holiday season, decorate your place setting with this simple napkin folding technique that turns a plain cloth napkin into a cute cutlery pocket for your guest's silverware.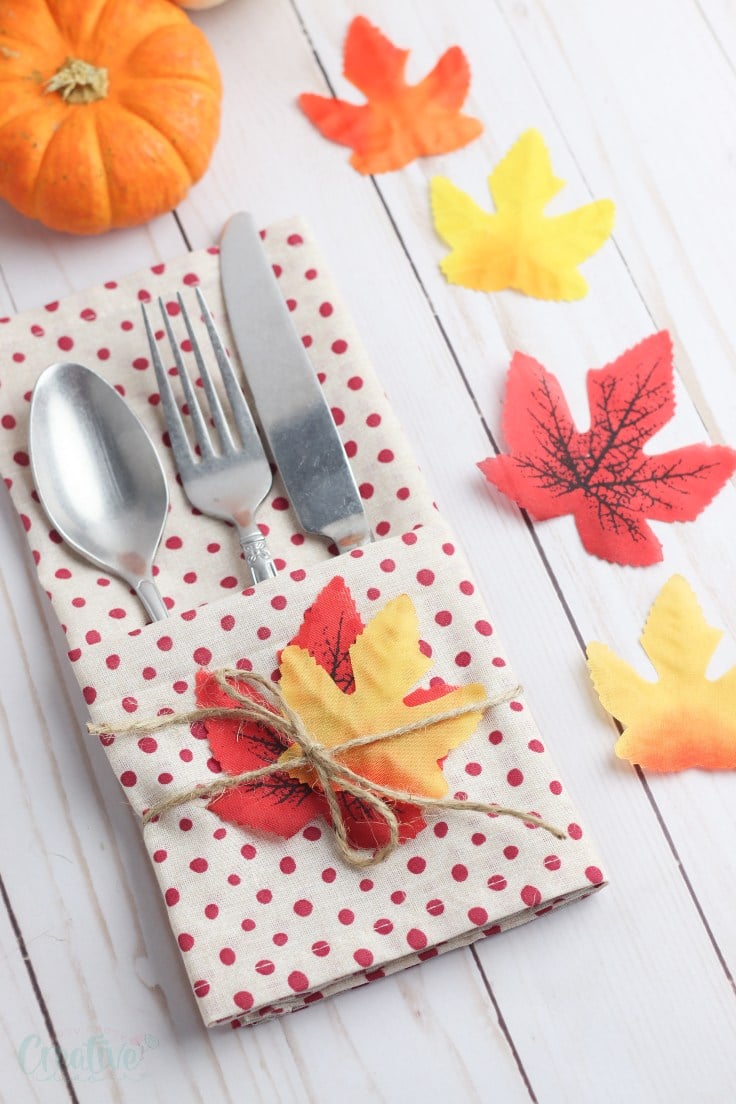 Preparing Your Cloth Napkin
While some napkin folding techniques require that you use a solid colored cloth napkin, this simple folding tutorial is perfect for a napkin with a solid color or a printed design. I chose a cute polka dot cloth napkin for my cutlery pockets, which was great for adding a pop of color to my Thanksgiving place setting.
After picking the perfect cloth napkin for your cutlery pockets, you must get your napkins ready to be folded. The most important part to creating an elegant place setting with your cloth napkins is to make sure each of your napkins are clean and wrinkle free. Be sure to launder your napkins and iron each napkin before you begin to fold them. After ironing your napkins, lay them flat on a flat surface to prevent creases or wrinkles from forming before you start folding.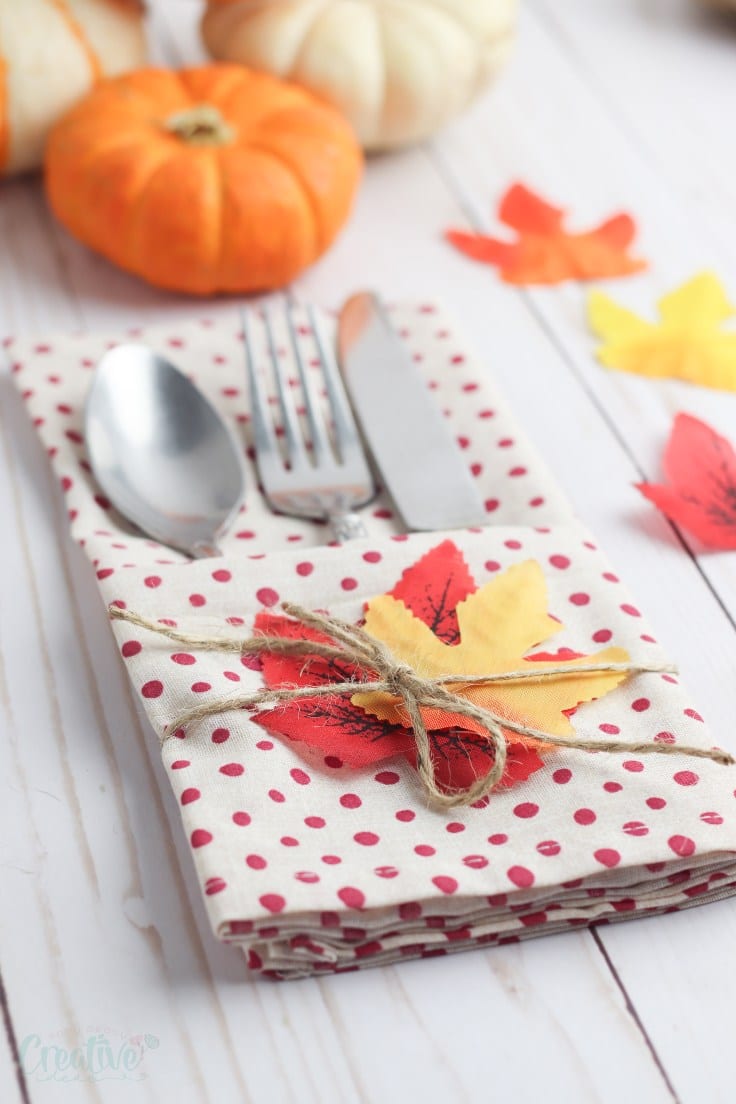 Decorating Your Cloth Napkin Cutlery Pockets
The simple folding technique outlined below is a great way to display your silverware on your guests' place settings. But the fold itself is a little boring. Luckily, it's so easy to spruce up these cloth napkin cutlery pockets by adding a little bit of decoration to each pocket. And you can easily change up the decorations on the cutlery pockets to suit the season!
Here are a few ideas for different cutlery pocket decorations:
Halloween: Black glitter ribbon with plastic spiders
Christmas: Red or green ribbon with an evergreen sprig and a branch of holly berries
New Year's Eve: Curled gold ribbon with a noisemaker
Easter: Paste ribbon with mini Easter eggs
The possibilities are endless! Keep reading to learn how to make your own fall cutlery pocket for your Thanksgiving celebration.
Napkin Cutlery Holders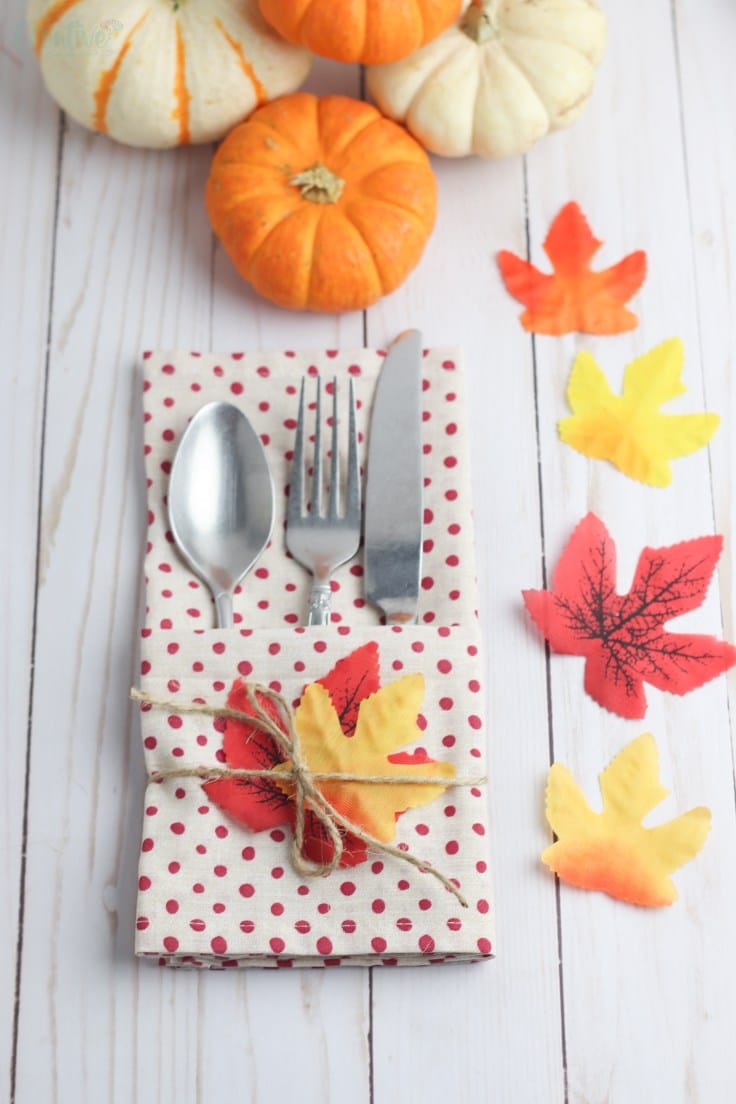 Supplies:
Instructions:
Iron the cloth napkin and lay it flat with the printed side facing up.
Fold the napkin in half, bringing the bottom of the napkin to the top.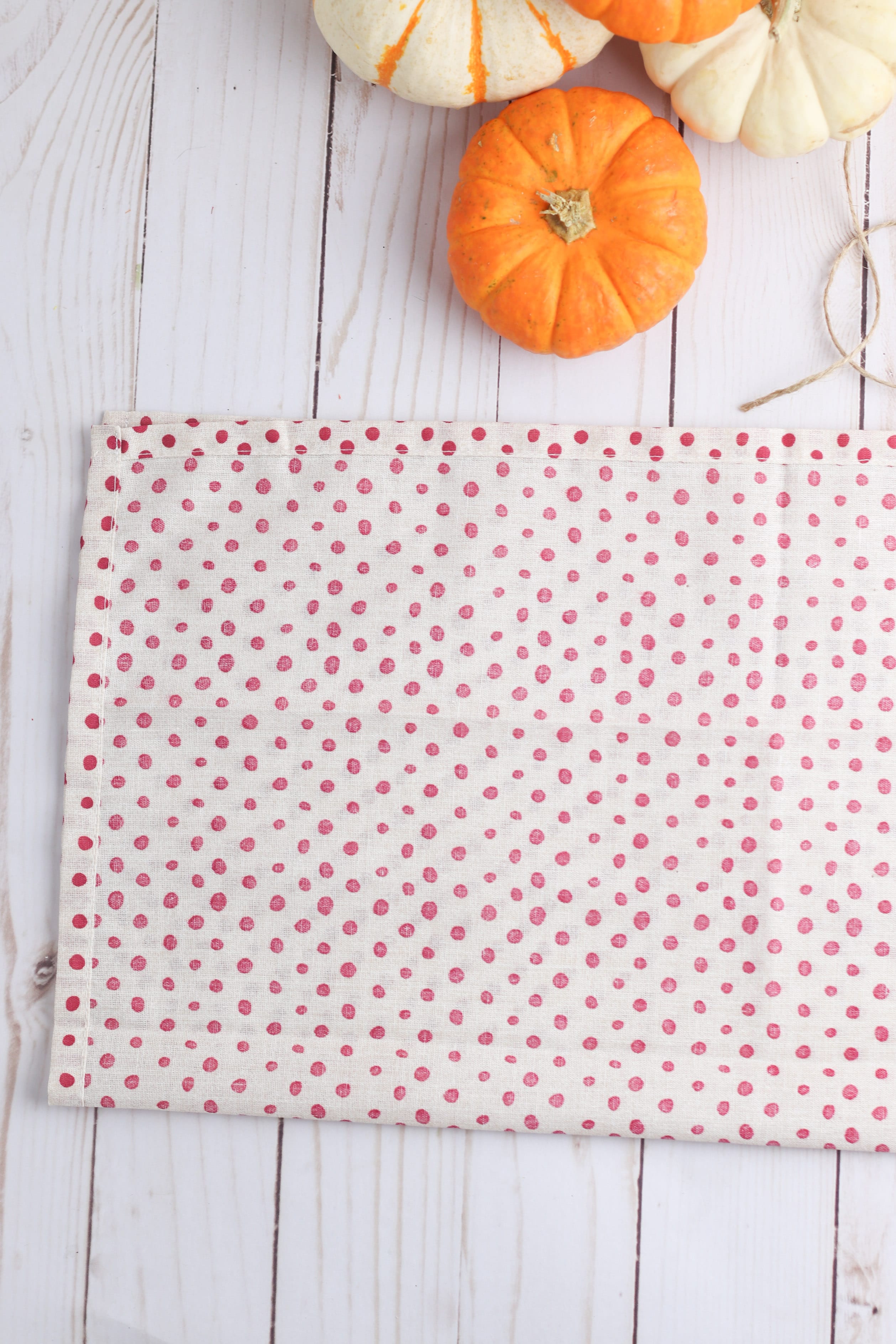 Fold the top layer back down to meet the bottom.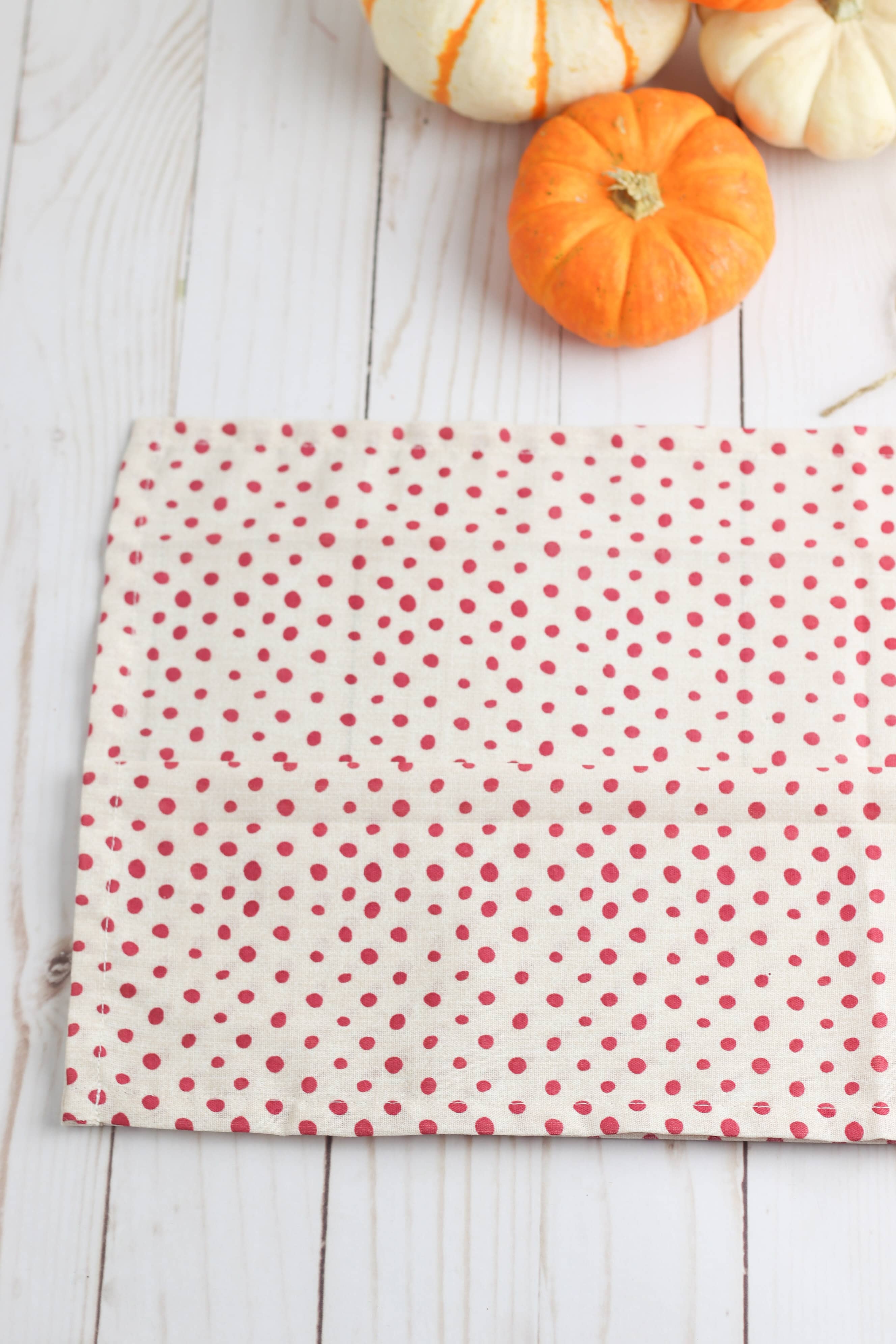 Flip the napkin over and fold in half, bringing the right side to the left.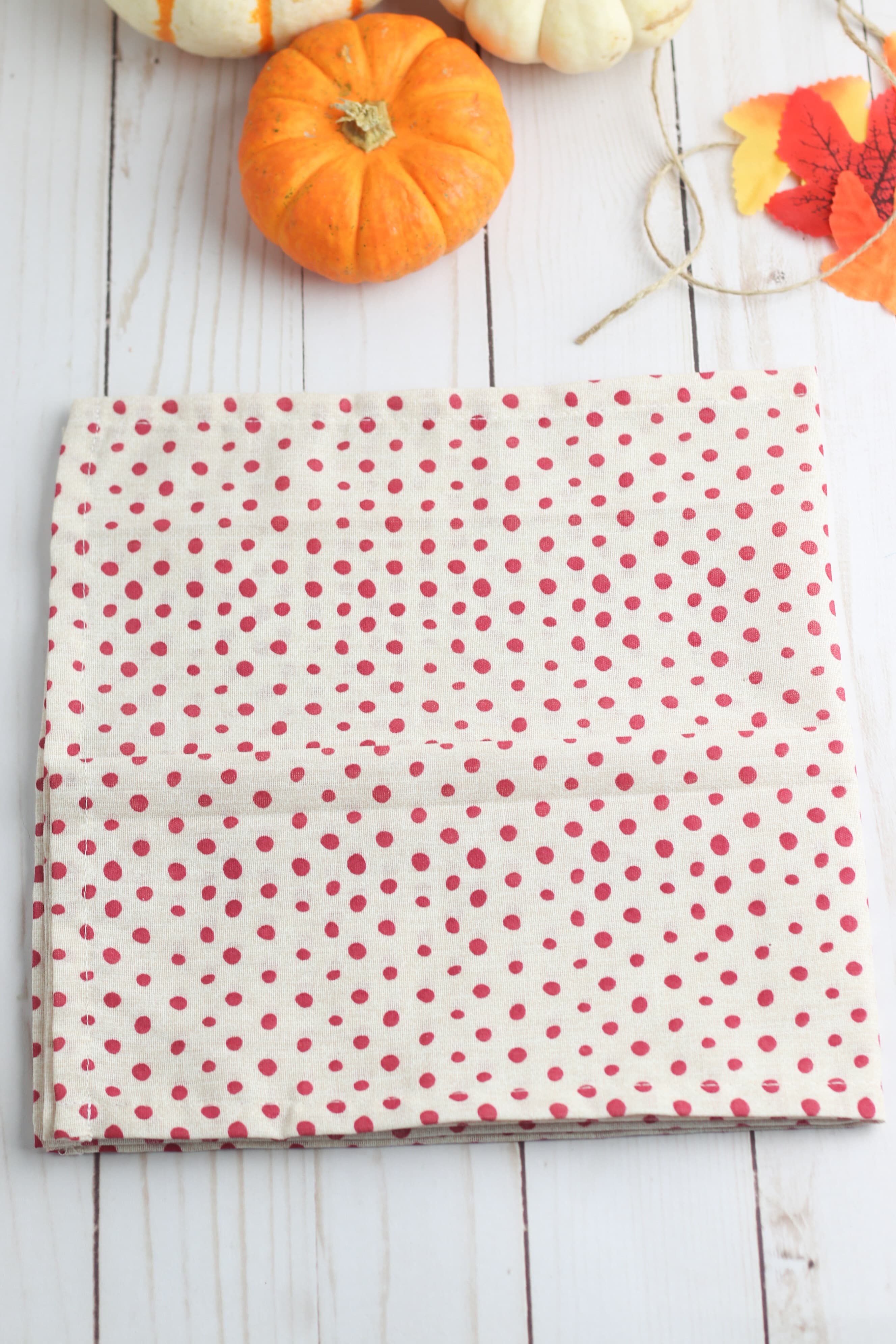 Fold the napkin in half again, bringing the right side to the left.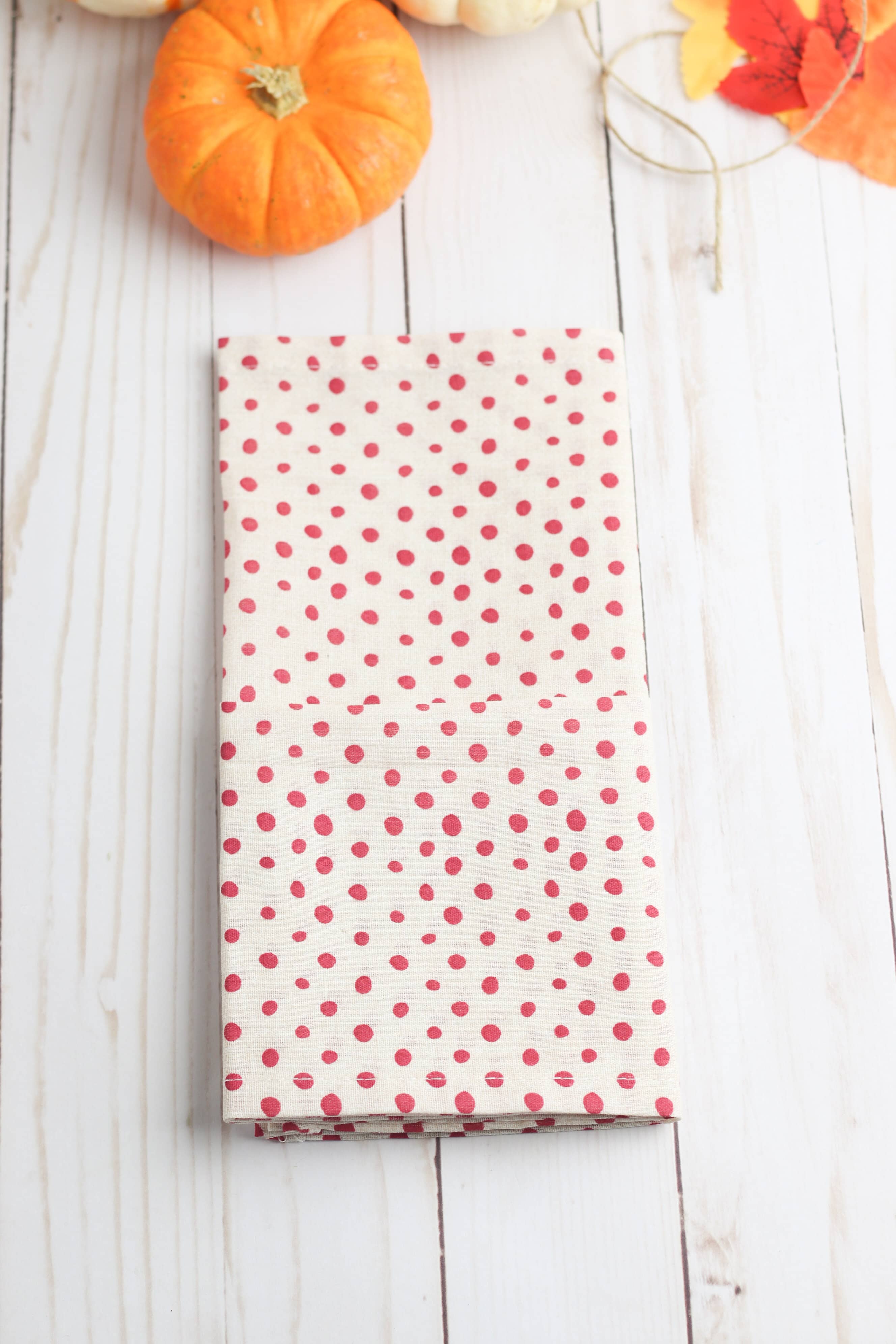 Slide the silverware into the pocket.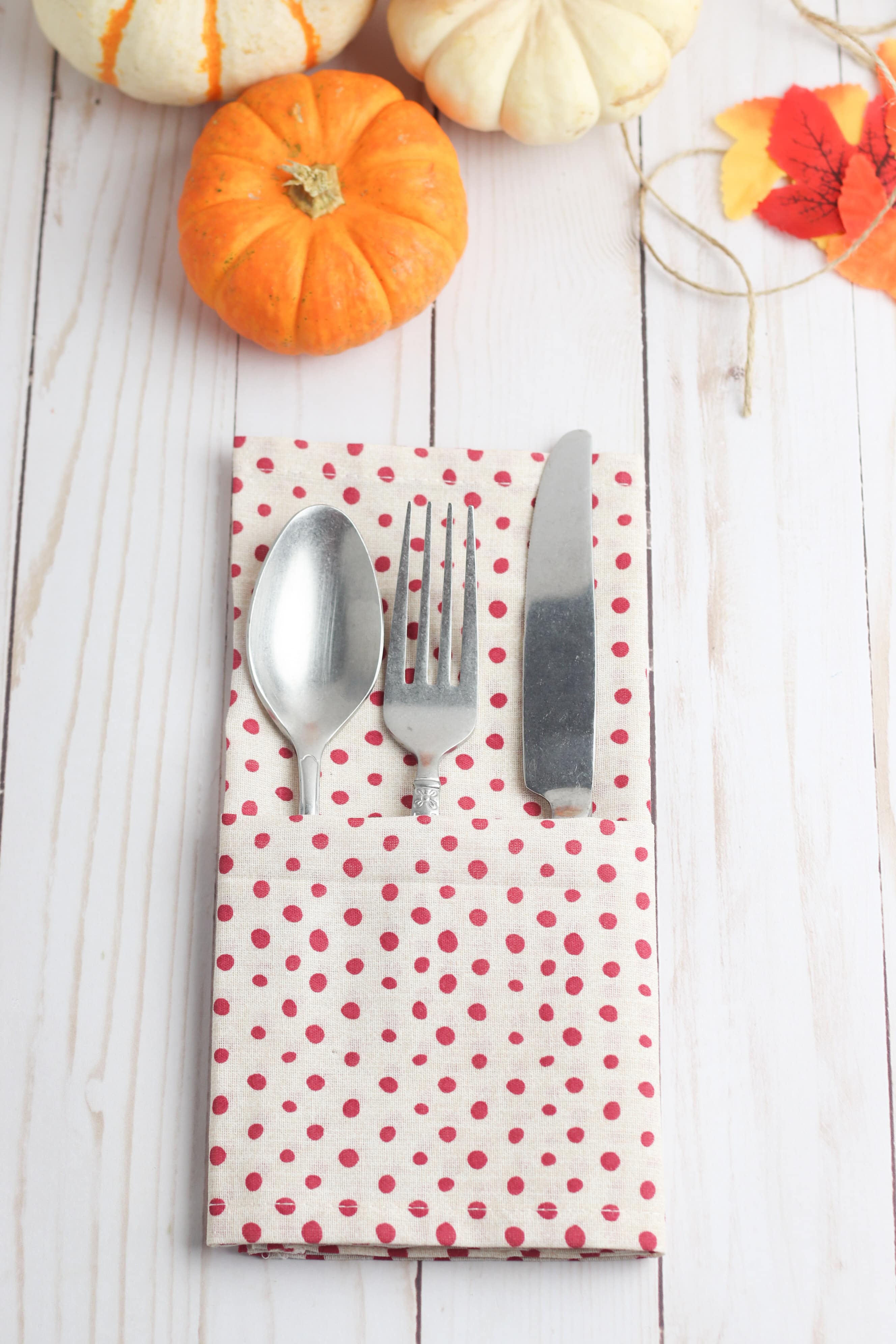 Tie a bow in the center of the pocket with jute twine.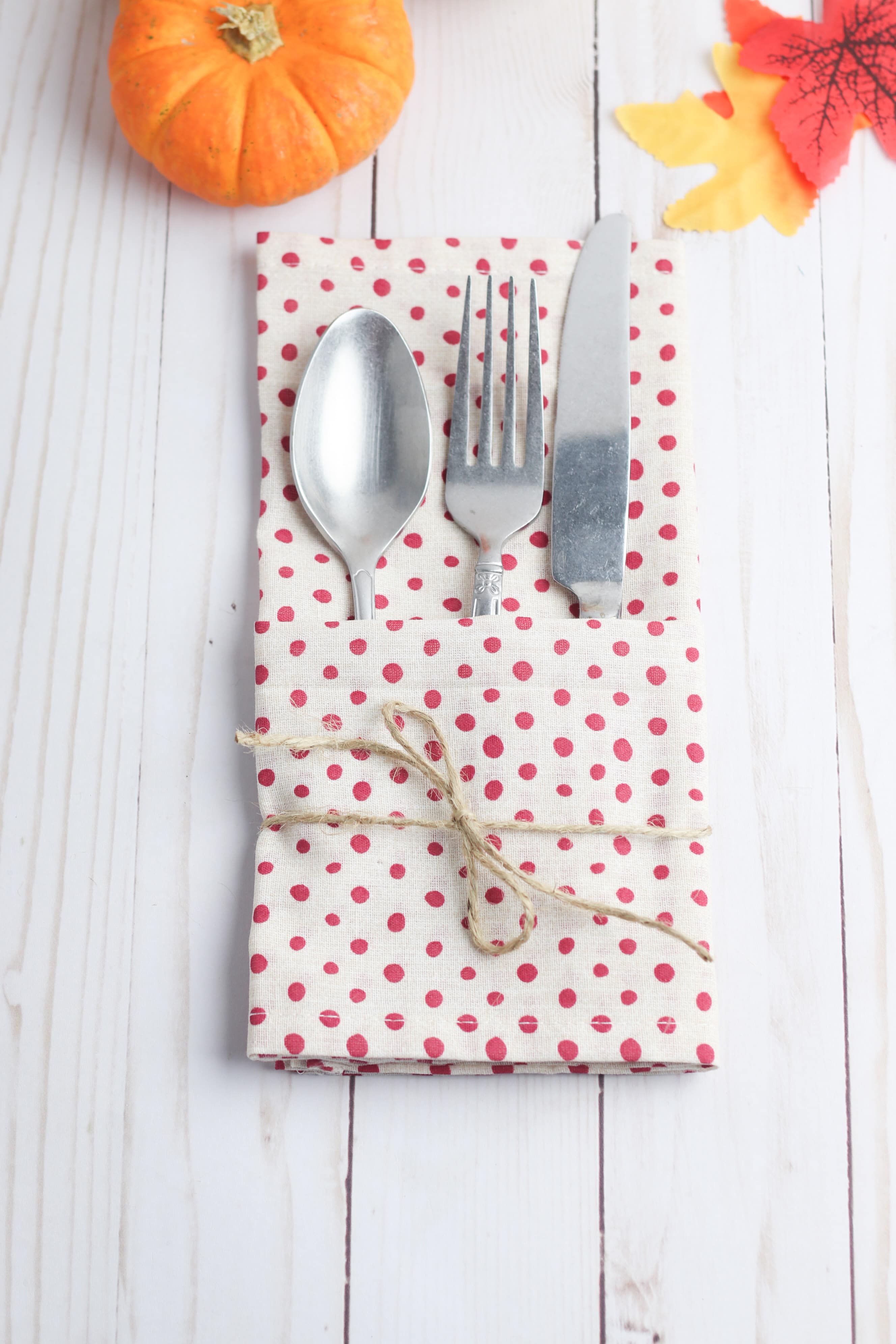 Place two faux leaves under the bow.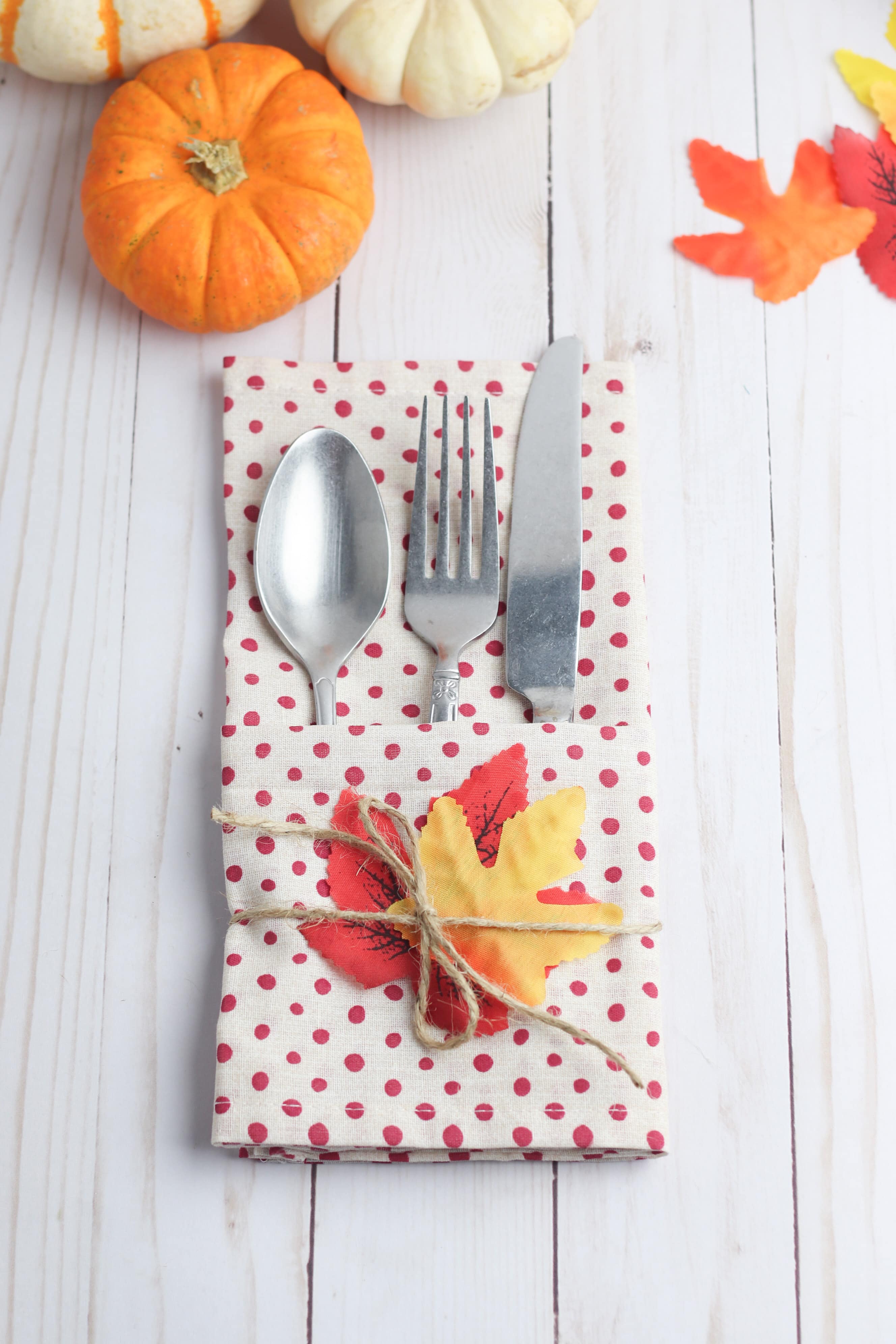 And that's all! Easy peasy napkin cutlery holder, ready in just a couple of minutes!
Pin to save for later