Easy Steps to Make Your Own Printable Christmas Cards at Home
Article may contain Amazon & affiliate links. As an Amazon Associate I earn from qualifying purchases at no additional cost to you.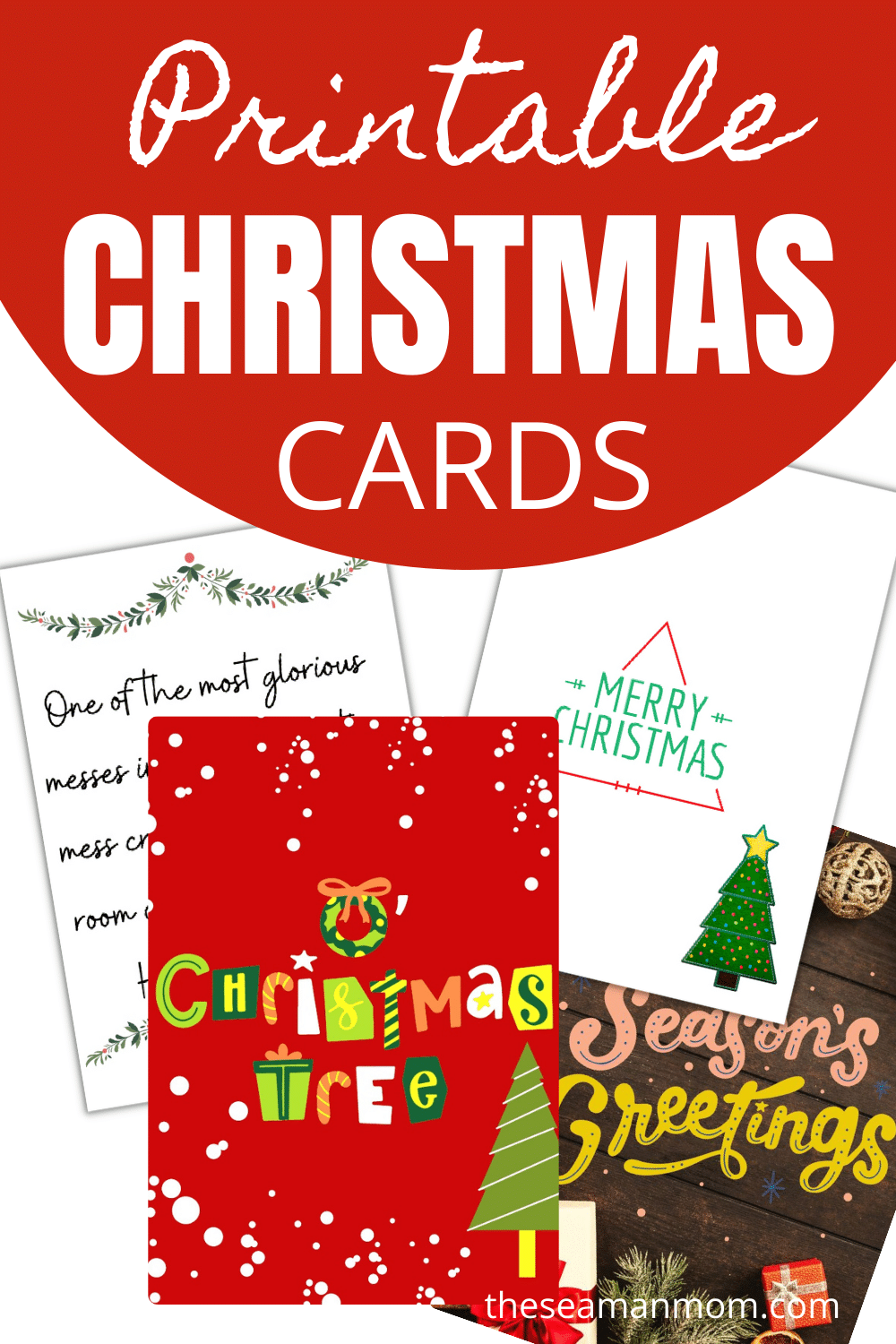 Want to make your own Christmas cards but don't have time to have them professionally printed? Here are the easy steps on how to print your own Christmas cards.
Printable Christmas cards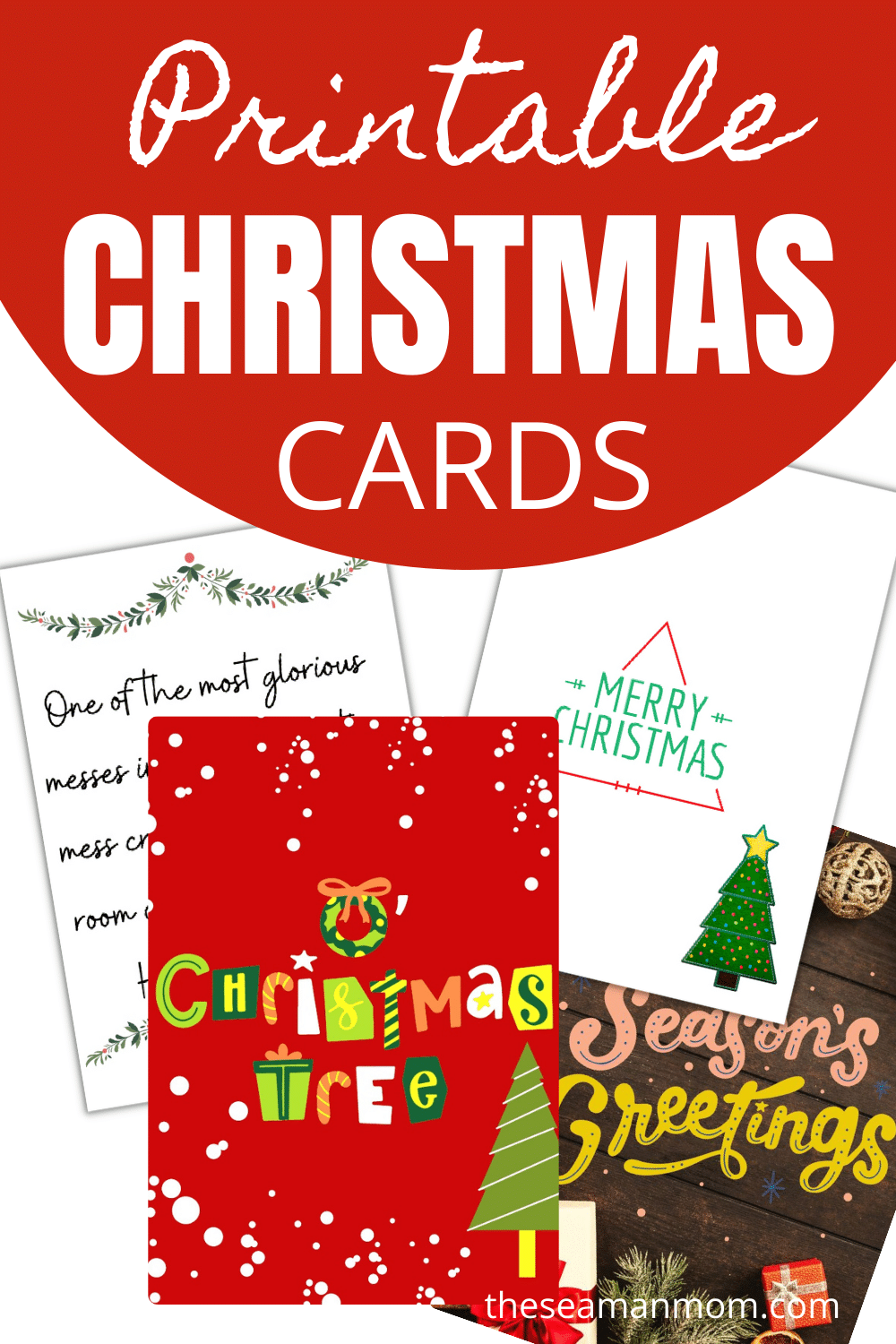 Why spring for store-bought Christmas cards when you can print one for just pennies? Create unique handmade Christmas cards to give to friends, family and co-workers this holiday season in no time with these adorable printable Christmas cards with a lovely simple design!
Holidays are generally a happy time of year when people are in a giving mood. Why not get in the holiday spirit and spread the cheer by giving out handmade greeting cards? All you need are several simple tools and materials to get started.
These simple but lovely cards are the best way to personalize your holiday season this year! You can easily make them unique by adding your own thoughts and memories. Creating your own Christmas cards is a great activity for the whole family as well. Think of how much fun the kids would have creating Christmas cards for family and friends. There are no limits to your creativity.
A lot of people like to make homemade Christmas cards and give them out as gifts. This is a fun way to show someone that you care about them and their holiday season. It also gives them a nice feeling to know that you made the card with your own time and effort.
I think it is important to make homemade cards because they show more thoughtfulness than just buying one from a store. Plus, it is more personal to have a card that somebody made for you with their own hands.
What are some of the different types of cards?
There are a variety of different ways to make cards for friends and loved ones this Christmas season.
One option is to use puffy paint, which can be used on any surface to create beautiful designs.
Another option is using the well-known Washi tape to decorate your card or wrapping paper before it gets wrapped up in a bow.
You could also find creative uses for items like old jars, silver stars, and Christmas tree decorations; these small things can make all the difference when you're looking to give a handmade card with a Christmas gift.
Why you should make your own printable Christmas card templates
It's easier to customize with your own photos
You don't have to worry about the quality of the card.
You can save time and money by making them yourself.
This is a great gift for friends and family
You will be able to use your creativity to make them special.
The best thing about making Christmas printable cards is that you get to use your creativity and add personal touch to your cards. It's a great way to add something different and personalized for friends and family members this season while saving time and money. Plus, you don't have to worry about the quality of your homemade card!
How to make printable Christmas cards
Kids love to do arts and crafts and making Christmas cards are no different. Here are some ideas on how to make the perfect Christmas card with the kids.
Glue a small doily to the front of the Christmas card.
Get a piece of white craft foam and draw a face (like Santa's, a snowman or an Elf) on it with black fabric paint. Cut out the face from the foam and attach it to the front of your card.
To make these cards even more festive, add a little glitter to the face.
Write your message/sentiments on white felt and cut out. Attach this fabric scrap to the front of your card, as well as any other embellishment you would like (glitter, buttons etc.).
Cut out three snowmen from fabric and sew them together with thread and button eyes. Then write or draw a new pattern on their faces! Attach to the card with needle and thread.
Cut small paper buntings, hang on a small string and attach to the top of the card with needle and thread.
Instead of spending money on gift cards or leaving your child with a new toy that will surely become outdated, why not make one every year as a keepsake to record your child's growth? To do this you can take pictures and write captions for each milestone. This is the perfect way to save memories. Plus, it's much more personal than any store-bought card! The grandparents would love this type of Christmas card as well.
What are my free printable Christmas cards
Homemade printable Christmas cards are a great option for holiday celebrations. They are easy to make, and they also provide a memorable experience for any recipient.
It is also easy to create your own Christmas cards to print. All you need is a computer and a software to create them in. You can find free software to use as well. But to make things easier, I offer you a printable file that has 2 great card options for you to pick from.
Free Christmas Card Idea #1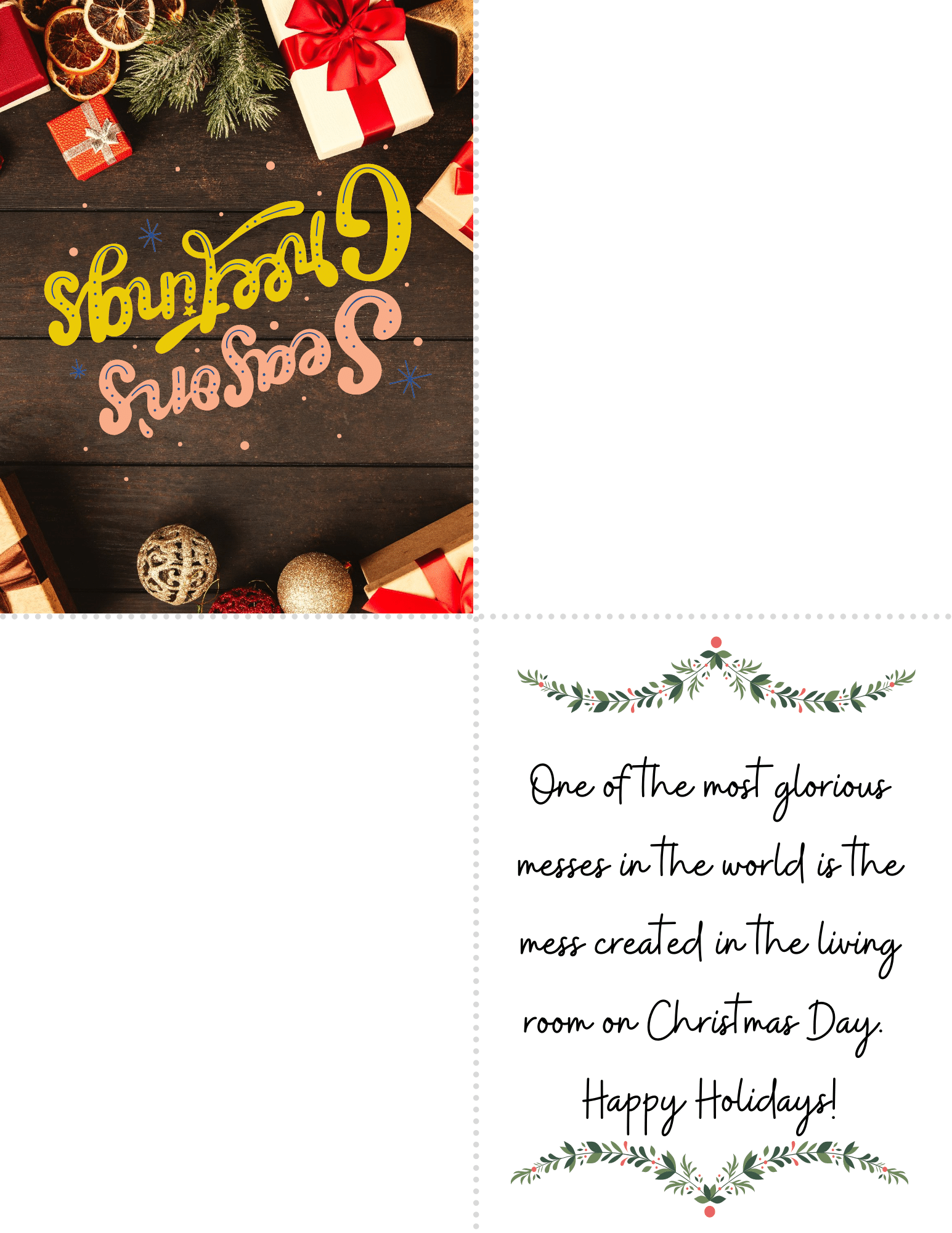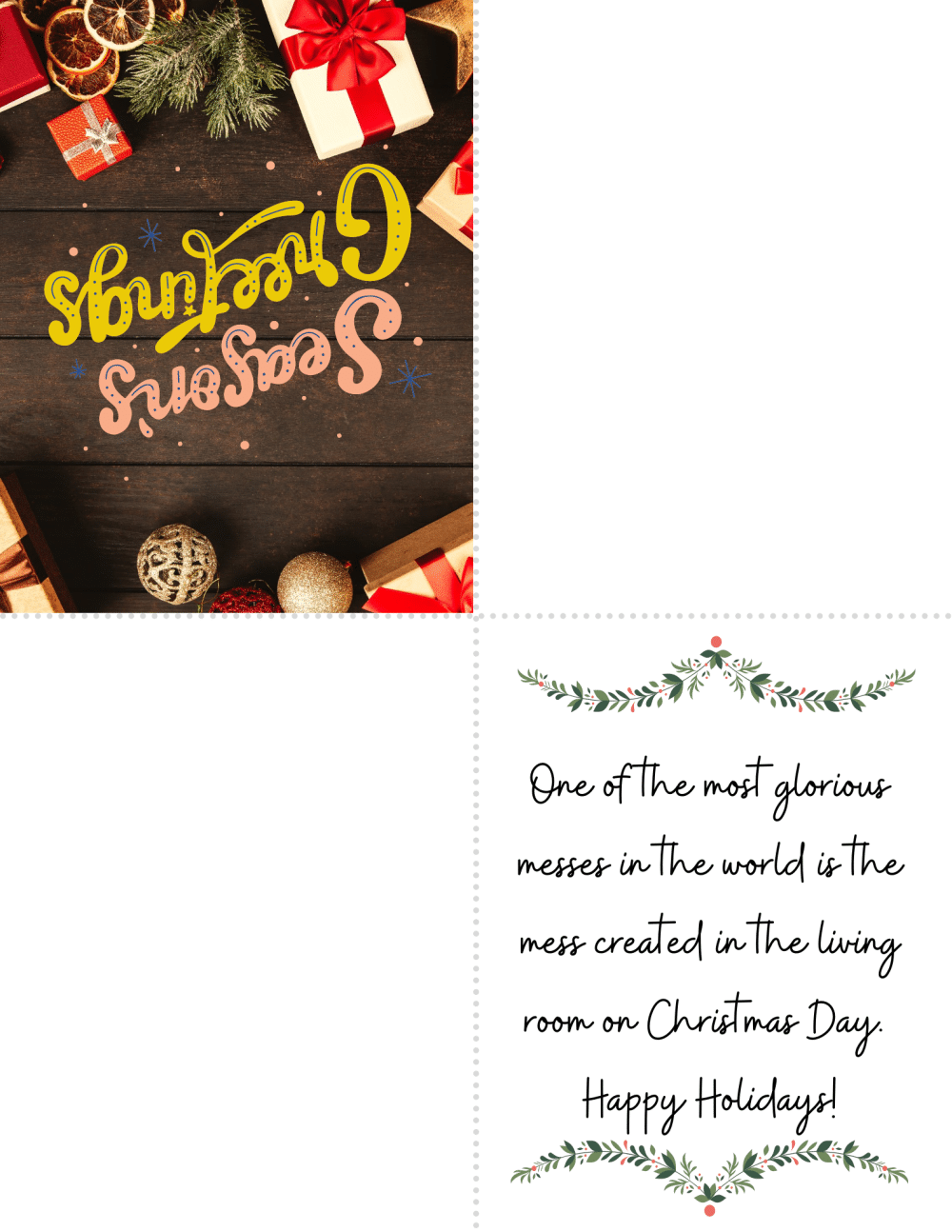 The first option says Happy Holidays on the front of the card and has a great quote on the inside. All you have to do is print it out, fold it and send or give to your loved ones and friends. You can also personalize your card and I'll be offering some suggestions below.
Card Idea #2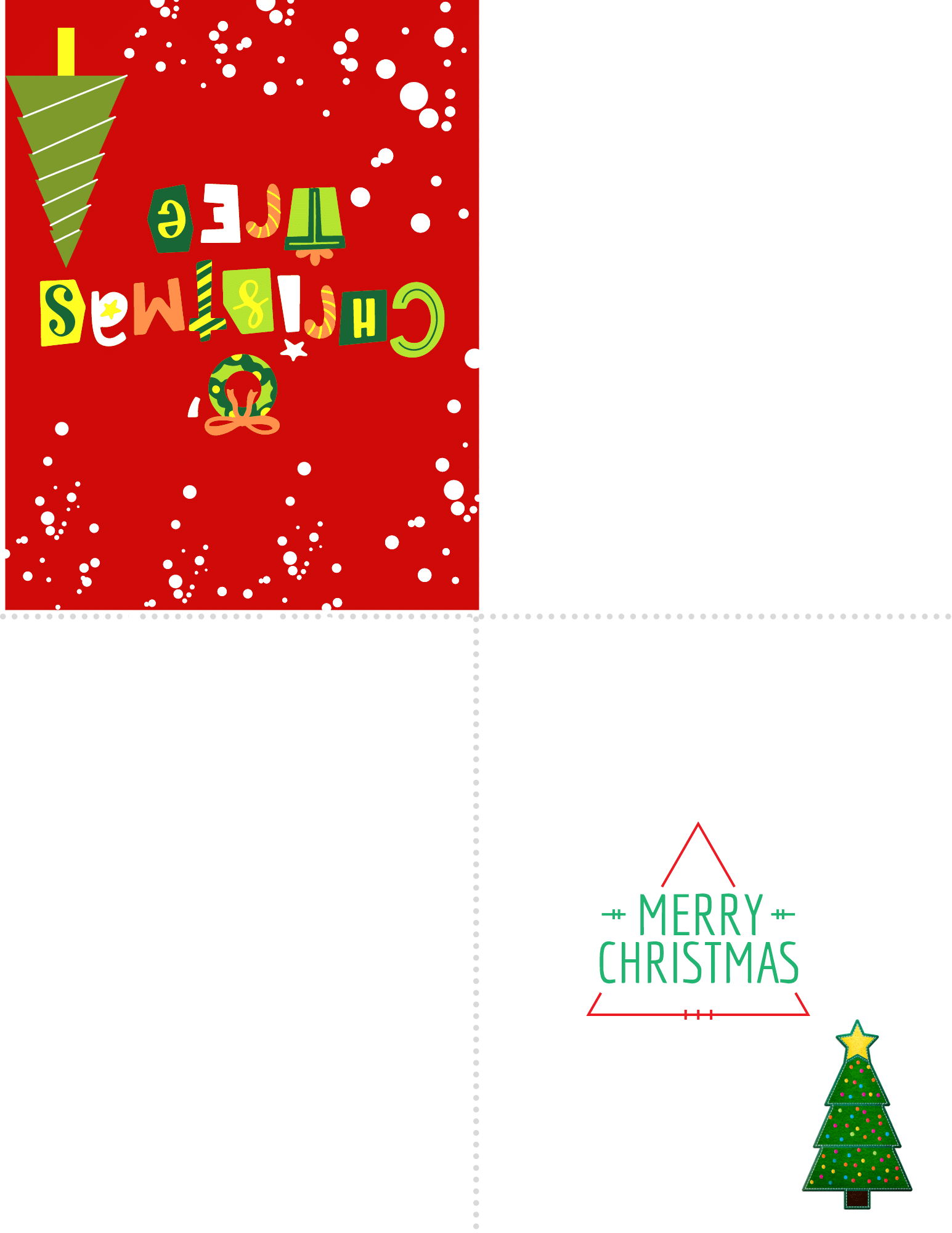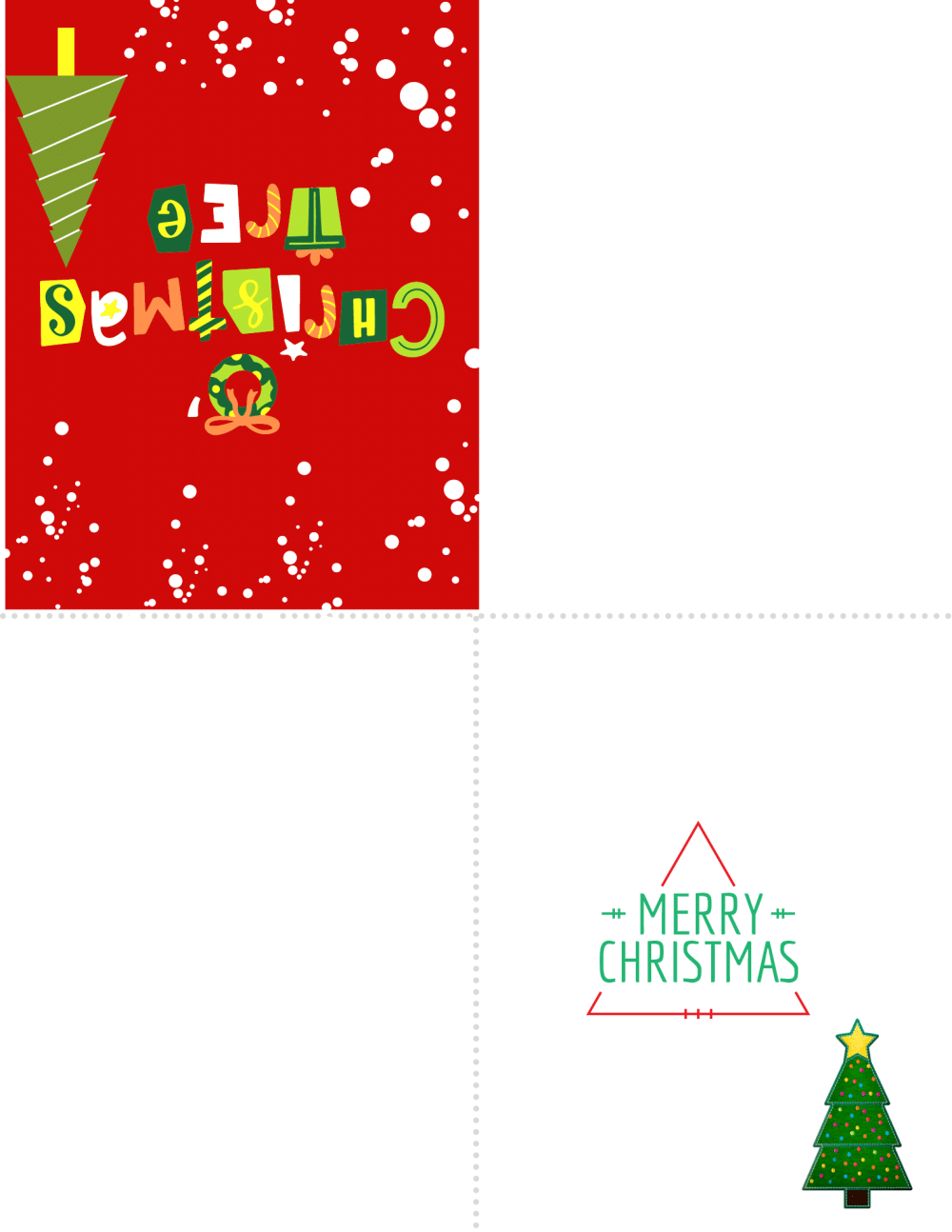 The second card says Christmas tree on it and Merry Christmas on the inside. There is a lot of room to personalize the card for the recipient.
When printing your own printable Christmas cards keep in mind of your home printer ink. Some cards use more ink than others, so it is a good idea to have some backup ink in the house so that you do not run out in the middle of your printing.
What supplies do you need for these free printable cards?
The supplies needed to make these Christmas cards, or any homemade ones for that matter, are not difficult to come by. The only essential items are card stock, a printer with color ink, envelopes and glue stick if you plan on adding some embellishments.
Get a piece of card stock in the color you like. I recommend plain white ones for my printables.
Slide the card stock into your color printer and print.
Allow the ink to dry thoroughly before gluing any photos or embellishments.
If you want to personalize your fun cards even more, some other supplies you may find useful are markers of various colors, scissors, glitter, decorative paper, ribbon, thread and hand needle.
It is so much more satisfying to make homemade cards than buy them. Making your own card shows the recipient that you took the time and effort to purchase supplies, create a design, and put the card together.
---
My printable Christmas cards are available HERE!
---
We love the idea of sending a handmade card this year. Maybe it's time you make your own Christmas cards too! Use my Christmas cards free templates to create this year's Christmas cards for friends and family. Merry Christmas everyone!