Article may contain Amazon & affiliate links. As an Amazon Associate I earn from qualifying purchases at no additional cost to you.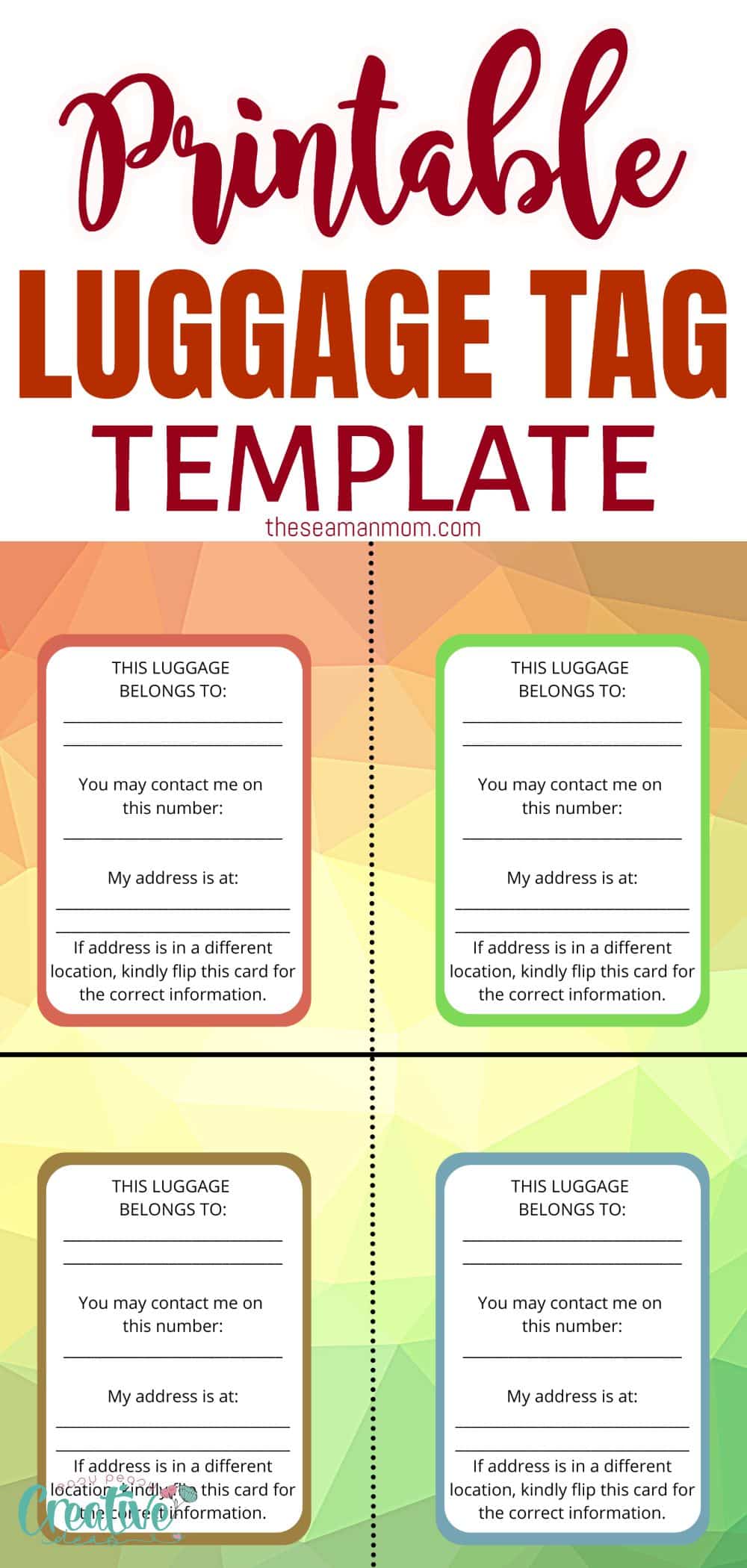 Going on a trip is a great way to relax. But there's nothing relaxing about losing your suitcases while you're traveling! With the help of these printable luggage tags, you can be sure your bags won't be lost for long if you happen to misplace them during your trip. Just print out the luggage tag template, fill out the information, and attach it to your bags to easily personalize your luggage for your next vacation.
Printable Luggage Tags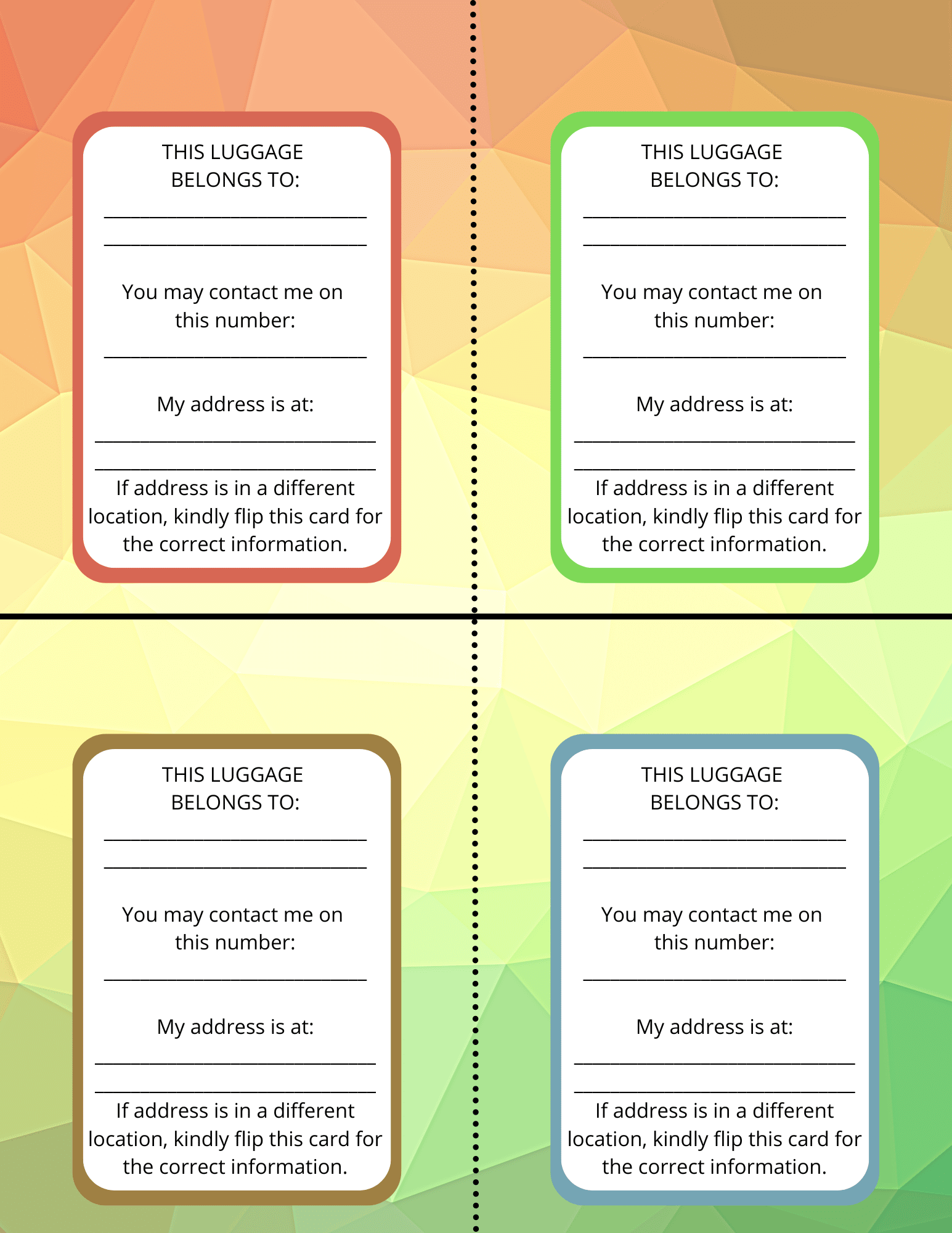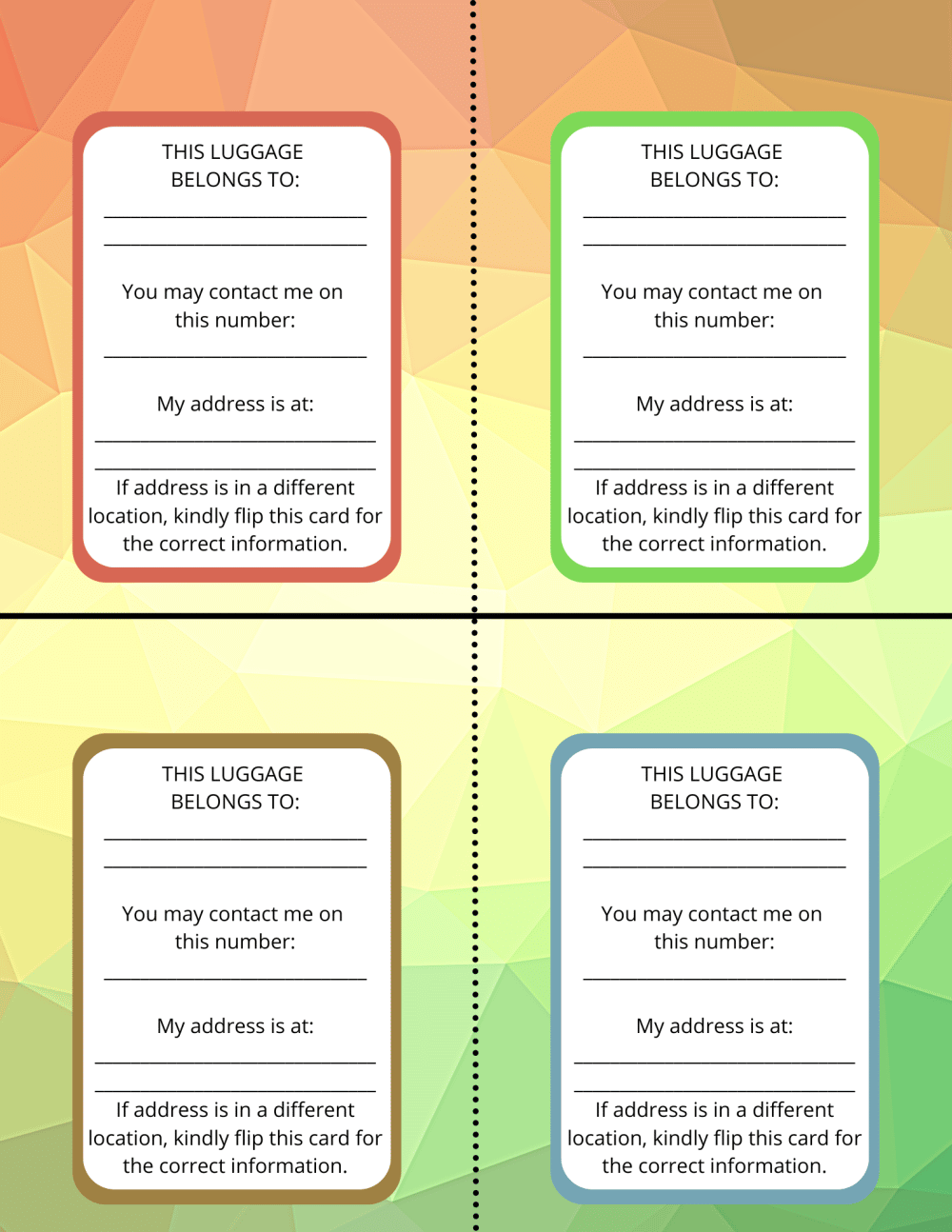 Adding a luggage tag to your suitcase is one of the best ways to ensure you don't lose your baggage while you're on vacation. With the help of these printable luggage tags, you'll be able to include all the important information you need to keep your bags safe.
When filling out the luggage tag print for your next trip, there are a few essential items you should include:
Your name. Always print your name legibly in case the bags are lost. Whether you lose your luggage at the airport or your hotel, having your name printed on the tag is the first step toward getting your belongings back to you.
Phone number. You also need to include your cell phone number on the tag so the person who finds the luggage can get in touch with you. In addition to your phone number, you can also include the phone number of the place you'll be staying while on your trip.
Your address. Make sure your luggage can be returned to you quickly and easily by including your home address on the tags. This will help the airline return the bags to the correct location after they're recovered.
The hotel's address. Having your home address on the tags is important, but it's also a good idea to include the address of the place you're staying while you're on your trip. Try to include both locations on your luggage tags so it's easier for the bags to be returned to you – no matter where you are.
How Do I Make My Own Luggage Tags?
Making your own luggage tags for your baggage is so easy! With the help of my printable luggage tags, you can personalize your bags so they never get lost.
After you download the printable tag templates, print them out on copy paper or cardstock. Use your scissors to cut out each tag crosswise along the solid line on the page.
Fill out the information on the tag, including your name and contact information. On one side of the tag, include your home address. And on the other side, write down the address of the place you'll be staying on your trip.
Fold the tag in half along the dotted line so that both sides of the tag are facing outward. After that, you'll need to find a way to protect the card from being damaged while in transit. There are a few different ways you can protect your tags, including:
Laminating it. Use a laminator to coat the card in plastic to fully protect it from damage.
ID pouches. If you don't have a laminating machine, you can also slide the cards into an ID pouch to protect it.
Contact paper. Another simple option for laminating the card without a laminator is using contact paper. Just place the card between two pieces of clear contact paper and squeeze the edges of the contact paper together to seal it around the edges of the tag.
Once the card is laminated, use a hole punch to punch a hole in the corner of the tag. After that, you can attach the tag to your luggage with an ID clip or a strong ribbon.
What Can I Put on my Suitcase to Make it Stand Out?
Taking a flight to your destination is a quick way to get your vacation location. But if you're flying, you might want to come up with a way to help your luggage stand out among the other bags on the conveyor belt. Try these ideas to make finding your luggage quick and easy after your flight:
Add a bright luggage tag. The bright orange and green outline on these printable luggage tags is an easy way to make your suitcase stand out.
Tie on a bright ribbon. Wrap a piece of bright ribbon around the handle of the suitcase or tie a bow around one of the zipper pulls to help catch your eye as the suitcases go by on the carousel.
Use bright luggage. Avoid purchasing plain black luggage if you want your suitcases to stand out at the airport. Instead, invest in brightly colored or patterned bags.
Add some decals or patches. Give your bags a more personal look with the help of decorative decals and patches. On top of personalizing your luggage, these unique decals will make the bags easier to find at the airport baggage claim.
---
Get the printable luggage tags HERE!
---
Pin to save for later