Printable cupcake toppers for Your Next Fun Party
Article may contain Amazon & affiliate links. As an Amazon Associate I earn from qualifying purchases at no additional cost to you.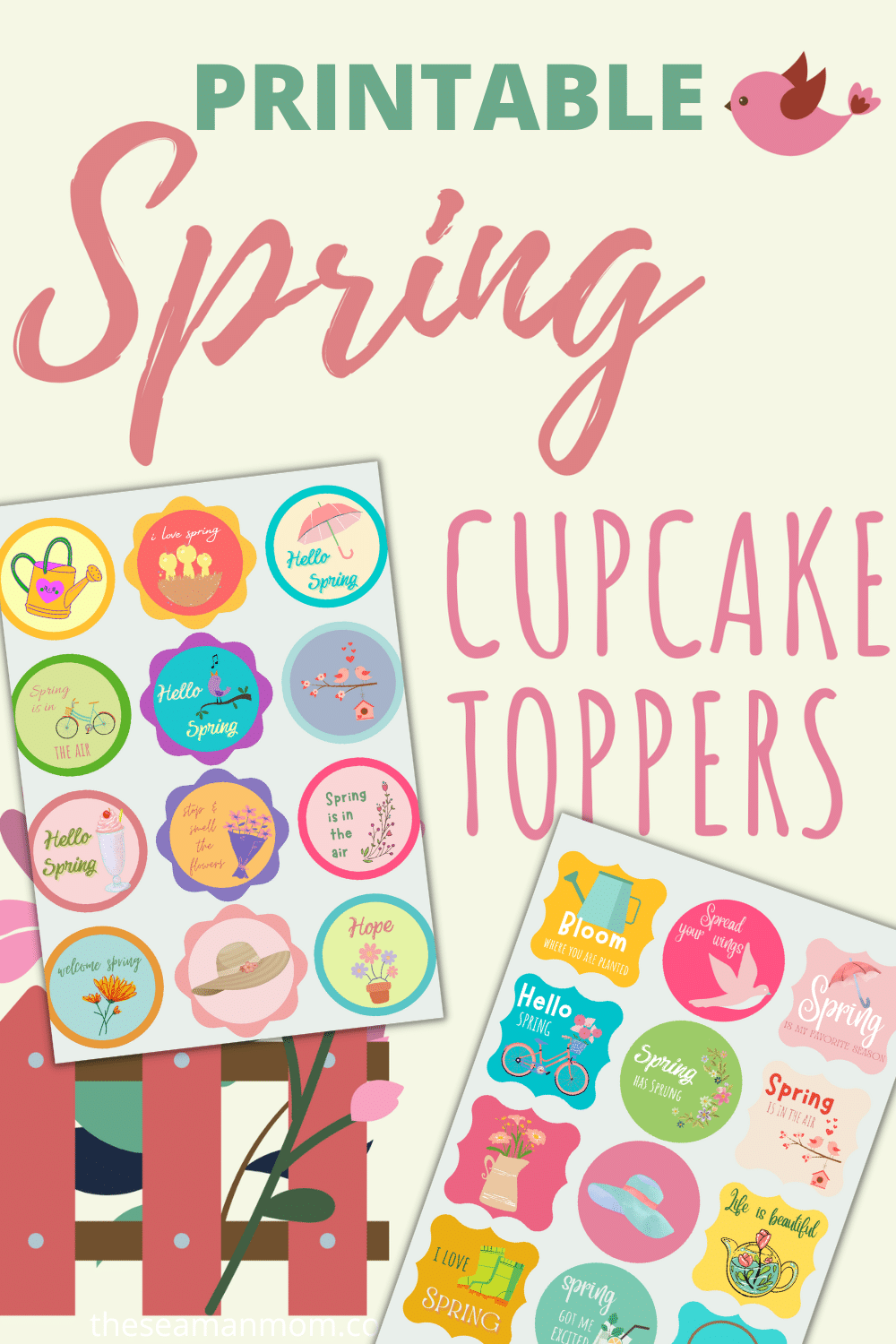 Whether you're baking your own treats or need a little something extra to dress up the cupcake tray at a birthday party, these mini printable cupcake toppers are the perfect solution!
Printable Cupcake Toppers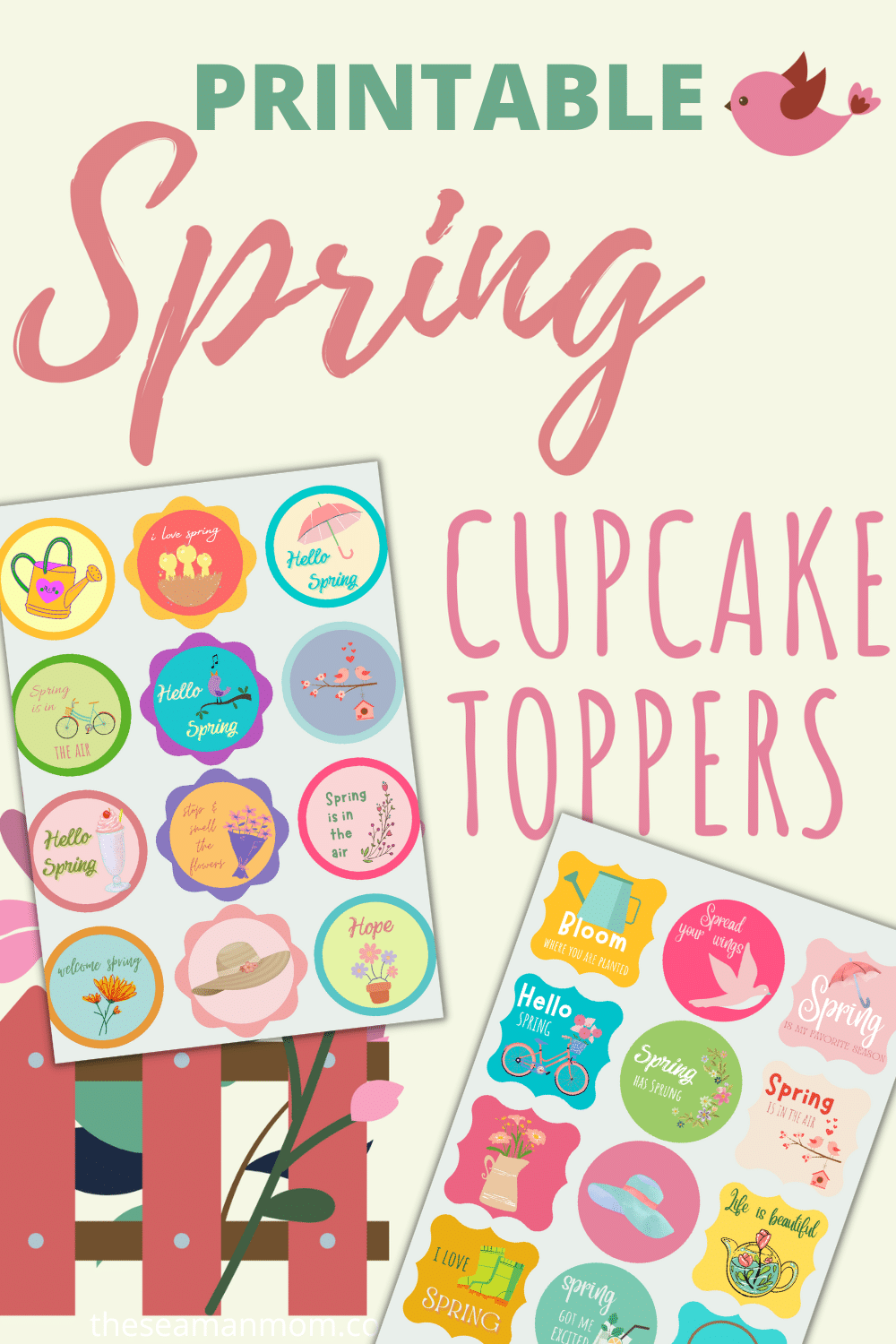 Whether you're making them from scratch or grabbing a box from your favorite bakery, cupcakes are the perfect party treat any time of year! But why serve plain cupcakes at your next celebration when there are inexpensive ways to easily dress up your party treats with just a few minutes of crafting? With these adorable printable spring cupcake toppers, you can add some spring style to your cupcakes without any extra effort. And the best part is that you only need a handful of craft supplies to make them and no graphic design experience is needed!
With the help of printable cupcake toppers, you can turn plain, boring cupcakes into adorable, ton of fun treats in an instant! All you need are some cute decorations to add to the top of your cupcakes to create an adorable spring treat in different looks, without any extra effort. Pair with a bunch of cute cupcake wrappers and your gorgeous desserts will be the talk of the party!
What's included in this set of printable cupcake toppers?
This printable set includes an introduction page and 24 spring cupcake toppers with a beautiful variety of different backgrounds and fun shapes (I absolutely love the scallops!). You'll love the floral prints and other garden related decorations on solid background on these fun printable toppers! In addition to spring inspired designs, like watering cans, umbrellas, flowers, and birds, these fun cupcake decorations (that work just as great as cake toppers too) also come with different spring phrases such as:
I love spring
Hello Spring
Spring is in the air
Stop & smell the flowers
Welcome spring
Hope
Spread your wings
Bloom where you are planted
Spring has sprung
Spring is my favorite season
Life is beautiful
Spring got me excited
What Do I Need to Make Cupcake Toppers?
Making your own cupcake toppers at home is simple when you have a printable cupcake toppers template! In fact, once you get the template into your computer, you only need four other craft supplies! To put these cupcake decorations together, you'll need:
Cardstock or thicker paper. Heavy cardstock paper is the best option for making printable cupcake toppers. Thick paper is more sturdy than traditional copy paper, which may bend and rip while you're putting your toppers together. It's a good idea to use at least 60 pound paper to ensure your toppers stand up nicely when they're placed on top of your treats.
Scissors or paper trimmer. After printing the toppers, they need to be cut out. Using scissors is a great way to precisely cut out each shape of the toppers (I love these Fiskars scissors on Amazon!). But since some of the cupcake toppers are round, you can make your prep work even easier with the help of a paper punch. A 2-inch punch is a great option for quickly and easily cutting out the round designs on this printable template.
Sticks. There are a few different types of sticks you could use to hold your cupcake toppers in place. Lollipop or popsicle sticks are great options because they provide your toppers with a sturdy stick to stand on. You can also use toothpicks to hold your toppers in place. If you'll use these toppers for a cake, attach them to longer sticks.
Glue. The final supply you'll need to make this simple craft is your hot glue gun. While any glue is fine, a hot glue gun ensures each piece of the cupcake topper stays securely in place on top of your desserts.
How to Make Printable Cupcake Toppers
Once you have all your supplies gathered, you can start putting your cupcake toppers together. And since they're so easy to make, you can create a beautiful spring dessert for your next party in a matter of minutes. Just follow these simple steps to make your own DIY spring decorations for your cakes:
1. Get the printable templates
After getting the printables into your computer, you will need a PDF viewer to open the document. I suggest using Adobe PDF reader because it's free and easy to use.
2. Print the toppers
Load the cardstock in your printer and print these party printables in color. The set includes 24 different toppers, so make sure to print out enough sheets to top all the cupcakes you plan to make for your party.
3. Cut out each cupcake topper
Use a pair of scissors to cut out each cupcake topper around the outer edges.
4. Attach the stick
Use glue to attach the stick to the back of the topper. Simply flip the topper over and add a thin line of glue to the back. Press the stick into the glue and hold it in place until the glue cools and hardens.
5. Put the toppers on the iced cupcake
When you're sure the glue is completely dry, you can decorate your cupcakes. After icing the cupcakes, press the end of the stick into the cupcake until the bottom of the topper is resting just above the top of the icing.
For storage, make sure you place the decorated cupcakes in a tall container so the toppers are not pressed into the cupcakes.
Spring Cupcake Decoration Ideas
These printable cupcake toppers are a simple way to add some spring flair to the top of your desserts. But they're not the only way to decorate your cupcakes for your spring or birthday party! Try these decoration ideas to add some more spring style to your desserts:
Edible flowers
Spring sprinkles
Rainbow sprinkles
Easter egg candy
Bunny or chick Peeps
Fresh fruit
Jelly beans
Bonus tip: use these cupcake toppers to decorate bags of cookies if you'll be gifting any this Spring. Perforate the top with a circle punch, thread some ribbon, yarn or twine and tie to the top of the cookie bag.
---
The Printable Spring cupcake toppers are available HERE!
---