Baked Cabbage With Sausages
Article may contain Amazon & affiliate links. As an Amazon Associate I earn from qualifying purchases at no additional cost to you.
Make family dinners memorable with this flavorful and easy cabbage and sausage casserole! Hearty, comforting food that everyone will enjoy!
Cabbage And Sausage Recipe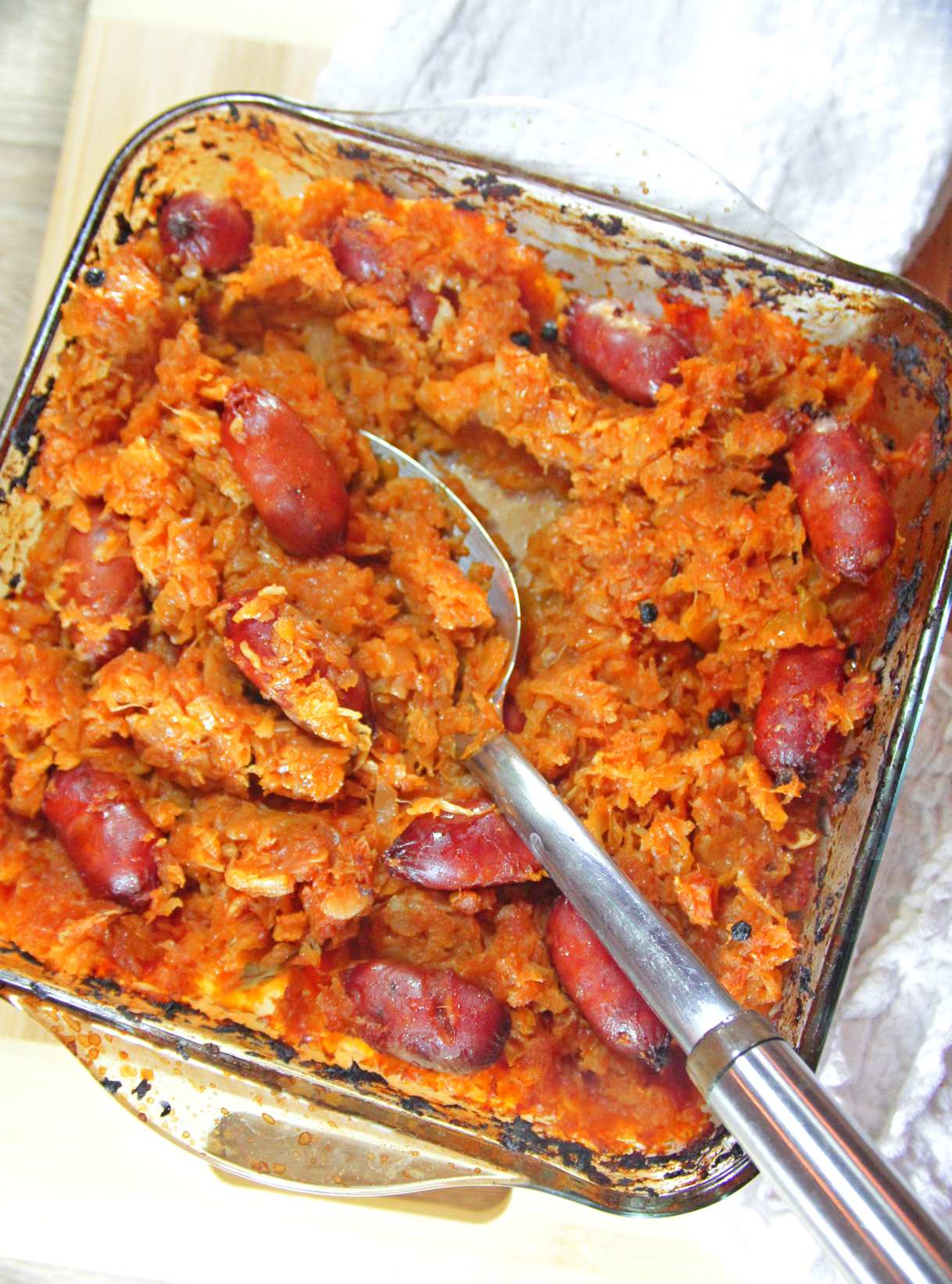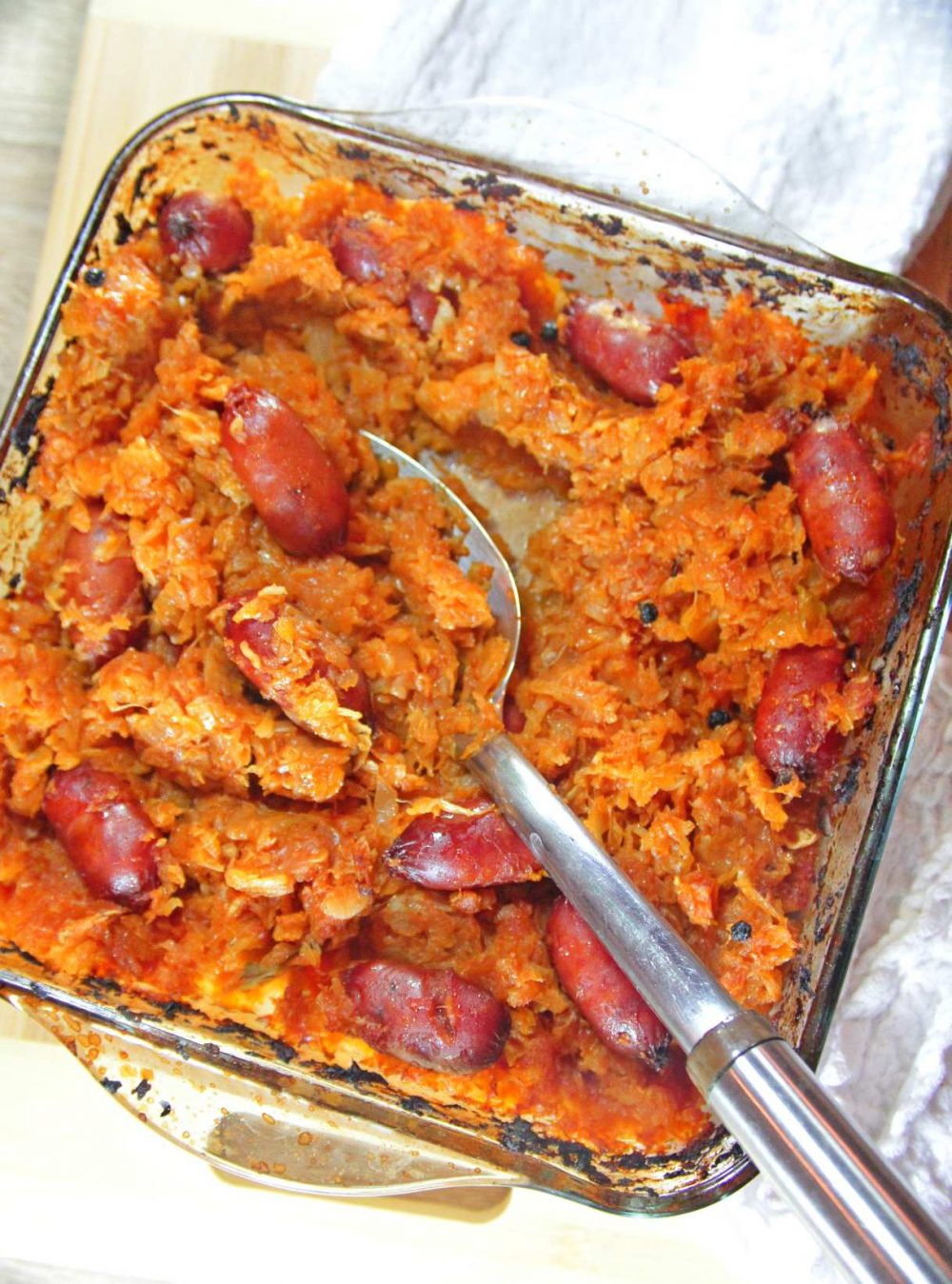 Cabbage recipes can get either boring or heavy on the tummy and these are the main reasons we were not huge fans. But not with this amazing cabbage and sausage casserole!
Made with fresh cabbage and mini sausages, this delicious sausage cabbage casserole is slowly baked in the oven until cabbage is soft and the flavors blend to perfection! I can't wait to make it again, this cabbage and sausage casserole is so incredibly yum!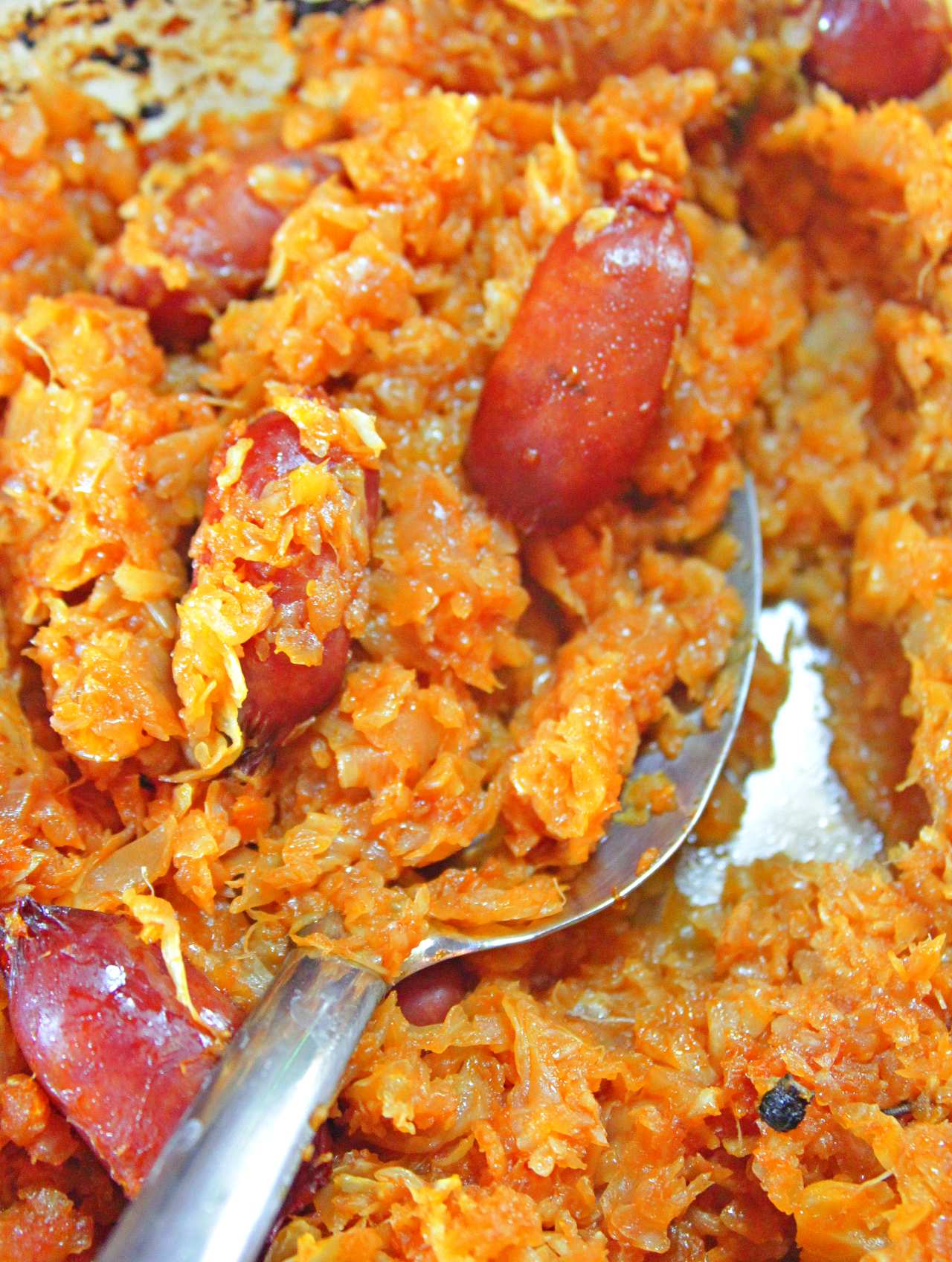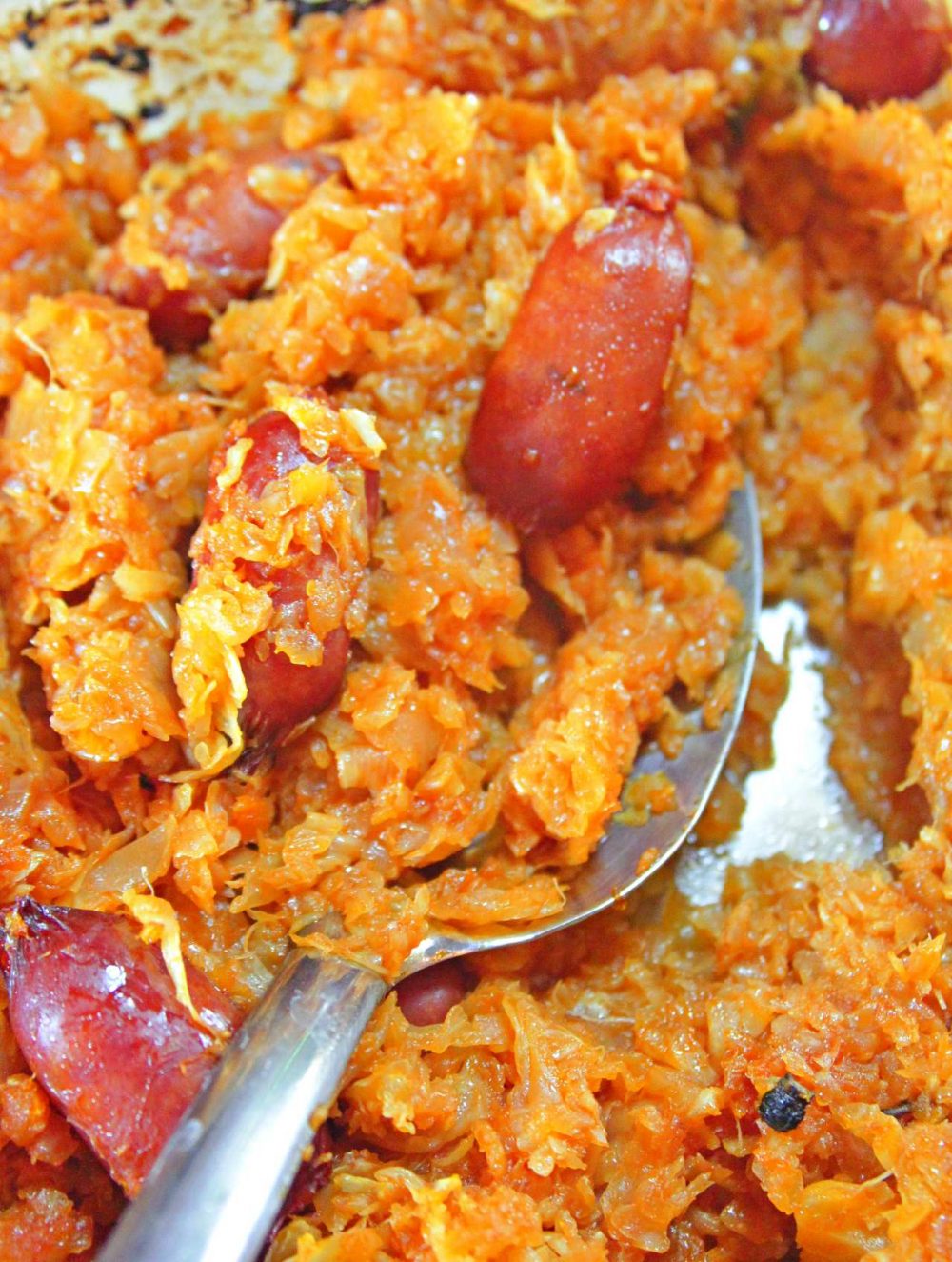 What's super amazing about this cabbage and sausage casserole is that it only uses a handful of simple, easy ingredients. I love using fresh cabbage because it's so juicy that it doesn't need much oil to cook. I also opted for mini sausages which were just a little smoked and slightly spicy, adding just the right extra flavor to this dish. Plus they were low in fat so extra points for the healthy factor.
I also wanted to add an onion which brings a little bit of sweetness to this baked cabbage with sausage recipe. And made everything even more appealing to the eye with a touch of tomato sauce which also added just enough tartness to make this cabbage and sausage casserole the perfect dinner idea!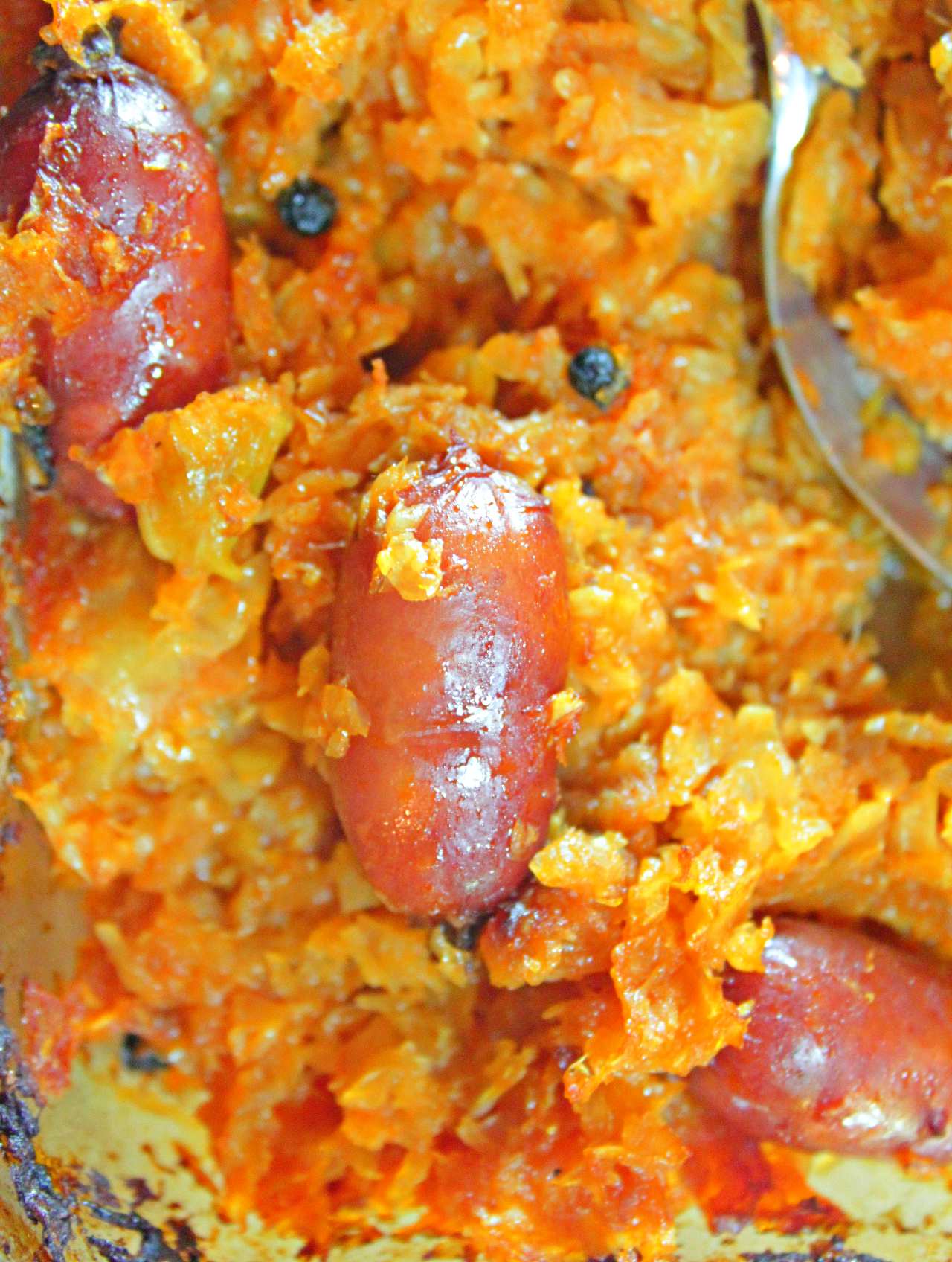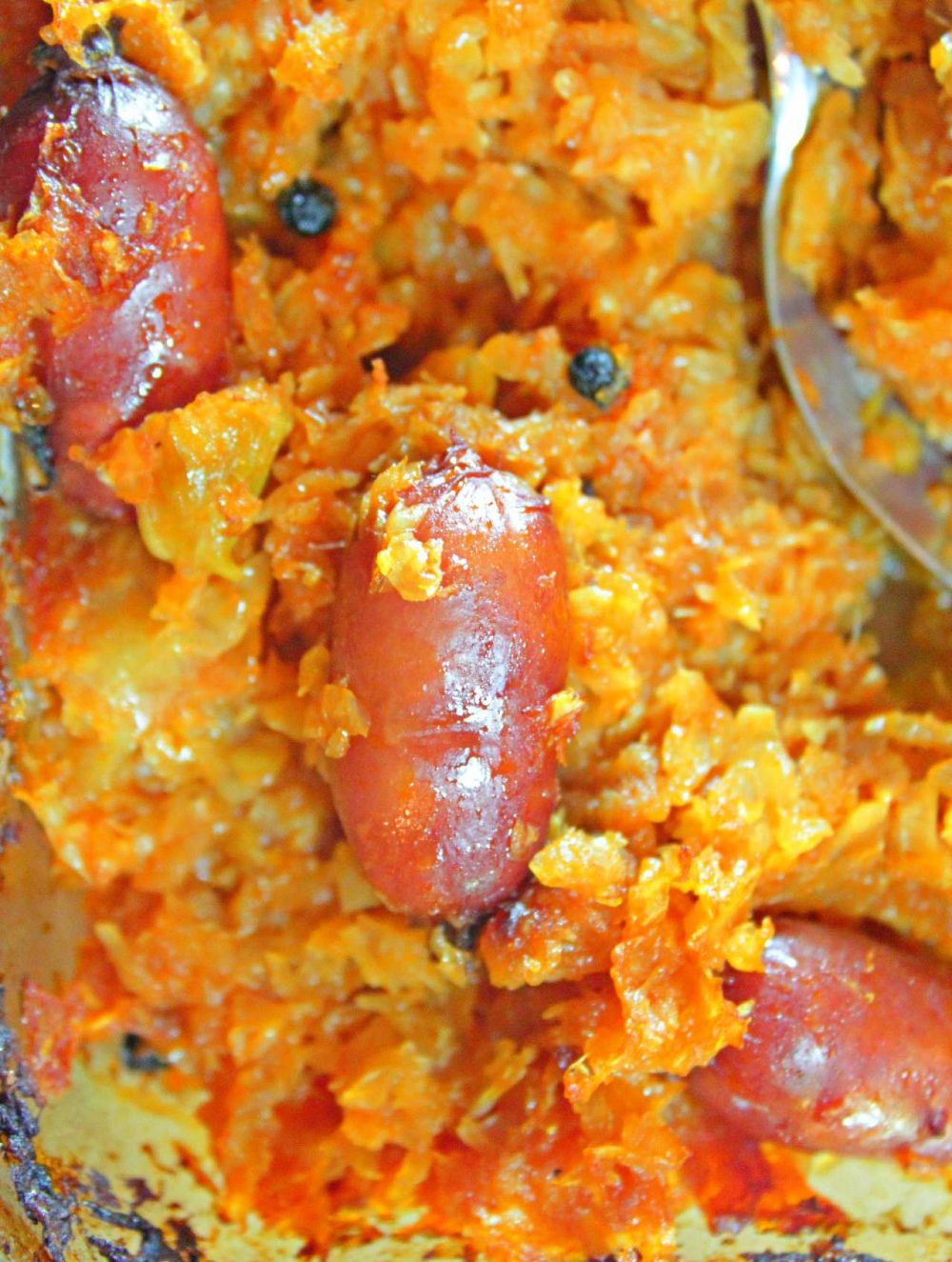 This sausage and cabbage casserole is such a filling, satisfying dish and will be loved by both adults and kids!
Cabbage And Sausage Casserole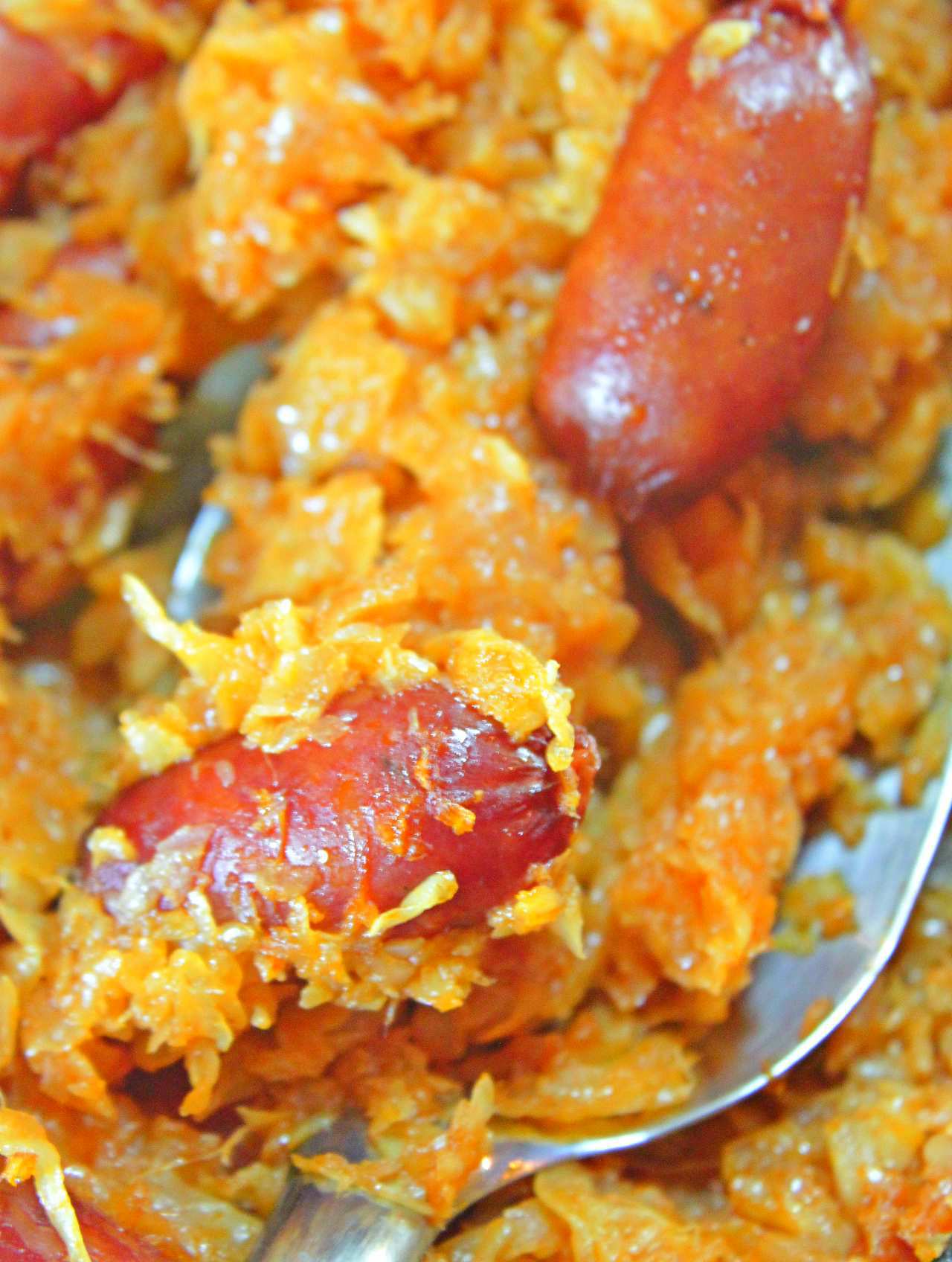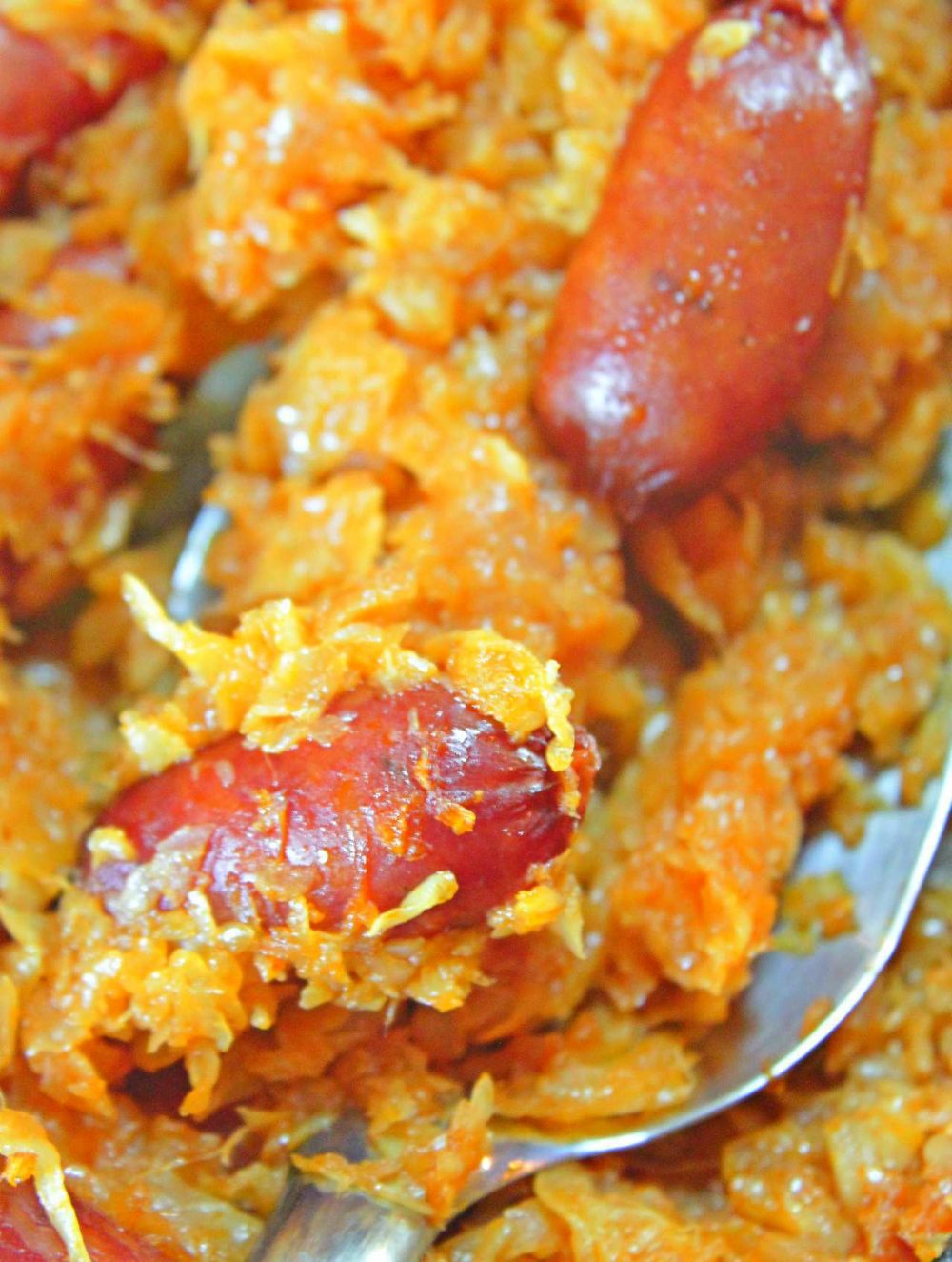 Ingredients:
1 medium cabbage
1/2 teaspoon salt
1 onion
1 tablespoon vegetable oil
1 cup tomato sause
15 mini sausages, lightly smoked and spicy
20 peppercorns
4 small bay leaves
1 or 2 cups water
You will also need:
sharp knife
vegetable grater
serving spoon
Directions:
Pre heat oven to 350 F
Peel the first couple of layers of the cabbage, then cut into 8 wedges.
Grate small.
Sprinkle cabbage with salt and mix well then transfer to a baking dish
Heat oil in a non stick skillet and saute onions until glassy.
Add tomato sauce and cook for another minute.
Pour the tomato onion mix over the cabbage and mix to coat well using pasta thongs.
Press mini sausages.
Add peppercorns and bay leaves
Bake in the middle of the oven for 15-20 minutes, depending on the amount of juice your cabbage has.
When the juice has dissolved, remove baking dish from the oven, add a cup of water then return to the oven and bake at 325 F for an additional hour.
Serve with pickled chili peppers – optional
Baked Cabbage With Sausages
Ingredients
1

medium cabbage

1/2

teaspoon

salt

1

onion

1

tablespoon

vegetable oil

1

cup

tomato sause

15

mini sausages

lightly smoked and spicy

20

peppercorns

4

small bay leaves

1

or 2 cups water
You will also need:
sharp knife

vegetable grater

baking dish

non stick skillet

bamboo spatula

pasta thongs

serving spoon
Instructions
Pre heat oven to 350 F

Peel the first couple of layers of the cabbage, then cut into 8 wedges.

Grate small.

Sprinkle cabbage with salt and mix well then transfer to a baking dish

Heat oil in a non stick skillet and saute onions until glassy.

Add tomato sauce and cook for another minute.

Pour the tomato onion mix over the cabbage and mix to coat well using pasta thongs.

Press mini sausages.

Add peppercorns and bay leaves

Bake in the middle of the oven for 15-20 minutes, depending on the amount of juice your cabbage has.

When the juice has dissolved, remove baking dish from the oven, add a cup of water then return to the oven and bake at 325 F for an additional hour.

Serve with pickled chili peppers - optional




You might like these too: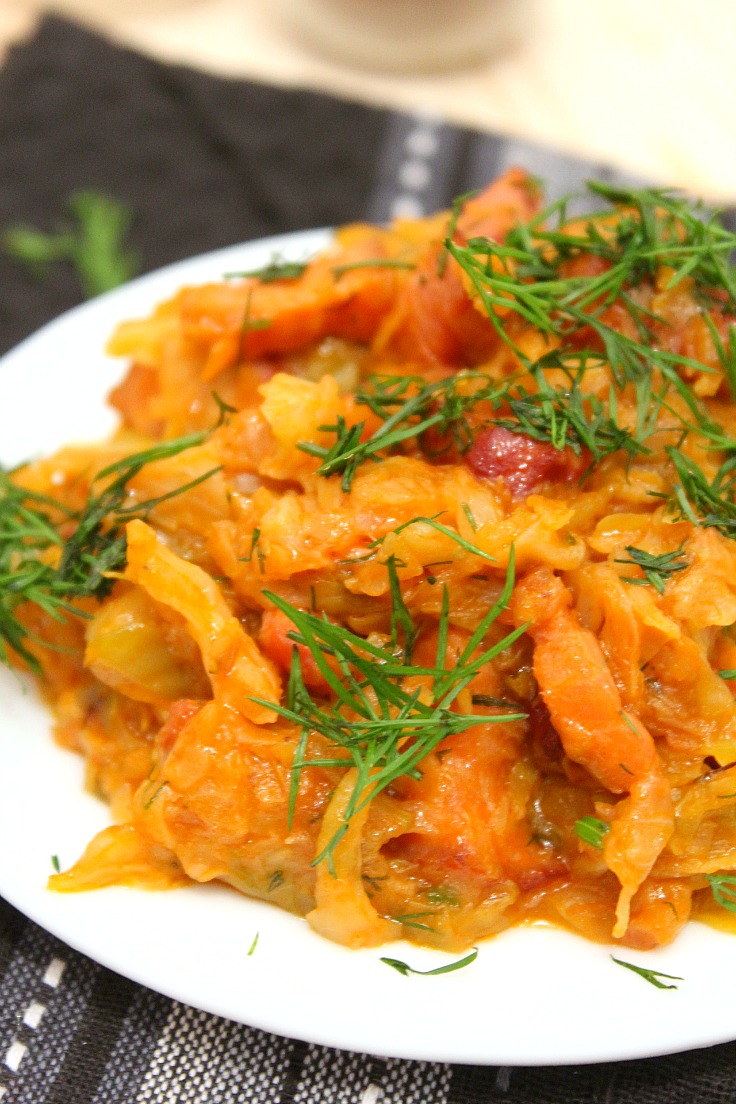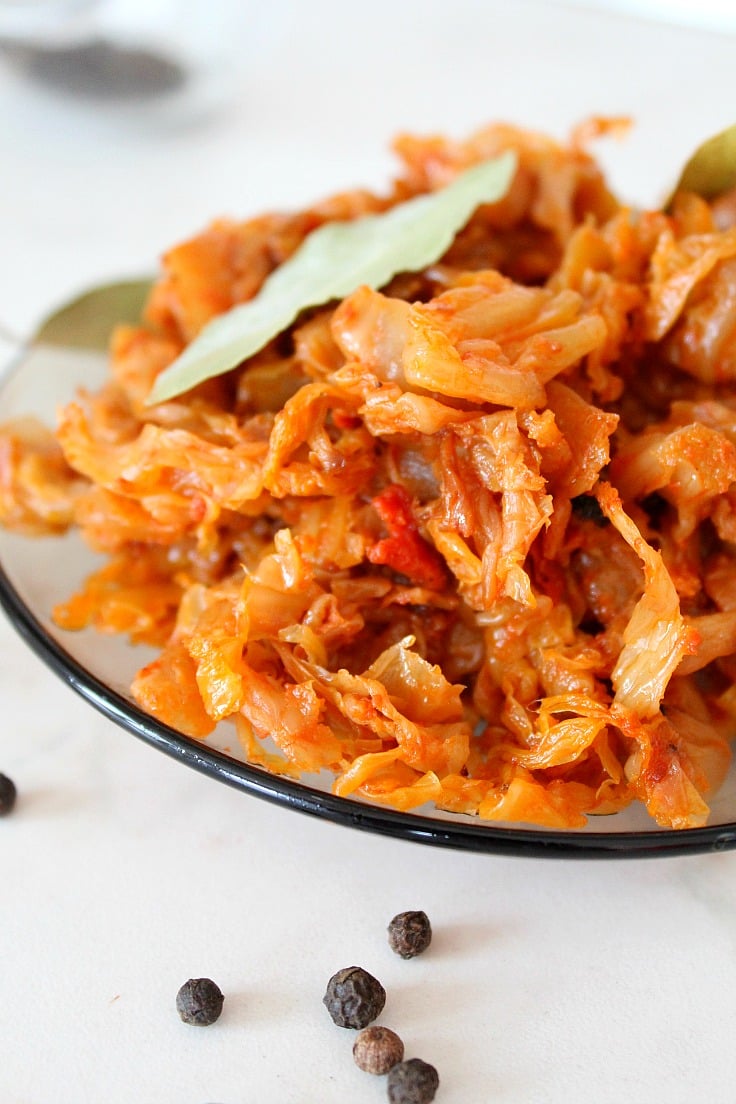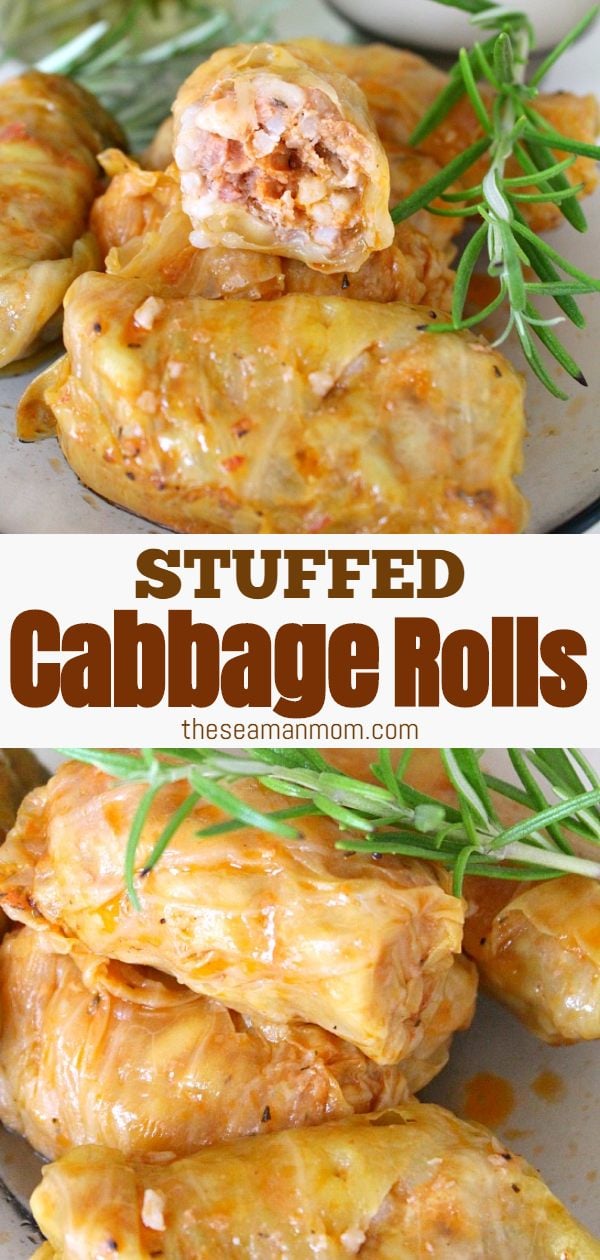 Most Popular Recipes