These lovely french cream puffs are sure to wow your guests at any party! Delicate and airy, these delicious french cream desserts, originally called choux a la creme, are the perfect way to indulge!
Choux A La Creme

These french cream puffs are so adorable and I had so much fun making them (and even more eating them, lol). It may be my European roots but I love anything French and of course pastry and this easy cream puffs recipe has been on my list for a long time. I love watching this french cream puff recipe baking in the oven, puffing up in the heat, all crackly and full of air! A sight for sore eyes!
Need more pastry recipes?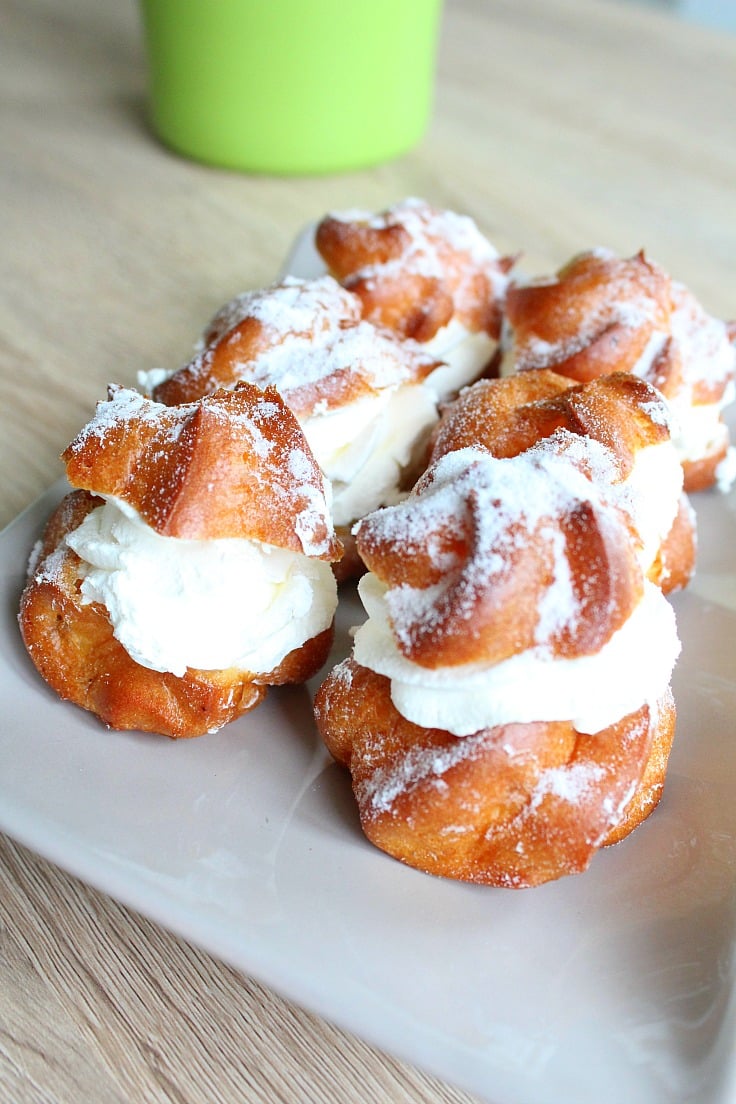 The french cream puffs dessert is undoubtedly considered the "king of desserts". I must confess that at first I found this otherwise easy cream puff recipe quite difficult to make; these puffs looked intimidating to me. But I've tried my hand at a few ideas for choux a la creme recipe and experimented a lot to get the absolutely perfect recipe. Also the cream puff filling recipe is super easy to make and tastes amazing, making a great pair with the puffy, light pastry!
French Cream Puffs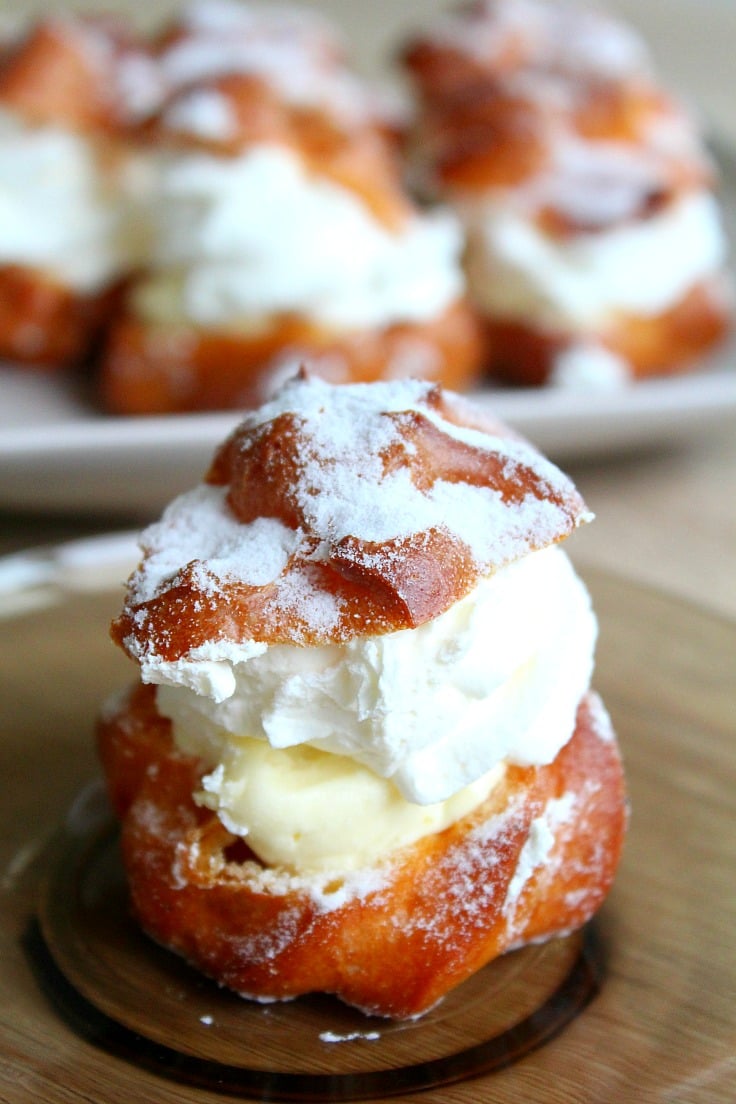 To make the delicate shells in these French cream puffs you need what they call choux pastry ("pate a choux" as they call it in France). This is a classic French pastry batter used to make various desserts from cream puffs to profiteroles and eclairs. The choux pastry is made by mixing milk, butter, flour, and eggs together to make a thick paste that is than baked, fried or sauteed.
While this is a simple and quite easy recipe, you need to have a bit of experience with pastry in order to make these French cream puffs. I chose to cut the baked choux in half and then fill with cream but you may opt for simply piping the filling into the shells. They won't look as impressive but will definitely have the same amazing taste!
I made a simple vanilla filling for these desserts, using a mixture of milk, eggs, sugar, butter and flour. The mixture gets its flavor from vanilla sticks. I opted to add some homemade whipped cream too for added yumminess and make these taste even creamier.
To make these French cream puffs you're also going to need:
While the baked shells can be frozen for up to 2 months in freezer bag they do taste best when freshly baked. Thaw them at room temperature for up to 10 minutes before attempting to fill them with vanilla cream and whipped cream. Do not fill cream puffs until they are completely cooled.
To keep your cream puffs looking and tasting fresh, don't dust them with confectioner' sugar until you're ready to serve them. The dough will absorb the sugar while refrigerated.
A few tips before baking your cream puffs:
refrain from piercing or cutting the shells as soon as they're out of the oven. This will allow the steam inside the shells to escape, causing the shells to deflate. Instead, allow the dough to fully cool before cutting.
when boiling the choux ingredients don't over boil them as the water will evaporate. The puffs need steam to inflate and the steam comes from the water.
as tempting as it is, refrain from opening the oven while the puffs are baking. Opening the oven will let the steam escape and as mentioned above, puffs need steam to inflate.
don't remove the choux from the oven too early. They need to get a golden brown crust before you turn off the oven. If they don't get this firm crust, the puffs will cave on themselves.
Easy French Cream Puffs Recipe Choux a la creme
Ingredients
For the pastry:
8

oz

= 250 ml water

8

oz

250 ml milk

7

oz

= 200 grams butter

13

oz

= 375 g flour

sifted

a pinch of salt

9

eggs
For the filling:
34

oz

= 1 liter milk

16

egg yolks

4

sticks vanilla

9

oz

= 250 g sugar

4

oz

= 120 g flour

sifted

1

spoon butter
For the whipped cream
1 1/2

heavy whipping cream

3

tablespoons

sugar

Powdered sugar to dust
You're also going to need:
non stick large baking sheet

parchment paper

whisk

sharp knife

hand mixer

large saucepan

flower tip
Instructions
Line a baking sheet with parchment and pre heat oven at 390 F = 200 C.

Warm up the milk and turn off heat.

Add the seeds from the vanilla sticks and cover with a lid.

In a medium large pot add water, milk (the one without vanilla), butter and a pinch of salt and bring to a boil.

Remove from heat and turn off heat.

Immediately add flour and mix well with a whisk until well combined.

Allow the dough to cool a little then add eggs, one by one, mixing well after each egg is added until fully incorporated. You need the composition to resemble chewing gum and be a bit sticky. If not add one more egg.

Transfer the dough to a large pastry bag fitted with a flower tip. Pipe rounds onto each prepared pan and do a little swirl for a more spectacular result. If you don't have a flower tip: with a spoon, drop a dollop of dough (about the size of a walnut) in the baking sheet but not very close to each other (about 2" apart).

Bake for about 20 minutes. Do not open the oven for the first 15 minutes.

When all dough is done and baked, let the puffs cool completely and cut in half, horizontally.

For the filling: Take the 16 yolks and mix with sugar and flour and beat well then add the vanilla infused milk little by little. Move to a saucepan and boil while stirring continuously with a whisk until stiff. Remove from heat and add butter.

Then make the whipped cream.

Fill the puffs with vanilla cream and whipped cream.

Keep refrigerated.

Dust with powdered sugar just before serving.
Pin to save for later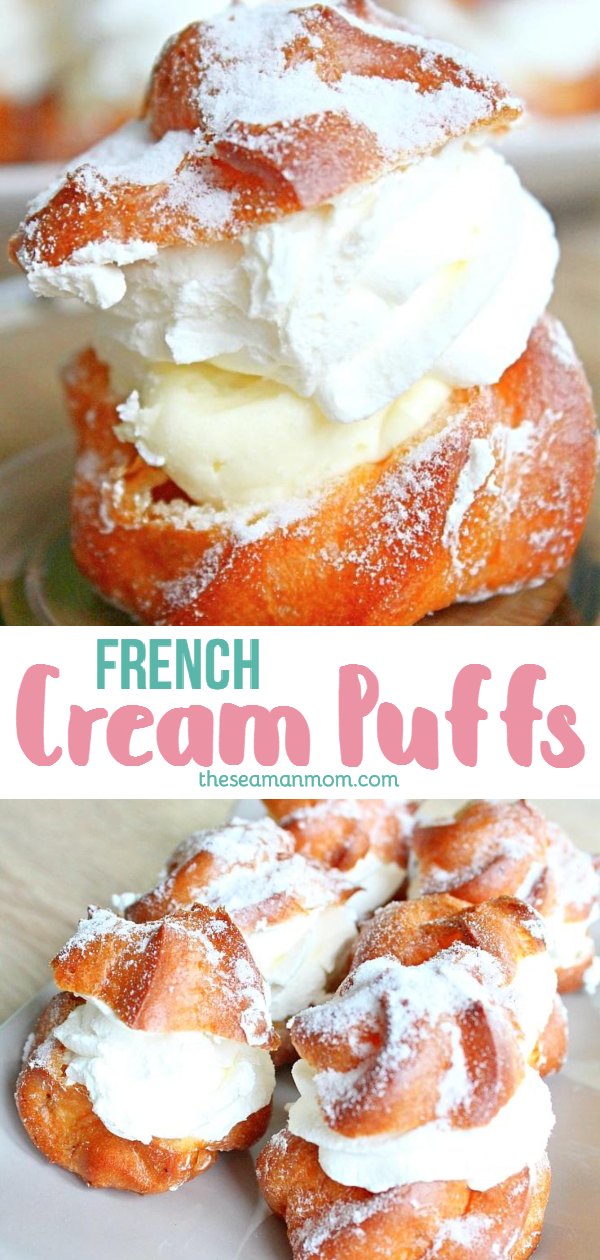 More desserts you might like:
Most popular recipes: