Article may contain Amazon & affiliate links. As an Amazon Associate I earn from qualifying purchases at no additional cost to you.
A delicious, fluffy, light, beautiful cake, with simple ingredients and very easy to make – a real delicacy.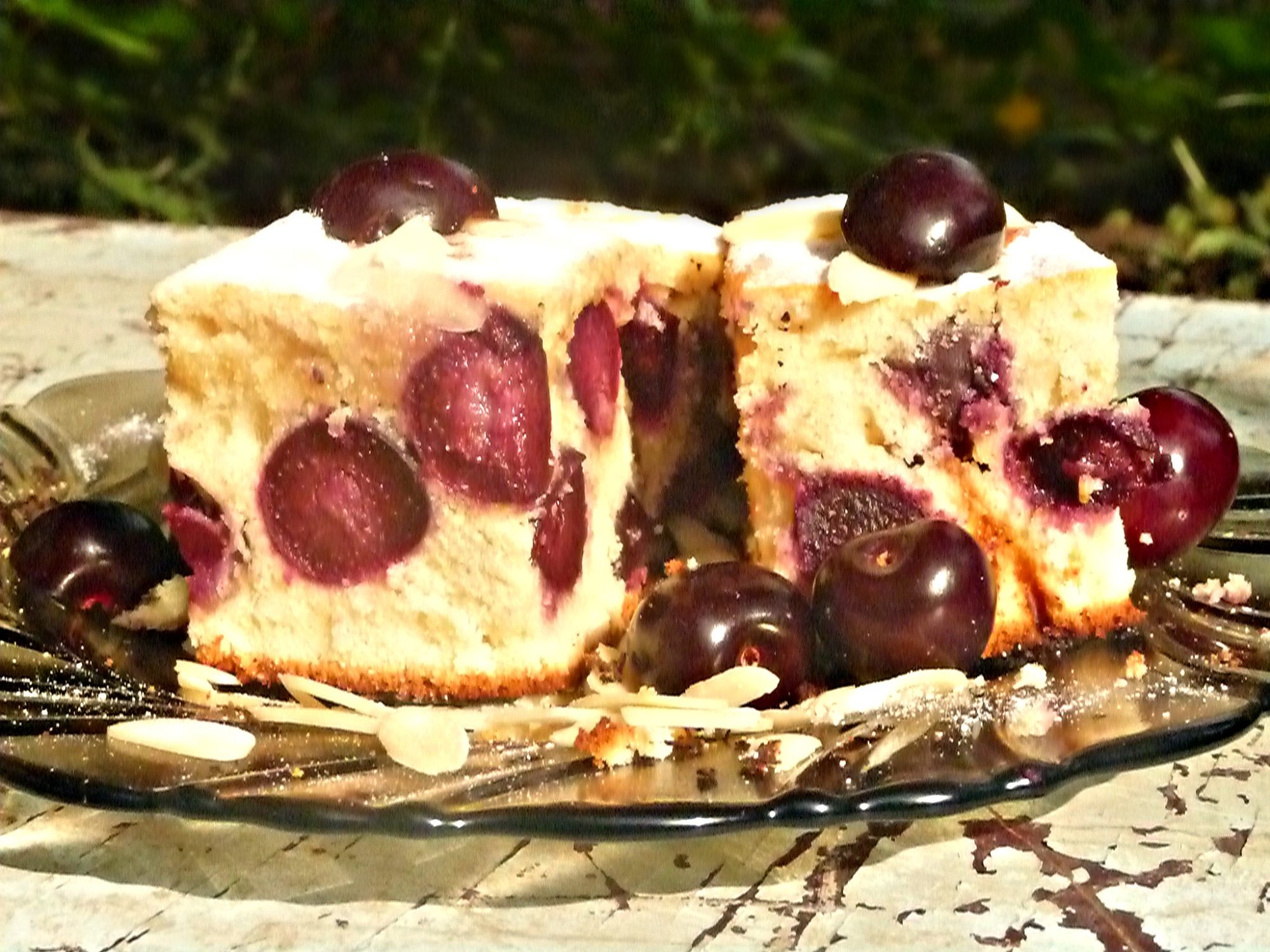 Last Sunday a family friend who's also an amazing cook and baker served me a delicious cake, a fresh cherry pound cake. I, of course, had to ask for the recipe (although I've got a hunch the whole trick is in her magic hands)
I was amazed that the ingredients are very simple, the cake is easy to make and turns out to be a real delicacy – fluffy, light, beautiful. Even though I didn't completely follow the recipe. I cut the sugar and butter in half as I knew my daughter and niece (big desserts lovers) will basically devour the cherry pound cake. I needed it to be less unhealthy.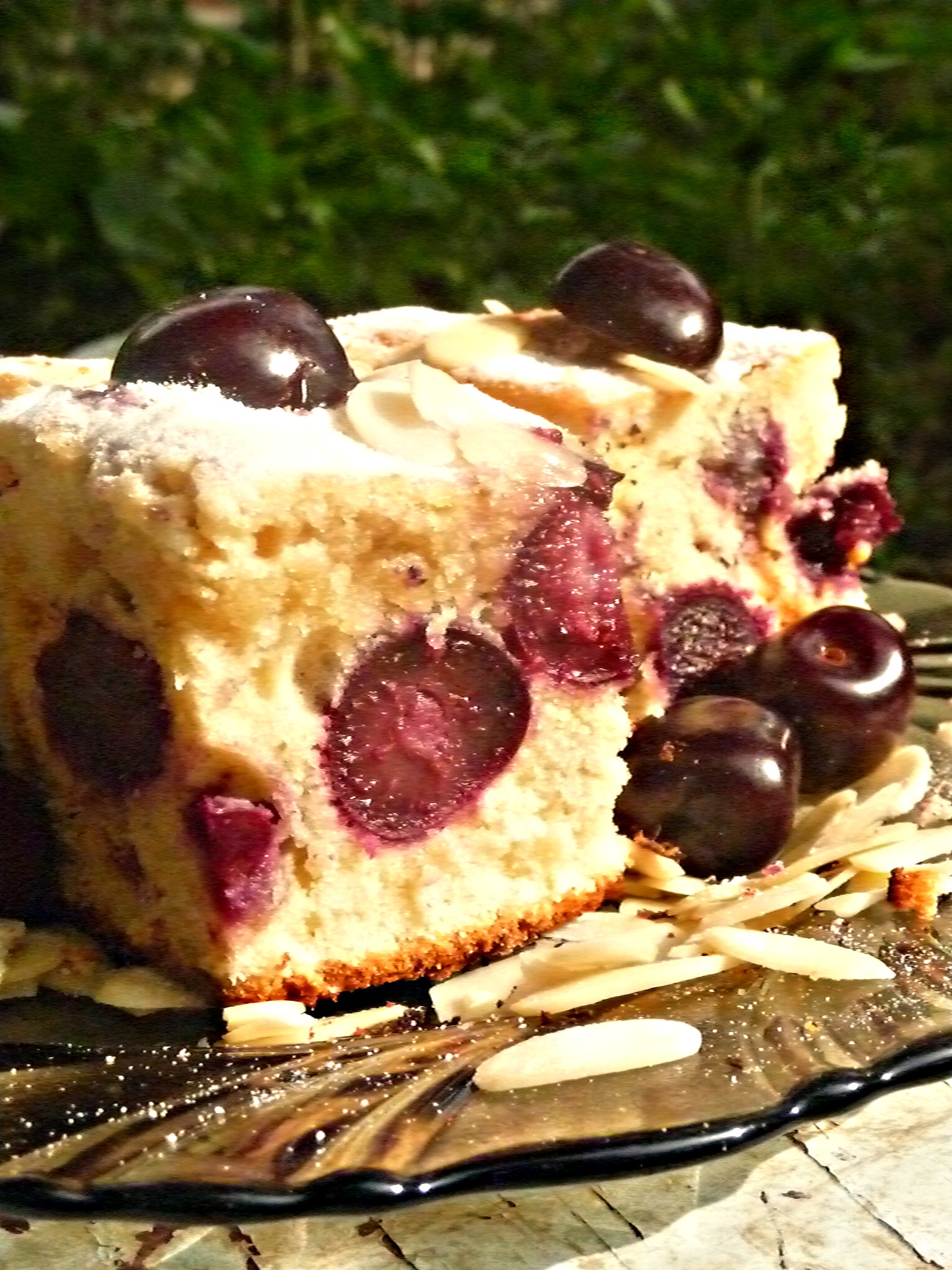 The fresh cherry pound cake can easily be made with any other fruit and my friend's favorites are peaches or apricots while I prefer cherries or sour cherries. The dough can be used for any other type of cake if you wish, just change the filling with chocolate, vanilla or other fruit.
I love the cherries addition to this cherry pound cake not only for their sweet taste but also because they have so many vitamins. They're also very refreshing, even when not kept in the fridge. This is my favorite fruit of this season and a bowl of cherries is always present on my table.
I love baking even though I'm very messy and I always miss something, an ingredient or parchment paper, or the baking tray is too small or too big etc. You get the idea. My baking "skills" are funny, believe me I'm a catastrophe! I honestly don't know how my cakes and cookies turn out so delicious.
Cherry Pound Cake
Ingredients:
Eggs 4 (I started with 3 and then noticed I actually need the 4th one too)
200 gr (0,44 pounds) butter (I used 100 gr)
150 gr (0,33 pounds) sugar (I used 75)
200 gr (0,44 pounds) flour (I used 250 gr; way too much)
1 kg (2,2 pounds) fresh cherries
1 sachet baking powder
pinch of salt
3 tablespoons vanilla sugar
Almond flakes to ornate
Directions:
Pre heat oven to 425 F
Remove the cherry pits.
Mix butter and sugar until you get a fluffy mixture.
Add vanilla sugar, eggs, salt and mix well.
Add flour and mix until fully incorporated
Line a baking sheet with parchment paper
Pour half the mixture in.
Add a layer of cherries (you can cut them into halves)
Add the second half of the dough.
Add another layer of cherries. Press the dough a little using a tablespoon.
Transfer the baking sheet to the preheated oven and bake for about 20 min (insert a toothpick in the middle of the cake to check for doneness. If no dough sticks to the toothpick, the cherry pound cake is done)
Leave to cool and ornate with almond flakes and fresh cherries
Fresh Cherry pound cake
Ingredients
Eggs 4

I started with 3 and then noticed I actually need the 4th one too

200

gr

0,44 pounds butter (I used 100 gr)

150

gr

0,33 pounds sugar (I used 75)

200

gr

0,44 pounds flour (I used 250 gr; way too much)

1

kg

2,2 pounds fresh cherries

1

sachet baking powder

pinch

of salt

3

tablespoons

vanilla sugar

Almond flakes to ornate
Instructions
Pre heat oven to 425 F

Remove the cherry pits.

Mix butter and sugar until you get a fluffy mixture.

Add vanilla sugar, eggs, salt and mix well.

Add flour and mix until fully incorporated

Line a baking sheet with parchment paper

Pour half the mixture in.

Add a layer of cherries (you can cut them into halves)

Add the second half of the dough.

Add another layer of cherries. Press the dough a little using a tablespoon.

Transfer the baking sheet to the preheated oven and bake for about 20 min (insert a toothpick in the middle of the cake to check for doneness. If no dough sticks to the toothpick, the cherry pound cake is done)

Leave to cool and ornate with almond flakes and fresh cherries