Cross Body Bag

As you may have noticed, I took a week long break from blogging and if you're following me on my social media accounts, Facebook in particular, my absence has been more than obvious. I simply needed to spend more time with myself and my family, relax and do stuff I really love but haven't had much time for lately as blogging kept me too busy. Sewing a much needed bag was one of those things.
I really needed a laptop bag but I didn't want the regular cover everyone is carrying around. I wanted something able to take over my regular purse' "duties" while counting as a laptop cover too so I needed something big but not too big or bulky, with lots and lots of pockets and easy to carry. And since I really love the Cross Body Bag pattern I advertise on the sidebar of this blog, I thought I'd better give that a try and make some adjustments here and there to have it look like the perfect bag/laptop cover for me.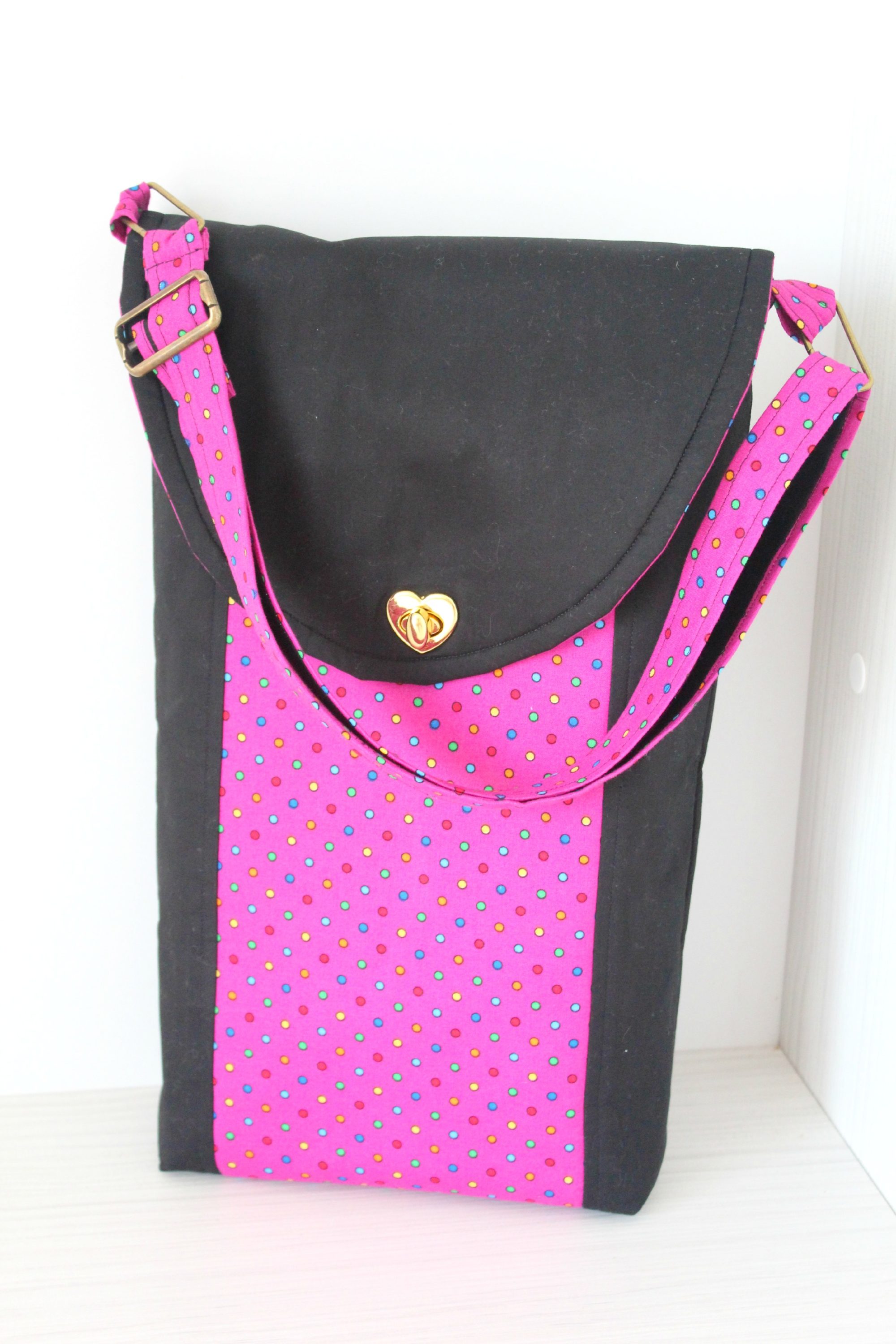 And I am now the proud owner of a beautiful bag where my laptop and chargers feel very safe and secure and my wallet, lipstick, pen, earphones, paperwork (and another gazillion things I don't really need) feel just like home. And the best part is I get to be hands free thanks to the adjustable strap that allows me to carry the bag on my shoulder or as a cross body bag.
The Cross Body Bag pattern has lots of pockets, both open and zipper ones, front and back, inside and outside so you can easily keep everything organized and in its place. It's very roomy and nicely padded so it keeps my laptop truly safe.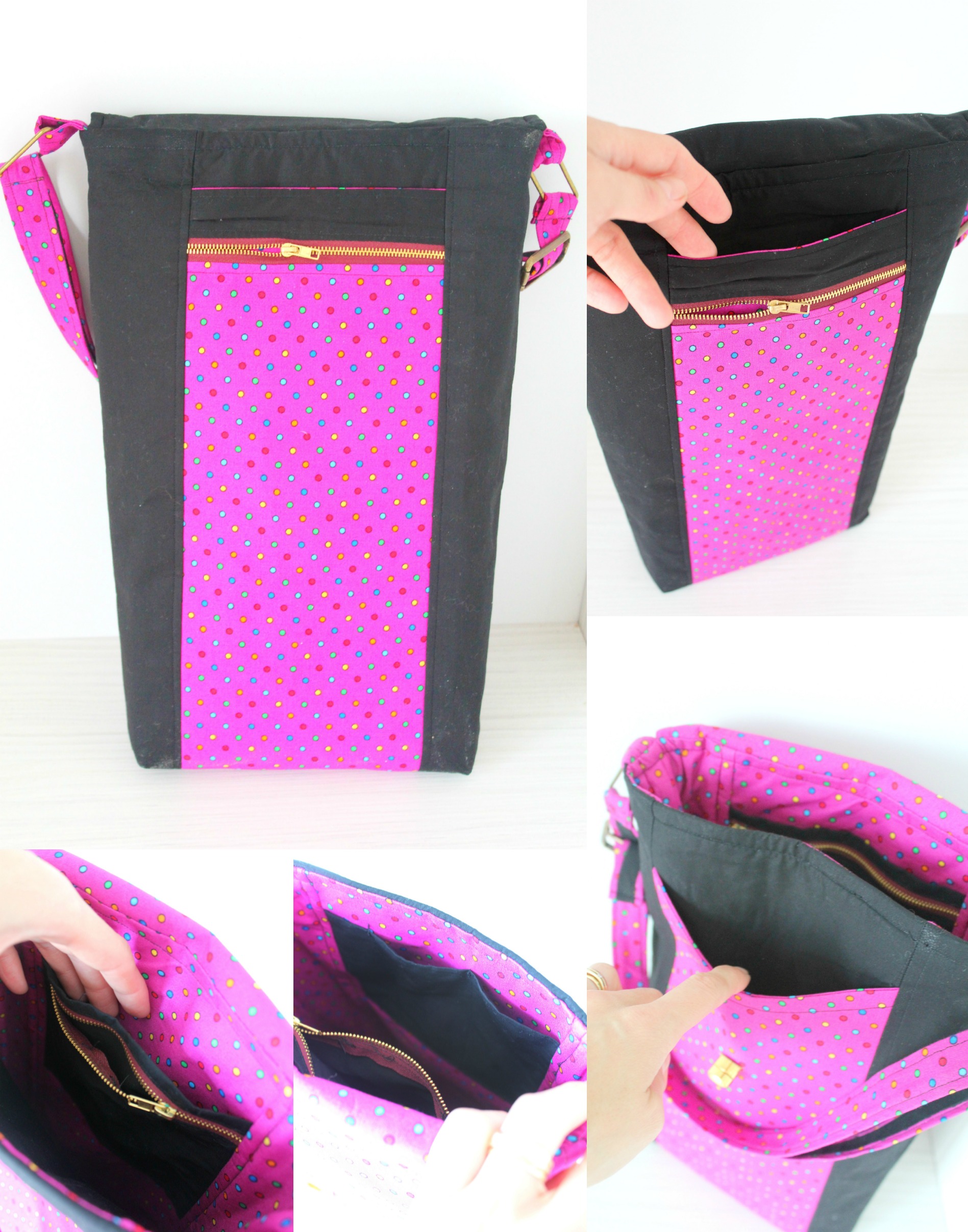 I adjusted the size and made it a bit longer to fit my laptop and while that caused some tiny mistakes when putting the pieces together, they're barely noticeable. Since I get lots and lots of compliments when I wear the bag I presume they are not a complete turn off.
I am also not happy with the hardware pieces. They're really hard to find in my area but I was so impatient, I couldn't wait to get them ordered online so I had to settle for larger pieces.
I was very happy that I got to use some old fabric I thought I'll never find a nice purpose for, fabric that I used to make my little daughter a Halloween bag. She's noticed the resemblance from the moment I took my fabric out and got really excited about us getting to own similar bags. When the bag was done she kept complimenting it so I think I've done a pretty good job.
I really, really loved working on this Cross Body Bag pattern as in spite of the fact that it does look like a good fit for more advanced sewists, it was pretty easy to sew even for a rookie as myself. The instructions on the pattern were extremely thorough, I've never purchased such a detailed pattern and it's got a video that was a true blessing. It felt like the designer had my back all the way through the sewing process. You cannot not make a fabulous bag with these instructions!
Cross Body Bag Pattern
Materials needed for the Cross Body Bag pattern:
Sizing and/or finished measurements (if you don't make adjustments)
Approx. 10 inches wide, by 11.5 inches tall, by 2 inches deep, plus strap
I absolutely love my new bag and I carry it everywhere, it is now my most favorite bag of all times! I you love sewing bags I strongly advise you make yourself this Cross Body Bag. Enjoy!