Fried Zucchini in garlic and vinegar sauce
Article may contain Amazon & affiliate links. As an Amazon Associate I earn from qualifying purchases at no additional cost to you.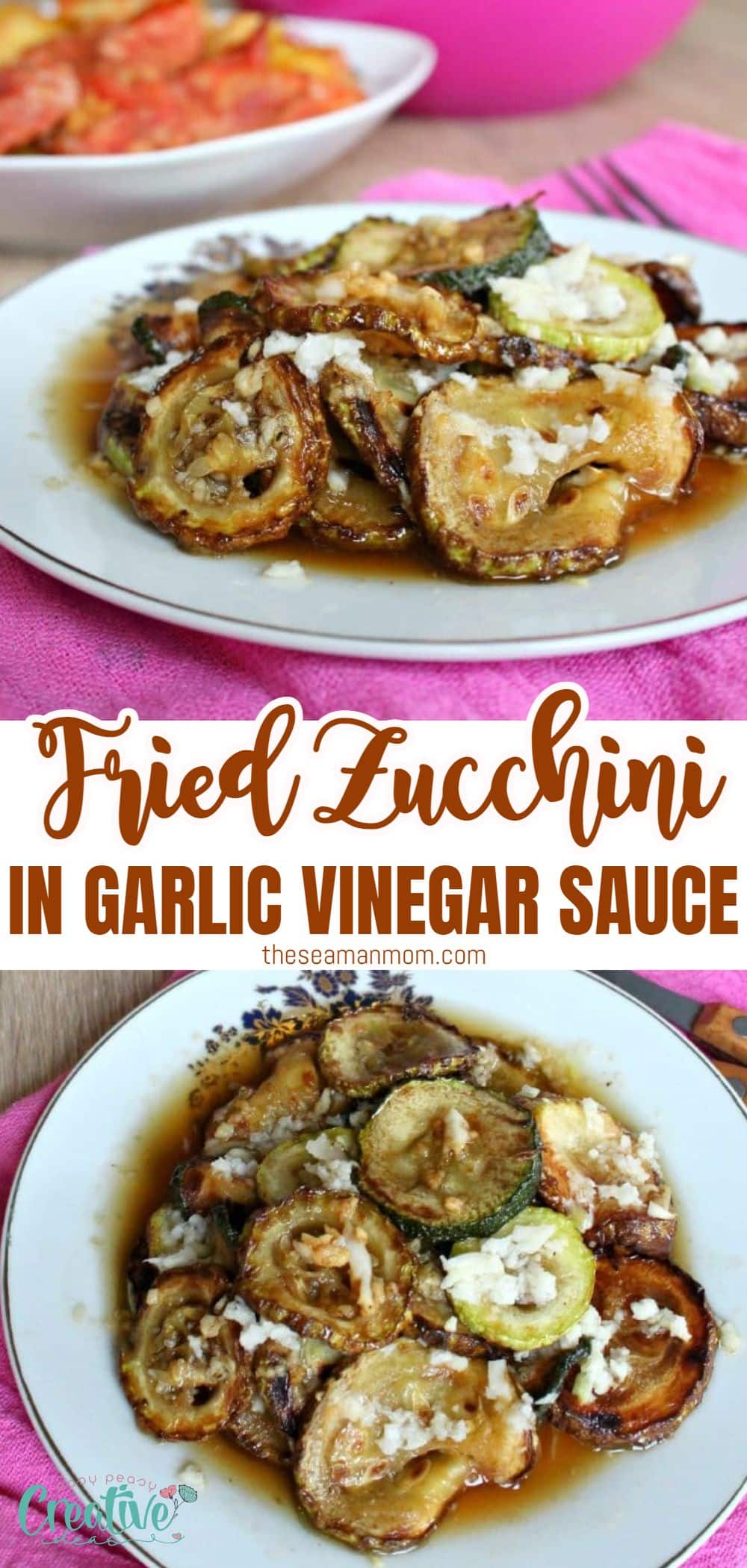 Craving something crunchy and delicious? Look no further than this classic dish of fried zucchini in garlic vinegar sauce! This simple yet flavorful recipe is the perfect way to enjoy the unique taste of pan-fried zucchini. With its succulent texture, tangy vinegar sauce and fragrant garlic aromas, this zucchini salad is sure to be a hit with everyone. So, get ready for an unforgettable eating experience – it's time to enjoy some fried zucchini! Bon appetit!
Fried zucchini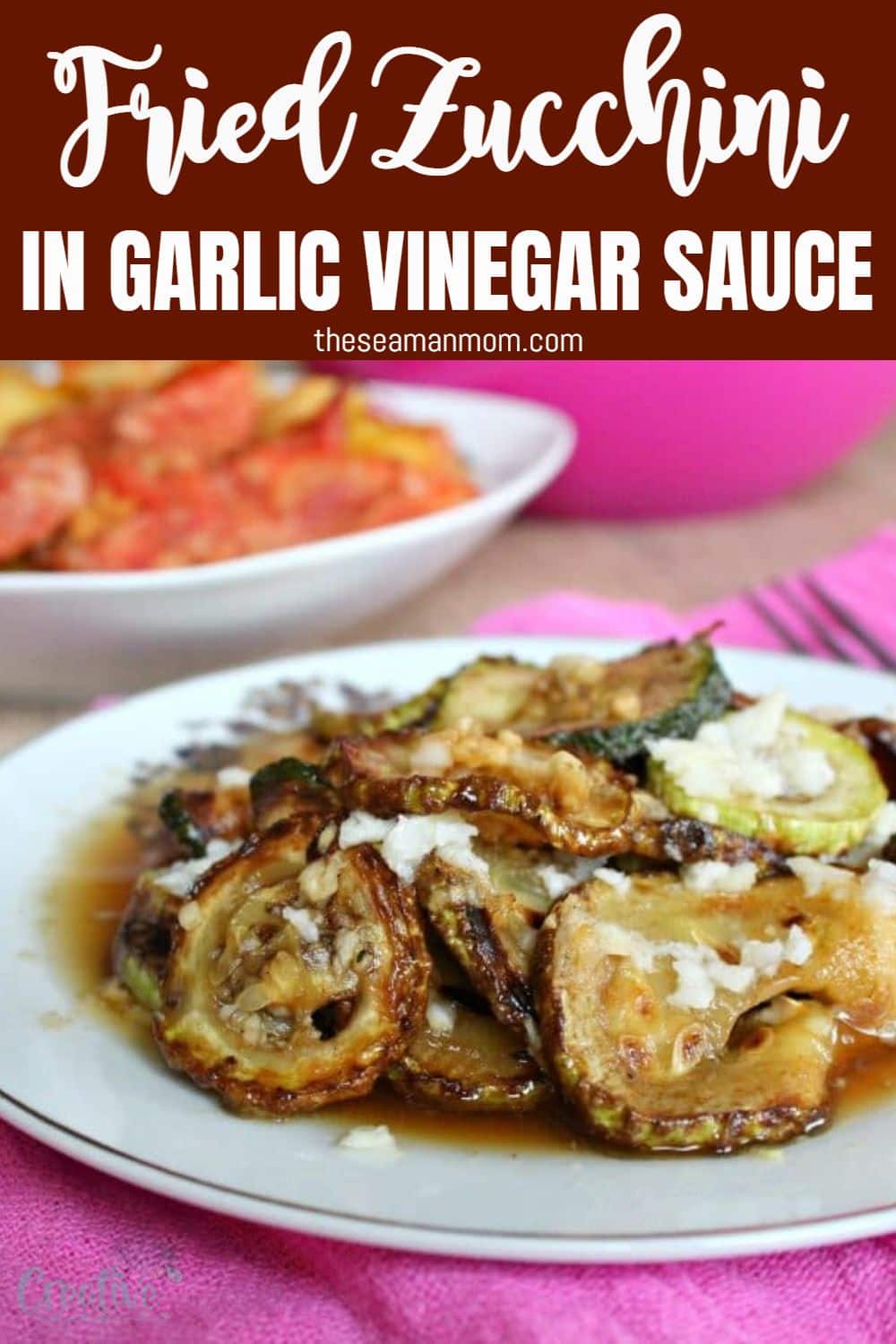 This delicious salad recipe is a great way to enjoy the unique flavor of fried zucchini. In this dish, thinly sliced zucchini is pan-fried then dipped in a garlic and vinegar sauce for an extra punch of taste. This dish makes for a tasty side or even a light meal option when served with some crusty bread. The combination of fried zucchini, garlic and vinegar is a classic that's sure to delight your taste buds.
If you're looking for a simple, easy side dish, this fried zucchini recipe in garlic vinegar sauce is probably the best choice. The process is simple and quick, with minimal prep time, total time taking only 15 minutes from start to finish.
My mom used to make this side dish that was a family favorite. We haven't made it in a long time and forgot how delicious it was. My husband and I were looking for a side dish to complement an oven baked pork with potatoes dish and we wanted something light yet strongly flavored. And this fried zucchini in garlic vinegar sauce came to mind!
Similar posts you might like: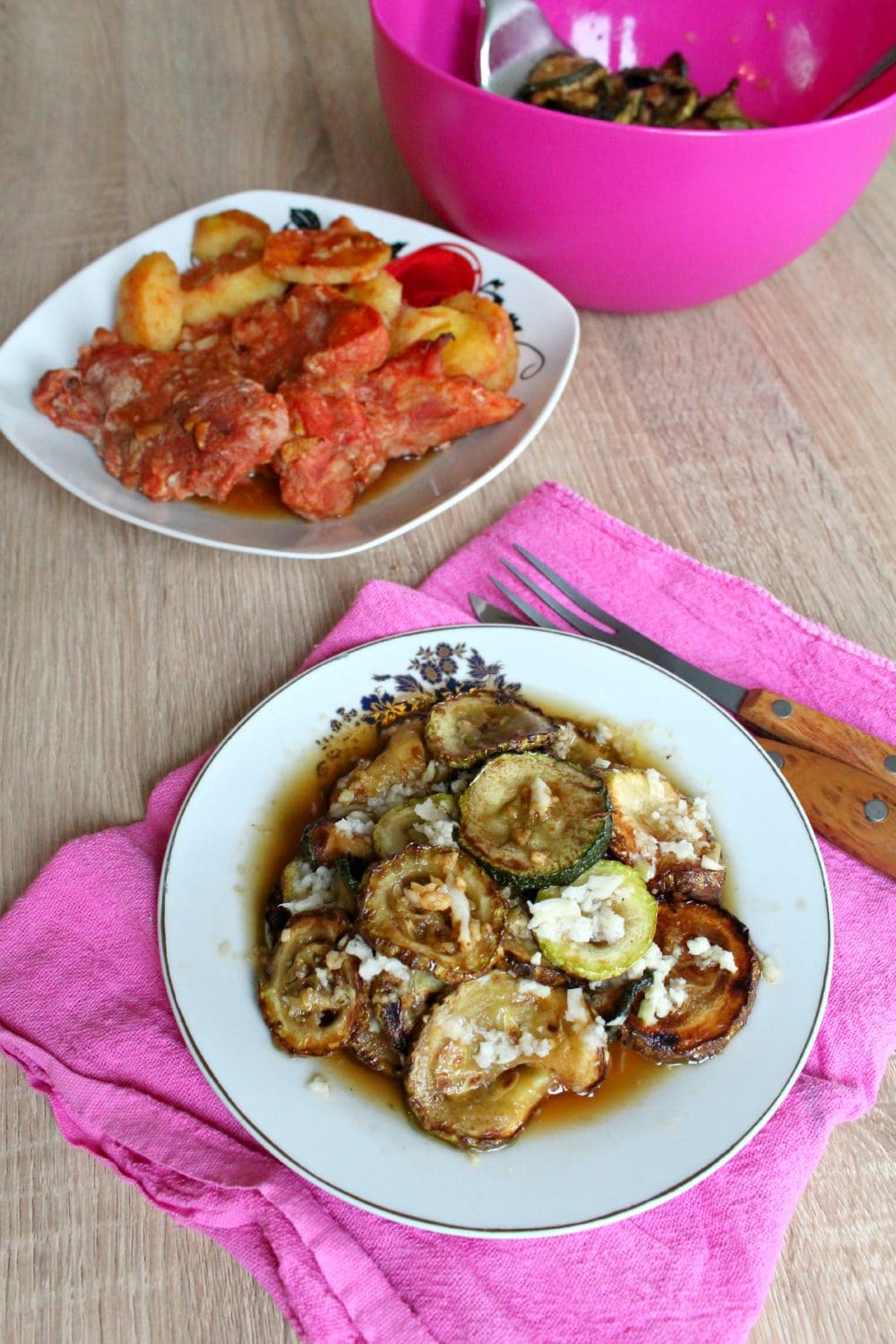 I'm not crazy for vinegar but it's strong taste, mixed with garlic and a bit of olive oil makes a perfect match to the mentioned pork recipe. I appreciate that this food makes me feel full quicker, which helps me avoid overeating.
If you want to make this recipe super healthy, have your zucchini grilled or baked instead of frying them. They'll be slightly crunchier and will taste a little smoky if you grill them. And, of course, skip the olive oil and use just garlic and vinegar.
No matter how you cook it, this pan fried zucchini is sure to be a hit! So give it a try and let me know what you think! Enjoy!
Why is my fried zucchini soggy?
While normally people hate soggy zucchini, this recipe is actually supposed to be soggy. In the frying process your zucchini will become brown and crispy. When you add the garlic vinegar sauce, that liquid is released back into the zucchini making them juicy and soggy. If you want a firmer texture, try grilling your zucchini slices instead, sprinkle garlic powder and skip the vinegar. Or bake them in the oven, in a baking sheet. You'll be missing out on some of the most delicious flavors though.
Should zucchini be salted before frying?
No, you should not salt your zucchini before frying. For this recipe, we recommend salting your zucchini after they are cooked or simply mix the salt with the garlic vinegar sauce.
Is fried zucchini good for you?
While this low carb vegetarian dish comes with some nutrition benefits (is high in vitamin C with a good amount of potassium and the use of olive oil may contribute to lower cholesterol levels), this is not a healthy option if you fry the zucchini. Frying adds extra fat and calories. If you want to make it healthier, consider baking or grilling the zucchini instead or use an air fryer. You won't get the same deliciousness but they'll still be tasty.
Is this recipe gluten free?
Yes, this recipe is gluten free as long as you use gluten-free vinegar. Some vinegars contain gluten, so pay attention to the label and make sure it's gluten-free if that's important for you.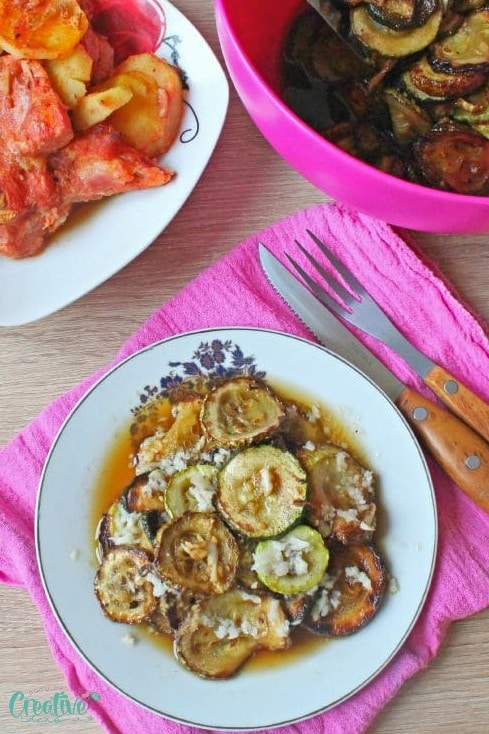 How think should I slice the zucchini?
Ideally, you should slice the zucchini in very thin slices (about 1/8 inch thick). This will ensure that they cook evenly and quickly. You can also cut them into cubes if you like zucchini bites. Whatever shape you choose, make sure to keep the size consistent so that all pieces cook at the same rate.
How do you know if fried zucchini is overcooked?
The zucchini are overcooked when they become a dark brown. The color should be medium brown and if the zucchini slices still have a bit of juice in them, then they're cooked just right. Overcooked zucchini will also appear more wilted than usual.
Can I fry zucchini in olive oil?
Yes, you can fry your zucchini slices in olive oil. This is what gives the dish its delicious flavor and aroma. Make sure to use extra-virgin olive oil. Do not reuse the same oil for this recipe multiple times as it will become rancid quickly.
Can fried zucchini be frozen?
Yes, leftovers can be frozen. Store them without the garlic vinegar sauce in an airtight container or bag. Thaw in the refrigerator over night and when ready to serve, simply pour the garlic vinegar sauce over them and enjoy!
What ingredients do I need to make pan fried zucchini?
Large green zucchini
Medium yellow or summer squash (this is optional, I used them to add variety to our plates)
Garlic
Vinegar
Water
Salt to taste
Pepper
Olive oil for frying and dressing (other polyunsaturated fat oils are canola oil or avocado oil)
Optional – sprinkle some dry herbs such as oregano, thyme or basil
How to fry zucchini in a pan?
Wash zucchini thoroughly and remove the ends
Cut into thin to medium slices, about 1/8″
Heat a large skillet for 2 minutes then add olive oil and heat for 2 more minutes
Add zucchini slices and fry until golden brown
Meanwhile peel and smash garlic and mix with vinegar, water and some olive oil
When done frying zucchini, drain the excess oil with paper towels.
Then pour some garlic vinegar sauce over the fried zucchini. Or you can keep the sauce in a bowl and just dip the zucchini chips when served.
Additionally you can sprinkle parmesan cheese over the fried vegetable to add more flavor and a bit of calcium to your dish.
Alternatively you can serve these fried zucchini with some marinara sauce
For a flavorful and healthy side dish, this zucchini salad is the perfect go-to. Whether you choose to fry, grill or bake your zucchini, this fried zucchini dish can be enjoyed in many different ways. With its unique taste of garlic and vinegar mixed with crunchy fried zucchinis, it can easily become your favorite salad. So, try it out and see what you think – you won't regret it!
Pin to save for later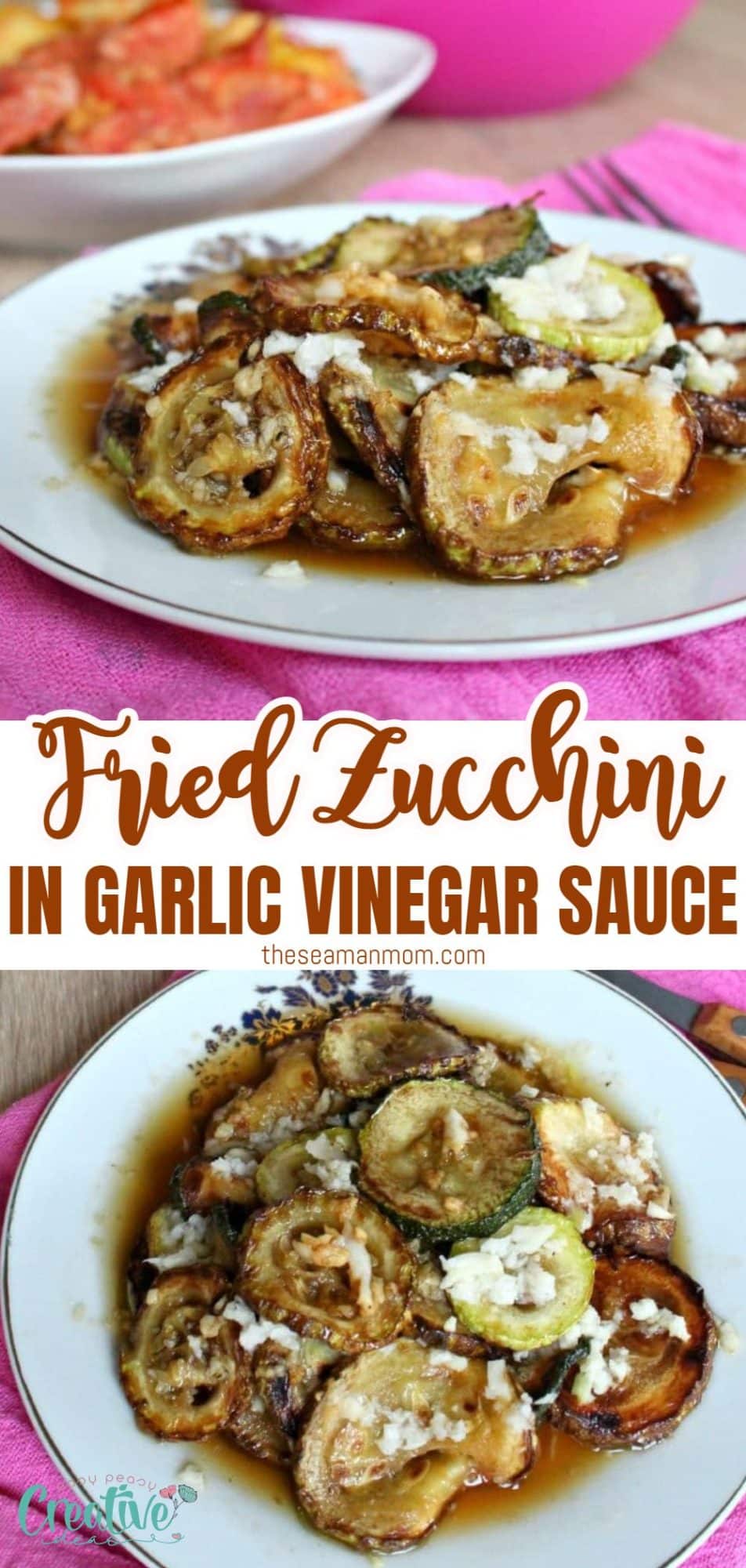 Print the recipe card
Fried Zucchini with garlic vinegar sauce
This delicious zucchini salad is the perfect side dish for any meal! It combines fried zucchini, garlic, and vinegar for a tasty flavor combination. Enjoy!
Ingredients
1

large green zucchini

2

medium yellow zucchini

5

medium garlic cloves

6

tablespoons

white vinegar

8

tablespoons

still water

salt to taste

pepper to taste

2

teaspoons

olive oil for dressing

olive oil to fry
Instructions
Wash zucchini thoroughly and remove ends

Cut thin to medium slices

Heat a pan for 2 minutes then add olive oil and heat for 2 more minutes

Add zucchini slices and fry until golden

Meanwhile peel and smash garlic and mix with vinegar, water and 2 teaspoons olive oil

When done frying zucchini, mix with garlic vinegar sauce, in a large bowl
Notes
If you like the sauce more sour, reduce water quantity
Add chili flakes to your sauce if you like spicy