Incredibly delicious and healthy baby spinach salad you need to make today
Article may contain Amazon & affiliate links. As an Amazon Associate I earn from qualifying purchases at no additional cost to you.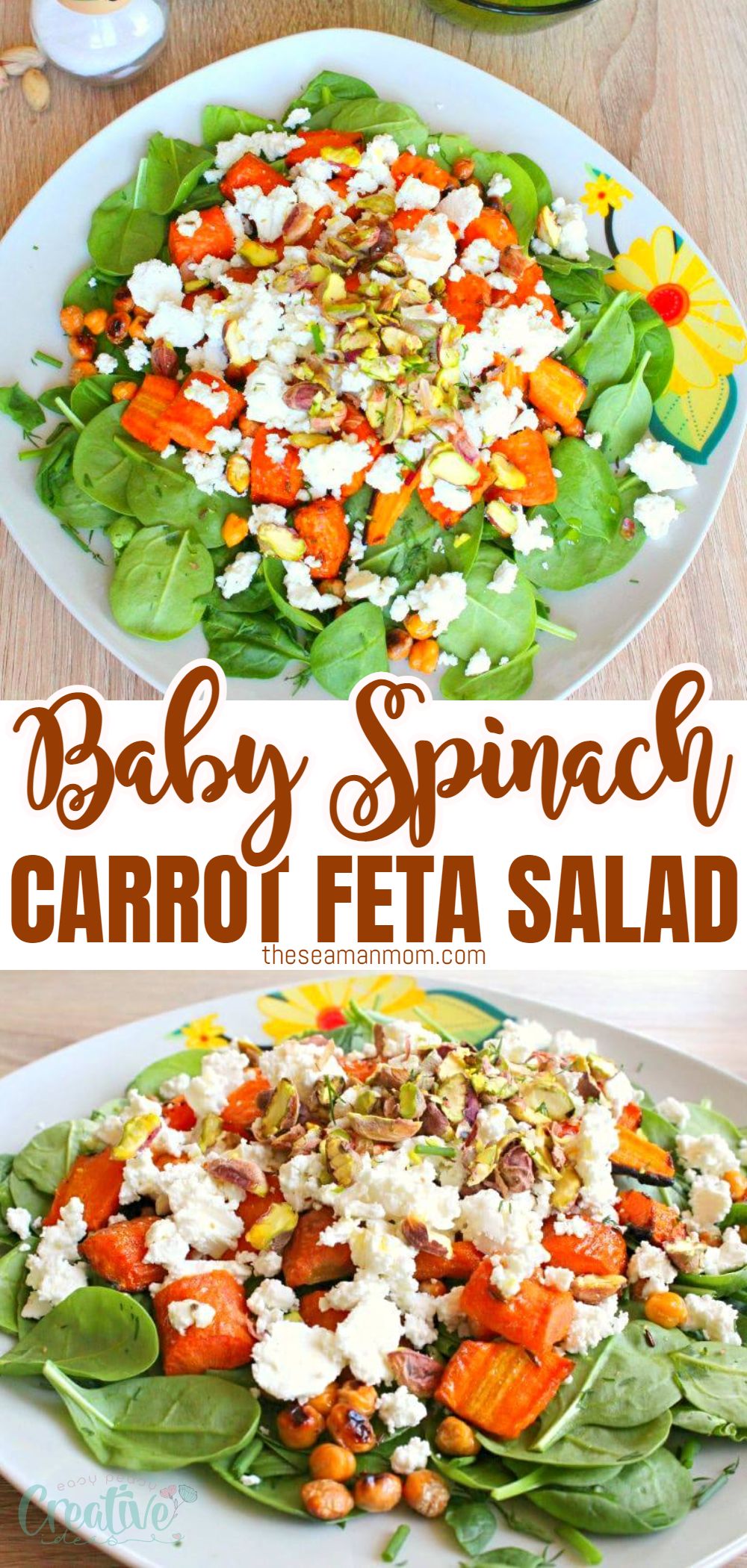 If you haven't had your salad today just yet, then it's time to make this healthy, delicious and filling baby spinach salad with roasted carrots, feta cheese and pistachios!
Baby spinach salad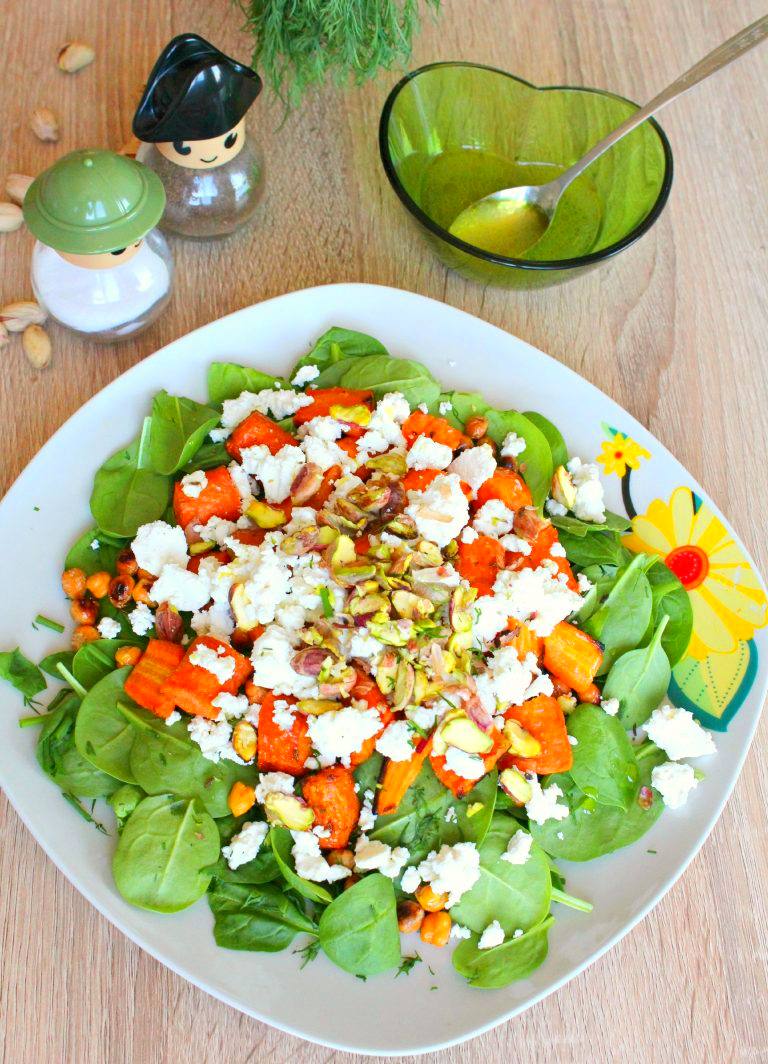 I am so addicted to this delicious baby spinach salad! Eating salad every day is probably one of the most healthy eating habits you can adopt, not to mention one of the simplest. There's no rocket science behind making a salad and the long term results are worth every effort (not that there's much effort involved, really).
More salad recipes you might like: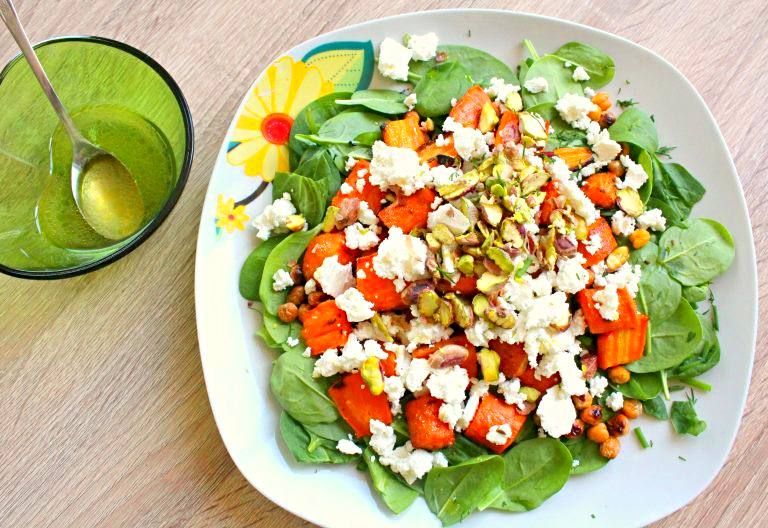 Eating salads like this simple spinach carrot salad is a convenient way to work in a couple of servings of vegetables and/or fruit. Most salads are also crunchy and fun to eat with lots of textures, colors, and flavors, even kids enjoy salads. Customize them to include your favorite veggies and/or fruit, add your favorite healthy sauce and spices and they'll never get boring.
Try this baby spinach salad with roasted carrots for a casual dinner or a lunch on the go as it happens to be super delicious and filling! Made with tender baby spinach this nutritious salad includes other tasty veggies and herbs such as chives and dill, sweet, roasted carrots, chickpeas, pistachios. Feta cheese adds extra flavor to this amazing salad and makes it even more satisfying. As a dressing I've used a simple but dreamy honey lemon juice vinaigrette I never expected to taste so amazing!
Healthy spinach salad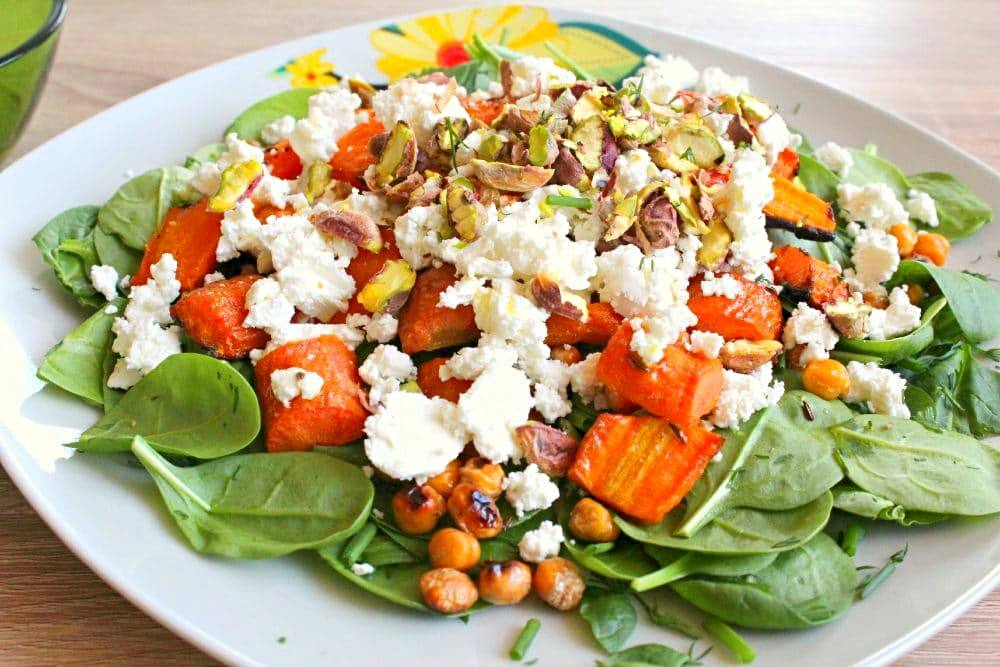 What do you need to make low calorie spinach salad?
The main ingredients in this salad are baby spinach and carrots. But there is a handful of other healthy and delicious ingredients that when mixed together, make this salad very filling and nutritious:
Chickpeas – I use canned as they're easier to cook and use in this salad
Feta cheese – crumbly is best for this recipe
Spices and herbs: cumin seeds or powder, chives and dill. Salt and pepper are optional, to taste.
Pistachios.
How do you make dressing for baby spinach salad?
This salad requires such a simple dressing that is super easy and quick to make as it uses just 3 simple ingredients:
lemon juice
honey
olive oil
If you're a garlic lover, feel free to add some smashed garlic to this vinaigrette.
How do you make carrot spinach salad?
Cut carrots in halves then into smaller pieces (bite size long). Drain chickpeas and wash then drain again.
Place carrots and chickpeas in a baking sheet, sprinkle cumin and drizzle or spray some olive oil, season and mix well.
Bake for 30 minutes, until carrots are tender.
In a bowl mix lemon juice, honey and oil.
Mix baby spinach, chives and dill. Place the carrots and chickpeas mix over spinach mix. Pour the dressing.
Sprinkle feta and drizzle some more olive oil if you still need it
Pin to save for later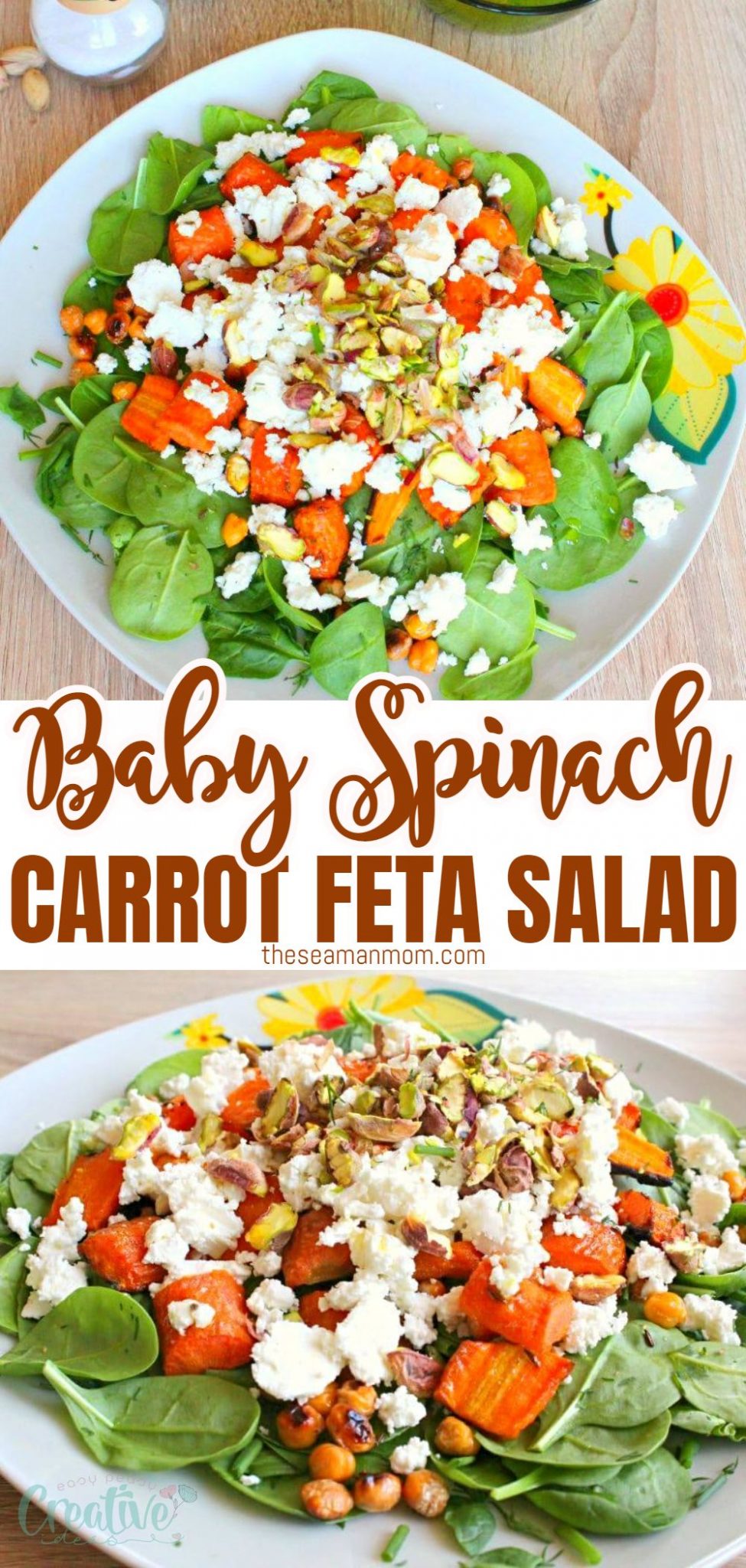 Print the recipe card
Baby spinach salad with roasted carrots
A super delicious baby spinach salad with roasted carrots, feta cheese, chickpeas and pistachios, accompanied by a dreamy honey and lemon juice vinaigrette!
Ingredients
For the salad
2

tbsp

olive oil

plus extra for drizzling/spraying (I recommend spraying)

18

oz

carrots

cut in half, then into pieces

14

oz

canned chickpeas

drained and rinsed

2

tsp

cumin

seeds or powder; I used seeds

handful

fresh chive

chopped

1/2

handful

fresh dill

chopped

3

handfuls

fresh baby spinach

4

oz

pistachios

lightly chopped

7

oz

feta cheese

crumbled
For the dressing
lemon juice from ½ a lemon

1

tbsp

honey

2

tbsp

olive oil
Instructions
Preheat oven to 395 F. Line a baking sheet with parchment paper

Clean carrots and cut in halves then into smaller pieces (bite size long)

Drain chickpeas and wash then drain again

Place carrots and chickpeas into the prepared baking sheet, sprinkle cumin and drizzle or spray some olive oil, season and mix well

Bake for 30 minutes or until carrots are tender. Use the upper level of your oven. Leave to cool once done

Mix lemon juice, honey and 2 tablespoons oil to make the dressing

Mix baby spinach, chives and dill.

Place the carrots and chickpeas mix over spinach, chives and dill mix.

Pour the dressing over the vegetables and mix. Distribute into salad bowls.

Sprinkle feta and drizzle some olive oil if you still need it
Notes
Serve this salad as a main or side dish