This carrots salad with spicy chicken is easy to make, healthy and super spicy and it will feed 3-4 adults and help them feel full after just a few bites.
Carrots Salad With Spicy Chicken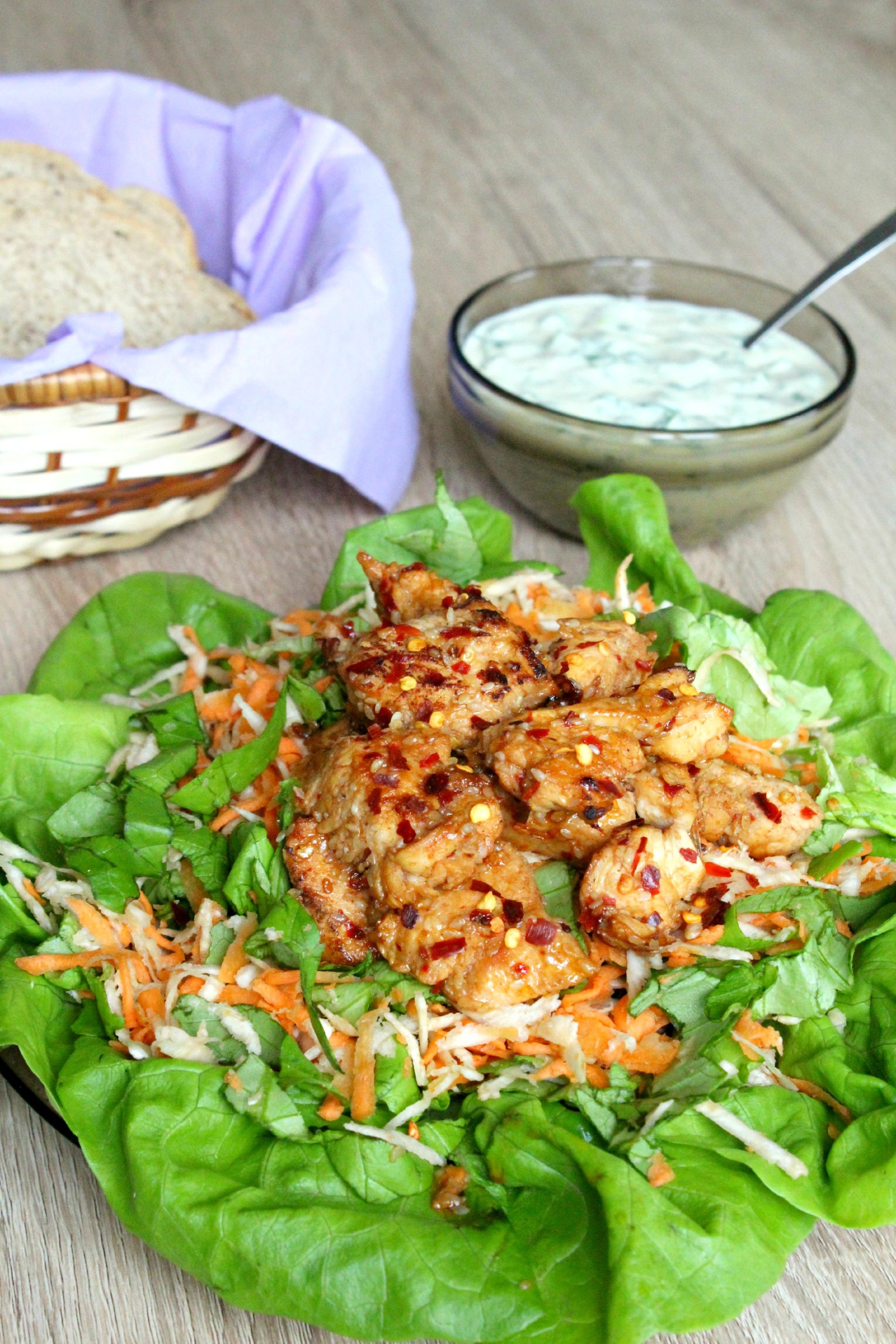 I love, love salads! And what's not to love? They're healthy and nutritious, keep you full and energized for longer periods and are a great way to stick to a healthy diet if you're willing to lose weight or keep your weight under control (and who doesn't, right?).
I like to make my salads as fat free as possible and for that reason, many times I'm tempted to skip any sauce. It makes my salads tasteless and dull. And since dull and I are not on best terms I thought I'd better come up with some tastier and more appealing ideas rather than give up on eating salads altogether.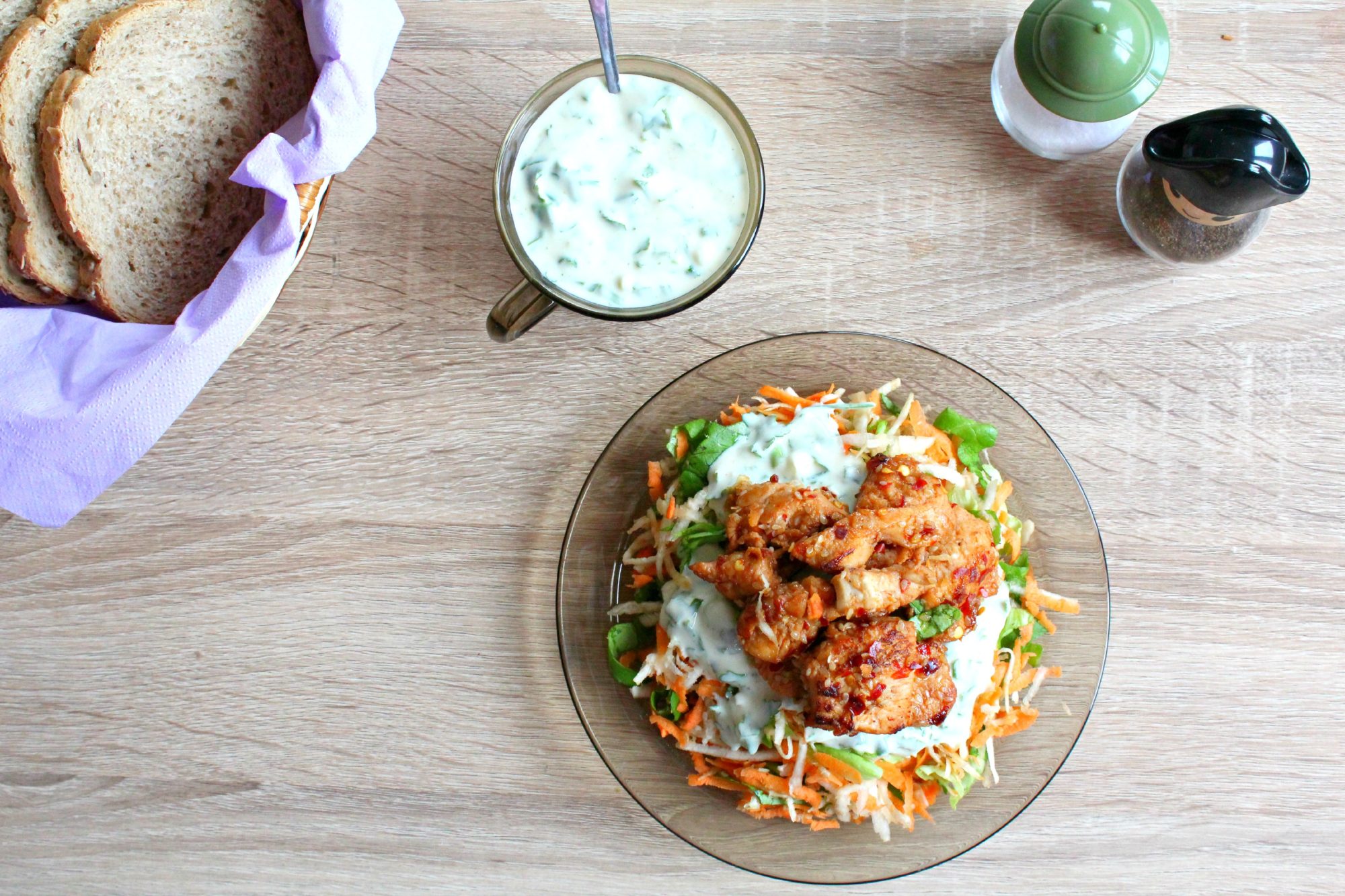 There are so many simple and easy ways to add a bit of life to a dull salad, using ingredients such as mustard or yogurt, honey, herbs or spices or a mixture of these. I particularly love yogurt and chili flakes and so today I've made a carrots salad with spicy chicken and yogurt mustard sauce. I love making recipes healthier without sacrificing taste!
This is a super easy to make salad that will feed 3-4 adults and help them feel full after just a few bites. But because it's so big it will take you a bit longer to make than a regular salad, say roughly 20 minutes and 10 more for cooking the chicken.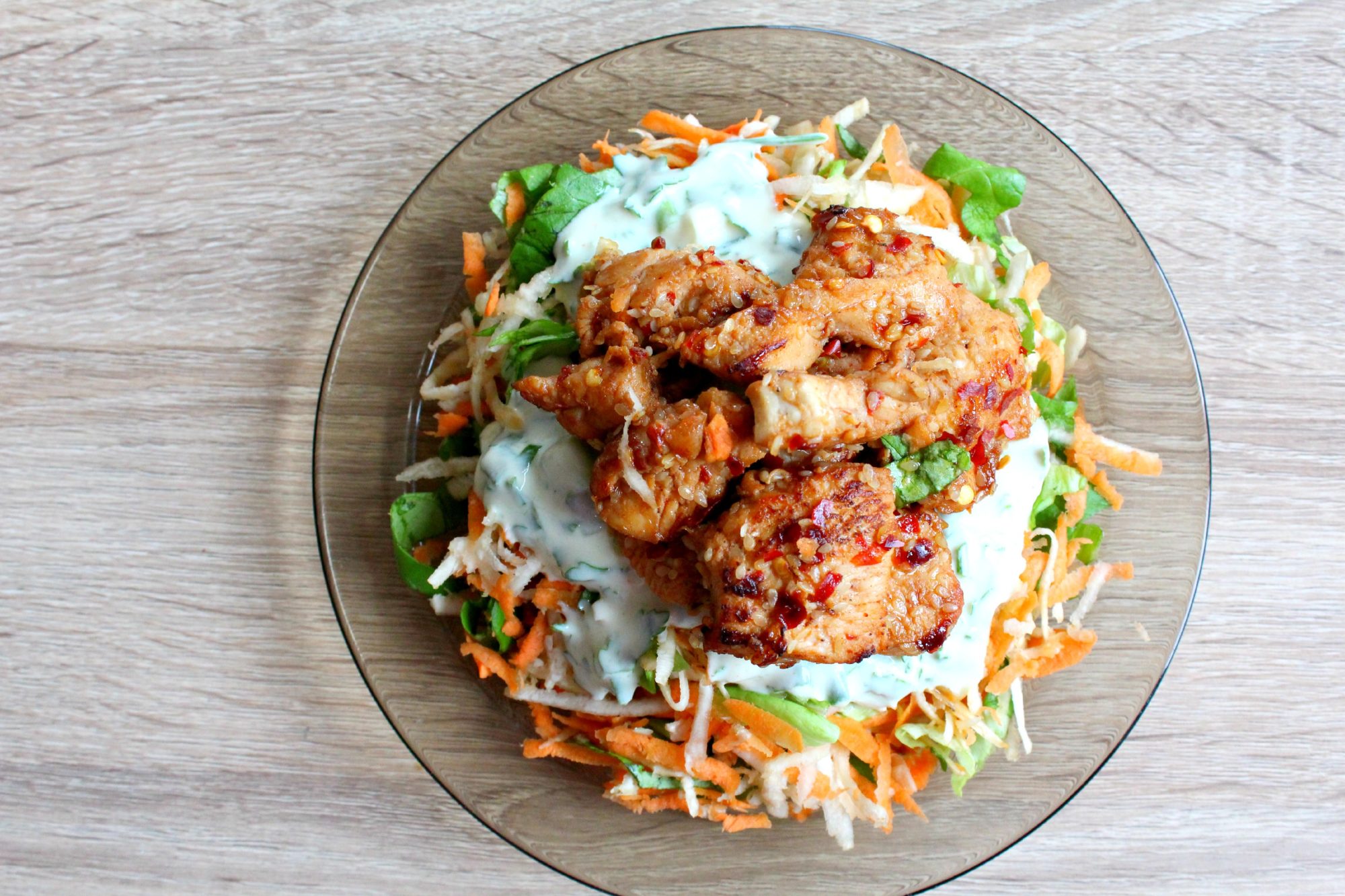 I'd say this is a pretty healthy salad too as no extra fat or oil is added except for the chicken fat and a couple of tablespoons of oil used to cook the chicken. Make sure you use skinless chicken breast and remove all the bits of fat to make this salad even skinnier.
I absolutely love the chili flakes, I'm a big fan of spicy, I pretty feel like I'm in heaven when my taste buds are on fire. But I realize this is not for everyone so you may skip the chili flakes and choose a milder chili sauce. My carrots salad with spicy chicken is also super crunchy thanks to well, the carrots and sesame seeds, which is a big bonus for me as I really like crunchy. Like a lot!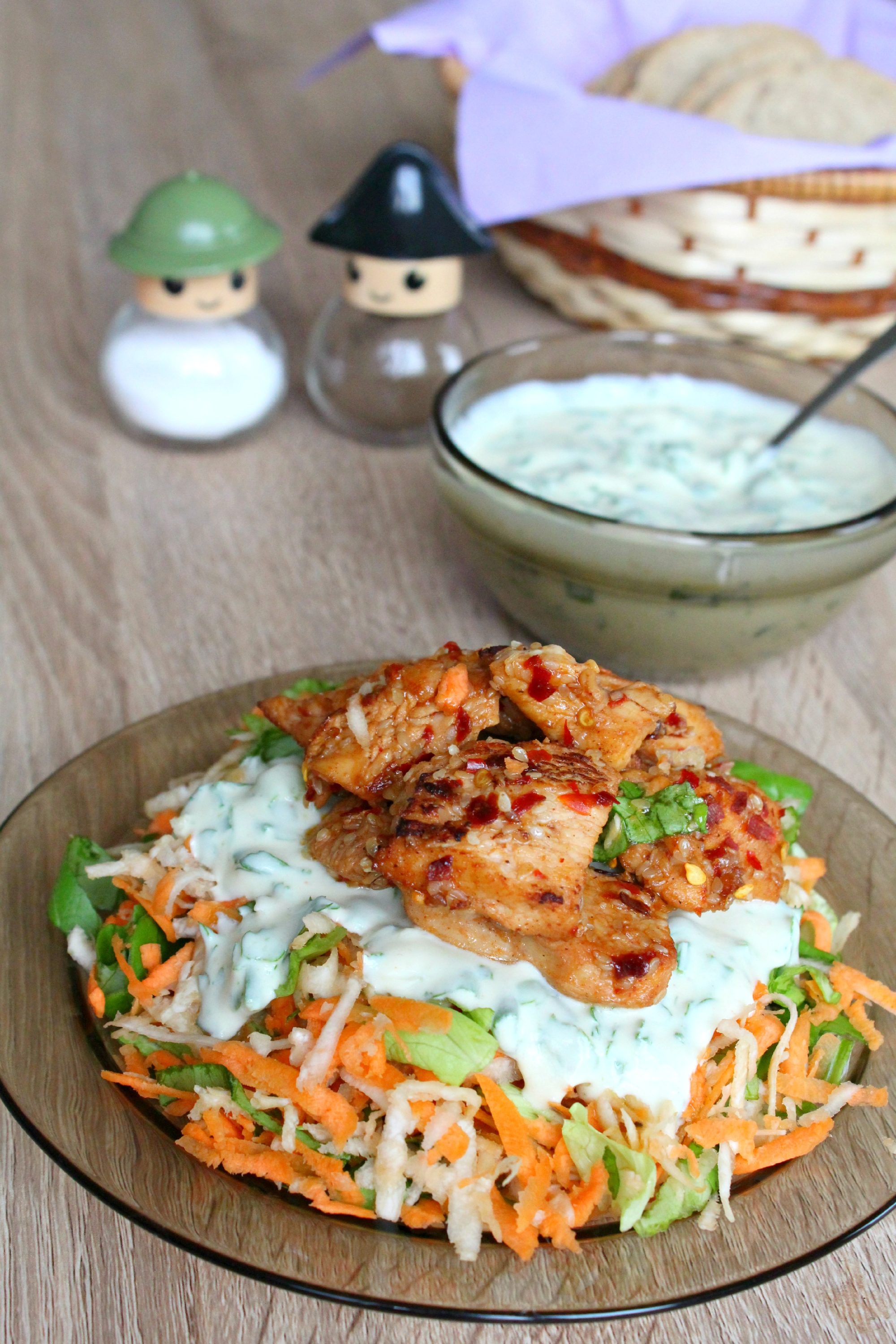 Spicy chicken salad
Ingredients:
1 small butter (Boston) lettuce
3 medium carrots
1 small celery root
1 bunch of parsley, chopped
1 handful chopped green onions
600 g = 21 oz skinless chicken breast
2 teaspoons chili sauce
4 tablespoons soy sauce
2-3 teaspoons chili flakes
250 ml = 8 oz Greek yogurt
4 tablespoons lemon juice
2 teaspoons hot mustard
salt and pepper to taste
2 tablespoons sunflower oil
Directions:
Clean the chicken and remove any fat
Cut into small slices or cubes about 2 cm = 1 inch long
Mix with chili sauce, soy sauce, sesame seeds and chili flakes
Leave in a bowl until you finish preparing the vegetables
Separately mix yogurt, mustard, lemon, salt, pepper, green onions and parsley
Grate carrots and celery
Chop butter lettuce as small as you can and mix with celery and carrots
Heat a pan for 1 minute, pour the sunflower oil and heat for 2 more minutes.
Put the chicken in and add 2 tablespoons of water
Cook until golden if you like the chicken well done
When serving, mix vegetables with as much yogurt sauce as you like and add chicken on top
It also works great with a bit of smashed garlic added to the yogurt sauce
I like to serve this salad with whole wheat bread and a glass of lemonade on a side
Spicy chicken, celery root and carrots salad with yogurt mustard sauce
Ingredients
1

small butter

Boston lettuce

3

medium carrots

1

small celery root

1

bunch of parsley

chopped

1

handful chopped green onions

600

g

= 21 oz skinless chicken breast

2

teaspoons

chili sauce

4

tablespoons

soy sauce

2-3

teaspoons

chili flakes

250

ml

= 8 oz Greek yogurt

4

tablespoons

lemon juice

2

teaspoons

hot mustard

salt and pepper to taste

2

tablespoons

sunflower oil
Instructions
Clean the chicken and remove any fat

Cut into small slices or cubes about 2 cm = 1 inch long

Mix with chili sauce, soy sauce, sesame seeds and chili flakes

Leave in a bowl until you finish preparing the vegetables

Separately mix yogurt, mustard, lemon, salt, pepper, green onions and parsley

Grate carrots and celery

Chop butterhead lettuce as small as you can and mix with celery and carrots

Heat a pan for 1 minute, pour the sunflower oil and heat for 2 more minutes.

Put the chicken in and add 2 tablespoons of water

Cook until golden if you like the chicken well done

When serving, mix vegetables with as much yogurt sauce as you like and add chicken on top
Pin to save for later