How cute and practical is this easy makeup bag?
Article may contain Amazon & affiliate links. As an Amazon Associate I earn from qualifying purchases at no additional cost to you.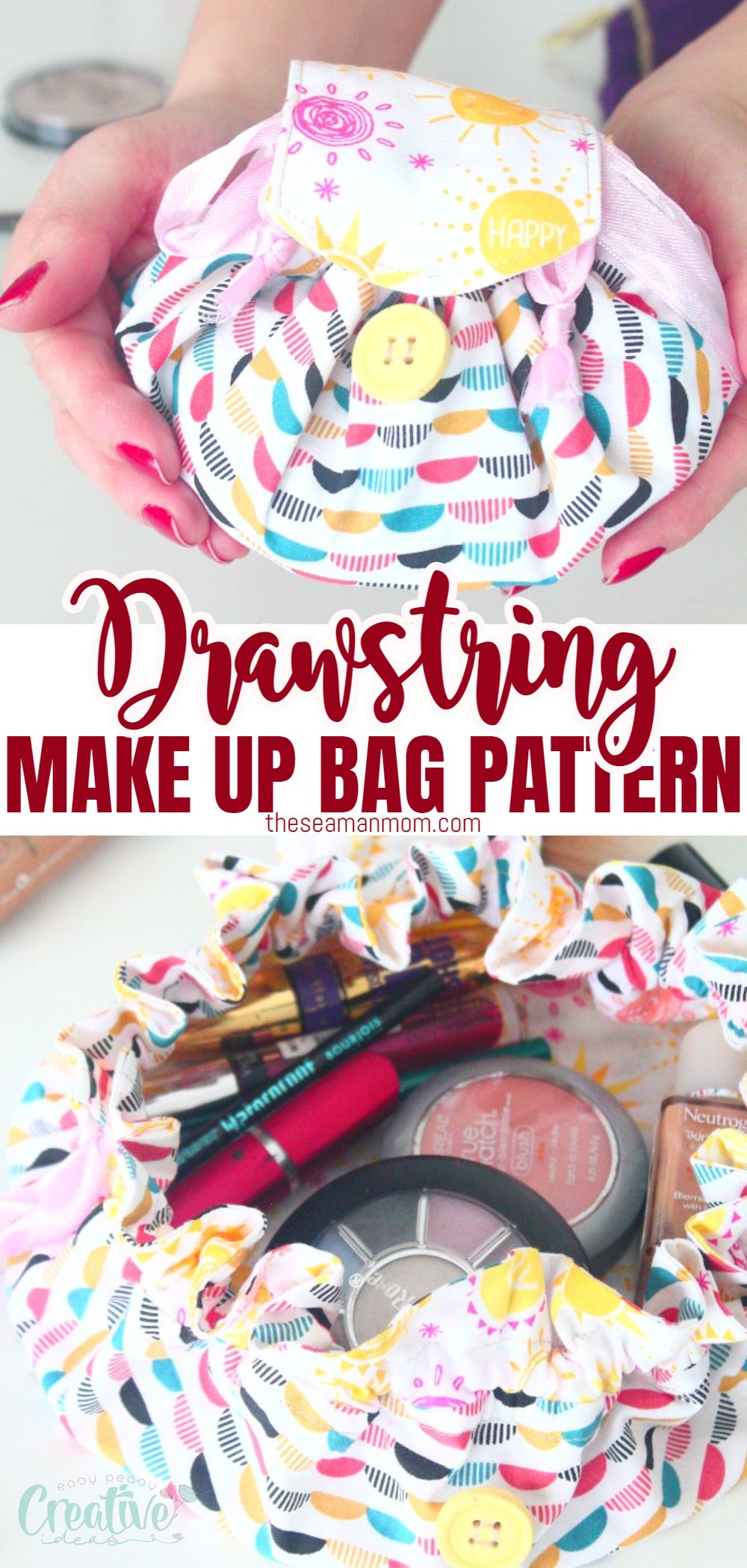 Makeup products scattered all around the house or your bathroom vanity? Or maybe you need a new mini travel makeup bag and can't happen to find something you like? Choose your favorite fabrics and use this simple and quick makeup bag pattern to make a pretty mini makeup sack the exact size you need!
Makeup bag pattern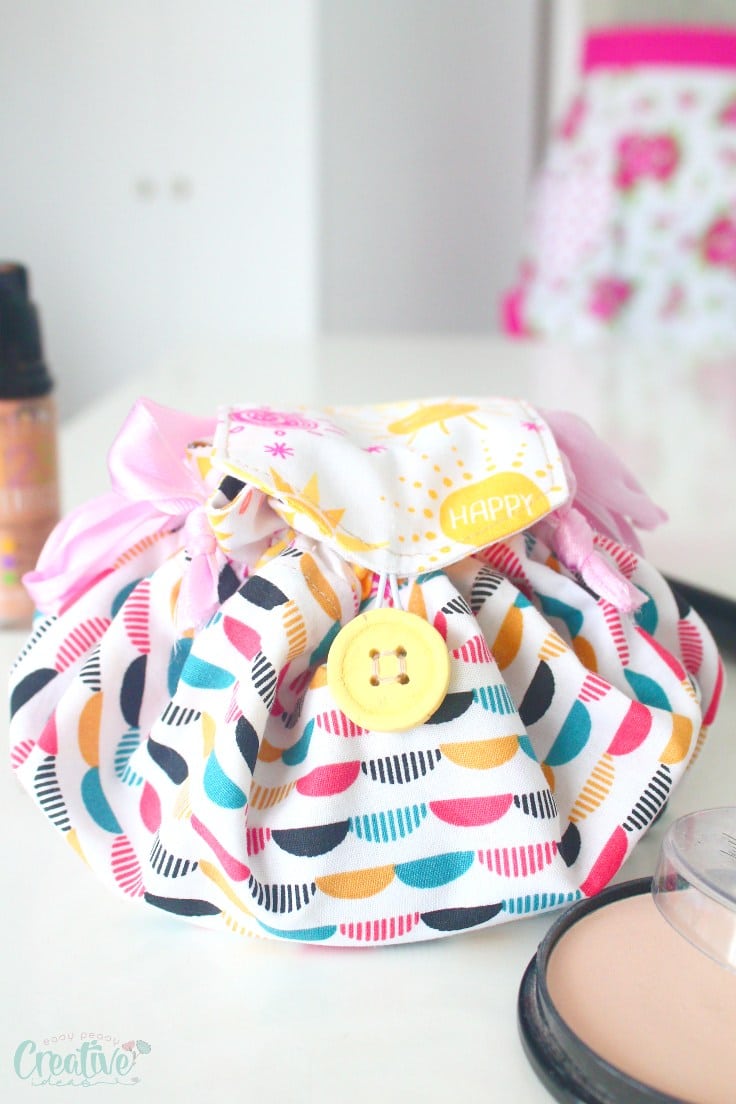 This colorful DIY makeup bag is very easy to make and uses a simple to follow pattern. It's basically a round piece of fabric lined and gathered with a pretty cord or ribbon. It only takes basic sewing skills to make it, so there's no excuse not to try it. Add a small buttoned flap (optional) to keep it closed and that's it! But rest assured, to make things easier and quicker for you I already made a makeup bag pattern!
---
The easy pattern for this drawstring mini makeup pouch is available here
---
More bag patterns you will love:
It doesn't look like it, but this mini scrunch sack pattern uses a little bit of fabric, so it's not a scrap project as some might think. You might be able to use up some larger leftover pieces from older projects though, as well as strings or ribbon pieces waiting to be put to good use.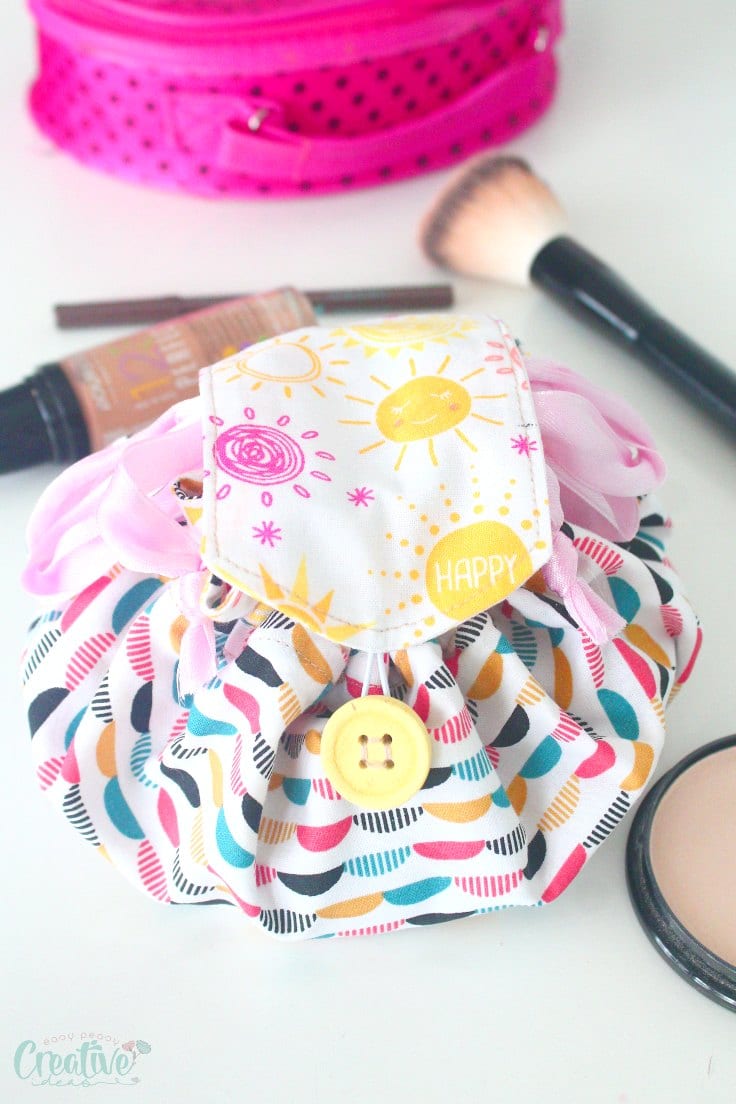 How to make this mini makeup sack more personal?
Use this cute mini makeup sack as a handmade eco-friendly and reusable gift wrap made from a themed fabric or holidays or somebody's birthday.
Add a pretty bow, pompom, tassel, clasp or any decoration that would compliment the fabric and style of your makeup sack to make it even more personal.
Use 100% cotton fabric for a day-to-day bag to make it machine washable. Brocades are great for gift bags, just keep in mind they are harder to clean. No matter which fabric you choose, just keep to non-stretch for this project.
Drawstring makeup bag pattern features
This can be a great gift for a distracted friend or family member who always misplaces their small items and needs a safe place to keep them together.
This pretty mini makeup sack will add a bit of a Victorian flair to your room and will help you keep everything together and ready to use. Tired of looking for that pink lipstick? Then you know what I mean.
Another great feature: this bag opens and closes in just one move and you're ready to go. When open, it lays flat and you can easily see and find anything you need.
To keep it more tidy and organized, you can add an elastic strip or even small pockets or several elastic strips depending on the bag size and what you need to use it for.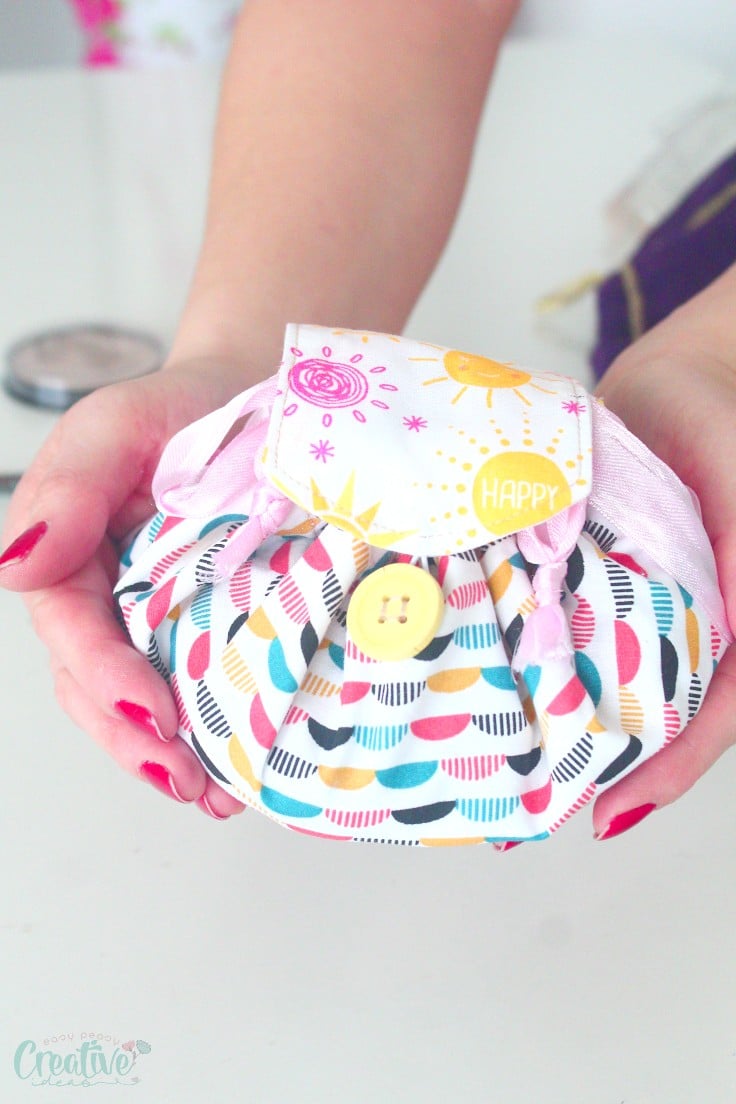 What do you need to make this makeup bag?
You can also use this makeup bag pattern to make useful storage bags in any size you need for your crafting or sewing supplies, the doll's clothes, pacifiers or hair accessories.
There are a lot of uses and styles for this simple pretty makeup sack, so I'm really curious about your own ideas. Please share with us in the comments.
---
Get the drawstring makeup pouch pattern here!
---
Pin to save for later