If you need a roomy tote bag to carry all your belongings, this round tote bag pattern makes a super cute, bright bag, perfect for the summer season!
Round Tote Bag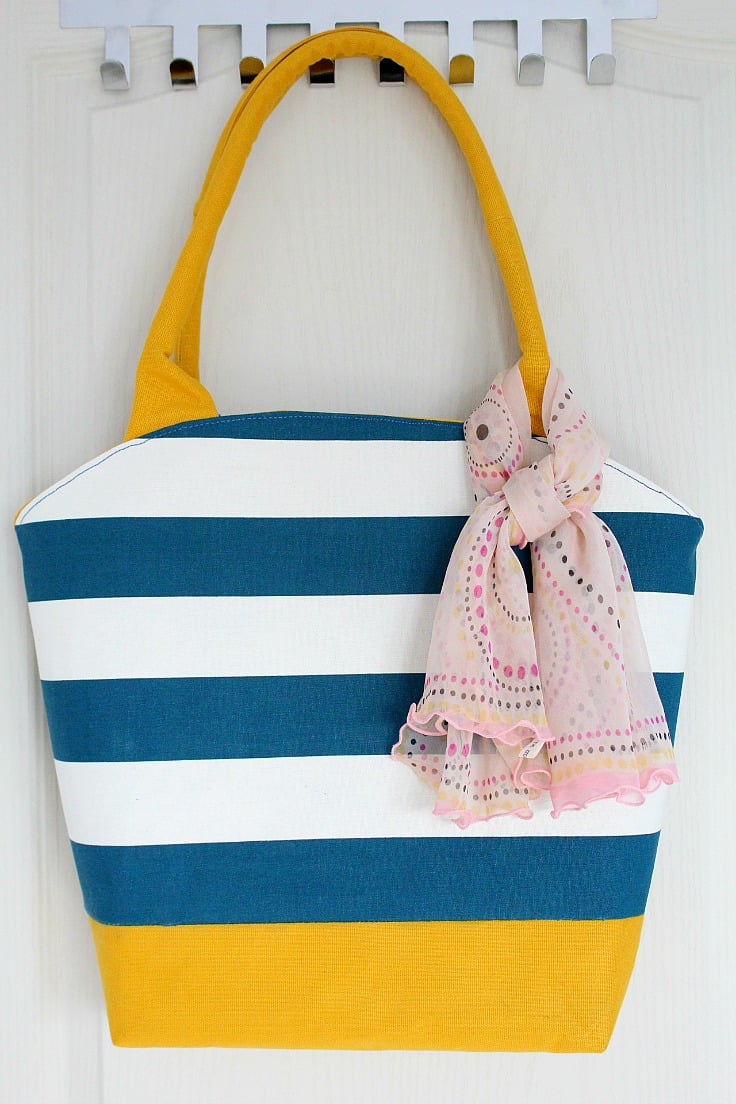 The round tote bag pattern is finally here and I can tell you, this adorable rounded bag will become your go-to bag this season! This canvas tote bag makes a great, super roomy bag, perfect for carrying all your important stuff but it could also be an awesome beach tote or a wonderful gift idea (think Mother's day!).
I know the world might not need another tote bag pattern but this comes with a twist: a rounded top and it's also a super sturdy bag. This round tote bag pattern is made with canvas on both the exterior and interior. I also used a really stiff interfacing which you can order here if you like to make a similar bag.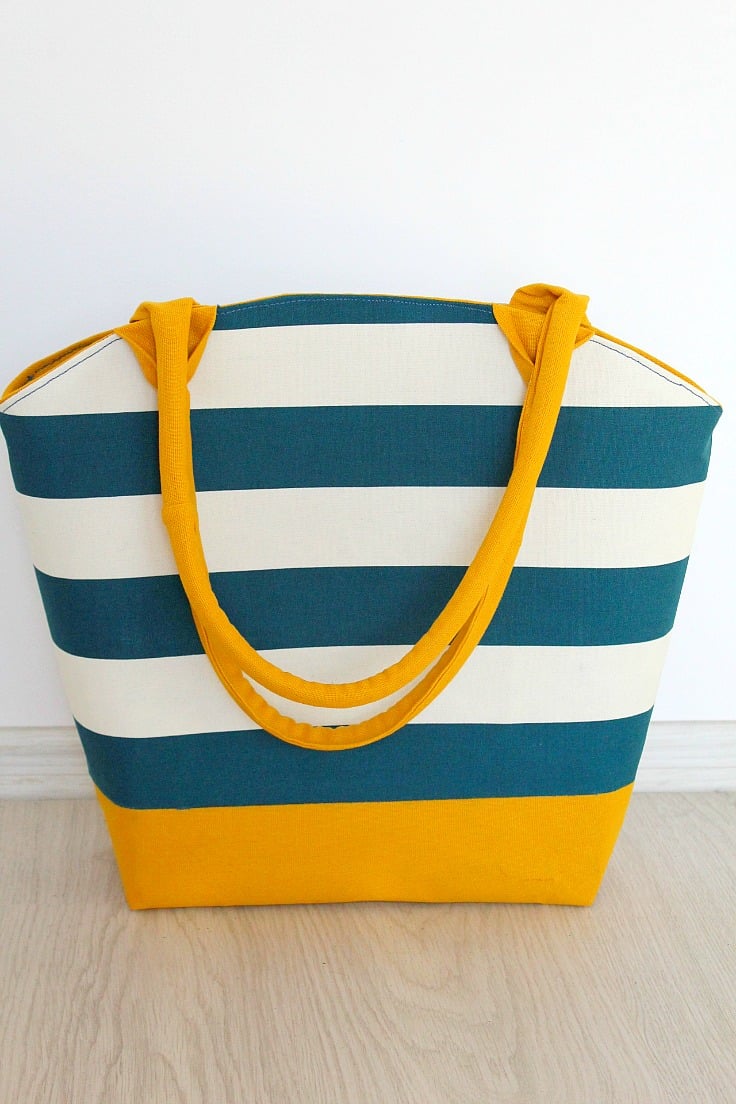 While this round tote bag pattern may look like a simple tote, the fabric choice, the rounded top and the interfacing will make this bag truly stand out! And have I mentioned its got corded handles? You can find the corded handles tutorial here. And if you are not very familiar with sewing with canvas you'll find that these canvas tips are very handy.
This round tote bag pattern is not a beginners project but I wouldn't call it intermediate either, it's just in between these, so a little experience in sewing bags, using interfacing, a zipper foot and heavy duty fabric are a plus.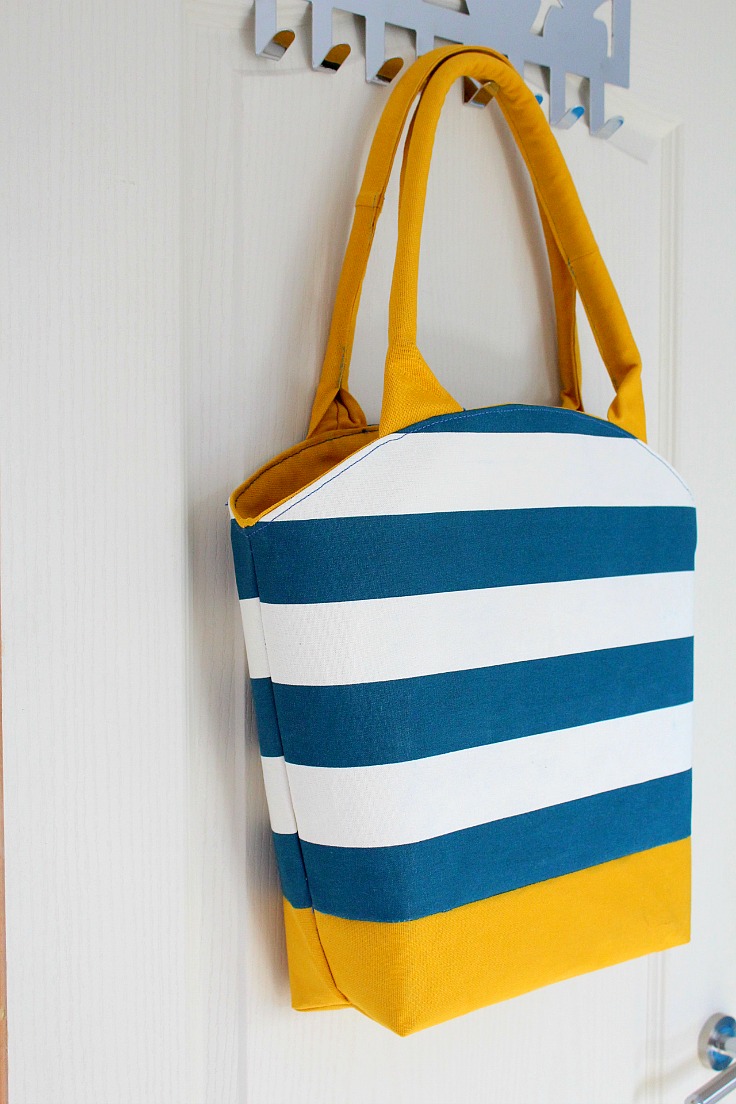 Something I've learned while making this round tote bag and you should keep in mind if you plan to make one too: if you're using the same interfacing as I did which is super stiff, it's best to fuse it up to the seam allowance so when you sew the bag up, your needle will only have to go through the fabric, not the interfacing, making your project much easier.
Features of the rounded top bag:
Unusual rounded top design
Corded handles made out of same fabric as the bag
Super stiff interfacing
Easy boxing method
Roomy inside (with enough space for several internal pocket options)
Roomy enough to carry a tablet or even a small laptop but smart enough to use as a purse!
Bright colors (mustard and nautical stripes)
The pattern is available to purchase here or get it free when you join my newsletter!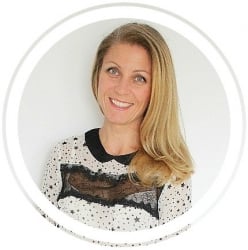 Hi, I'm Petro, author and founder of Easy Peasy Creative Ideas. Sewist, crafter, avid DIY-er, foodie, photographer, homemaker and mommy to one. I'm an expert at coming up with quick, clever sewing tips, recycling crafts and simple, easy recipes! You can find my ideas featured in reputable publications such as Country Living, Good House Keeping, Yahoo News, WikiHow, Shutterfly, Parade, Brit & Co and more. Thanks for stopping by and hope you'll stay for a while, get to know me better and come back another time. Stick around for real fun projects!