Peanut butter and Nutella sandwich
Article may contain Amazon & affiliate links. As an Amazon Associate I earn from qualifying purchases at no additional cost to you.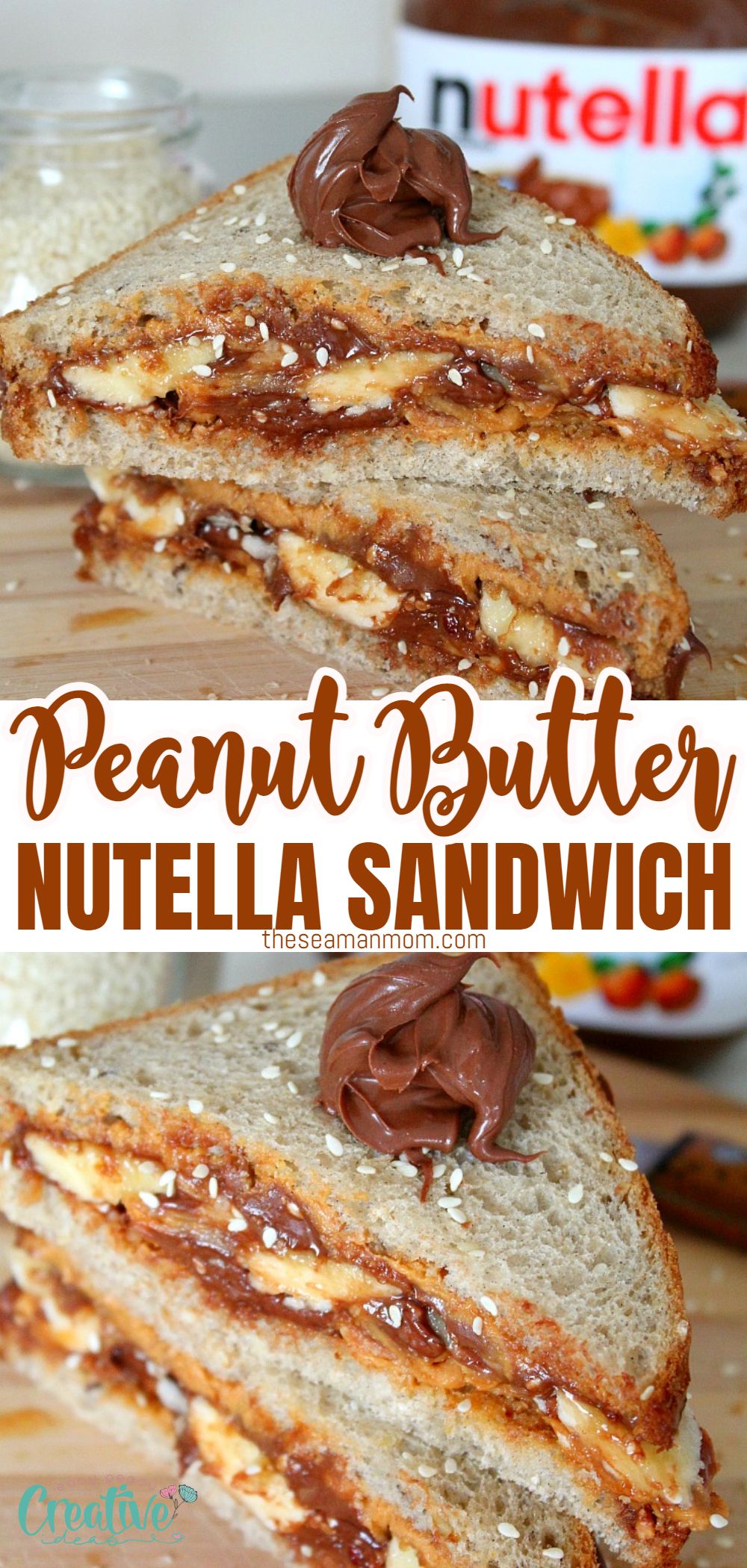 This Peanut Butter and Nutella sandwich is real guilty pleasure! This delicious Nutella peanut butter combination will totally rock your world while helping you start the day right!
Peanut Butter and Nutella sandwich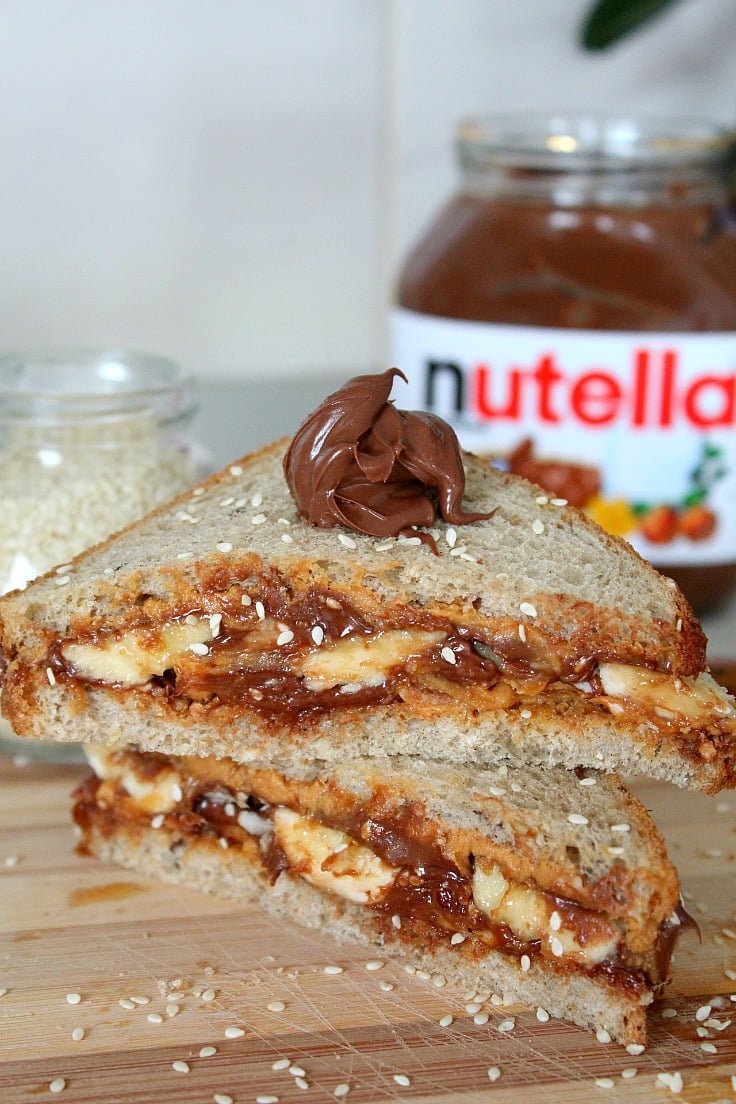 Introducing the most delicious breakfast sandwich ever – the Peanut Butter and Nutella Sandwich! This quick, easy, and tasty treat is the perfect way to start your day with a smile. It's crunchy, creamy and packed with flavor. Plus, this delectable combination of nutty peanut butter and heavenly hazelnut-chocolate Nutella will have you coming back for more.
I don't indulge very often but when I do, I like to do it all the way! Breakfast included. I realize this is not really a "serious" recipe but someone has to teach you an amazing breakfast idea like this Peanut Butter and Nutella sandwich. This is going to be your next favorite sandwich!
Want more delicious recipes for breakfast?
I never really liked peanut butter on its own, I always had to mix it up with some other ingredient, most times with fruit and I never thought it will really work in this sandwich, I expected a total fail. But to my surprise it added just the right texture to this sandwich, it balanced the creaminess Nutella brings and toned down its sweetness, while perfectly matching the bananas.
I added some sesame seeds and peanuts as I'm a sucker for crunchy food and also for an extra doze of energy (because none of the other ingredients had that!! lol)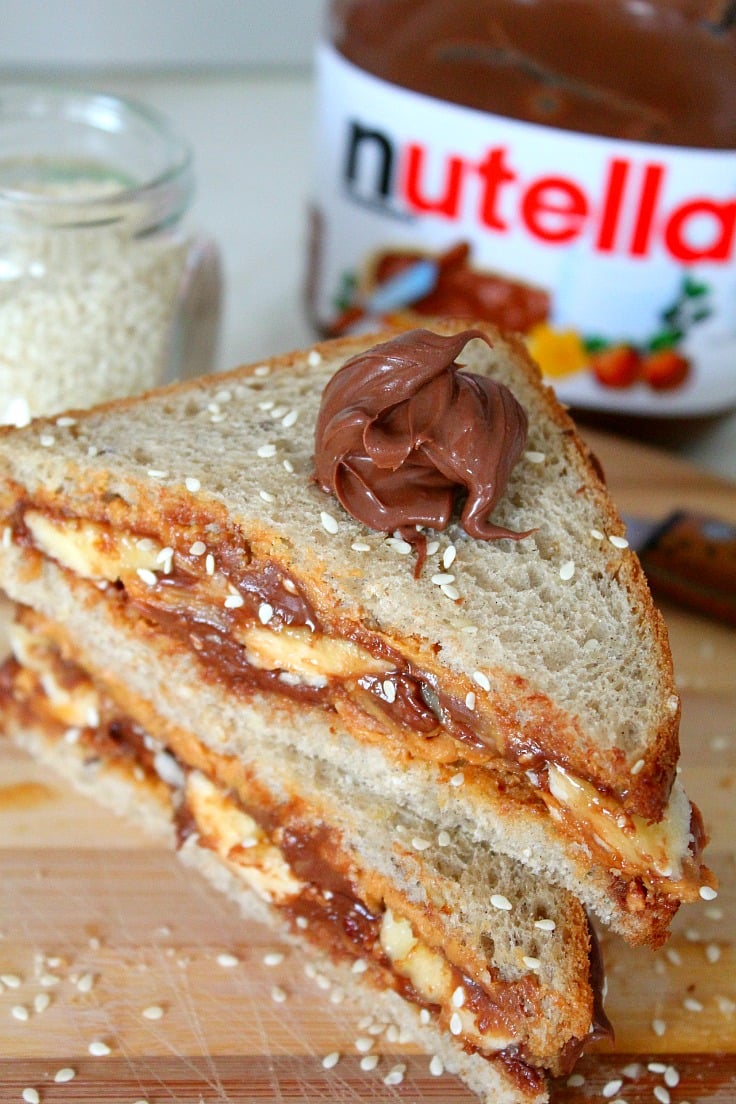 Is Nutella good with peanut butter?
Yes! The peanut butter Nutella combination is delicious. Peanut butter adds a salty, nutty flavor to the sweet and creamy Nutella, creating an irresistible flavor combination that can't be beat. This classic pairing of peanut butter and Nutella has been enjoyed by many for generations and will continue to be a favorite well into the future.
What chocolate is similar to Nutella?
Nutella is a brand of chocolate-hazelnut spread that is popular throughout the world. Alternatives to Nutella include Hershey's Chocolate Spread, or Cadbury Dairy Milk Spread. All these spreads are similar to Nutella in terms of texture and flavor, but depending on your taste, you may prefer one over the other.
What is the best substitute for peanut butter?
Almond butter is the best substitute for peanut butter. It is made from ground almonds has a creamy, nutty flavor that complements the sweet taste of Nutella perfectly. Almond butter also has more nutritional benefits than peanut butter, with higher levels of vitamin E, manganese, magnesium, and phosphorus.
Which one is high in protein, Nutella or peanut butter?
Peanut butter is higher in protein than Nutella. Peanut Butter contains 8 grams of protein per 2 tablespoons while Nutella only contains 1 gram of protein per 2 tablespoons. So, if you're looking for a snack that's high in protein, peanut butter is the better choice.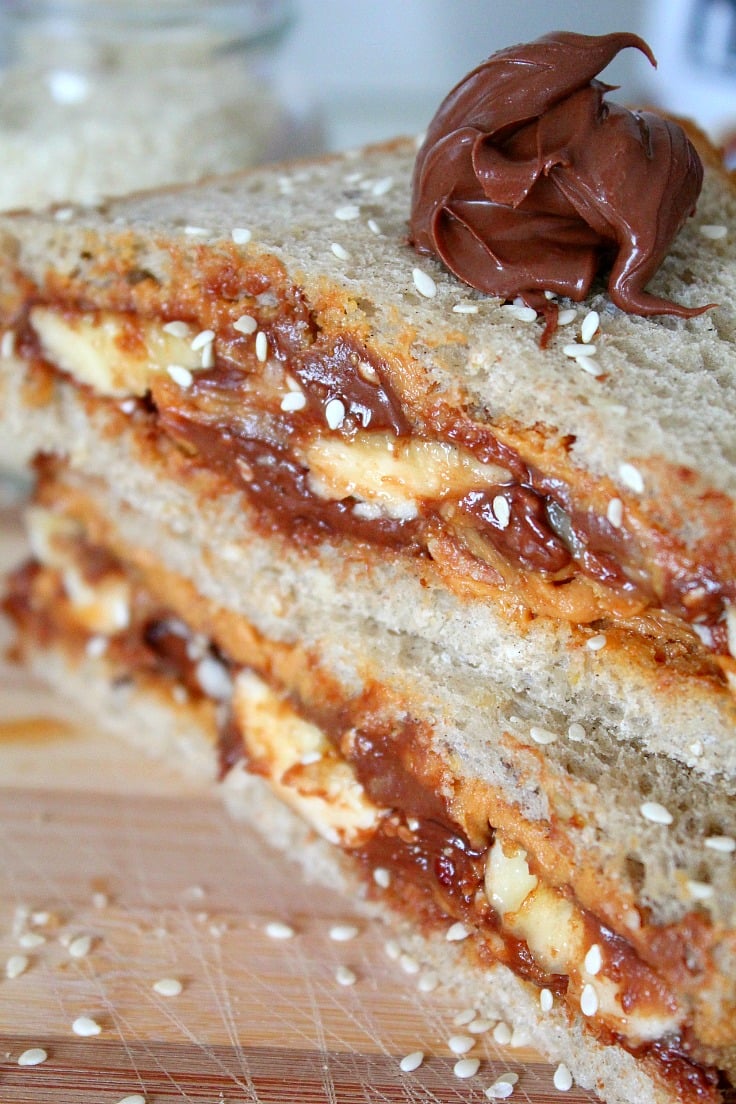 Is a peanut butter & jelly sandwich better or is a Nutella sandwich better?
This is a matter of personal preference. A peanut butter and jelly sandwich is classic, but a peanut butter Nutella sandwich is just as delicious. It all depends on what you're in the mood for! If you want something sweet, go with the Nutella; if you want something savory, opt for the PB&J. Either way, it's sure to be a tasty treat.
Is peanut butter and Nutella healthy?
Yes, peanut butter and Nutella can be a healthy snack. They are both high in protein, healthy fats, and other essential vitamins and minerals. However, it is important to keep portions in check as both products are quite dense in calories. When enjoyed in moderation as part of an overall balanced diet, this delicious treat can make for a nutritious snack.
What toppings can you add to this Nutella peanut butter sandwich?
There are many toppings that can be added to a Nutella peanut butter sandwich, inside of the sandwich, on top or separate. Some ideas include chopped nuts, banana slices, fresh strawberries, dried fruit, honey, or chocolate chips. You could also add a sprinkle of cinnamon or some shredded coconut for an extra flavor boost. The possibilities are endless! Have fun and get creative with the toppings you choose.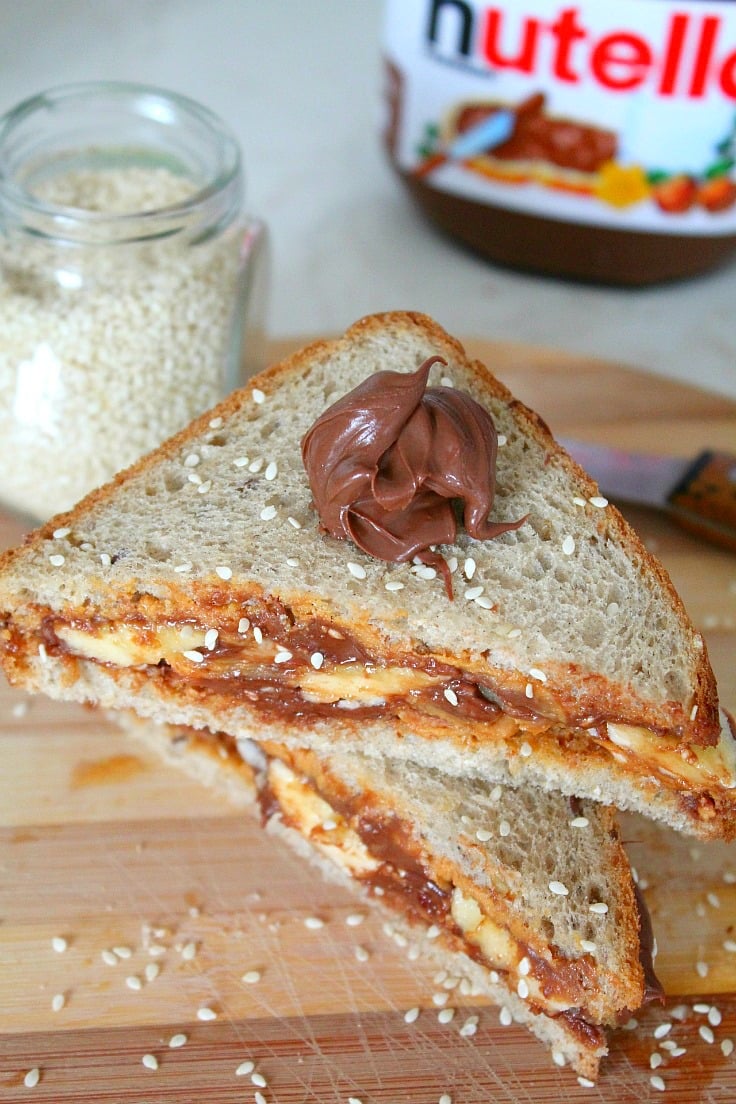 Making a peanut butter and Nutella sandwich is easy and can be a great way to start your day. With this classic combination of nutty peanut butter and heavenly hazelnut-chocolate Nutella, you are sure to enjoy every bite! The crunchy peanuts, sesame seeds and creamy bananas add just the right texture and flavor to make this sandwich truly irresistible. So, why not give it a try? You won't regret making such a good sandwich!
What are the ingredients in this peanut butter and Nutella sandwich?
couple of tablespoons Nutella
2 slices whole grain bread with mixed seeds
1/2 large banana
organic sesame seeds (which I store in these awesome Ikea Glass Spice Jars that I simply adore! I've purchased about 6 sets of 4 to store all of my herbs and spices!)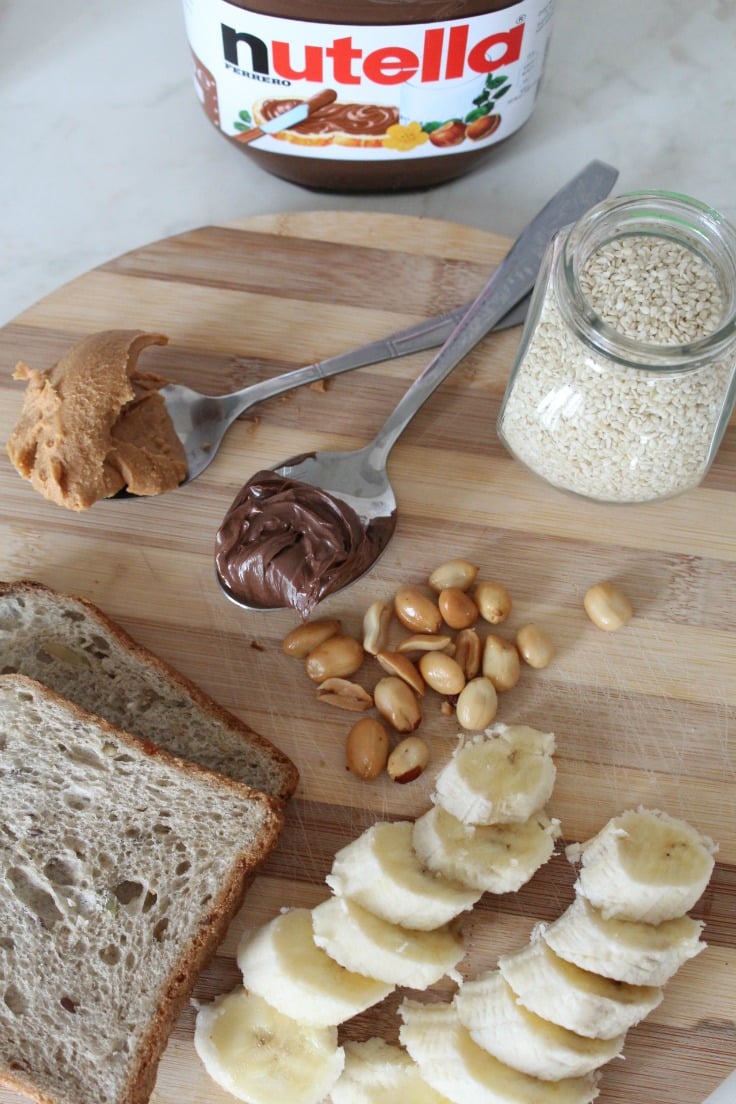 How can you prepare a peanut butter and Nutella sandwich?
The instructions for this tasty treat cannot be easier!
On each slice of bread spread a layer of peanut butter and a layer of Nutella
Sprinkle sesame seeds on both sides and peanuts on one side.
Slice banana and add the slices on one side only, over the peanuts.
Close the sandwich.
Optional – grill on both sides in some butter, in a non-stick pan over medium heat, until the crust is slightly golden (I didn't, I thought it's going to make the sandwich taste too heavy for my taste).
Making a peanut butter and Nutella sandwich is a great way to enjoy a yet simple snack. With its heavenly combination of creamy peanut butter and sweet hazelnut-chocolate flavor, this sandwich will satisfy even the pickiest eaters. It's loaded with protein, healthy fats, vitamins, and minerals that make it a nutritious option as well. Toppings such as peanuts, sesame seeds, and banana slices can be easily added to make the sandwich even tastier. Give this classic sandwich a try today, you won't regret it!
Pin to save for later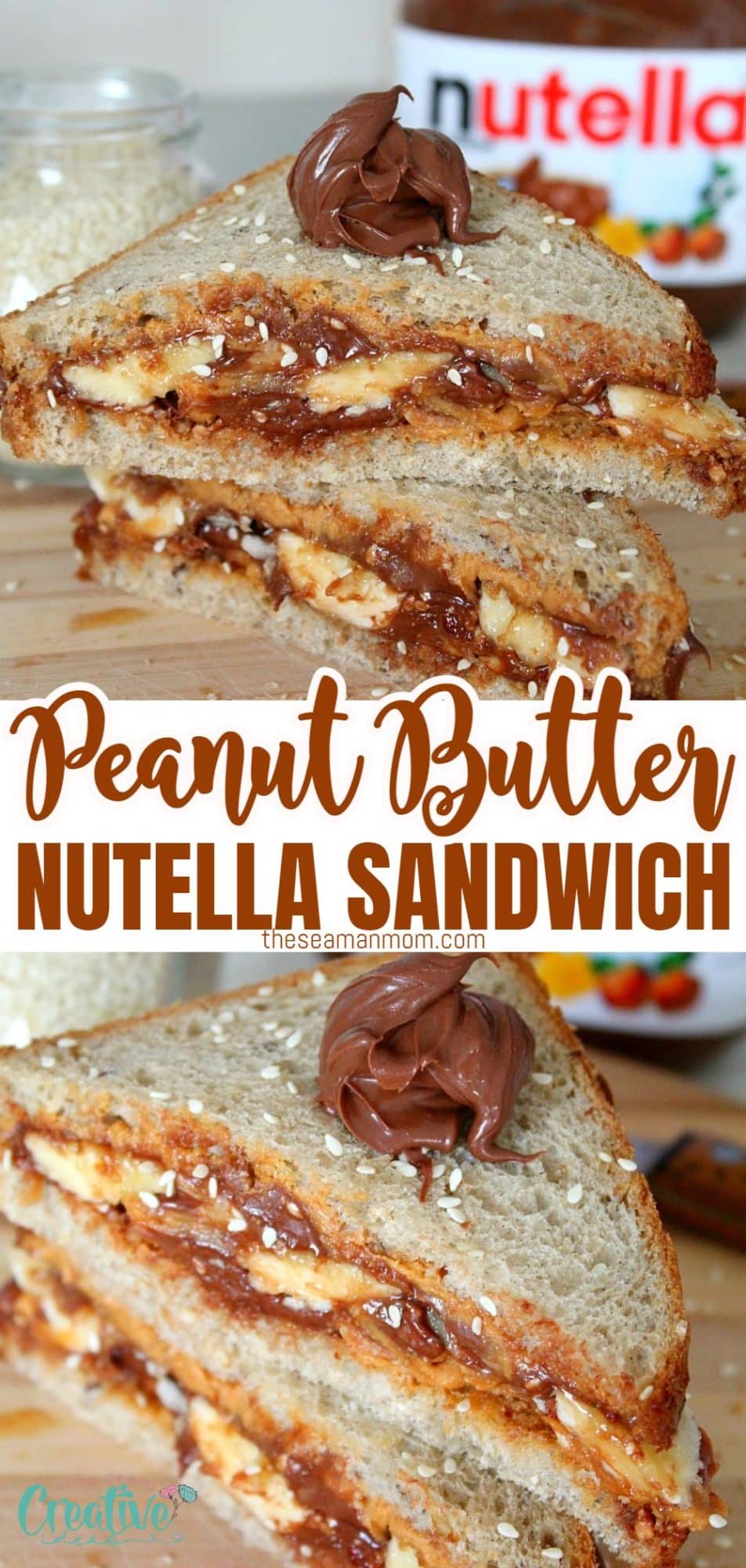 Print the recipe card
Peanut butter Nutella breakfast sandwich
Make a delicious peanut butter and Nutella sandwich in minutes! Get creative with this easy, tasty combination of two classic spreads. Yum!
Instructions
On each slice of bread spread a layer of peanut butter and a layer of Nutella

Sprinkle sesame seeds on both sides and peanuts on one side.

Slice banana and add the slices to one side only. Close the sandwich.

Optional - grill on both sides in some butter, until slightly golden (I didn't, I thought it's going to make the sandwich taste too heavy)