STRAWBERRY PARFAIT with cottage cheese
Article may contain Amazon & affiliate links. As an Amazon Associate I earn from qualifying purchases at no additional cost to you.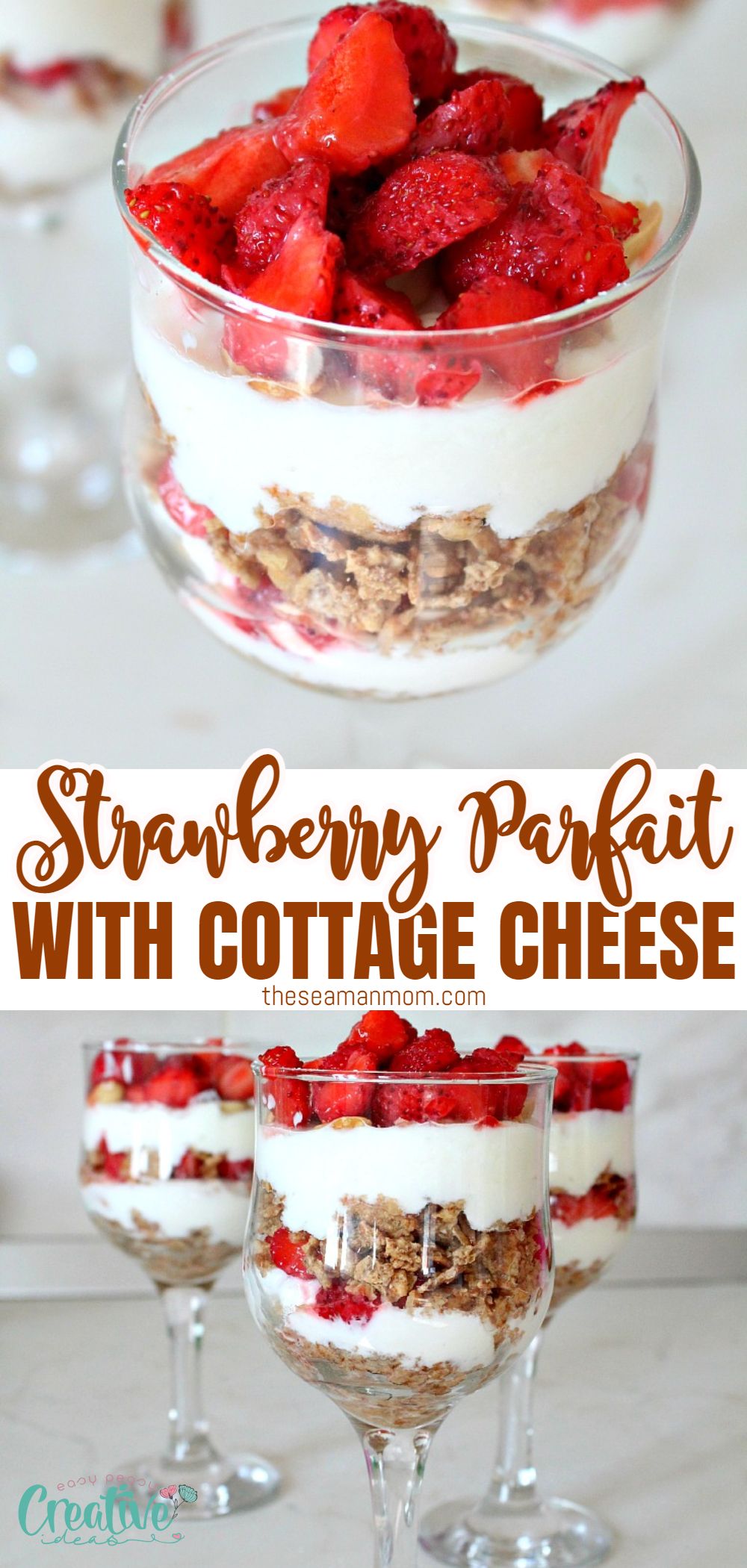 When mornings are busy, who has the time to whip up a fancy breakfast? Not me! That's why I'm so fond of this straightforward strawberry parfait recipe. You get all your favorite fruits in one tasty dish that will leave you feeling content and cheerful each morning. The delightful mix of flavors and textures is like no other!
Strawberry parfait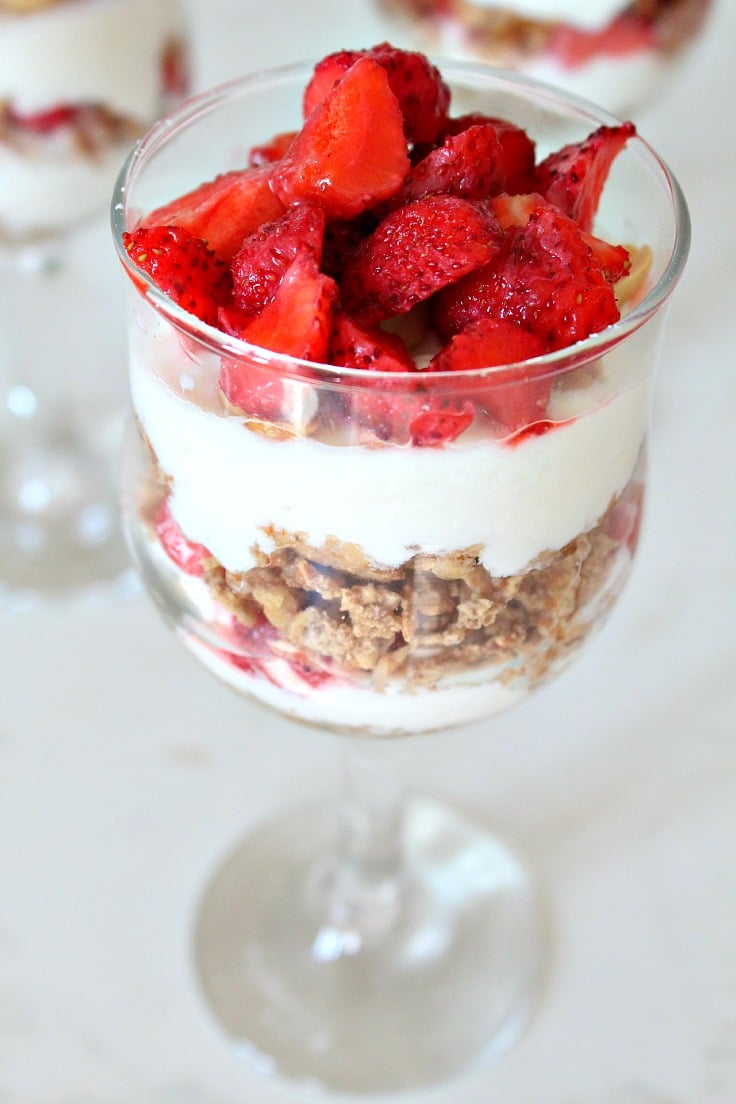 Most people think that making a strawberry parfait is hard, but it's actually really easy. This healthy, savory and nutritious strawberry parfait recipe combines fresh fruit, delicious cottage cheese, Greek yogurt and crunchy whole wheat cereal for an easy, 5 minutes breakfast.
We had a lot of strawberries this year! Everywhere I looked around the garden, there were strawberries. That's the beauty of berries, you don't have to care for them, just plant and wait for the delicious result to show up on your table.
So strawberries found their way into a lot of our meals; I baked and cooked with strawberries like it's nobody's business this season. And we truly enjoyed their delicious flavor, there's nothing like a bowl of cold fresh strawberries on a hot day. Not to mention the healthy bonus!
One of the recipes I made was this simple, super quick and incredibly delicious strawberry parfait with cottage cheese and whole wheat cereal. It's one of the most satisfying breakfasts for me.
This light, creamy strawberry yogurt parfait layered with fresh strawberries is perfect for a summertime breakfast, a healthy snack or dessert if you add a bit of honey. It's also a quick fruit dessert that can be perfect for a romantic dinner for two with no leftovers to worry about.
More strawberry recipes you will love: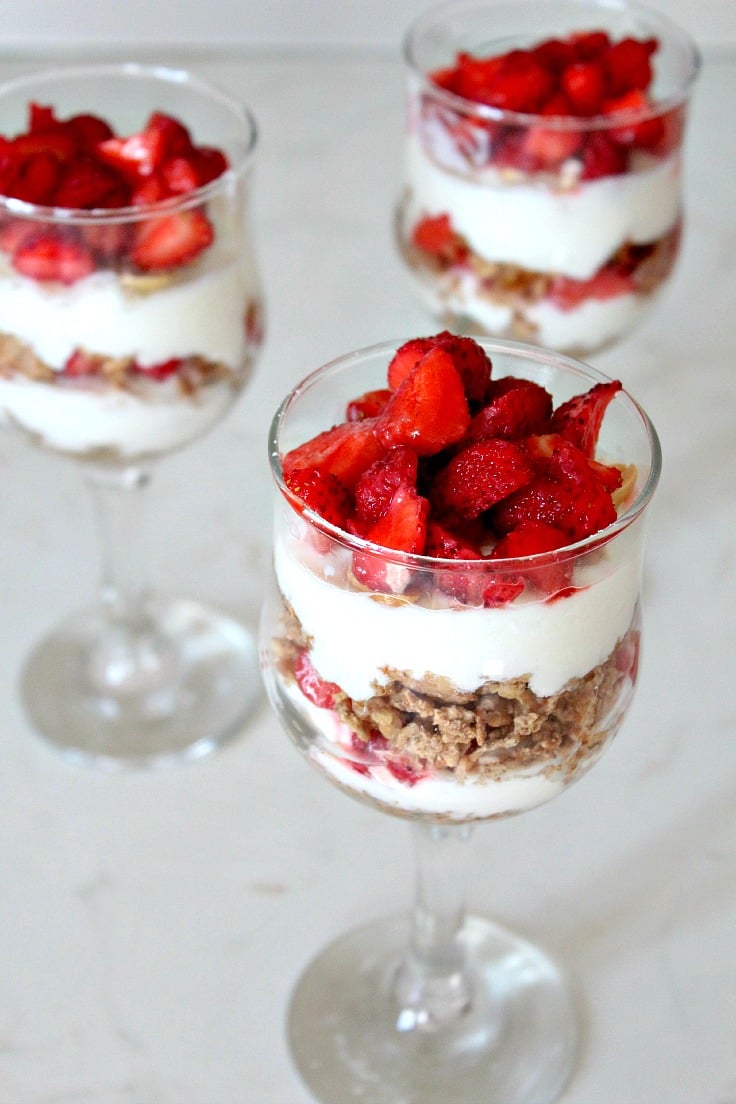 What is a parfait?
Parfait is a French word that means "perfect" and it's usually used to describe a dessert or snack. A parfait is made with layers of ice cream, yogurt, cottage cheese, granola, fruit and/or nuts in a tall glass cup. The idea behind this recipe is to create an easy-to-make and healthy dessert with a variety of layers and flavors, no cooking and with minimal prep time.
This treat is cool and refreshing like ice cream, but it has less fat and sugar. It's also very nourishing thanks to the cottage cheese and whole wheat cereal which will help you feel full for a few hours. A strawberry parfait like this is the perfect breakfast for those aiming to lose a few pounds or maintain a healthy weight.
I wanted to fold in some unsalted peanuts too for a little energy boost and added crunchiness. But you could swap peanuts for any preferred nut.
If you're feeling adventurous, you can roast the strawberries in this strawberry parfait recipe to bring out their natural amazing flavor and create a luxurious syrup while the fruit will still keep a firm texture.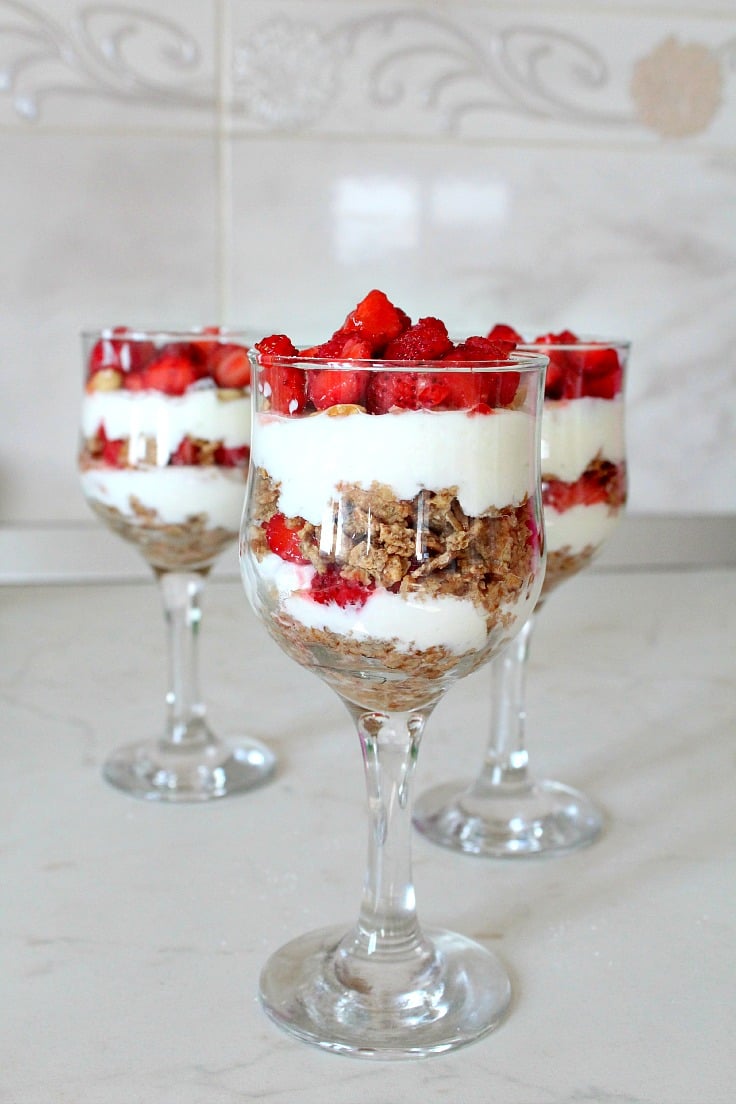 Are strawberry parfaits healthy?
They can be! This recipe is low in sodium and is packed with vitamin c from the fresh fruit, protein and calcium from the dairy for a balanced breakfast or snack.
You could also swap the Greek yogurt for a lower-fat variety to reduce the calories and fat content. Swap the strawberries for blueberries or raspberries if those are available.
I love using whole wheat cereal in my recipes because it provides lasting energy and is a great source of fiber. You could also use any other type of granola, muesli or even crushed up biscuits or graham cracker crumbs for added crunch and texture.
If you're looking for healthy summer desserts that are low in cholesterol, carbohydrates and calories, you can quickly turn this recipe into an easy dessert option. Just add some shaved chocolate or chocolate chips, a few crumbs of amaretti biscuits or sprinkle a tbsp sugar or roll strawberries in confectioners' sugar before adding to the parfait.
What are some fun facts about strawberry parfait?
This strawberry parfait recipe is a great way to get your daily dose of calcium and protein.
The layered look of the parfait is not just aesthetically pleasing but also helps to keep all the ingredients separate while they are being enjoyed.
Parfaits look fancy as they are usually served in tall parfait glasses for a dramatic presentation.
This recipe can easily be adapted to accommodate any type of seasonal fruit and the yogurt of choice.
The combination of crunchy, creamy and sweet makes this parfait irresistible!
What goes well with strawberry parfait?
This parfait can be enjoyed as a breakfast, snack or dessert.
For breakfast, you can add some pancakes and crispy bacon on the side or top the parfait with a bit of honey. Add a sliced banana for added potassium and a teaspoon of roasted nuts.
If you're having it as a snack or dessert, you could serve it with wafers, pie crusts, cookies and/or fresh whipped cream. You could even turn it into a sundae by adding a scoop of your favorite ice cream or sorbet.
No matter how you choose to enjoy this parfait, I'm sure you're going to love it! Have fun and experiment with different flavors, textures and colors for endless variations. Enjoy!
What is a strawberry parfait made of?
Fresh strawberries
Whole wheat cereal (graham crackers are a good alternative)
Cottage cheese
Greek yogurt
Peanuts
Vanilla extract
Lemon juice
Raw honey – optional
To garnish, add a dollop of cream cheese, ricotta cheese, cookie crumbles or whipped cream and maybe some strawberry sauce or jam – optional
How to make Strawberry parfait recipe from scratch?
This delicious and healthy strawberry yogurt parfait recipe is perfect for a quick breakfast or snack. Making this recipe is a breeze, I estimate the total time to be around 5 minutes tops. Packed with fresh fruit, protein and dairy, it's a great way to start your day. Here's the simple instructions:
Mix cottage cheese, Greek yogurt, vanilla extract and lemon juice (and honey if you opted for)
Layer 1/4 cup of cereal in a glass or mason jar
Add 2 1/2 tablespoons of the cottage cheese mixture
Add a few strawberry slices/cubes
Sprinkle some peanuts
Repeat the process and finish with a layer of strawberries
Chill in the refrigerator for 20 minutes before serving.
Note: prepare your parfaits a few minutes before you are ready to serve them to avoid liquid forming at the bottom.
Make your mornings and afternoons a little sweeter with this simple strawberry yogurt parfait recipe! With only a few ingredients, you can whip up an easy breakfast or snack in no time. Give it a whirl – you won't regret it! Bon appétit!
Pin to save for later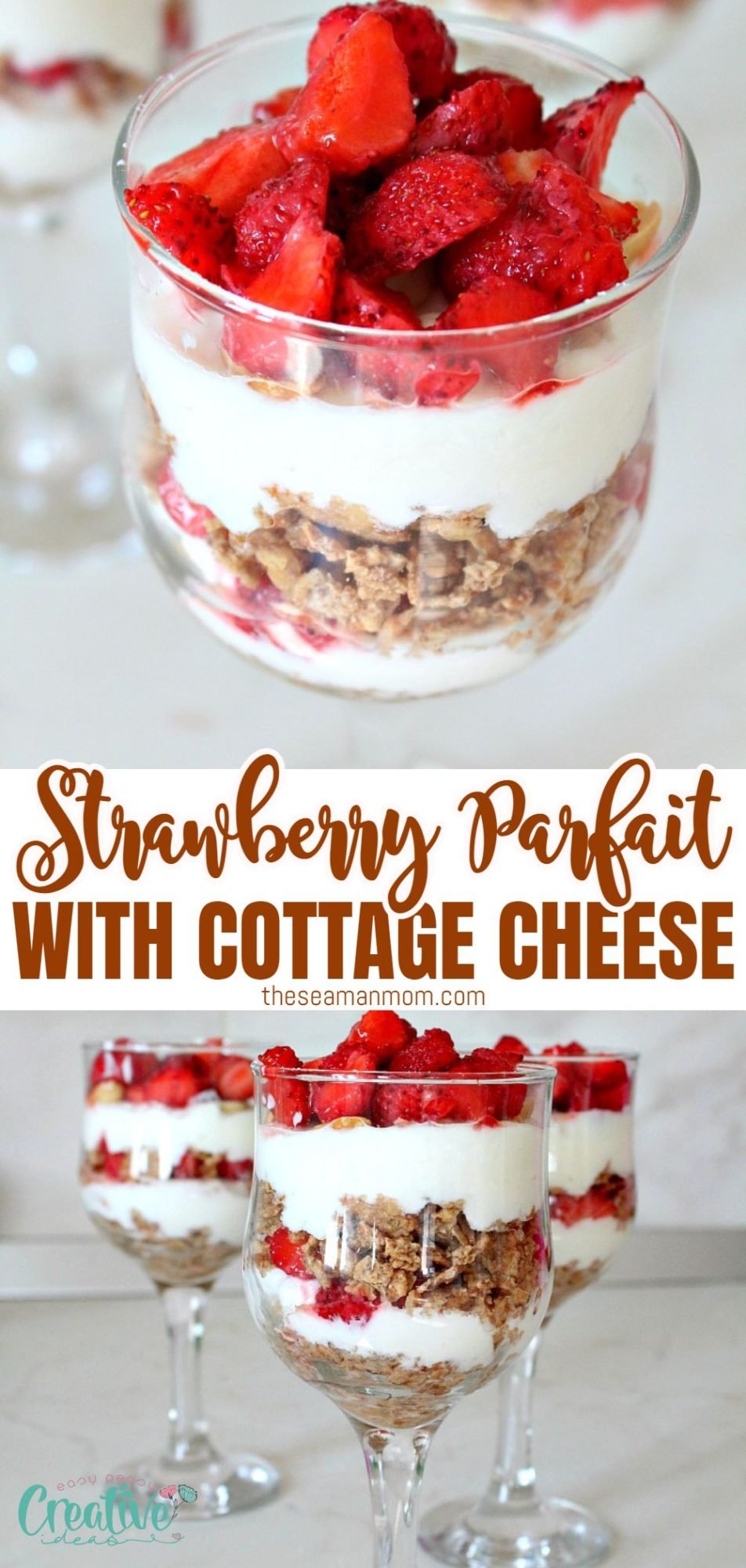 Print the recipe card
Strawberry parfait with cottage cheese
This light, creamy parfait layered with fresh strawberries is perfect for a summertime breakfast, a healthy snack or dessert.
Ingredients
2 1/2

cups

fresh strawberries

sliced or cubed

2

cups

whole wheat cereal

16

tbsp

cottage cheese

4

tbsp

Greek yogurt

1/2

cup

peanuts

1

tsp

vanilla extract

1

tbsp

lemon juice

1

tbsp

honey

optional
Instructions
To make 1 parfait
Mix cottage cheese, Greek yogurt, vanilla extract and lemon juice (and honey if you opted for)

Layer 1/4 cup of cereal in a parfait glass or mason jar

Add 2 1/2 tablespoons of the cottage cheese mixture

Add a few strawberry slices/cubes

Sprinkle some peanuts

Repeat the process and finish off with a layer of strawberries. Repeat the steps for the rest of the parfaits.
Most Popular recipes: