Article may contain Amazon & affiliate links. As an Amazon Associate I earn from qualifying purchases at no additional cost to you.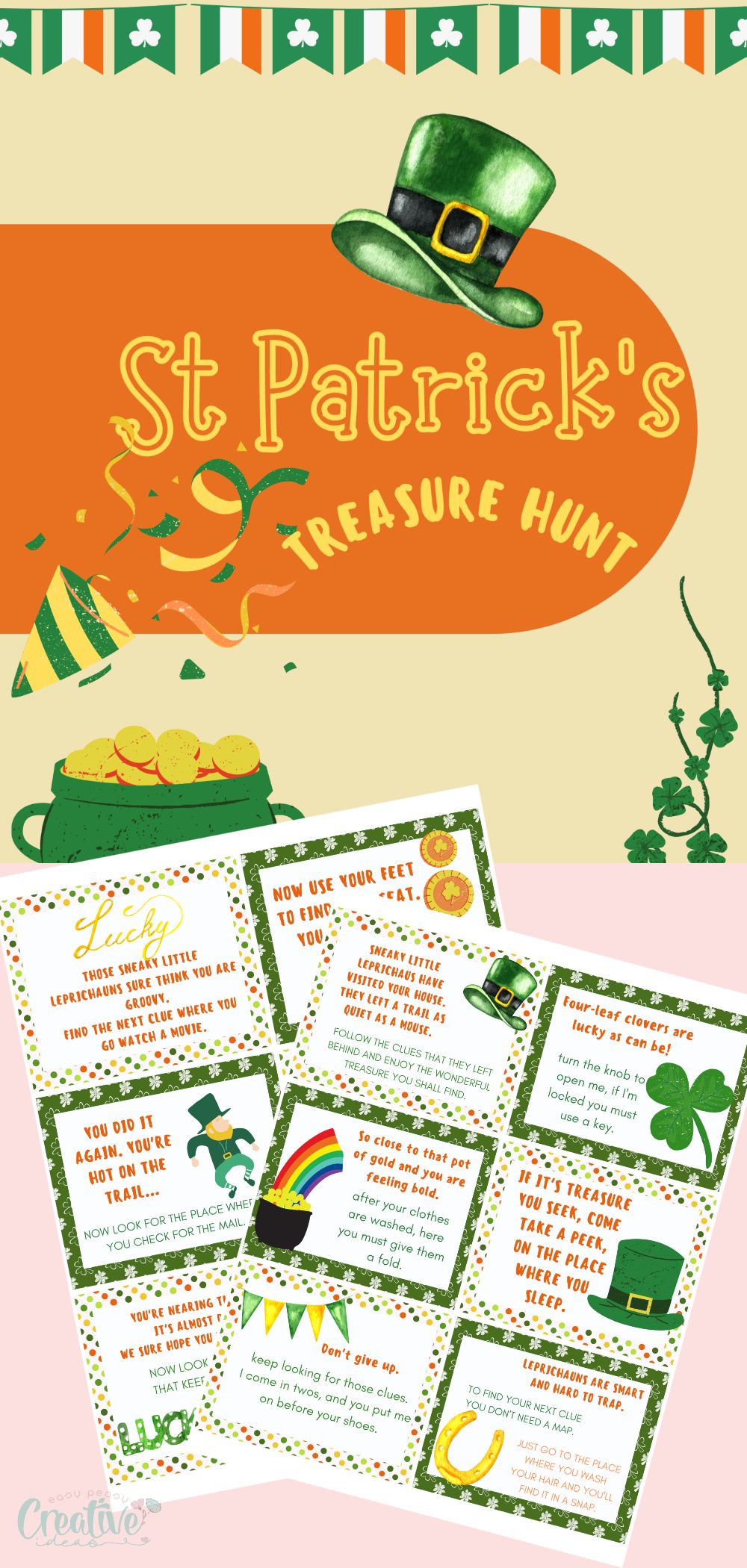 Celebrating St. Patrick's Day can be so much fun – especially if you have kids at home! This year, why not add a visit from a leprechaun to your family's festivities? This adorable St. Patrick's Day treasure hunt is a fun activity that everyone in the family can take part in.
St. Patrick's Day Treasure Hunt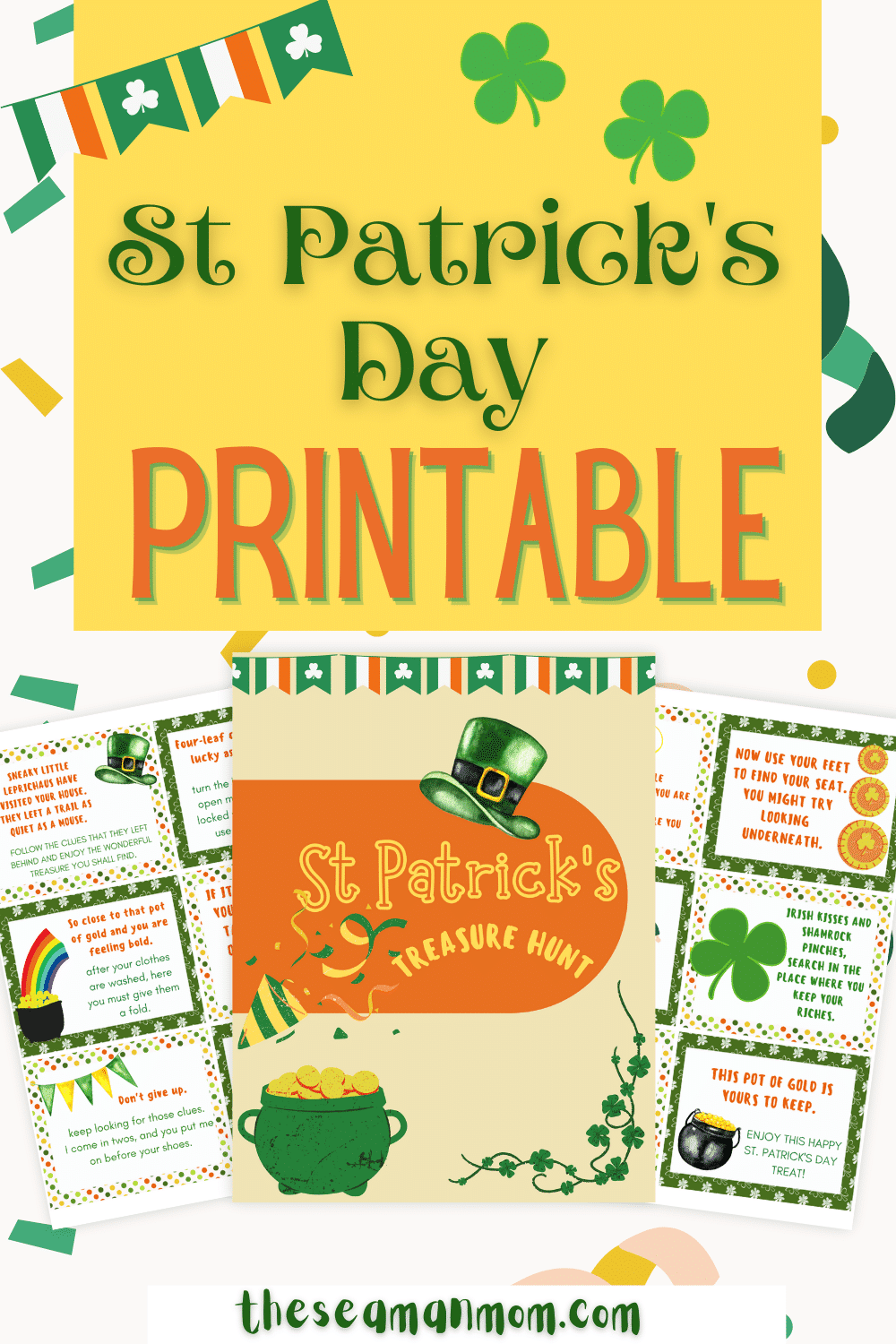 A treasure hunt is a fun way to celebrate any occasion. And when you tell your kids that a leprechaun created the hunt, they'll be even more excited to start following the clues! With the help of my St patrick's day printable, you can quickly and easily set up your own adventure for St. Patrick's Day.
The printable includes 12 different clues that will lead your kids to a pot of gold left by a leprechaun friend. Simply use the clues to create a treasure hunt by placing each clue in its designated location.
How to Set Up a St Patrick's day treasure hunt
Use this guide to help you set up your own treasure map in your house in just a few minutes.
1. Sneaky little leprechauns have visited your house. They left a trail as quiet as a mouse. Follow the clues they left behind and enjoy the wonderful treasure you shall find. Place this clue at the beginning of your treasure hunt to get the kids started. It can be left in a central location, like the kitchen or family room.
2. Four leaf clovers are lucky as can be. Turn the knob to open me, if I'm locked you must use a key. Since this is the first clue in the series, place it next to the welcome message. This clue will lead your kids through the nearest door, heading in the direction of the laundry room.
3. So close to that pot of gold and you are feeling bold. After your clothes are washed, here you must give them a fold. To lead your kids to the next clue, place this clue on the door nearest to the first clue that leads in the direction of the laundry room.
4. If it's treasure you seek, come take a peek, on the place where you sleep. Put this clue on a basket of clean laundry or another spot where you typically fold clothes after they've been washed.
More St Patrick ideas you will love:
5. Don't give up. Keep looking for those clues. I come in twos and you put me on before your shoes. This clue can be placed on your child's bed, on top of the pillows, or even under the blankets to make them search a little harder.
6. Leprechauns are smart and hard to trap. To find your next clue you don't need a map. Just go to the place where you wash your hair and you'll find it in a snap. Place this clue in your child's sock drawer or wherever they keep their socks.
7. Those sneaky little leprechauns sure think you are groovy. Find the next clue where you to watch a movie. This clue can be placed in the bathtub or shower. Make sure to close the curtain to make the hunt a little more exciting!
8. Now use your feet to find your seat. You might try looking underneath. Put this clue in the spot where your family typically watches TV and movies. It can go directly on the TV, on a coffee table nearby, or under the remote.
St Patrick recipes everyone will enjoy:
9. You did it again. You're hot on the trail. Now look for the place where you go check the mail. Hide this clue under the couch cushions, behind a throw pillow, or under a blanket to keep your kids searching.
10. Irish kisses and shamrock pinches, search in the place where you keep your riches. This treasure hunt clue can be placed on or in your family's mailbox.
11. You're nearing the end. It's almost done. We sure hope you had some fun. Now look in the place that keeps milk cold. Then you're on the path to the rainbow and gold. To keep your kids on the leprechauns' trail hide this clue under your child's piggy bank or change jar.
12. This pot of gold is yours to keep. Enjoy this Happy St. Patrick's Day treat. Finish the St. Patrick's treasure hunt by placing this final clue in or near the refrigerator, along with a small gift for your kids to enjoy.
St. Patrick's Day Treasure Ideas
Once you have your treasure hunt set up, you'll need to end the quest with a small gift. There are a variety of fun ways you can reward your kids for a successful search, including:
Rainbow or pot of gold shaped cookies
Chocolate coins
Rainbow colored candy, like gummy bears or sour straws
Colorful toys, like slime or playdough
Coloring books and crayons or markers
St. Patrick's Day cupcakes
Rainbow pancakes or waffles
A green shirt to wear
With so many fun treasures to consider, there's no end to the fun St. Patrick's Day possibilities! Your kids will love finding any of these cool treats at the end of the treasure hunt you set up in your home.
Get your St Patrick's day treasure hunt here!
---
Love printables? Check out my shop for more printable ideas you will love!
---
Pin to save for later