DIY St Patrick's Day backdrop
Article may contain Amazon & affiliate links. As an Amazon Associate I earn from qualifying purchases at no additional cost to you.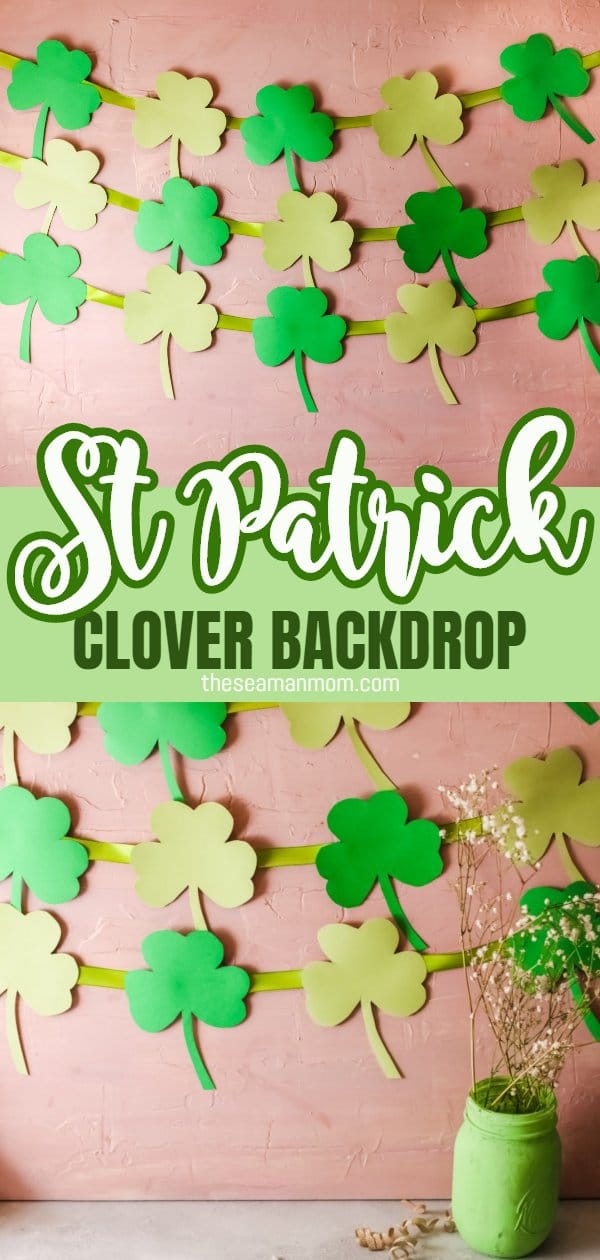 This St Patrick's Day Backdrop is the perfect addition to any St Patrick's Day party you plan hosting this year. Made with just cardboard and ribbon it's easy enough for the little ones to help.
St Patrick's Day backdrop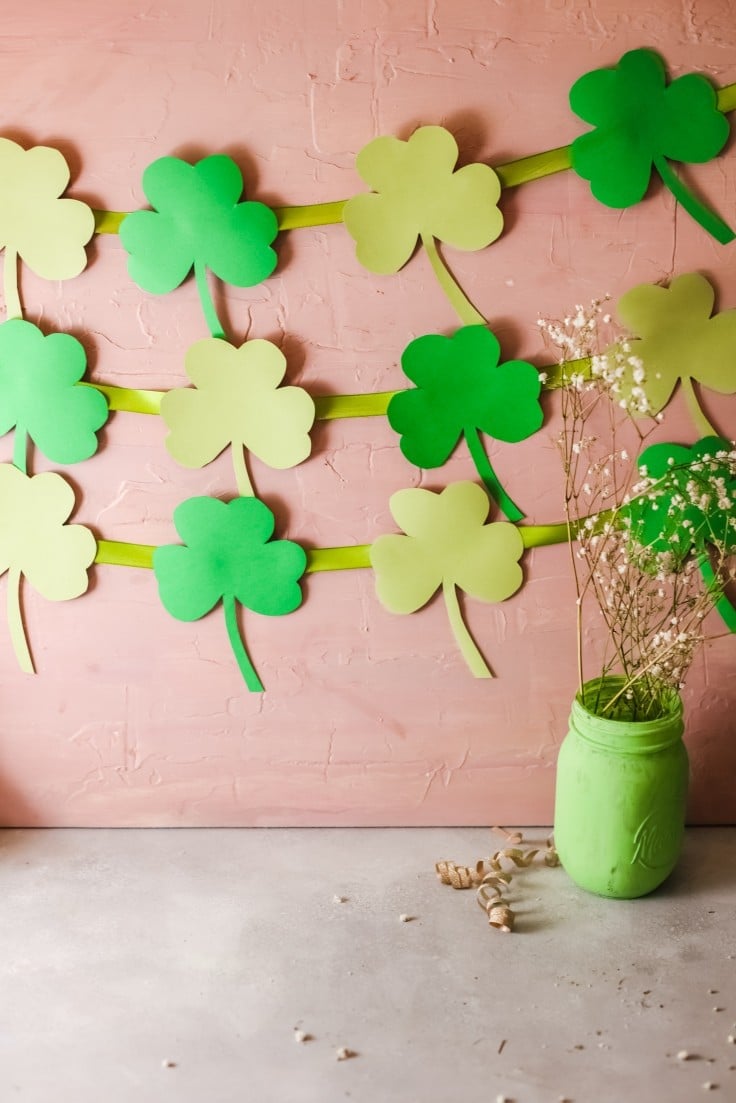 There's something super fun and festive about party backdrops! You can make them small and use to decorate your food table or you can make them super big and use them as a photo backdrop (maybe including some fun photo props too). Whatever option you pick this St Patrick's Day backdrop is always a great statement!
Other St Patrick ideas:
I decided to make these St Patrick's day decorations to decorate the back of a food table. I went with 3 rows of 5 clovers each but you can use more if you plan to make it bigger.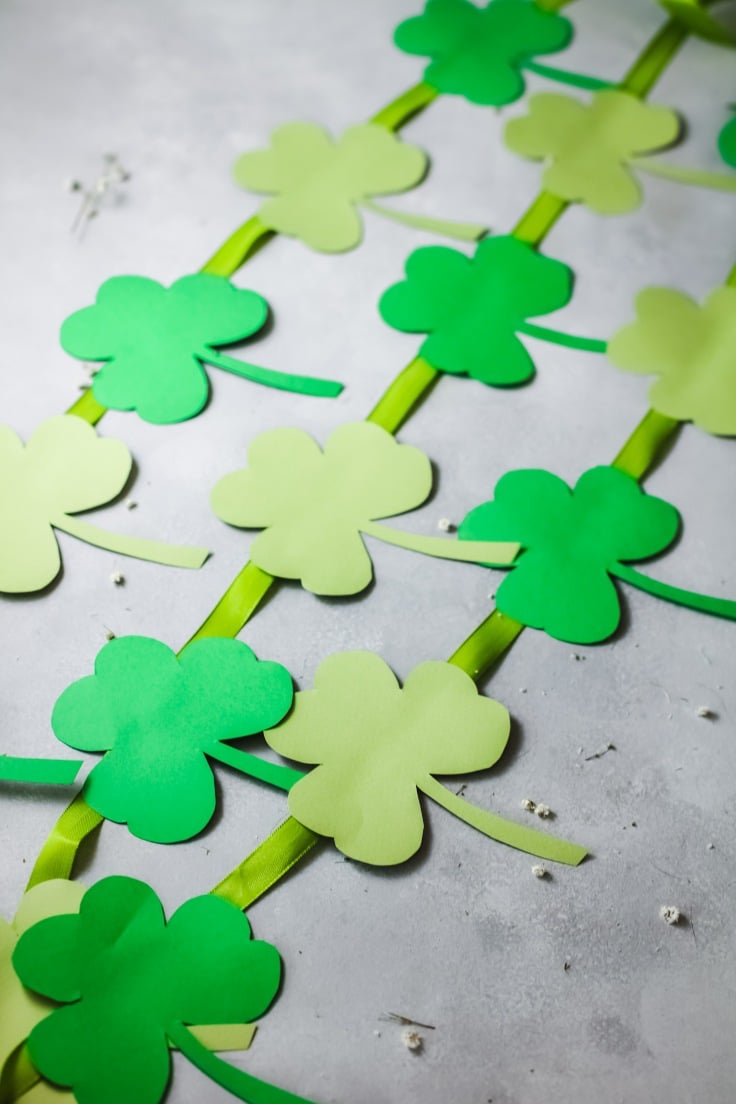 The great thing about this clover banner is that once done you can safely store it and use it for many years to come. I actually love to be able to reuse decorations from previous years, it takes some of the work of planning a party. When storing it just make sure to carefully fold each clover over the other and place it into an envelope, that way it won't tangle.
I made a clover template and is available to purchase here.
Clover decor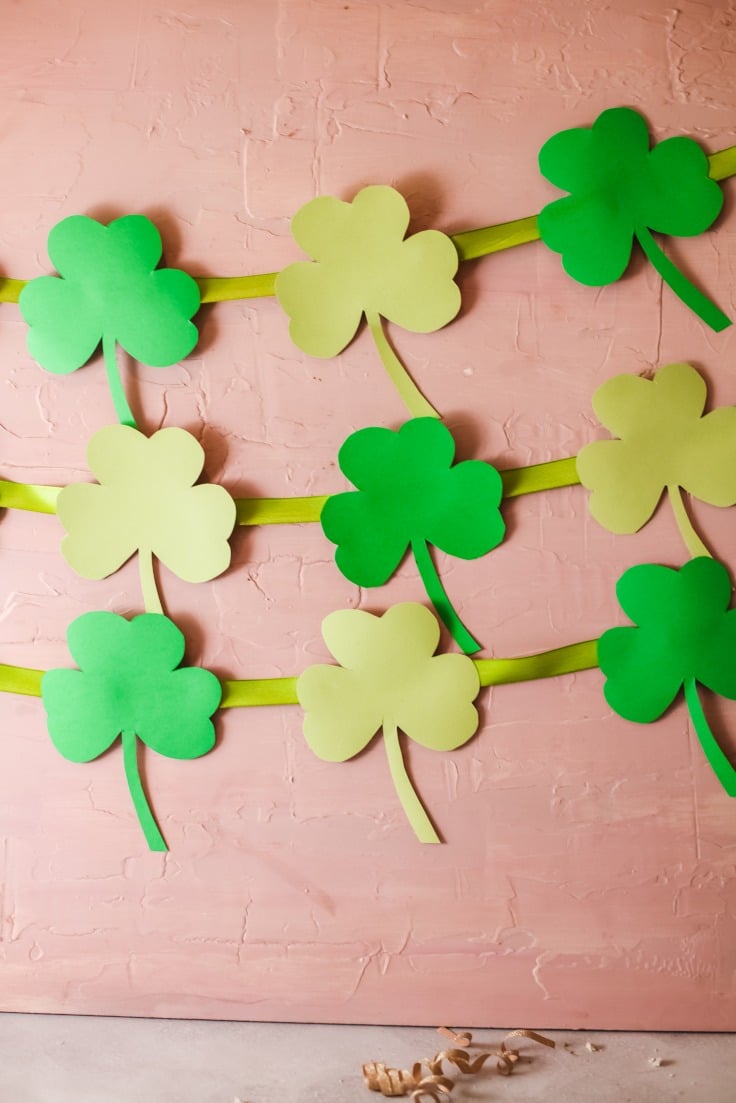 Materials:
A clover template – I printed this one over some craft paper and used it as a template for all the clovers
Green cardstock – I went with a light green and a dark green but feel free to play with the shades as much as you want
Scissors
Pencil
Green ribbon – You can also use twine
Glue
Directions:
1. The first step is printing and cutting out the clover template. This is what we are going to use to draw the clovers over the cardstock.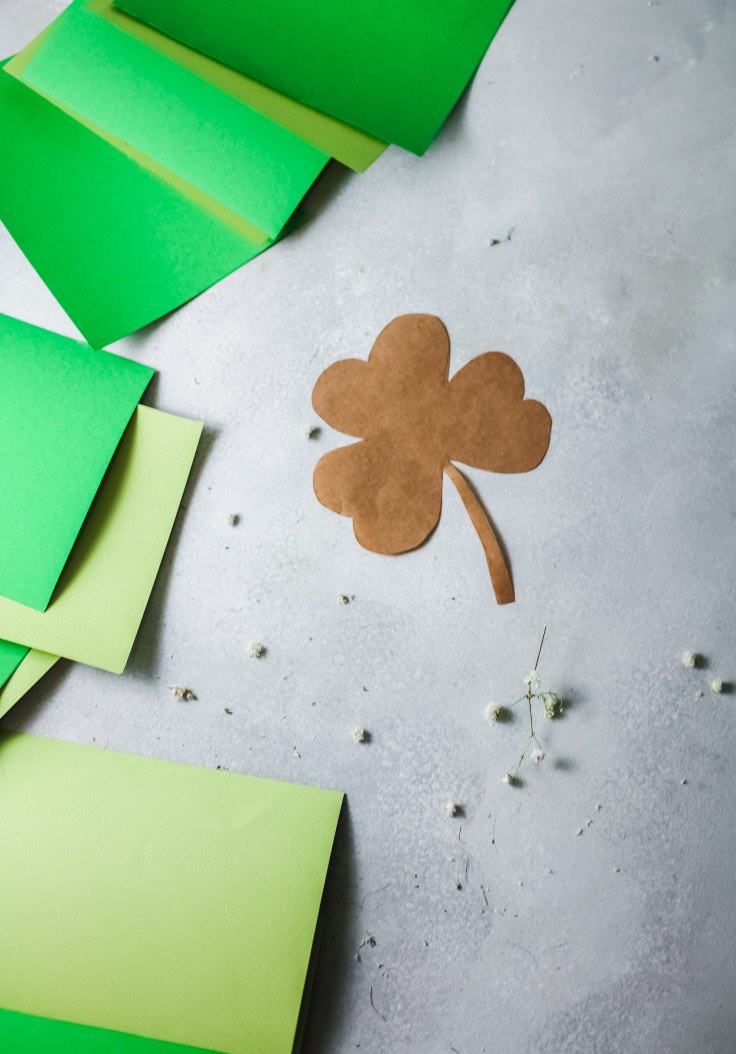 2. Now, with the help of a pencil. Draw the clover over the cardstock. I did this with all 15 pieces of cardstock.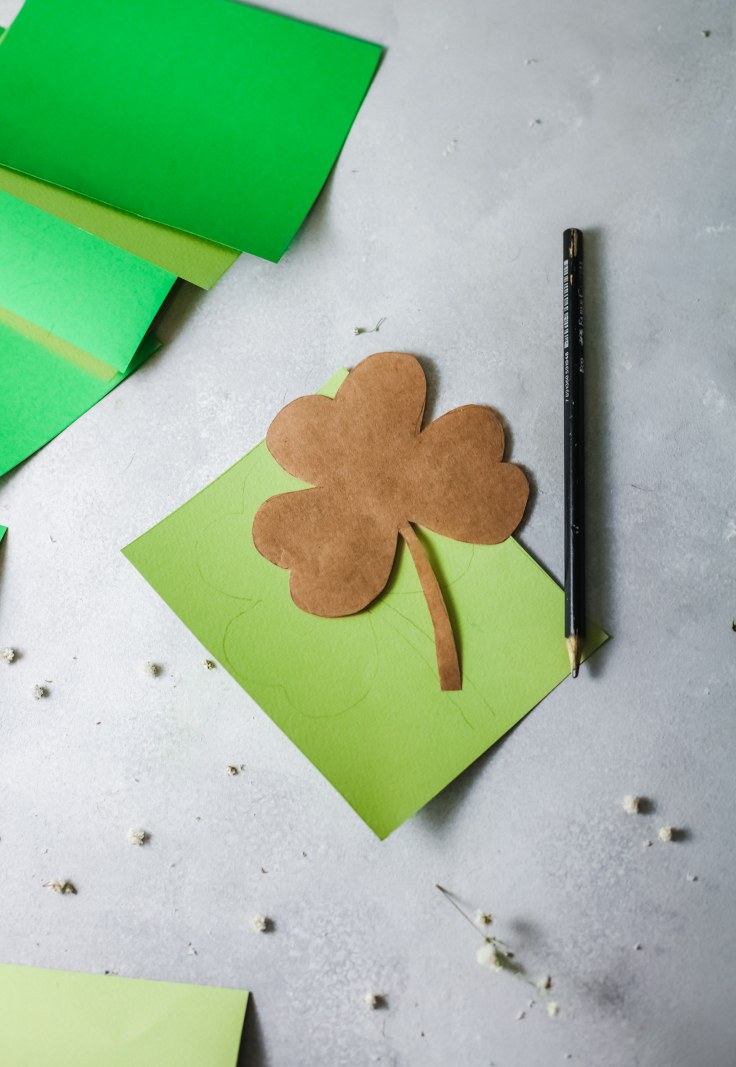 3. Then cut out the clovers.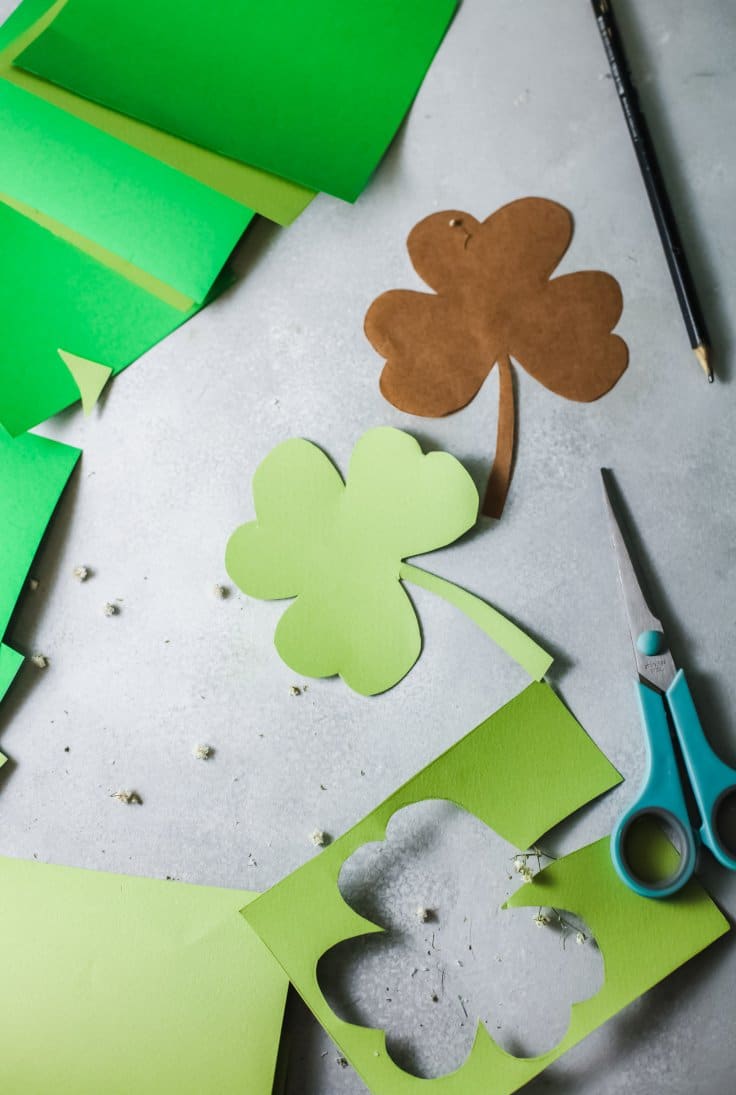 4. Add some glue to the ribbon and stick the clover over. Press firmly and let it dry before hanging. Repeat the process with all the clovers.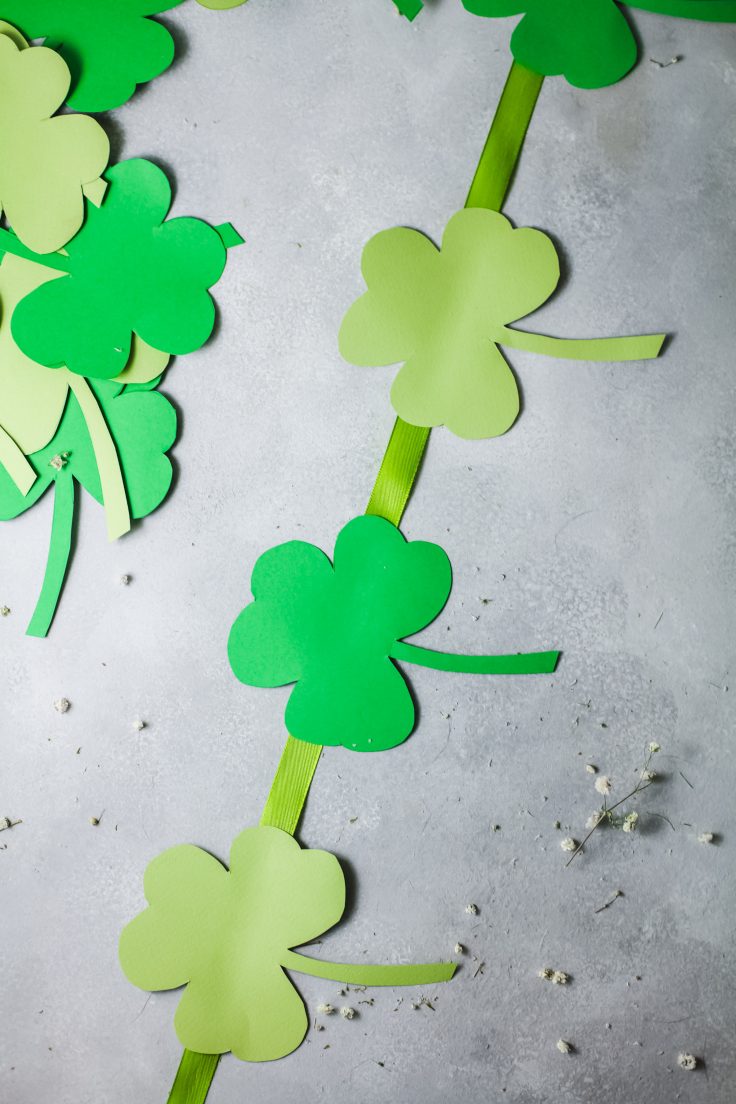 That's it! You can hang your St Patrick's day backdrop on your front door use it to decorate a food table or the bar or you can use a couple to decorate your kid's bedroom doors. Whichever option you pick this clover backdrop is going to make any place feel joyful and festive!
Pin to save for later