Dragon fruit WALDORF SALAD RECIPE
Article may contain Amazon & affiliate links. As an Amazon Associate I earn from qualifying purchases at no additional cost to you.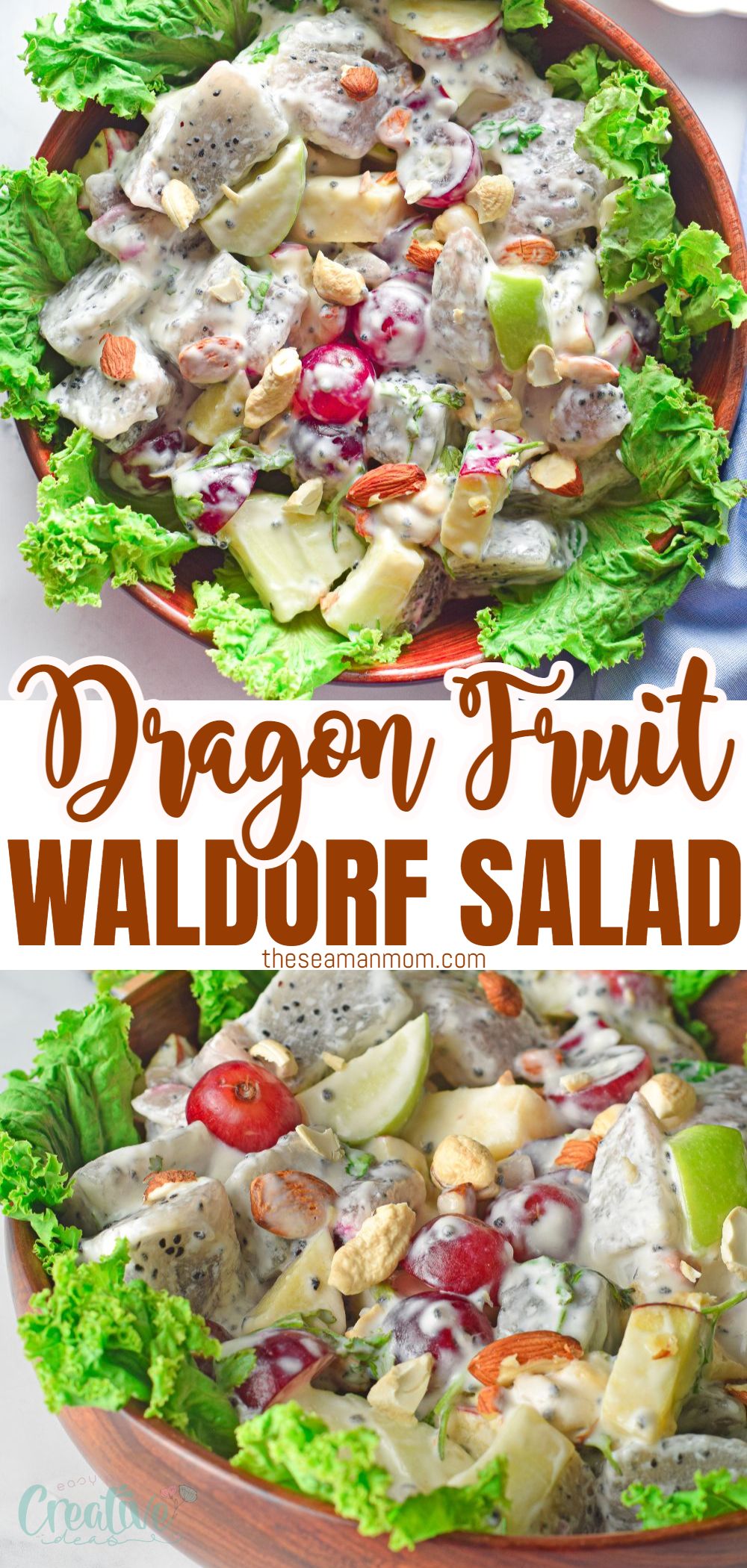 Salads are usually something that we expect as a aside dish with lettuce, tomatoes and few other extra ingredients that you may enjoy. Let's be fair, they are usually boring affairs and not something many of us would choose as a first option. But salads do not have to be boring and I wanted to share with you this dragon fruit Waldorf salad recipe that will knock your socks off!
Waldorf salad recipe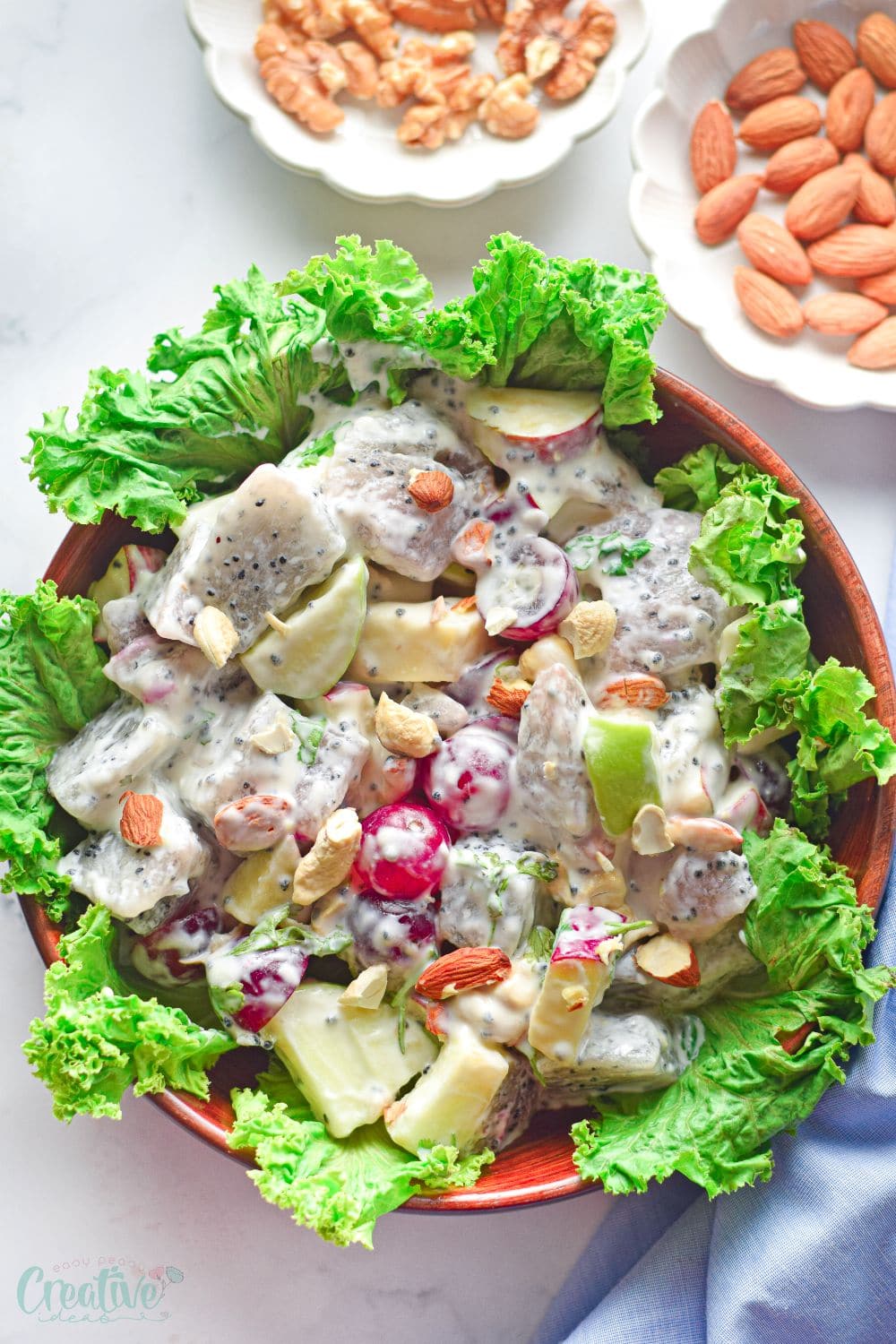 A Waldorf salad recipe is typically a fruit and nut salad that has an epic dressing of yogurt and mayonnaise. You then serve it with a bed of lettuce or just as is.
This is an All-American salad that was first presented at the Waldorf Astoria Hotel in New York back in 1893, hence the name. Adding the dragon fruit as the main ingredient turns a classic American salad into a flavor sensation. It is also packed with goodness such as Vitamin A and C. The white flesh of the Dragon Fruit is loaded with fibers and the little black seeds are full of healthy fats. It tastes incredible with the dressing and works so well with the other ingredients.
More salads you will love: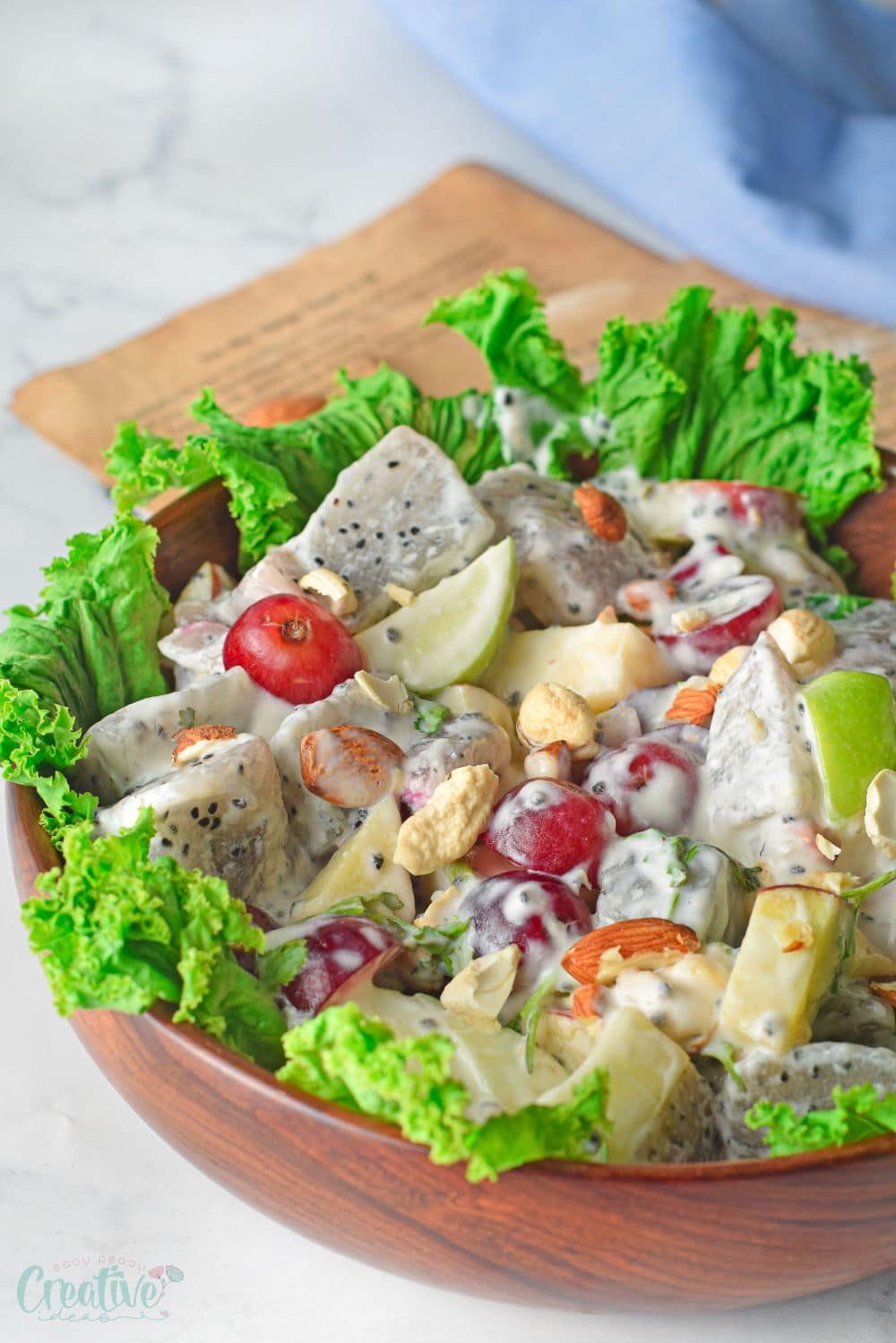 Recipe Notes and tips
I wanted to share with you some recipe notes and tips that could help you to easily recreate this dragon fruit salad at home. Here are some of the things to remember:
Make sure all your fruit is ripe and ready to be eaten. It is no good having a ripe dragon fruit but finding that the apples are too bitter. Ensure all the ingredients are ready to be eaten so you can maximize the flavor.
Don't skip the step of refrigerating the salad before you eat it. This gives a chance for all the flavors to combine together and form the dressing to coat all of the ingredients. The longer you can leave it refrigerating before serving the better.
The preparation bit is the element that takes the longest time. But you can prep ahead and then combine the ingredients later when making the dressing.
Variations you could try
Not usually a fan of salads or are just interested in how you could vary this Waldorf recipe? I have some ideas that you might want to try.
Dragon fruit is the star of the show when it comes to this modern Waldorf salad, but if you are not a fan you could try other options. Peaches and apricots could work really well with this salad and the dressing tends to be an easy addition for all sorts of ingredients.
Try this Waldorf fruit salad with other meals such as chicken. You might be surprised how it could revitalize one of your usual dishes.
You don't have to use eggless mayonnaise if you don't need this dish to be vegan.
A great addition to this salad could be avocado and tomatoes if you want to add a few more savory flavors. It comes away from a traditional Waldorf salad but could help to create an interesting dish.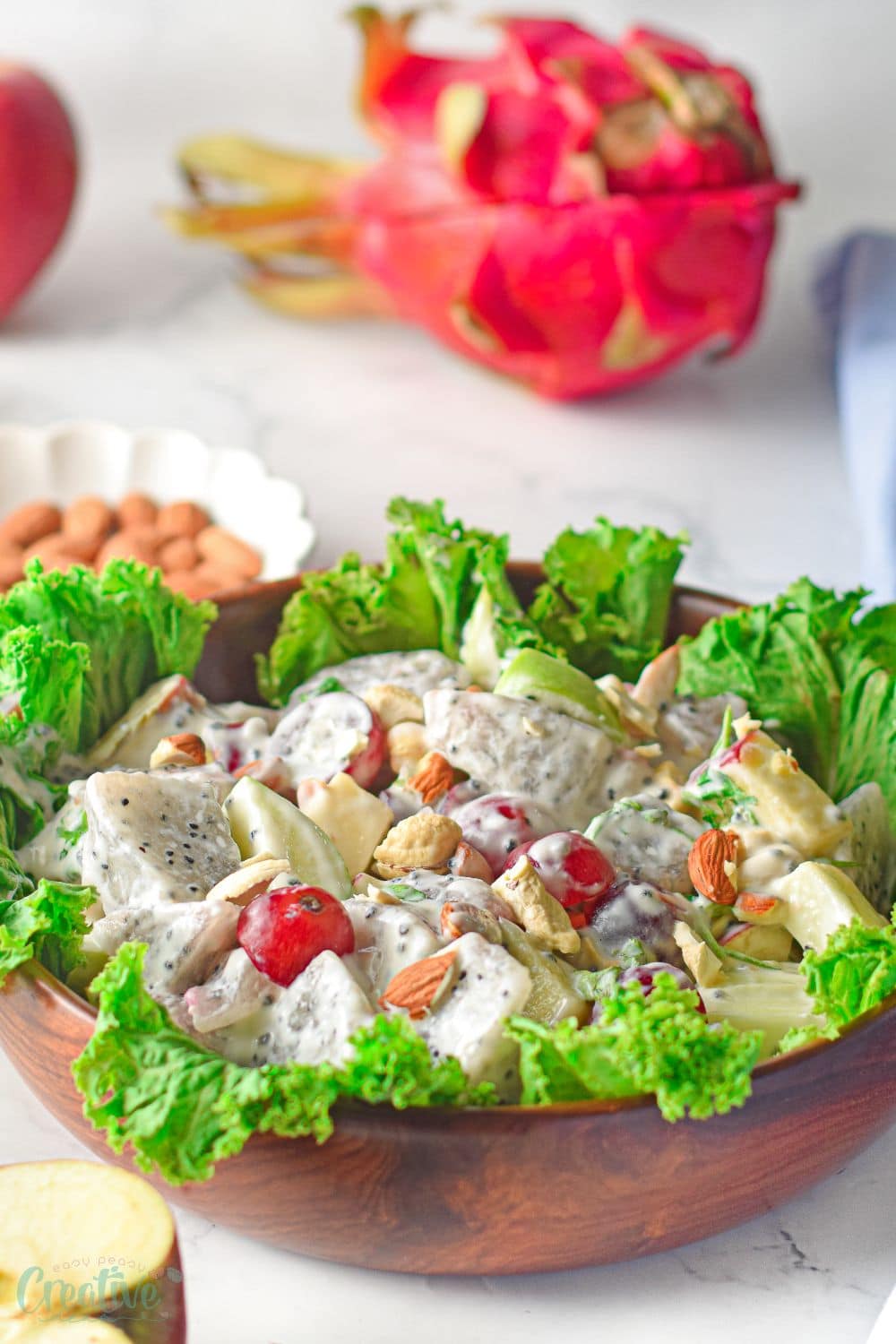 FAQs
You may have some questions, so hopefully, I have covered them below but please feel free to leave me a comment or get in touch via social media if you want to ask me anything.
Can you make this ahead of time?
Yes, you can. This salad will store really well in an air-tight container for up to three days in the refrigerator. This means that you could create a double batch of this and use it as and when you need it over the up and coming three days.
Can you freeze this salad?
It is not advisable to freeze salad so on this occasion it isn't a freezable option. But you can make it ahead and use it within three days so this does give you time to avoid any waste.
So without further ado, here is the recipe and everything you need to know to help you create the your Waldorf Salad recipe at home.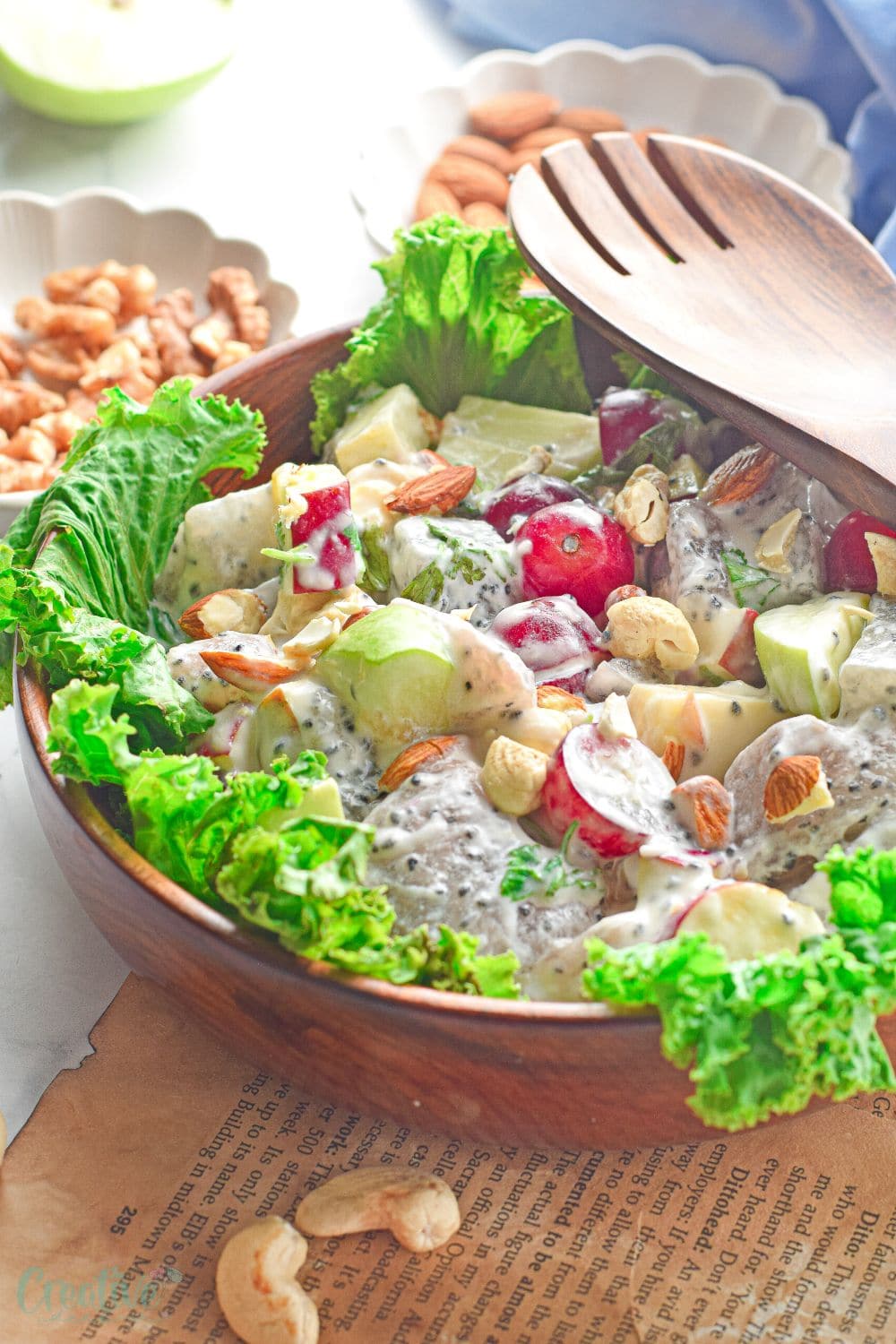 What are the Waldorf salad ingredients?
Dragon fruit, cut into cubes – the main ingredient. Make sure you give it chance to ripen a little. The skin shouldn't feel too hard and give a little, very similar to an avocado.
Green apple, cut into cubes
Red apple, cut into cubes
Red grapes cut into halves – cutting the grapes allows the juice to provide extra flavor when combining them with the other ingredients. Rather than leaving them whole.
Chopped cilantro – this herb will give the salad an extra edge but not everyone is a fan so feel free to skip if cilantro is not your cup of tea.
Greek yogurt, plain (choose a vegan option if you want to make this recipe completely vegan)
Eggless mayonnaise – helping you to make this a vegan option.
Lime juice
Honey
Salt
Ginger, grated – the ginger packs extra flavor and works well with the other ingredients.
Chopped nuts: almonds, cashews, walnuts
Lettuce leaves for the bed – this is optional.
How to make a Dragon Fruit Waldorf Salad recipe at home
This is a really simple recipe but creates such a lovely salad that is perfect for a warm day. You could enjoy this on a picnic or take it to work as a fun alternative for your lunch break. Here is the method for you to follow.
In a bowl take the cubed dragon fruit, red apple, and green apple and combine them together.
In another small bowl whisk together yogurt, honey, mayonnaise, salt, ginger, and lime juice. This creates an epic dressing that will combine all of the other ingredients together nicely.
Pour the prepared dressing over the cubed fruits. At this stage, you can now add in the grapes, chopped almonds, cashews, walnuts, and cilantro.
Toss to combine. Take time to ensure that the dressing is coated well with fruits and other ingredients.
Take your ready-prepared salad and refrigerate for at least 30 minutes.
Serve cold over a bed of lettuce!
Let's hope this has inspired you to create a lovely Dragon Fruit Waldorf salad at home! Feel free to check out more amazing recipes on my blog and don't forget to sign up to my recipe newsletter for more delicious recipes delivered straight to your inbox.
Pin to save for later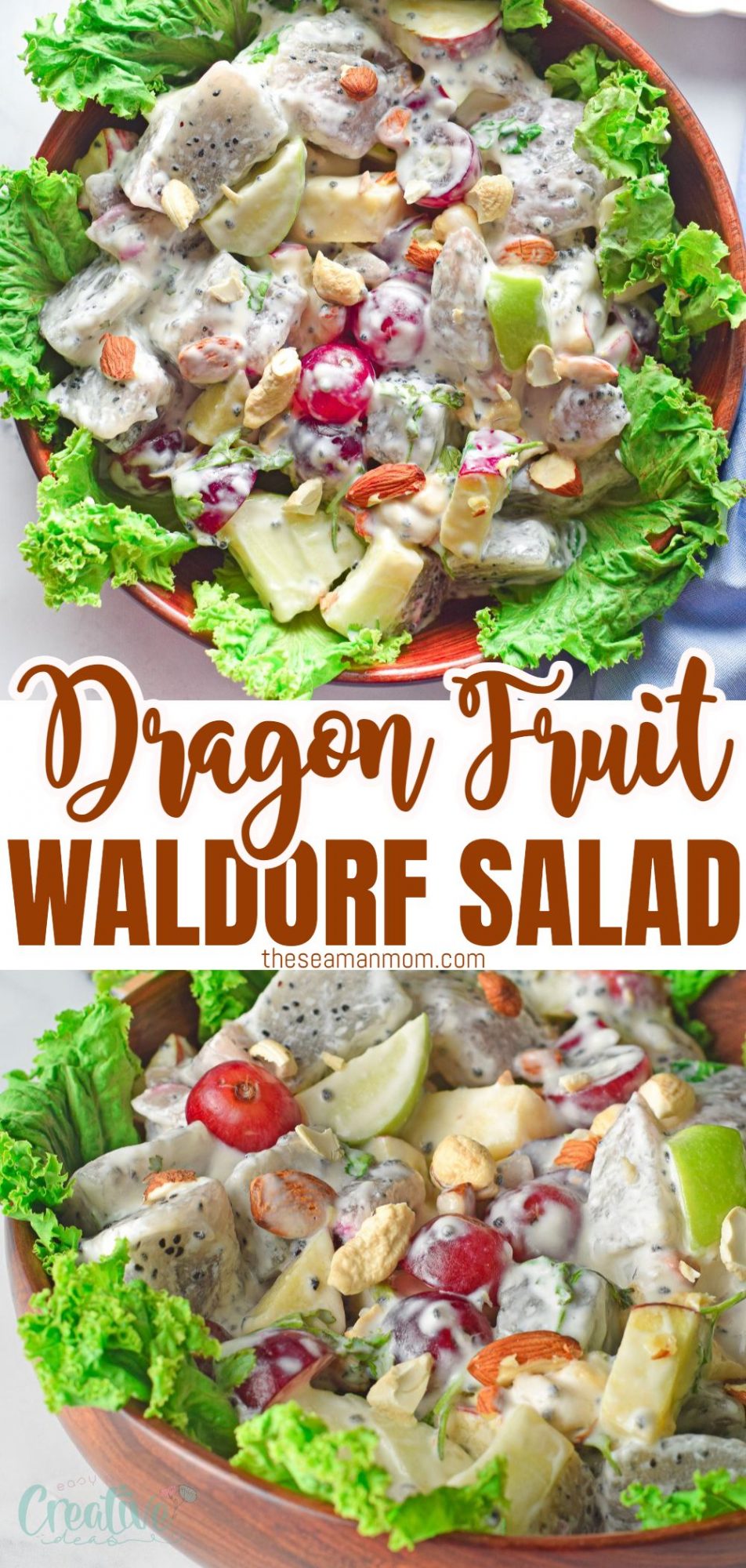 Print the recipe card
Dragon fruit Waldorf salad recipe
Salads do not have to be boring and I wanted to share with you this dragon fruit Waldorf salad recipe that will knock your socks off.
Ingredients
1

piece

Dragon fruit

ripe, cut into cubes

1

piece

green apple

cut into cubes

1

piece

red apple

cut into cubes

½

cup

red grapes

cut into halves

¼

cup

cilantro

chopped

1/3

cup

Greek yogurt

2

tbsp

eggless mayonnaise

1

tsp

lime juice

2

tsp

honey

½

tsp

salt

½

tsp

ginger

grated

2

tbsp

almonds

chopped

2

tbsp

cashews

chopped

1

tbsp

walnuts

chopped

5-6

leaves

lettuce
Instructions
In a bowl take cubed dragon fruit, red apple, and green apple.

In another small bowl whisk together yogurt, honey, mayonnaise, salt, ginger, and lime juice.

Pour the prepared dressing over the cubed fruits.

Next add in grapes, chopped almonds, cashews, walnuts, and cilantro.

Toss to combine making sure the dressing is coating well the fruits.

Refrigerate the salad for at least 30 minutes. Serve cold over a bed of lettuce