DIY box tree caterpillar killer
Article may contain Amazon & affiliate links. As an Amazon Associate I earn from qualifying purchases at no additional cost to you.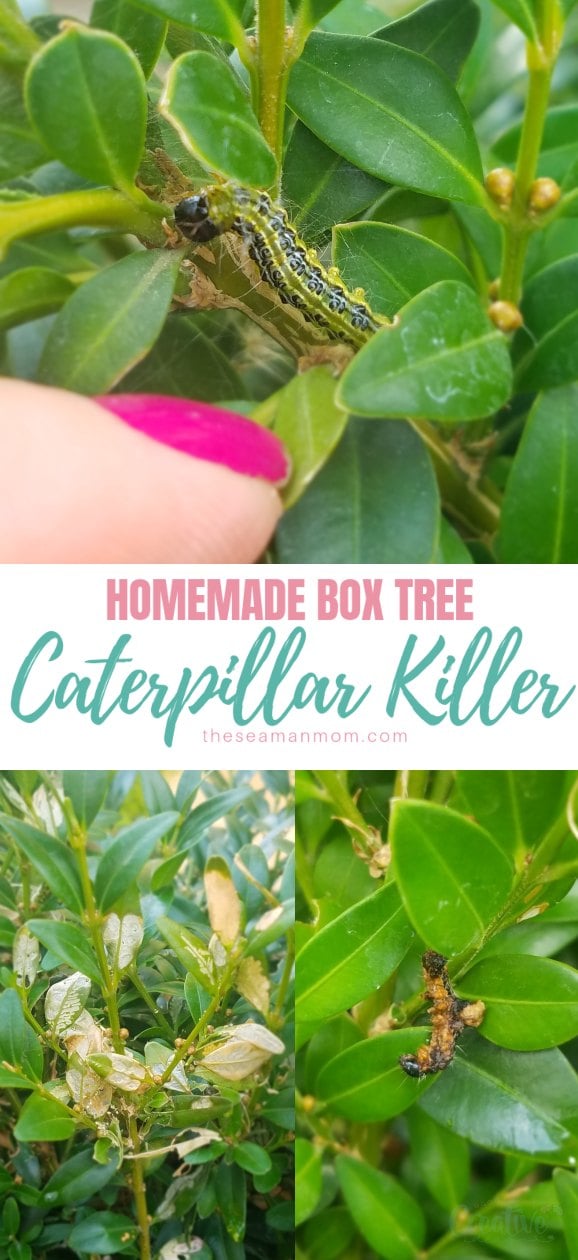 Are caterpillars devastating your beautiful box trees? Act quickly with this simple and safe box tree caterpillar killer and get rid of them without bringing any toxic insecticide into your garden!
How to get rid of box tree caterpillars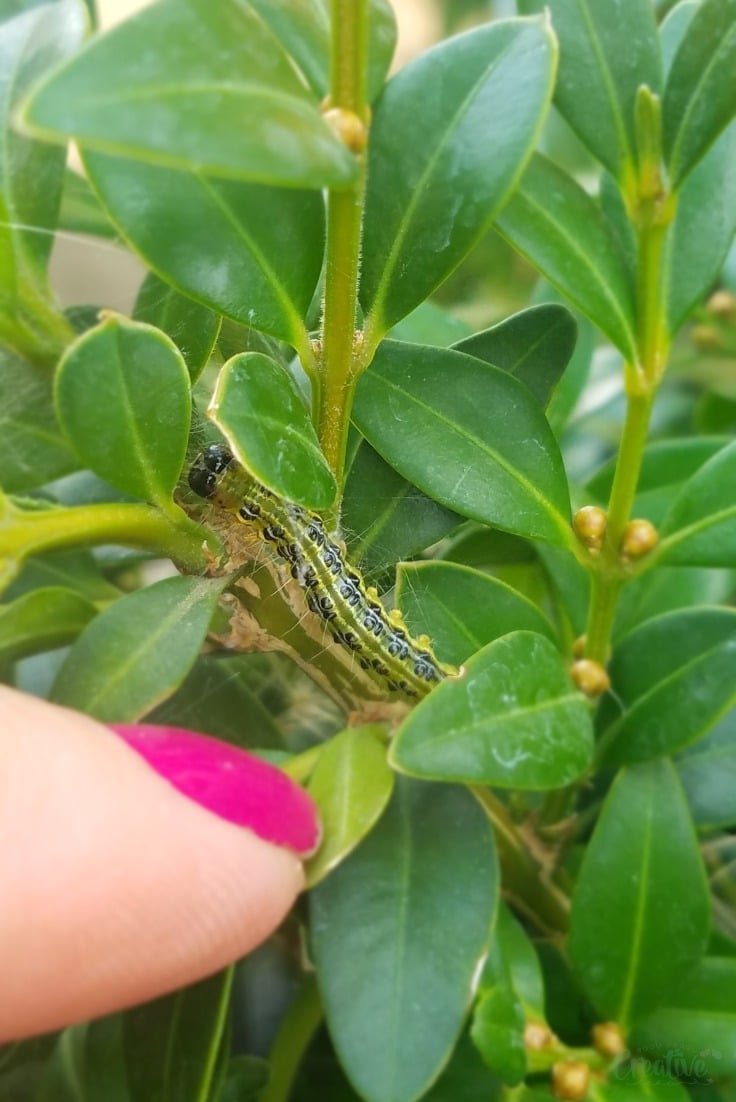 You guys! I just went through one of the most terrifying experiences since I started growing my beautiful garden from scratch (literally!). Tons of box tree caterpillars have infested and almost devastated all of my box trees! And in less than 5 days! Luckily, I managed to salvage them from dying with the help of my homemade box tree caterpillar killer but the thought of these nasty insects in my garden still gives me shivers down my spine!
Well, to be fair, it's not really a box caterpillar killer, it's more of an universal treatment I use for all of the pest in my garden. I first used this wonderful homemade box caterpillar killer as an aphid killer on my roses and never had any issue with aphids ever since. And this time around this soapy solution was used as a box tree caterpillar killer out of despair, really! I freaked out and didn't know what to do!
I was about to go on vacation for 5 days and I took a close look at all the plants and trees in my garden a few days before, when I spotted something really disgusting in my buxus: slimey, hairy, yucky caterpillars!! And even more disgusting was the amount of webbing they created, the million eggs (they were literally that many!) laid by the box tree moth and the scary amount of dead leaves they left behind on my beautiful box trees! My heart stopped for a second as I never new such disgusting creatures exist and feed so ferociously on box trees! Plus I was in shock about the moth/caterpillar combination as I felt I'm about to enter a Sisyphean battle! I'm never going to stand a slight chance of winning at this horrible stuff!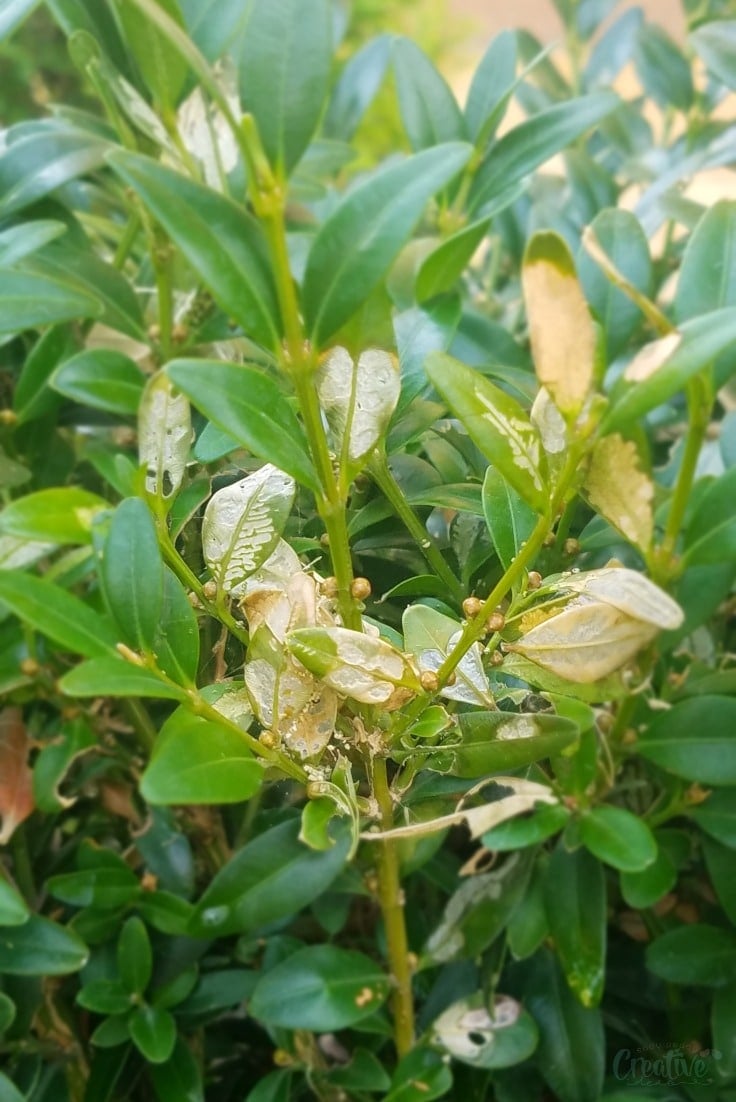 Want more gardening tips?
I had to do something quickly, especially since I was about to go on vacation in a few days! So I resorted to my aphid killer and used it as a box tree caterpillar killer that very evening! It worked really well as in just a couple of days I've noticed most of the mature caterpillars, the pupae (the cocoons) and the eggs were dead as the soap managed to dry them real fast. I was happy and convinced I managed to combat the caterpillars effectively.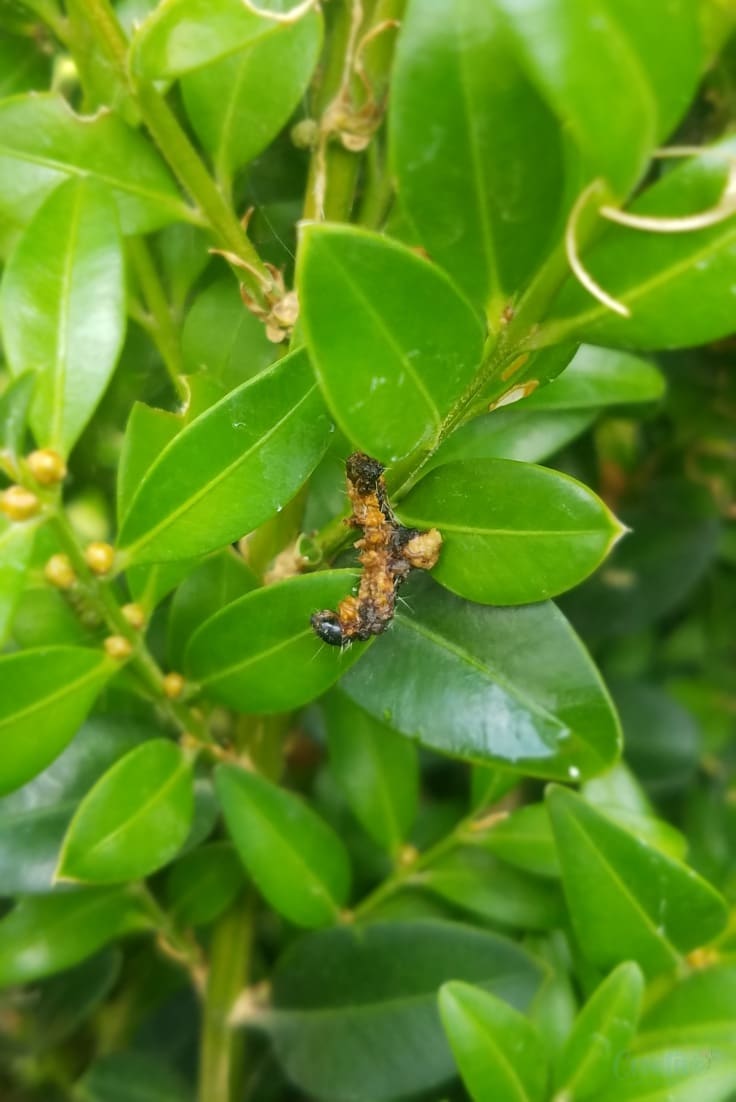 But oh, how wrong I was! And I found out the hard way, when I came back from vacation when most of my trees were terribly affected by these ferocious insects! I had to redo the process again, but this time I got smarter because I realized where the problem was. The soapy solution was effective but I didn't do a thorough job at applying it, since there were so many eggs who escaped my homemade treatment. And there were also lots of pupae who managed to escape as they were protected by the strong webbing. The caterpillars might not lay eggs, but they do make really strong networks of webbing where they "retire" to transform into moths later on. Here is a caterpillar starting to weave the webbing.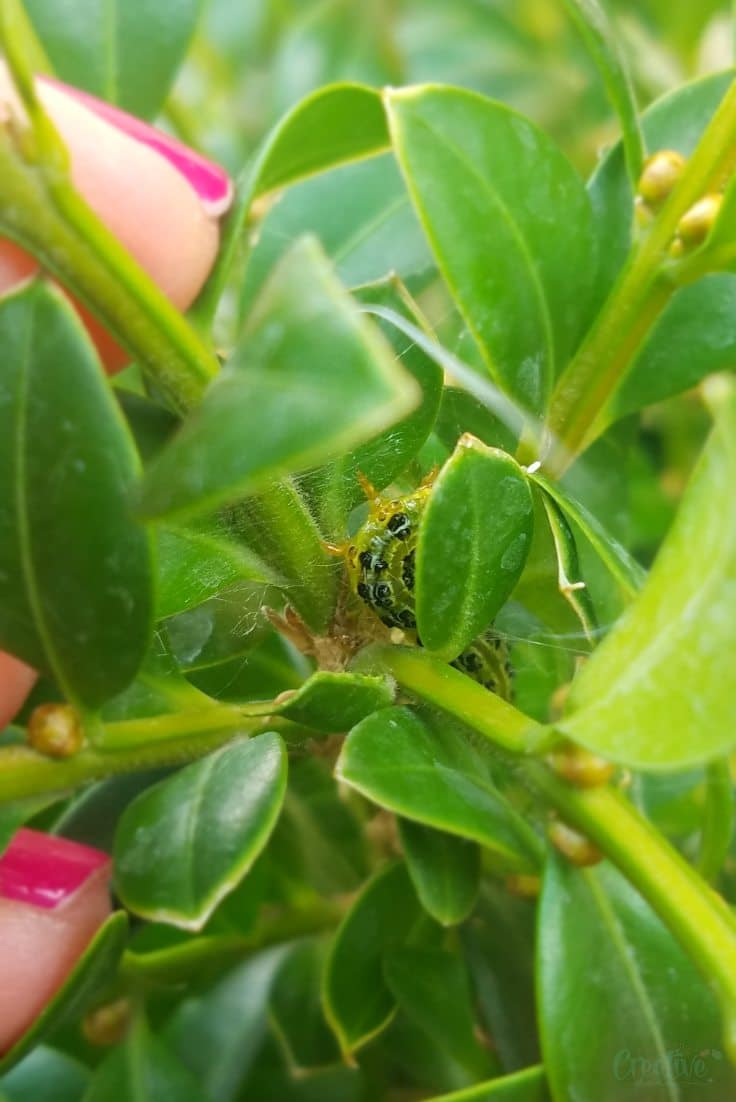 And in this photo, you can (barely) see the eggs where the arrow points. I'm sorry, I forgot to take photos of the eggs. They're green and gathered in small bunches.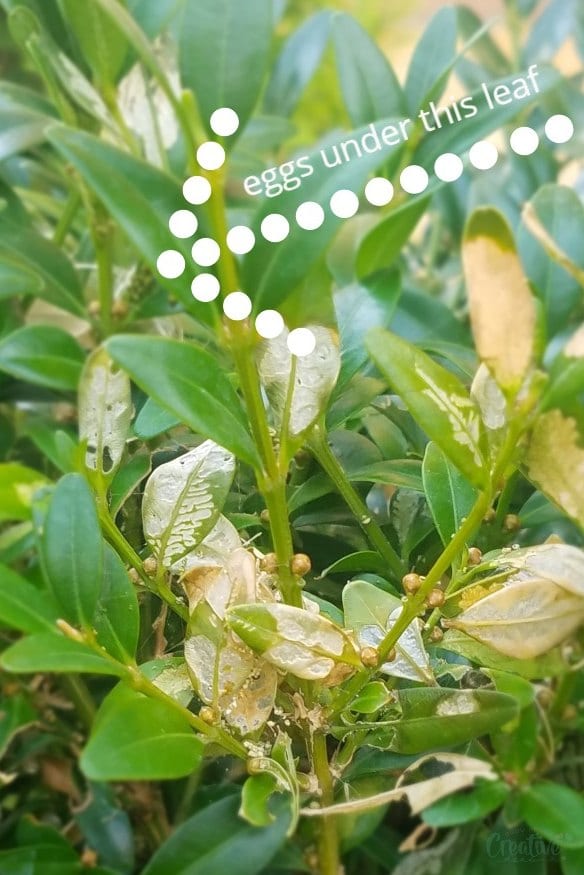 And also…this black spot is caterpillar poop, or at least that's what I think it is!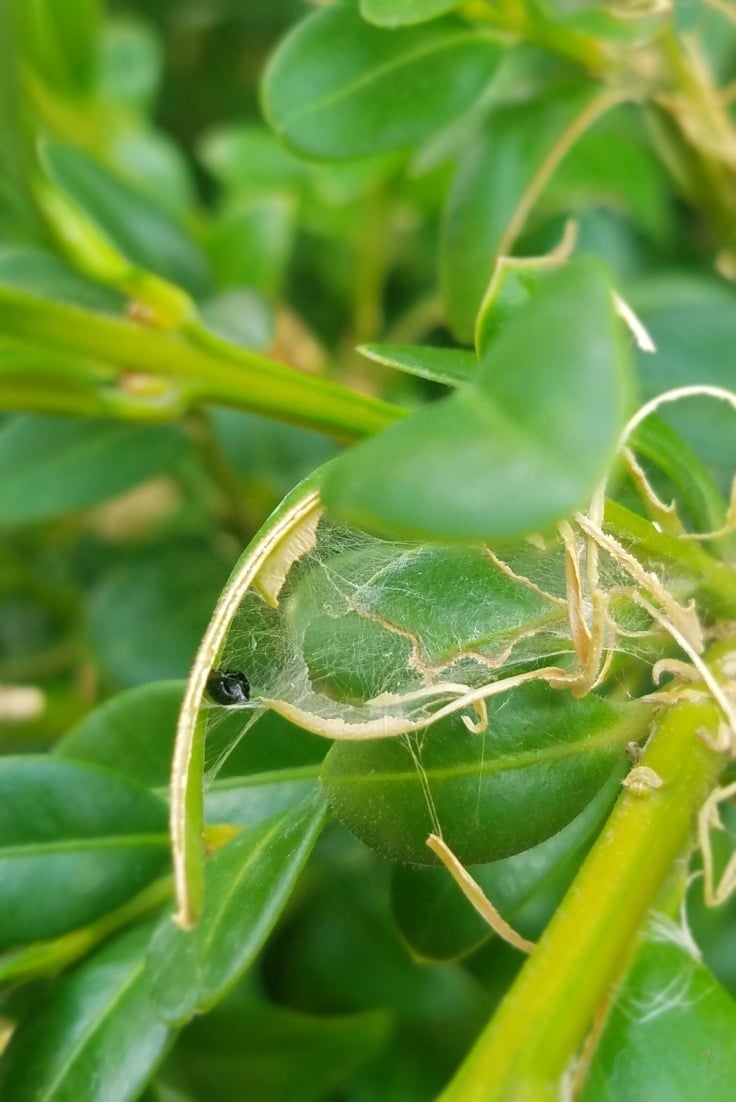 Sounds confusing? Let's get through a few FAQ's to find out what's going on with all this moth/caterpillar story.
What is the box tree caterpillar?
The box tree caterpillars also known as box caterpillars, buxus caterpillars or box tree caterpillars are the larvae of a moth that feeds exclusively on box trees. They feed ferociously, mostly on the leaves, in most cases causing severe damage to foliage and create a hard webbing while they feed, spreading this webbing over other eggs, making it difficult to reach all the eggs with insecticides. They eat only the soft parts of the leaves, leaving the leaf veins untouched. This is how you can best recognize the presence of this terrible pest into your box trees.
Without the foliage the box tree struggles to survive as the leaves contain most of the chlorophyll, a green pigment in leaves and stems that is light absorbing, helping the box trees get their energy from the sun. Without its beautiful foliage, the box tree might seem like it's dead but they have the ability to restore pretty quickly, so resist the urge to throw them away if box caterpillar has caused severe damage to your box trees.
In some cases, once all the foliage is consumed, the box caterpillars start feeding on the stems too and this is what causes the buxus to die if you're not applying a box tree caterpillar killer.
What is the box tree moth?
Box moth and box caterpillars are basically the same insect, on a different life cycle which has four stages. The moth is white in color, or white with brown edges and sometimes white/clear. It starts laying eggs on the leaves of the box tree, then the eggs hatch into larvae in about 3 weeks and the larvae quickly grow to become caterpillars. These reach maturity very quickly and transform into pupae (cocoons), where they develop into moths. And then the cycle starts again.
The box tree moth is native to Asia and have been brought to Europe around 2000, it then spread to New Zealand in 2012 and US 2011. They're now a concerning problem worldwide, ​reoccurring a few times throughout the growing season and in successive years.
They seem hard to combat because the insecticides have a hard time penetrating through the webbing and also because the moth lays an overwhelming amount of eggs. Both the eggs and the caterpillars are hard to spot as their colors are pretty similar to the foliage, green/yellow for eggs (just like the foliage) and green with yellow and brown stripes for caterpillars (which resembles the stems). But there are solutions, even though they require patience and persevering.
Box tree caterpillar treatment
If this terrible insect has invaded your garden, you have three options: you can either apply an insecticide, take the non toxic way as I did or consider an alternative to box tree like Berberis thunbergii atropurpurea or Ilex crenata (I have both in my garden and have been more than pleased with how great they look and how easy they are to care for!)
When you're battling an extensive infestation, applying an insecticide might be your first option. But bare in mind applying them does not ensures complete success and you may need to reapply the insecticide consistently, heavily loading your garden with unnecessary chemicals. Thorough spray coverage is required in all cases and forceful spraying is needed to penetrate the webbing, in many situations, this forceful spraying being ineffective and hand removal might be required. And there is always the risk of killing other useful, pollinating insects in your garden.
For these reasons only you might wanna consider using my homemade box tree caterpillar killer. It's basically dish soap and water so it's super affordable, takes minutes to make, it's non toxic and highly effective if applied thoroughly. If you decide to take this route please follow the tutorial below where I show you how I managed to combat the caterpillars in my box trees effectively. It does take a bit of work but it's worth it!
Box tree caterpillar killer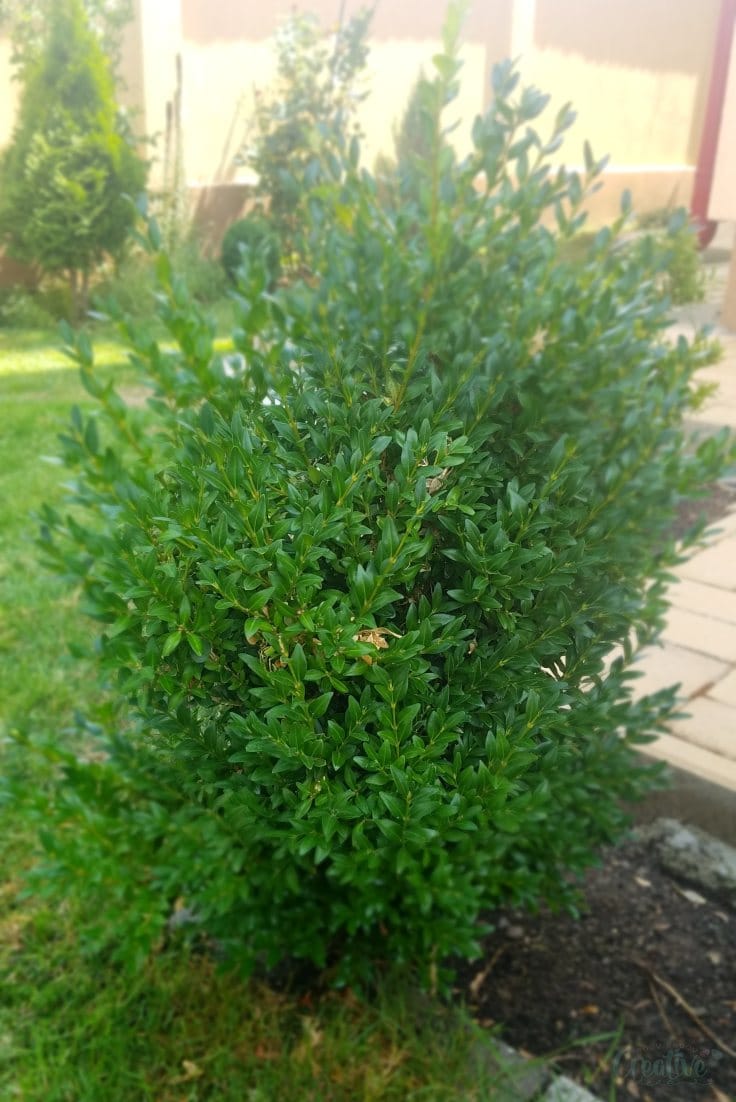 Materials:
garden gloves
lemon scented dish soap
water
garden sprayer
garden hose with pressure washer
Directions:
Try and do all these while the sun is not very strong or in the evening, so the soapy solution won't evaporate too quickly. Plus caterpillars seem to be more active at night time so they'll feed on the "fresh" food you just applied to the foliage of your box trees.
Washing the box trees
When you first spot caterpillars, try and remove as many as you can with your hand. Wear gloves if the thought of touching them scares the bejeezus out of you. You will need to find a way to kill them though, as disgusting as it may sound. I used my garden shoes and took great pleasure into squashing these nasty creatures with it! Pay very close attention and use your hands to reach inside the box tree and at the bottom because the caterpillars are hard to spot as mentioned above. You may need to to a second round once you finish checking your plants.
Grab the garden hose and with the pressure washer on, give the box trees a really thorough wash, again paying close attention, particularly to the webbing areas where caterpillars, larvae, eggs or cocoons hide. The cocoons tend to be surrounded with lots of dried leaves so the areas are not hard to spot, especially if the plant is severely affected. Wash the plant starting from the top towards the bottom, opening the leaves and pushing the stems out of the way with your hands. I found many eggs laying inside the new shoots.
The caterpillars are almost impossible to wash with the hose, as they cling to the leaves with a super sticky slime. But you're aiming for washing and drowning the eggs. The next step will take care of the last few caterpillars you might have missed.
Applying the soapy solution
Allow the box trees to dry (chances are once you're done washing, most of them are already dry) then mix dish soap and water (1/2 cup soap to every 33fl.oz water) in a garden sprayer. First add the water to the garden sprayer, then the soap and mix using the sprayer's nozzle to avoid forming bubbles.
Give the box trees a thorough wash with the soapy solution. The caterpillars, the pupae and the eggs you may have missed during the washing process, will dry out pretty soon. But if you have a serious infestation, chances are even after applying this homemade killer, you missed a caterpillar or two and maybe a few eggs which are to continue their life cycle, turning into moths/caterpillars. That's why you need to continue the fight so…
Repeat the steps above in two days.
Preventing infestation
After that, apply the soapy solution once a week and keep a close eye on your box trees to spot any new moths or caterpillars. If you do, depending on the severity, you may need to either increase soapy spraying or do a deep clean as highlighted above. Chances are after a couple of deep cleaning sessions, you got rid of all these nasty insects and their eggs and you only need to apply this box tree caterpillar killer as prevention.
I hope I managed to help you with this humble solution and if I did, I'd love to know it so please leave a comment below and don't forget to rate this tutorial. Thanks!
Pin to save for later