Roses make a beautiful gift and are a great addition to any home decor. Make them even prettier with this easy tutorial on how to dye roses.
How To Dye Roses At Home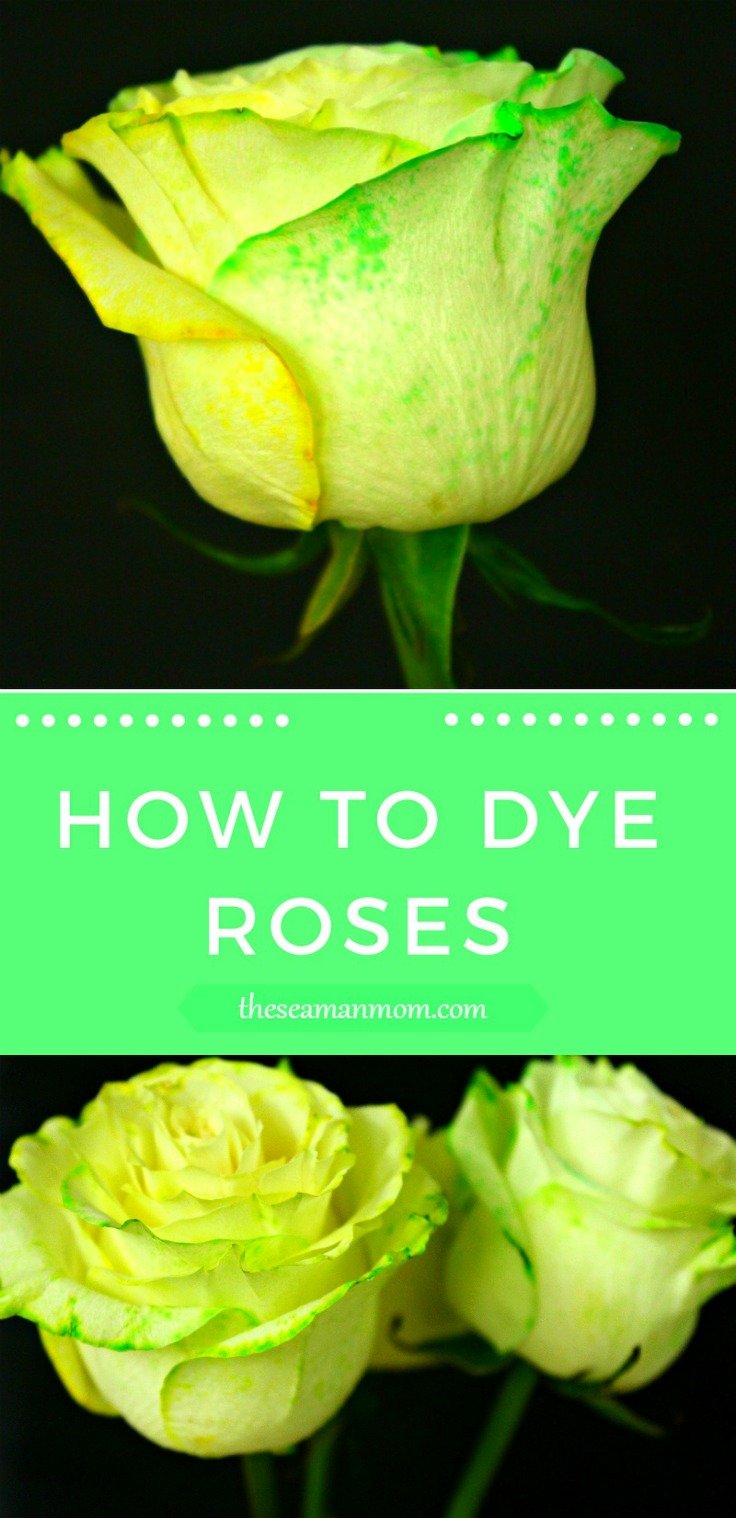 I absolutely love roses! They're so pretty and elegant and smell fabulous! A great addition to my home decor but also a nice, thoughtful gift. And colored roses are even prettier! Make your own with this super simple tutorial on how to dye roses, in the comfort of your home! All you need is a a handful of household items and some free time.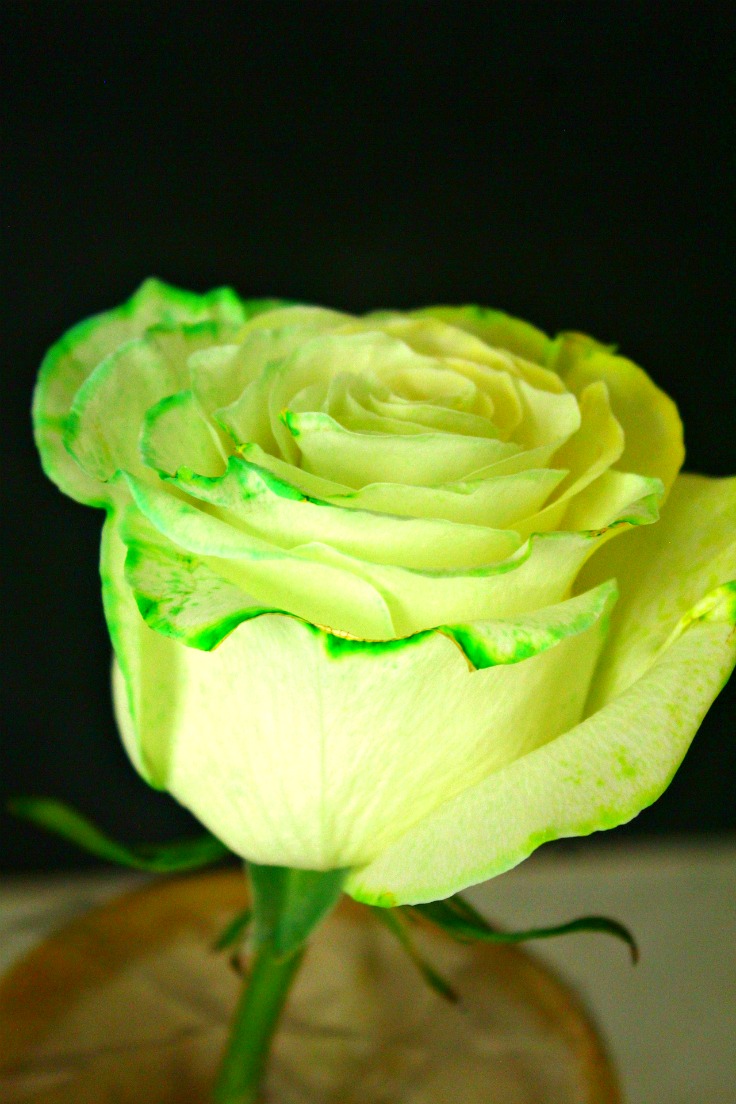 Using colors can add dramatic impact to a flower arrangement so if you're thinking about gifting roses or have a wedding bouquet in mind, you might wanna consider dyeing them in all sorts of colors. You can create the color of your choice by following this simple tutorial on how to dye roses. Use this for other flowers too but keep in mind that woody stems, like roses, take longer to absorb and uptake the dye than green-stemmed flowers.
I only wanted to add a little touch of color to my roses so I kept them in colored water for 4 hours but keep in mind for brighter colors you may need to leave them in for several days.
How to Dye Roses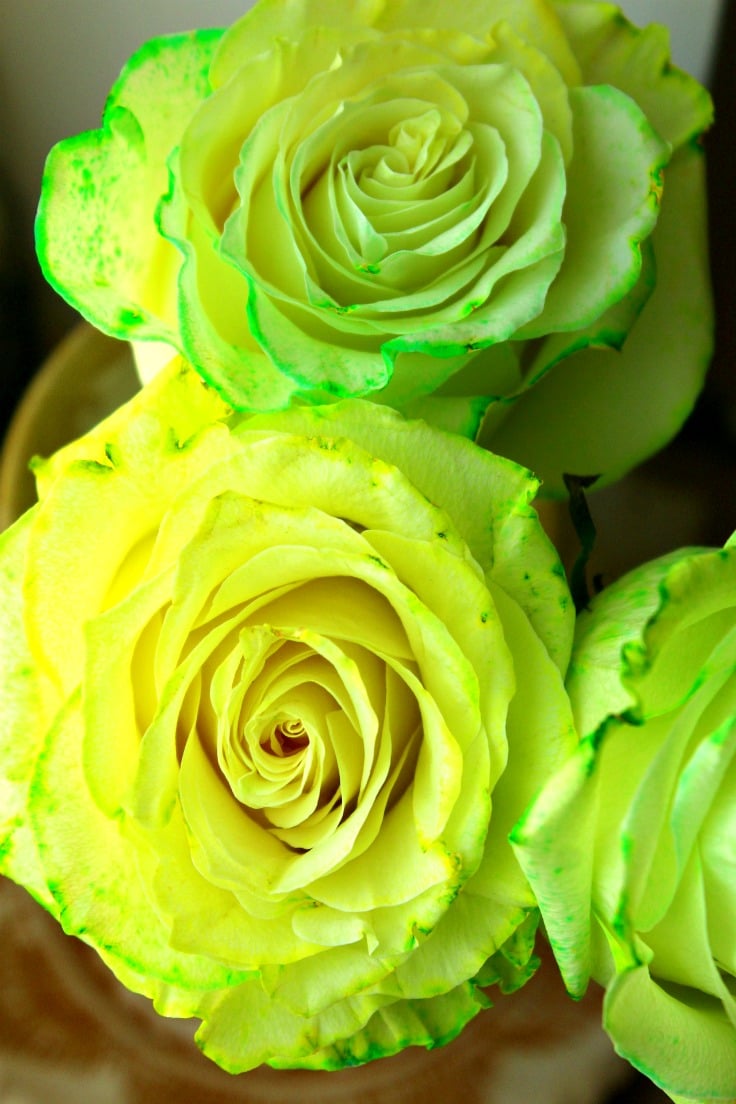 Materials:
White roses (or very lightly colored ones).
self healing mat or thick cardboard
Narrow and sturdy water cups or glasses
Water
rubber gloves
tape – optional
Directions:
Take your roses and pick some of the leaves off.
Trim each stem to about 10″ long. Using a razor knife cut at an angle of about 45 degrees to help absorption.
Using the razor knife, split the stem open in 3″ long sections, if you plan to get rainbow roses. For single colored ones, no need to split the stem. Split into maximum 4; too many cuts will weaken the stem. Careful not to snap the stem. If you do, just cut the stem at a 45 degree angle and dye it one color
Pour water in your water cups then add food coloring.
Position the cups next to each other. This will limit the amount of space you need to stretch the stems over.
Pick up a rose and place each section of the stem into one different cup if you're aiming for rainbow roses.
If using the method for more roses, tape the stems together so the flowers are more stable
Allow the roses to sit for a minimum of 4 hours (for pastel colors or tinted petals) and several days for vibrant colors. Petals have small veins that will be dyed darker than the rest of the flower. If you want to prevent this, you can leave your rose in its dye up to two times longer than suggested above.
TOP CRAFT OF ALL TIMES