DIY phone stand from recycled toilet paper rolls
Article may contain Amazon & affiliate links. As an Amazon Associate I earn from qualifying purchases at no additional cost to you.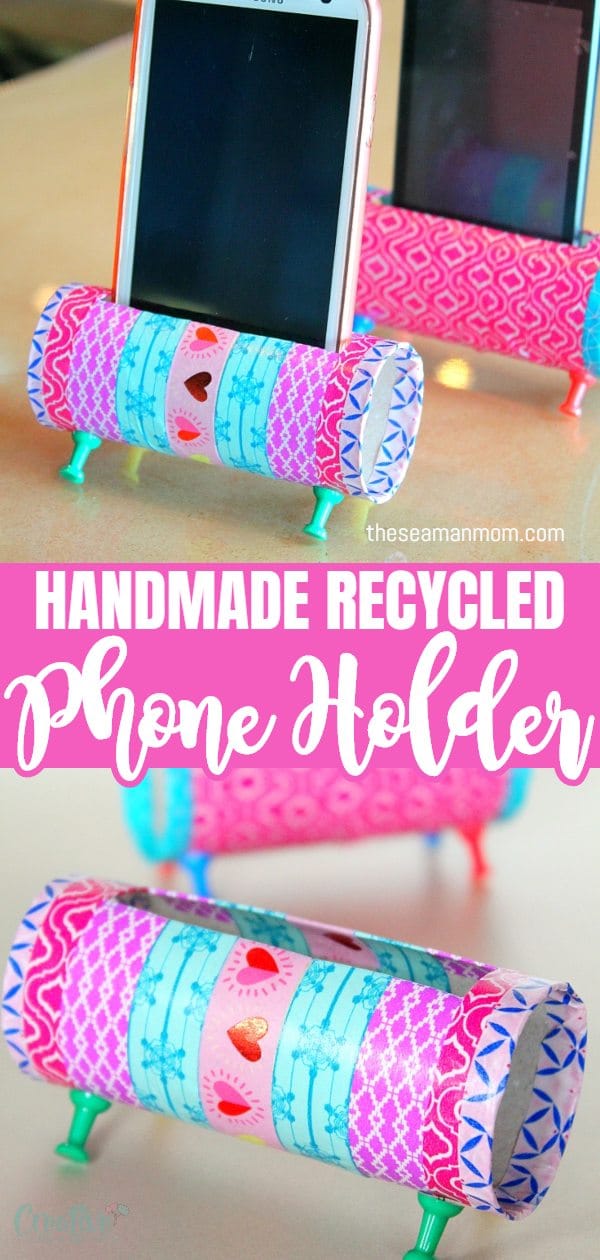 Re-purposing is all about creativity! Check out this easy peasy DIY Phone Holder! A fun and easy way to reuse and recycle those toilet paper rolls, this DIY cell phone holder is both cute and practical!
DIY phone holder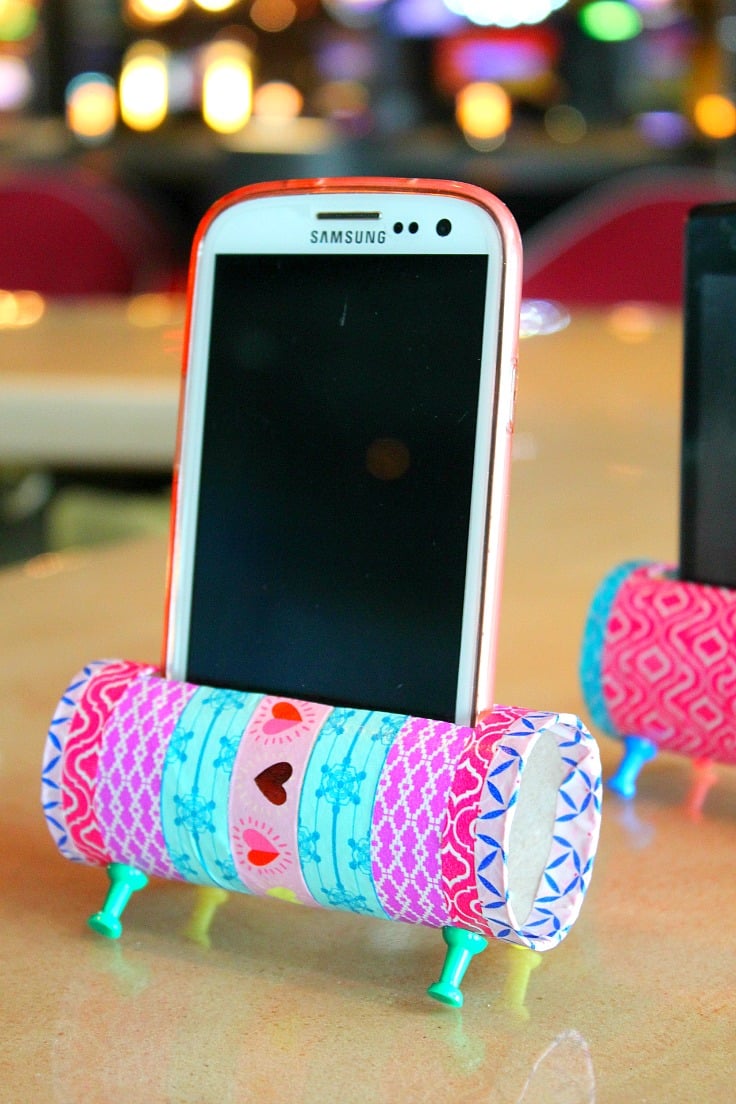 Although you can always buy a phone holder at a reasonable price, wouldn't it be nice to be able to create and customize a DIY phone holder by yourself? If you are looking to replace your old phone stand or simply need a new project to recycle some toilet paper rolls, this easy DIY phone stand is sure to inspire you!
And the great thing is, you can also make new ones if you get bored with the one you already have and it will, most probably, be free. It sure is eco-friendly and no-waste! You can also make one for more places in your home, so that you don't have to carry your holder together with your phone from one room to another.
Other tp rolls projects you might like:
What materials can I use for a phone holder DIY?
Toilet paper rolls are great for lots of crafts and can be cut and shaped in many ways to create fun and useful things, as well as toys or puppets. This is a great project to use up any leftover supplies you may have, as it is very small and doesn't have a wide surface to cover.
MY DIY phone holder is perfectly customizable and super useful! I used washi tape to decorate the exterior but tissue paper or fabric will work just as great. Add your own touch to your own DIY mobile stand by using your favorite decorations! I think this recycled toilet paper phone holder is a very cool, stylish and unique idea and it adds a fun and colorful element to your home decor!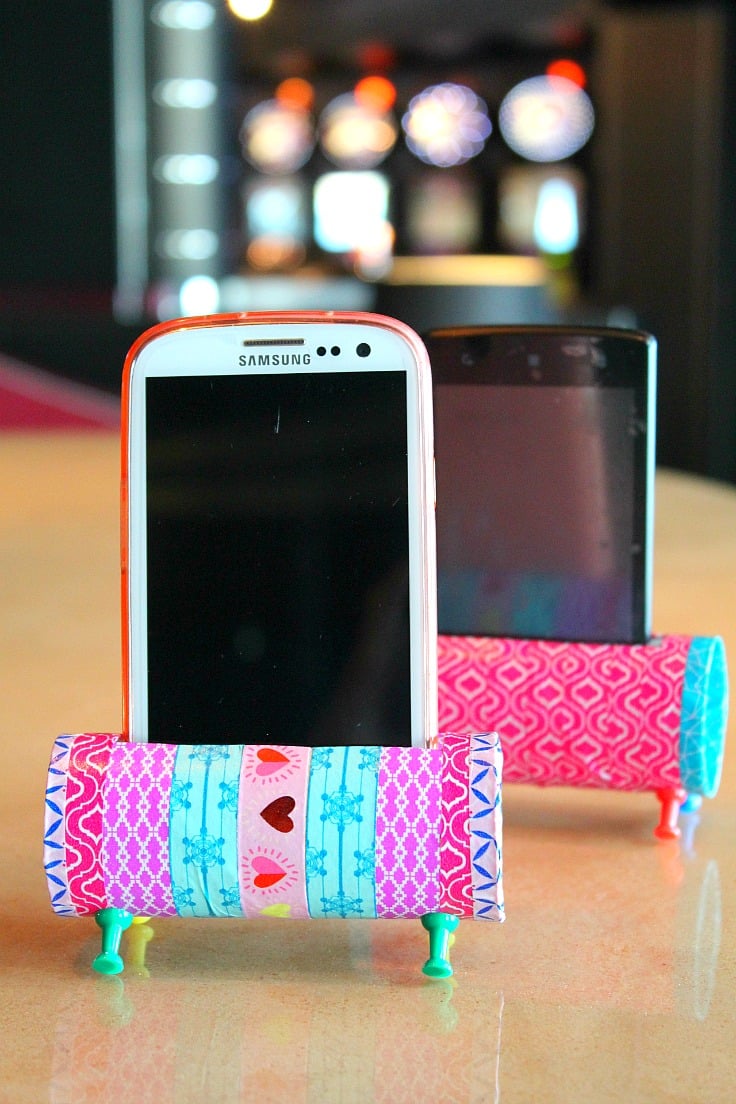 Ways to use this DIY phone stand
This is a great craft to try with kids to stimulate their creativity by adding any fun decoration they like and add a personal touch to their room. They love creating new stuff and take pride in useful objects made by them.
Or maybe you need a gift idea? Then make this DIY phone holder as a special homemade gift for the avid cell phone user in your life (and who isn't?). This DIY phone stand is super easy and quick to make and it only requires a few materials you most likely have on hand already, especially if you're an avid crafter. You'll get to make a gift that says you care and your friends will be impressed!
Keep your house organized. I've made these for my husband and I because when we're cruising together, the cabin can get very, very small. Each of us, Ellie included, owns 2-3 gadgets so the place looks cluttered and untidy. I thought I should make something pretty and useful for us. And you can tell these little babies really needed a safer place, just by looking at those scratches. Thanks God, it's just the screen protector!
How do you make a homemade phone holder?
In addition to my method that I will be detailing in the step by step tutorial, below, there are a few other ways you can construct and personalize your phone holder.
---