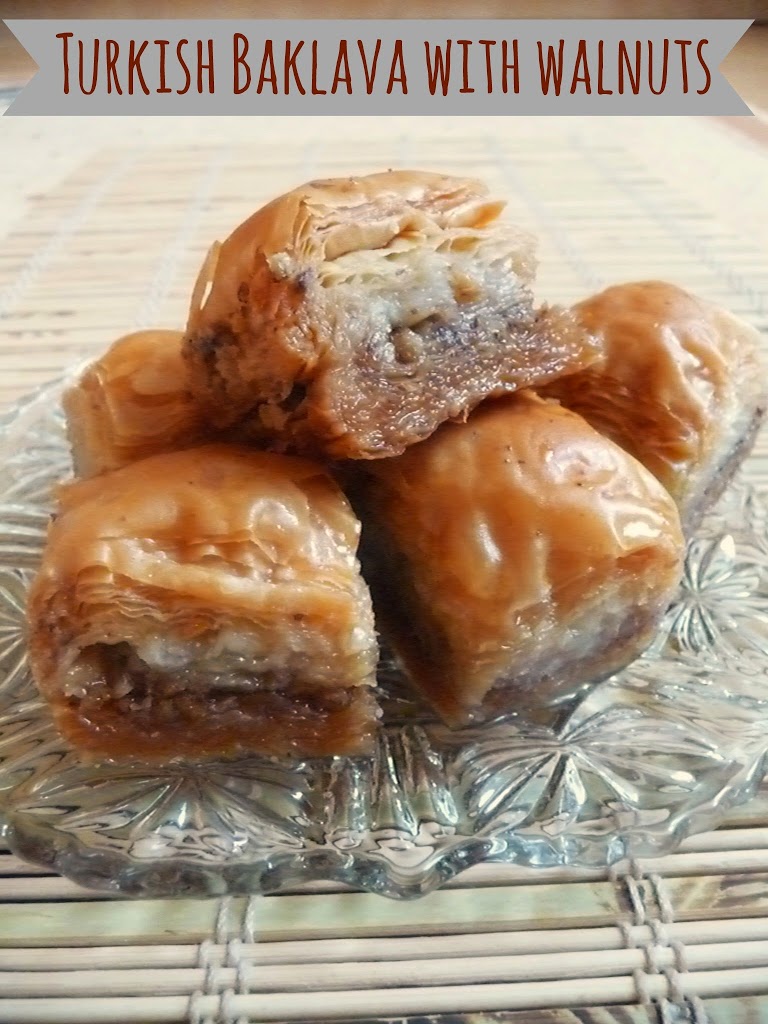 I'm pretty sure that most of us got to try Turkish Baklava with walnuts at least once. Some say it 's too sweet, but still cannot refrain from at least taking a glimpse at this sweet sin.
When I was traveling around Europe as a seaman I had many chances to visit Turkey and I always, always had to stock up on baklava. It was a must. So I wanted to try and see if I can make it as tasty as Turkish people do. I will not hide that I needed more than just a few tips and a little patience to prepare this dessert. I tried a few times and was close to give up on it as it always came out either too mushy or too dry or too thin. I finally made it! I'm not completely happy with the result as I should've used much more nuts and ground them less but that's the best I could reach so far.
Here's the story of this otherwise incredibly delicious dessert:

INGREDIENTS for Turkish Baklava with walnuts
28 pastry sheets
230 g Butter
300 g walnuts
2 tablespoons cinnamon
1 pinch nutmeg
50 g sugar
For the syrup:
300 ml mineral water
300 g sugar
5 tablespoons honey
Half a lemon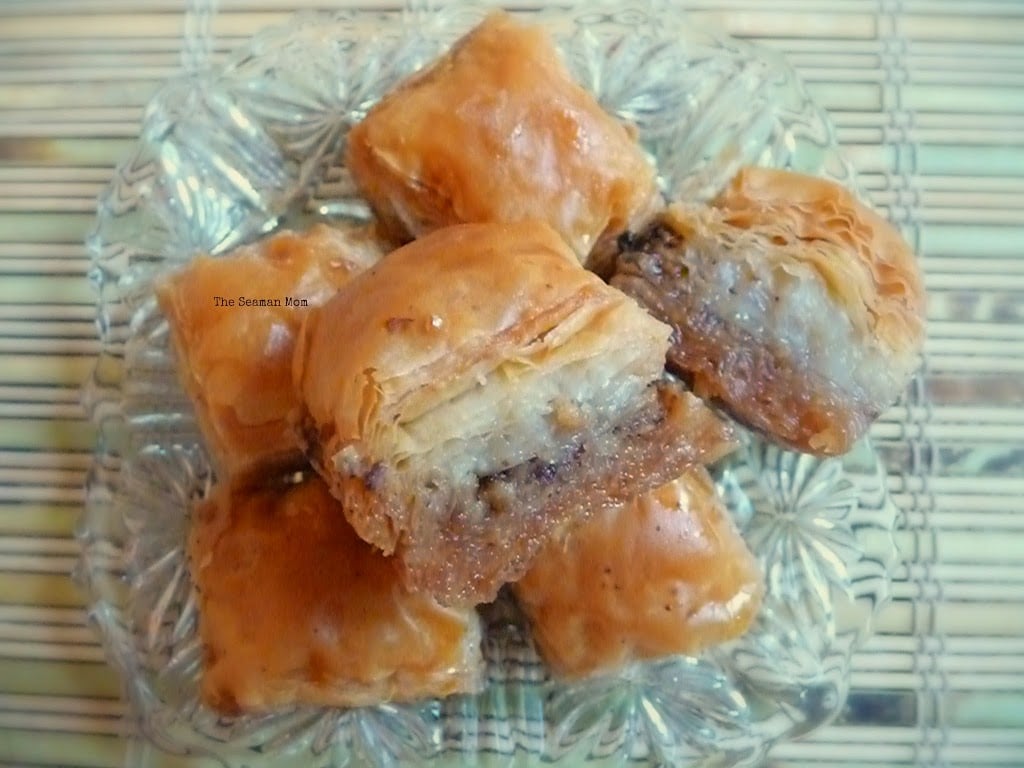 DIRECTIONS for Turkish Baklava with walnuts:
Prepare the syrup: put sugar and water to boil for 20 minutes; when the syrup is formed squeeze half a lemon and add the juice. Let it simmer for another 5 minutes, then turn off the flame. When the syrup gets cold add honey.
Prepare the filling: ground the walnuts finely and mix with cinnamon, nutmeg and 50 grams sugar.
Melt the butter.
Greased a cooking tray with butter and then place pastry sheets in, spread butter with a brush on each sheet.
Place 10 buttered sheets on top of each other then follow with a layer of nuts, add 6 buttered sheets, ground nuts again, 6 more buttered sheets then nuts again.
The last layer will be of 4 buttered sheets. Insist with more butter on the last sheet.
Keep the Turkish Baklava in the refrigerator for 40 minutes, then cut it into squares, melt the rest of butter and pour over the edges of each small square so the baklava will not dry while baking.
Bake for 30 minutes until it gets a strong golden color.
Pour over the sauce made ​​earlier while the Turkish Baklava with walnuts is hot.
Cover with a clean towel and leave it to cool completely, then refrigerate overnight.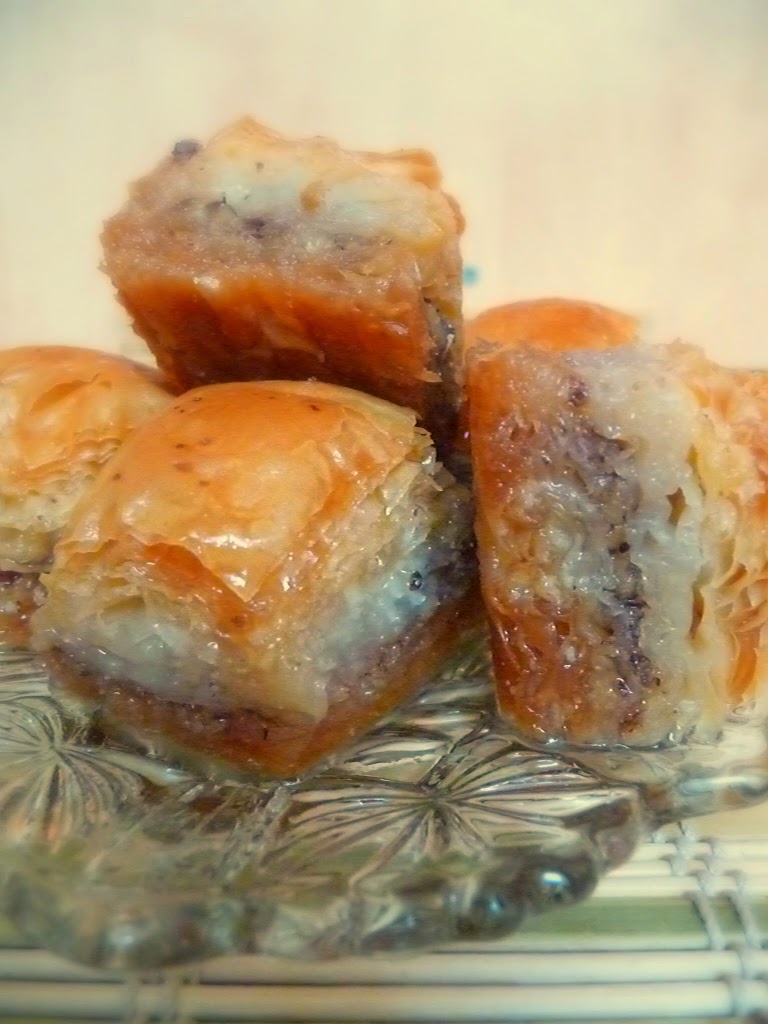 Tips:
Use any kind of nuts, the most popular for this dessert, after walnuts are pistachio.
Use nuts freely, don't be scared as I was, nuts are not going to do you any harm.
If you'd like the baklava to look more festive, decorate with grounded nuts, pistachio or whipped cream
Adjust the level of sugar if you like the Turkish Baklava with walnuts sweeter or less sweet, never the amount of honey.