Peach nests with amaretti biscuits, honey and chocolate
Article may contain Amazon & affiliate links. As an Amazon Associate I earn from qualifying purchases at no additional cost to you.
There are so many ways to eat peaches but once you make this stuffed peaches recipe, it will become your go-to summer dessert!
Stuffed Peaches Recipe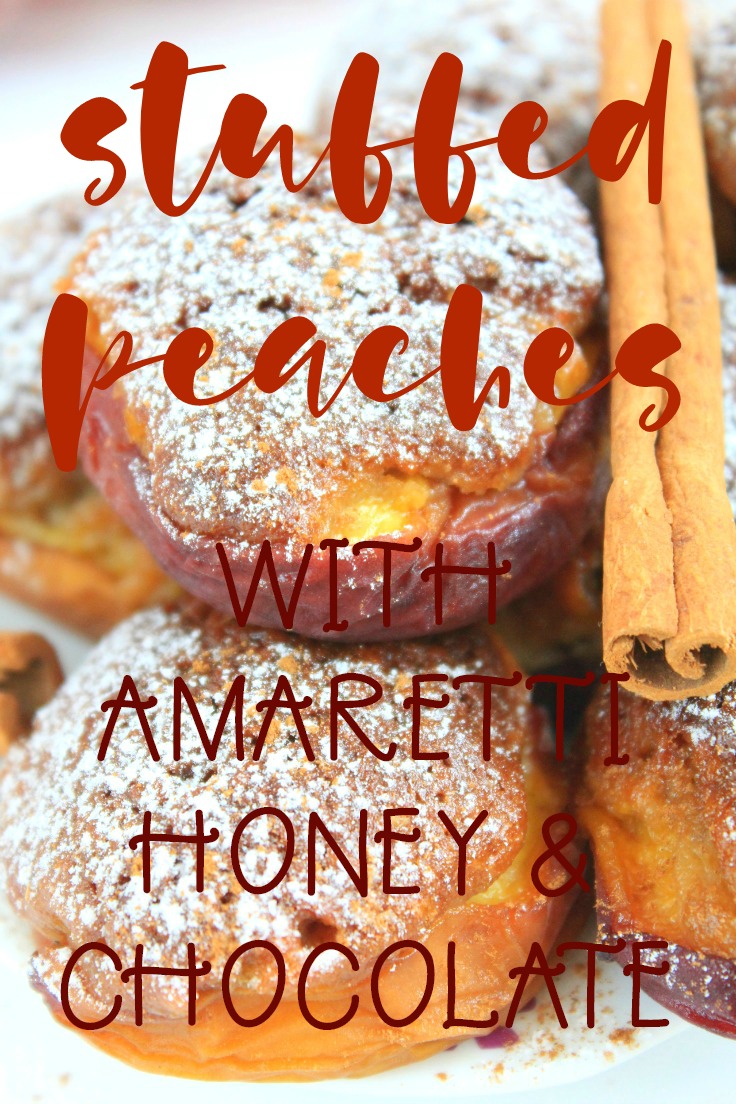 I'm such a big peach fan but I normally eat them fresh. In summer time they're such a blessing on a hot day, sweet but not too much, juicy and refreshing, especially if you keep yours in the fridge before serving. Talking about hot summer days, you may not be tempted to turn your oven on to make this stuffed peaches recipe but trust me, it's worth every effort. Cause you know, good things happen to those who…sweat!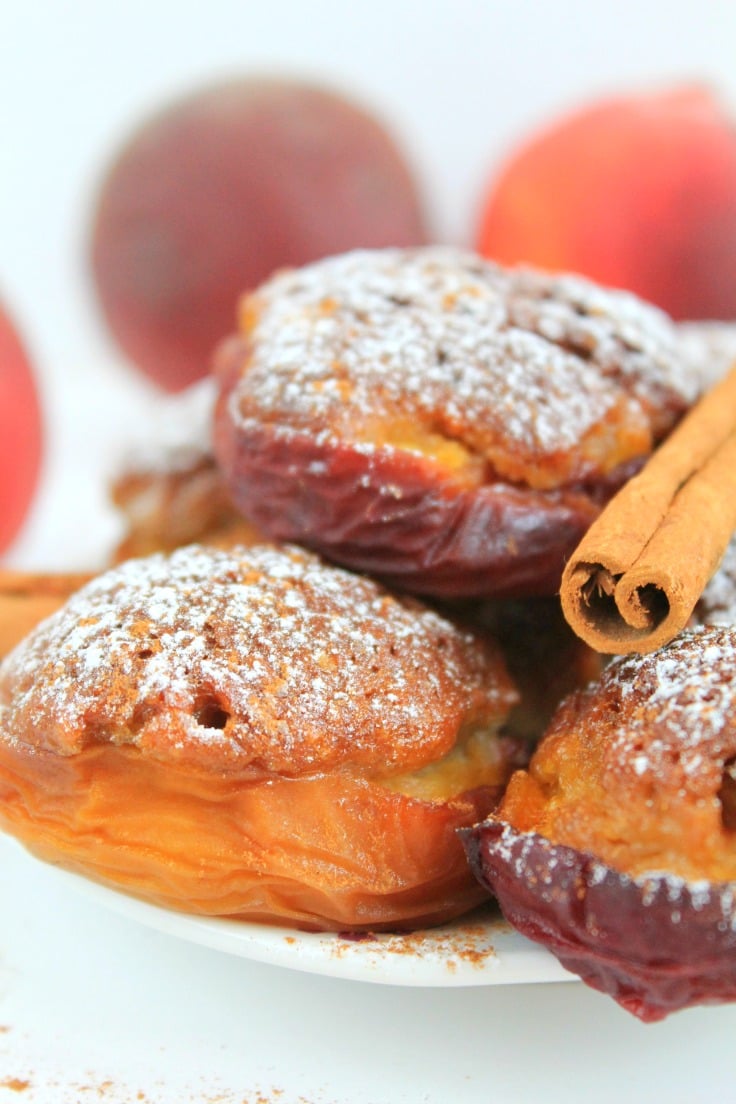 There aren't many things you can do to peach to make it taste better but this stuffed peaches recipe is definitely one mouthwatering way! These treats are sweet with just a touch of spicy, juicy, creamy and just a little bit crunchy. These would make the perfect finish to a meal but they work just as great as snacks, with a dollop of mascarpone or whipped cream.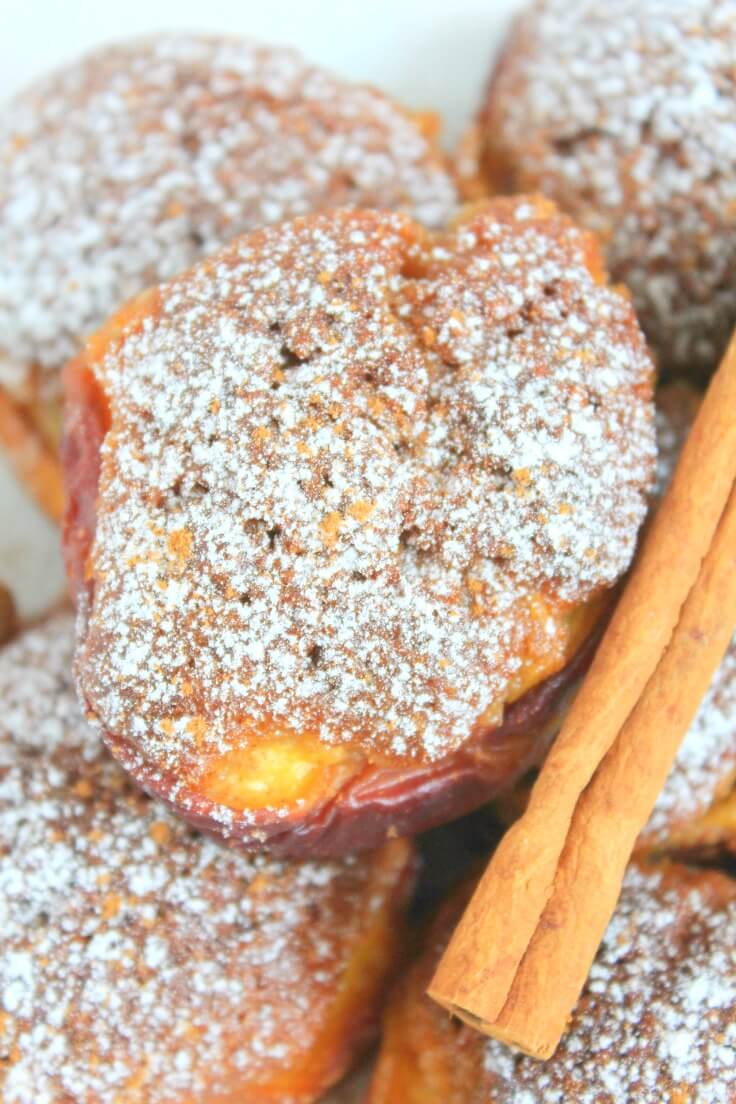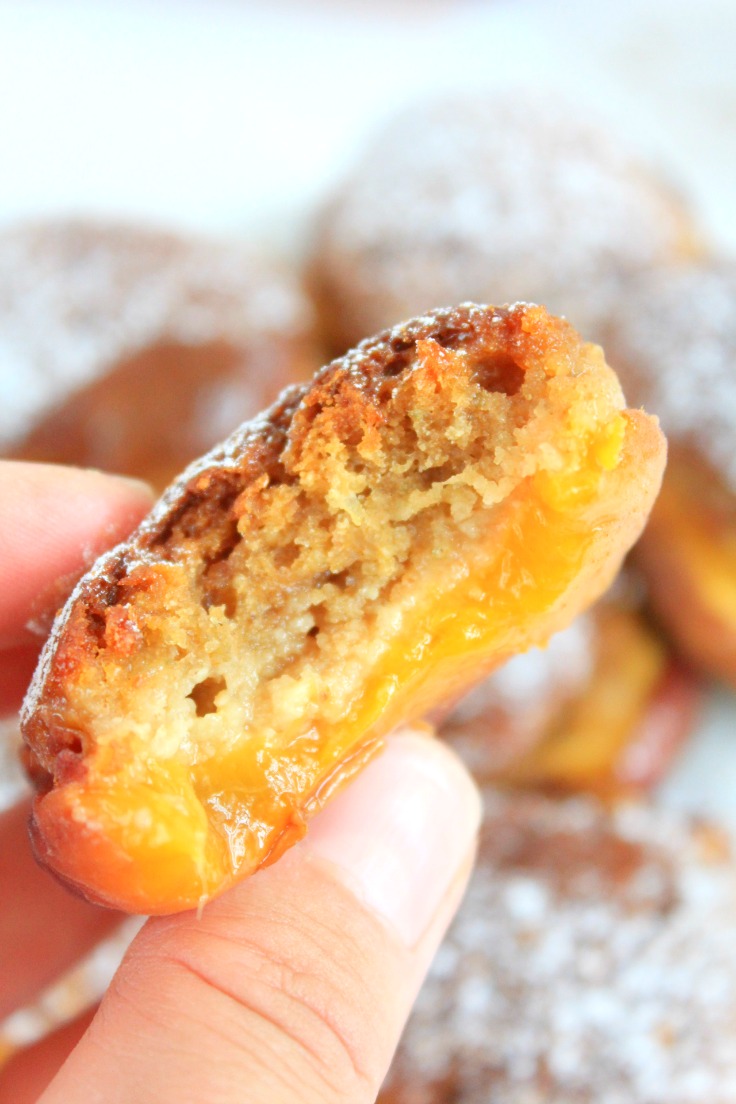 This stuffed peaches recipe is my personal heaven! I've been digging these so much I had to make the recipe twice (talk about being greedy), to have Ellie enjoy a couple. Best thing about these is that they are just as divine served warm or cold, from the fridge which is a better option on hot days.
Stuffed Peaches Recipe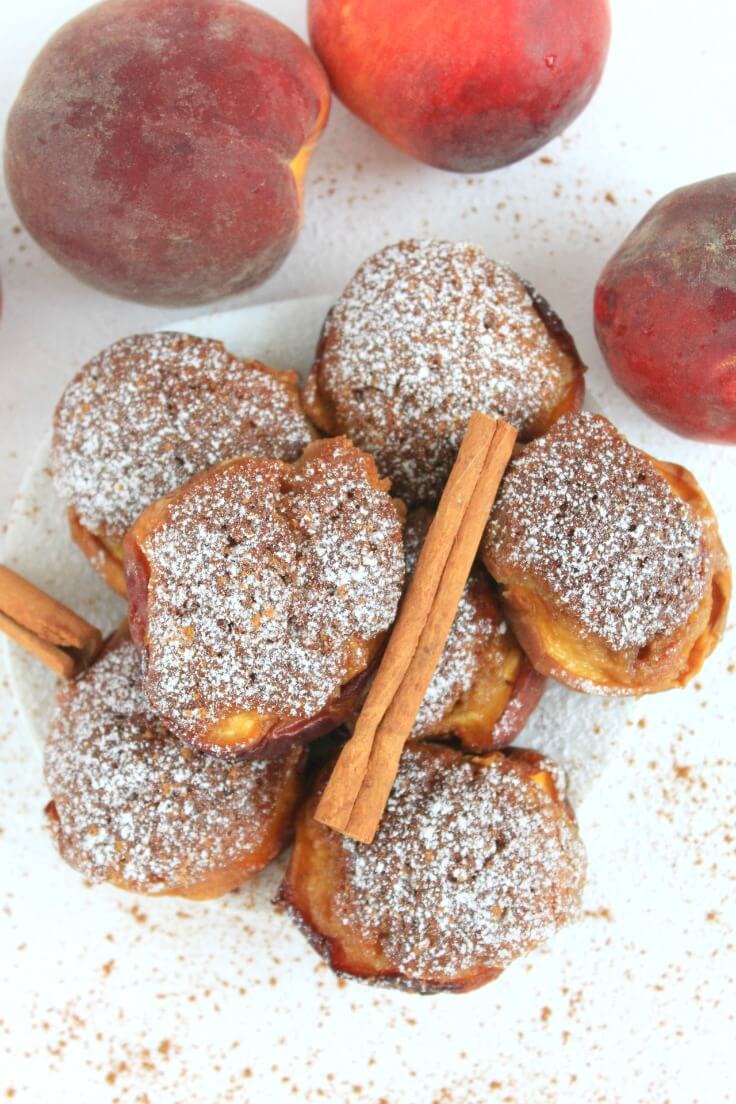 Ingredients:
4 large ripe but firm peaches
12 amaretti biscuits
1 oz = 30 g chopped almonds
1 oz = 30 g pumpkin seeds
2 oz = 55 g milk chocolate
1 egg, beaten
2 tbsp honey
icing sugar for dusting
ground cinnamon for dusting
mascarpone or whipped cream – optional, for serving
[amazon-related-products keywords="product suggestions keywords"]
Directions:
Pre heat the oven at 400 F = 200 C
Prepare a baking sheet by lining with baking paper
Halve and stone the peaches
Dig out a little flesh from the center of each half
Tip amaretti biscuits, chocolate, almonds and pumpkin seeds into a food processor and pulse until mixture is like coarse gravel
Add the peach flesh, egg and honey and process for a couple of seconds
Spoon the stuffing into each peach half
Arrange all peaches in the baking sheet and bake for about 25-30 minutes or until the stuffing is nicely browned
Serve warm or cold with a dusting of sugar and cinnamon or a dollop of mascarpone or whipped cream
Peach nests with biscuits, honey and chocolate
Ingredients
4

large ripe but firm peaches

12

amaretti biscuits

1

oz

= 30 g chopped almonds

1

oz

= 30 g pumpkin seeds

2

oz

= 55 g milk chocolate

1

egg

beaten

2

tbsp

honey

icing sugar for dusting

ground cinnamon for dusting

mascarpone or whipped cream - optional

for serving
Instructions
Pre heat the oven at 400 F = 200 C

Prepare a baking sheet by lining with baking paper

Halve and stone the peaches

Dig out a little flesh from the center of each half

Tip amaretti biscuits, chocolate, almonds and pumpkin seeds into a food processor and pulse until mixture is like coarse gravel

Add the peach flesh, egg and honey and process for a couple of seconds

Spoon the stuffing into each peach half

Arrange all peaches in the baking sheet and bake for about 25-30 minutes or until the stuffing is nicely browned

Serve warm or cold with a dusting of sugar and cinnamon or a dollop of mascarpone or whipped cream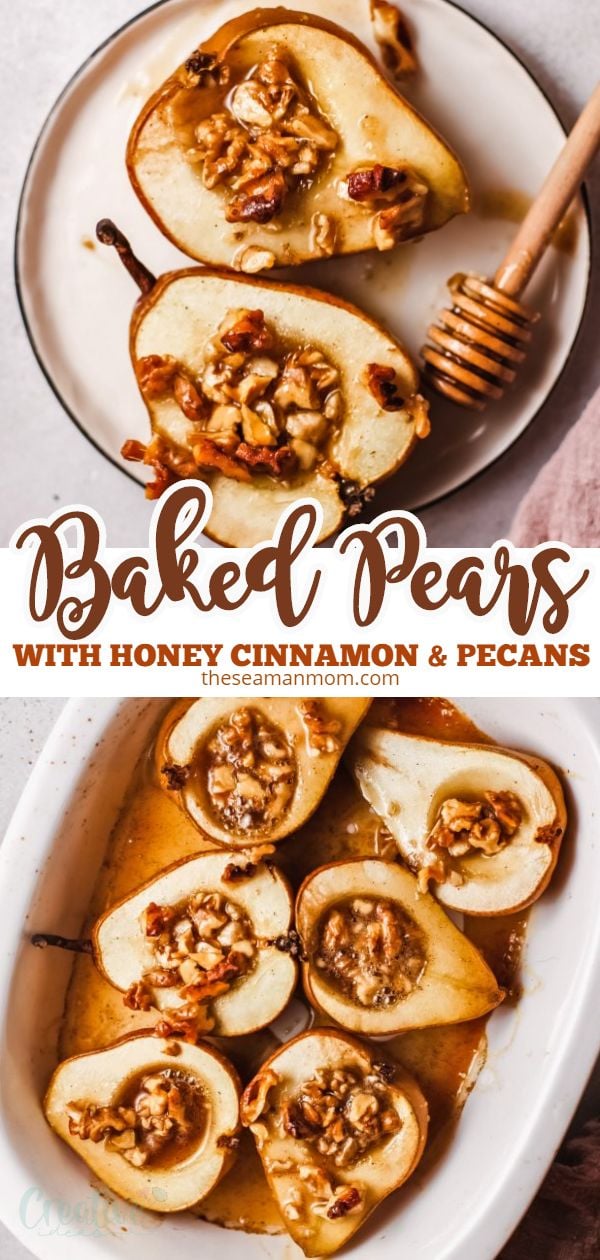 Peach and blue cheese salad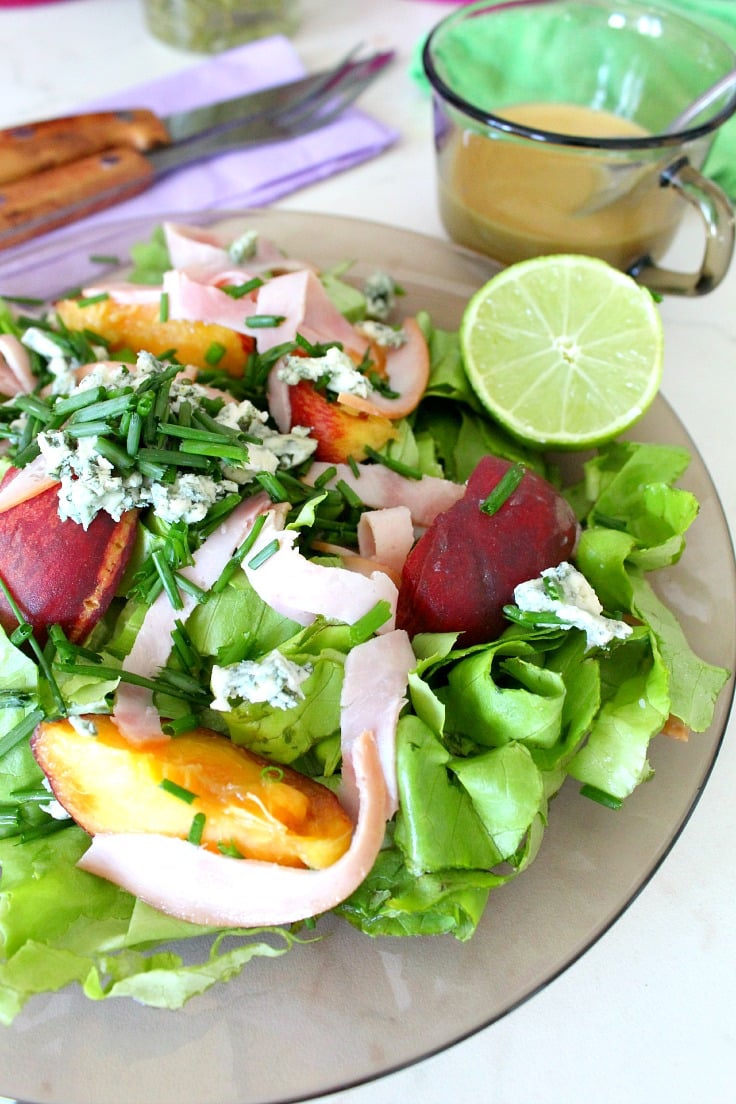 Non alcoholic Sangria with peaches