This death star popcorn balls recipe is a fun twist on your regular popcorn, thanks to colorful marshmallows. Perfect pair for a Star Wars movie night with the kids.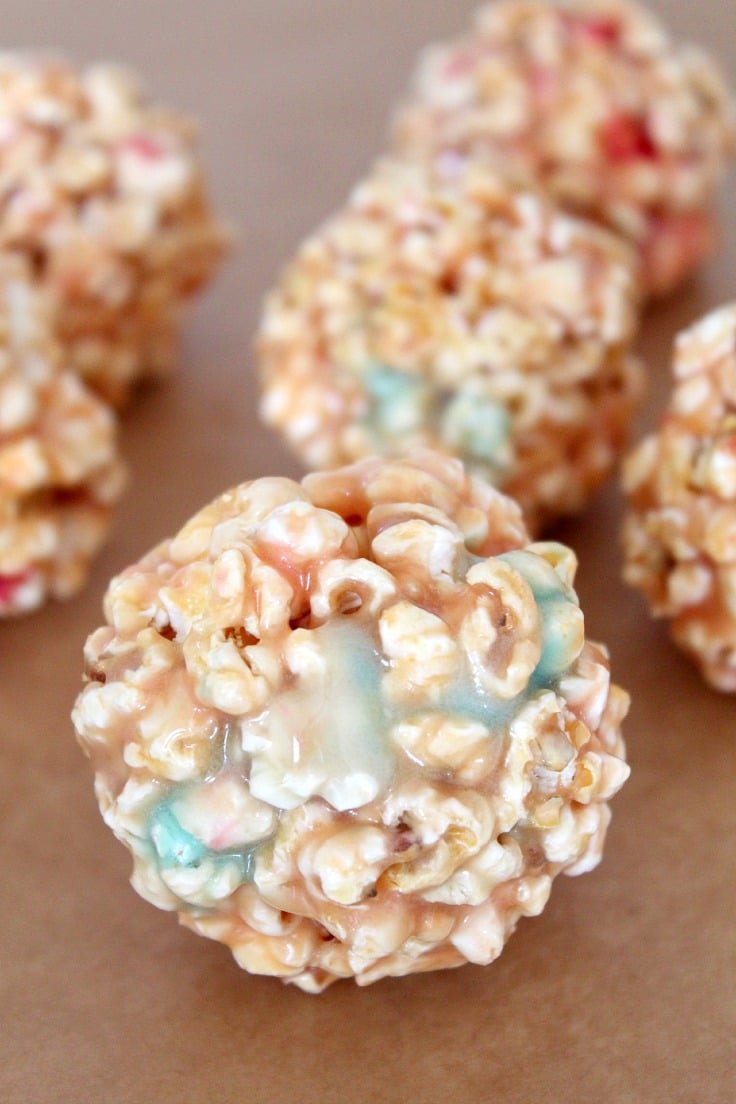 Do you guys deal with a picky eater? I bet you hate it as much as I do! My daughter is pretty unpredictable when it comes to food, sometimes she likes certain food only to refuse to even look at it the very next day. I'm never able to make a routine and each meal is a puzzle, breakfast in particular. In the morning she's quite grumpy and even if she loves her breakfast she'll say she hates it. I need a distraction to make her eat breakfast and usually that is her favorite cartoons.
But she loves Star Wars, just like her daddy and lucky for us, there are now Star Wars cereal boxes in a limited edition, available in major retailers and grocery stores beginning June 1st. You can get these boxes for the next few months only and then new packages and characters will be released while the cereal flavor will remain the same.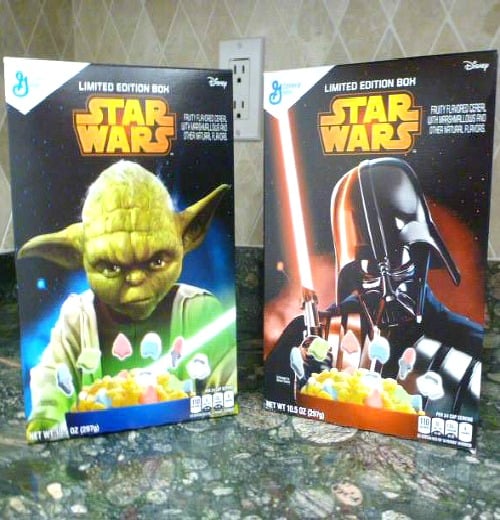 Remember the days when as kids we sat down and all we needed was the box to keep us entertained during breakfast? Star Wars Cereal does just that. Star Wars Cereal is a delicious fruity flavored cereal with marshmallows. There is only one kind of cereal, but there are currently two limited edition package designs that you can choose from. It contains whole grains, no high fructose corn syrup and is a good source of calcium and vitamin D.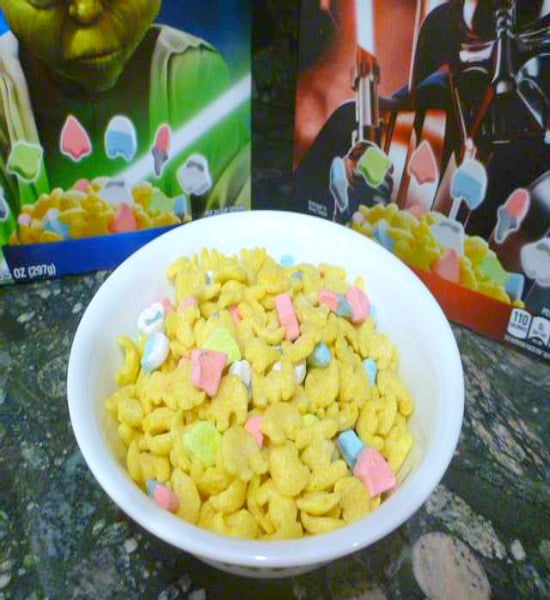 Star Wars cerealfeatures marshmallows in 6 fun shapes:
Yoda (green)
R2-D2 (blue and white)
Jedi Fighter (pink/red)
Stormtrooper (white)
Lightsaber (blue)
Lightsaber (red)
The corn pieces are in 3 equally fun shapes:
TIE Fighter
X-Wing Starfighter
Millenium Falcon
The Yoda Package has a quiz on the back of the package for kids to test their Star Wars knowledge while the Darth Vader Package has a board game on the back of the package so they can play as they enjoy their delicious cereal.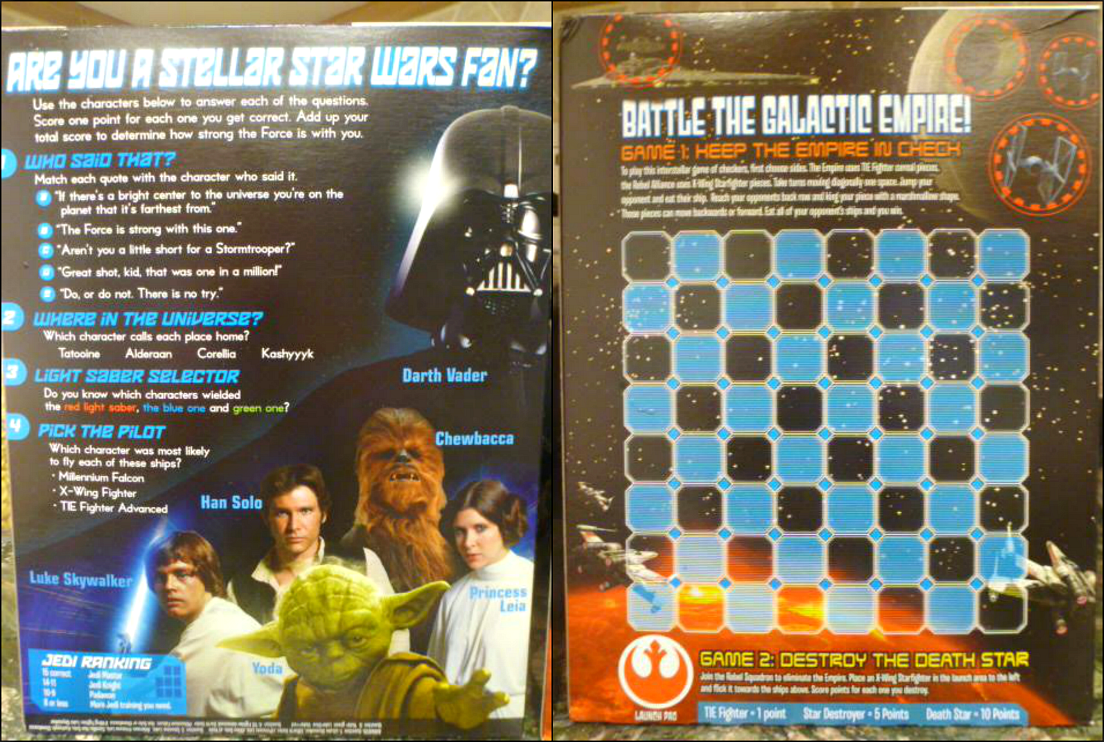 And what works best with a box of Star Wars cereal? Watching Star Wars movies! Even better, what's the perfect match to a movie? Popcorn! Death Star popcorn balls to be more specific. Below is the recipe for the Death Star popcorn balls we'll be enjoying and I hope you will too.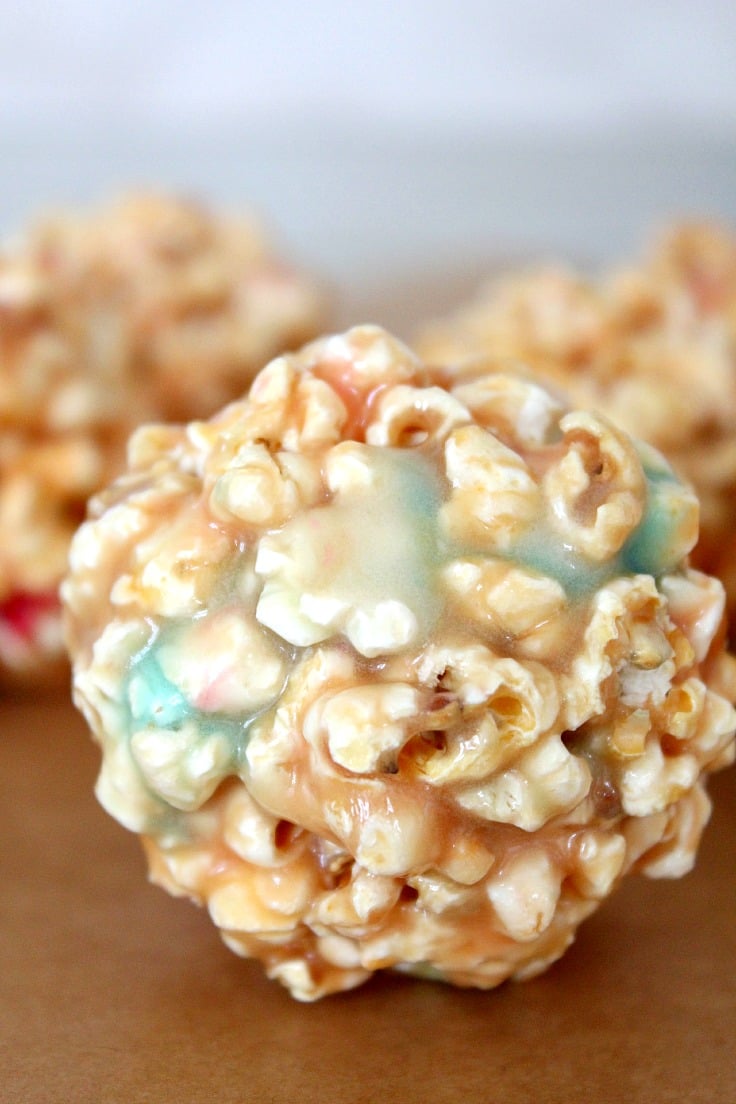 Please share your story of when you were introduced to Star Wars and how you plan to introduce your kids too. Also which side of The Force are you and your kids on?
Death Star popcorn balls recipe
Death Star popcorn balls recipe
Easy peasy popcorn balls with a fun twist thanks to colorful marshmallows. Perfect pair for a Star Wars movie night with the kids.
Ingredients
8

tablespoons

unsalted butter

280

g

= 10 oz white marshmallows

6

cups

popped popcorn

2

cups

colorful marshmallows
Instructions
Melt butter over low heat

Stir in the white marshmallows until fully melted

Add colorful marshmallows and stir to coat (you'll want bits of these to pop up in your popcorn balls)

Pour everything over the popped popcorn and stir to coat

Spray hands with cooking oil and form balls

Place them on a cookie sheet lined with parchment paper

When cooled transfer to fridge and store in an airtight container
Notes
Enjoy on a Star Wars movie night with family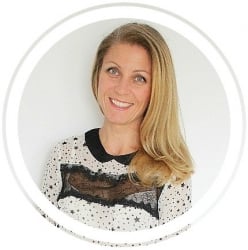 Hi, I'm Petro, author and founder of Easy Peasy Creative Ideas. Sewist, crafter, avid DIY-er, foodie, photographer, homemaker and mommy to one. I'm an expert at coming up with quick, clever sewing tips, recycling crafts and simple, easy recipes! You can find my ideas featured in reputable publications such as Country Living, Good House Keeping, Yahoo News, WikiHow, Shutterfly, Parade, Brit & Co and more. Thanks for stopping by and hope you'll stay for a while, get to know me better and come back another time. Stick around for real fun projects!