Stuffed tomatoes with eggplant hummus dip
Article may contain Amazon & affiliate links. As an Amazon Associate I earn from qualifying purchases at no additional cost to you.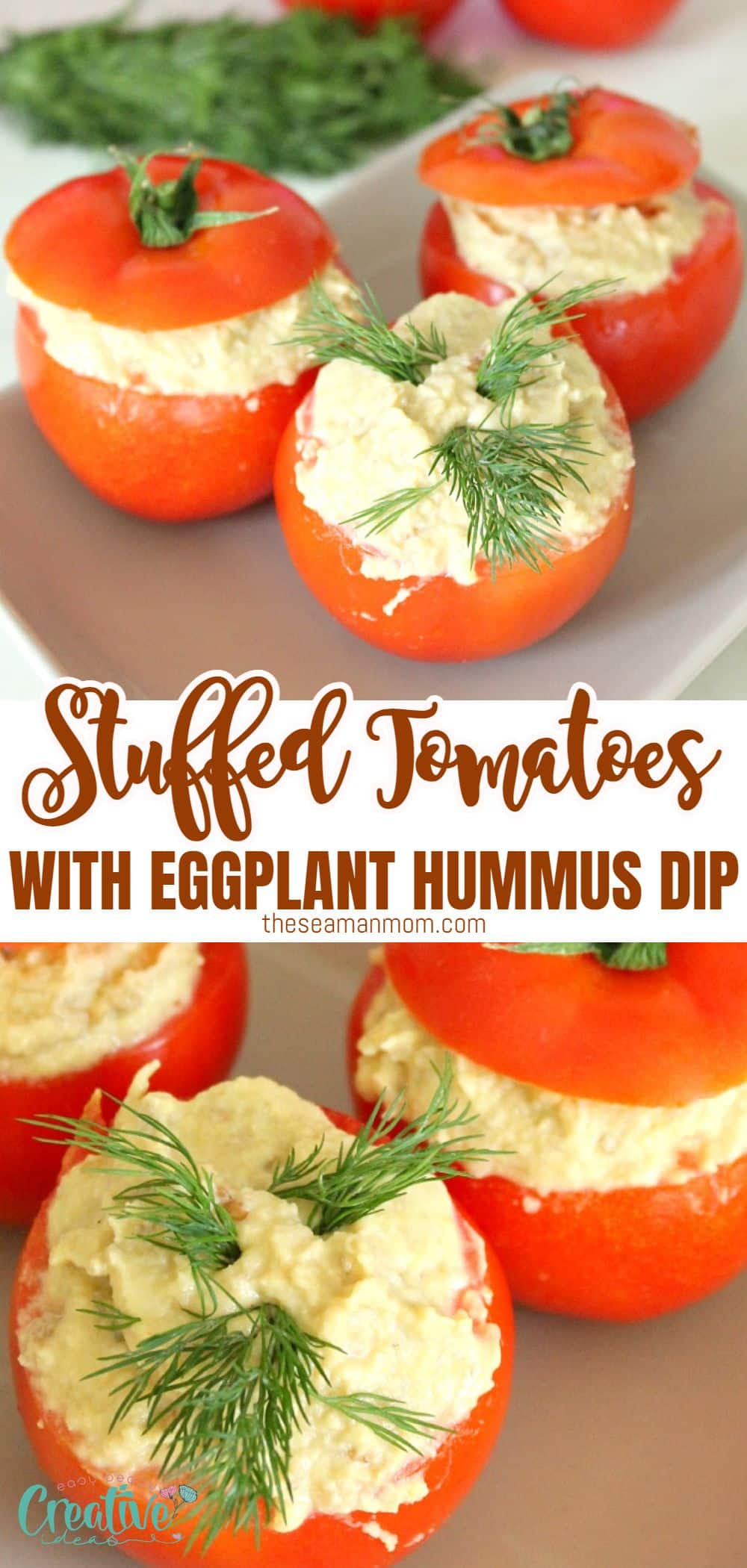 If you're searching for a filling and quick vegetarian snack or a simple yet fancy appetizer, give this delectable recipe for stuffed tomatoes a try. The dish features delicious fresh tomatoes filled with eggplant and hummus dip, and your guests will undoubtedly be impressed!
Stuffed tomatoes with eggplant and hummus dip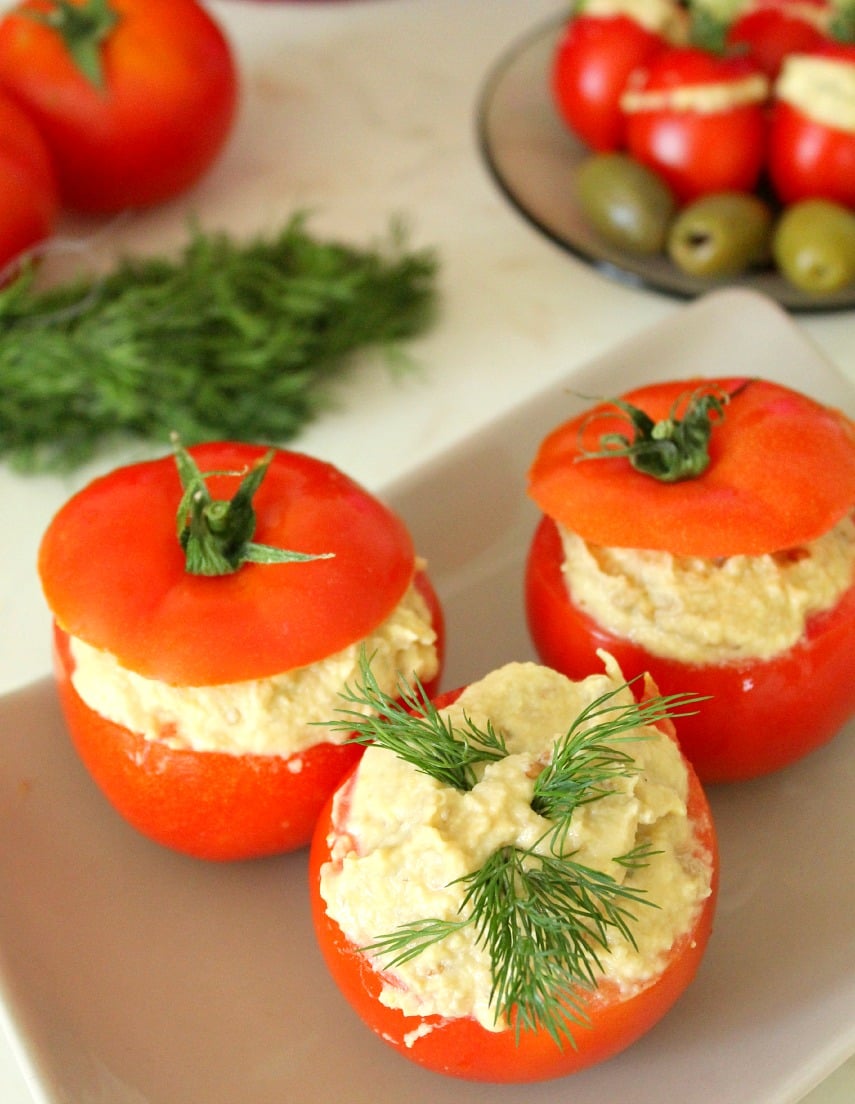 This recipe for stuffed tomatoes is such a tasty way to use fresh garden tomatoes during the summer months. Stuffed with a savory mixture of mashed eggplant, garlic hummus, olive oil and lemon juice, these stuffed tomatoes can easily make a light dinner. Just pair them with feta cheese, olives and whole wheat bread with mixed seeds as we do.
When I was a child these delicious tomatoes where a staple at any family party, as appetizers. My mom took pride in making and dressing these up the cutest and most elegant way possible. One could notice right away how much soul she's put into making these. It's probably the reason I haven't made them in ages, I think I got to enjoy them too many years, I've come to take this recipe for granted, forgetting how delicious, quick and easy is to make.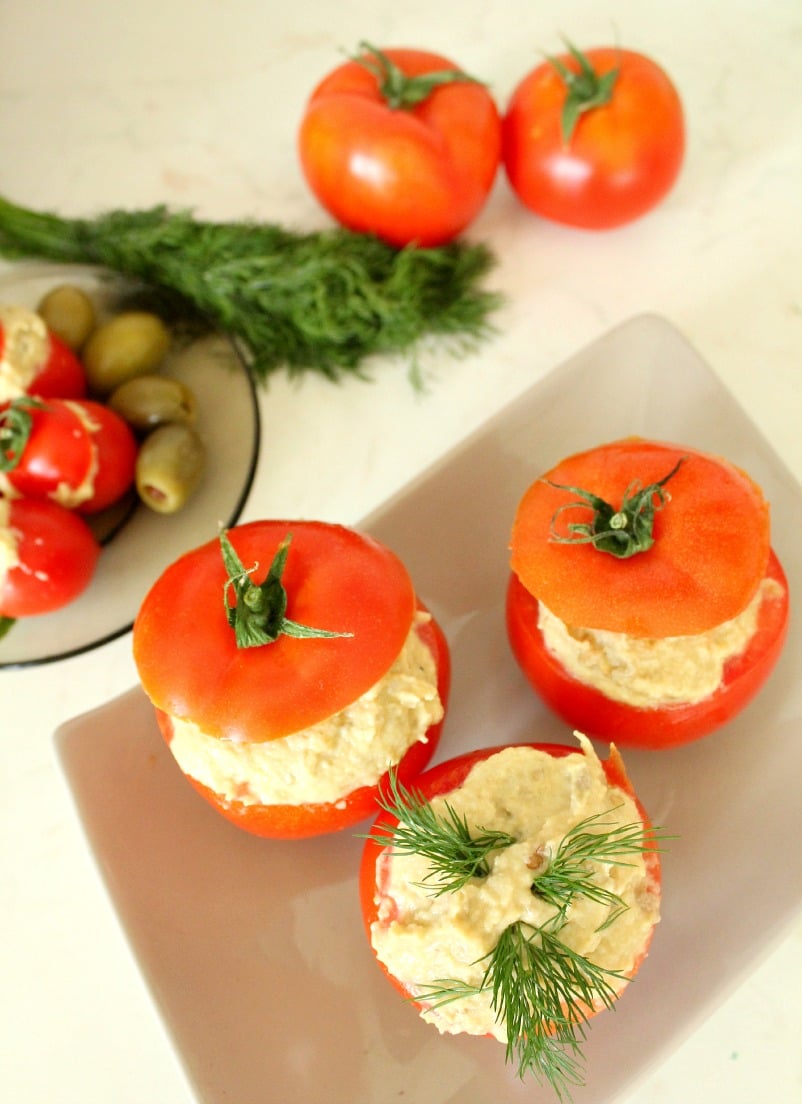 What are stuffed tomatoes?
Stuffed tomatoes are a Mediterranean summer dish, usually served as an appetizer or side dish. They can be made with any type of tomatoes. The key is to choose ripe and firm tomatoes that will hold their shape. The traditional Greek recipe calls for baking the tomatoes in the oven but this is a no bake recipe that calls for ripe fresh tomatoes, eggplant and hummus dips and fresh dill to decorate.
Are stuffed tomatoes healthy?
I believe so! Tomatoes are a great source of vitamin C, fiber and antioxidants. Eggplants are also very healthy and contain vitamins B1, B6 and potassium. Olive oil is also packed with heart-healthy monounsaturated fatty acids and garlic hummus is rich in protein, healthy fats, minerals and vitamins.
This appetizer is low in sodium and calories, making it a great choice for those looking for healthy meal options.
Want more delicious appetizer ideas?
What goes with stuffed tomatoes?
Stuffed tomatoes can be served as an appetizer, a starter, light meal or side dish. They are delicious paired with feta cheese, mozzarella cheese and olives. For a complete meal serve them with couscous, quinoa or whole wheat bread. A light green salad would also go great with this tasty dish!
If you have unexpected guest, or you're out of ideas for a party, these stuffed tomatoes with eggplant and hummus are a perfect appetizer idea. They're also a perfect last-minute snack and you probably have all ingredients on hand.
Can you make stuffed tomatoes ahead of time?
Yes, you can make stuffed tomatoes ahead of time. Just store the prepared tomatoes in the refrigerator until you're ready to serve them. This will help keep the stuffing from soaking up all of the liquid and making the tomatoes soggy. You can also prepare everything in advance but fill and dress the tomatoes just before serving.
I bake my own eggplant, then I mash them and store some in the freezer for the cold months when after thawing it, I mix it in a delicious dip with chopped onion and olive oil. If you don't know how to bake your eggplant, there will be some instruction in the recipe card below. I bought the hummus dip for this time.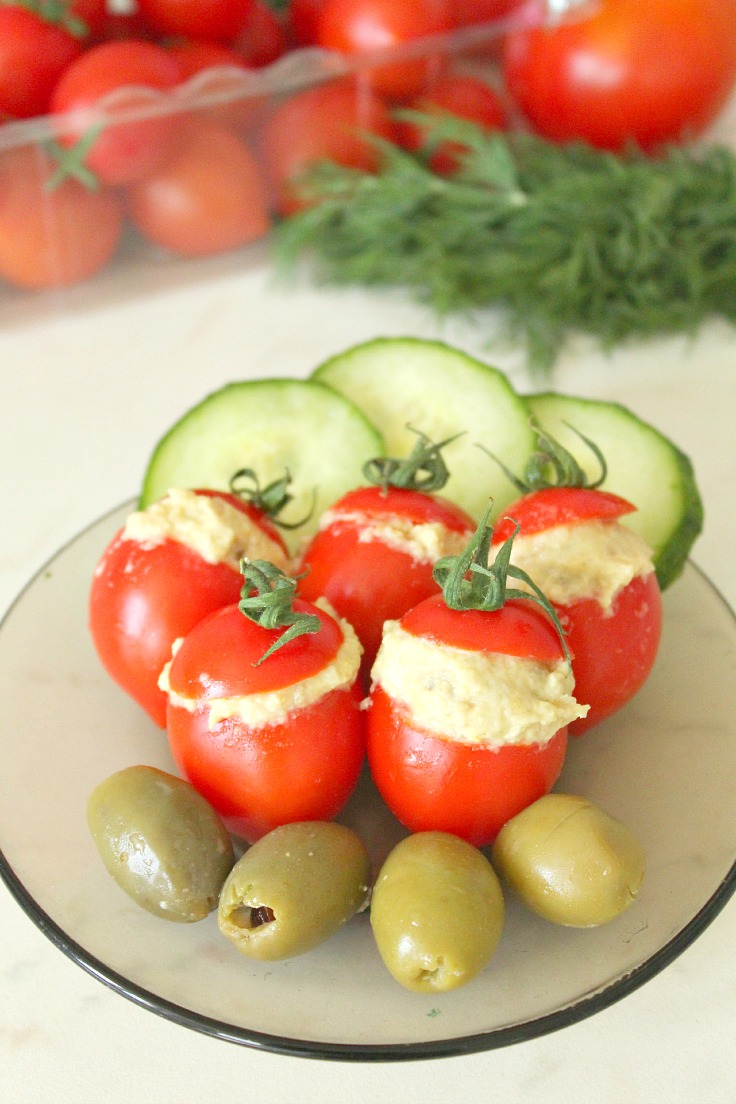 What kind of tomatoes can I use for this recipe?
For this recipe, you can use any type of ripe tomatoes. I like to use vine or cherry tomatoes but if that's not available then use Roma or large beefsteak tomatoes. The key is to choose ripe and firm tomatoes that will hold their shape when they are cut and stuffed.
If you'd like to make these bite size, which is the perfect option if you plan to serve them as party appetizers, use cherry tomatoes instead of regular. They are not as easy to stuff but it's also no rocket science and they'll look incredibly cute and easy to serve with tooth picks or bamboo skewers. Your guest will be in awe.
What do I need to make this stuffed tomatoes appetizer?
The simple and easy to make ingredients are:
Fresh tomatoes
eggplant dip
hummus dip
fresh dill to decorate
How to make stuffed tomatoes recipe?
Prepare the eggplant dip and the hummus dip as indicated in the recipes.
Wash tomatoes and cut the top off
Scoop the seeds and the flesh/pulp out to create enough space for adding the eggplant hummus dip to the inside of the tomato. Discard or add these to the eggplant hummus mixture if you like the taste. Or simply add to a bowl, mash and mix with mashed garlic and some parmesan cheese and serve as a dip with crackers or chips.
Flip them over to drain excess water
Stuff tomatoes with equal parts eggplant and hummus dip using a small spoon.
Drizzle some olive oil and decorate with fresh dill (parsley, thyme and basil also work great). You can also add these fresh herbs inside the dip for added flavor.
How long can I store the stuffed tomatoes?
The stuffed tomatoes leftovers should be stored in the refrigerator in an airtight container and eaten within two days.
Can I freeze stuffed tomatoes?
I wouldn't recommend freezing the stuffed tomatoes as they may become soggy.
Can I use different types of hummus?
Yes, you can use any type of hummus you like for this recipe such as garlic, roasted red pepper or beetroot.
Can I swap out the eggplant dip for something else?
You can use any kind of dip or spread that you like instead of an eggplant dip but this combination works best. Cheese fillings might be a good fit also.
Is this dish suitable for vegetarians?
Yes, this dish is vegetarian friendly. In fact it's a vegan recipe. The key ingredients are tomatoes, eggplant dip and hummus dip so it's a great option for vegetarians and vegans or anyone looking for a light meal.
I hope you enjoyed this recipe for stuffed tomatoes filled with eggplant and hummus dip. They're easy to make, healthy, delicious and perfect for summer entertaining. Let me know how it goes in the comments or tag me on Instagram if you post a picture! Enjoy!
Pin to save for later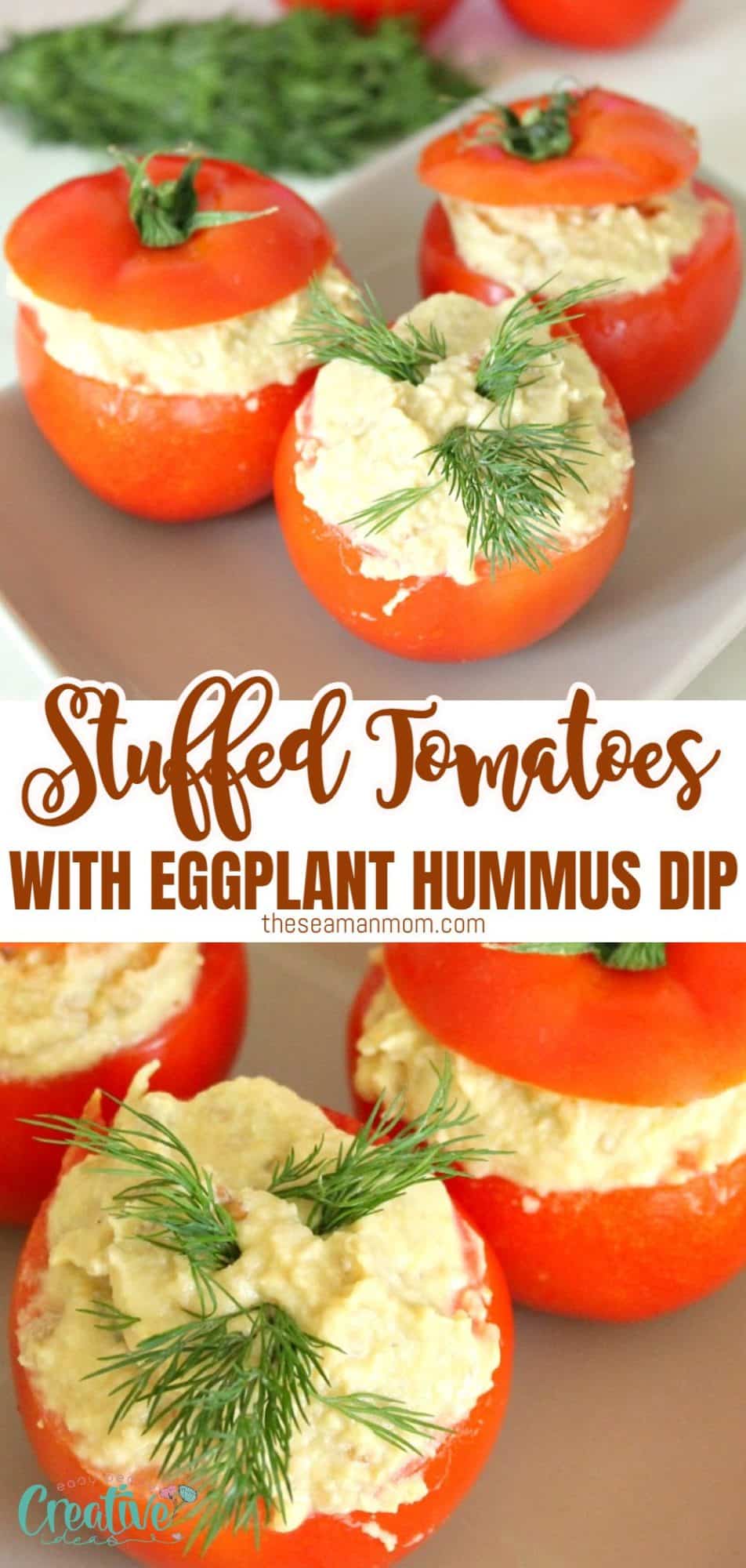 Print the recipe card
Stuffed tomatoes with mashed eggplant and garlic hummus
For a satisfying snack or an easy but elegant appetizer, try these tasty stuffed tomatoes with eggplant & hummus. Guests will be impressed!
Instructions
Make the dips as indicated in their recipes

Wash tomatoes and cut just the top off

Scoop the seeds and flesh out

Flip them over to drain excess water

Stuff tomatoes with eggplant hummus mixture using a small spoon