Article may contain Amazon & affiliate links. As an Amazon Associate I earn from qualifying purchases at no additional cost to you.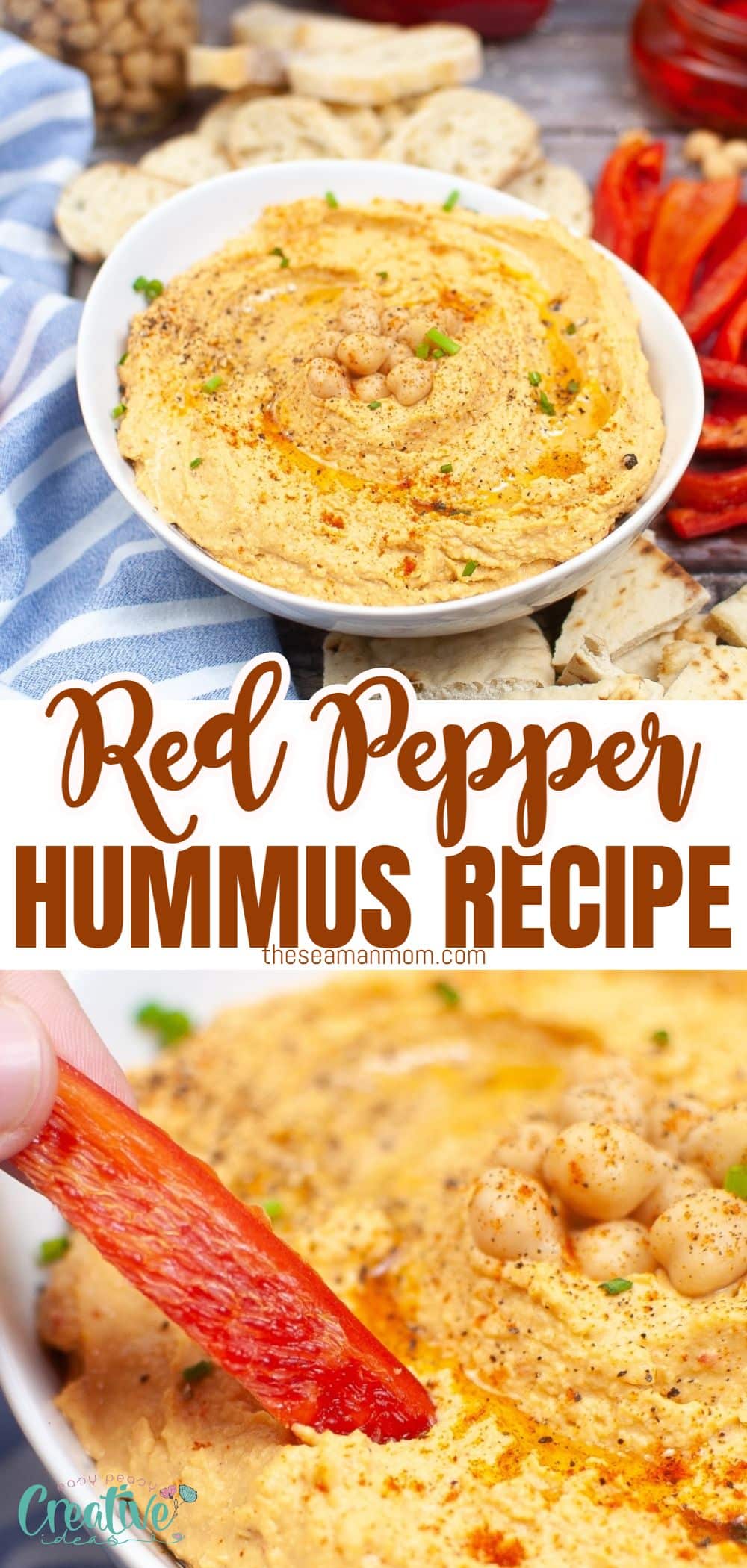 If you're craving a flavorful dip that will liven up your meal, roasted red pepper hummus is the perfect option! This creamy and flavorful roasted red pepper hummus is made from garbanzo beans, tahini, red peppers, and a variety of flavorful seasonings. It's perfect for dipping with chips or vegetables, adding to a sandwich, or simply enjoying it on its own.
Red pepper hummus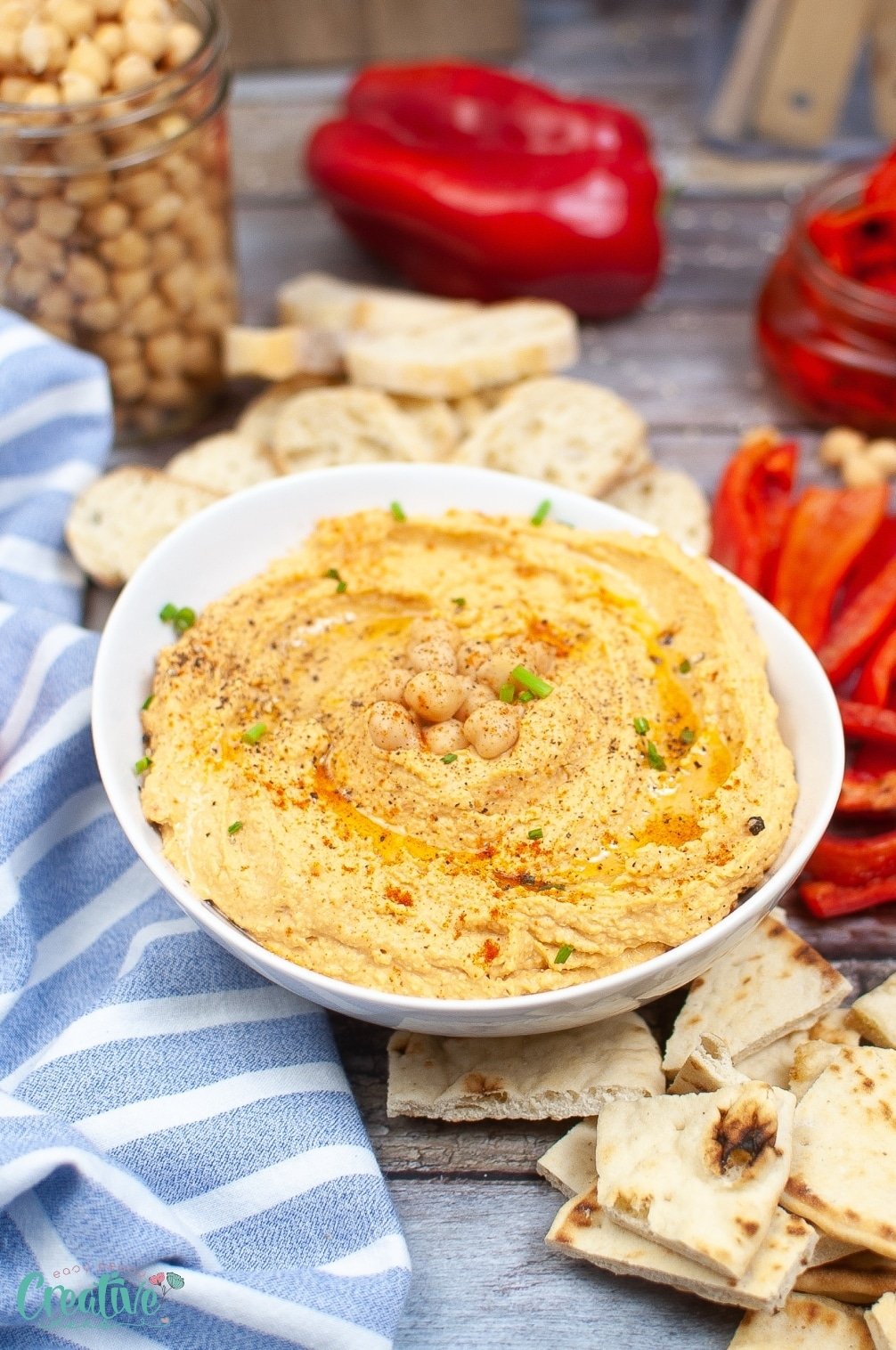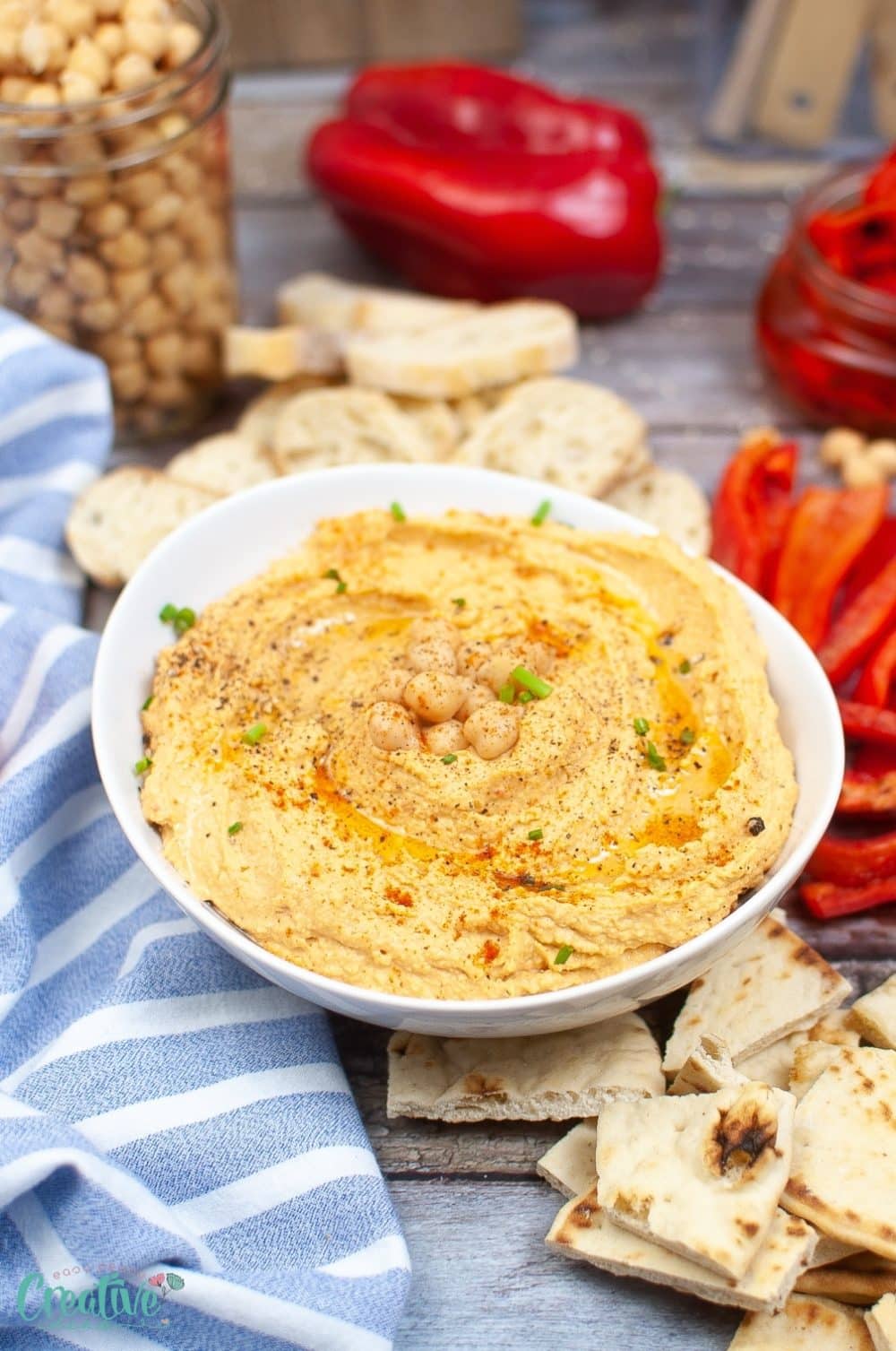 The combination of smoky roasted peppers and creamy chickpeas makes this delicious dip the perfect appetizer or snack for any get-together. And since this recipe for red pepper hummus is so simple to make, it's going to be your go-to dish for every party! Serve it with crackers or veggies for dipping to instantly create a flavorful and delicious party snack.
Roasted pepper hummus is a delicious and healthy way to add flavor to your favorite meals! Give it a try today!
Is red pepper hummus good for you?
Yes, red pepper hummus is a healthy, filling and nutritious food option! This flavorful dip is a good source of protein, fiber, and vitamins, and it's low in calories and fat. So go ahead and enjoy this delicious dip with no guilt!
What does roasted red pepper hummus taste like?
Roasted red pepper hummus has a smoky, savory flavor. The combination of red peppers and garbanzo beans creates a creamy dip that is full of flavor! It's perfect for dipping chips or vegetables, adding to sandwiches or wraps, or simply enjoying on its own.
Want more delicious dips

?
Does red pepper hummus have protein?
Yes, red pepper hummus is a good source of protein! A single serving of red pepper hummus contains 4-5 grams of protein. This makes hummus a great snack idea for those looking to up their protein intake without adding more calories or fat.
Is hummus good for you to lose weight?
Yes, red pepper hummus can be part of a healthy and balanced diet plan for weight loss. Since red pepper hummus is low in calories and fat but high in protein and fiber, it can help keep you feeling full and satisfied without adding extra calories to your daily diet. Enjoy red pepper hummus with some vegetables or whole-grain crackers for a healthy snack that is sure to keep you energized!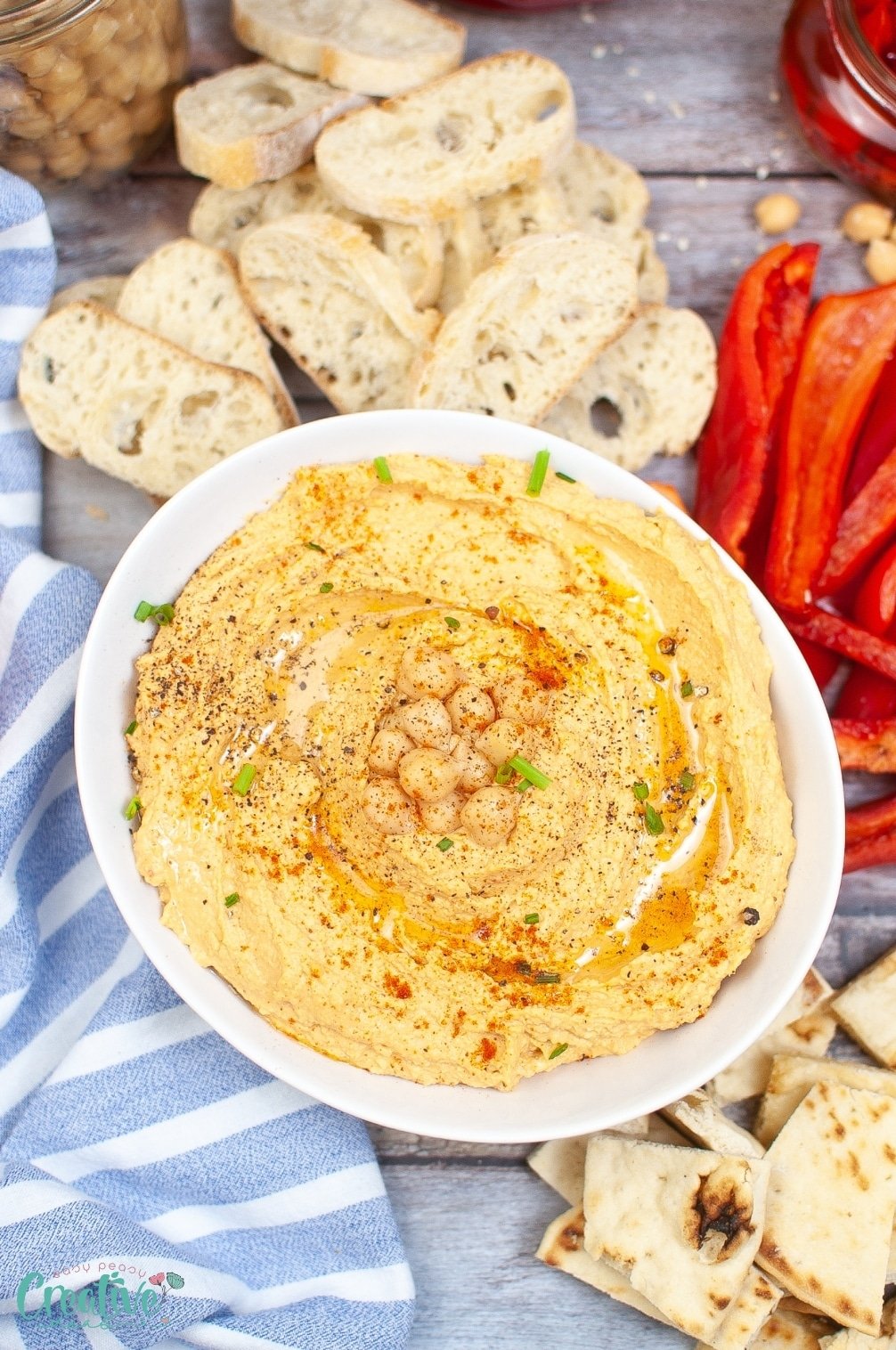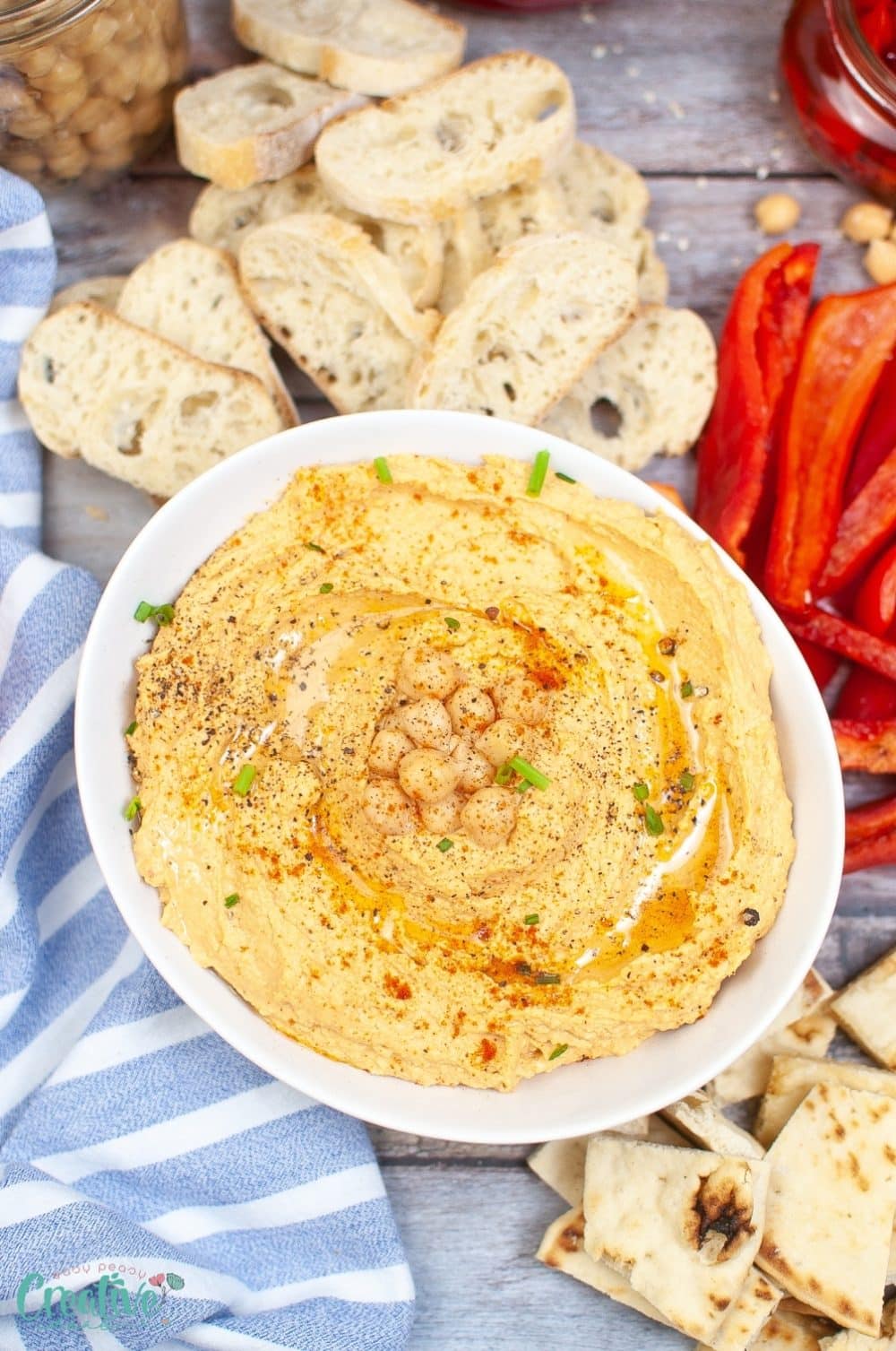 How Do You Roast Bell Peppers?
While you can speed up the prep time of this quick red pepper hummus recipe by using jarred roasted red peppers if you have a little bit of extra time on your hands, why not roast them yourself? Roasting red peppers is a quick and easy process that will add tons of flavor to your homemade hummus.
To roast red peppers at home, just follow these four simple steps:
Slice the bell peppers into quarters and place them on a baking sheet.
Brush the peppers with olive oil and cook in a preheated 450-degree oven for 30 minutes, turning the slices halfway through the cooking time.
When the peppers are soft, remove them from the pan and immediately transfer them to a bowl. Cover the bowl tightly with plastic wrap. Allow the hot peppers to steam in the bowl for around 15 minutes.
After the peppers are finished steaming, take them out of the bowl and remove the charred skin from the back of each pepper.
What goes with red pepper hummus?
This delicious dip pairs perfectly with a variety of different ingredients, which means it's perfect for a party! But before you decide what you plan to serve for dippers with your hummus, think about the toppings you'll add to your dip when you serve it. These garnishes are a great way to dress up your hummus and add even more flavor to the recipe:
Olive oil
Roasted pine nuts
Chopped roasted red pepper
Finely chopped chives, green onion or parsley
Paprika
Cracked pepper
Once you have your garnishes added to your hummus, it's time to pick some delicious ingredients for dipping. Red pepper hummus goes well with tons of different dippers, including:
Warm pita bread
Pita chips
Baby carrots or carrot sticks
Celery
Bell pepper strips
Cherry tomatoes
Cucumber slices
Broccoli or cauliflower
Bread squares or slices
Tortilla or corn chips
Crackers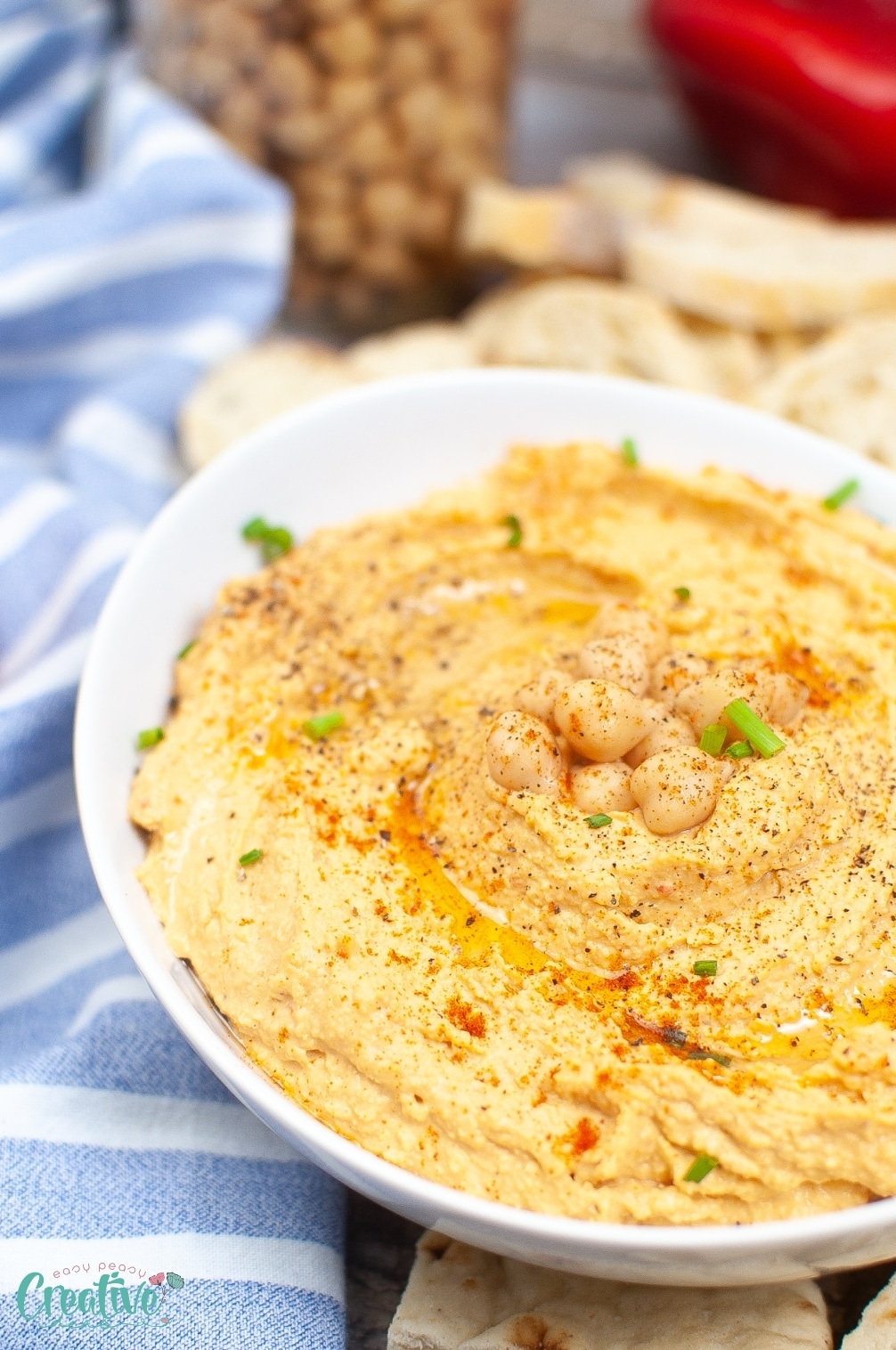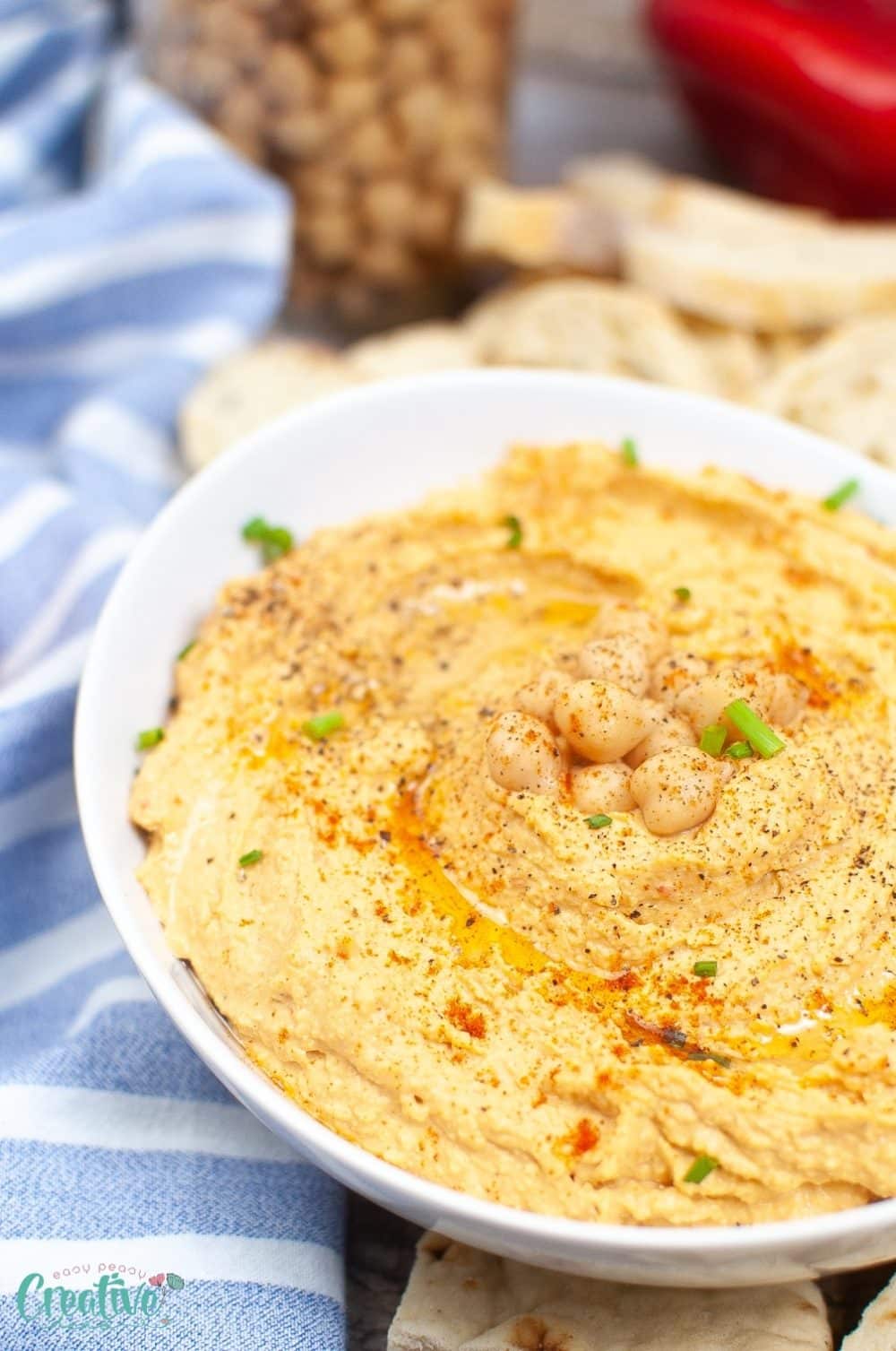 What is Red Pepper Hummus Made of?
Adding roasted red bell peppers to plain hummus is a great way to take the flavor up a notch. And you won't believe how easy it is to make your own hummus at home. The first step to whipping up this easy dip is to grab the ingredients.
Roasted red pepper hummus is made of a handful of simple ingredients, including:
Garbanzo beans (also known as chickpeas)
Roasted red bell pepper (skip if you want to go for the classic hummus flavor)
Garlic cloves
Tahini
Lemon Juice
Ground cumin
Salt
Extra virgin olive oil
optional – decorate with a couple of teaspoons of sesame seeds
optional – sprinkle some cayenne pepper powder to decorate and add spiciness
How to make red pepper hummus without tahini?
If you don't have tahini on hand or want to make red pepper hummus without it, you can easily substitute another flavor-packed ingredient like creamy nut butter or even mashed avocado. Or you could add some of the aquafaba until you get the desired creaminess and consistency (this is the liquid in which the chickpeas have been soaking in the can).
While your hummus will taste slightly different, these ingredients will help give your red pepper hummus the same creaminess and flavor that tahini would. If you're unsure just skip the tahini altogether.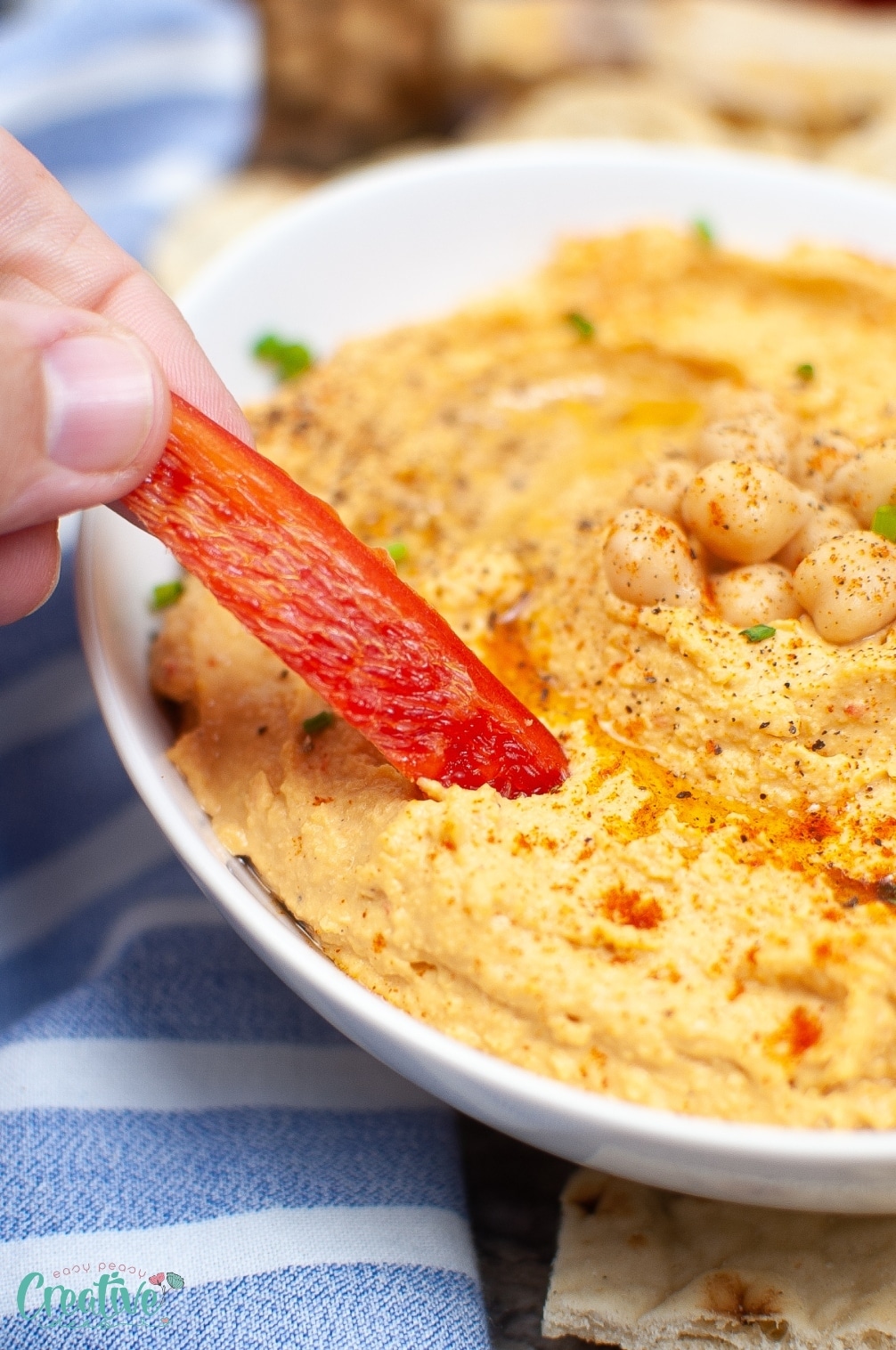 How Do You Make Hummus?
If you love store-bought hummus, you may be wondering how difficult it is to make your own dip at home. That means I have some good news for you! Making homemade hummus isn't only easy, but it's fast, too!
But before you can start making your own hummus, there is one handy appliance you'll need to ensure your dip tastes amazing. To make homemade hummus, you'll need a food processor. The key to getting that smooth, creamy texture found in premade hummus is to use a food processor to grind and blend all the ingredients together. If you don't have a food processor, you can also use a blender to combine the ingredients for your dip.
Once you have your ingredients and supplies ready to go, all you have to do is follow these two simple steps:
Add the ingredients (minus the oil) to the food processor. Simply pour all the ingredients in your hummus recipe into the bowl of the food processor or blender. Blend the ingredients together until the mixture is smooth and everything is well combined.
Add the oil. Once the base of your hummus is ready, you can thin it out with the help of some oil. If you're using a food processor, continue blending the mixture and slowly add the oil through the hole in the top of the lid. Or you can simply pour all the oil into the blender and blend until smooth.
How Long Does this Hummus Last?
When you make your own homemade hummus, the key to keeping it fresh is properly storing it. Make sure to transfer your leftover dip into an airtight container and store it in the refrigerator. When refrigerated, the dip will stay good for up to one week.
To ensure your dip lasts the entire week, it's a good idea to avoid dipping directly into the storage container. This may contaminate the dip and cause it to brown or go bad before the expiration date. Instead, always transfer the hummus to a new bowl for dipping.
Can you freeze red pepper hummus?
Yes! Making hummus in bulk and freezing it is the perfect way to prepare for parties or busy weeks. When you're ready to freeze it, make sure you transfer it into an airtight container before placing it in the freezer.
When you're ready to enjoy a scoop of the dip, you can take it out of the freezer and let it thaw in the refrigerator overnight. It will stay good for up to three months when stored in the freezer.
No matter what you plan to serve for dippers, red pepper hummus is a delicious and easy-to-make recipe that is sure to be a hit at your next gathering! So next time you're looking for a delicious snack, whip up a batch of hummus and enjoy the amazing flavor it adds to your favorite dippers!
Pin to save for later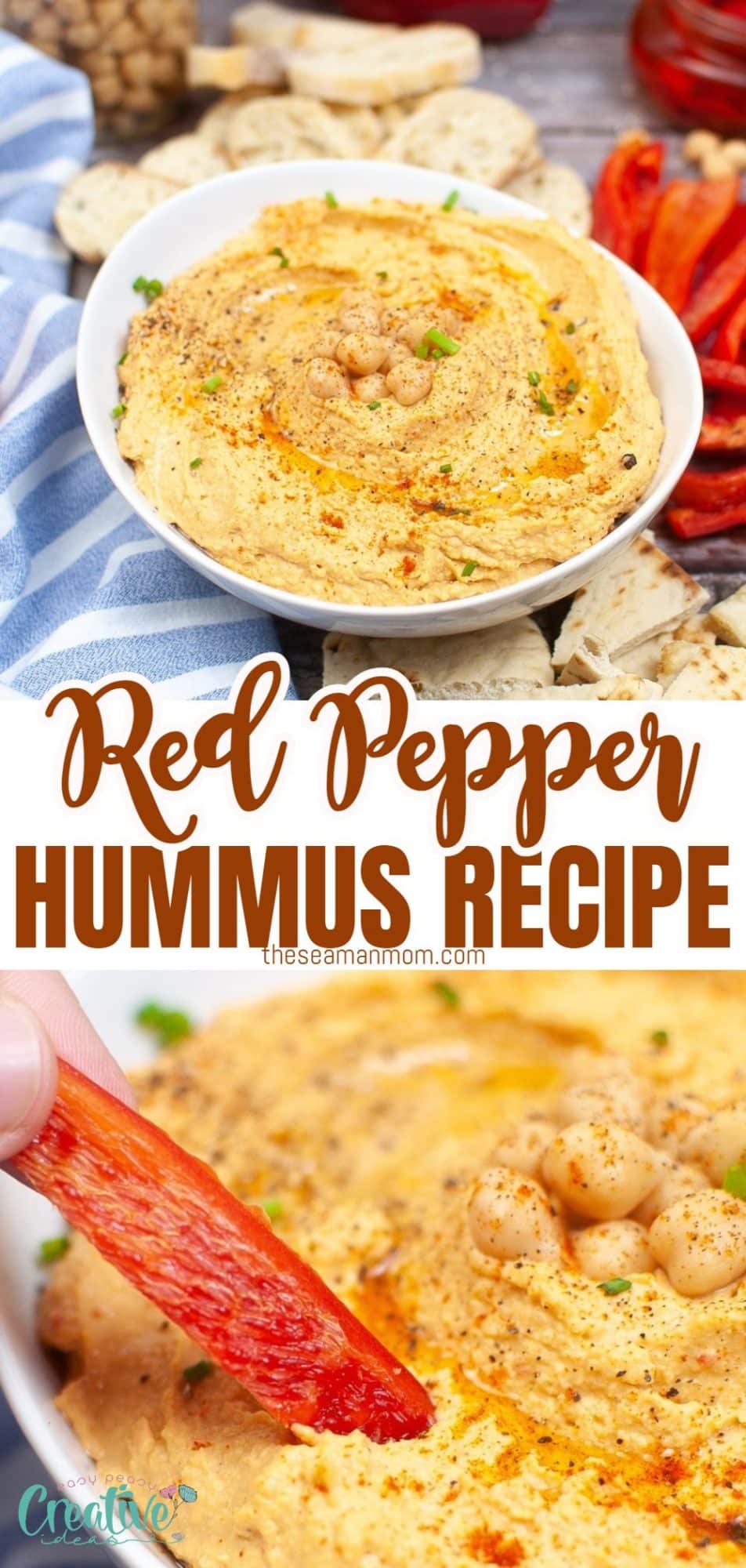 Print the recipe card
Roasted red pepper hummus
Indulge in this smoky, savory roasted red pepper hummus anytime you crave a delicious snack! It's sure to be your new favorite!
Ingredients
15

oz

can garbanzo beans

chickpeas, drained

2

ounces

roasted red bell pepper

home roasted or jarred

1

tablespoon

garlic

minced

2

tablespoons

tahini

2

tablespoons

lemon juice

½

teaspoon

ground cumin

½

teaspoon

salt

4

tablespoon

olive oil
Instructions
Add your beans, bell pepper, tahini, lemon, cumin, salt and garlic to your blender. Blend well.

Add in your oil. Blend until smooth.