How to Make a Paper Box: Free Printable box template for Christmas favors and gifts
Article may contain Amazon & affiliate links. As an Amazon Associate I earn from qualifying purchases at no additional cost to you.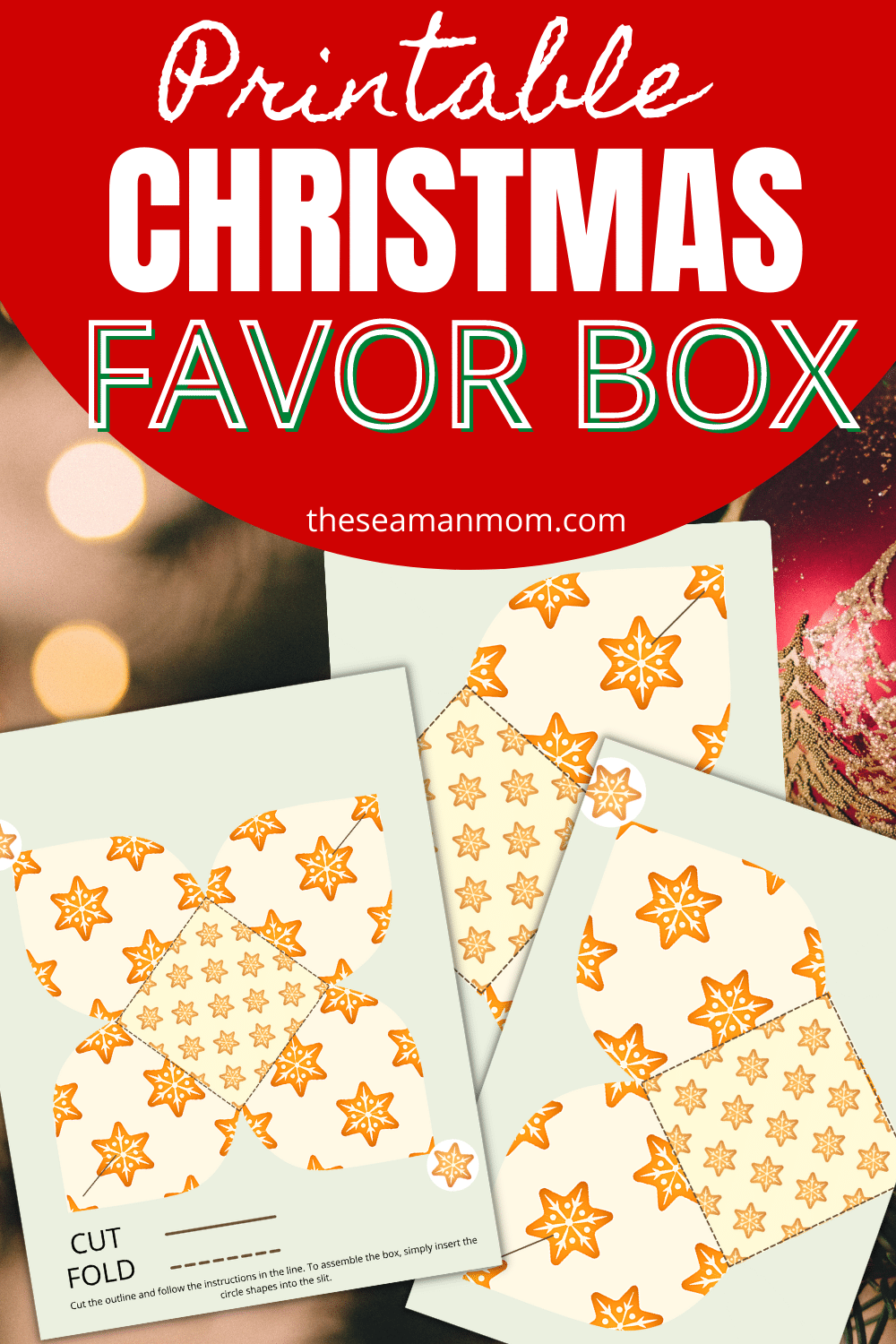 I'm excited to share with you some of our favorite unique Christmas treat boxes. Treat boxes are a great way to give a gift with a personal touch to your friends and family this holiday season. And today I'm sharing this printable box template that is perfect for Christmas favors and gifts.
Printable box template for Christmas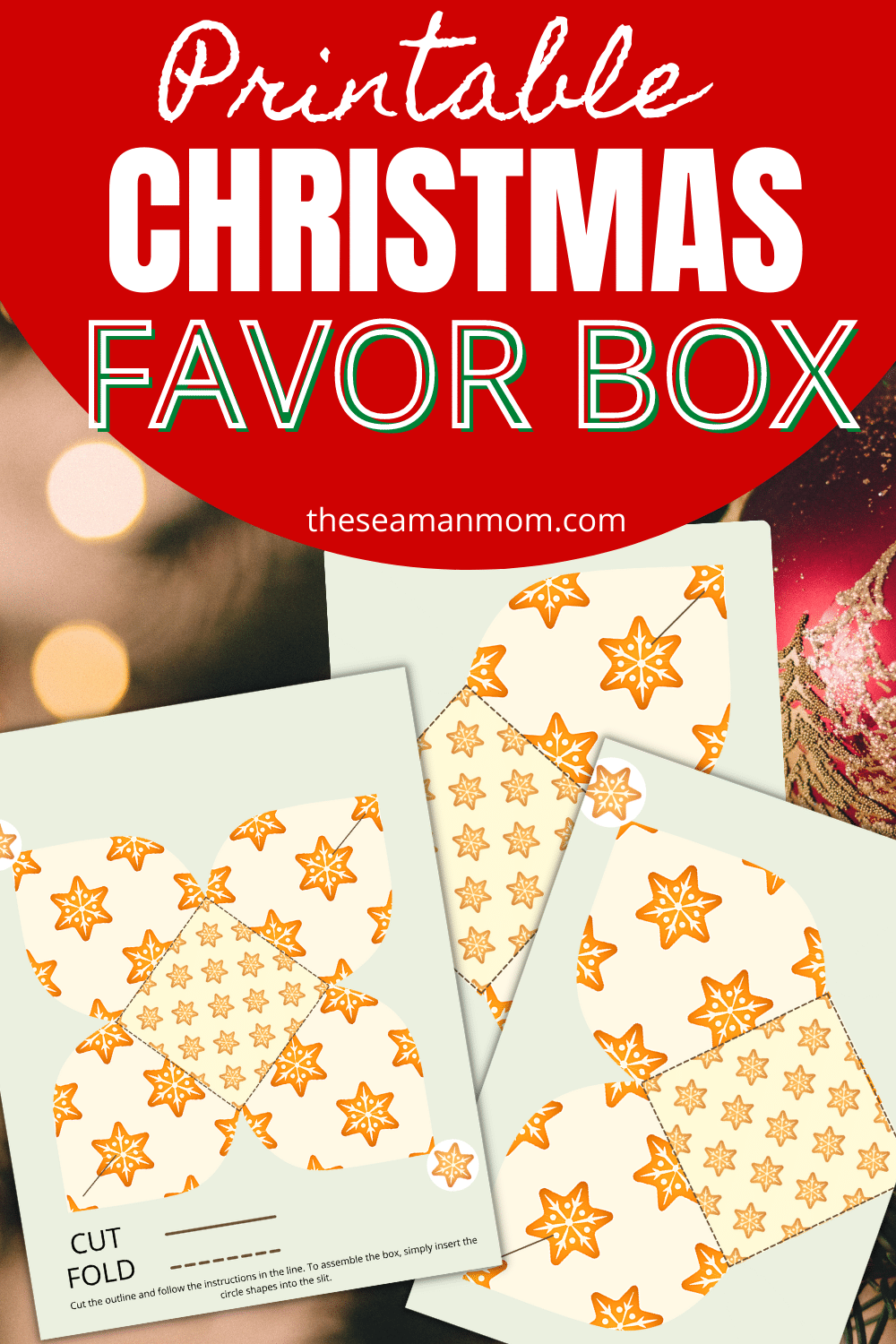 Fun crafts don't have to cost a thing! Learn how to make a paper box with this free printable box template and some everyday office supplies. The template can be printed on any type of printer, and it's easy to cut out and assemble.
It's Christmas time again, and it's time for Christmas treats! Christmas is a time to come together with friends and family. It's also the perfect excuse to share Christmas cheer with your neighbors. This year, make Christmas even more memorable by giving out Christmas treat boxes filled with goodies at your neighborhood Christmas party or door-to-door this holiday season. I'm making things easier by offering you this lovely free printable gift boxes template!
Christmas treat boxes are the perfect package for party favors but also gifts. And this printable box template helps you make them in the comfort of your home. They can be filled with all your favorite Christmas goodies like peppermint bark and marshmallows dipped in chocolate! Be sure to include Christmas sprinkles for an extra festive look that everyone will love! Attach a cute tag or ribbon on top of each box so everyone will know who the Christmas gift box came from and be sure to include a Christmas card with your special message.
Get creative this holiday season with your Christmas gift box packaging and create a memorable experience for everyone who attends the neighborhood Christmas party or stops by to receive their door-to-door goodies Christmas morning!
Christmas gift box packaging ideas
How you package your Christmas favor box is just as important as what you put into your gift box. This is where your creativity and crafting skills can really shine. Personalized gift boxes show your guests that you put extra effort into Christmas gifts this year.
Christmas boxes can be packaged in items like Christmas tins, Christmas bags, and Christmas baskets or offered simple, as they are. Favor boxes packaging ideas can be as simple or extravagant as you want. Christmas tins are a great Christmas treat boxes container idea because they come in a variety of sizes and designs that anyone would love to receive! You can also package Christmas treats into Christmas bags, create your own unique design for the top of the box, or use empty cans from Christmas candy to create Christmas treat boxes.
You can also design your own special Christmas goodie boxes toppers or use spice jars you already have around the house as a way of recycling old items into new uses!
Treat boxes can also be packaged in Christmas baskets! You can choose to create your own Christmas basket out of simple materials like wicker or pinecones or use pre-made Christmas containers found at home décor stores.
Your imagination is really the only limit when it comes to what you can choose to package Christmas gift boxes in. Christmas is the time of year where creativity and family come together for a special Christmas experience that will be remembered forever!
What about this free printable box template?
You can also choose to print out a unique Christmas gift box. I offer this printable box template for you to print out and assemble at home, available in three colors (brown, orange and tundra green). This makes packaging up your delicious Christmas treats and gifts so easy, and they are so cute and personalized this way!
People always appreciate receiving something that is handmade from the heart, so why not make them some Christmas treat boxes in addition to the wonderful gifts you have for them? They're really simple to put together too and the instructions are right on the printable for ease of reference when printing out and assembling! This square box template is a print, cut out on the outlines and fold on the dotted lines kind of craft, so simple and quick!
What supplies do I need to make my box?
This simple box requires just a few supplies:
cardstock or cardboard
home printer with color ink
scissors
If you want a larger size box you will need to print out the larger boxes files. Then glue them together at the base, so you'll also need a bit of glue in addition to the above supplies.
When attaching the flaps together on your DIY gift boxes you can use some ribbon or twine.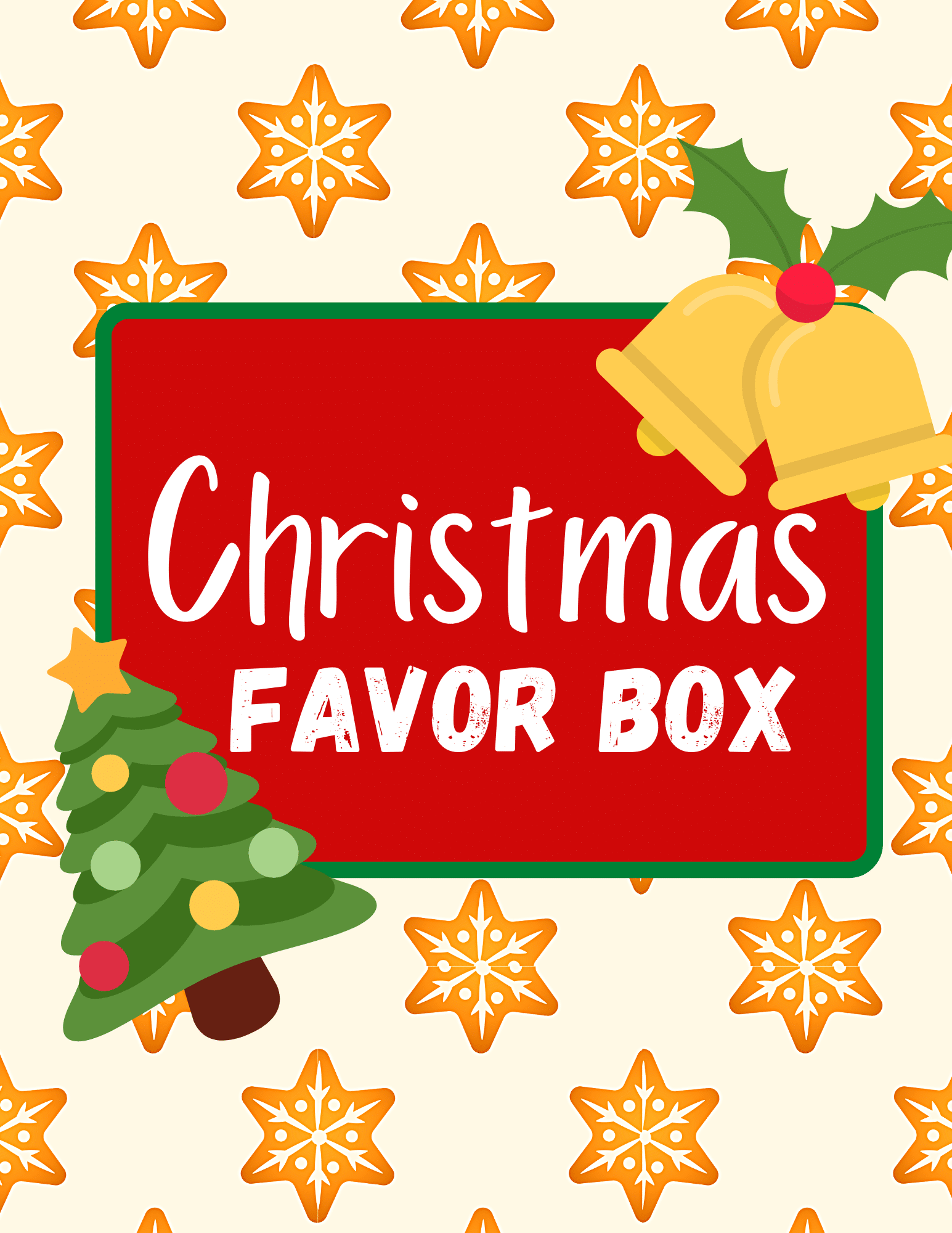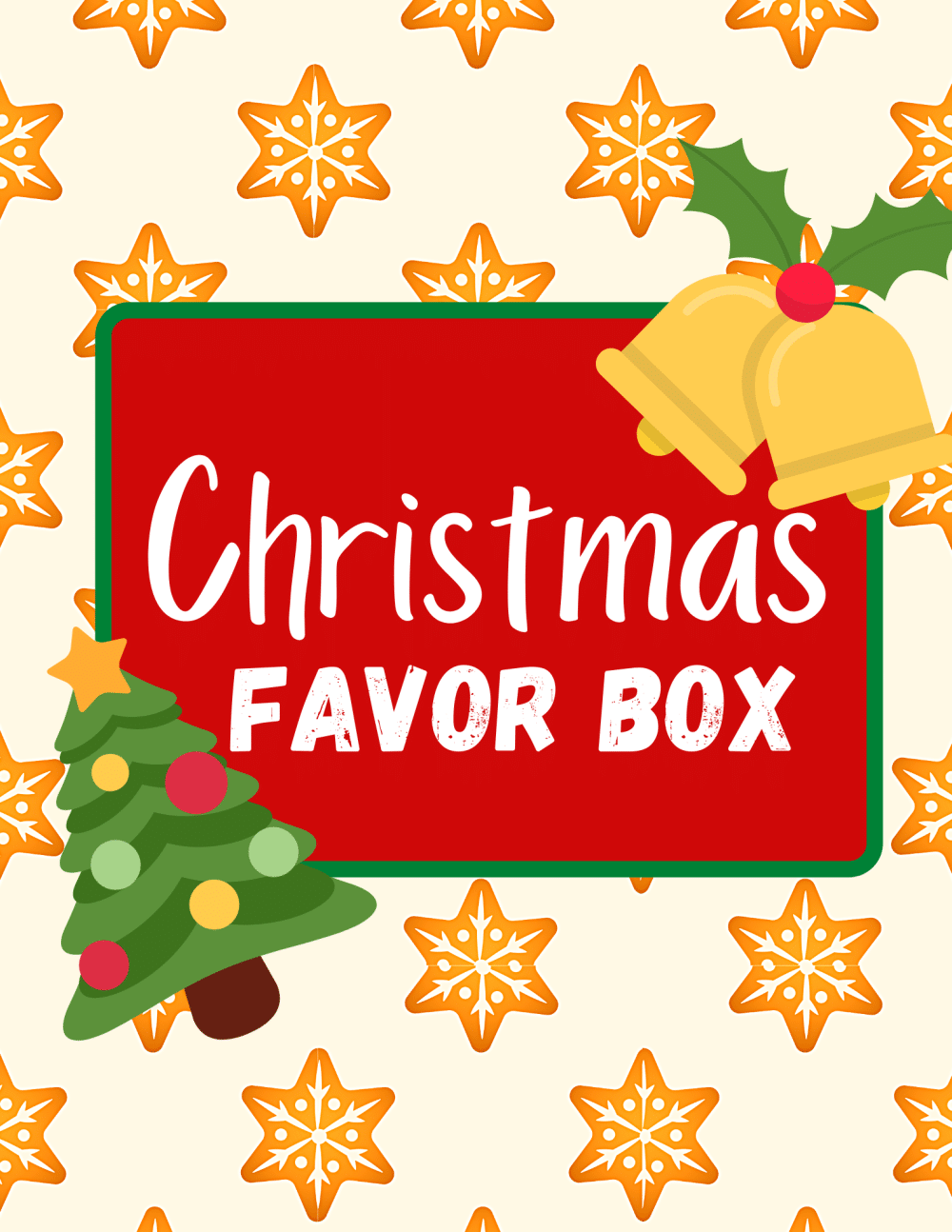 What do I put in the Christmas treat box?
After printing out and assembling my printable box template, it's time to decide what Christmas treats you will put inside your unique gift box! This is the best part because this way everyone's favorite Christmas specialties can be included, and no one will go home with leftovers.
You may want to consider Christmas candy like chocolate-covered strawberries, peppermint bark, or red and white m&m's that are perfect for Christmas. Christmas cookie recipes are also a great Christmas treat box idea! You can include your favorite Christmas cookies that you have baked. Or buy some from the grocery store bakery department and package them up for everyone to enjoy during their special Christmas day celebrations.
Everyone has their own favorite treats for Christmas. There are no right or wrong treats in my opinion. The holidays are a great time to indulge in some delicious treats that you may not always eat all year long. Here are some possible Christmas treats you can make.
What is traditionally in Christmas treat boxes?
Traditionally Christmas treat boxes are filled with Christmas candy, Christmas cookies, Christmas brownies or bars, and even Christmas fruitcake!
Christmas fruitcake is a Christmas classic for many people, but it can be too sweet and rich for some. You may want to consider making Christmas brownies or bars which are delicious with the addition of white chocolate chips!
But you do not have to follow traditional Christmas treats when packaging up your Christmas treat boxes. Christmas is a time where everyone can get creative and have fun with Christmas treats!
Christmas treat box ideas for kids
Kids love Christmas treats, but they also love having special cute boxes just for them! There are many Christmas treat ideas that kids can enjoy. And they will love the Christmas gift boxes you made for them!
Christmas-themed Lego or Tinker toy. These are inexpensive but so fun to play with!
Mini Hershey candy bars in holiday wrappers Hershey kisses
Christmas pencils, erasers, stickers, temporary tattoos. etc. which would be great to use for Christmas gift tags!
Christmas coloring books or Christmas activity books.
What would you include in your Christmas treat boxes?
---
The PDF file for my free printable box template is available HERE.
---
Print the craft card
Printable box template craft
Treat boxes are a great way to give a gift with a personal touch to your friends and family this holiday season. And today I'm sharing this printable box template that is perfect for Christmas favors and gifts.
Materials
cardstock

ribbon

to tie the flaps
Instructions
Download the printable box template to your computer and choose the color version you would like to print out.

For a smaller box, print just page 1 of the PDF file. For a larger box, print page 2 and 3 of the PDF file

Insert the cardstock into your home printer

Print the template onto cardstock

Cut out the box template using your scissors

Cut on the lines and fold the box on the dotted lines.

For the larger boxes, glue the bottoms together before folding the box.

Tie the flaps with ribbon or twine