A DIY Fabric Covered Planter makes gardening easy, pretty and fun. Recycle a large ice cream container into a fabric covered planter to instantly change the whole mood of your house.
DIY Fabric Covered Planter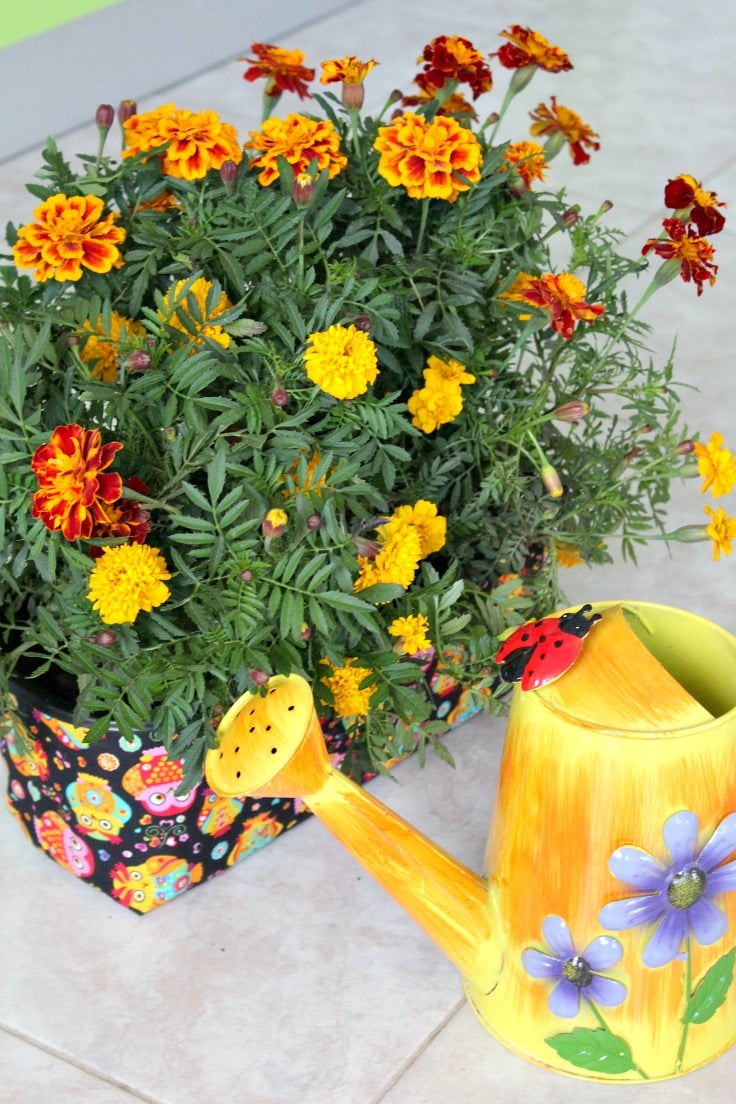 A fabric covered planter is a great and inexpensive way to brighten up your home decor. It's an easy and inexpensive way to add interest (or cuteness) to any boring or empty space in your home, inside and outside. Plus if you're using an ice cream container as I did, you get the chance to go green by recycling an item you normally throw in the garbage.
You can use any container size and any fabric type or pattern, even scraps of fabric if you have many as I do. You can make this project holiday related as I did for this project. My daughter is anxious for Halloween to come and she's crazy about owls. I purchased this owl fabric last Halloween and used it to make a pretty and handy Halloween Tote Bag for her. And now I thought I could use this fabric for other Halloween related projects, like the Halloween treat jar I made a while ago and now for this pretty DIY Fabric Covered Planter. Because she loves gardening and loves taking care of her plants! Seriously! I'm so blessed! This kid is amazing! She's so responsible and helpful, I can't believe she's only 4!

SEE MY MOST RECENT VIDEOS HERE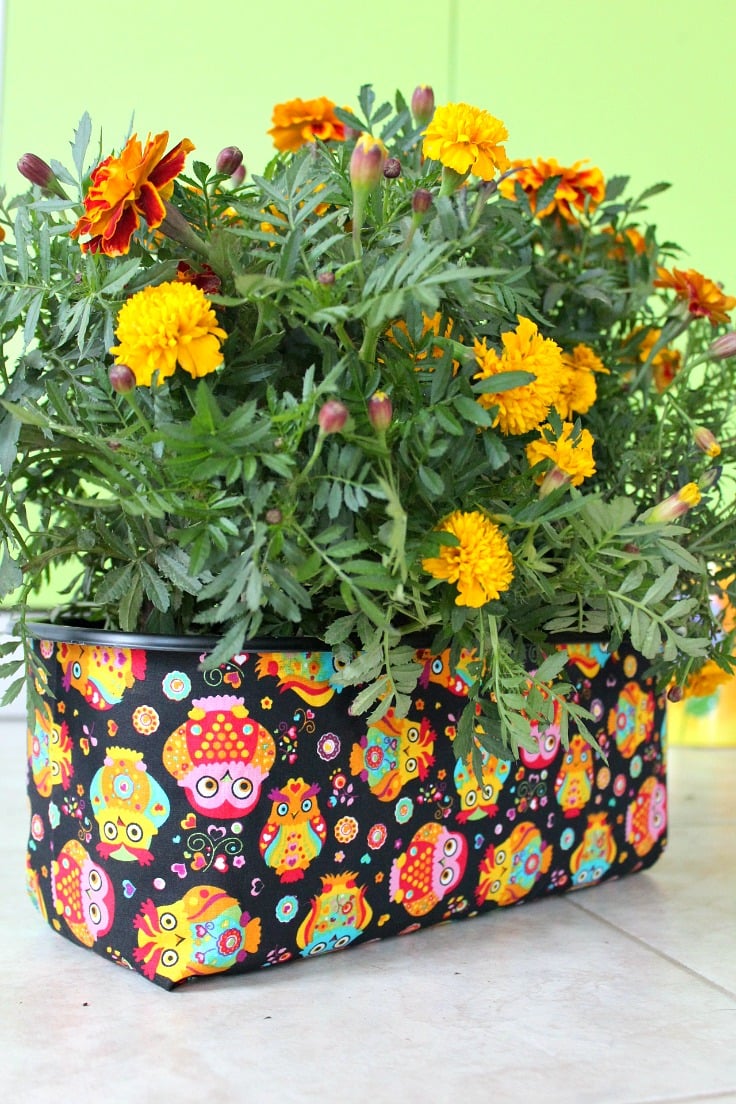 For this project a spray adhesive would do wonders and make your work way faster. But I didn't have any and as I try to be as frugal as possible, I had to use stuff I got around the house. So fabric adhesive it is! In a regular bottle, with a regular nozzle, making my life way harder. But I love the result and it was such a fun project! Still very fast though, in spite of the rudimentary tools.
Materials needed:
Fabric adhesive (spray adhesive if you have)
Fabric of choice
Ice cream container
Scissors
Measuring tape
Spray Paint (optional)
Directions:
If you're not happy with your ice cream container's rim color, use a spray paint to color it as preferred. I thought the original gray color won't be a good fit for my fabric so I painted the rim in black.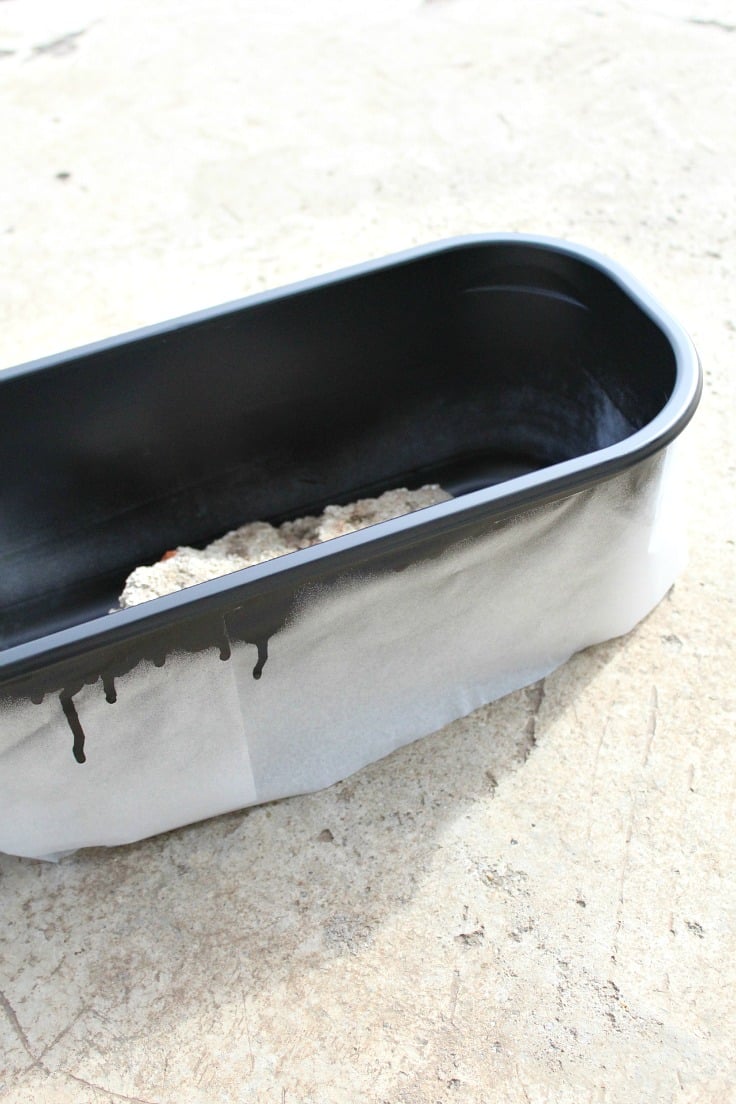 Measure all around your container and from top to under bottom, going a few inches over middle of the bottom.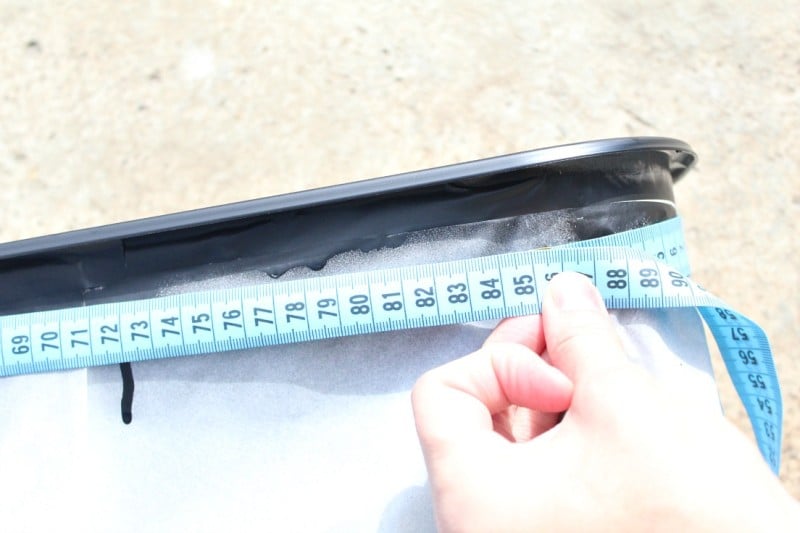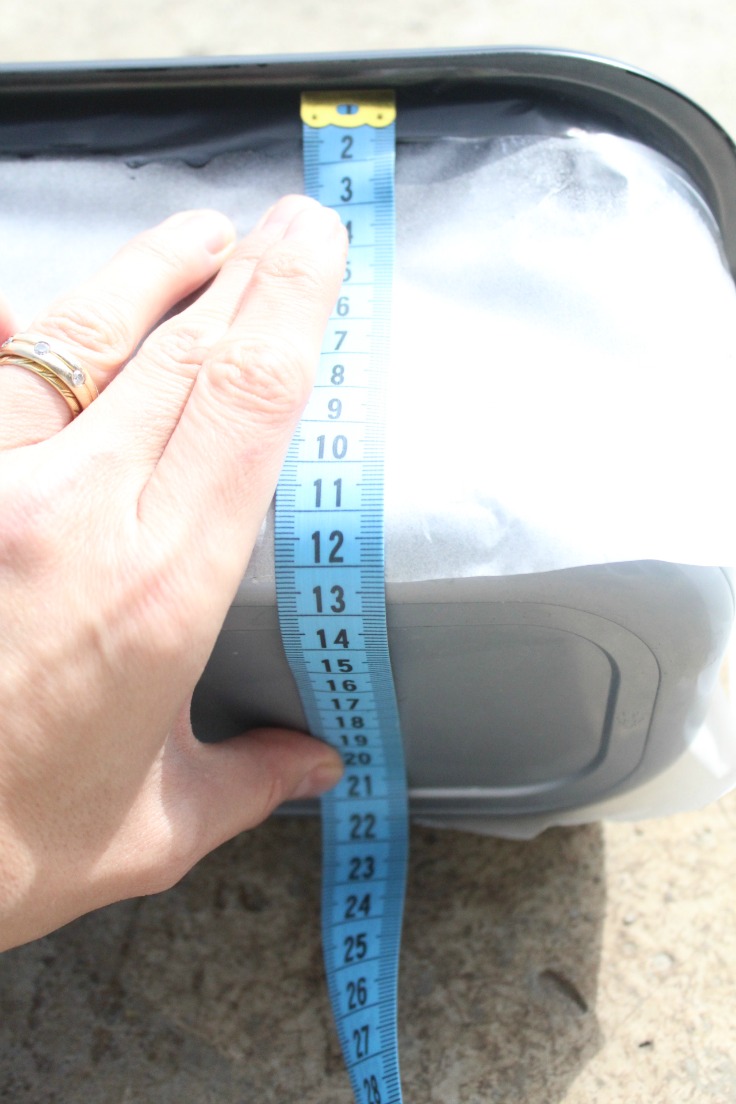 Cut your fabric using these measurements, adding an inch or two to the length (width). Mine was 85 cm x 20 cm = 33″ x 8″ so I cut 88 cm x 20 cm = 35″ x 8″.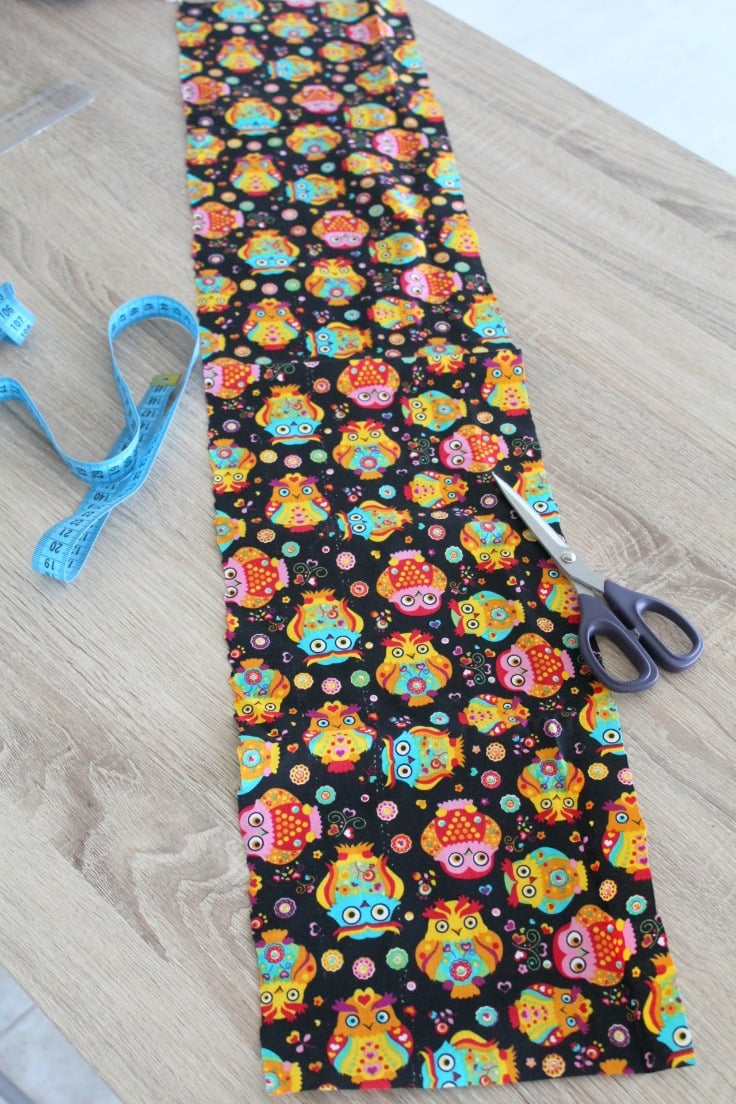 If you're using spray adhesive, spray the container all around and just place the fabric on, smoothing out. If you're using fabric adhesive as I did, just place some of the adhesive in key points. Start on a side, glue the fabric on, leave to dry.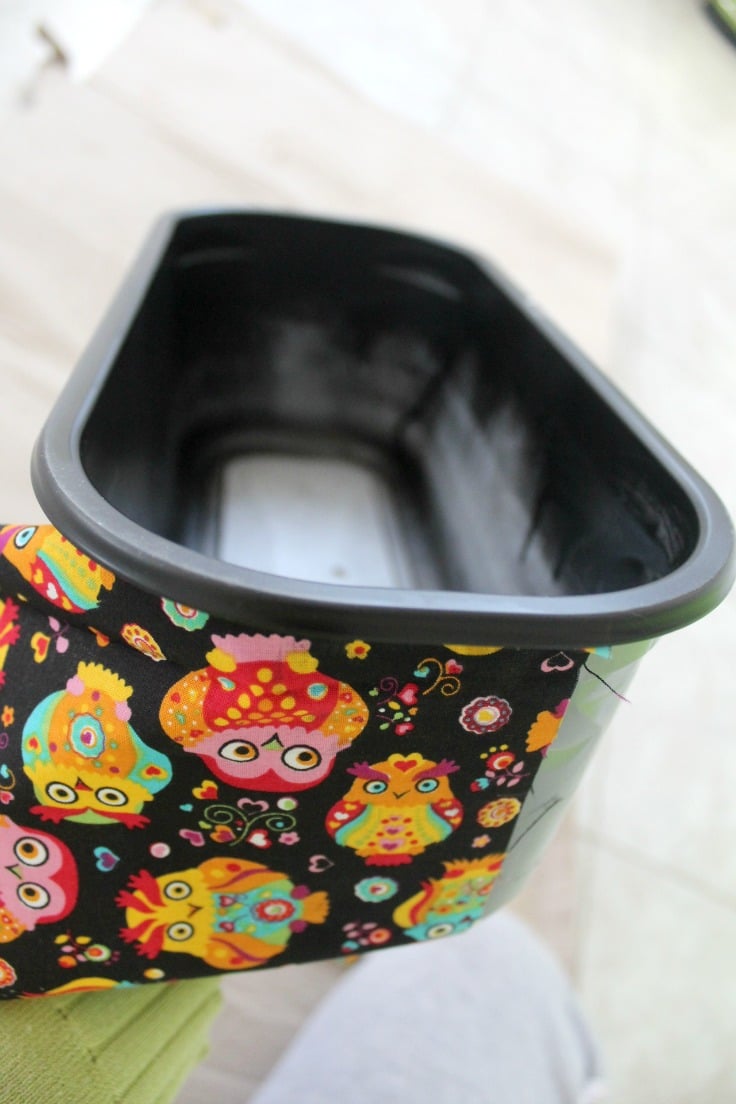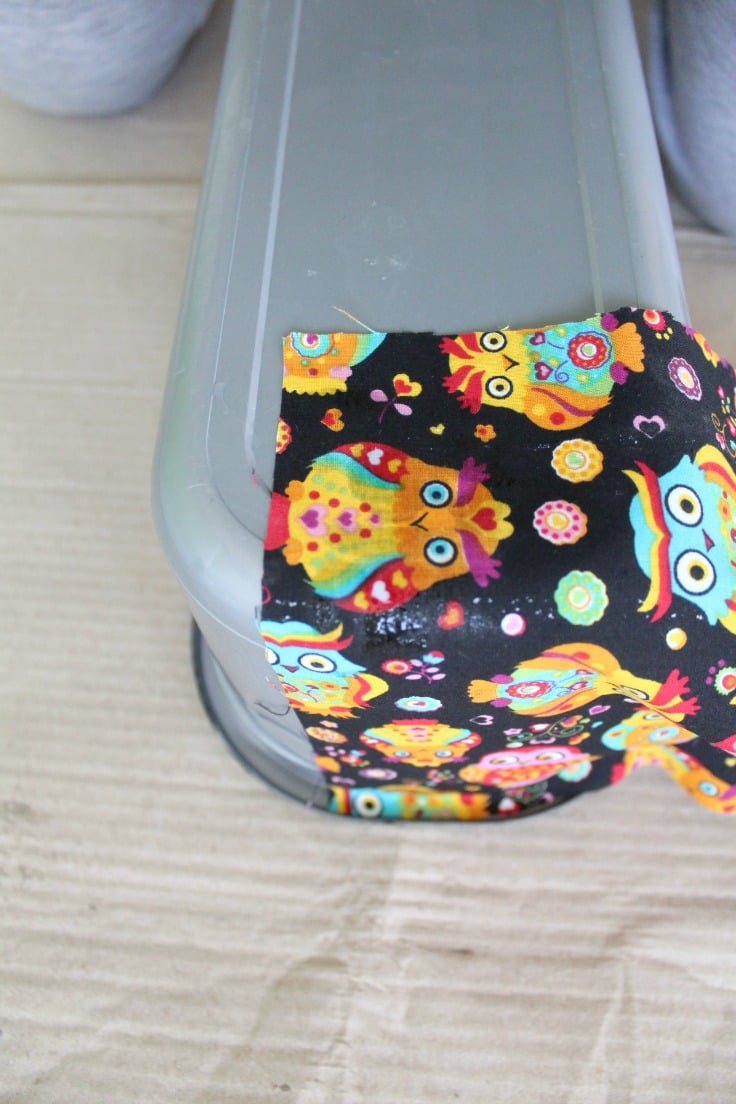 Place some adhesive all around the inside of the rim and glue the fabric all around. Use a tool to slightly push the fabric towards the rim, but making sure it still stays inside of the rim.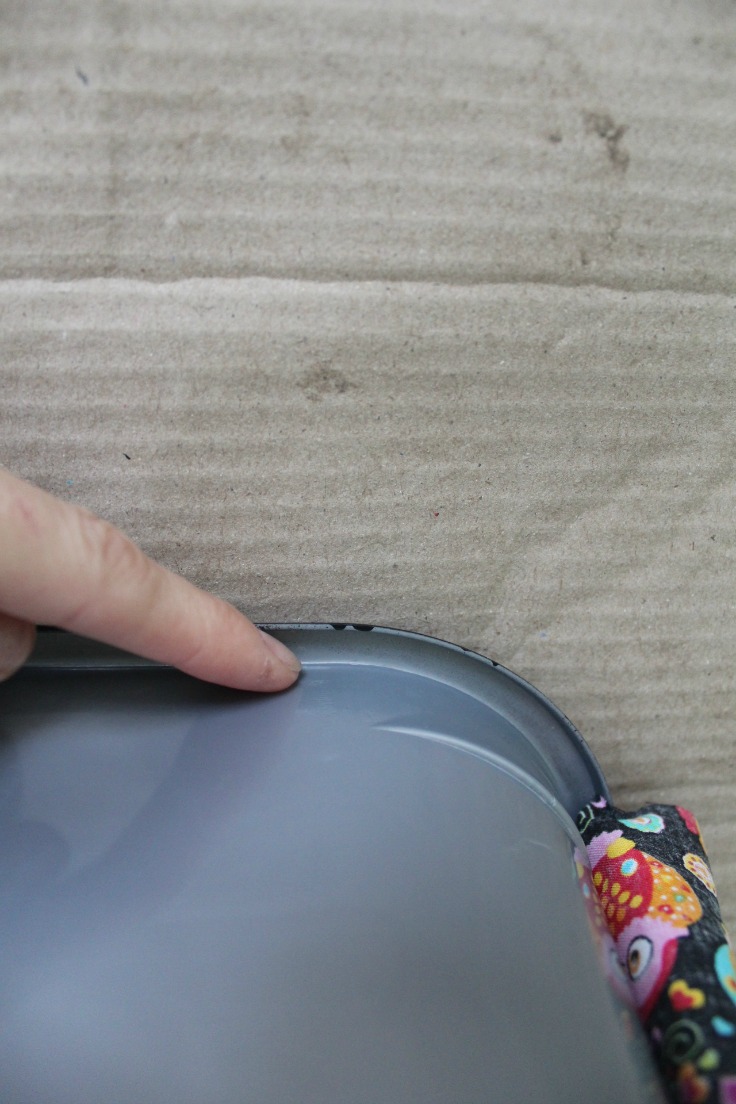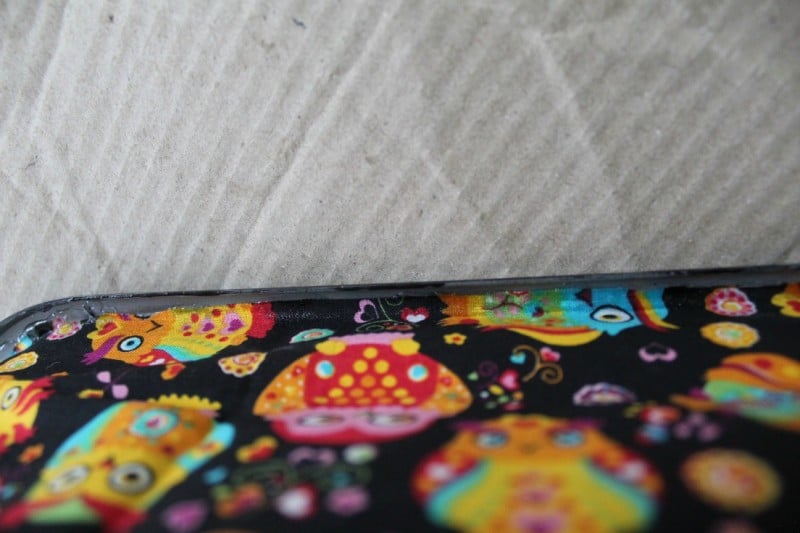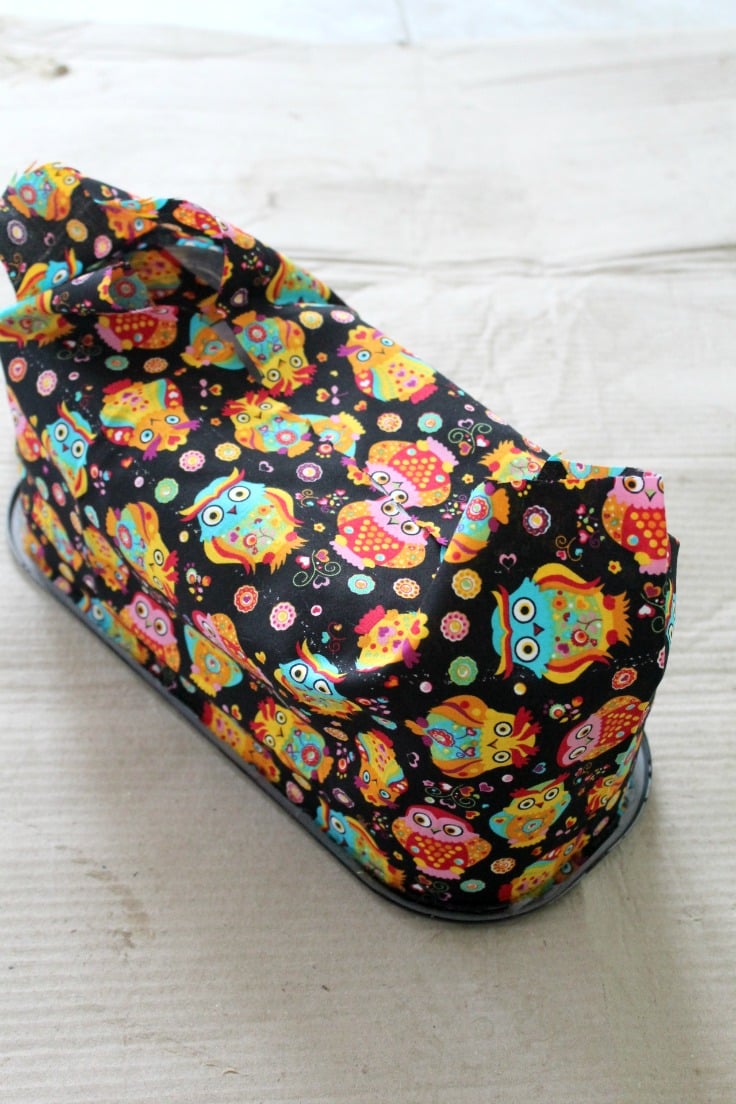 Next open up the fabric and place some adhesive on the edges and on the bottom of the container. Smooth out the fabric.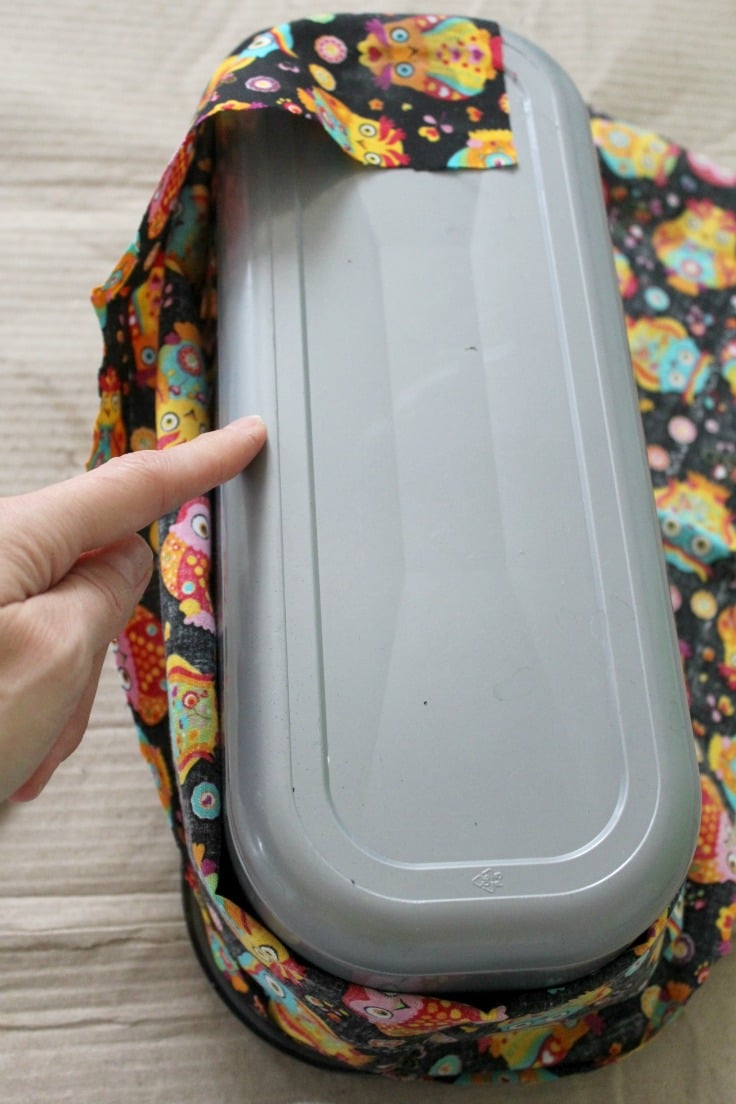 Place some adhesive in between fabric layers at the bottom to glue it all in place.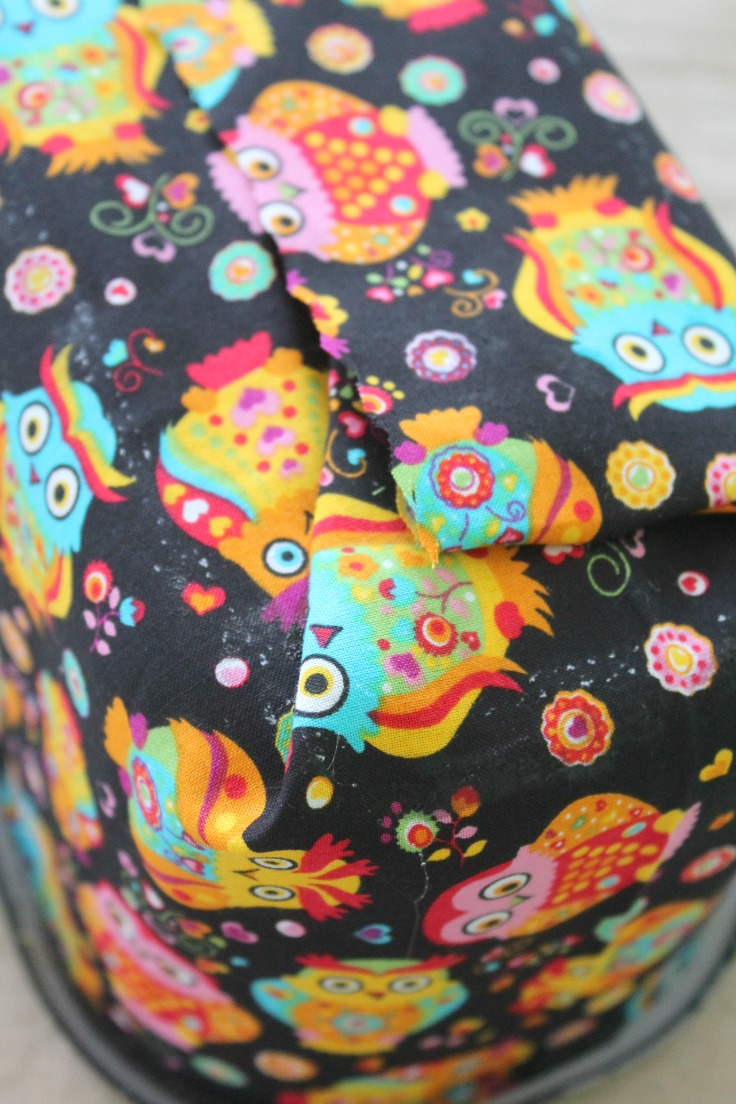 When you get to the end of the fabric strip, fold the fabric in to give it a nice finish and apply adhesive. (you can do the same with the bottom if you want to, although it won't show)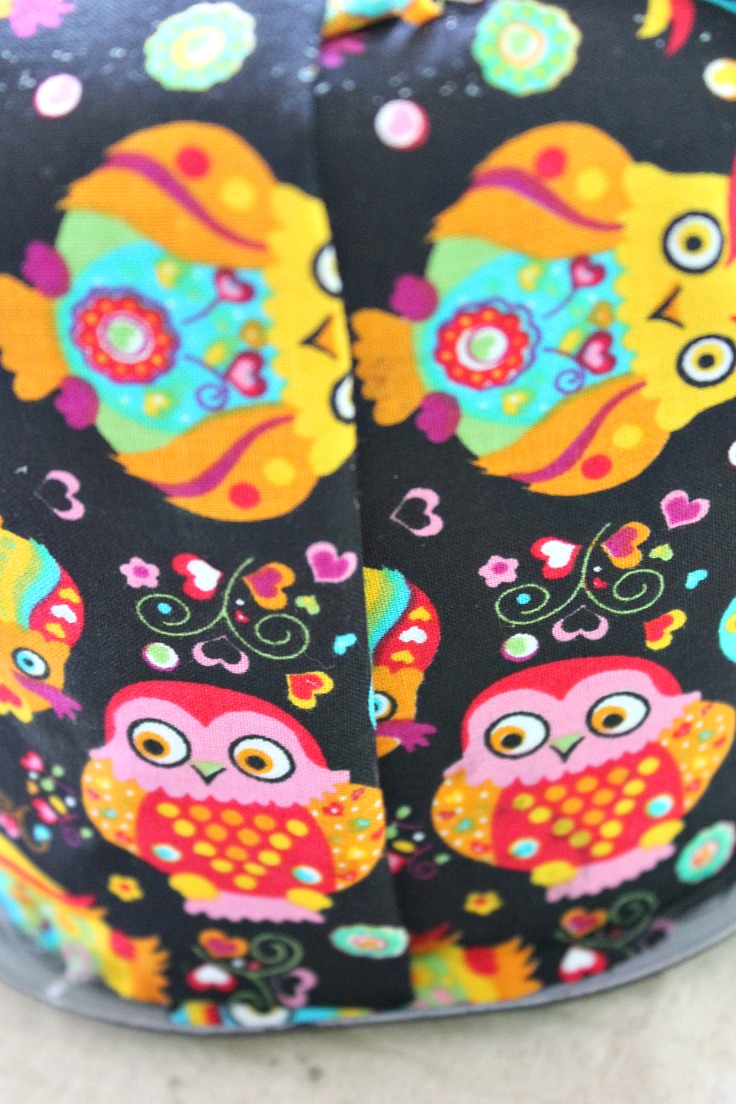 Keep the container upside down and leave to dry completely (the time would depend on the properties of your adhesive).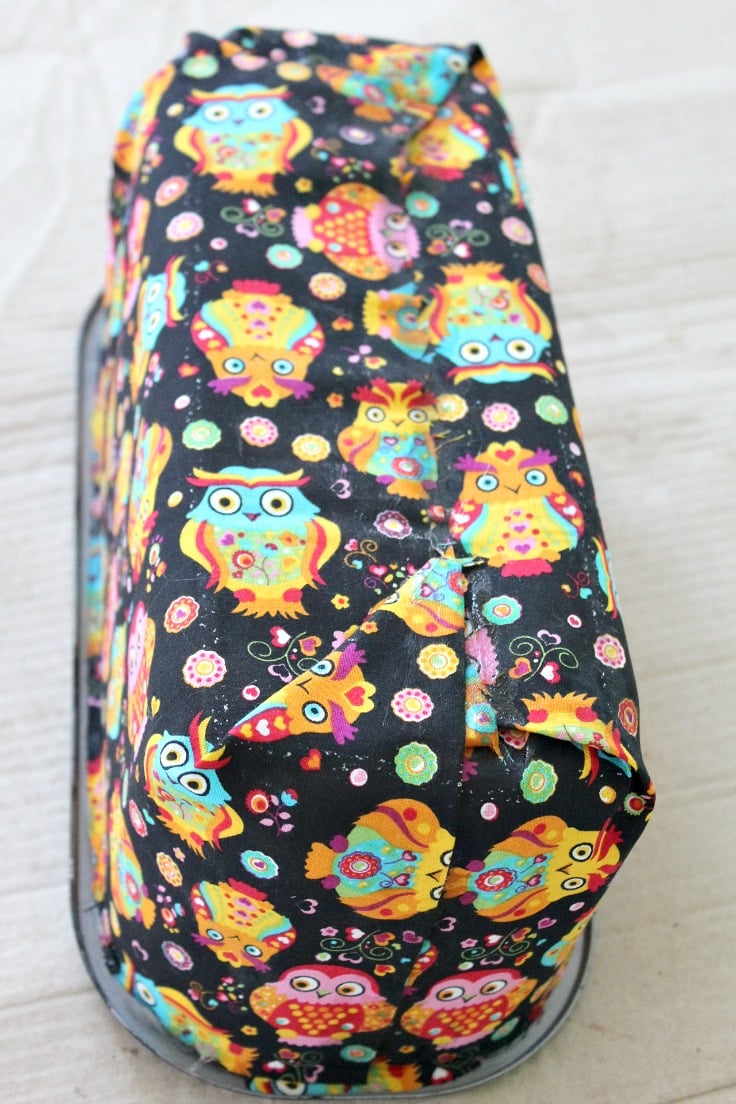 When completely dry, fill the container with soil and plant some pretty flowers.
Enjoy your new planter!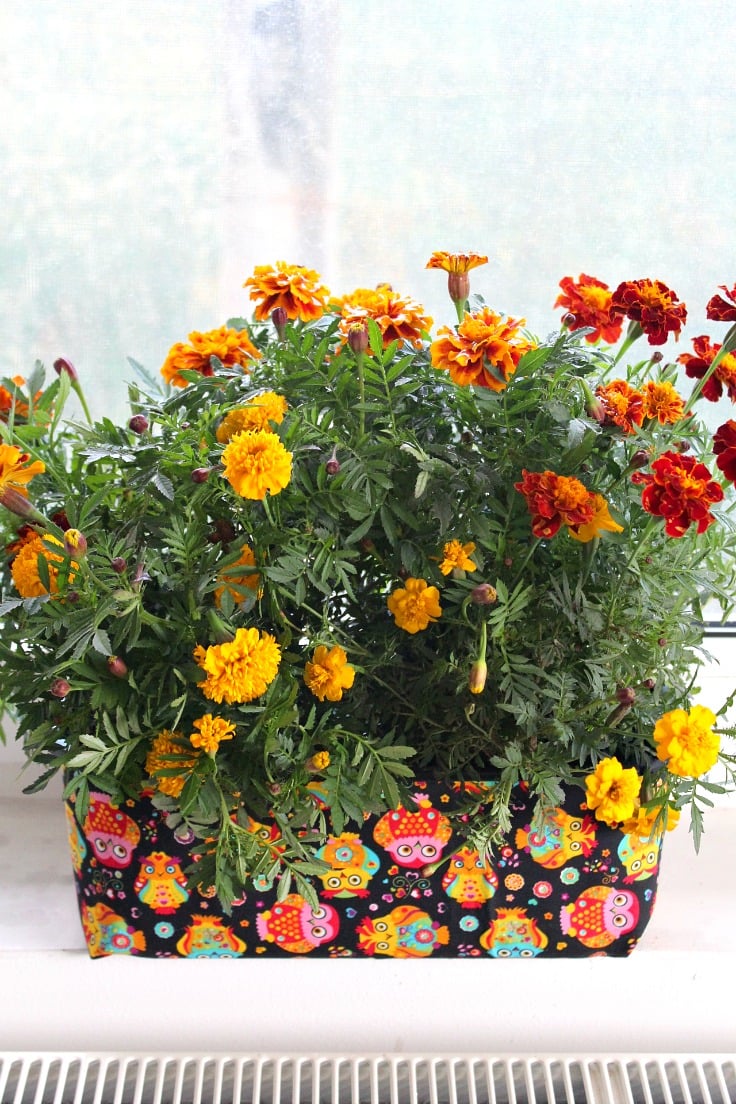 Do you like making your own planters? What do you use? I'd love to see photos if you're making a similar planter as mine.