Article may contain Amazon & affiliate links. As an Amazon Associate I earn from qualifying purchases at no additional cost to you.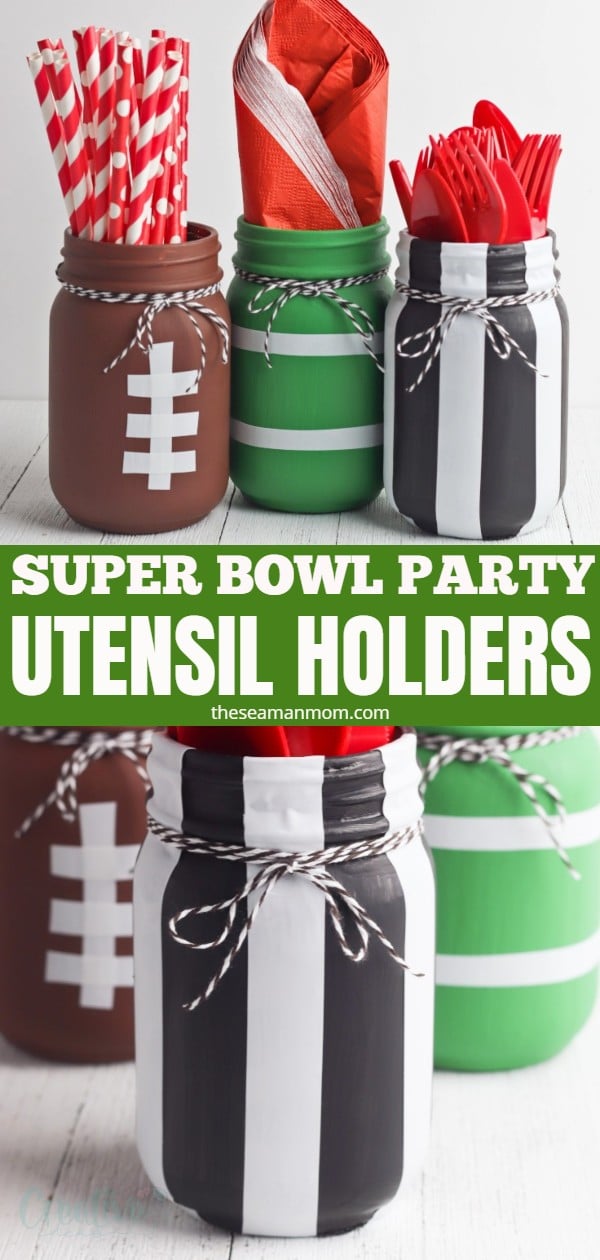 Hosting a Super Bowl party? Wow your guests with a bunch of football mason jars! These cute football themed party ideas are great to use as utensil holders or centerpieces!
Football mason jars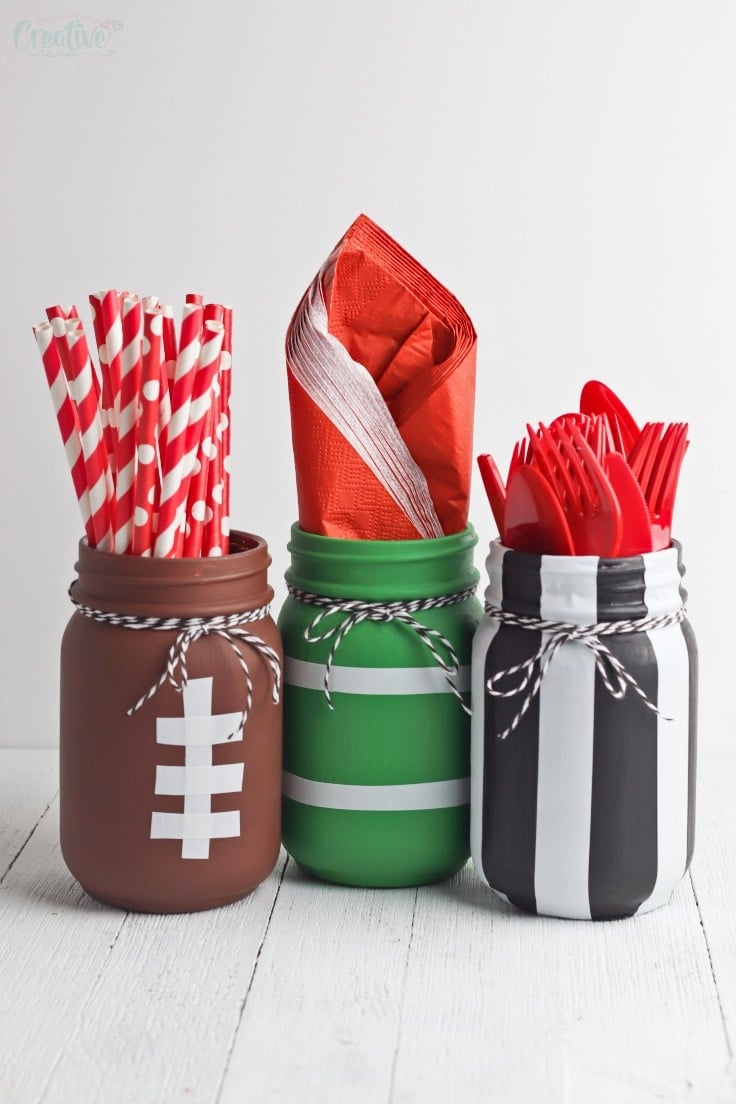 Will you be hosting a Super Bowl party this year and need some super bowl party decorating ideas? These football mason jars are super easy and affordable utensil holders you can make yourself in no time! Or you could add some pretty flowers or party decorations and use these as centerpieces.
More jar ideas you will love:
Even if you're not much of a football fan, getting together with your friends and family to watch the big game can be so much fun. Between the commercials and the halftime show, you don't really even need to watch the game to have a good time! And aside from the game, hosting a party also gives you an excuse to make a new craft! If you're looking for a cute addition to your Super Bowl party spread, you're going to love these adorable football painted mason jars!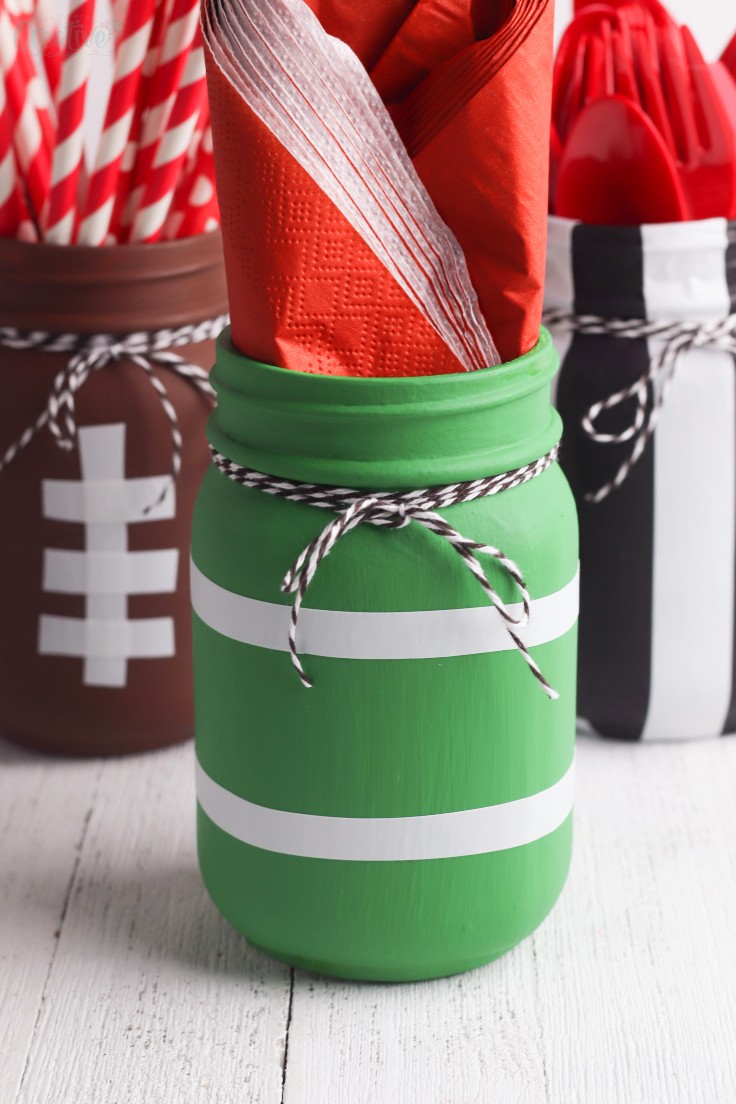 Super Bowl Party Essentials
While hosting a Super Bowl party can be pretty easy, there are a few items you must have. When planning your own game day party, here are the must-haves to add to your to-do list:
Delicious food. One of the most important aspects of any gameday party is the food. On top of being delicious, it needs to be portable and easy to eat. Appetizers, like sliders or meatballs, and dips are both great options for your Super Bowl party spread.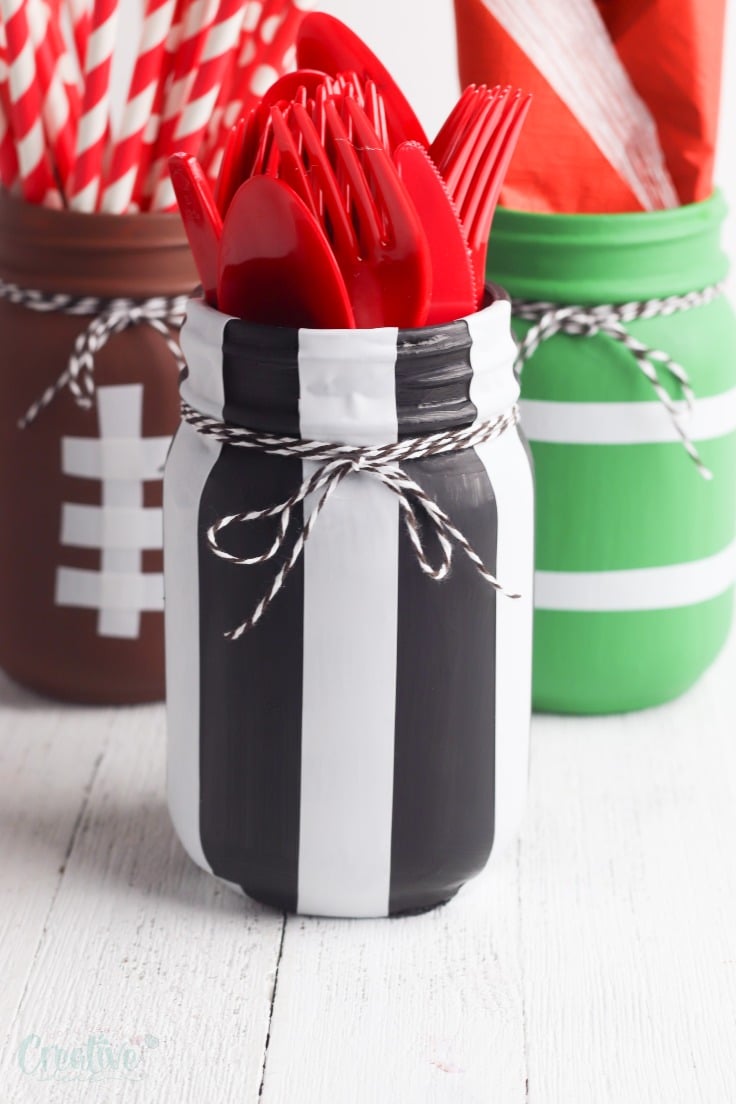 Refreshing drinks. Your party goers will also need to quench their thirst during the game, so make sure you have plenty to drink. Whether you create a signature cocktail or serve simple drinks like beer and soda, make sure you have lots of refreshments for your guests to choose from.
Lots of seating. Since the whole point of a Super Bowl party is to enjoy the game together, you need to make sure you have seating for everyone on your guest list. In addition to the furniture you already have in your living room, you may also need to bring in some additional chairs from other spots in your home, folding chairs, or even lay some comfortable pillows and blankets on the floor.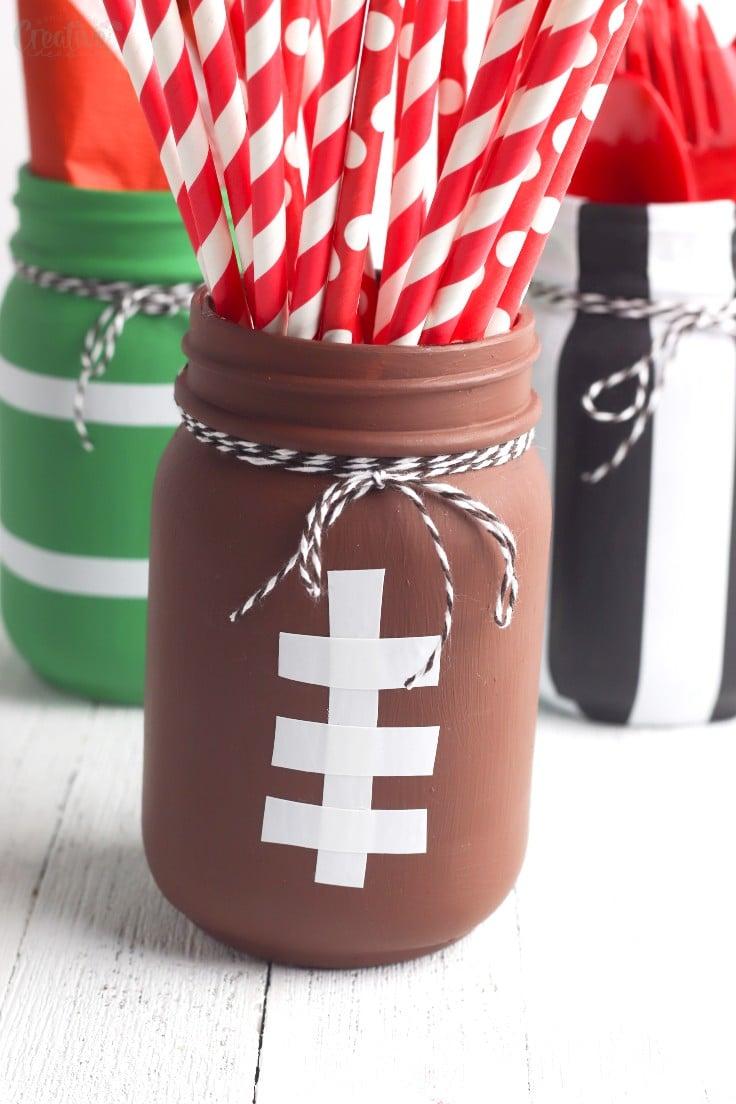 Fun Super Bowl Party Decorations
A Super Bowl party may be all about the game and the food, but that doesn't mean you can't have fun with your decorations. There are a ton of simple ways to add football-themed decor to your home for your Super Bowl Party.
Traditional party decorations. Using traditional party decor at your Super Bowl party is a great idea! Decorate with balloons and streamers in team colors and accent the party with a fun football themed photo booth.
Football table decorations. The most important spot to decorate for your Super Bowl party is your food table. In addition to using a football-themed tablecloth, consider adding serving dishes in team colors and creating a football-inspired centerpiece. And don't forget to add your cute painted football utensil holders to the table to finish off the decor!
Football jars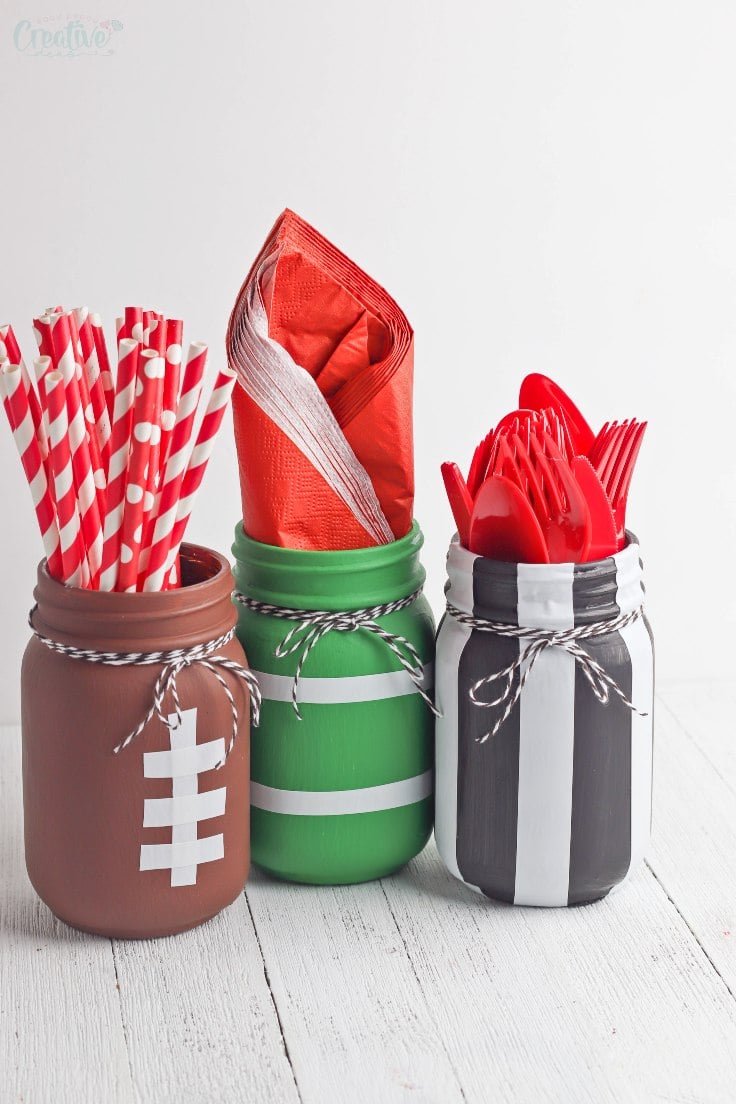 Supplies:
3 glass jars
Brown acrylic paint
Black acrylic paint
Green acrylic paint
Paint brushes
White tape
Black and white twine
Instructions:
To create the football jar, paint the entire jar brown.
Use white tape to create laces on the front.
To create the football field jar, paint the entire jar green. Use white tape to create lines in the field
To create the referee jar, paint the entire jar black. Use white tape to create stripes in the jar.
Finish decorating each jar by tying a piece of black and white twine around the top.
Pin to save for later