How to embroider with a sewing machine
Article may contain Amazon & affiliate links. As an Amazon Associate I earn from qualifying purchases at no additional cost to you.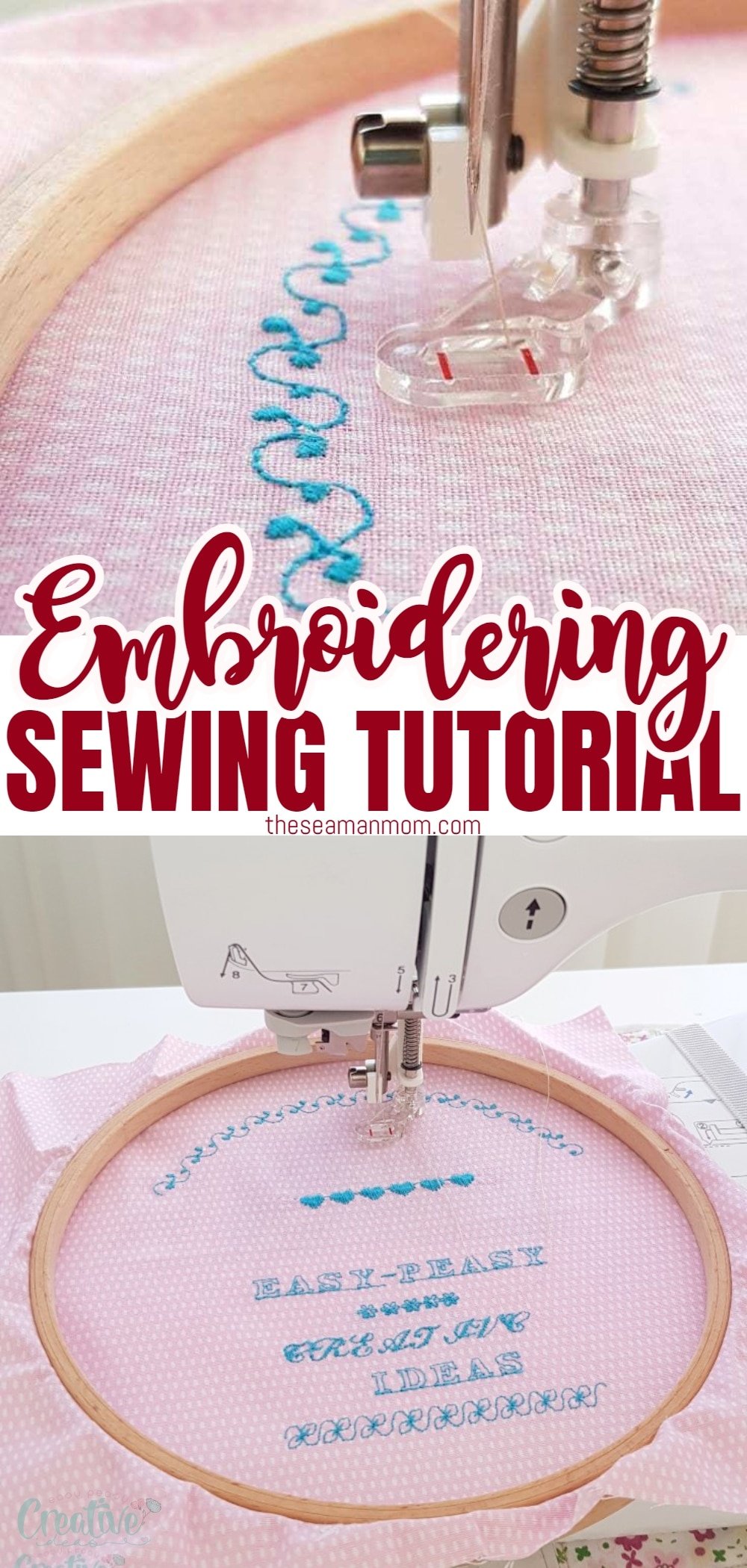 Embroidery is a beautiful way to add some personality and flair to your clothes, accessories, or home décor. It's also a great way to show your loved ones that you care by stitching heartfelt messages onto their clothing. With the help of this guide, you'll be able to learn everything there is to know about how to embroider with a sewing machine, in the comfort of your home!
How to embroider with a sewing machine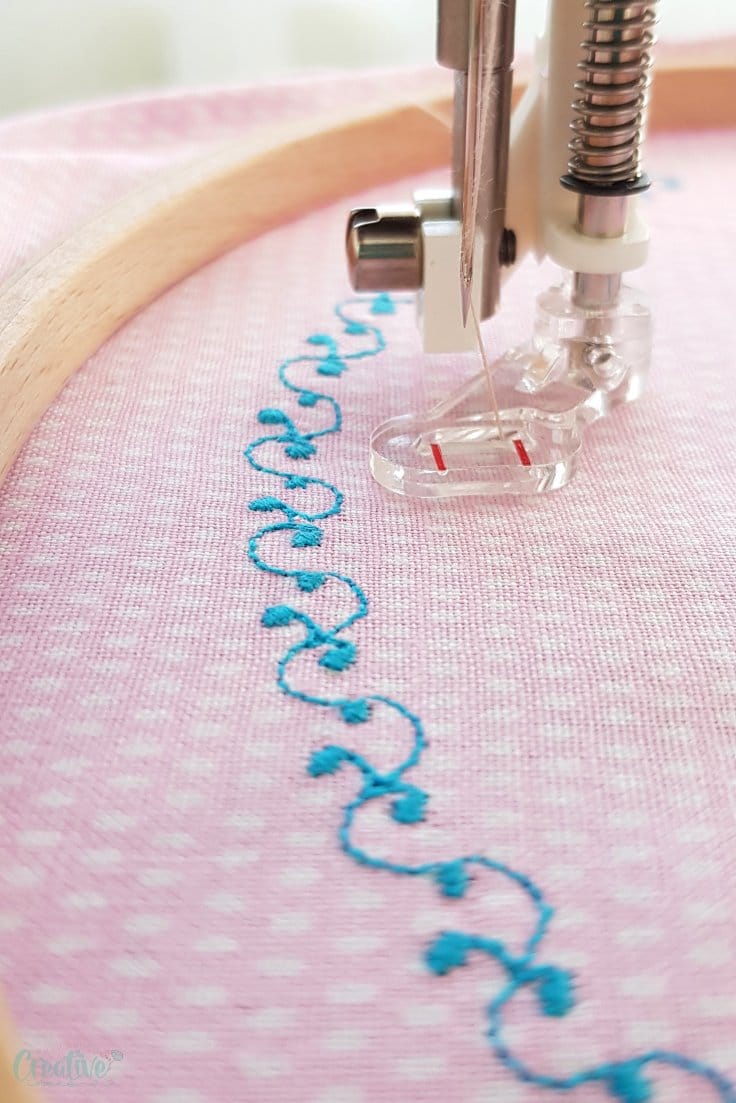 Embroidery is a centuries-old craft that uses needle and thread to create beautiful designs on fabric. In the past, embroidery was done entirely by hand, but today, many people use sewing machines to speed up the process. If you're interested in giving embroidery a try, here's how to embroider with a sewing machine, in the comfort of your home.
While I'm not an expert in the embroidery field, I've been coquetting with embroidery lately. But I'll have to be honest, I totally lack the patience for dealing with hand embroidery, plus my eyes are not helping either. I found that embroidery on a regular sewing machine is a much better alternative for me.
Can you use a regular sewing machine to embroider?
You totally can! While not as "cool" and pretty as when done with a special embroidery machine, embroidering on a sewing machine is totally possible!
I have a super duper computerized sewing machine with great sewing capabilities (by the way I absolutely love the automatic needle threader and the automatic thread cutter!), a lot of sewing stitches, a free arm that offers me great flexibility, large lcd screen and tons of embroidery and monogramming settings, stitch options and fonts. This machine is a workhorse, it sews through a large variety of textiles with no problems. And I absolutely love the ease of use and that I did not have to pay a fortune for this great quality machine!
While I could use more features when it comes to embroidery (like small letters and a usb port to upload embroidery patterns), I think this machine is more than enough for now at the stage I'm in. And I don't need to invest a leg and an arm in one of the best embroidery machines out there because mine is simply good enough for my needs at the moment.
But even if you don't have a computerized machine, embroidery is still possible! Below I'll highlight the tools and steps you need to follow that are valid for any type of sewing machine. These machines are perfect for simple embroidery you might need to add to small items such as clothing, accessories, purses, home décor etc
More sewing tips you will love: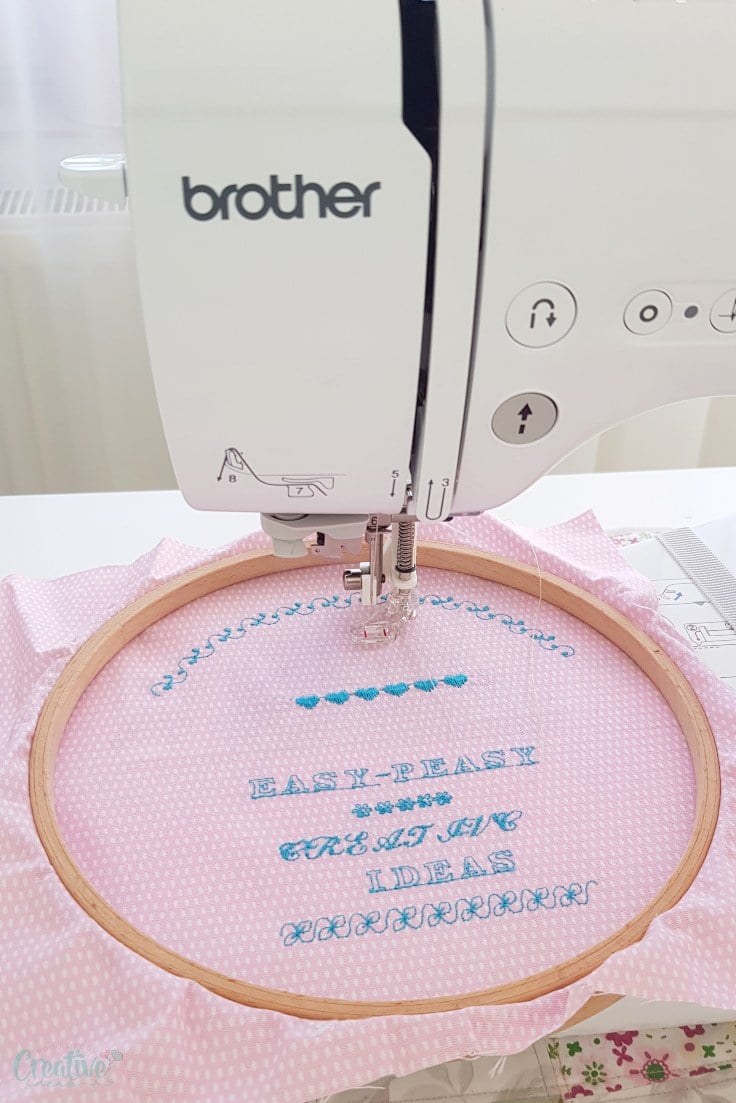 What do you need to embroider with a machine?
I am not an expert and I'm sure there's a lot for me to learn about embroider but at this early stage of my embroidery journey, here's what I found are the basic tools needed in order to do embroidery on your sewing machine successfully:
1. Embroidery hoop
While this cool tool is not a must, it will help you tremendously as it will keep the fabric taut and prevent it from moving in wrong directions. It will also allow you to guide the embroidering by moving the hoop slowly in the direction needed. Read more about the embroidery hoop here.
2. Stabilizer or embroidery backing
I have zero result when trying to embroider with no stabilizer, the thread and the fabric were constantly getting stuck in the feed dogs and the machine jammed. As soon as I added stabilizer my embroidering was going super smooth with absolutely no problems! I used tear away backing as that's what I have in my stash but there are also other alternatives such as lightweight mesh backing, cutaway or water soluble backing (which is what I'll purchase next) or caps backing (used for embroidery on caps)
3. Quilting (free motion) foot
This will allow you to move the fabric or the embroidery hoop around as needed. It's main purpose is to keep your fingers away from the needle as the base of this foot will never touch the fabric so it doesn't keep the fabric down as other feet do.
4. Embroidery scissors
These are small, very sharp scissors that will help you easily remove the tiny threads left behind after you're done embroidering, leaving your work looking smooth and tidy. While you can always use small sewing shears, I found I had less success with those so I purchased these pretty embroidery scissors which are super great at cutting all those tiny threads!
You'll also need to lower the feed dogs on your sewing machine. While this is not a tool per se, it's a crucial feature of your sewing machine that you must use! Otherwise the fabric and the thread will get stuck in the feed dogs. With the feed dogs down and the free motion foot installed, your fabric is only kept down on the plate, under the needle, by your hands or the embroidery hoop. This allows you plenty of freedom to move the fabric and the needle around your embroidery design but it's also a recipe for failure if you're stitching too fast or with a shaky hand. So if your machine allows it, set it to a lower speed first until you get familiar with embroidering on a sewing machine!
Do you need special needles for embroidery?
As with any other sewing project, you'll need to adjust the needles to the type of fabric used. For lightweight fabrics, use smaller sharper needles while heavier fabric s will require larger needles. Read more about needles here.
There are also embroidery needles you could use if you'd like to upgrade your needles for embroidery projects.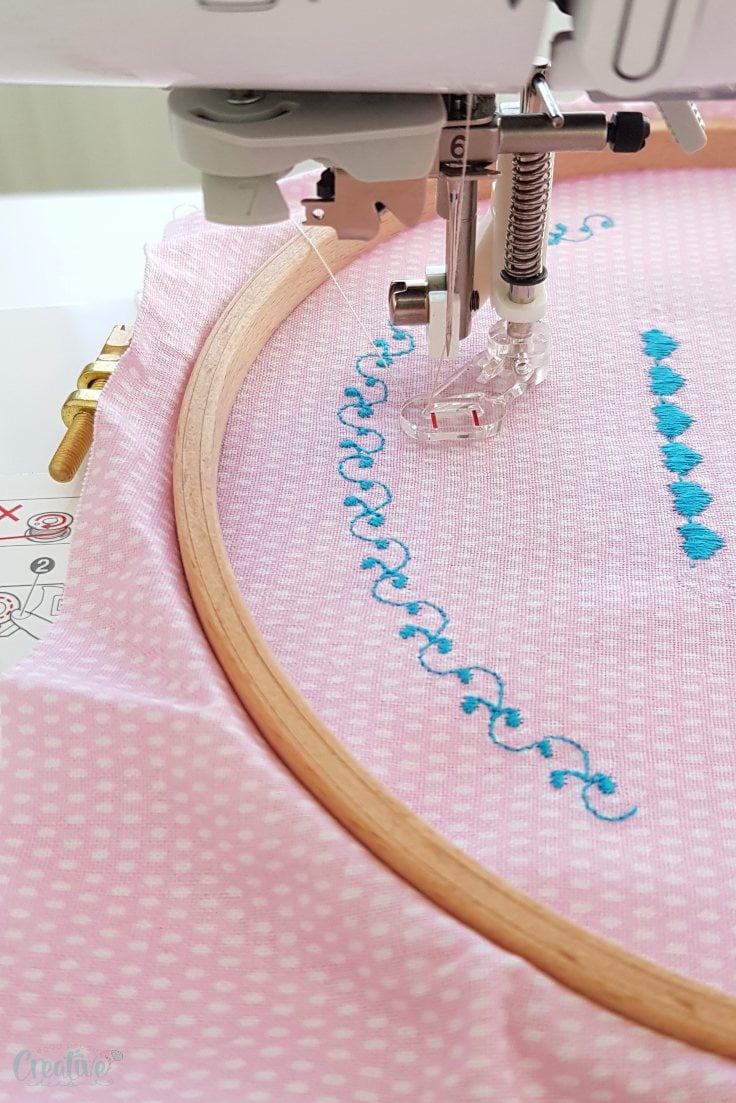 What type of thread do you use to embroider on a sewing machine?
Ideally you'll use embroidery thread instead of sewing thread. The difference is in the thickness of these fabrics where embroidery fabric is made out of 2 ply threads and sewing thread is made out of 3 ply. The embroidery thread is thus thinner and smoother and will offer the best results.
But if you don't want to purchase embroidery thread just yet you could resort to sewing thread with cotton or polyester being the best options as they're stronger, cotton also offering better coverage. Just make sure you so slower the stitching when using these.
Machine embroidery tips:
Start with a small project
Practice a lot before moving to an actual project.
Use a simple design first, without a lot of curves.
Prepare a few bobbins per project, using the same thread type and color as the spool thread
Test your stitches until you find the perfect length and width for your project.
Sew slow and avoid sudden moves
Use a magnifier if you're eyes are not very sharp.
Below I'll go over the steps you need to take to embroider on a sewing machine, from setting up your machine, to installing the foot and do the actual stitching. So here's how to embroider with a sewing machine!
How to embroider on a regular sewing machine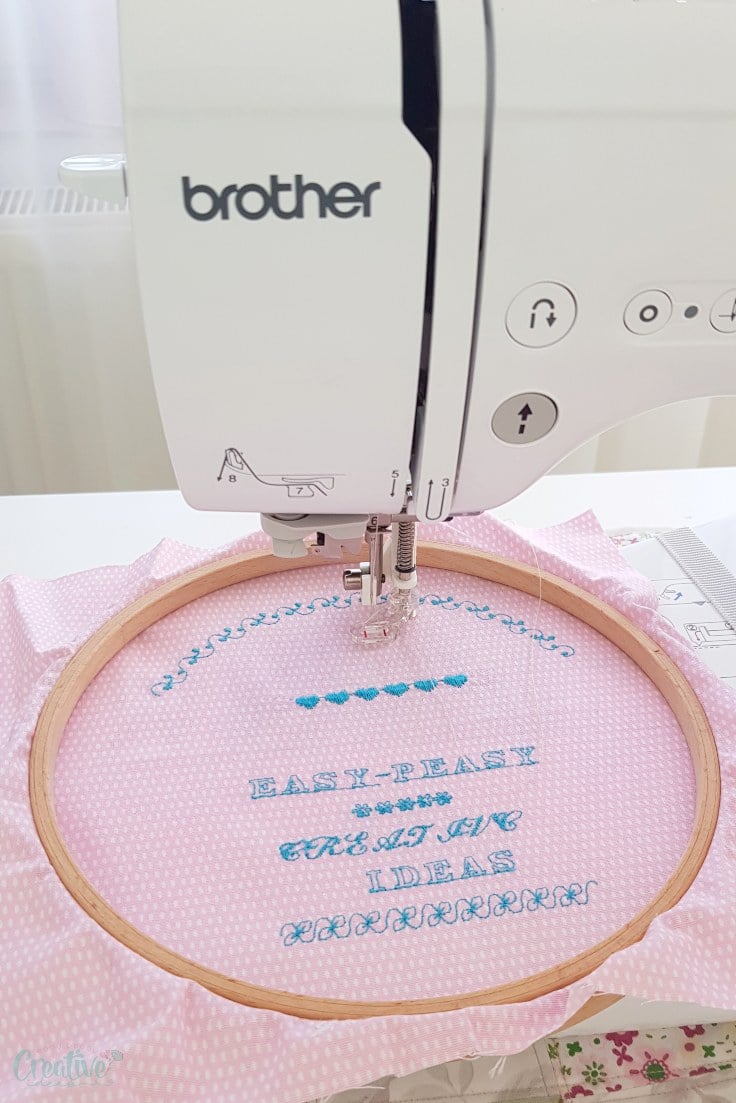 Materials:
cotton fabric
fabric marker
matching needle and thread
seam ripper (for harder to reach threads)
darning plate (for sewing machines whit no option to lower the feed dogs)
pressing iron
How do you freehand embroidery on a sewing machine?
Prepare the fabric
Today I'm embroidering on my home sewing machine using a template I've been working on for a cool face mask (tutorial available here). Start by transferring the design onto the right side of the fabric.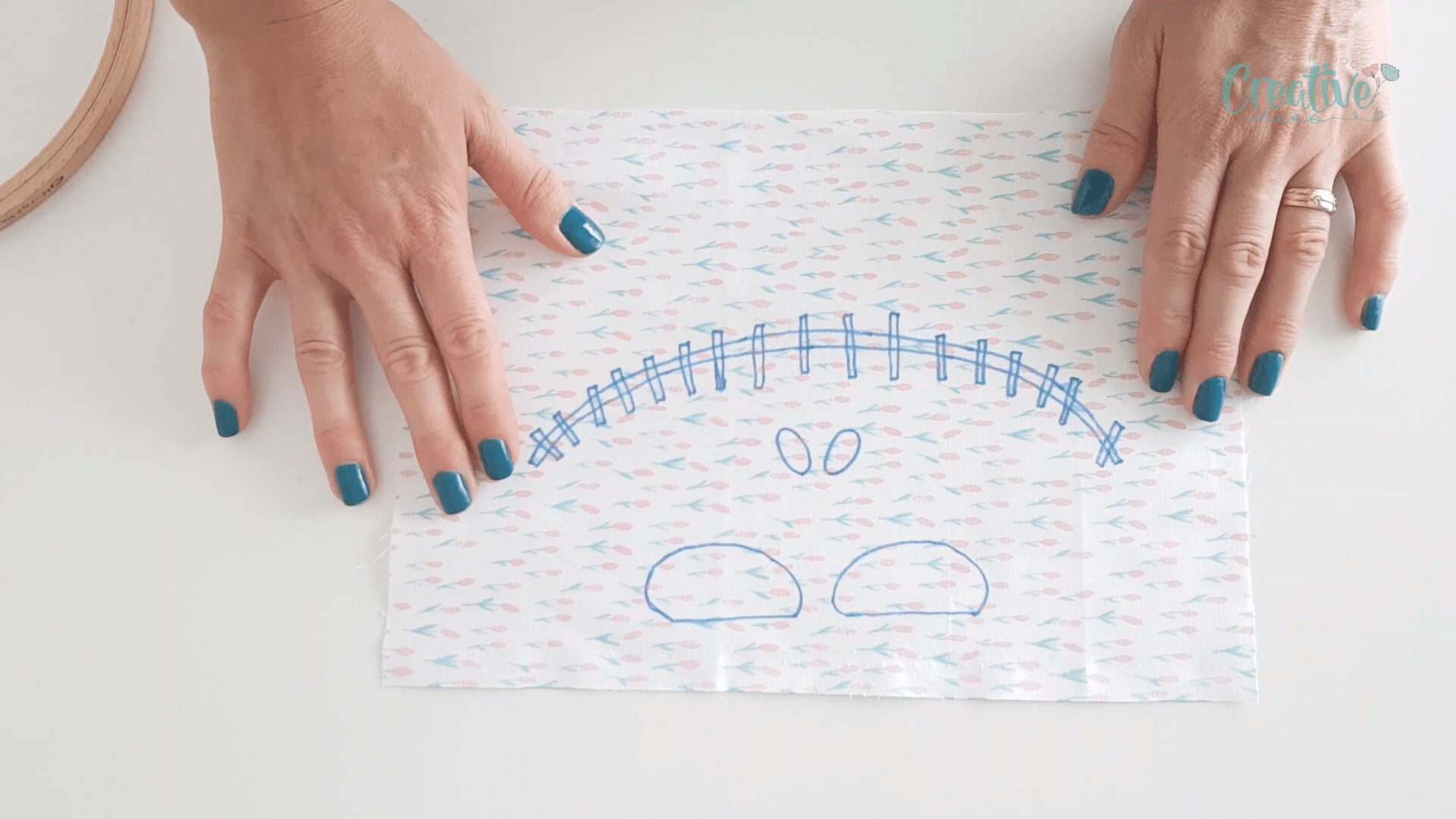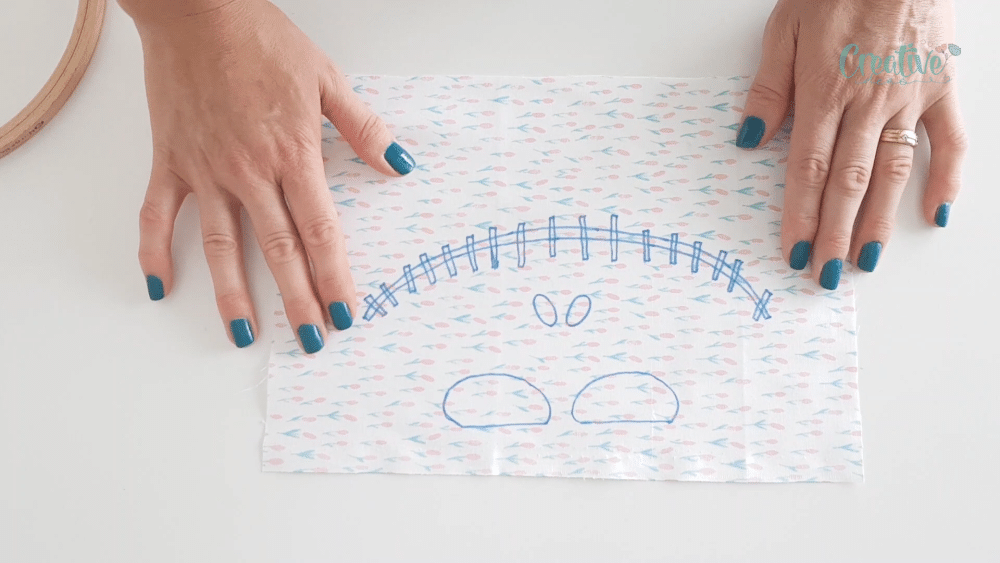 Add the backing as instructed on the package. Make sure the backing covers the entire design!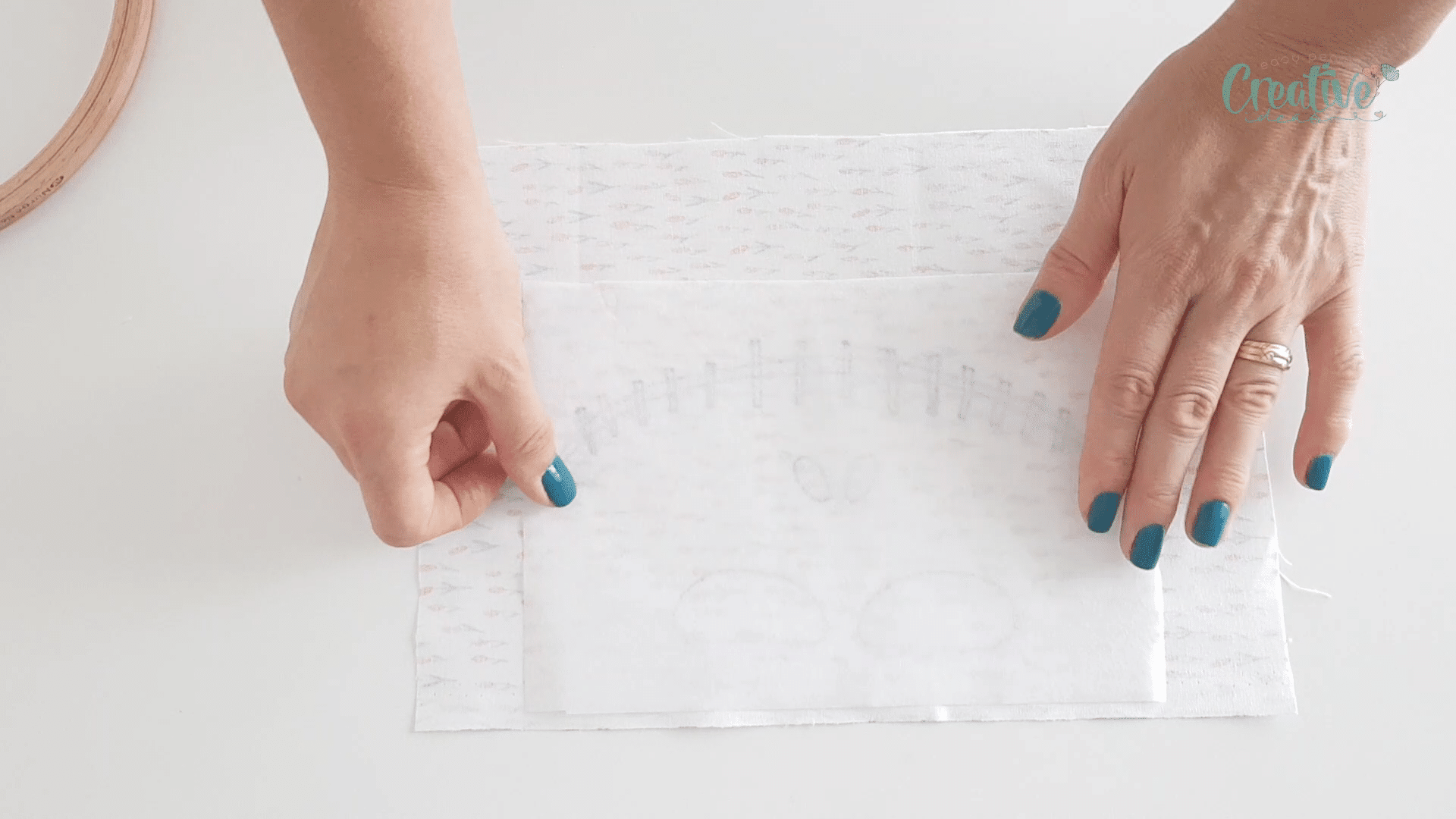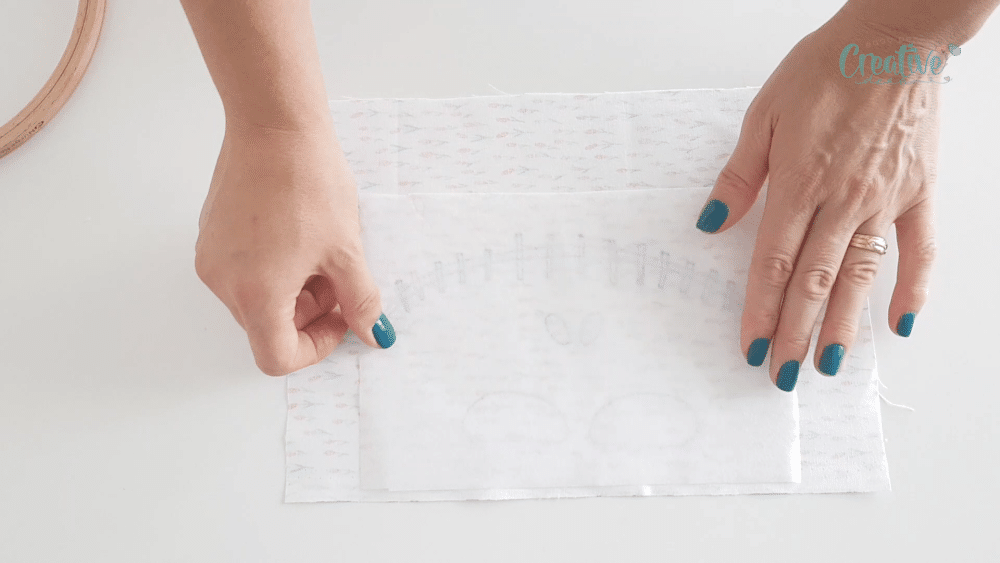 Set up the embroidery hoop
Place the fabric in the embroidery hoop. You need to set up your hoop in this order: inner hoop, fabric wrong side up, outer hoop. When embroidering on your sewing machine, the right side of the fabric should be inside the hoop (in the hole/hollow of the hoop). Set the hoop aside while you're setting up the sewing machine. Make sure the design is center in the hoop and that you have ample room for sewing inside the hoop. If the design is larger than the hoop, work in small sections. Once a section is done, remove the fabric and set the hoop in a different section. And so on until the entire design is embroidered.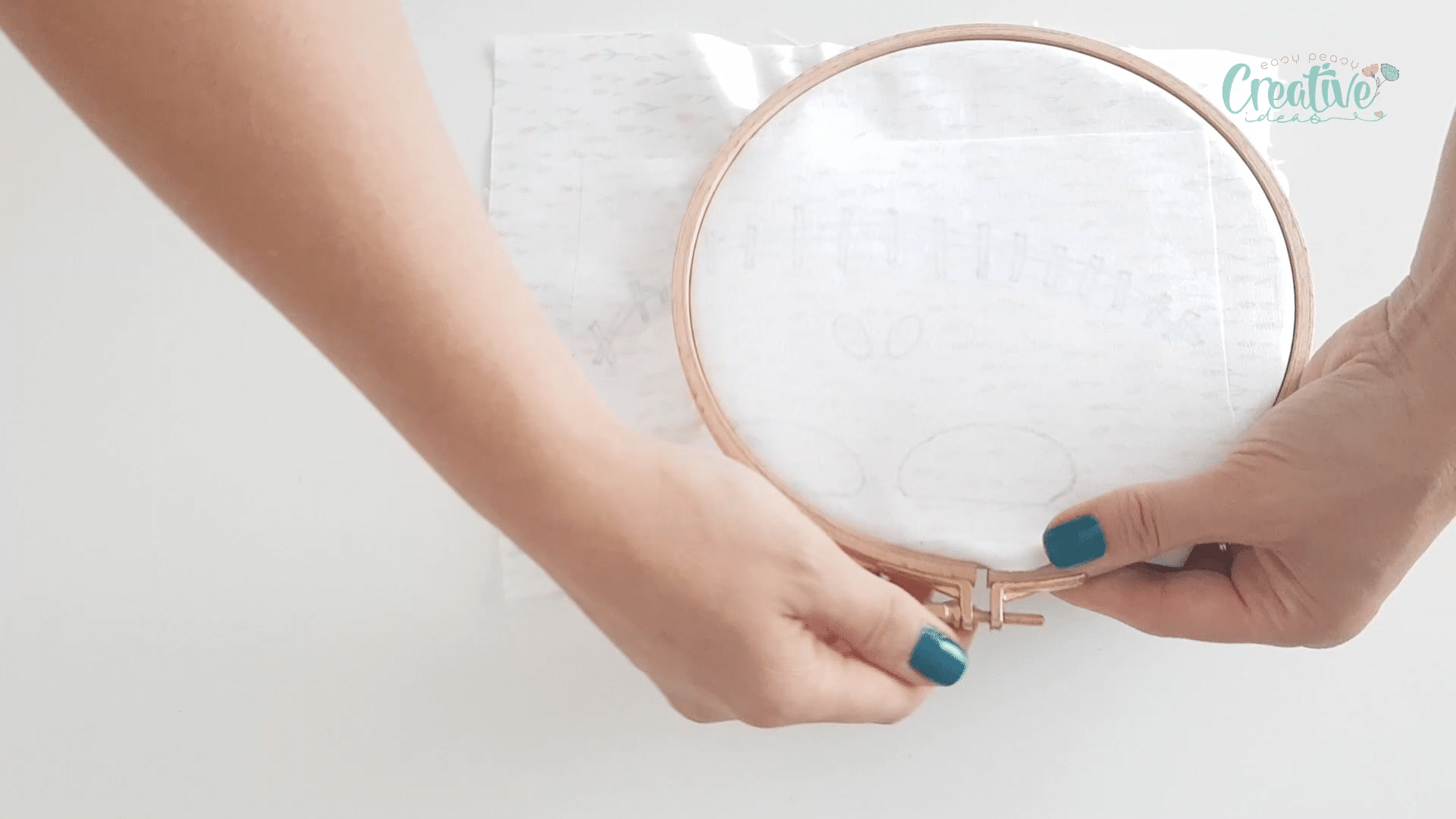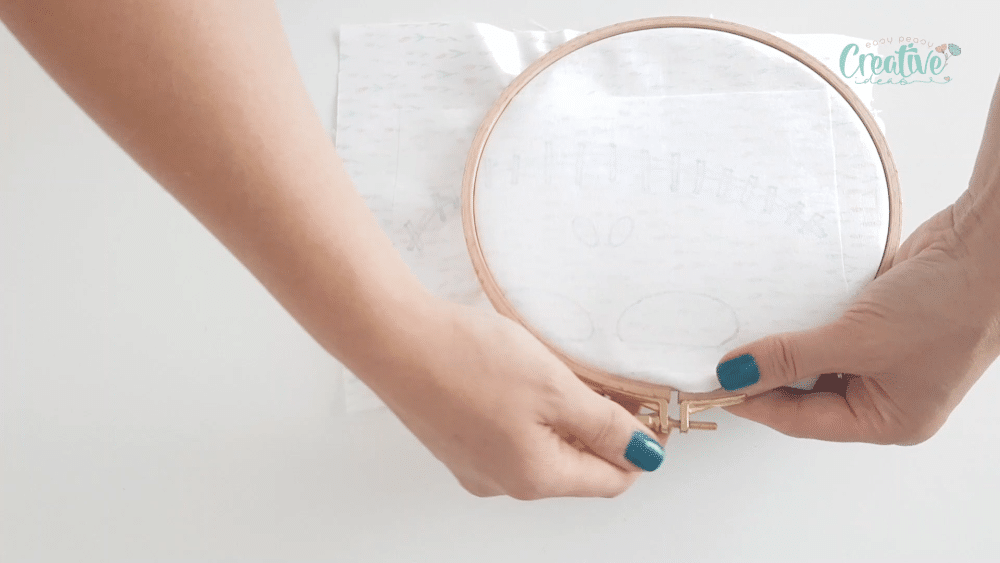 Prepare the sewing machine
Remove the old presser foot and preferably the needle too (it will allow you more freedom to work).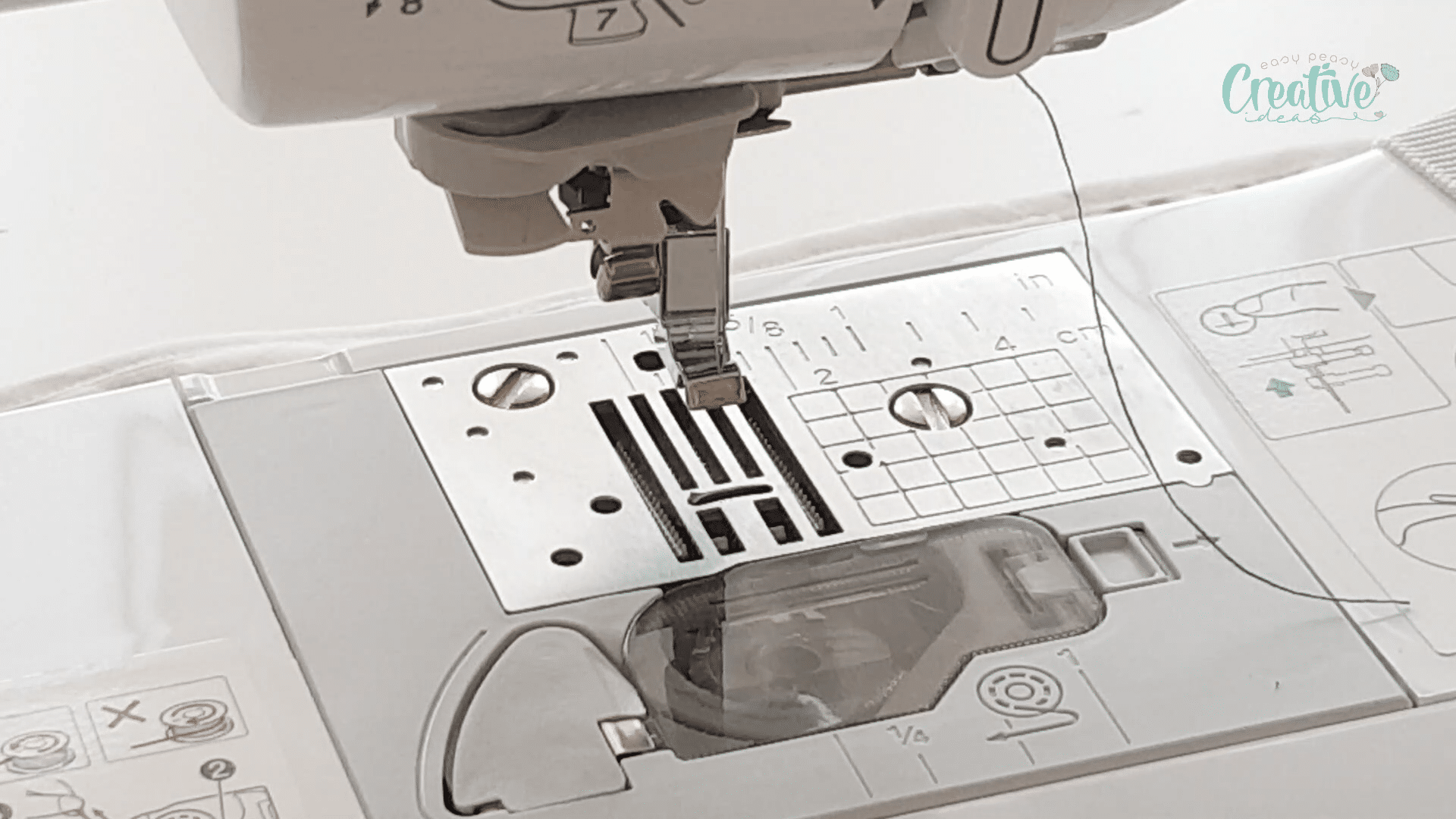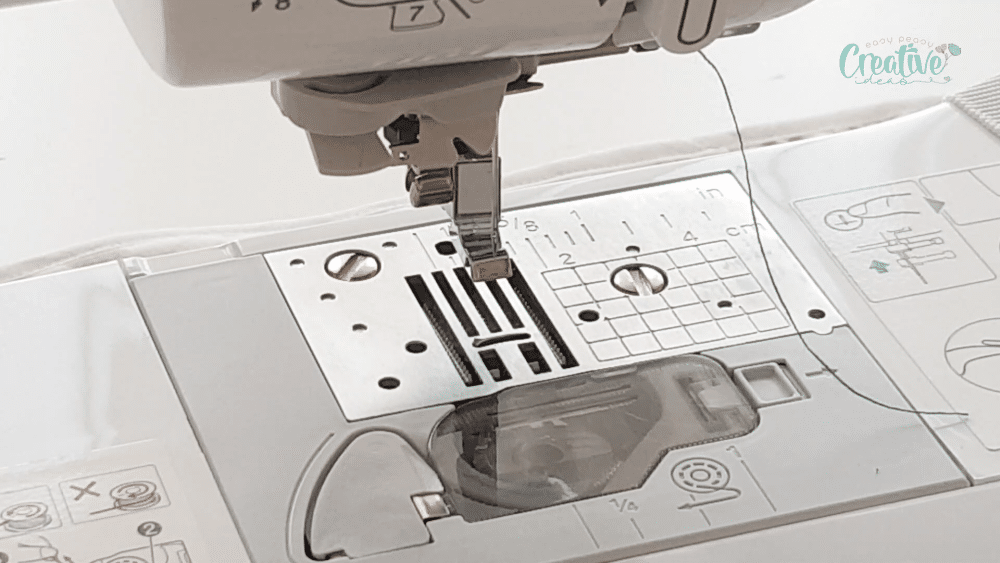 Install the free motion foot, following the instruction for your particular foot and sewing machine. My foot has a little bar on the right side that needs to go over the needle bar which stops the foot from touching the fabric or the plate.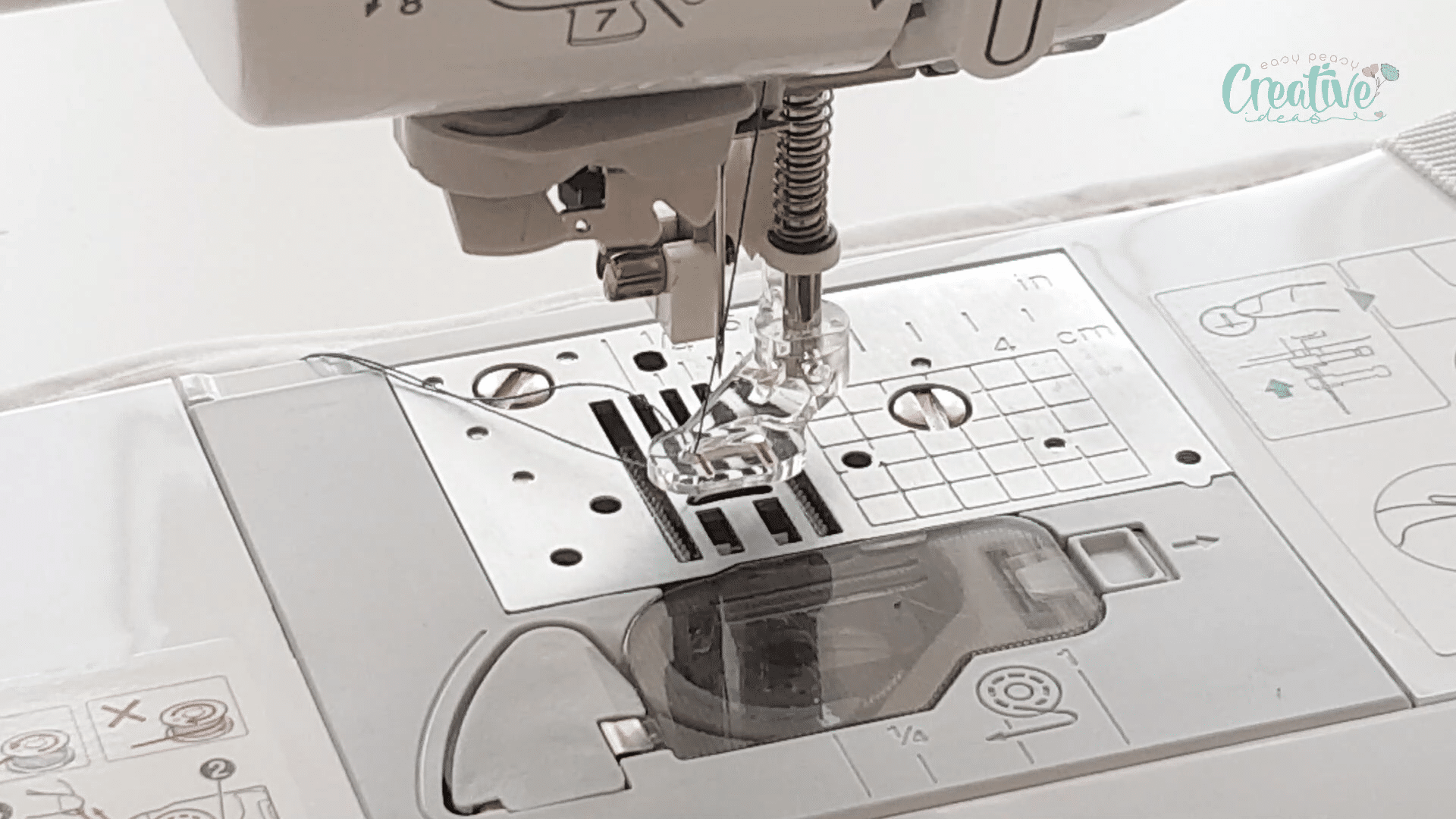 If you removed it above, return the needle to its position and thread it.
Look for a button/switch on your sewing machine that allows you to push the feed dogs down. My computerized Brother machine has a switch in the back, behind the presser foot, while my rudimentary Singer machine doesn't have one. For my Singer machine I install a darning plate witch acts like an intermediary between the feed dogs and the fabric so the feed dogs never touch the fabric. This is best done before installing the free motion foot, inserting the needle and threading it.
Keep your machine on a straight stitch and test the length and width on a piece of fabric (you need to stabilize this fabric too). Play with the width and length until you reach the desired settings. Take a piece of paper and write down the settings for your straight stitch. Repeat for a zig zag stitch that you will need to use to fill the embroidery design. When you're ready to start sewing, proceed to the next step.
Embroider the design
Grab the presser foot handle and lift it as much as it lets you then slide the embroidery hoop under the needle, with the right side of the fabric up. Make sure the hoop is set as indicated above, the fabric needs to touch the plate with the wrong side.
Decide where you want to start stitching. Lower the foot and using the sewing machine wheel, lower the needle a little until it catches the bobbin thread. Keep spinning the wheel until the needle is up the fabric. Using your scissors or a ruler, push the thread away from the needle making sure the thread is under the presser foot, not above it.
Lower the needle again and start sewing. Using a straight stitch, outline your design first. Sew slow and move the hoop slowly under the needle.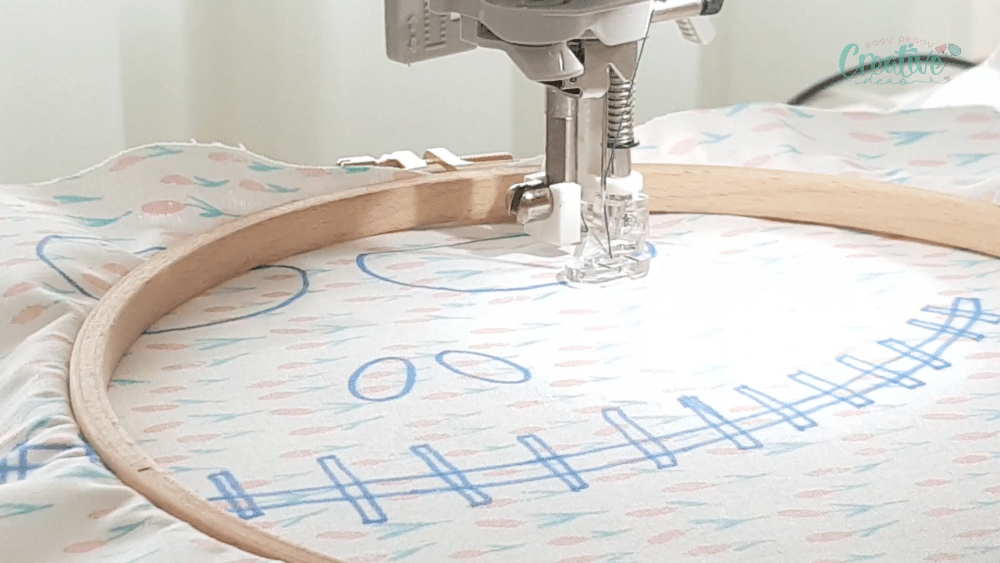 Change the stitch to a zig zag stitch and fill the design, again moving slow with both sewing and hoop.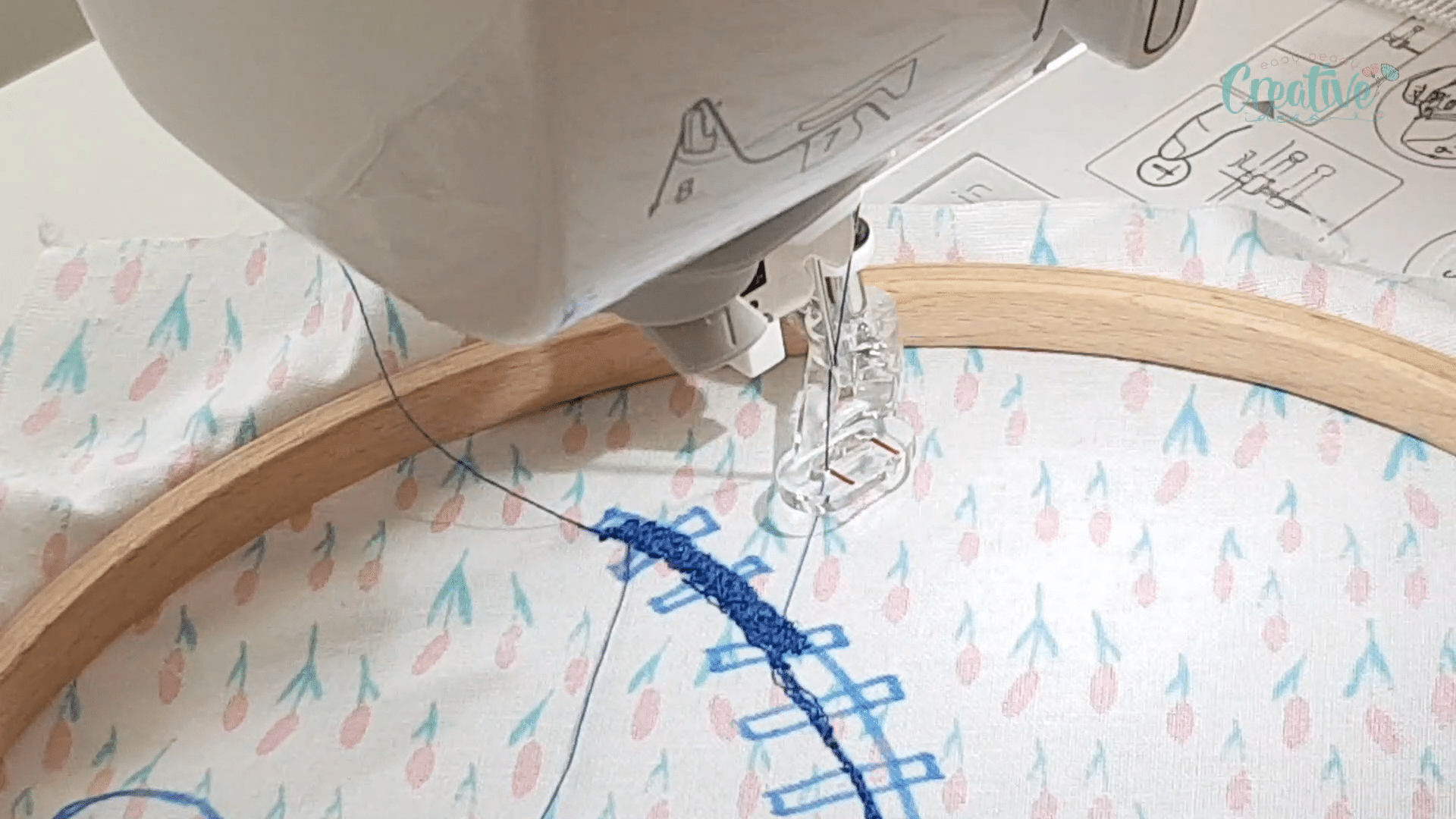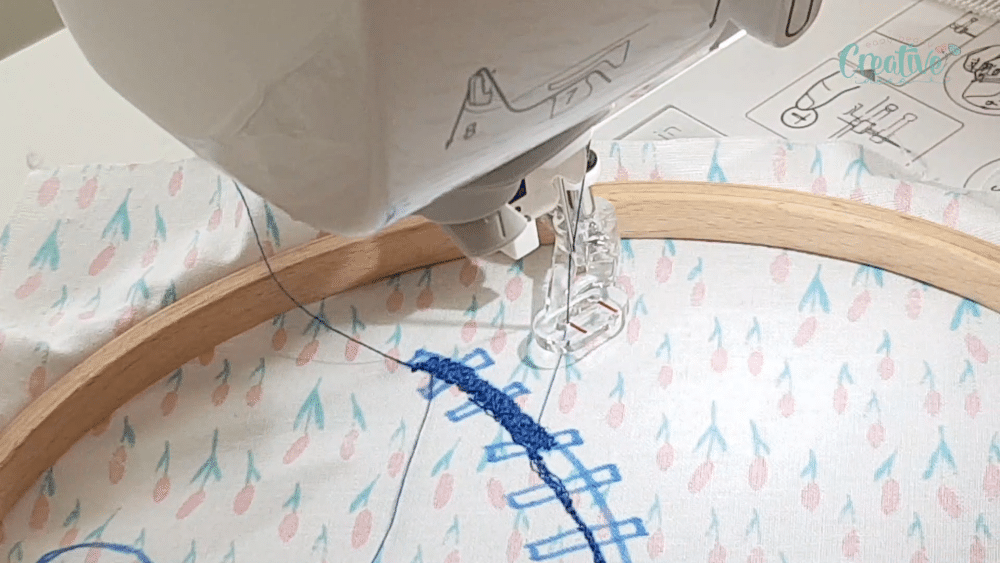 Finish your work
If you were using tearaway backing, remove it at this point.
Grab the fine scissors and remove all extra threads.
Press the fabric on the wrong side, with the iron on steam and you're done!
My embroidery wasn't so nice and neat as I'm a total beginner but I "fine tuned it" a bit by going over the areas I haven't covered perfectly the first time and I'm now pretty happy with the results (especially since my design was a Skellington smile which works best if a little crooked and uneven).
Embroidery with am embroidery stitch
If your sewing machine has embroidery stitches included, you can always use those. My machine only has numbers and letters in various shapes and a few small designs as seen in the photos in this tutorial. Follow your machine's instructions to learn how to make the best out of your embroidery stitches!
In this case the machine automatically sews the preset stitches and all you need to do is gently hold the hoop to direct the stitches in the desired direction. I like to use the start/stop button for these kind of stitches, where the machine starts embroidering when I push the start button and automatically finishes when the preset embroidery design is done. This way I don't have to worry about speed and evenness as the machine takes care of everything.
So, there you have it – everything you need to know about embroidering with a sewing machine. I hope that this guide has been helpful and provided some useful tips on how to get started. If you are still feeling unsure or have any questions, feel free to leave them in the comments section below. I would love to hear from you! In the meantime, happy stitching!
Pin to save for later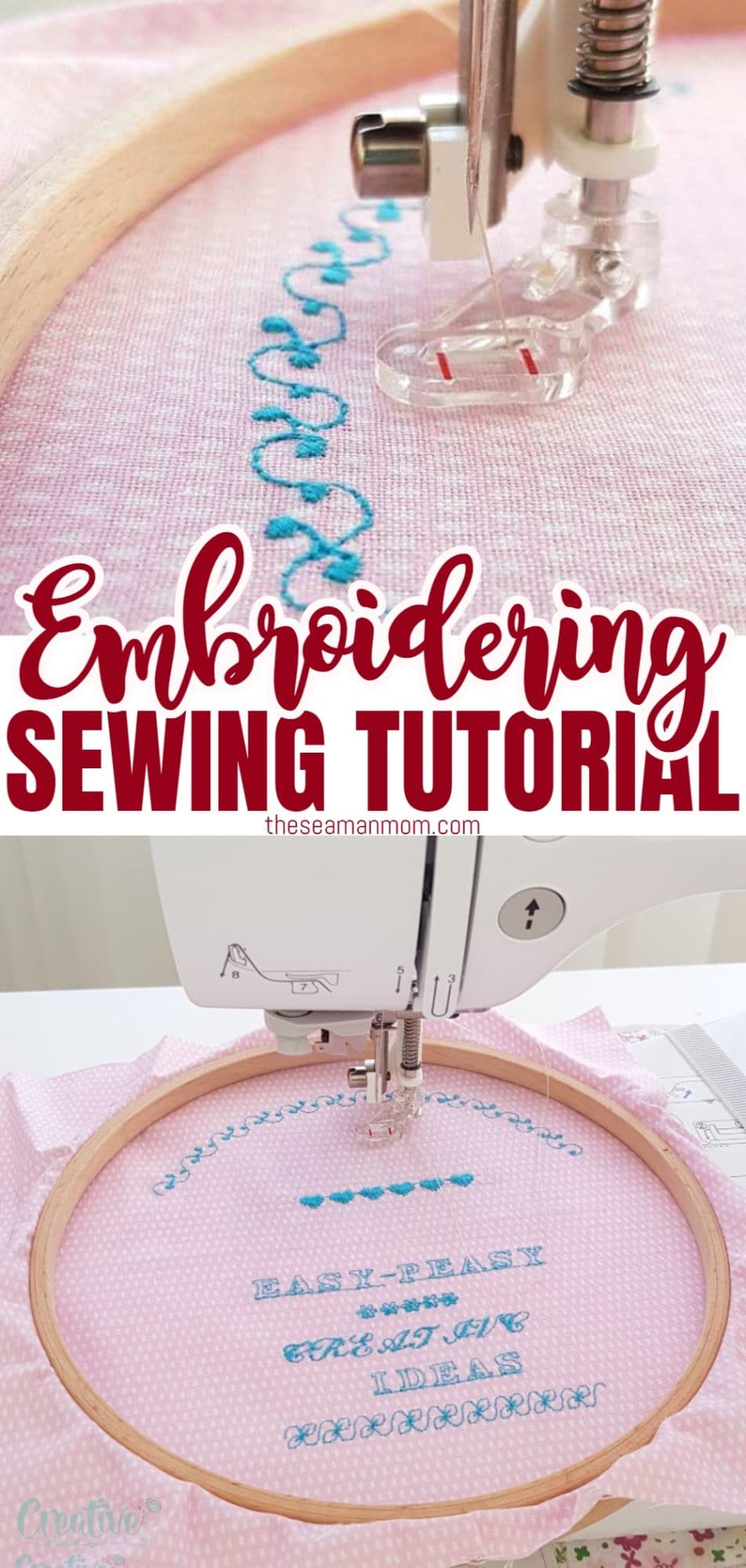 Most popular sewing projects: