Instant Pot mashed potatoes
Article may contain Amazon & affiliate links. As an Amazon Associate I earn from qualifying purchases at no additional cost to you.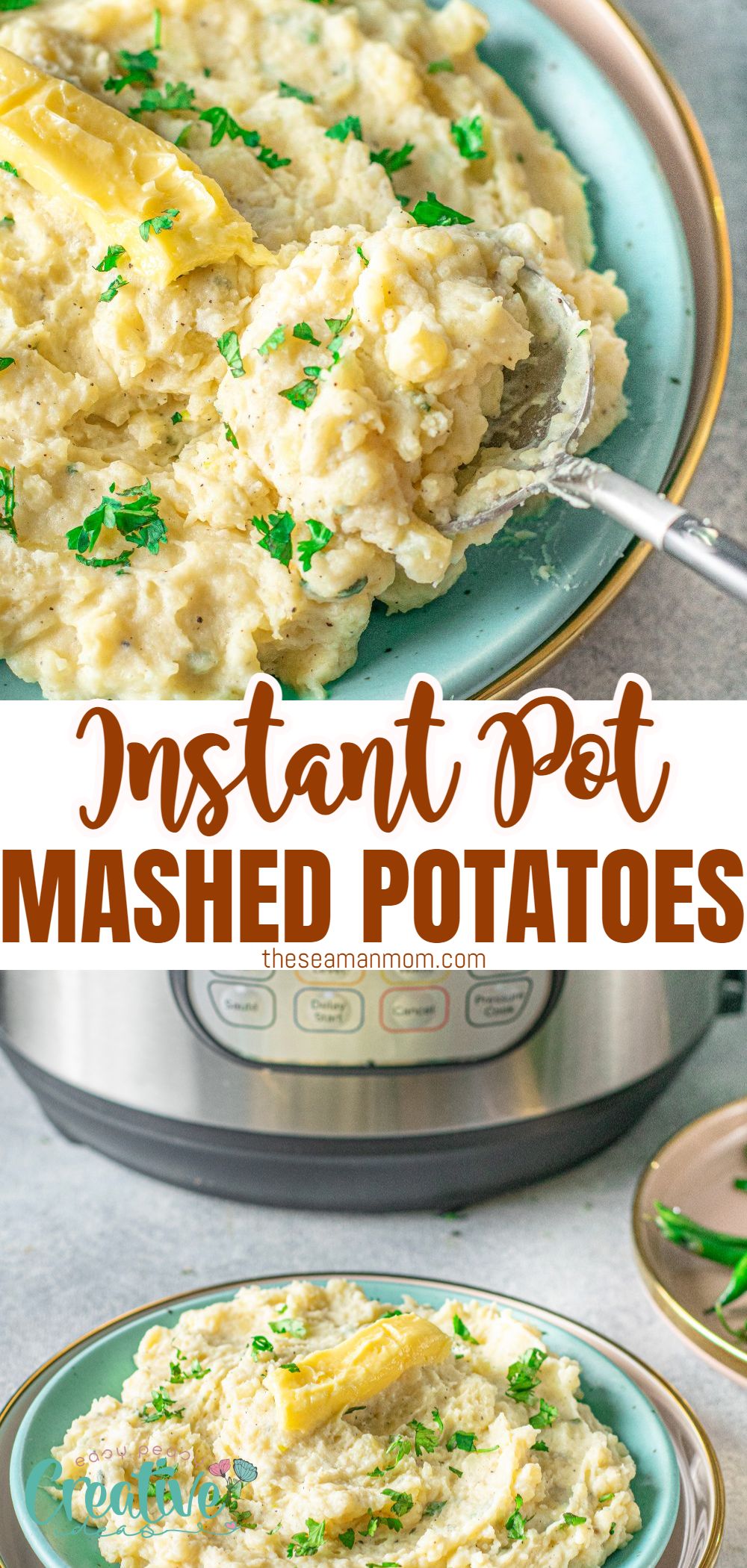 Are you looking for an easy way to make mashed potatoes? If so, then you need to try making them in the instant pot! Instant pot mashed potatoes are not only quick and easy to make, but they're also super delicious. Plus, they'll save you a ton of time since you won't have to boil the potatoes on the stovetop. So, if you're ready to learn how to make instant pot mashed potatoes, then read on!
Instant Pot mashed potatoes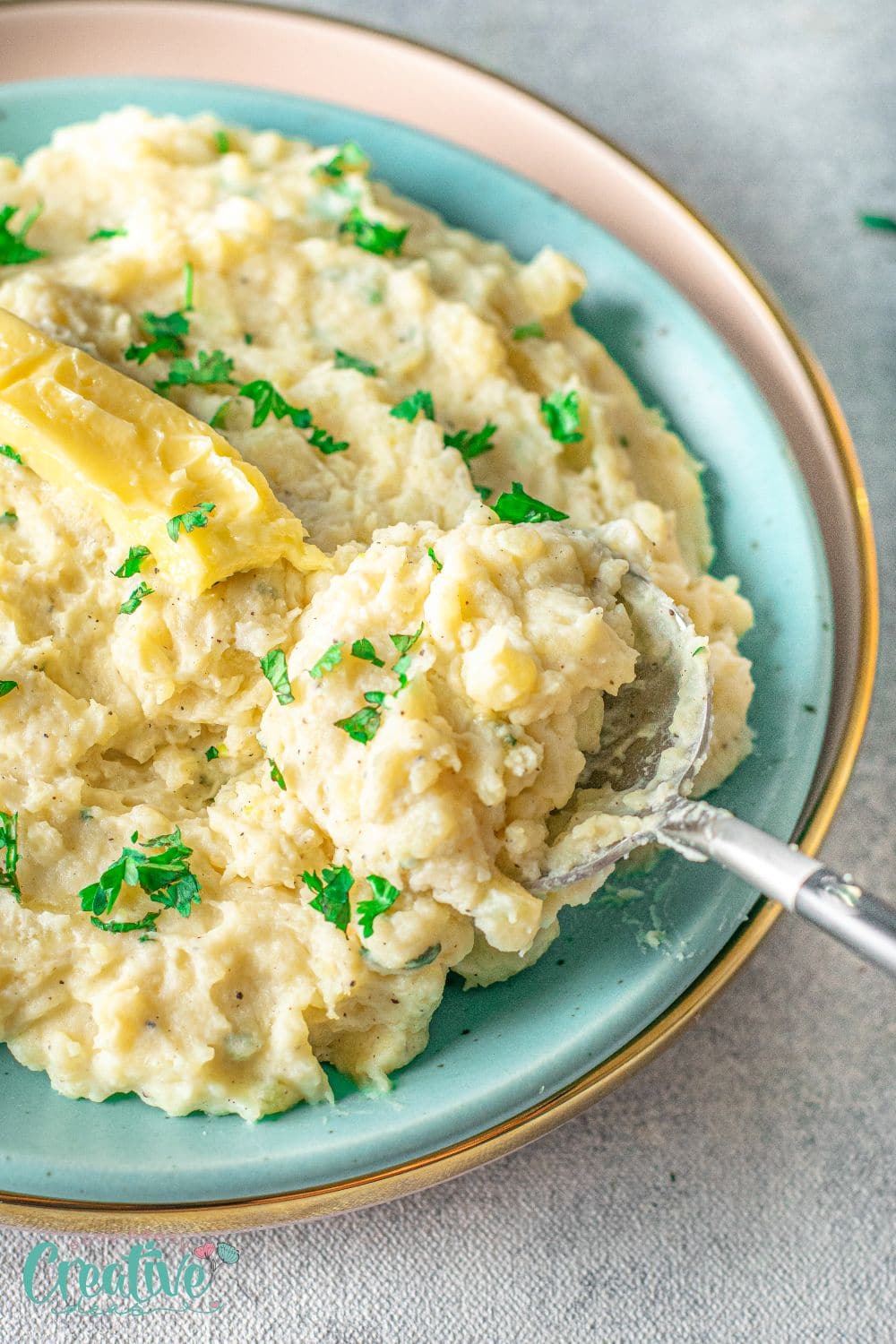 When it comes to finding a delicious side dish, you can't go wrong with mashed potatoes! But making this popular side from scratch can be pretty time-consuming – unless you have a pressure cooker at home! These Instant Pot mashed potatoes are creamy, fluffy, and utterly delicious. But the best part is that they're so easy and quick to make.
With the Instant Pot, making mashed potatoes is a quick and easy process that doesn't require any babysitting. In this guide, I'll show you how to make instant pot mashed potatoes in 20 minutes, from start to finish. By using the pressure cooker function on the Instant Pot, you can have creamy and delicious mashed potatoes on the table in a fraction of the time it would take to make them using traditional methods.
Mashed potatoes are a Thanksgiving staple and one of my family's favorite side dishes. But let's face it, boiled potatoes can be a pain to make. They require constant stirring and monitoring so they don't overcook and turn into mush. And if you're not careful, they can easily boil over and make a mess on your stovetop.
That's why I love making mashed potatoes in the Instant Pot. It's a set-it-and-forget-it kind of recipe, which frees up valuable time on Thanksgiving day. Plus, it makes creamy and delicious mashed potatoes with very little effort.
Other IP dishes you will love:
What Do I Need to Make Instant Pot Mashed Potatoes?
Homemade mashed potatoes are always a popular side dish option – whether you're making a meal for your family or bringing a dish to a family dinner. That's because you can make this recipe with just a few simple ingredients! To prepare mashed potatoes at home, you'll need:
Potatoes without peels and cut into smaller bits
Unsalted butter
Minced garlic
Milk
Cream cheese
Chopped cilantro
Salt and freshly crushed black pepper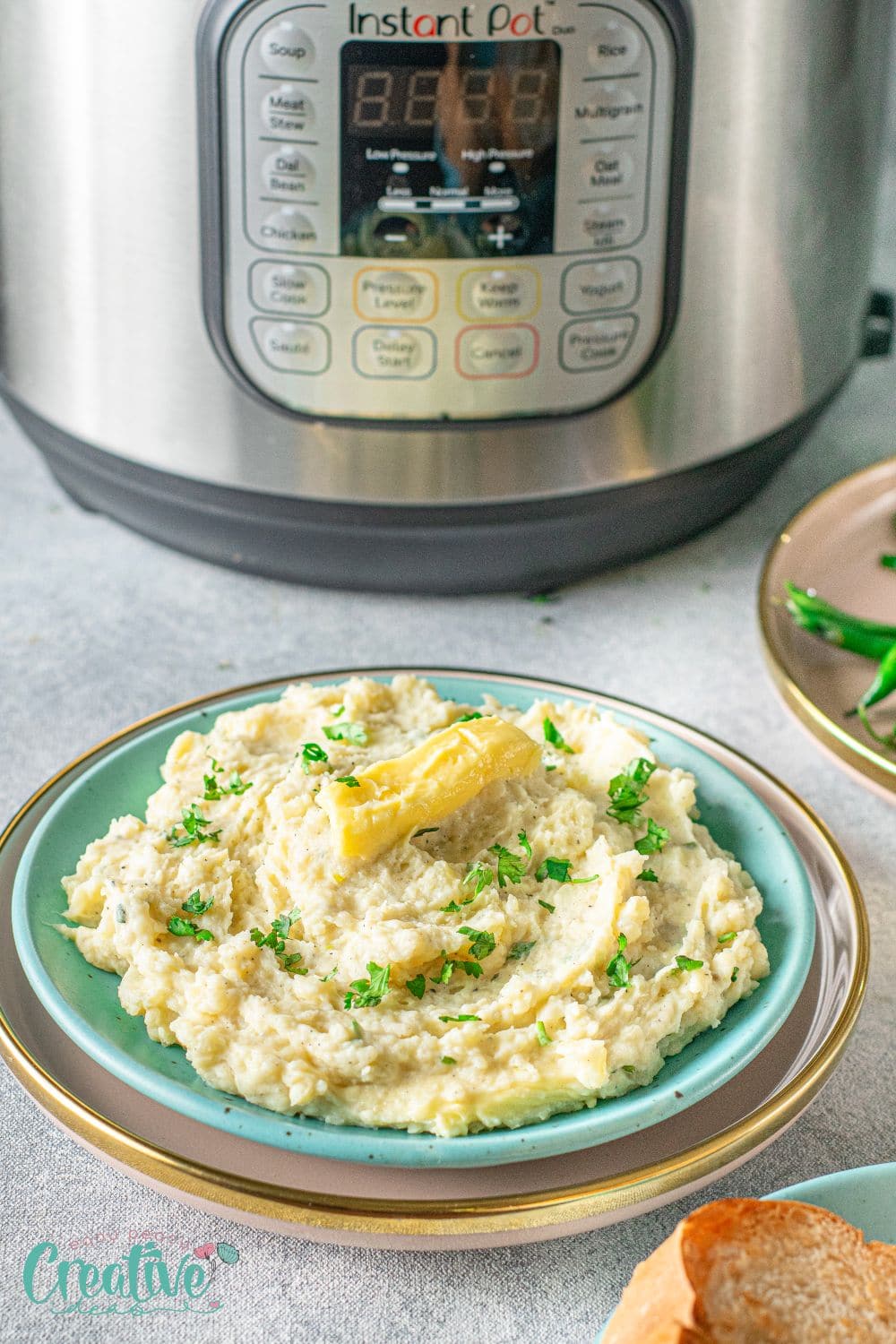 How Do You Make Mashed Potatoes in an Instant Pot?
Making mashed potatoes from scratch doesn't have to be difficult. In fact, with your Instant Pot, you can make fresh and creamy potatoes in just 20 minutes. That makes them a perfect side dish for a busy weeknight dinner or a big family get-together! Here are the simple instructions:
Cook the potatoes. Before you can add the tasty ingredients to your mashed potato recipe, you'll need to use your pressure cooker to prepare the potatoes. Place the potatoes in the pot with water and salt, then cook them on high pressure for 10 minutes.
Prepare the other ingredients. While the pressure is releasing from the Instant Pot, add the rest of your mashed potato ingredients to a small saucepan. Heat the ingredients until the butter is melted and the milk is warm.
Combine the potatoes with the other ingredients. Drain the water from the Instant Pot and transfer your potatoes to a large bowl. Use a potato masher to smash the cooked potatoes. After that, combine the hot potatoes with the warm milk and stir until the mixture is smooth and creamy.
Instant Pot Mashed Potato Recipe Tips
You won't believe how easy it is to use your pressure cooker to make mashed potatoes in the Instant Pot! And with these cooking tips, you'll end up with delicious and creamy potatoes every time you prepare this easy side dish.
Don't cut the potatoes too small. It can be tempting to cut your potatoes into small pieces to help them cook faster. But if the potato pieces are too small, they'll become overcooked and waterlogged in the Instant Pot. Instead, cut medium potatoes into thirds or large potatoes into quarters. The larger size will ensure the potatoes are cooked correctly without becoming too soft.
Add enough water. In order for your Instant Pot to work its magic, you'll need at least one cup of liquid in the pot. But when you're cooking potatoes, it's a good idea to add a little more water to ensure all the potatoes get cooked through. After adding the water to the pot, press the potatoes down into the liquid to cover them as much as possible.
Do a natural release. When preparing potatoes in the Instant Pot, it's important not to rush the process. The key to getting perfectly cooked potatoes in your pressure cooker is allowing the Instant Pot valve to naturally release pressure instead of opting for a quick release. That's because the Instant Pot will continue steaming the potatoes while the lid is on and the pressure is released naturally, which means they'll need that extra time in the pot to finish cooking.
Remove the potatoes immediately. Once the pressure is fully released from the pot, make sure to remove the potatoes from the pressure cooker immediately to keep them from cooking further. You can transfer them to a large bowl while you prepare the rest of the mashed potato ingredients.
Mash the potatoes while they're still hot. Once the pressure is released from the Instant Pot, immediately remove the potatoes from the pot and drain the water. Then, transfer them to a large bowl and use a potato masher while the potatoes are still hot. If you let the potatoes sit at room temperature for too long before mashing them, they may develop a skin around the outside of the pieces, making it difficult to get a smooth texture.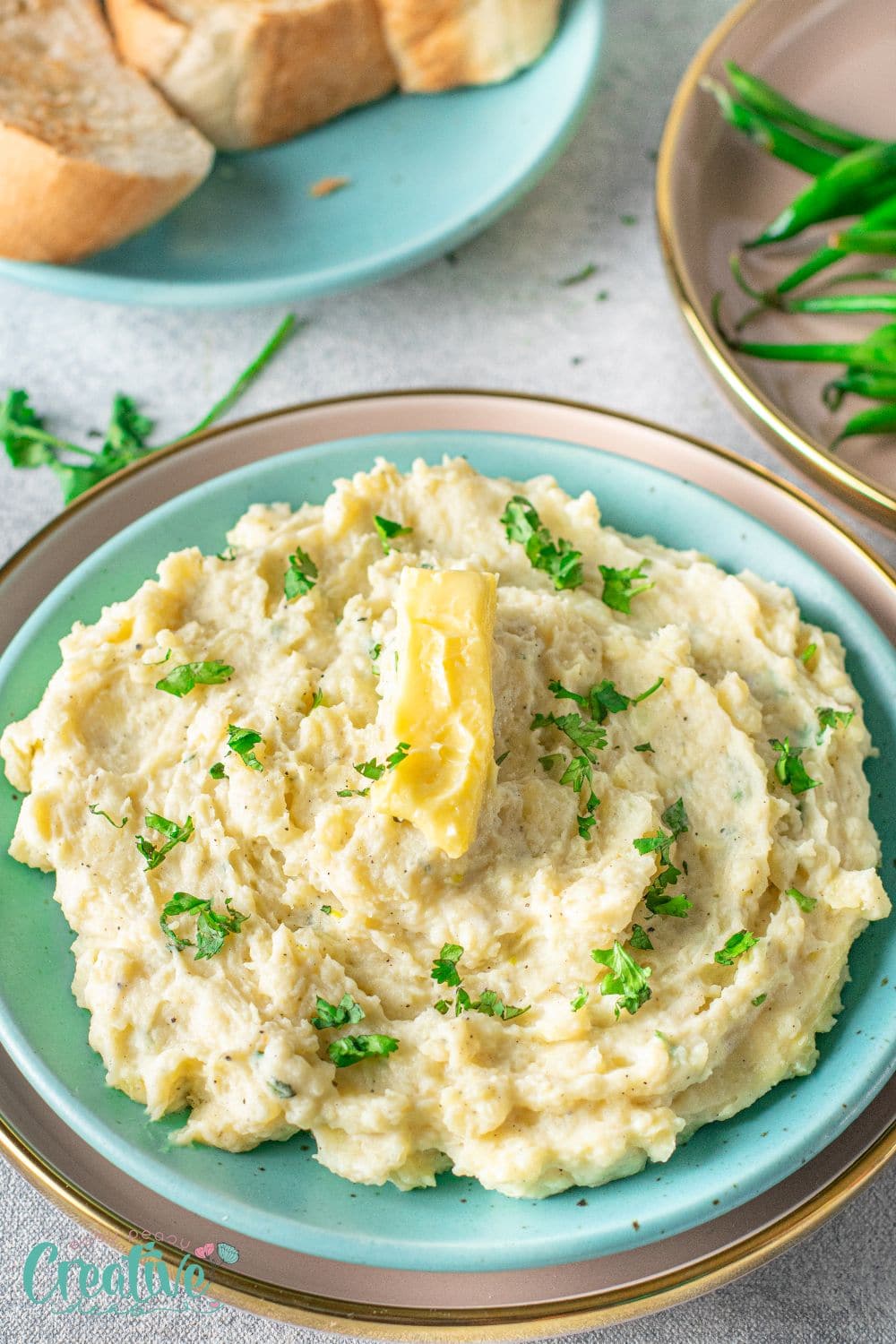 What is the best potato for this recipe?
While any type of potato will work for these IP mashed potatoes, we prefer to use Russet potatoes. They're large and starchy, which means they'll break down easily when you mash them. But if you prefer a different type of potato, feel free to use Yukon Gold potatoes or red potatoes instead.
What texture should mashed potatoes be?
When it comes to mashed potatoes, there are a few different textures you can achieve depending on your preferences.
For a light and fluffy mashed potato, use a potato ricer or food mill to mash the potatoes.
If you want a more rustic mashed potato with chunks of potato throughout, use a handheld masher.
Or for ultra-smooth and creamy mashed potatoes, use a blender or an electric hand mixer.
How can I make my Instant Pot mashed potatoes texture better?
If you find that your mashed potatoes are too thick, add more milk to the mixture until you reach the desired consistency. You can also add more butter or a little bit of sour cream to make the potatoes richer, or add additional seasonings to taste.
Why are my Instant Pot mashed potatoes rubbery?
If your mashed potatoes come out rubbery, it's likely because they were overcooked. Be sure to pressure cook the potatoes on the manual setting indicated in the recipe for the appropriate cook time.
Are there any health benefits to Instant Pot mashed potatoes?
Instant Pot mashed potatoes can actually be a healthier alternative to traditional mashed potatoes. That's because when you cook potatoes in the Instant Pot, they retain more nutrients than if they were boiled on the stove top. So not only are they quicker and easier to make, but they're also packed with vitamins and minerals.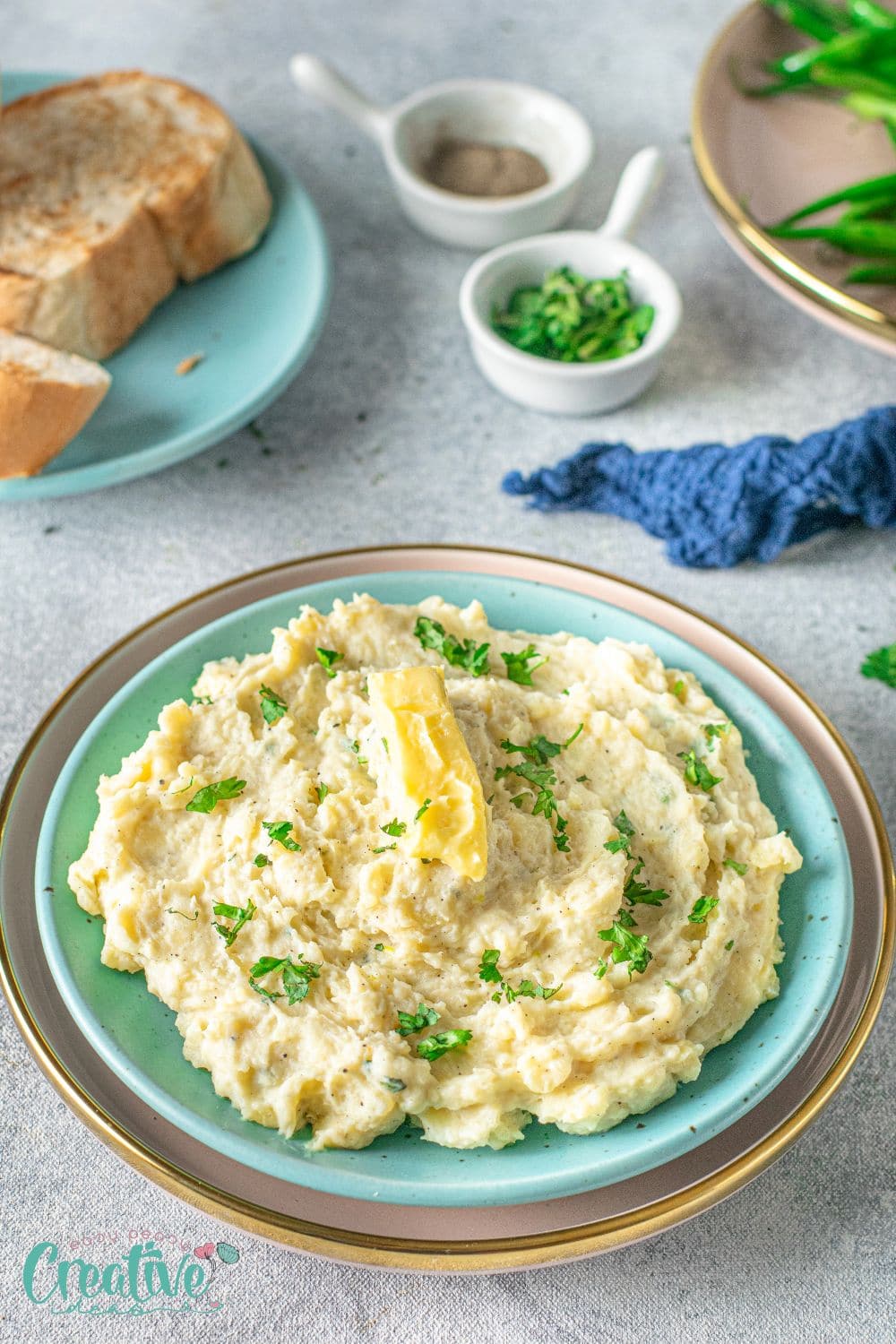 What are some other ways to make Instant Pot mashed potatoes?
There are a few different ways you can flavor your Instant Pot mashed potatoes.
For a cheesy mashed potato, stir in some shredded cheddar cheese after mashing the potatoes.
Or for a mashed potato with a kick, add in some diced jalapeños or green chilies.
You can also stir in some cooked bacon or crumbled sausage for a heartier mashed potato dish.
A couple of teaspoons of crumbled feta cheese add a nice salty flavor, while chopped chives or green onions give the mashed potatoes a bit of a zesty flavor.
And for a truly unique mashed potato, try mixing in some roasted garlic cloves.
Garnish with fresh herbs such as parsley or chives.
There are endless possibilities when it comes to Instant Pot mashed potatoes, so get creative and experiment with different flavors until you find your perfect combination
What are some other ways to use mashed potatoes?
While Instant Pot mashed potatoes can be served the traditional way, with gravy next to a meaty dish such as pork or chicken, they can also be enjoyed in a variety of other dishes. Here are a few ideas:
Add them to shepherd's pie or cottage pie in place of traditional mashed potatoes.
Stir them into soups or stews for a thick and creamy texture.
Use them as a topping for chili or other savory dishes.
Make potato cakes by adding some shredded cheese, green onions, and an egg to the mashed potatoes, then shaping them into patties and frying them in a little bit of oil.
Or use them as stuffing for roasted chicken or turkey.
The possibilities are endless, so get creative and experiment with different dishes to find your favorite way to enjoy Instant Pot mashed potatoes!
Can you keep potatoes warm in an Instant Pot?
Yes, you can keep mashed potatoes warm in an Instant Pot. Just set the pot to the "keep warm" setting and they'll remain warm until you're ready to serve them.
How Do You Store these Potatoes?
If you have leftovers after finishing your dinner, you can store your mashed potatoes in an airtight container. Make sure to keep the leftovers in the fridge and they'll stay good for up to two days.
You can also store the prepared potatoes in the freezer for up to 15 days. Make sure to allow the potatoes to cool completely, then transfer them to a freezer-safe container or freezer bag.
When you're ready to reheat the frozen potatoes, transfer them to the refrigerator to thaw overnight. Then, place the potatoes in a saucepan and cook them over medium-low heat, stirring occasionally. If the potatoes seem dry, add more cream cheese or milk until the desired consistency is reached.
So if you're looking for a delicious and easy side dish, look no further than instant pot mashed potatoes. With just a few simple ingredients, you can have creamy and flavorful mashed potatoes in no time. And with these tips, you'll be sure to end up with perfect potatoes every time. So why not give instant pot mashed potatoes a try today? You won't be disappointed.
Pin to save for later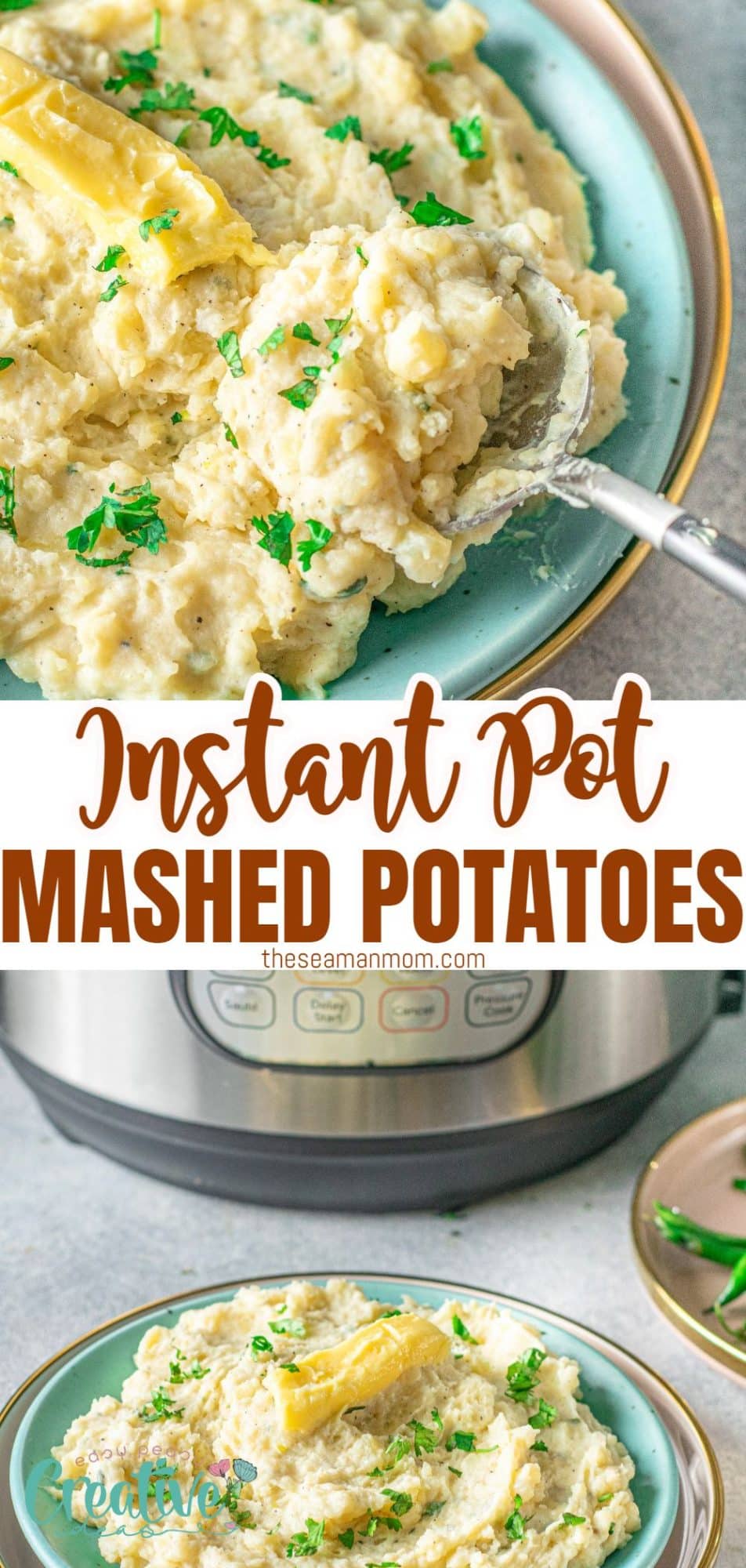 Print the recipe card
Instant Pot mashed potatoes
Instant pot mashed potatoes are a delicious and easy way to make mashed potatoes, ready in just 20 minutes. Perfect for a weeknight meal!
Ingredients
6

potatoes

around 3 lbs, medium-sized potatoes peeled and cut into large cubes

2

teaspoon

salt

2

tablespoons

unsalted butter

+ more for serving

1

teaspoon

garlic

minced

½

cup

milk

½

cup

cream cheese

1

teaspoon

black pepper

freshly crushed

1

tablespoon

cilantro

chopped

2

cups

water
Instructions
Place peeled and cut potatoes at the bottom of the Instant Pot. Add 2 cups of water and 1 teaspoon of salt.

Close the lid and pressure valve. Select the PRESSURE COOK button on HIGH PRESSURE and cook for 10 minutes.

Once the pressure-cooking cycle is over, allow the pressure to release naturally for 5 minutes. Open the lid and select the CANCEL button.

Drain the potatoes and transfer them into a large bowl. Mash the potatoes with a masher until smooth.

Heat a small pan over medium heat and melt butter with milk until warm, Add minced garlic and pour it over mashed potatoes and stir until creamy and fluffy. Add cream cheese, salt, and black pepper powder. Mix until smooth.