Perfect Instant Pot potato salad for your next potluck
Article may contain Amazon & affiliate links. As an Amazon Associate I earn from qualifying purchases at no additional cost to you.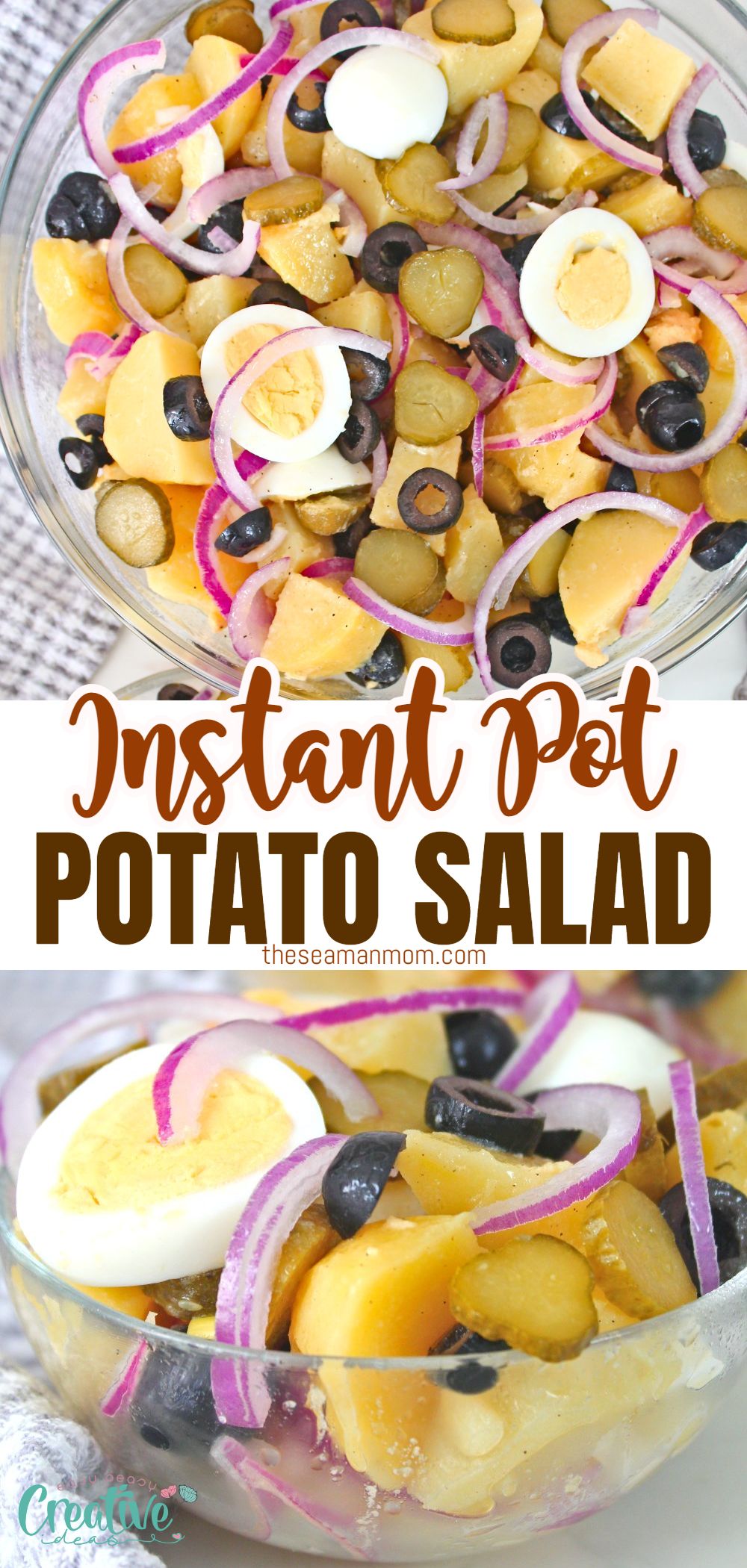 You want to make potato salad, but don't want to deal with the hassle of boiling potatoes on the stove. I've got you covered! My recipe for Instant Pot Potato Salad is simple and delicious, and it's sure to be a hit at your next potluck or BBQ.
Instant pot potato salad
Looking for a super-quick dinner for a busy weekday? Here is an easy, healthy and delicious Instant Pot potato salad recipe you can make in no-time and will satisfy everyone. Not to mention, you can make it all year round.
Potato salad originated in Germany, but has soon spread all over the world because it's so easy to make, it's versatile and the ingredients are so easily available. And also super affordable!
This staple recipe is a crowd pleaser, and one of my favorite dishes for any occasion. Bring a nice bowl of fresh, cool salad to a barbeque or by the pool, and everyone will be more than happy to have a share. Cookouts, family gatherings, potlucks, these are all great occasions for making a generous batch of potato salad.
Other potato recipes you will love: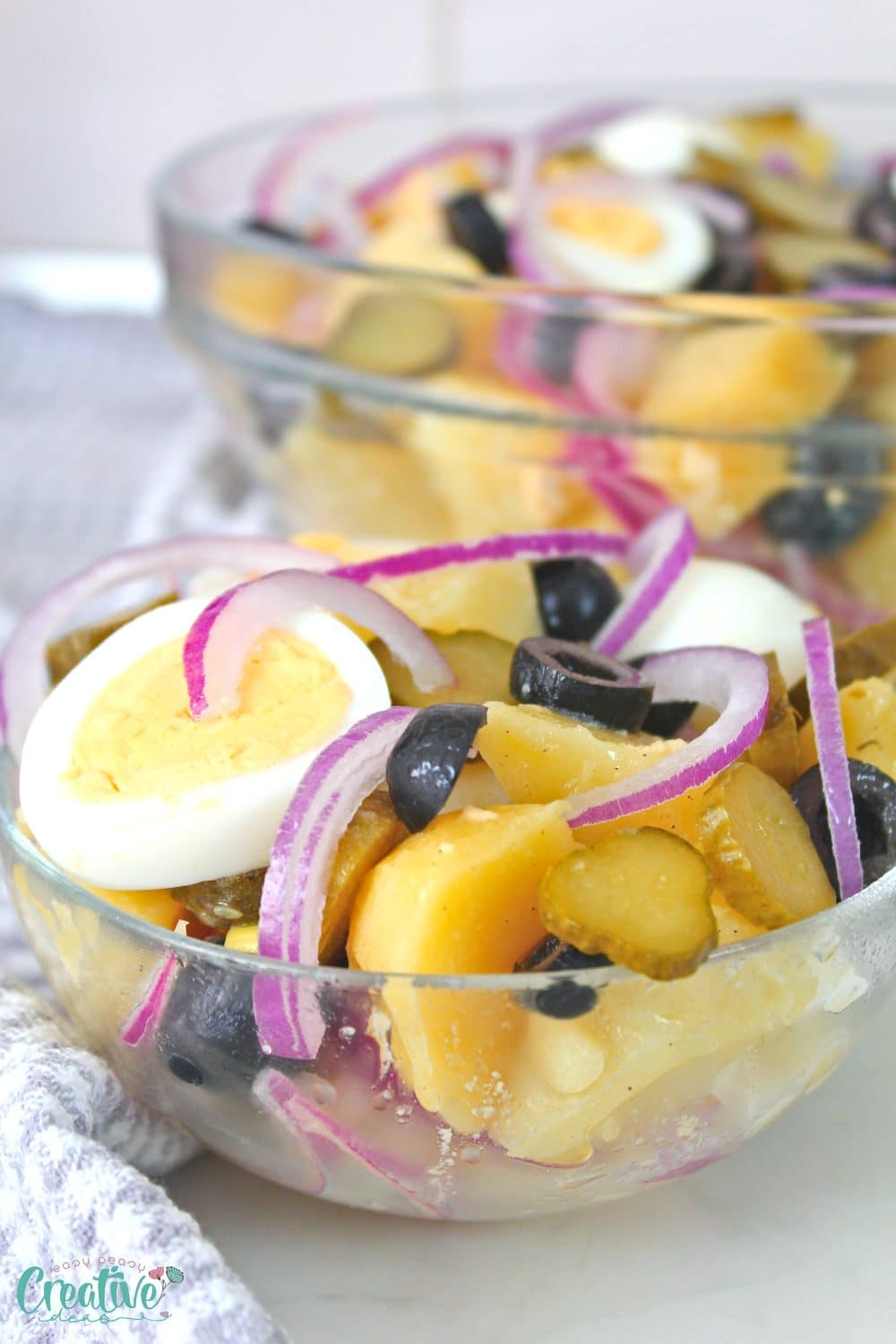 Which potatoes are the best?
Taste is generally a personal choice, but for this recipe, the texture is more important when choosing the potatoes.
Small, waxy, thin-skinned potatoes are the best for boiling. You can choose between small white, yellow or red potatoes, but also fingerling potatoes work well. They are quick cooking because of their small size, so you don't even need to chop them before boiling.
I used medium potatoes, they also cook well, but you need to cut them in halves to make sure they cook evenly and to cut down on cooking time.
Yukon Gold potatoes are everyone's favorites as they hold their shape really well, but any waxy potatoes go great.
Russet potatoes are too starchy and tend to fall apart when boiled, so I personally try to avoid them.
If you like a sweeter taste, baby potatoes are great. They still have a naturally sweet flavor and most of them also keep their shape better than full-size ones. Bonus – You don't need to peel them, so you also benefit from the extra nutrients in their skin.
How to cook the potatoes on the stove
If you don't have an Instant Pot but still want to try this recipe, you can cook the potatoes on the stove. I recommend boiling them in their skin which is thoroughly cleaned first in cold water, using an abrasive sponge. Here are some more tips to get perfect boiled potatoes:
Salt the water – First and super-important. You need to add quite a bit of salt to the water before adding the potatoes. Don't worry, they won't taste salty. In fact, salt helps their flavor come out and make them taste yummy.
Don't actually boil, simmer – While boiling, the potatoes will bash against each other, which can affect their texture. Just bring the water to a rolling boil, then reduce the heat to let them simmer. The cooking time will be almost the same. Test with a fork or toothpick for doneness.
Check the potatoes – When you can push a fork through the center, they are cooked through. Drain them immediately and add them to an ice bath to prevent further cooking. You can safely handle them after 2-3 minutes.
Peeling the potatoes – This job is a lot quicker and easier after cooking, as the peels come off easier. Peeling them before cooking will be quite time-consuming. Plus the potatoes will not hold their shape just as well as when boiled in their skin.
What else can I add to this potato and egg salad?
While my version is more on the Mediterranean side, what is great about this homemade potato salad is that you can tweak it to suit your taste, and also add or eliminate any ingredient you don't like (except for potatoes, of course).
You can add bell peppers, bacon, parsley, radishes, celery, chives instead of red onion, green olives instead of black ones, garlic powder, Dijon mustard, pickle relish etc Just play around and make your own recipe.
Remove the eggs and you have a nice, vegan version of this classic potato salad recipe.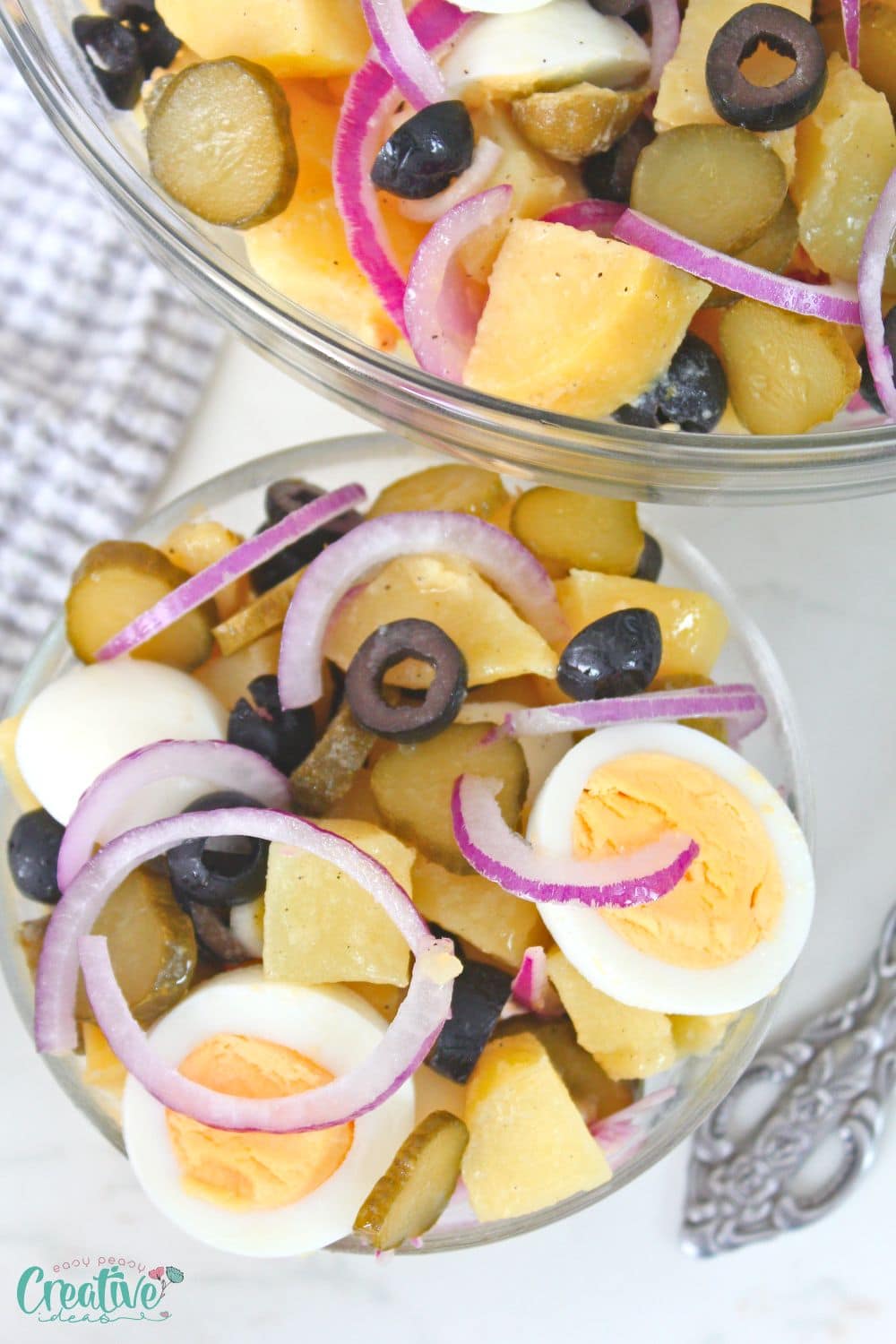 What other dressings go well with this potato salad?
You can go old school and simply use mayonnaise, salt, pepper and red wine vinegar for a creamy dressing.
For a healthier option you can make this instant pot recipe using Greek yogurt or light sour cream. The salad will taste very similar to the traditional salad with mayo but it's much better for you because Greek yogurt is full of protein and has way less fat!
If you want to take this instant pot potato salad to the next level why not try adding some strong cheeses? Gruyere or parmesan cheese are delicious in potato salads, and it will add a little bit of bite.
A few capers will also do wonders for instant pot potato salad, so please don't omit them.
Pickle juice is also a popular ingredient for instant pot potato salad, so if you have any pickle juice in the fridge don't forget to add it.
What to serve with Instant Pot potato salad?
Salads are the kind of dish you can serve with almost anything. But if I had to recommend one additional dish that would go really well with instant pot potato salad, then I'd say try pairing it with beef recipes. Specifically, baby back ribs are a good choice, because the meat is so tender and yummy.
You can also serve this salad as a side dish to fish, grilled ribs, burgers, grilled chicken, etc.
How to store Instant Pot potato salad?
Instant pot potato salad tastes best cold or at room temperature, so you can make it the night before and store in the fridge.
If you want to bring it to a summer event, pack it in a cooler and keep till serving time. Make sure to take out of the fridge 30 minutes before bringing out to room temperature.
How long does this potato salad keep?
It is always best to serve it freshly made. If you plan on making it ahead, don't worry. It keeps well in the fridge for up to 3-4 days. However, leftovers that have stayed at room temperature before should be kept less in the fridge.
Boiled potatoes keep longer, so you can boil them a few days ahead with no worries. Keep them separately in the fridge and just assemble the salad before serving. This way, they will already be cold, so you don't need to wait for them to cool down or refrigerate the salad before serving.
I don't recommend freezing the potato salad. It doesn't freeze well.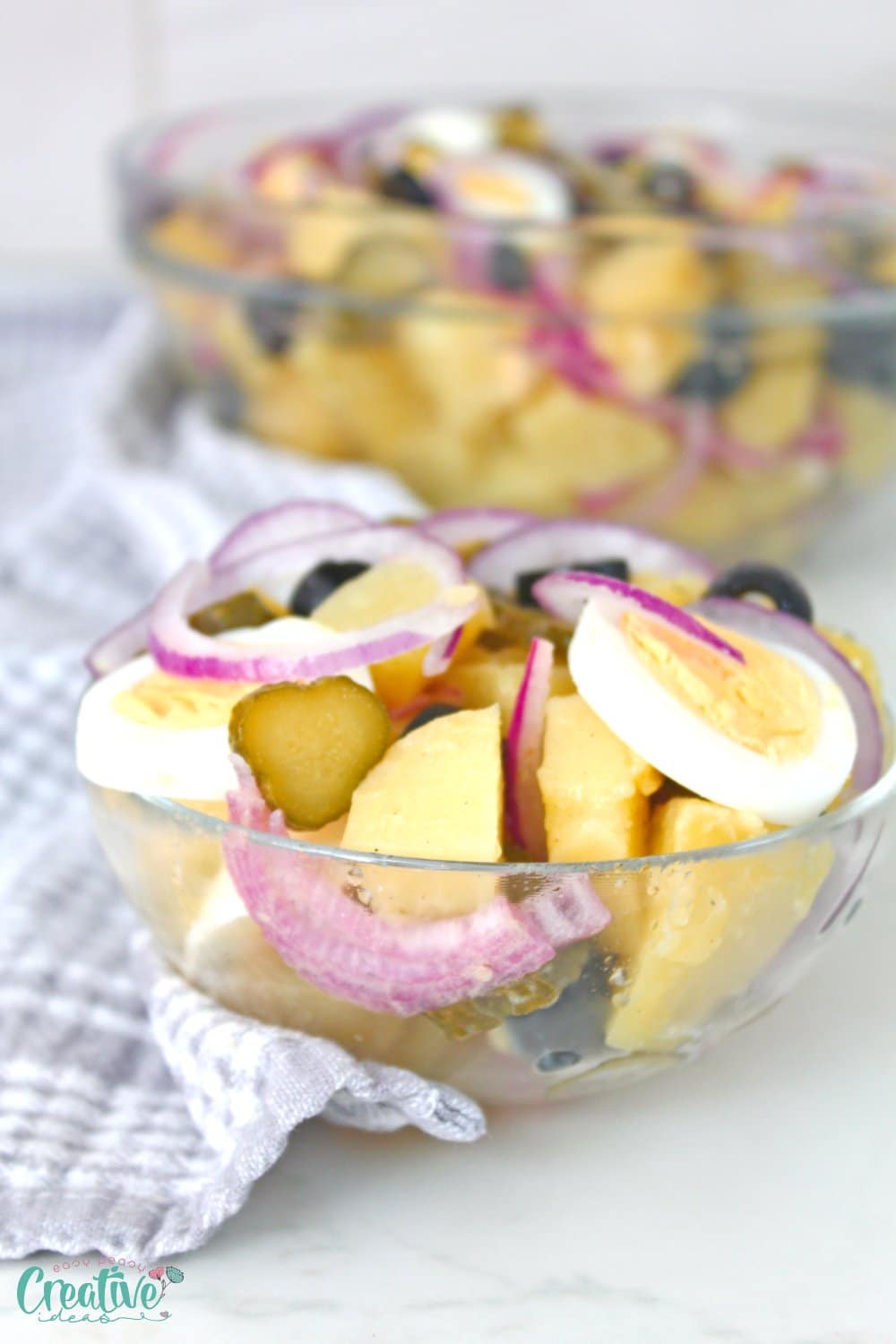 More tips and tricks:
Cook the potatoes whole. This way, they keep more of their natural sweetness and flavor. They will also keep their texture firmer than if cooked in pieces. Chopping them before will reduce the cooking time, but take away from the taste;
For a more American version and a creamier texture, add mayonnaise and mustard to the salad;
Making the potato salad a few hours ahead of serving allows the flavors to blend better. You can always make it the night before and leave it in the fridge;
Mixing the potatoes while they are still too hot can make the salad watery the next day (if surviving until then). Drain the potatoes well and let them cool completely.
Food safety reminder!
When serving potato salad outdoors in the summer, keep it in shade and don't leave it out for more than 4 hours. Potatoes are a good medium for bacteria growth, so there is a great risk of food poisoning.
When serving potato salad outdoors in the summer, keep it fridge-cold at all times by using instant ice packs or coolers with instant ice packs on either side of the dish or place the salad recipient over a bowl of ice water to make sure they are cold.
Does potato salad have any nutrition value?
Yes, it does! While pretty high in calories, potatoes and eggs are a healthy combination when served in moderation. They provide you with B-vitamins, healthy carbohydrates, iron, calcium, potassium and protein. Plus potatoes are a good source of fiber and egg yolks are a good source of magnesium, vitamin D and zinc.
This version of instant pot potato salad will also provide you with a healthier version of the dish. It has the same nutrients except for some sodium and less saturated fat and cholesterol because it's dressed with cooking oil instead of mayonnaise.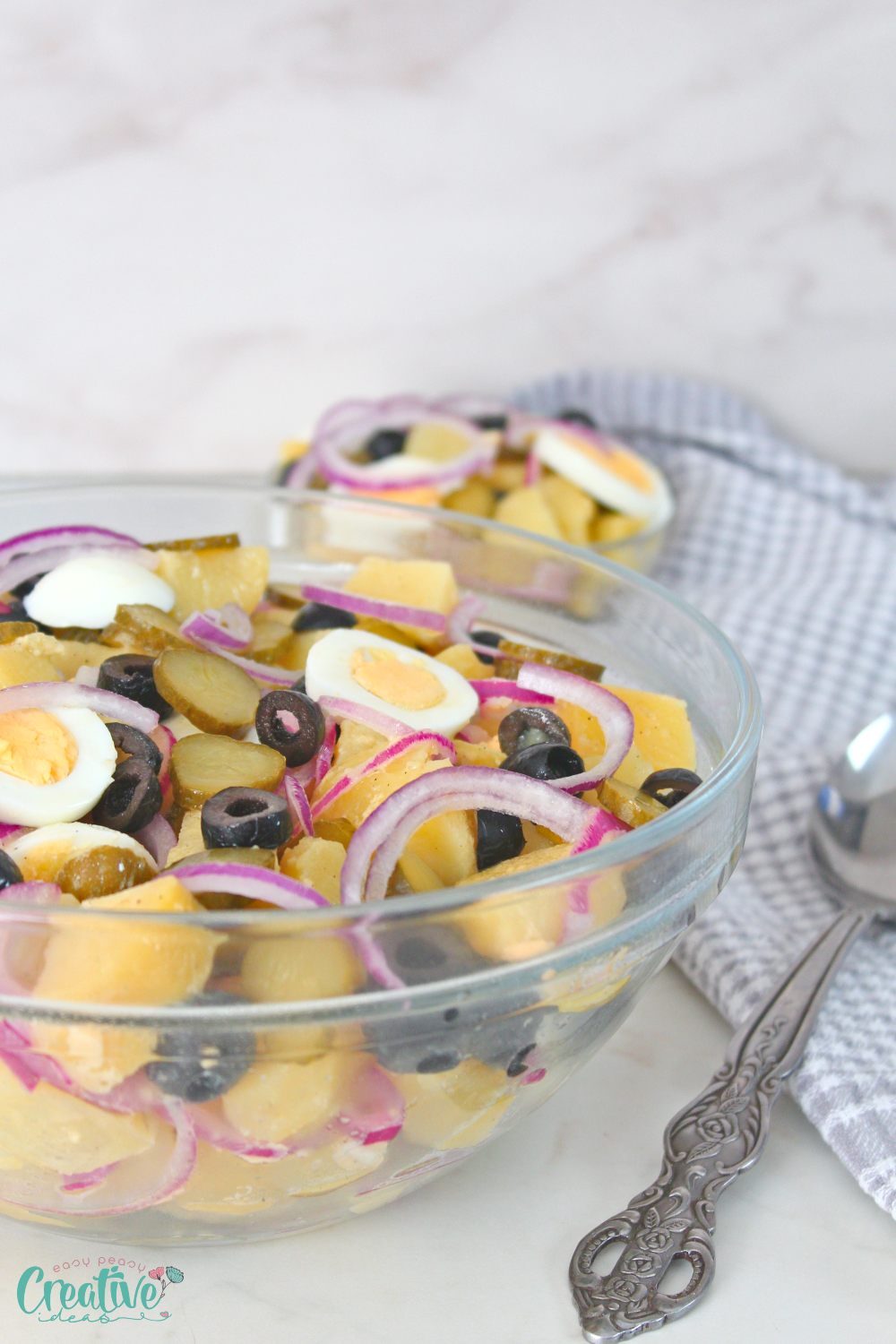 Common questions about instant pot potato salad
Is this potato salad gluten free?
Yes, Instant Pot potato salad does not contain gluten.
Is potato salad good for weight loss?
This potato salad is high in calories but can be part of a healthy diet when consumed in moderation.
What kind of Instant Pot is this potato salad made with?
The potatoes in this salad can be prepared in any type of Instant Pot. If you have a pressure cooker with a different brand, please check the instructions on how to use it for making potato salad.
How long does this salad take to make?
Potatoes take 10 minutes to prepare and the salad is ready in just 10 minutes.
How many servings are there?
This recipe makes 4 servings.
What is the salad sauce made of?
The sauce in this recipe includes cooking oil, apple cider vinegar, salt and pepper.
There are lots of arguments about the best potato salad ever. If you already tried this quick and easy potato salad, please let us know your thoughts and tweaks in the comments below. If not – what are you waiting for?
Gather the potato salad ingredients:
medium potatoes, cut into halves
large eggs, hard boiled
large red onion
dill pickles, finely chopped or sliced (you can make your own with this easy recipe!)
black olives
salt, pepper and white wine vinegar to taste
How to make instant pot potato salad?
Boil the potatoes in the pressure cooker, on high pressure, with the lid in the sealing position, as recommended in this recipe
When done, remove from the Instant Pot & spray cooking oil
Cut potatoes into 1" pieces
Place potatoes in a large bowl
Slice the eggs. You can keep one boiled egg on a side to decorate the salad later on.
Top the potatoes with the rest of ingredients
Drizzle some vinegar and add salt and pepper to taste
Gently toss all ingredients to combine
Instant Pot Potato Salad is a great side dish but also makes for a filling and comforting meal when served with your favorite meat recipe and some fresh veggies or a green salad.
If you think this easy pot potato salad could be improved in any way, please leave your thoughts in the comment section below. And if you've tried my recipe and loved it, give it a 5 star rating and please let us know how you liked it in the comment section below.
Pin to save for later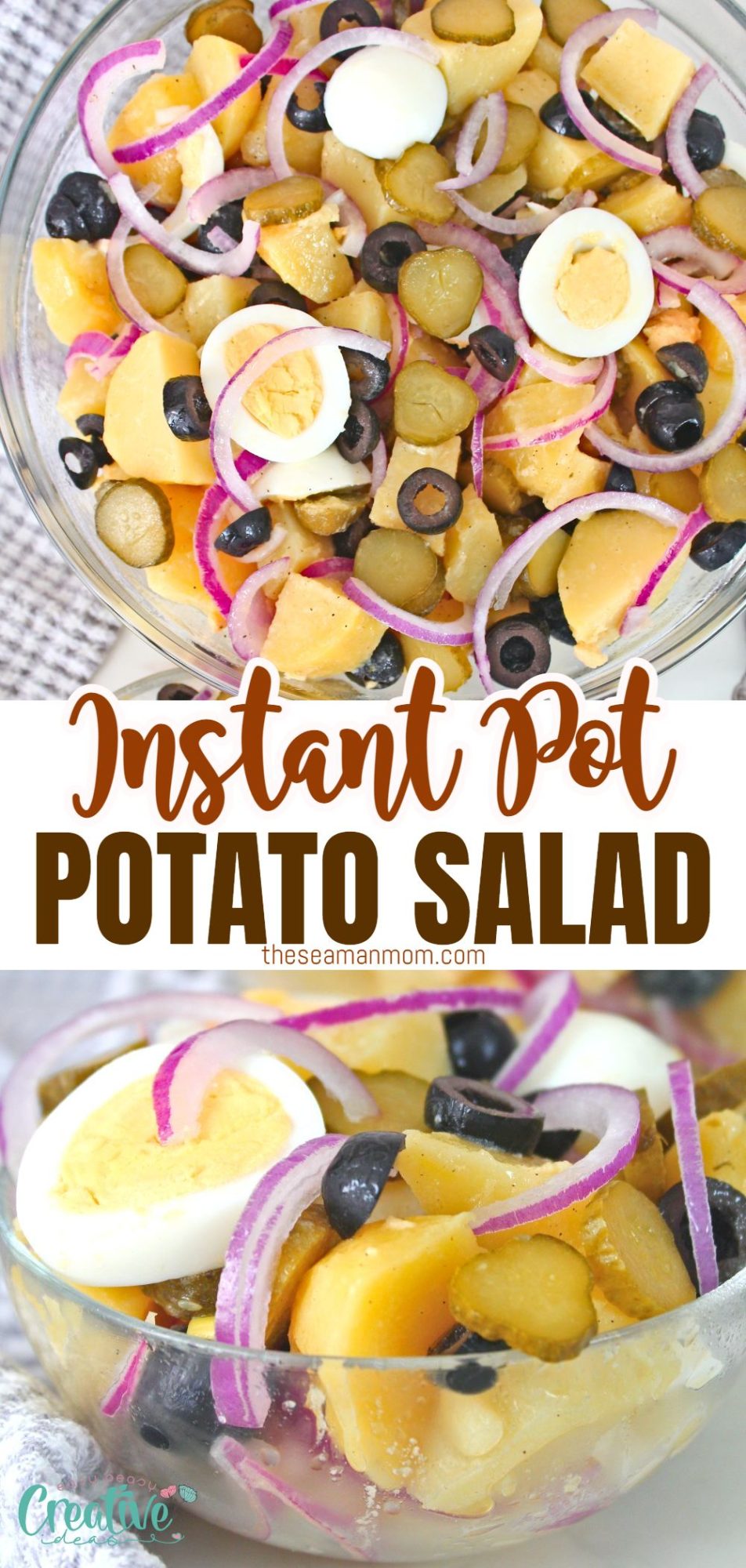 Print the recipe card
Instant Pot potato salad
Make the best ever INSTANT POT POTATO SALAD in 20 minutes with this easy recipe! It's loaded with flavor and is sure to be potluck gold!
Ingredients
9

medium potatoes

cut into halves

3

large eggs

hard boiled

1

large red onion

2

cups

dill pickles

finely chopped or sliced

1

cup

black olives

whole

salt, pepper and white wine vinegar to taste
Instructions
Boil the potatoes in the Instant Pot. When done, remove from the Instant Pot & spray cooking oil

Cut potatoes into 1" pieces. Slice the eggs

Place half the potatoes in a large bowl. Top with half of the other ingredients.

Continue with the rest of the potatoes and the other ingredients. Drizzle some vinegar and add salt and pepper to taste. Gently toss all ingredients to combine. Serve cold
Most Popular recipes: