The best easy way to make INSTANT POT HAM – Slow Cooker settings
Article may contain Amazon & affiliate links. As an Amazon Associate I earn from qualifying purchases at no additional cost to you.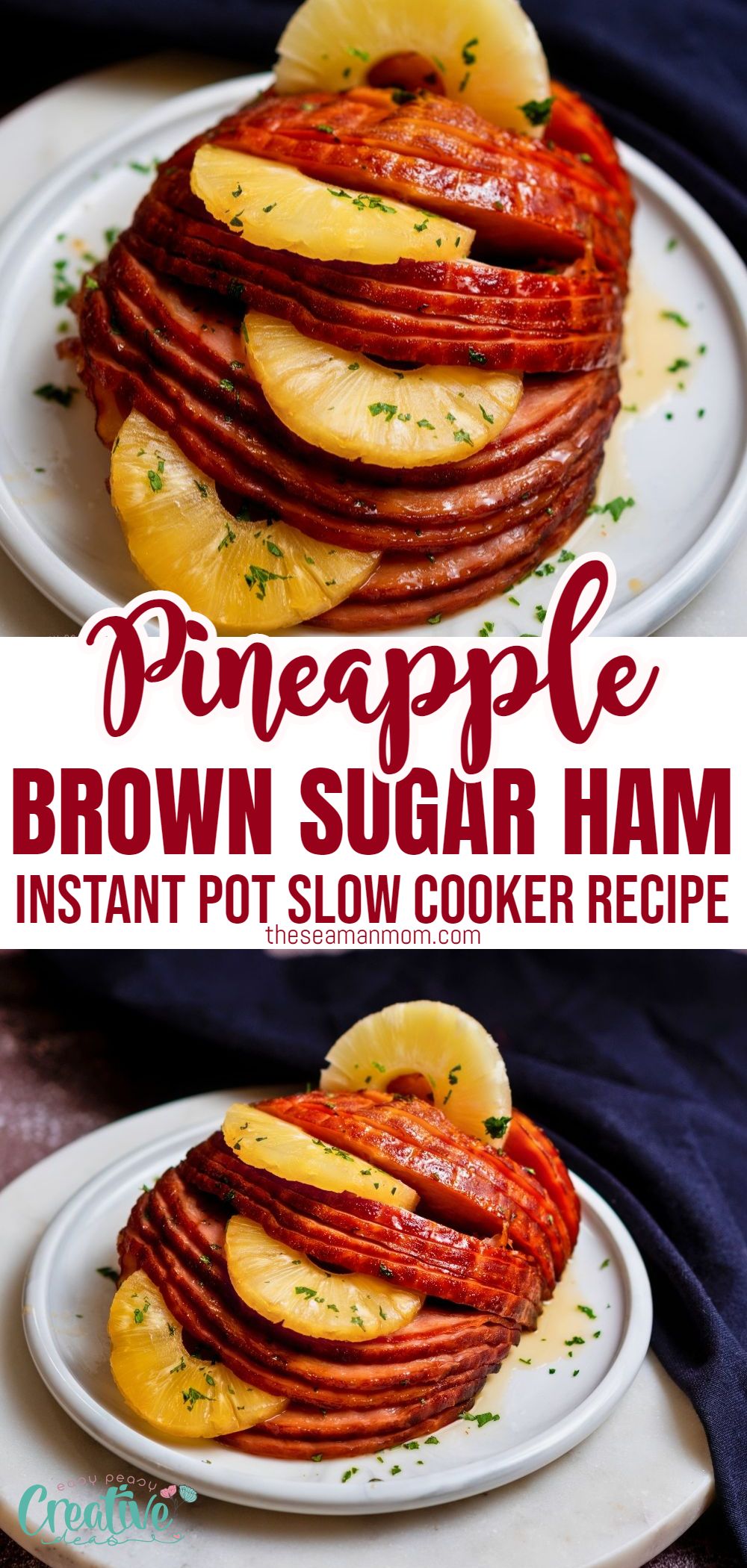 Explore the best easy way to make Instant Pot ham with this simple and easy method! Making homemade pineapple brown sugar ham is easier than you think and this easy way to make ham will change your life!
Instant pot ham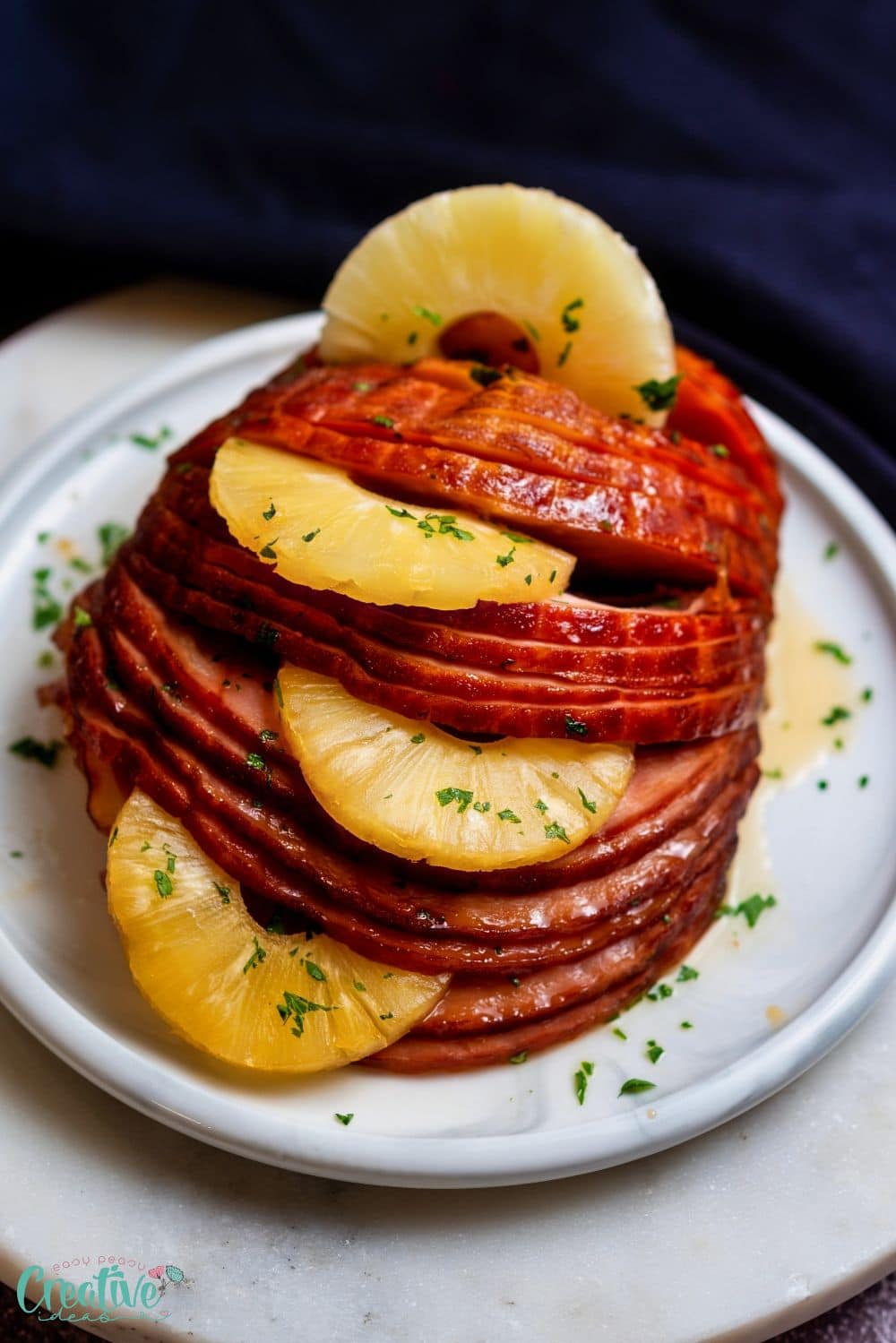 The Instant Pot is not just for for making fast, easy meals. This pressure cooker ham recipe will have your family wondering why you haven't been making ham this way all along. This recipe for Instant Pot ham is a quick and easy way to prepare a flavorful main course for your family dinner this year. And personally, I find it tastier than honey baked ham.
Ham is a classic dish to serve at holiday dinner. But the last thing you need is a big ham filling up your oven when you're trying to prepare several dishes at once! With the help of your pressure cooker, you can prepare tender, delicious ham for your holiday feast without the need for your oven at all. A mouthwatering source of protein that is perfect for your Thanksgiving, Christmas or Easter dinners!
Want more Instant Pot recipes?
How about some Instant Pot desserts?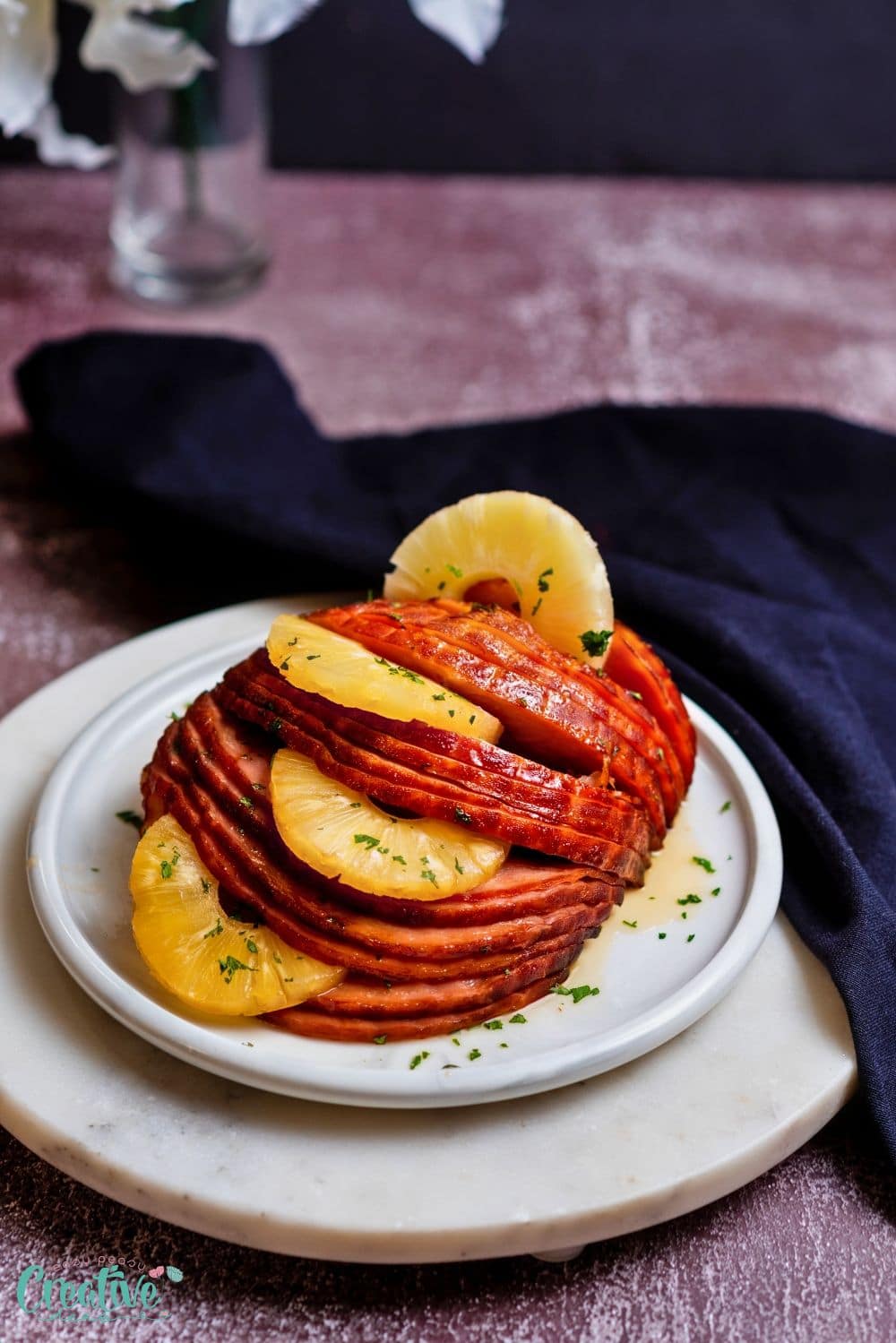 How Do I Cook Ham In A Pressure Cooker?
There are a few different things to consider when cooking your pineapple ham in an Instant Pot. In addition to the flavors you want to add to your finished dish, you'll also need to decide which method you'll use when preparing your ham. There are two cooking methods you can use to cook a ham in an Instant Pot:
Pressure cooking. The most popular way to use an Instant Pot is as a pressure cooker. When cooking your ham using the pressure cooking function on the pot, you can heat your ham more quickly thanks to the increased pressure inside the pot.
Slow cooking. Another great way to use your Instant Pot for cooking a holiday ham is the slow cooker function. Like a Crock Pot, the Instant Pot's slow cooker option allows you to cook the ham at a low temperature for a longer period of time, allowing the ham to develop more flavor and moisture as it cooks.
Tips for Instant Pot beginners
No matter which method you use to cook your ham in the Instant Pot, there are a few tips you can use to ensure you make a delicious ham for your holiday meal. Use these easy tricks for making your Instant Pot ham:
Always add liquid to the pot. When pressure cooking your ham, it's essential that you add at least one cup of liquid to the pot. Without liquid, the ham will burn and stick to the bottom of the pot. And when you're using the slow cooker method, liquid in the pot will help add more flavor to your meat and keep it moist during the extended cook time.
Trim to fit. It's a good idea to keep the ham from touching the sides of your Instant Pot to keep it from sticking and burning. Before putting your ham in the pot, make sure it properly fits and trim the ends as needed.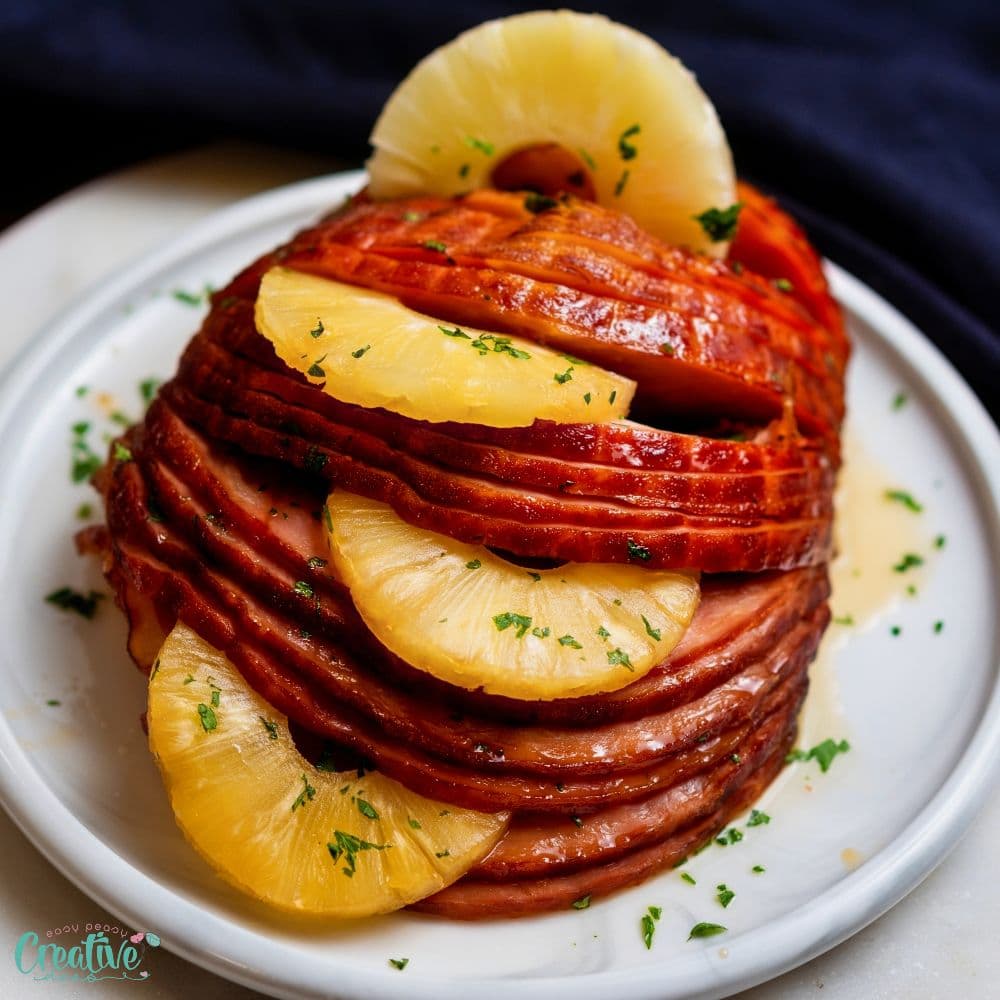 How Long Do I Cook A Baked Ham In A Pressure Cooker?
Just because a ham is precooked doesn't mean it's ready to eat right out of the fridge! To safely prepare your ham, it needs to be reheated for a certain amount of time. According to the USDA, a precooked ham should be cooked at 325 degrees for 10 minutes per pound or until the center of the ham reaches 145 degrees.
While these guidelines tell you how long to cook your ham in the oven, the amount of time your ham needs to cook will vary depending on how you're cooking it. Cooking your ham in a pressure cooker will take less time, while using a slow cooker to cook your ham will take longer.
Using your Instant Pot is a great way to speed up the cook time of your ham. When using your pressure cooker to heat up a precooked ham, you should cook the meat for two minutes per pound. After the cook time is up on the Instant Pot, you'll also need to allow the pressure cooker to naturally release pressure for 10 minutes. This additional time in the Instant Pot will allow your ham to finish cooking. So it's important to include that extra 10 minutes into your cook time.
How Long Does it Take to Heat a Ham in the Crock Pot?
In addition to using your Instant Pot to pressure cook your ham, you can also use the slow cooker setting to heat it. Whether you're using your Instant Pot's slow cooker or a traditional Crock Pot, the cook time for this method is slightly longer than pressure cooking or cooking a ham in the oven.
Since the internal temperature of your ham needs to reach 145 degrees, you'll need to allow a few hours to fully cook the ham in a slow cooker. When cooking on low, it will take at least three hours fully heat a small ham. Larger hams could take up to four hours to fully heat.
If you cook your ham on high in the slow cooker, you can cut down the cook time slightly. When using the high setting, you can cook a small (five pound) ham in 2 hours. A larger ham (up to 10 pounds) will cook in around 3 hours.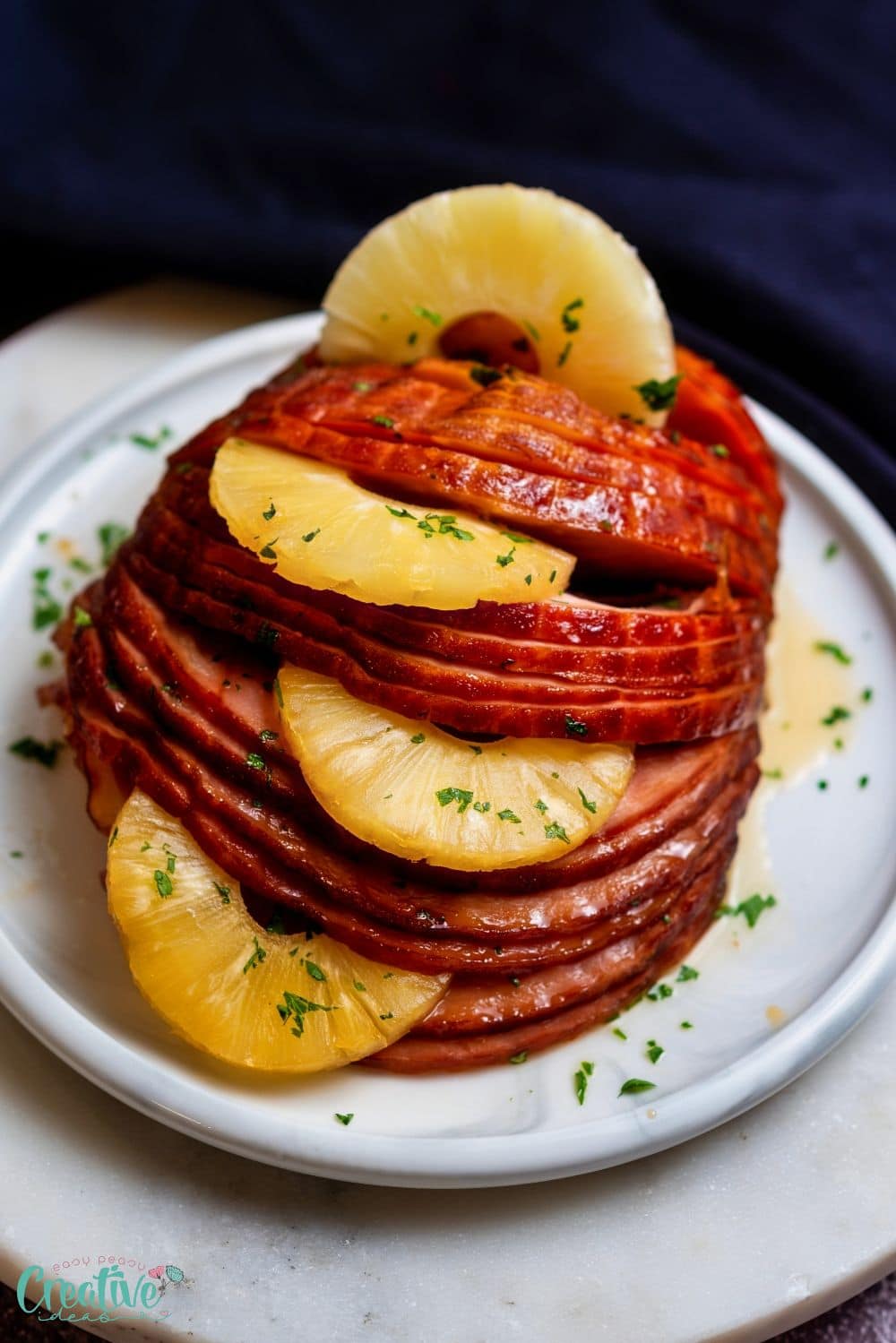 How to store spiral ham leftovers
Your cooked leftover ham will keep well in the fridge for about 4 days. I like to keep it stored in an airtight container to keep the flavors fresh.
You can also include the leftovers in side dishes like these stuffed sweet potatoes or this red pesto sandwich (just replace the turkey with your cooked Instant Pot ham)
Can you freeze cooked spiral ham?
Yes! To freeze leftovers, wrap the ham in a layer of plastic wrap, then wrap that package in aluminum foil or place it into freezer bags.
Ingredients For Instant Pot Ham
spiral cut ham (pre-cooked)
sliced pineapple
brown sugar
maple syrup
Notes: If you're looking to add even more flavor to your ham, you could add a pinch of cinnamon and/or nutmeg if you're a fan of these spices. Also orange juice and dijon mustard make a nice pair to pineapple in this recipe.
Instant Pot Ham recipe Step By Step Guide
Start by putting the brown sugar at the bottom of your instant pot. No trivet needed for this recipe.
Add your spiral ham on top of the brown sugar in the instant pot.
Add the maple syrup and pour over your ham.
Put the slices of pineapple over and between the ham slices. And pour the pineapple juice in the instant pot.
Put the lid on and the valve on release. Put on the slow cooker setting, low for 5 hours or on high for 2.5 hours.
Once the slow cooker is done cooking your ham, take about ¼ cup of the pineapple juice and mix in a separate bowl with your remaining 1 tablespoon of brown sugar. Use this as ham glaze and spread it on your ham with a brush. If you have any remaining glaze, store it in the fridge for up to 4 days, in an airtight container.
Serve while hot, enjoy!
Pin to save for later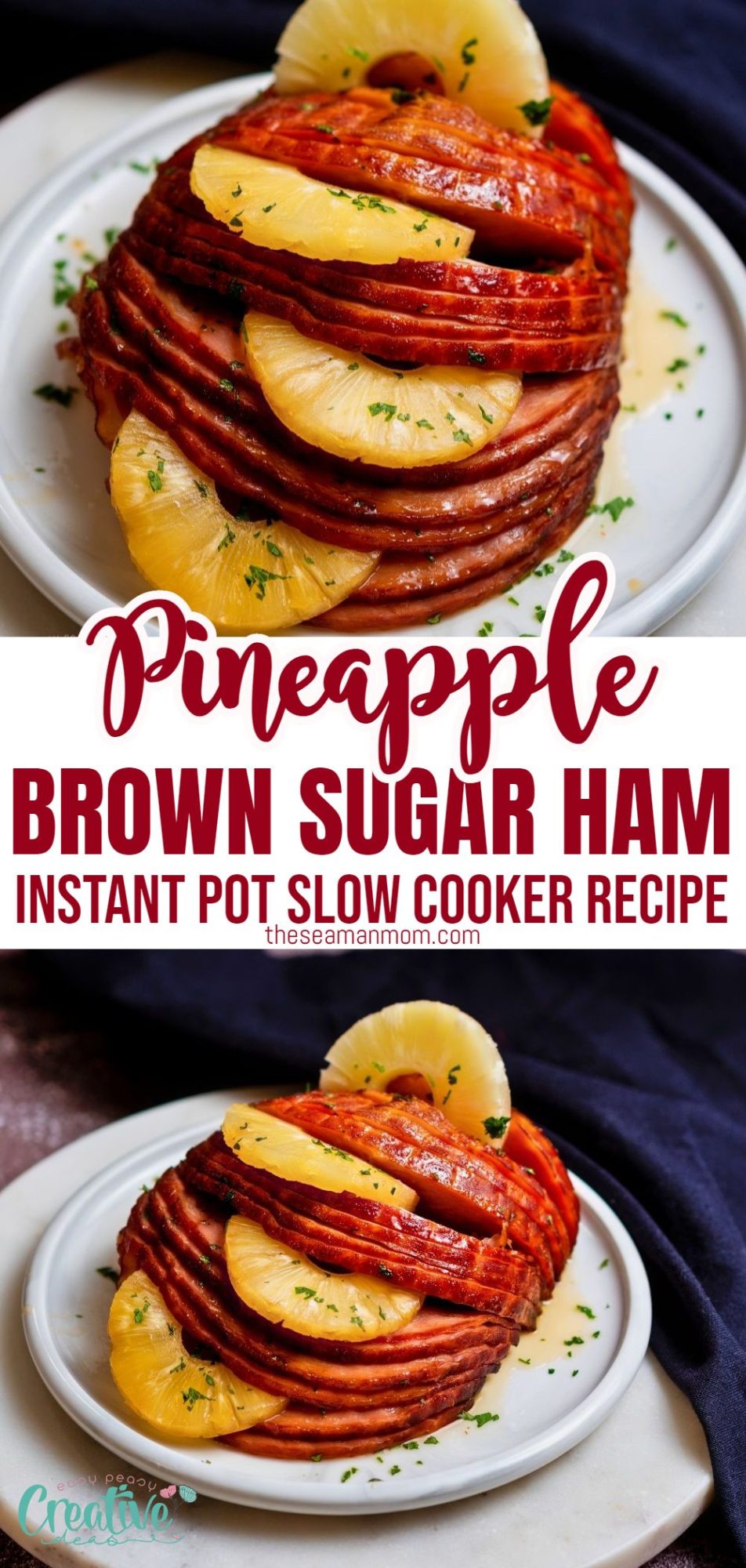 Print the recipe card
Instant Pot ham with pineapple and brown sugar
Explore the best easy way to make Instant Pot ham with this simple and easy method! Making homemade pineapple brown sugar ham is easier than you think and this easy way to make ham will change your life!
Ingredients
3

lbs.

spiral ham

pre-cooked

1

can

sliced pineapple

1

cup

brown sugar

+ 1 tbsp

½

cup

maple syrup
Instructions
Start by putting the brown sugar at the bottom of your instant pot.

Add your spiral ham on top of the brown sugar in the instant pot.

Add the maple syrup and pour over your ham.

Put the slices of pineapple over and between the ham slices. And pour the pineapple juice in the instant pot.

Put on the slow cooker setting, low for 5 hours or on high for 2.5 hours. Once the slow cooker is done cooking your ham, take about ¼ cup of the pineapple juice and mix in a separate bowl with your remaining 1 tablespoon of brown sugar. Use this mix to glaze your ham with a brush. Serve while hot
Most Popular recipes: