THANKSGIVING INVITATIONS template to print at home
Article may contain Amazon & affiliate links. As an Amazon Associate I earn from qualifying purchases at no additional cost to you.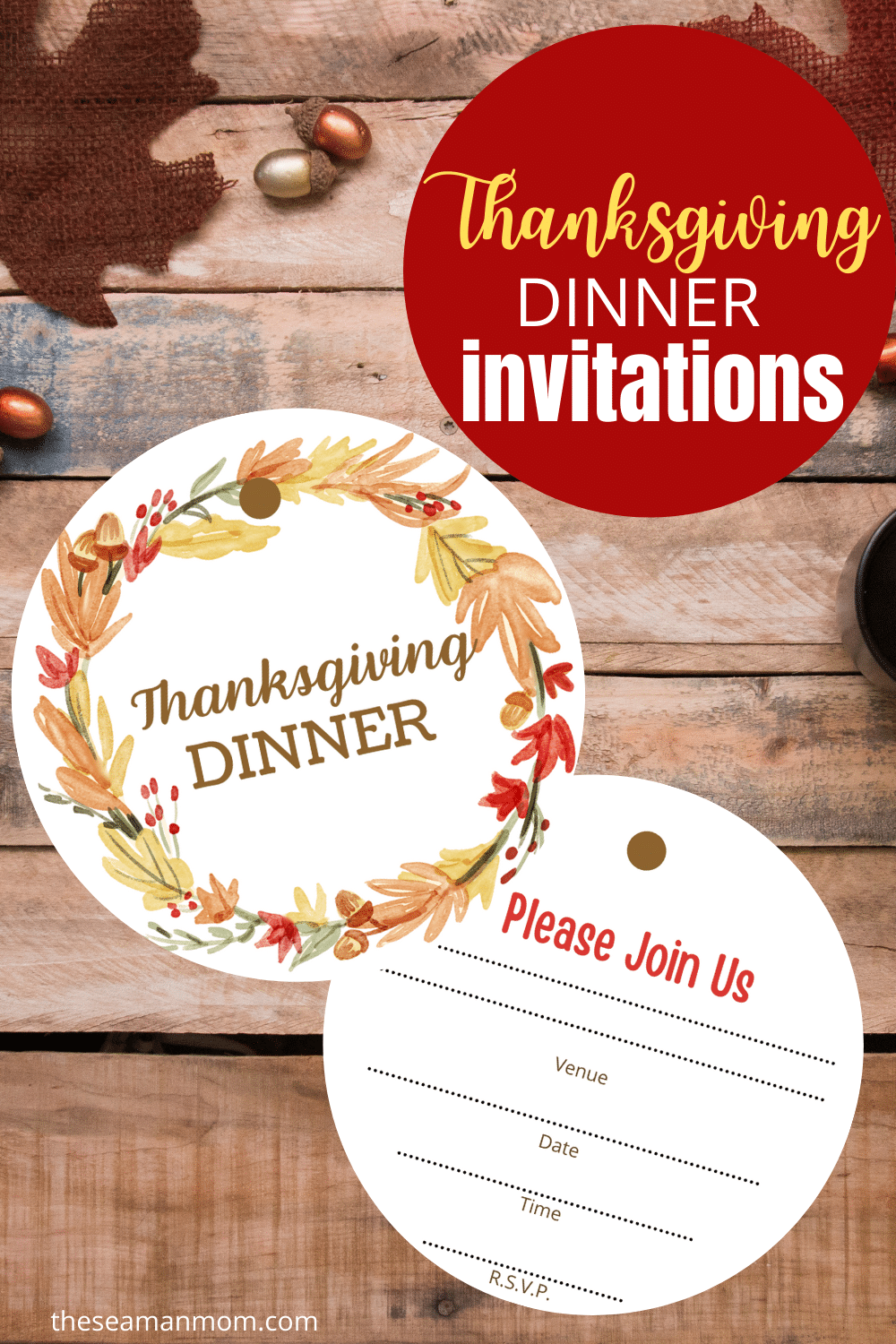 Get in the holiday spirit with these Thanksgiving invitations that you can print at home! This tutorial also offers a guide on how to create the perfect Thanksgiving dinner invitation.
Thanksgiving invitations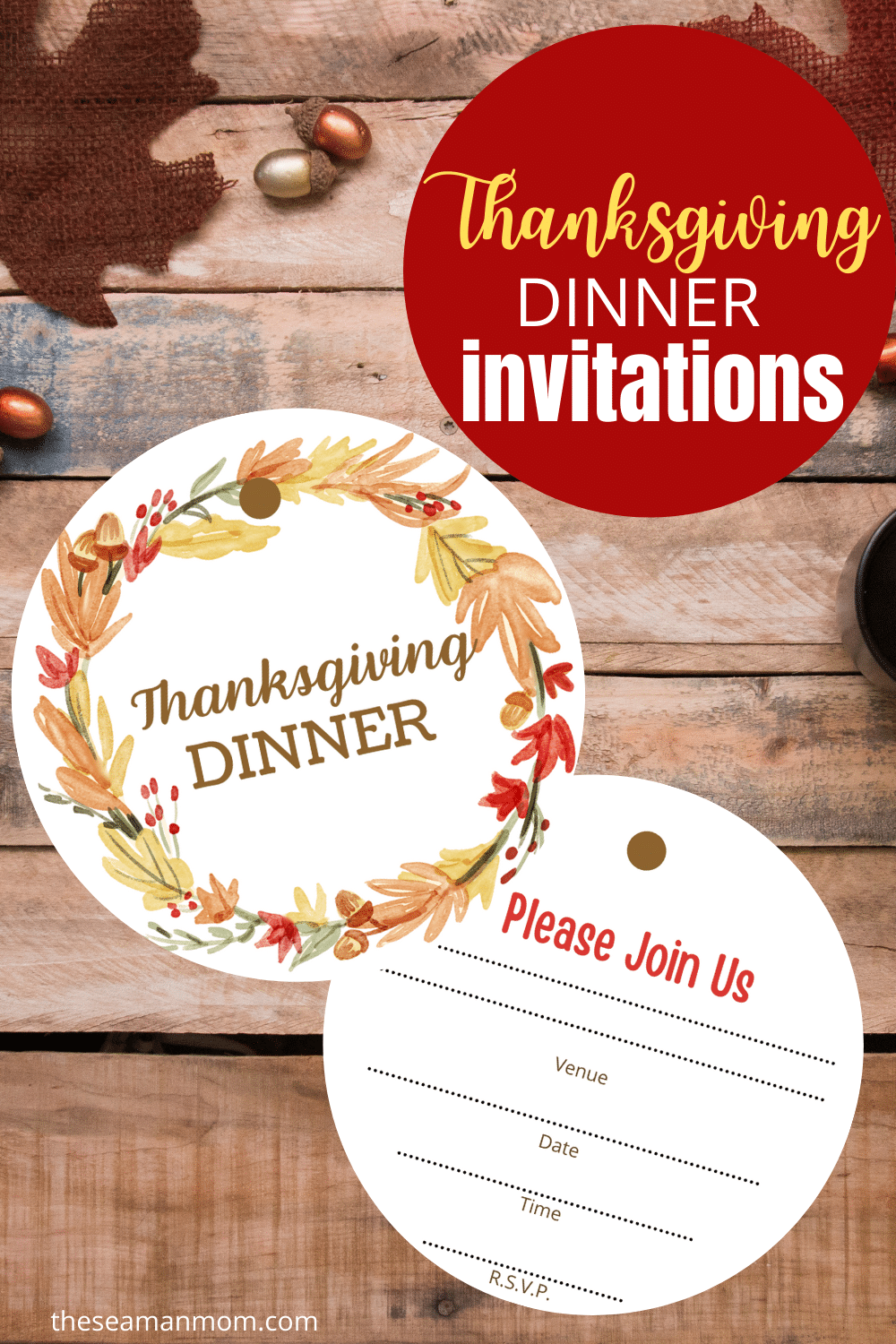 Get your guests excited for a delicious Thanksgiving dinner with these free Thanksgiving invitations! Grab the file and use it to create an adorable invite that will make them want to come!
Thanksgiving is just around the corner, and if you're hosting Thanksgiving dinner this year, inviting your guests can be a hassle. What should you do? The answer is simple: use my Thanksgiving invitations to simplify the process!
In addition to the free printable file, this article will cover how Thanksgiving dinner invitations work, when to send your invitations, what to put on your Thanksgiving invitation cards and even how to make your own invitations.
More Thanksgiving ideas:
A dinner invitation is a great way of showing your guests that you are inviting them to an event. There are many reasons why someone would write their own Thanksgiving Dinner Invitation but if one doesn't want to, it might be best just to use a pre-designed invitations template. This will save you tons of time so you can focus on organizing the best Thanksgiving dinner.
If you're looking for an easy way to send your Thanksgiving dinner invitations, I've got you covered! My Thanksgiving invitations template is a quick and easy way to invite friends, family, or coworkers over for the holiday. Just get the file, print it out on card stock paper, cut it out and place it inside of a traditional or Thanksgiving themed envelope. You can even add some ribbon or twine if you want to make them look extra special. It's so simple!
But if you have plenty of free time on hand and want to make your own personalized invitations, there are a few suggestions down below in the article.
How to use my Thanksgiving invitations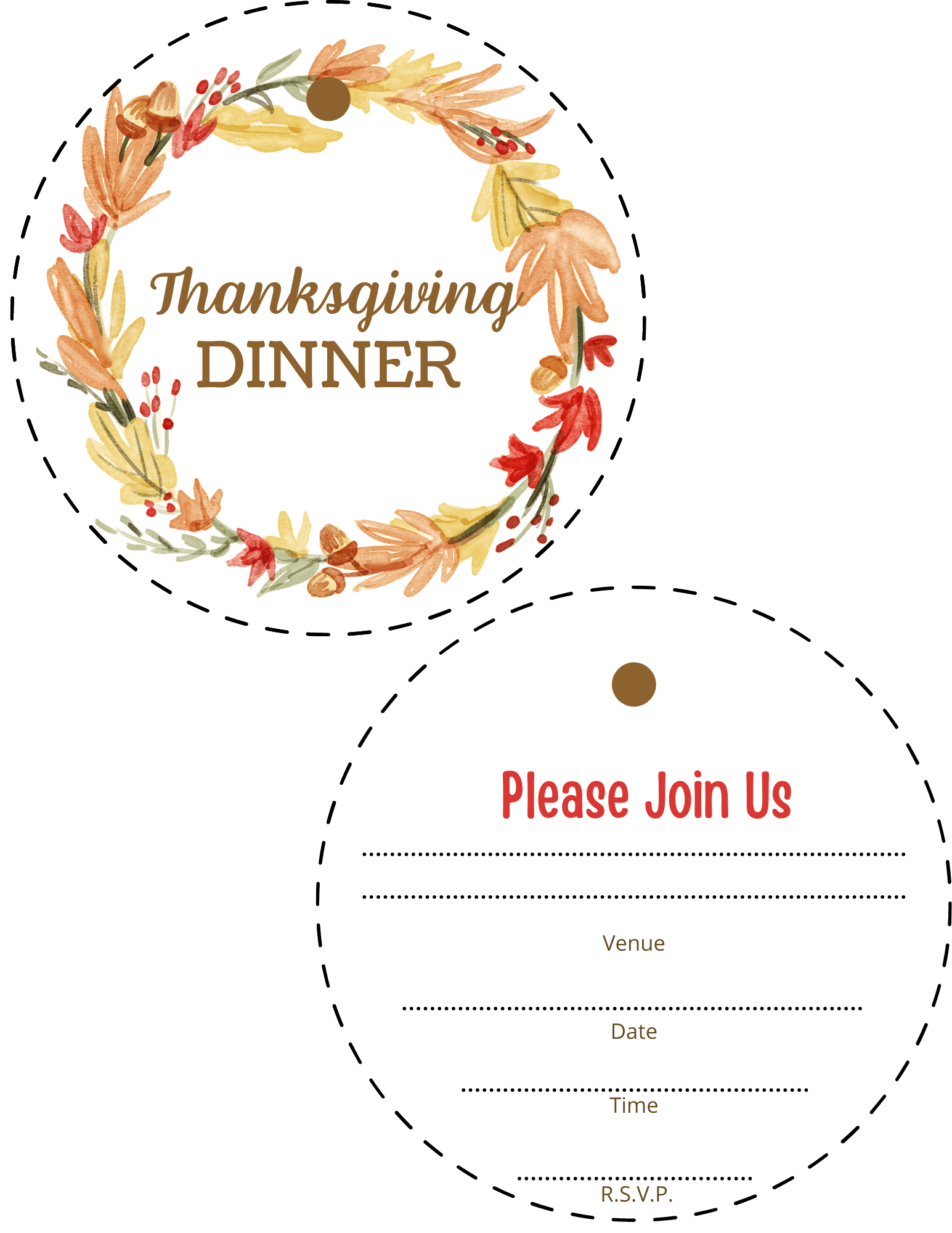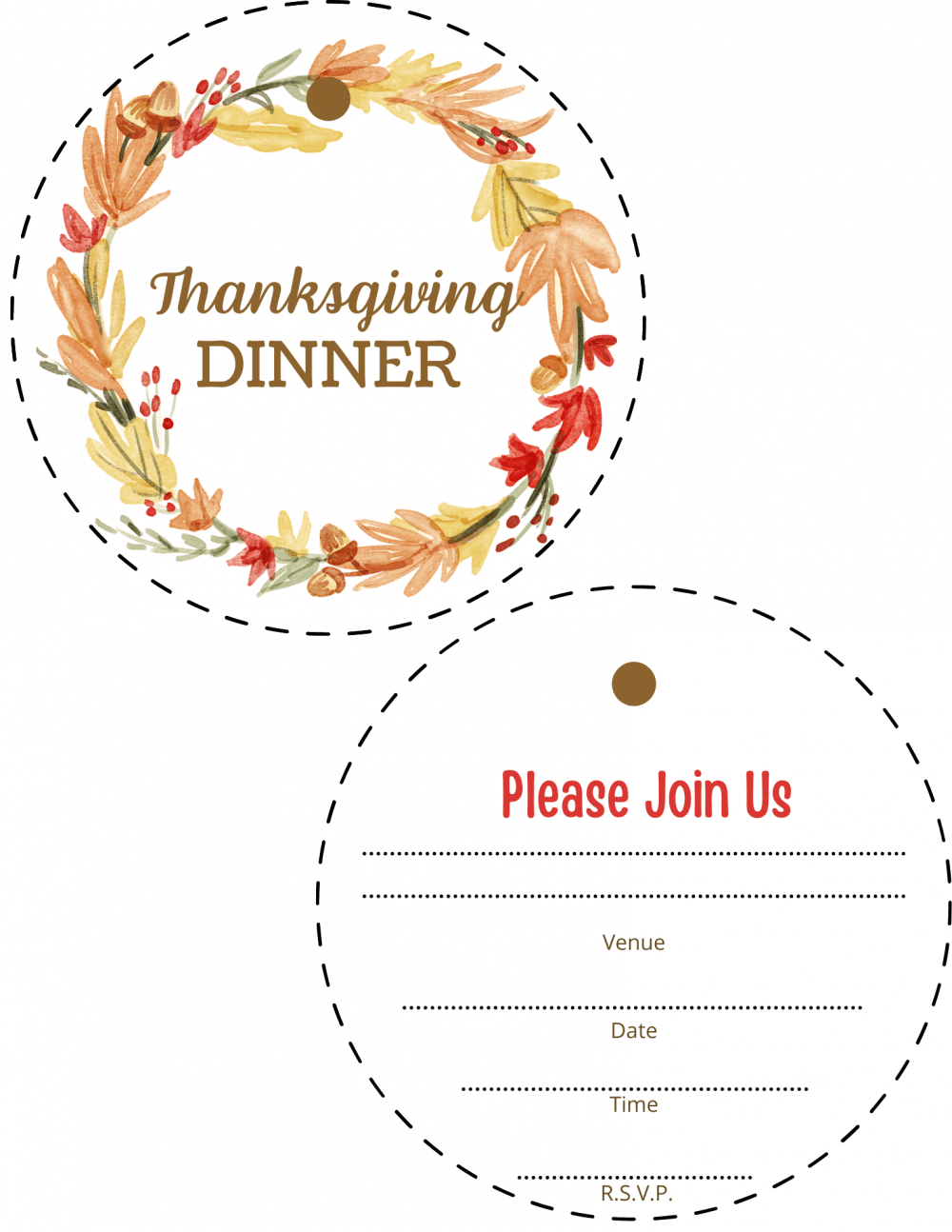 My printable is very simple in design and very easy to put together and use. The instructions are highlighted on the template too but here they are, to give an idea on the simplicity and quickness of this project.
The template has 2 circles that you cut on the broken line.
Then you simply fill in the details about your invitation on the second template. The details have a space for: the venue (your address or where your dinner will be held), the date, the time, and your RSVP.
Then you punch a hole in the circles marked on the template with a hole punch.
Place the cover circle over the top of the circle with all of your important invitation details.
Tie them together with a nice decorative ribbon or string.
Place them in a nice Thanksgiving themed envelope and send them out.
This printable allows you to print out 2 sets at a time, with one of the pages containing the instructions which you will remove when you cut out the circles. The beauty of using this printable is that all of your dinner invitations match perfectly, and you can print as many as you need for all of your guests in record time.
What kind of paper is best for printing invitations on?
Thanksgiving dinner invitations could be printed on either heavy card stock paper or glossy photo paper. Heavy card stock paper is the most popular choice and will provide a nice, heavy feel to your Thanksgiving dinner invitation. Glossy photo paper can make your Thanksgiving dinner invitations look more like professional prints with a smooth finish.
Ways to make your own Thanksgiving dinner invitation
Thanksgiving is one of the busiest times for dinner invitations. This year, be unique and send your friends an invitation that they'll never forget! Here are some ideas to get you started:
Use a rubber or clear stamp with Thanksgiving letters and graphics.
Have a dinner invitation that is folded in the shape of a turkey.
Put their name on an acorn and have it stamped with "the sincerest Thanksgiving wishes."
Fill up a small jar or vase with cranberries, nuts and cinnamon sticks.
Put a Thanksgiving stamp on the envelope.
Use Thanksgiving-themed stationery and stamps or have them custom printed at your local print shop.
Send dinner invitations by email so that they can be more interactive with their guests if you use an online RSVP system. You might want to include a Thanksgiving video invitation as well!
If you're feeling really ambitious, dinner invitations might be the perfect opportunity to get artsy! Here are some Thanksgiving-themed crafts that won't take up too much time on your hands:
Print dinner invitations on fall themed scrapbook paper.
Decorate your invitation card with glitter glue, Thanksgiving ribbon and other craft materials that you might have at home.
Use a fun turkey cut out to decorate the envelope or the invitation.
What should be included in a Thanksgiving invitation?
Keep it short, sweet, and personable! Invitations typically include the date, time, venue or address, host name and the party theme or dress code, if any is required.
Thanksgiving dinner invitations can also include information on if kids are welcome and specific dietary restrictions.
When do you send out Thanksgiving invitations?
Thanksgiving invitations should be sent out as soon as you have a rough guest list finalized so that everyone has ample time to RSVP for your Thanksgiving event!
Thanksgiving Dinner invitations are usually sent out a few weeks before Thanksgiving dinner is being served. Some people send them as early as six weeks in advance. Thanksgiving Dinner invitations should be mailed so they arrive at least two weeks prior to the event so guests can respond with their RSVPs.
---
If you're happy with using my templates for Thanksgiving invitations, they're available for grabs HERE.
---