Tired of being frustrated with cats messing around your garden or home? Make a friendly but efficient natural cat repellent in just a few minutes! This cat deterrent is made with a handful of few simple, affordable ingredients and won't hurt the environment!
Homemade Cat Repellent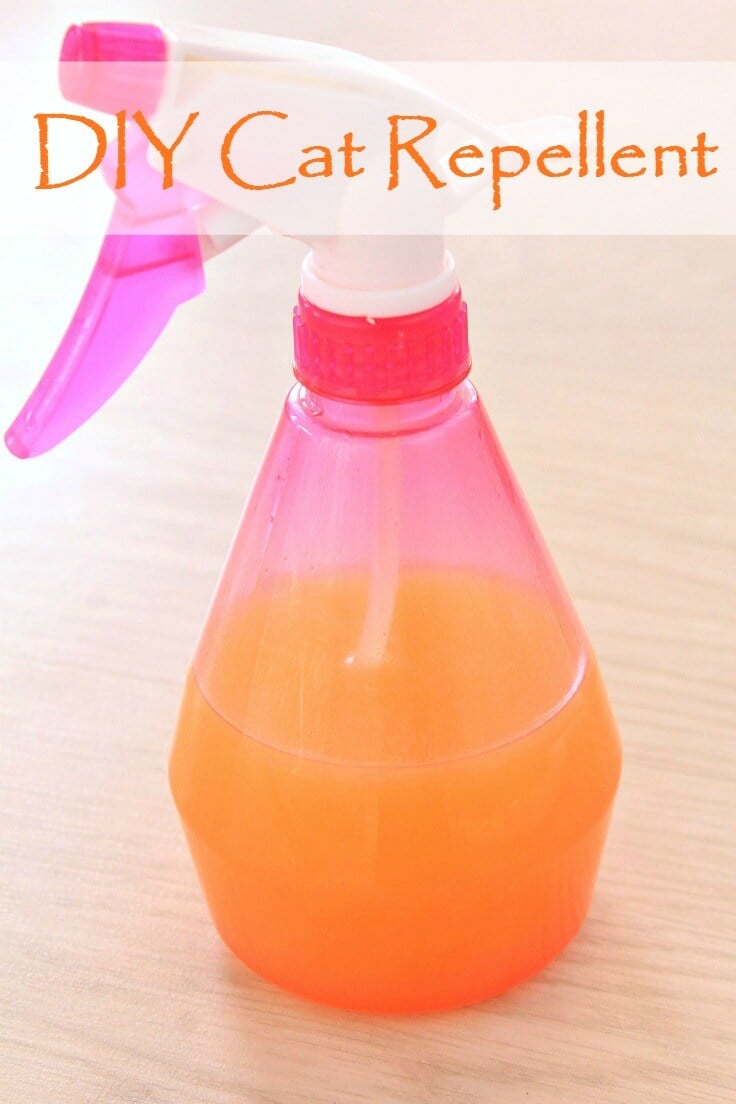 Even if you're a big cat lover as myself, sometimes your beloved pets can be a huge pain, especially when messing around the garden, ruining all the plants and your hard work. Deter cats safely with a natural cat repellent that is safe and harmless for your cat, your family, home or the environment!
Or maybe you need to keep your cat away from dangerous areas? It's in their nature to explore but…curiosity killed the cat! Stop them from using your garden as their own personal litter box with this simple, non toxic homemade cat repellent. With this easy and natural cat repellent, you can safely set boundaries even the most stubborn cat will eventually learn to respect!
Similar posts you might like:
All cats are different and will react to this natural cat deterrent differently. That's why I wanted to try a mild approach for my DIY cat repellent and I used only natural ingredients that I know cats normally hate, like citrus peel. In addition, I used a citrus scented dish soap and lemon juice to make the scent more powerful in my natural cat repellent. I put this citrus spray for cats in a spray bottle and lightly sprayed around the areas I wanted to protect from my cats (please do not use directly on cats!).
So far my cats seem to be pretty responsive to this simple but natural cat repellent (or they're just done exploring lol). But I'll be continuing to use my DIY cat repellent for until I'm 100% certain they've learned that those areas are off limits. In spite of the common beliefs, cats can in fact be trained. That is if they let you train them lol
If you're using this natural cat repellent indoors, make sure you don't use it directly on furniture as lemon juice may cause discoloration. Test on an inconspicuous area first to ensure that the ingredients won't damage the material.
Natural Cat Repellent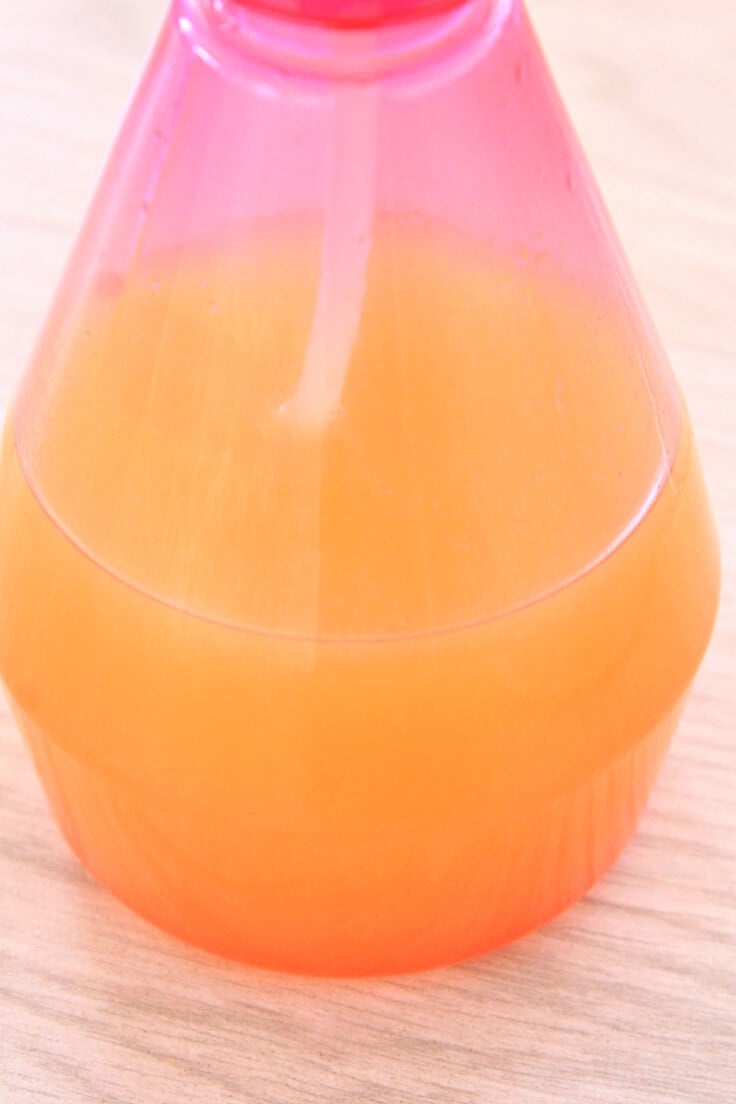 Ingredients:
3 cups water
2 cups orange peel, white pith removed
juice from 1/2 a lemon
2 squirts lemon scented dish soap
You will also need:
Directions:
Add water to a medium pan and bring to a boil.
Squeeze the orange juice (you might as well enjoy a healthy glass of refreshing orange juice while the water is boiling).
Using a sharp knife, remove as much of the white pith as possible.
Chop orange peel in small pieces.
Throw the chopped peel in a medium pot and pour the boiling water over.
Keep the pot on a low heat and allow the mixture to simmer for 15 minutes.
Cool the mixture and strain through a sieve.
Pour orange "soup" in a spray bottle.
Add lemon juice.
Add dish soap.
Shake well until all ingredients are mixed thoroughly.
Apply to home (test on an inconspicuous area first to ensure that the ingredients won't damage the material)  and garden but not directly on cats!
Pin to save for later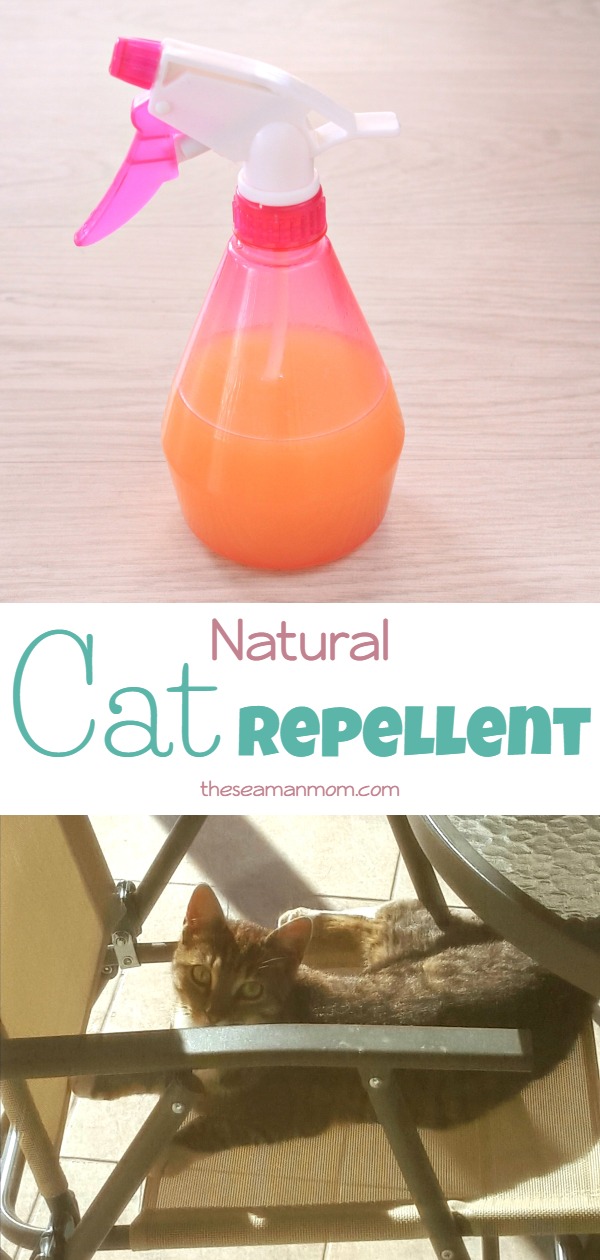 Most popular DIY: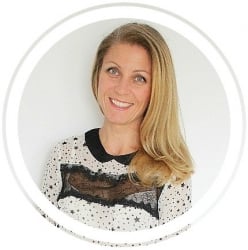 Hi, I'm Petro, author and founder of Easy Peasy Creative Ideas. Sewist, crafter, avid DIY-er, foodie, photographer, homemaker and mommy to one. I'm an expert at coming up with quick, clever sewing tips, recycling crafts and simple, easy recipes! You can find my ideas featured in reputable publications such as Country Living, Good House Keeping, Yahoo News, WikiHow, Shutterfly, Parade, Brit & Co and more. Thanks for stopping by and hope you'll stay for a while, get to know me better and come back another time. Stick around for real fun projects!