Valentine's Day Heart Cuffs Kids Craft
Article may contain Amazon & affiliate links. As an Amazon Associate I earn from qualifying purchases at no additional cost to you.
Whether you're making a Valentine's Day gift or just looking to spend quality time with your kids, these diy cuffs bracelets are a fun, affordable and super easy project!
DIY Cuffs Bracelets Kids Craft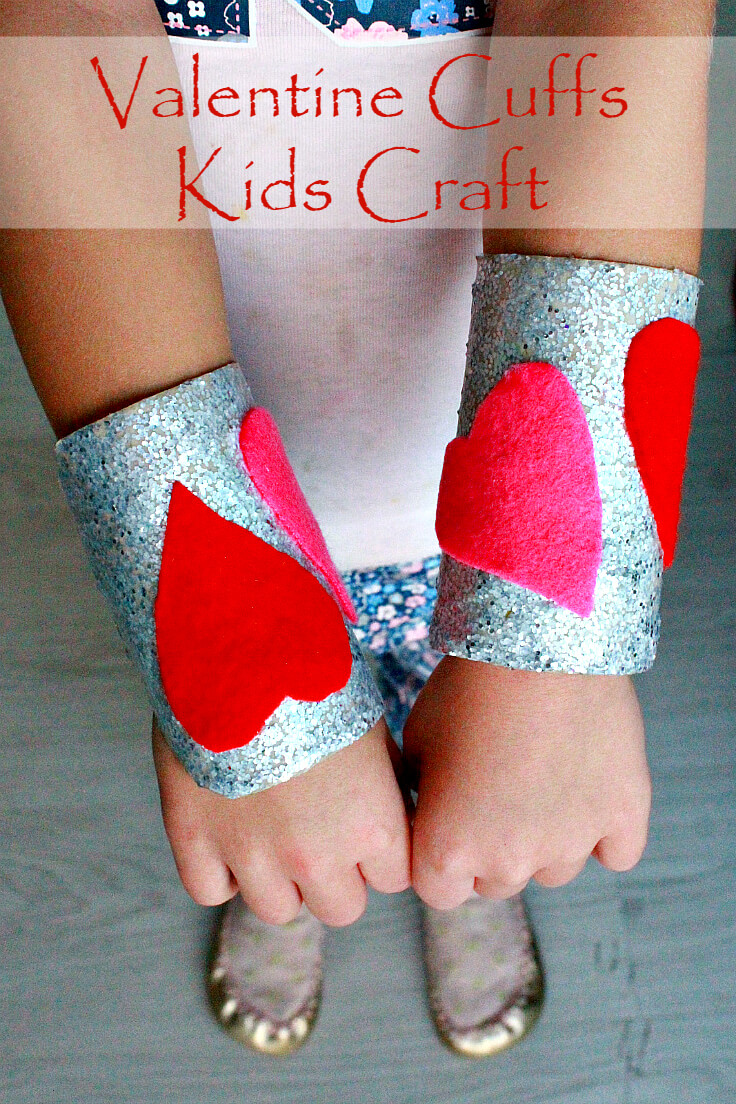 Valentine's Day doesn't have to be all about your partner, I personally think of Valentine as a celebration of love. And what better way to show my immense love to my little munchkin than to make a nice project together, in the form of some cute diy cuffs bracelets with little hearts on?
Other Valentine ideas you might like:
Glamming up is not always about big bucks, especially when you are a kid. And with these affordable diy cuffs bracelets your little princess will be able to prettify her bare wrists in no time and not much effort. This project is fun, quick, easy and affordable not to mention a wonderful way to recycle some paper tubes that might be laying around the house. Oh, wait! that's me, the crazy toilet paper rolls lady (check out all of my tp craziness here)!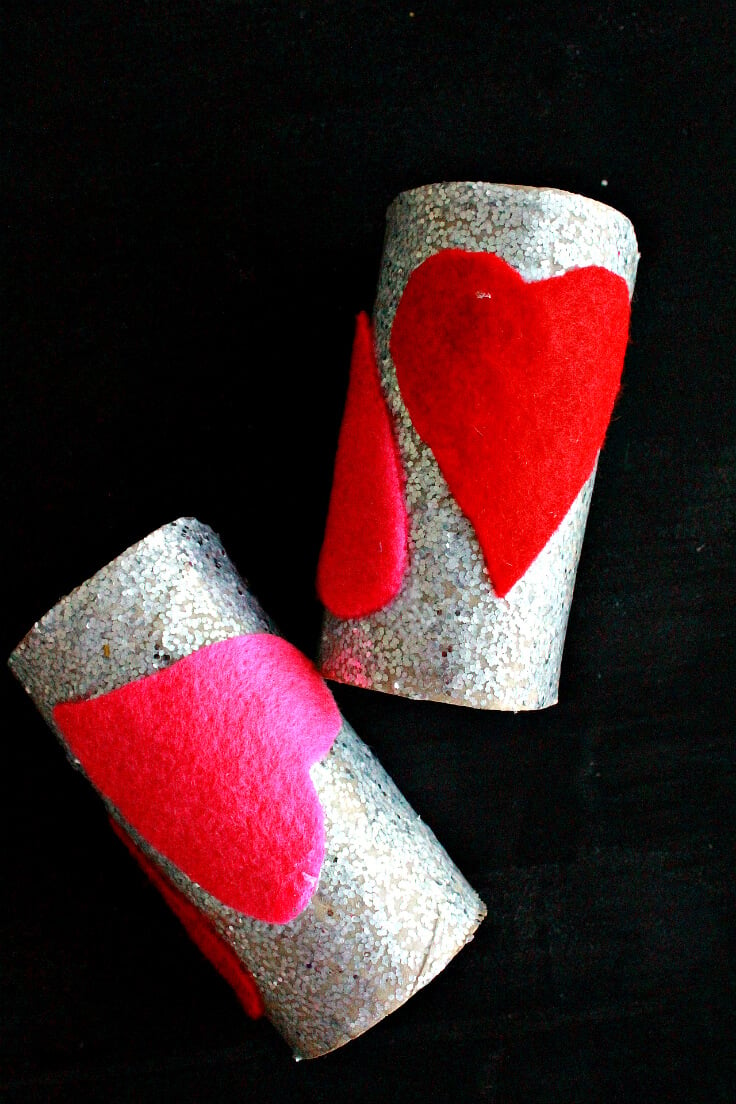 These little diy cuffs bracelets are also a nice gift for the little girls in your life or for friends and family that appreciate handmade gifts. And have I mentioned how fun it is to spend time with your kid, playing around with modge podge and glitter, like it's nobody's business?
DIY Cuffs Bracelets Tutorial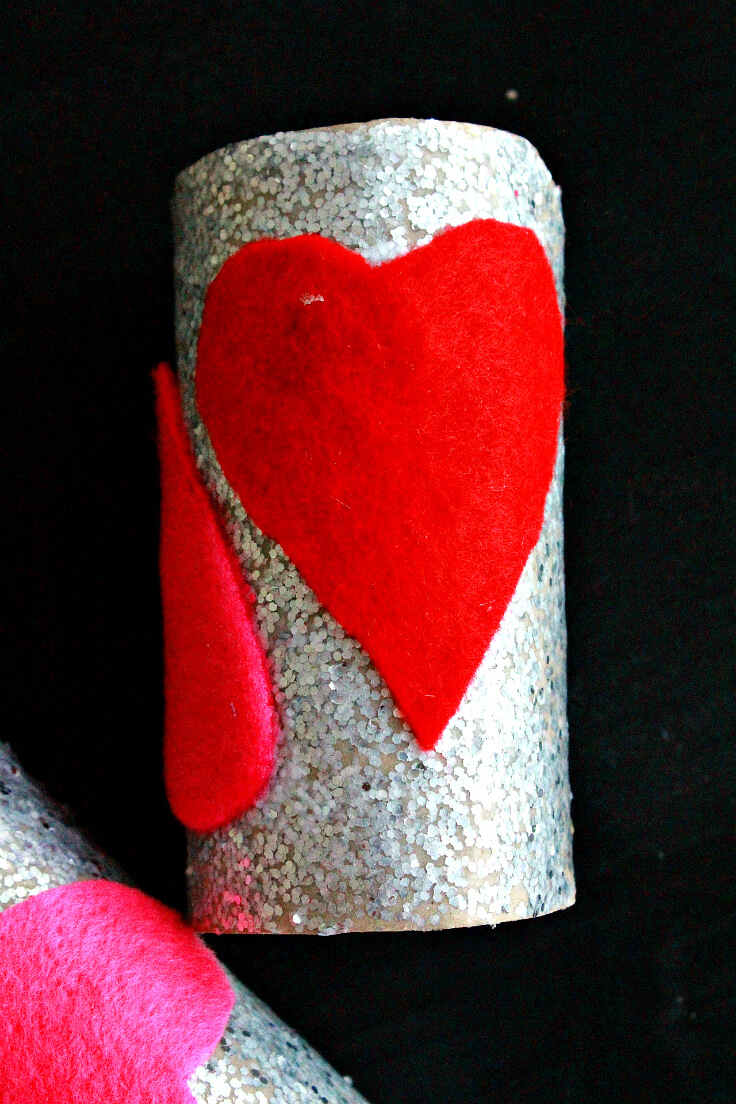 Materials:
paper tubes
pen or marker
a small bowl
wood glue (you can use modge podge instead)
brush
a small piece of cardboard
felt or fleece
Directions:
Using your ruler as a guide, trace 2 lines across the paper tube, about 1/2″ apart.
Taking one line as a guide, place the small bowl with the rim touching the line and trace around the rim to make a round-ish shape on the paper tube.
Flip tube to the other side and using the second line repeat the step above.
Using a pair of scissors, cut along the round trace. You'll cut out a piece of tube in the shape of a hourglass, sort of.
Mix modge podge and glitter to get a thick paste that won't drip.
Using a brush, paint the paper tube with the modge podge glitter mixture then leave to dry completely, in a vertical position.
Draw a heart on a piece of cardboard and cut out.
Using the hearth stencil, cut out heart shapes on your felt or fleece.
Apply clear glue on the back of the hearts and attach to the cuffs, once the glitter has dried.
And your kid can proudly wear their cute diy cuffs bracelets!
Pin to save for later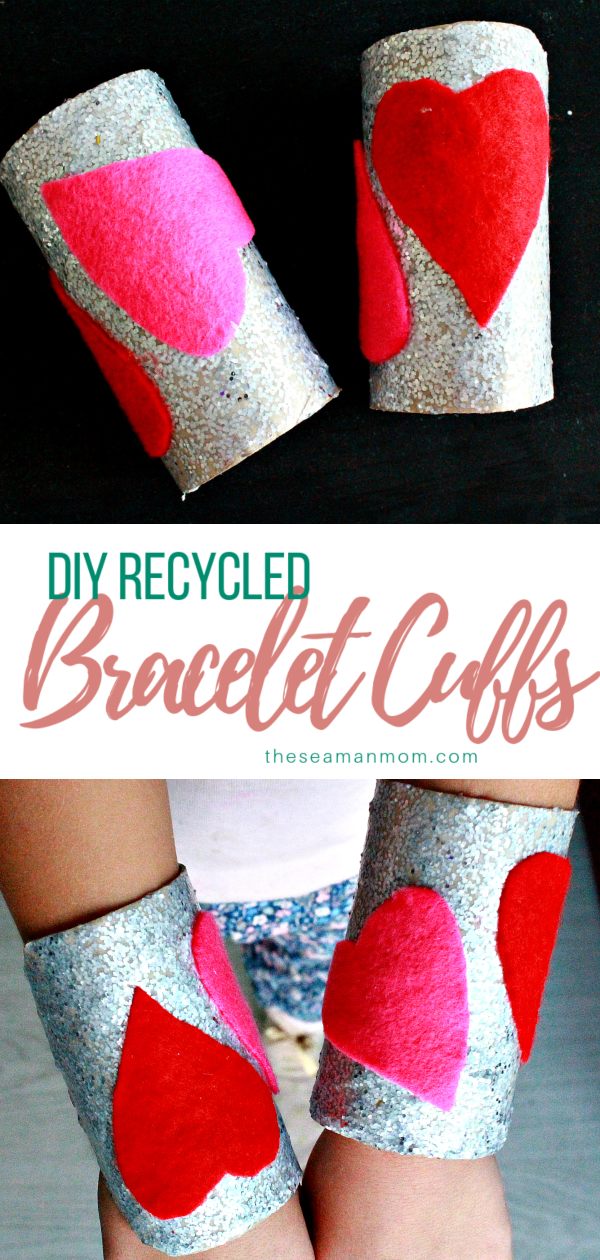 Similar posts you might like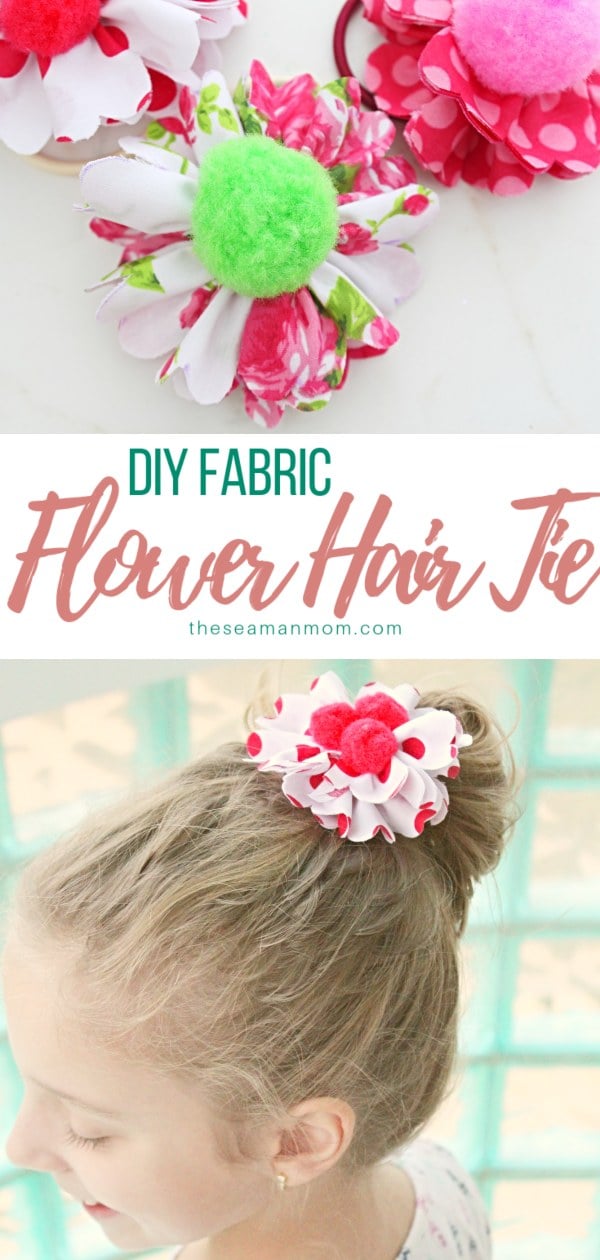 DIY Paper tube flowers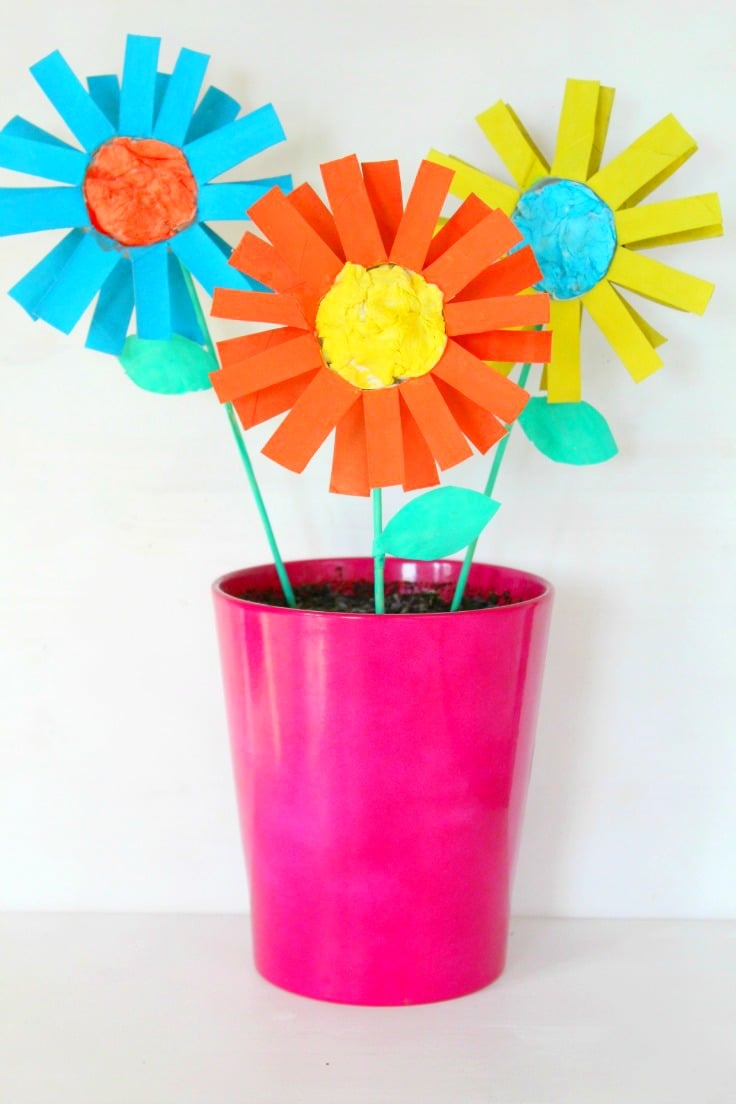 Paper Tube Pencil Organizer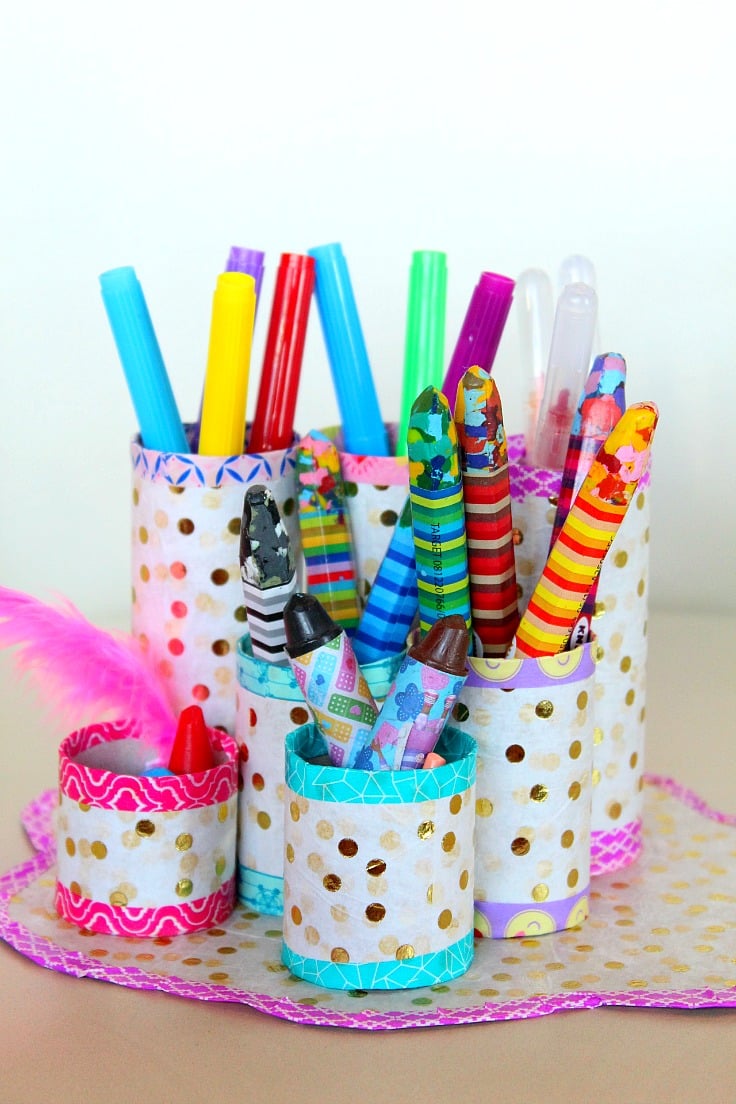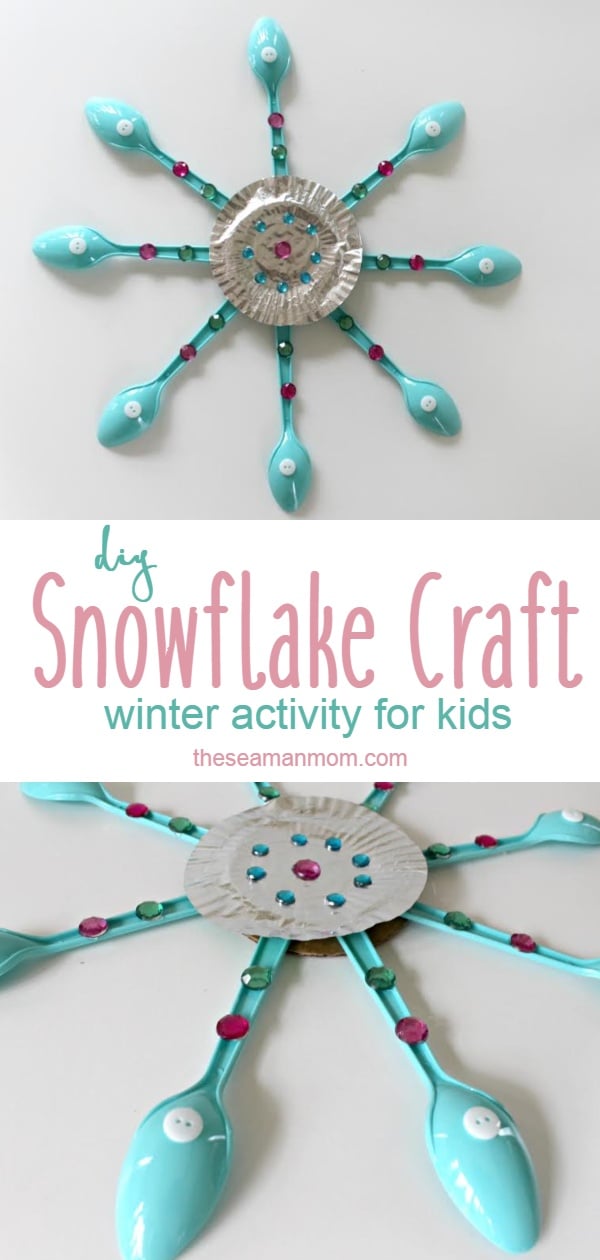 Paper Tube Phone Holder