This delicious yogurt brownie recipe with a touch of creamy caramel yogurt makes fudgy brownies that are rich and gooey and decadent as all brownies should be! Simply irresistible!
Brownie Recipe With Yogurt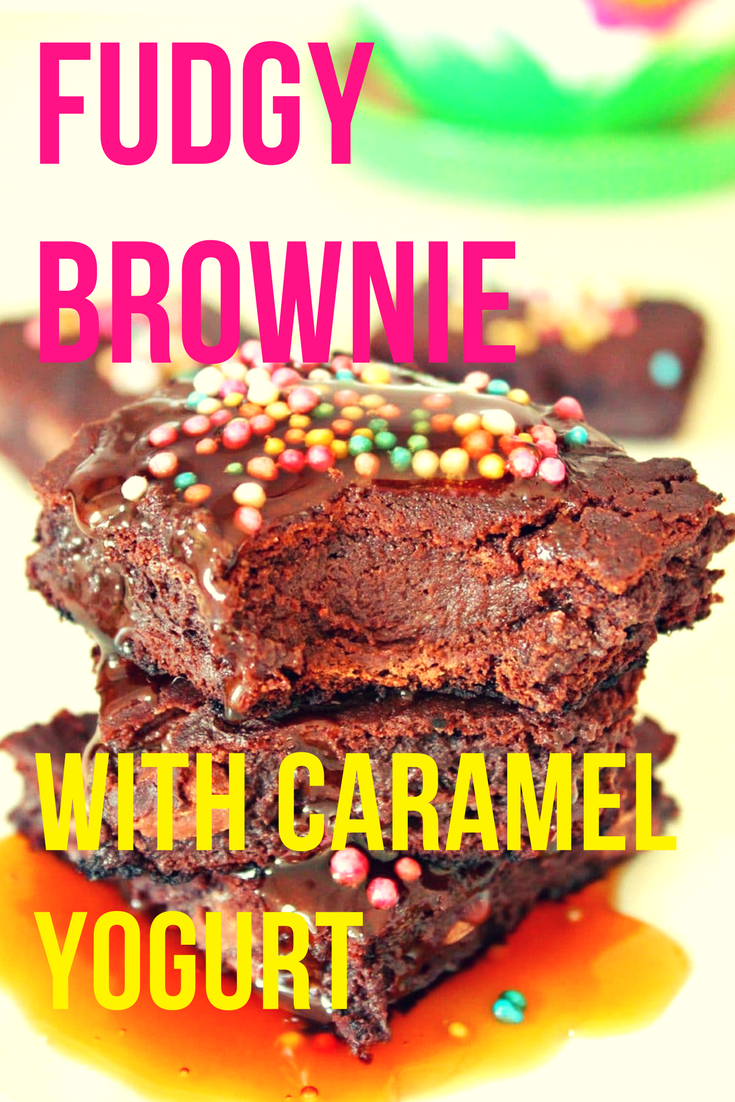 Warm weather is here and I cannot be more excited! I love long walks during sunny, warm mornings, soaking up the sun, recharging my batteries and reconnecting with myself. Yogurt brownies help too! lol As things are heating up throughout the day, I try to find more ways to keep myself and my family cool. I love desserts and I find that a cup of caramel yogurt is a refreshing way to get great flavor, without the guilt!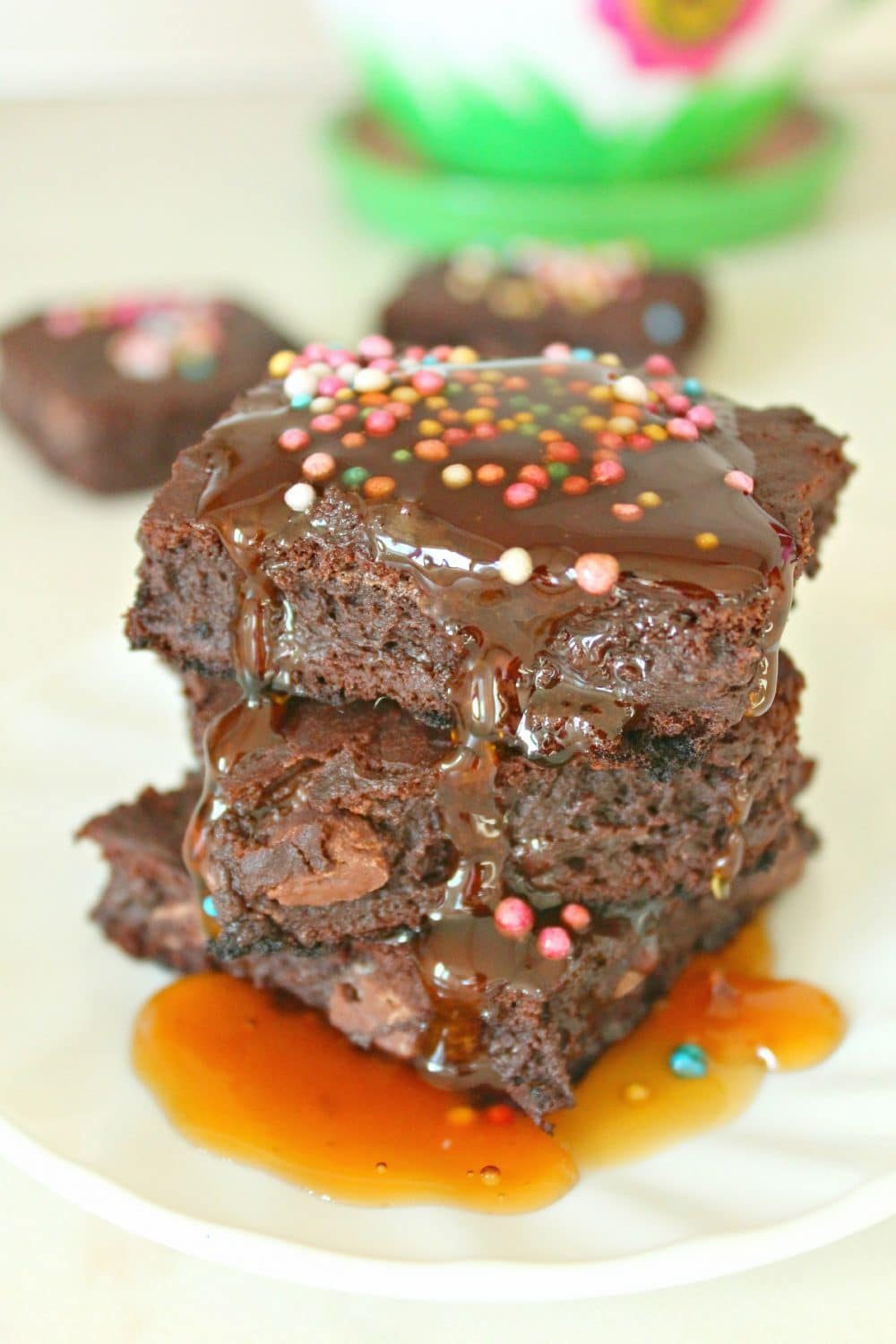 SEE MY MOST RECENT VIDEOS HERE
I love caramel yogurt because I can serve it as is, or make a parfait and have a delicious breakfast to start my day on a happy note or even incorporate it in a sweet, savory dessert recipe, like this mouthwatering, creamy recipe for yogurt brownie. You could even go the extra mile and pair a cup of caramel yogurt with these moist brownies!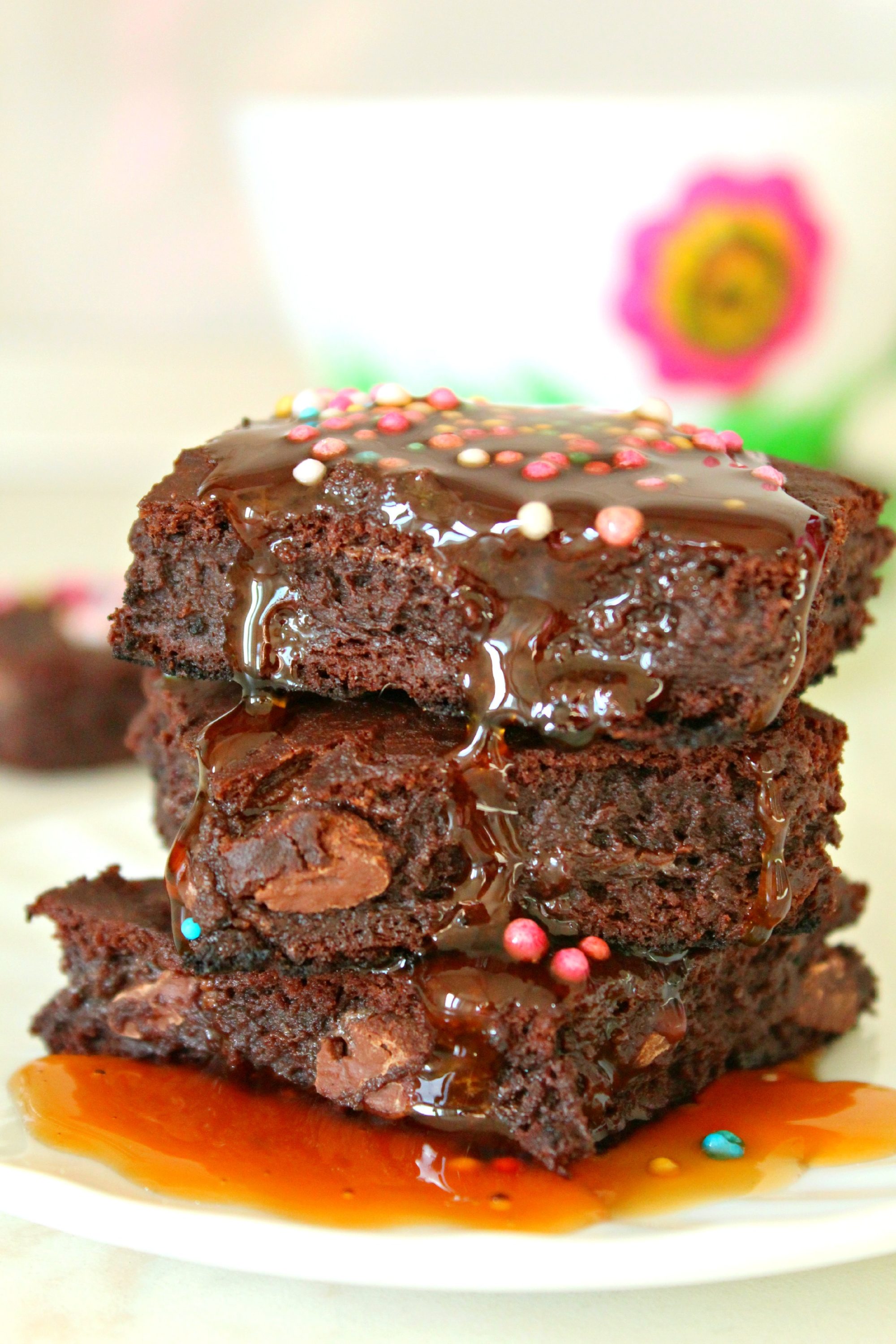 These fudgy caramel brownies are rich, gooey, chocolaty and decadent as all brownies should be! The delicious caramel yogurt adds a nice touch of flavor, helping this yogurt brownie recipe create creamier and more savory brownies!
Yogurt brownie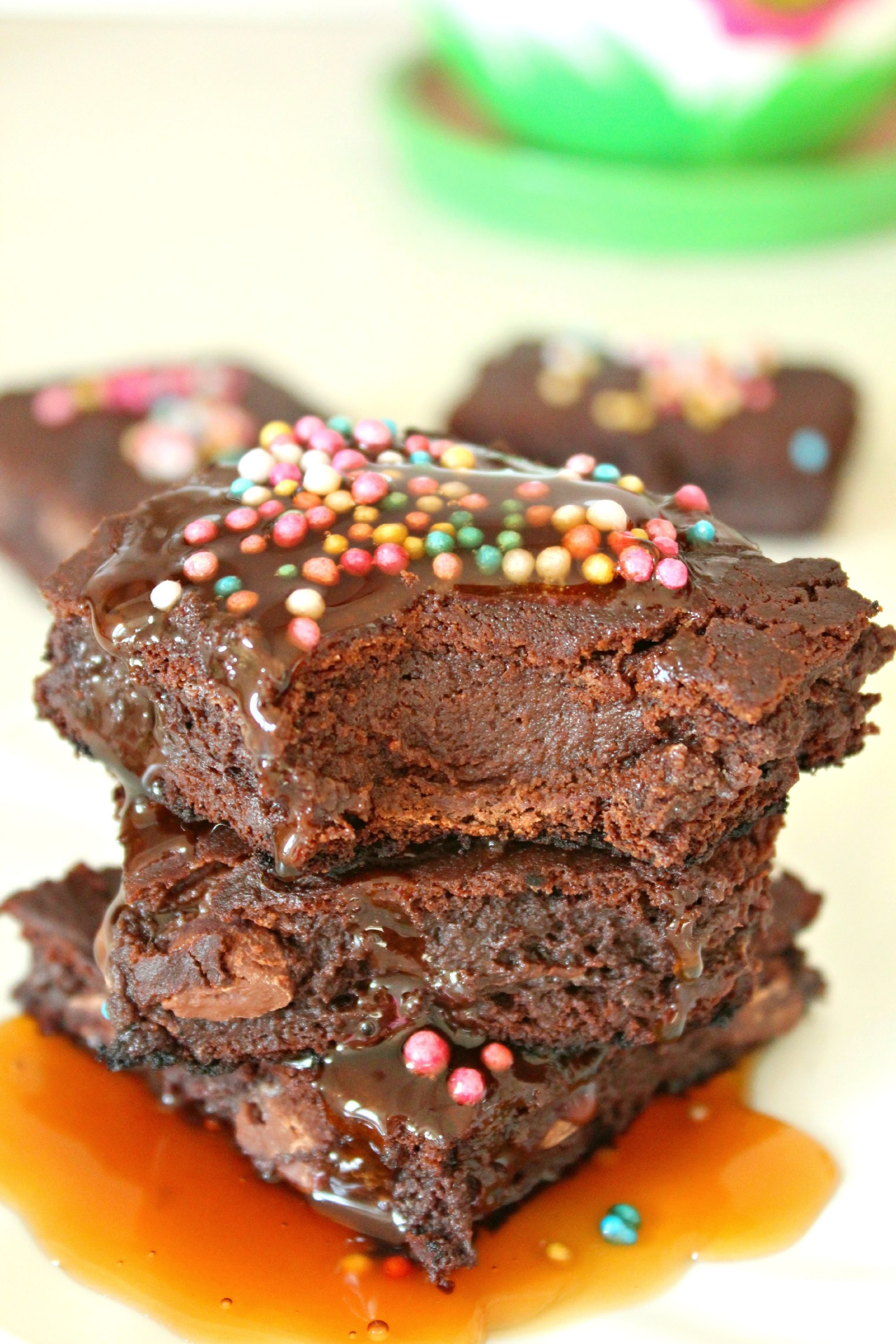 Ingredients:
1¼ cup caramel yogurt
1 cup chocolate chips or M&M's, divided in half
1 cup sugar
1 tsp vanilla extract
6 tbsp (3/4 stick) unsalted butter
1 cup flour
½ tbsp baking powder
½ tsp salt
½ cup cocoa powder
You will also need:
8″x 8″ baking sheet
aluminium foil
cooking spray
silicone spatula
large bowl
whisk
medium bowl
small bowl
saucepan
Directions:
Preheat oven to 350 F
Line baking sheet with aluminum foil, draping some over the edges.
Spray foil with cooking spray. Alternatively you can coat with butter and flour
Whisk flour, baking powder, and salt in a large bowl.
Combine 1/2 cup chocolate chips and butter in a medium bowl.
Set bowl over a saucepan with simmering water and stir until chocolate and butter are melted and smooth (it took about 10 min. for me).
Remove bowl from heat
Mix sugar, cocoa powder, vanilla, and yogurt.
Fold wet ingredients into dry ingredients and mix well until mixture is smooth.
Fold in remaining 1/2 cup chocolate chips.
Pour mixture into baking sheet.
Bake until a toothpick inserted into the center of brownie comes out with a few moist crumbs attached, 25 to 30 minutes.
Let brownie cool completely.
Cut into squares with a sharp knife.
Loved this? Sign up to my newsletter and get all the latest goodness right in your inbox!

Fudgy Brownies with Liberté Méditerranée Caramel yogurt

Ingredients

1¼ cup caramel yogurt
1 cup chocolate chips, divided in half
1 cup sugar
1 tsp vanilla extract
6 tbsp (3/4 stick) unsalted butter
1 cup flour
½ tbsp baking powder
½ tsp salt
½ cup cocoa powder

You will also need:

8"x 8" baking sheet
aluminium foil
cooking spray
silicone spatula
large bowl
whisk
medium bowl
small bowl
saucepan

Instructions

Preheat oven to 350 F
Line baking sheet with aluminum foil, draping some over the edges.
Spray foil with cooking spray. Alternatively you can coat with butter and flour
Whisk flour, baking powder, and salt in a large bowl.
Combine 1/2 cup chocolate chips and butter in a medium bowl.
Set bowl over a saucepan with simmering water and stir until chocolate and butter are melted and smooth (it took about 10 min. for me).
Remove bowl from heat
Mix sugar, cocoa powder, vanilla, and yogurt.
Fold wet ingredients into dry ingredients and mix well until mixture is smooth.
Fold in remaining 1/2 cup chocolate chips.
Pour mixture into baking sheet.
Bake until a toothpick inserted into the center of brownie comes out with a few moist crumbs attached, 25 to 30 minutes.
Let brownie cool completely.
Cut into squares with a sharp knife.

https://theseamanmom.com/fudgy-brownie-recipe-with-yogurt/
More fudgy recipes you might like:
Most Popular Recipes